In my article How to Define Style, I made an attempt at defining what style is. In this article let's take a look at some of the things you can do to find your own personal style. If you're thinking about how to find your style, below you will find 10 steps you can take.
What determines style?
'Style' is hard to define and I've made an attempt here, but I think we all know it when we see it. Jackie O is one example that stands out.
She developed her own unique style which was often clearly recognizable by her signature sunglasses.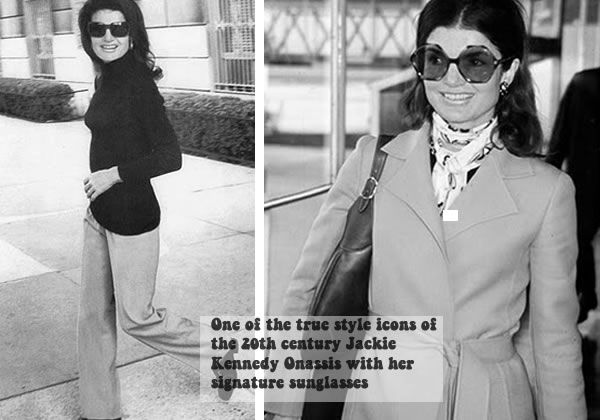 One of the quotes that has defined style the best for me is this one from Gore Vidal: "Style is knowing who you are, what you want to say, and not giving a damn."
Style is as much about knowing about yourself as well as knowing what you want to portray. If you are assured of this knowledge, other people's opinions don't really matter.
Have you found your own quotes that sum up style for you?
How to find that confidence in yourself and your style
Now that you're thinking about style and what it means for you, let's take a look at how you can really fine your own unique style.
1. Understand your body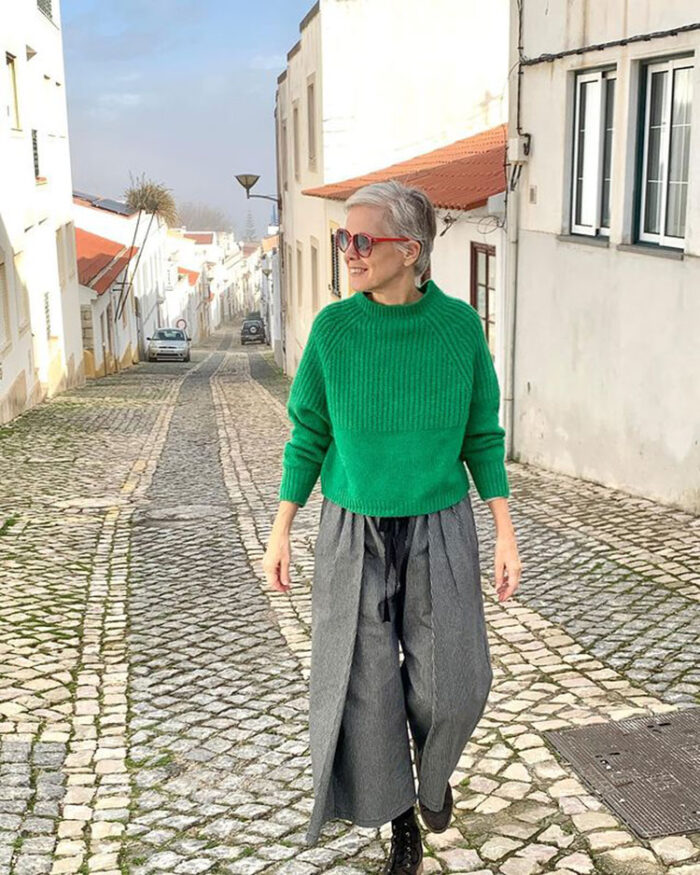 Knowledge is power. So the first thing you need to understand is what kind of body you have and what works for you. If you have a good understanding of your body shape and your strengths and weaknesses, you can buy the right clothes to either accentuate or camouflage them. At 40plusstyle.com we work with 5 horizontal body types:
You can identify your body type by going to this page and then follow the guidelines for your specific body type.
You may also like to identify your vertical body type.
Once you have discovered your body type, you can start thinking about the desired silhouette you want to create and create a balanced outfit.
Above I am wearing a sweater from MANGO. Check out this similar pants (another option here) and lace-up boots.
2. Understand your personality to find your style
Write down some words that describe your personality. How would you currently describe it? Do you feel that your style reflects your personality?
Have a look at various different styles. Which do appeal to you most?
If you still aren't sure, you could take this fun style personality quiz and see your result.
Capsule Wardrobes For Different Style Personalities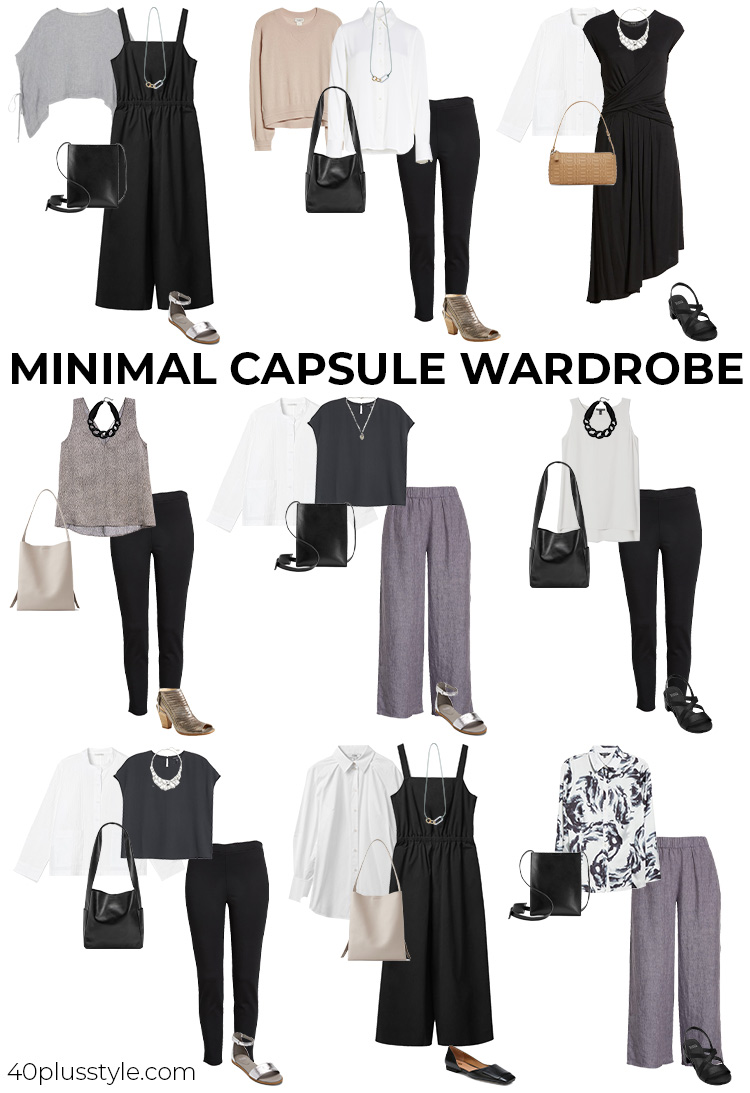 3. Which colors inspire you?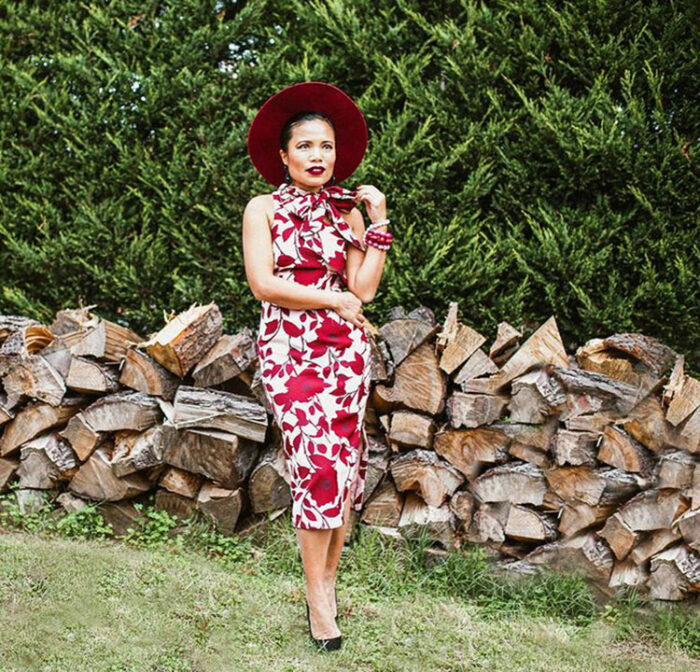 Colours can also have a huge effect on your style and how you feel. Understand how certain colors make you feel. You may like to read my article on the psychology of color.
If you don't use much color in your current style, you may start to experiment a bit by adding bits of colors through accessories and see how these make you feel.
Do you have a color you love to wear? You could create a capsule around it.
Souri @fabfemme_australia above (read her style interview here) looks beautiful in red.
Check out this floral dress (other options here and here) that you can wear with this similar pair of pumps and hat.
If you don't want to add a color to your clothes, you could, for example, simply add a bright colored bag to your everyday outfits, such as the BOSS bag below.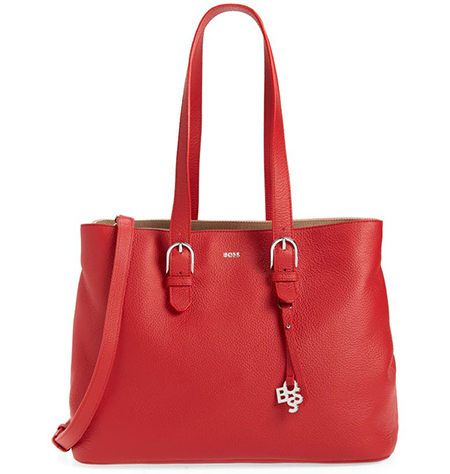 Or, a brightly colored scarf like the Vince wrap (below).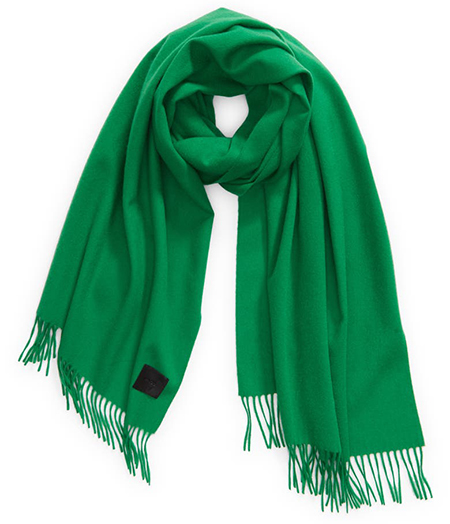 Vince Milled Fringe Trim Merino Wool Wrap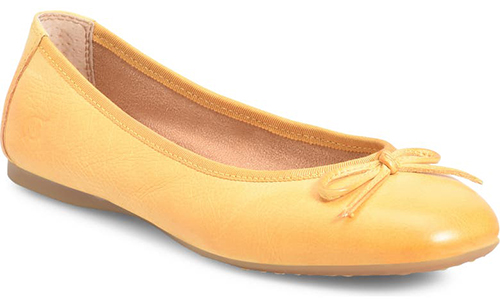 4. Be critical of your current wardrobe
Be honest. Which garments in your closet do you REALLY like? How many of the garments have you not worn for a long time. How many were 'mistakes'. Again, write down what didn't work. Which clothes make you HAPPY?
Then donate or swap any items that you know don't really work for you. They may be great pieces, but if they don't suit YOU or your body type or create the silhouette you are after, you will not look stylish in them. Have a look at my wardrobe editing series and create a wardrobe that you love!
5. Keep a scrapbook or pin the styles that inspire you
Whenever you see others wearing clothes you admire or like, try to get a picture and paste it in a note or scrapbook or pin it on Pinterest.
After a while, you will see a pattern developing of the kind of styles that you like. Take note of that and remind yourself about this style before going for the latest fashionable trend.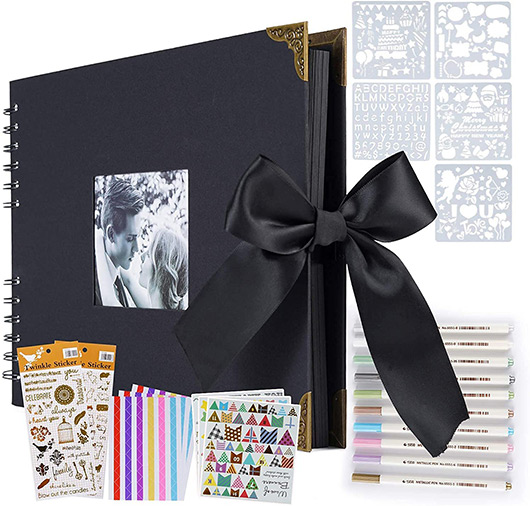 OLAI DIY Scrapbook Photo Album
6. Make sure that every item you buy FITS you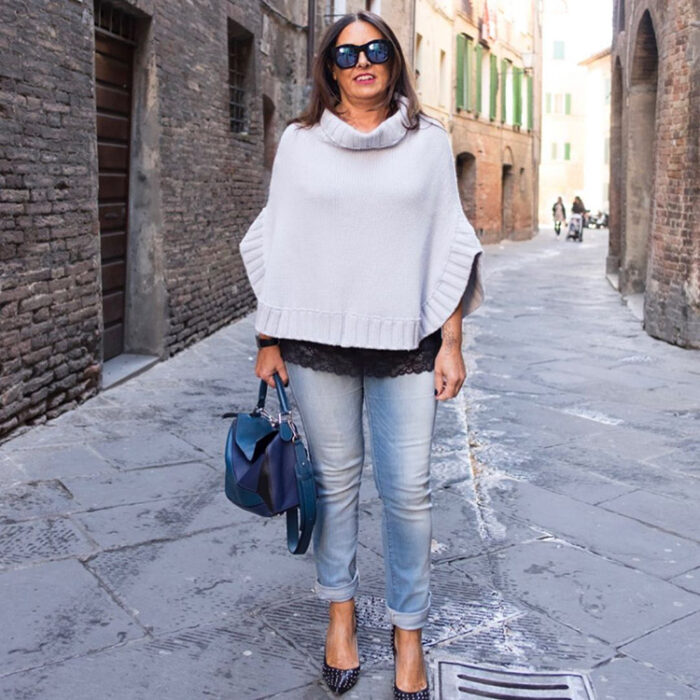 I'm sure this happened to you. You see an absolutely wonderful piece of clothing at a rock bottom price. It fits your body, style personality and creates a silhouette you like.
You try it on, but it's just a little bit too short or too tight. You buy it anyway because the piece is so lovely and it's cheap.
This is a big mistake. Any clothing that does not fit you properly will never look good on you.
So please be beware of sales and only buy new clothes when you really adore them and they fit you properly (or that you can easily alter to fit you).
Rita @ritapalazzi above (read her style interview here) turns up her jeans so she can show off her ankles.
Check out this similar poncho, jeans, pumps, handbag and sunglasses.
7. Keep a note book or diary of your outfits or take pictures
You may already pin images or make a scrapbook of clothes that inspire you, but when thinking about how to find your style, you should also try to really understand which clothes you actually wear make you feel GREAT!
If you felt wonderful on any particular day wearing a certain outfit, write it down. Or better even, take a picture.
I have found that taking pictures of myself is a great help in recognising which outfits worked and looked good and which ones didn't. This will help you identify your style and prevent you from making buying mistakes.
To make the process easier, you could try a tripod so you don't have to rely on others to take your photos for you.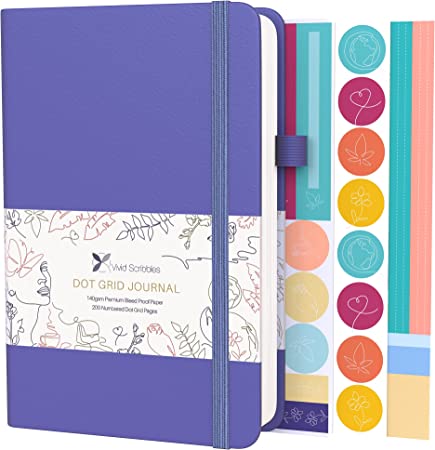 Vivid Scribbles Dotted Journal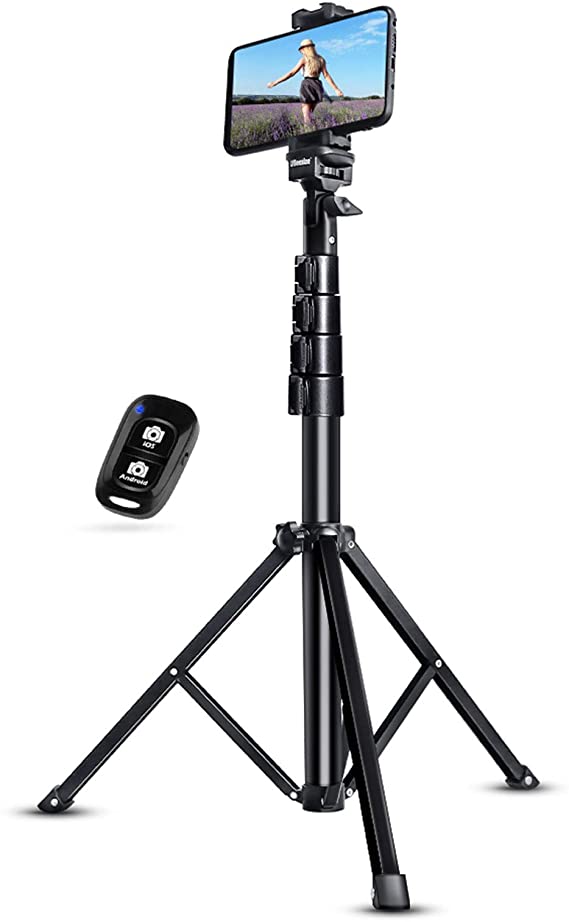 8. Try to identify the components of your style and only follow the latest trends when they fit your style
True style defies fashion trends.
Although it is nice to add some trendy pieces each season, you should only go for the trends that suit you. Try to wait for a trend that suits you and then buy several pieces. You can check the latest trends here.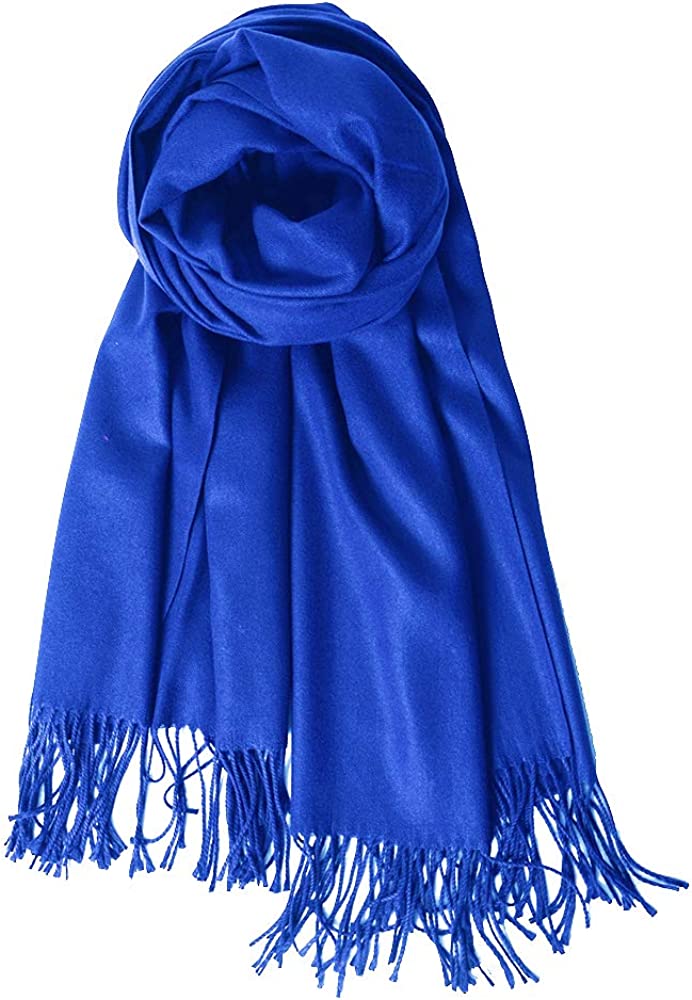 9. Make sure your wardrobe contains all the necessary basics for your style
If through all of the above you got a clearer sense of what you like and what suits you, you need to determine if you have the basic essentials necessary for your particular style.
These basics will be different for all of you. Go through your inspiration book and determine the absolutely necessary essentials for your style. Here is also what some style experts have to say about your wardrobe essentials.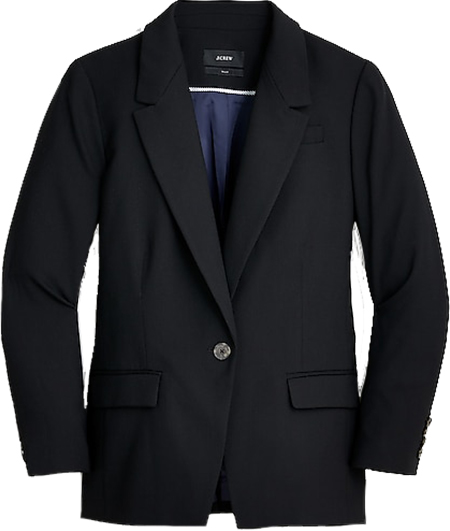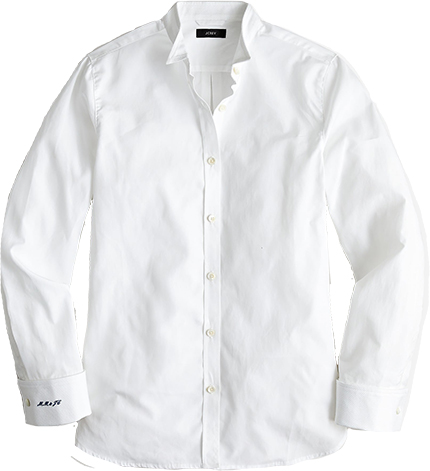 Marie Marot X J.Crew Cotton Poplin Tuxedo Shirt
Also, take a look at my own ultimate checklist of 33 wardrobe essentials and see if you agree or whether you think I've missed anything.
10. Make your style extra special with the right statement pieces and accessories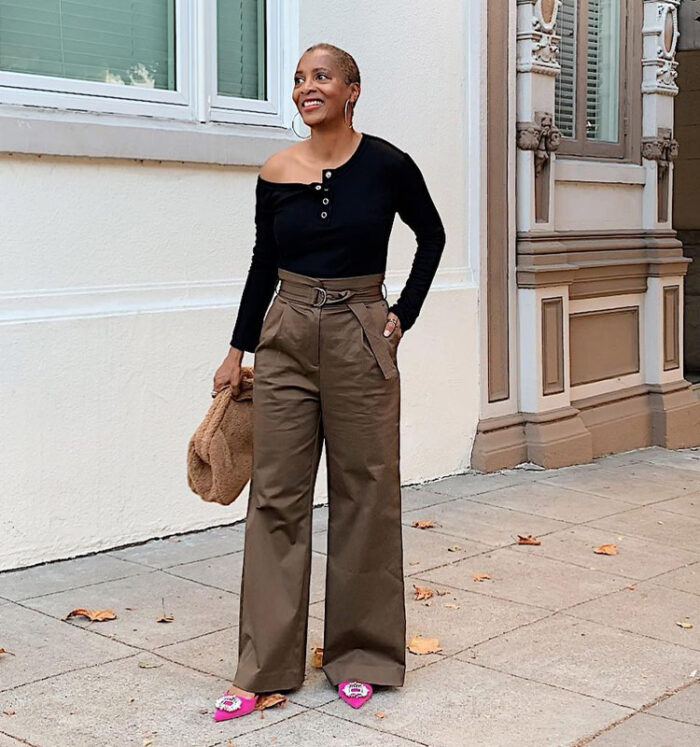 Once you have covered the basics of your style, look for some wonderful statement pieces that are truly unique for you. Try to be creative and mix both high and low end brands together. Create something unique!
Accessories are easier to change and it's also easier to be very creative with them. Invest in a good pair of shoes and choose the perfect hand bag for your style.
If you understand your style well, it may not be necessary at all to have many shoes or handbags.
Rather, you could focus on getting the perfect ones. One of these accessories may become part of your signature style. Something that uniquely defines you.
For example, if you like comfort but you still want to stand out from the crowd, you could choose a pair of patterned or textured sneakers.
Kim @kimair above (read her style interview here) chooses a neutral outfit and adds impact with her pink shoes.
Get her look with this similar top, wide leg pants, pumps, handbag and hoop earrings.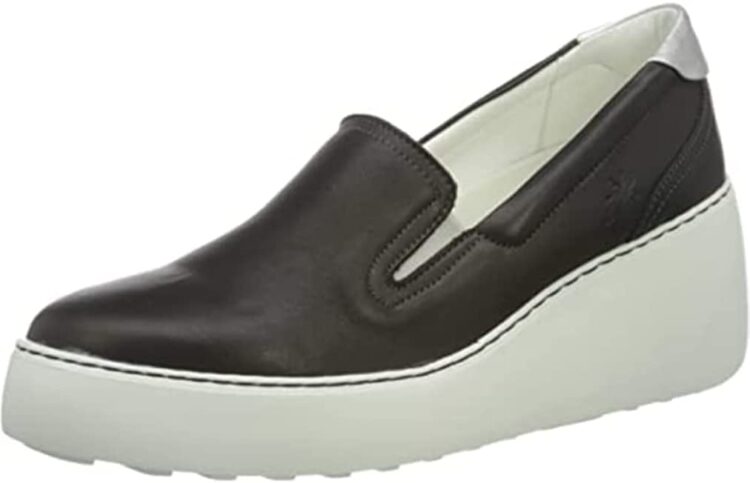 Or, you could update your outfit with an on-trend bag.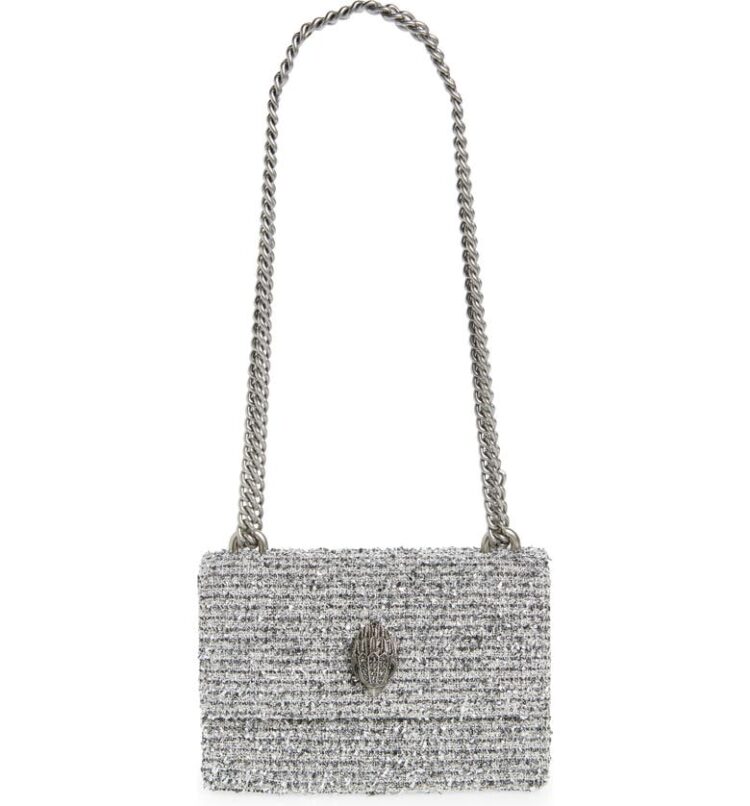 Kurt Geiger London Shoreditch Metallic Tweed Crossbody Bag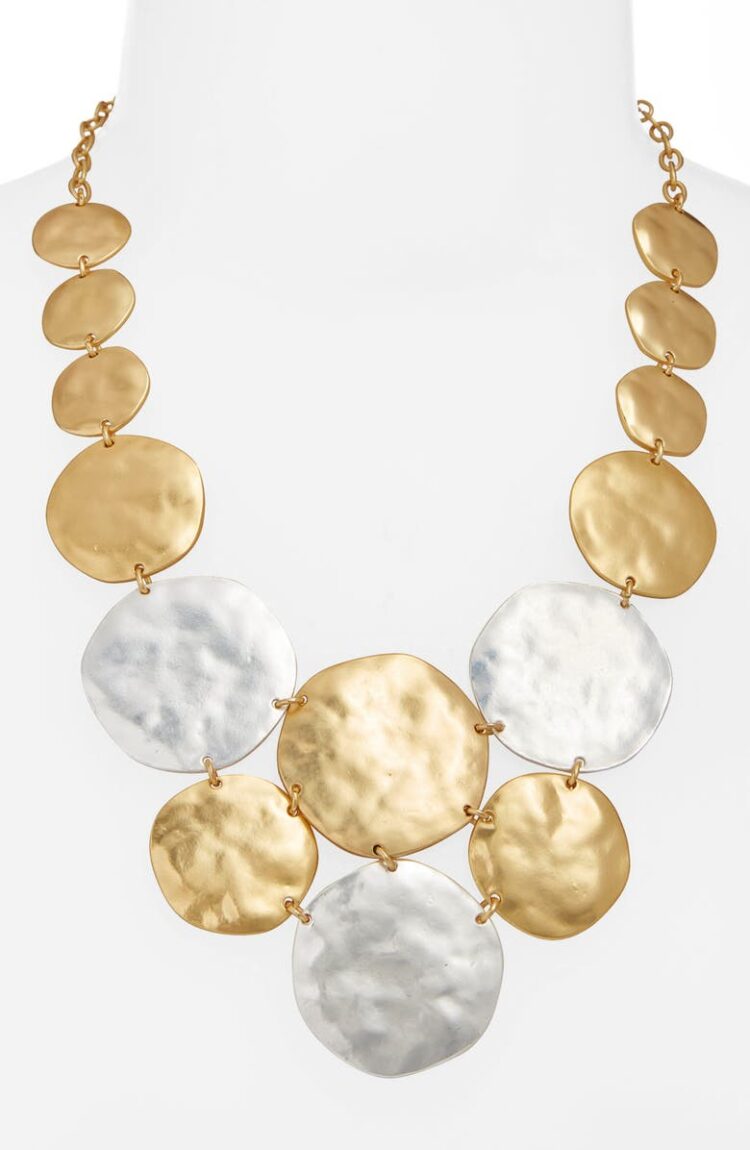 Karine Sultan Hammered Circle Statement Bib Necklace
Want to know more? Most of these steps are explained in great detail in our style course: 21 Steps to a More Stylish You. Learn how to create your unique signature style and know exactly what to shop for. Get more info here.
More ideas to hone your own style
You already have 10 ideas to refine and elevate your style. Now, let's take a look at a few more ways you can find inspiration and develop your own sense of style.
1. Choose your favorite pieces – and build your outfit around them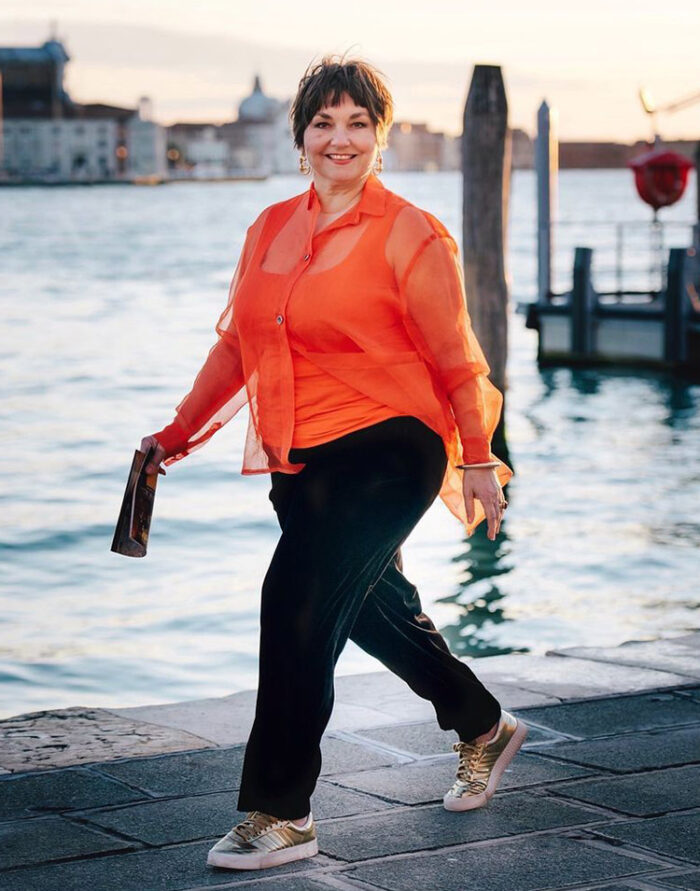 If you really aren't sure where to start, then you can take out your favorite item from your closet and build the rest of your outfit around it. Susanne @textelle above (read her style interview here) matches her shoes to her earrings.
Here is a sheer topper (another option here) that you can wear with a similar tank top, pants, sneakers and hoop earrings.
Alice + Olivia Melia Stripe Stretch Cotton Button-Up Shirt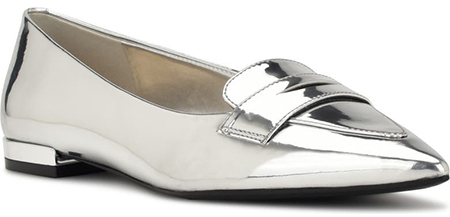 Nine West Lallin Pointed Toe Flat
2. Take inspiration from celebrities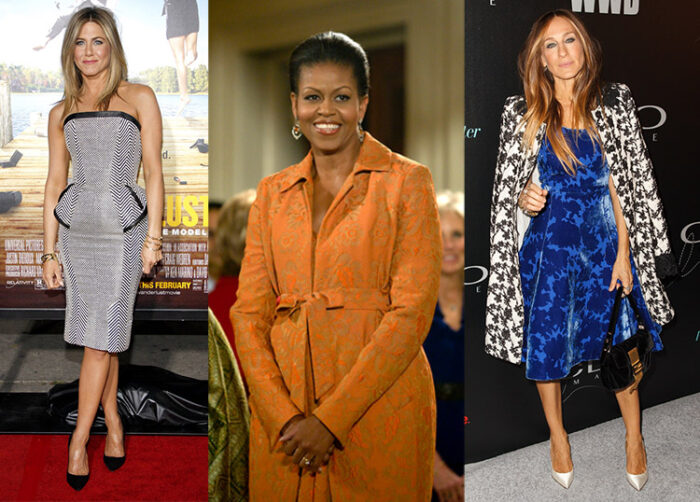 Jennifer Aniston, Michelle Obama, Sarah Jessica Parker
While you won't want to copy anyone else, as this is all about developing your own individual style, you can definitely take inspiration from other stylish women.
Have a look at the style icons we have featured on the site.
If you love an outfit one of your favorite celebrities is wearing, why not take a look in your closet and see if you can emulate it in your own way.
3. Follow other stylish 40+ women
One problem when it comes to developing your style is imagining what a certain outfit will look like on you rather than on the 20-something model walking down the catwalk. Look at what other stylish 40+ women are wearing and how that might fit in with your own style. Take a look at @40plusstyle on Instagram, and the 40+Style Community on Facebook or check out the most stylish women over 40 on instagram.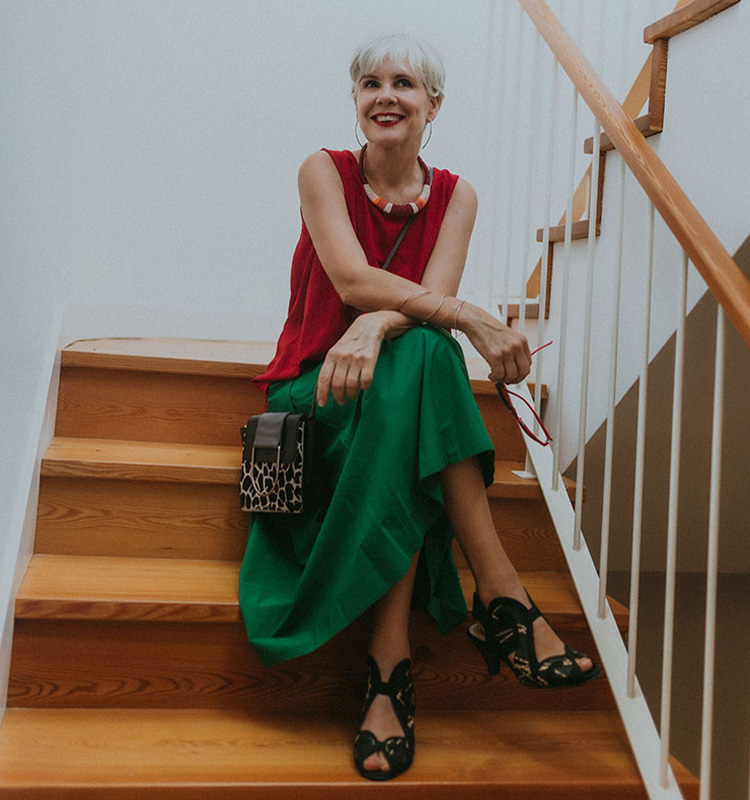 4. Consider how you want to present yourself to the world
If you aren't sure how to define your style, why don't you think about it from another perspective. Rather than thinking about what to wear, think about how you want people to think about you. For example, do you want to look friendly? confident? interesting? How can you say that with your clothes?
5. Trust your instincts
Finally, trust your gut. If you've put together an outfit and it feels right and gives you confidence, you've hit upon a success!
shop some of the items above here:

Let me know if these tips on how to find your style work you for you! Do you think you've found your style yet? Or is it still a work in progress for you?
Continue reading:
Want To Discover Your Personal Style And Discover Your Style Personality? Take This Fun Personal Style Quiz!
Like this article on how to find your style in 10 Steps? Share it on Pinterest.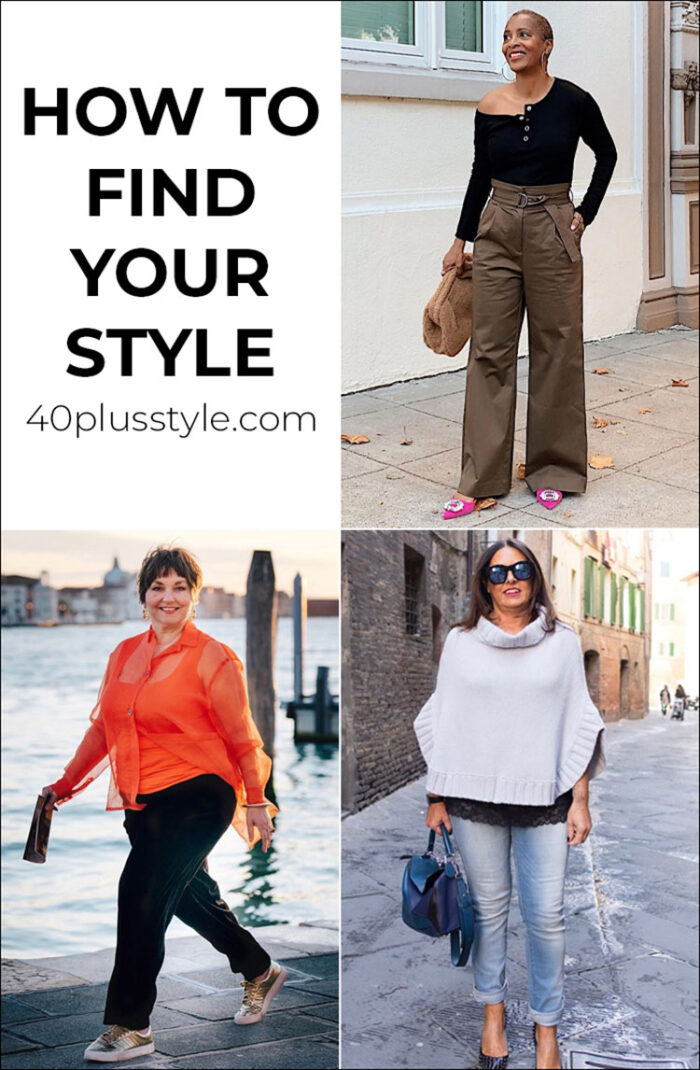 Feature image by Kim @kimair
Want to get more articles from 40+style in your inbox, subscribe here.
You can also connect with 40+style on Facebook, Instagram or Pinterest.
Support 40+style by using the links in our articles to shop. As an associate for Amazon and many other brands, we receive a small commission (at no cost to you) on qualifying purchases which enables us to keep creating amazing free content for you. Thanks!