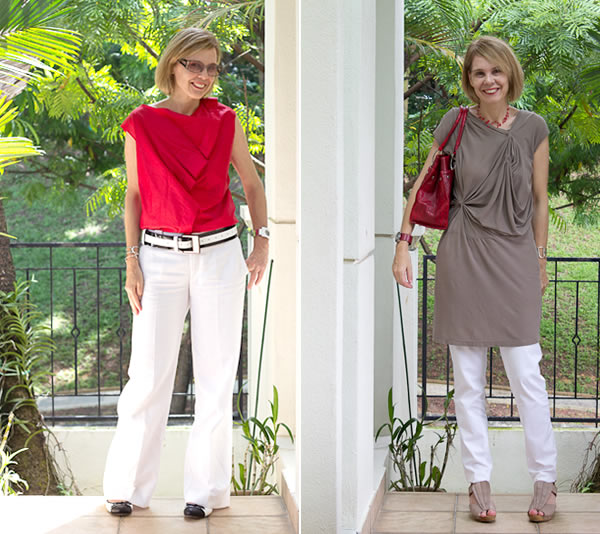 I love wearing white. I find it such a fresh, modern and easy to combine colour, that white pants have become the ultimate basic in my wardrobe. If I don't know what to wear, I grab one of my white trousers and either combine it with a top, dress, blouse or jacket. There are just so many ways to wear you white pants and today I'd like to highlight a few options.
White skinnies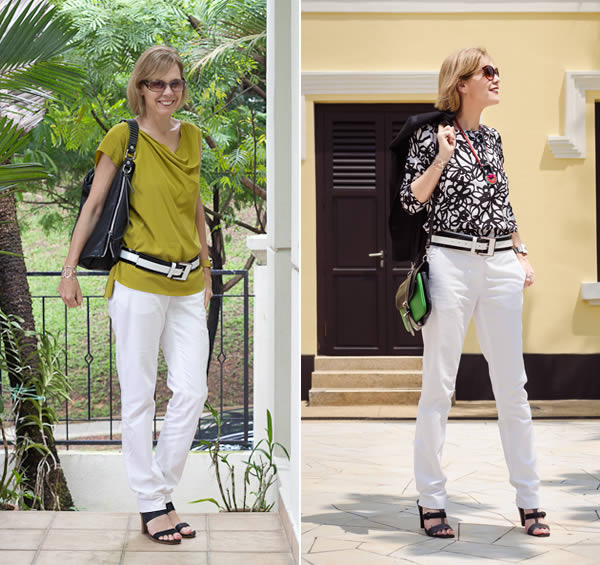 Although these are not real tight skinnies (I don't own them), they are very tapered. Great for a modern, hip look.
White sailor pants
These were a long-time favorite of mine and have been featured on the site many times. Great for a laid back relaxed look and for creating a nautical style. You can wear them with t-shirts only, combine them with a belt and / or a blazer, with a hip (silk) top and even with short dresses.
I would wear them in casual situations, in the evening and also to business meetings.
White trousers for sports
I love wearing white for sports as well, especially skiing and yoga.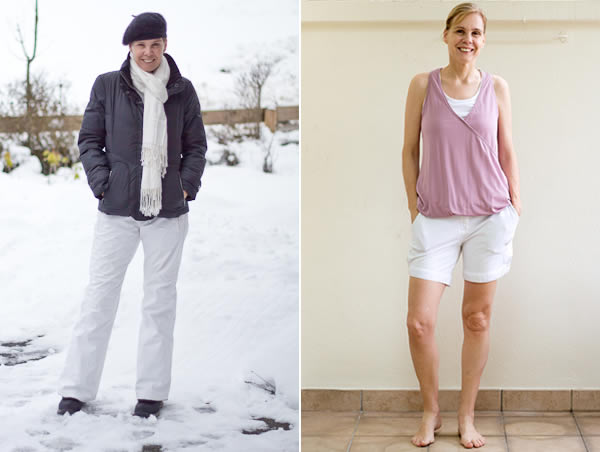 White cropped pants
I own cropped white pants as well, which I particularly like to wear with short dresses. Great for a slightly hipper look or if you want to show off your shoes.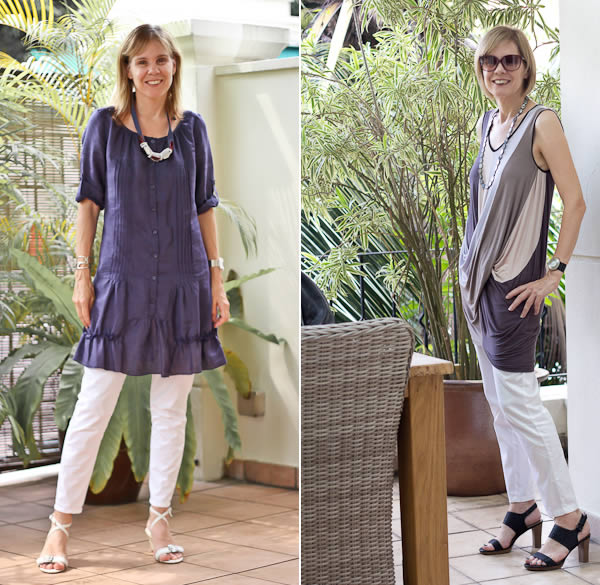 Straight leg white pants
These are my current favorite. They are made of a thicker cotton so not so see-through and have the perfect rise for my figure. They are so easy to combine with many of my tops and great to wear with belts.
Winter white
Although white is an obvious choice for my tropical weather, I love wearing white in winter too.
Knee high white pants
When the weather gets even warmer or you are going on holiday, knee-high white pants or leggings are perfect.
Are you wearing white yet?
If you have always been reluctant to wear white, give it a try! Don't be afraid that white makes you look bigger, but instead focus on finding the perfect fit for your body type. Play with different tops and shapes or try wearing tunics or short dress over your trousers.
White is such a great versatile colour and it looks like it's going to be very popular this season with many white pants already hitting the stores. Give it a try and mix with clothes from your wardrobe.
I would love to see what you come up with in the style forum!
What do you think of white? Will you be wearing it this spring and summer?

Related posts: