Have you ever stood in front of your closet and thought "I have nothing to wear," even though your wardrobe is actually full? A capsule wardrobe could definitely be the answer.
In this article, you will find out everything you need to know about how to create a capsule wardrobe (or wardrobes depending on your lifestyle!)
Why is there so much hype about capsule wardrobes?
In these times of fast fashion, it could be easy to jam-pack your closets with dozens, if not hundreds, of items you don't actually wear very much.
But what if you could do a lot more with fewer clothes?
That's possible with a well-thought of capsule wardrobe. You have fewer pieces but a lot more options for outfits.
If you want to make sure that you stick to your clothing budget as well as spending less time putting together outfits which then don't quite work, a capsule wardrobe could definitely be for you.
Read our article about outfit ideas: how to get inspiration for your next outfit.
So, exactly what is a capsule wardrobe?
Quite simply, a capsule closet is a a limited number of clothes, shoes and accessories, which all go together, making getting dressed a breeze. Below is an example of a capsule wardrobe for the natural style personality.
The term "capsule wardrobe" has been around since the 70s when London boutique owner Susie Faux is said to have coined the phrase as part of her bid to help women invest in key pieces that all worked with each other.
Designer Donna Karen then released a collection of 7 items of work wear, all designed to go together and make the working week easy, before the idea regained popularity again among women keen to do more with less.
All different kinds of capsule wardrobes
At 40+style we like to create a capsule wardrobe for occasions, colors, personality styles and body type. Here are just a few of the capsule wardrobes we have created.
Seasonal capsule wardrobes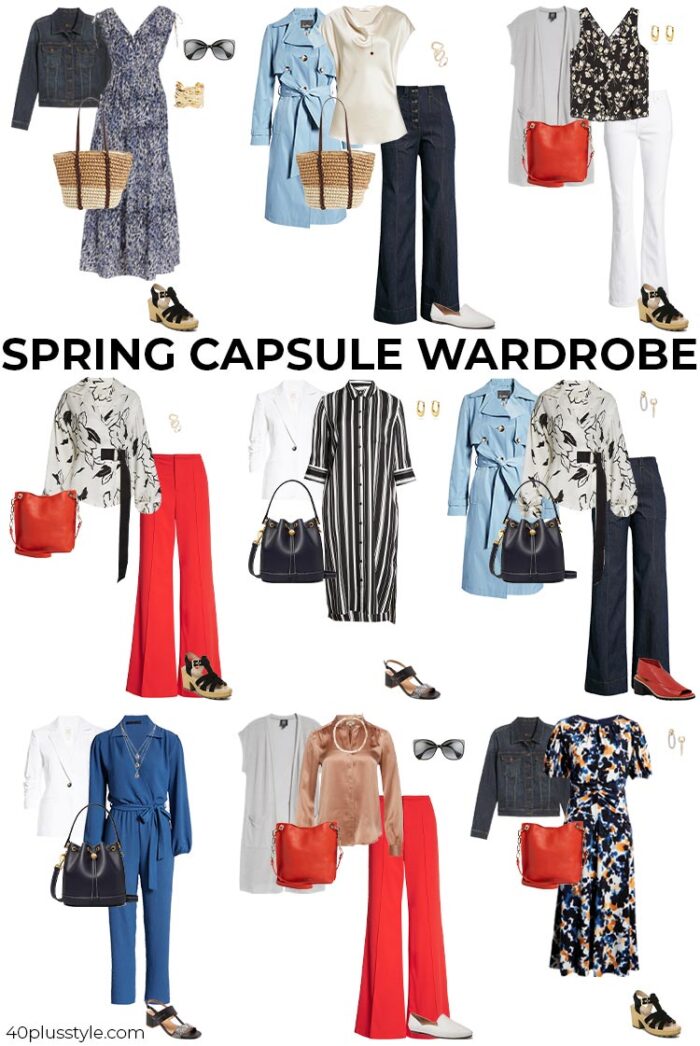 Capsule wardrobes for your body shape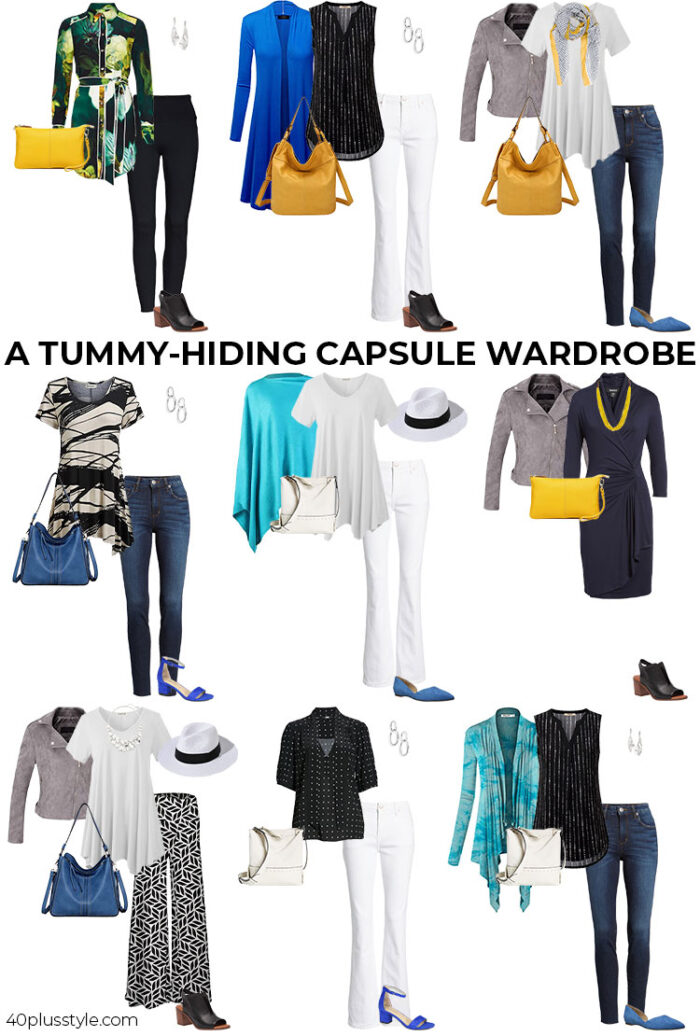 Capsule wardrobes focused around certain colors
Capsule wardrobes for certain occasions & activities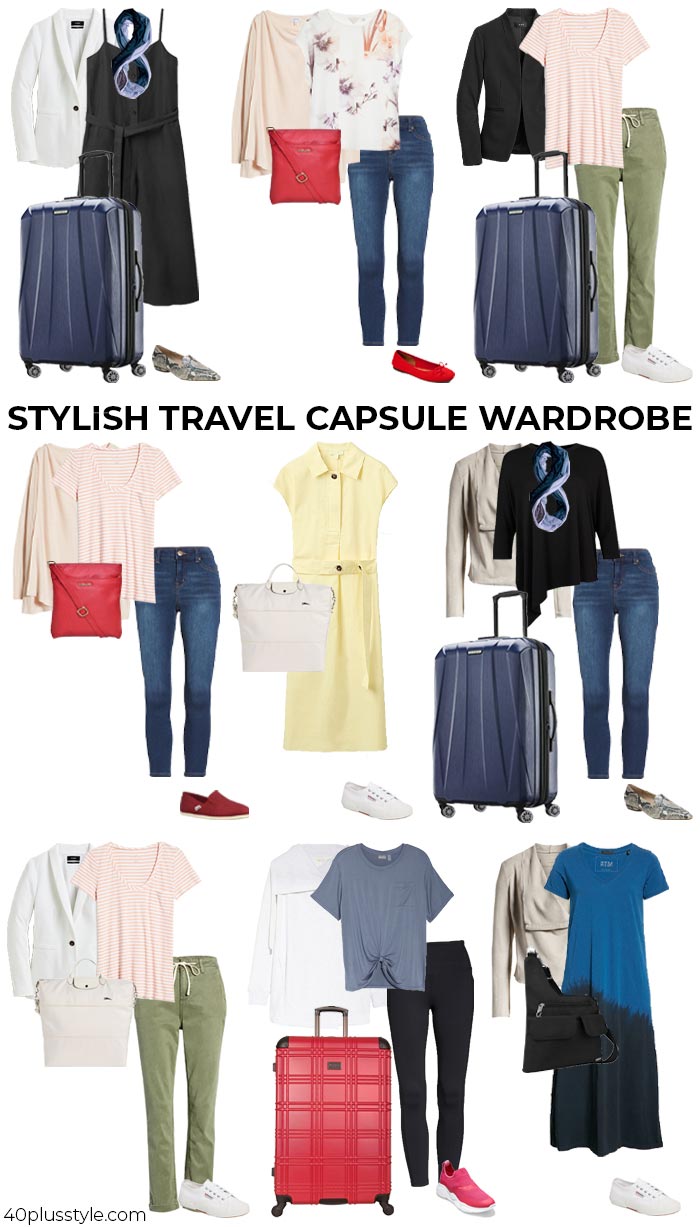 Capsule wardrobe built around a favorite piece of clothing
Capsule wardrobes for different style personalities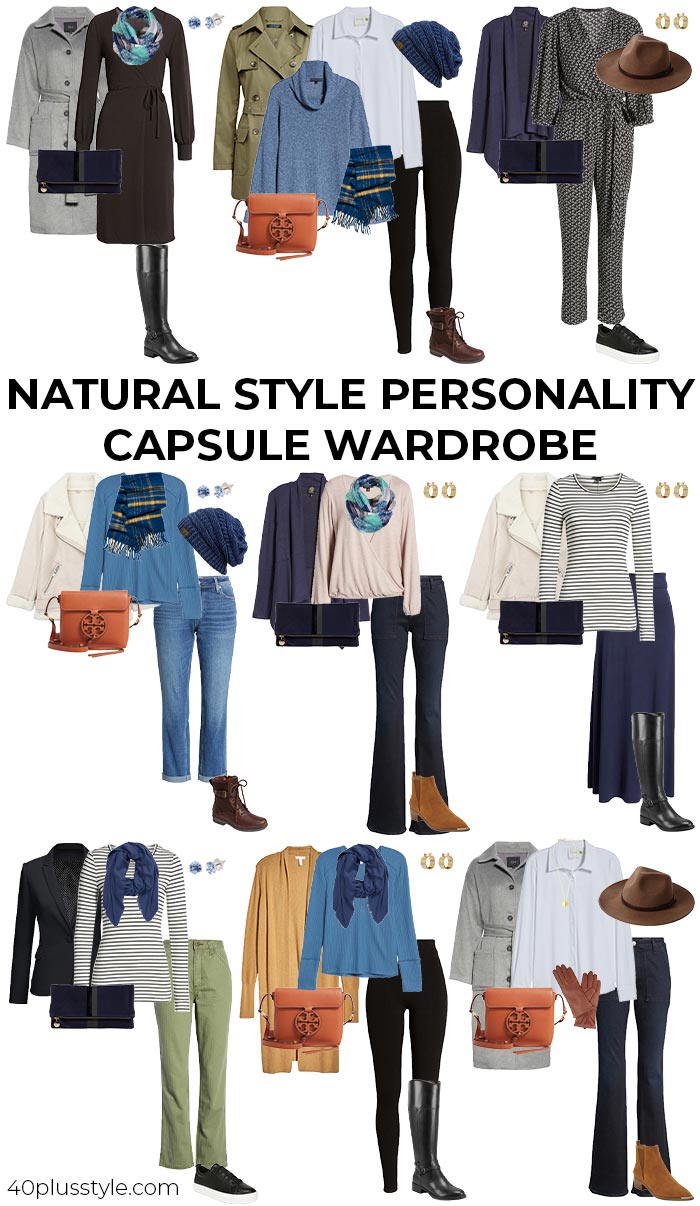 How many items should you have in your general capsule?
This varies from woman to woman, so I can't answer this one for you. There has been plenty of advice offered about how you should only have 30 or 37 items in your closet, for example.
However, I would define a capsule differently. I think it's about making sure that you wear everything within your closet, and it's definitely hard to do that if nothing goes together or you have 500 items in there.
So, whether you have 30 or 60 or 120 items is up to you. Just make sure you love everything you own and you wear it.
Do you only need one capsule wardrobe?
Again, this comes down to you and your lifestyle. You may find that you are happy with one overall capsule wardrobe.
Or, it could be that what works for you is to have one casual capsule, for example, and then one capsule wardrobe for work or more formal wear.
Depending on where you live and what the weather is like, you may want to think about creating your capsule wardrobe for the seasons.
I also find that when I'm able to travel, it is useful to create a mini travel capsule wardrobe for my trip so I know that I can create plenty of outfits for the time period I'll be away from home.
You can also have a capsule wardrobe around a certain color like red (see below).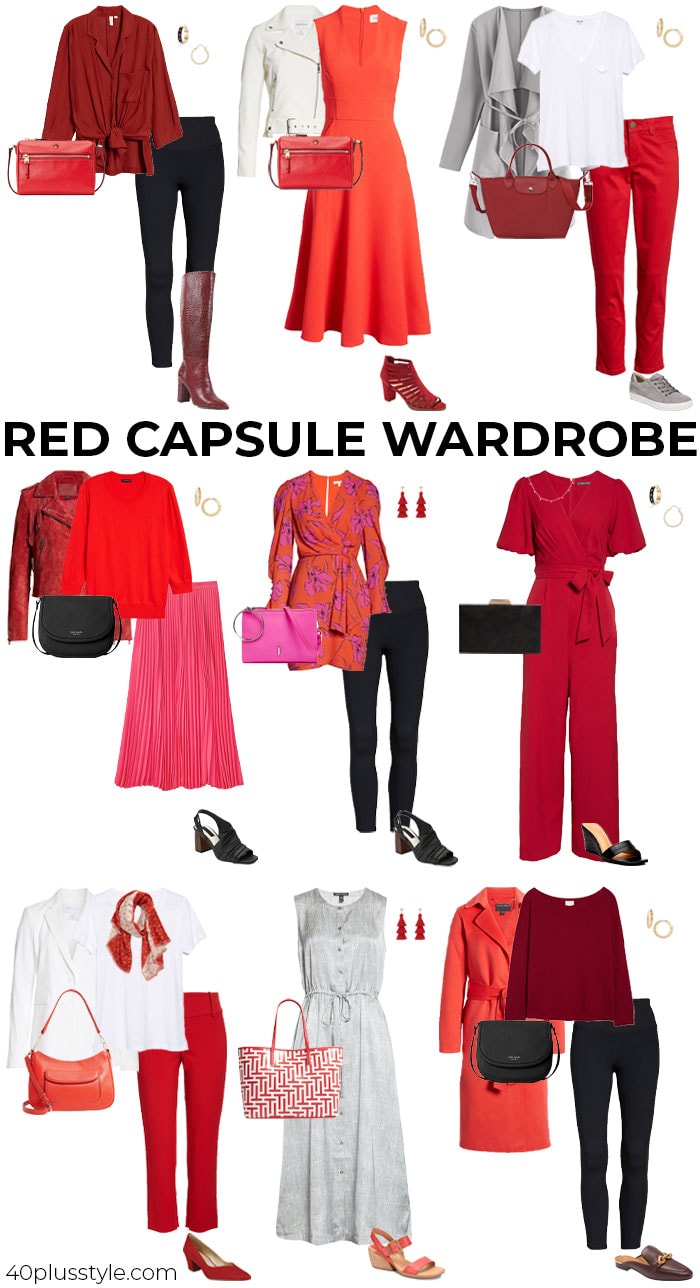 The benefits of a capsule wardrobe
"Capsule wardrobe" isn't just some trendy term to be bandied about. It can have so many benefits, and not just for your style. Here are the main advantages to creating a capsule, or capsules:
You will save money as you won't impulse buy
You will wear everything you own
You will be able to get dressed quickly
Your closet will be neat
You will have fewer items, but more outfits
Tips on how to build a capsule wardrobe
Now that you're thinking about how a capsule wardrobe may work for you, let's look at what to put in your capsule…
Capsule wardrobe essentials: Start with your basic wardrobe
That doesn't mean that your basics have to be basic. However, just like a house, a good capsule wardrobe starts with good foundations.
So, think about the essentials you need in your closet for your lifestyle.
You can then build your capsule wardrobe around these.
For example, if you make sure you have a great pair of jeans that fits perfectly, a classic pair of black pants and a pair of white pants, these will go with so many of your tops.
But that doesn't mean that your capsule wardrobe has to consist of "boring" items just to make sure that it all works together. For instance, if you choose a white shirt, you can make sure it is a special white shirt in a silk fabric, or one which features interesting asymmetry.
Annette @theladyofstyle above (read her style interview here) shows off an outfit that is made up of "basics" that go well together but could also be used as the foundation for a variety of different outfits.
Get her look with this similar tee, cardigan, leather leggings, pumps, bag and scarf.
Your capsule collection: Look at what you have already
It can be tempting to think that you have to clear out your entire closet, and then replace it all with a capsule wardrobe of 60 items.
However, that isn't the case at all. Start with what you already have. Have a closet clear out and make sure that everything you have is something that you love, that you wear and that fits properly.
From there, you can work out any gaps you have in your closet. Make sure that every piece in your closet can be worn with at least 3 other pieces so you don't create wardrobe orphans (pieces that cannot be worn with any other item in your closet).
Take a look at how to edit your closet and also how to find lots of new outfit ideas by rearranging your closet.
Use at least 4 colors for your capsule clothing but preferably more
While the idea of a capsule wardrobe is that everything goes with everything else, that does not mean you have to stick to neutrals.
In fact, if you only use a neutral color palette, you may soon tire of your capsule wardrobe.
Instead, choose a color scheme in the same way that you would for your home. Opt for a base of two or three neutrals, but then you can add in plenty of accent colors.
Remember, your clothes have to match with only 3 other pieces in your closet. Unless you opt for an ultra small capsule wardrobe, they don't need to match with everything. So don't limit yourself too much on the colors.
If you do want to keep your capsule as minimal as possible the beauty of having your base colors is that when you do become bored with your accent colors, you can always swap your colors around at a later date.
Or, you can do the opposite and keep your colors, but change the neutrals you are using.
Emms @beautifuleveryday_uk above shows off an outfit featuring neutrals. You can see you could easily use this as a base to add other colors such as red or orange, for example.
Check out this similar turtleneck top, moto jacket, wide leg jeans and booties.
Take a look at this article on the ultimate checklist of 28 essentials.
Pattern and print in your staple wardrobe
Quite often women who limit their wardrobe and create capsules avoid print.
But that can lead to a boring wardrobe and make your outfits a little bit one dimensional.
Instead, I encourage you to choose at least a few prints. Again remember, they don't have to match with all your clothes, just 3 other items.
By sticking to patterns and prints in your color selection, your clothing will still be interchangeable, yet you will add interest.
Start with your bottoms for your capsule closet
The easiest way to start your capsule wardrobe is from the bottom up.
You can begin with jeans or pants and then add interesting tops, dresses and jackets.
Nikki @midlifechic above opts for a pair of jeans that would go with all of the tops in her closet and adds a stylish sweater and chic coat.
Steal her look with this similar sweater, coat, jeans, knee high boots, crossbody bag and earrings.
For more inspiration check out our article on what shoes to wear with different styles of pants.
Don't forget your style personality
There can be a perception that a capsule wardrobe means a classic style. And, of course, that can be the case.
But, that is not what a capsule closet is about. A capsule should work for you, no matter what your own individual style personality.
Make sure to take the style personality quiz and you will get your personal capsule wardrobe recommendation with one capsule handpicked for you!
Capsule wardrobe planner: A capsule wardrobe example
I think the easiest way to describe putting together a capsule wardrobe, is to create an example capsule for you.
In this example, I'm imagining you dress in a smart casual way most of the time. But, of course, this can be adapted according to your lifestyle.
As many of you will still be in winter, I've opted for a combination of winter and spring items so you can use this capsule as the temperature starts to warm up, but you could easily adapt this capsule for any weather.
Capsule wardrobe pants
When showing you a capsule, you will usually find that I show you the tops first, simply because, well, they go on the top.
But, here I'm going to start with the bottoms because this is where I would usually start with my own capsule closet.
If you have good, well-fitting jeans as well as a pair of black pants and a pair of white pants, these will go with all of the tops in your closet, making it easy to create a capsule.
Of course, you don't have to keep everything in plain, block colors. You can add a pair of print pants. You will still find that print pants can go with other prints in your closet as well as block color tops.
For this capsule, I've opted for dark jeans, white pants, a pair of printed pants and a slimmer pair of black leggings which you can wear with longer tops and also dresses.
Alison @wardrobe_oxygen above (read her style interview here) shows how you can elevate your jeans and t-shirt look with a blazer.
Get her look with this similar tee, jeans, blazer, sneakers, crossbody bag and sunglasses.
Wit &Wisdom Ab-Solution Itty Bitty Bootcut Jeans – Lyssé High Waist Denim Leggings – DIARRABLU Leer Palazzo Pants – Zella Live In High Waist Leggings
Capsule wardrobe tops
Now to move onto tops. And this is where I've started to add some color into this capsule. I've stuck to a palette of neutrals along with some reds which I always think look beautiful during any time of year.
I've also started to add some flattering shapes here with draped tops that would be perfect for hiding a belly, as well as a silk top for an element of luxury.
Sylvia @sylviacolella above wears a white shirt that can be dressed up or down.
Recreate her outfit with this similar shirt, coat, skirt, sandals and sunglasses.
Treasure & Bond Oversize Button-Up Shirt – LARACE Tunic Top – COS Printed Silk Blouse – Vince Cowl Neck Silk Blouse
Capsule wardrobe jackets and coats
You will also need to think about the outerwear for your capsule. Here, I've added four of the most versatile styles for your closet, including a trench coat, blazer and an on-trend shacket (shirt-jacket).
I also love a moto jacket as these can instantly alter the mood of an outfit to give a more casual feel. You don't have to stick to black, you could choose a more vibrant color or a paler neutral.
Adaline @sdmomstyles above wears a shacket with her skinny jeans.
She is wearing a shacket from GIBSONLOOK (here is another option). Check out this similar pair of jeans, boots and sling bag to complete the look.
Urban CoCo Open Front Blazer – Karen Millen Classic Woven Trench Coat – BLANKNYC Suede Moto Jacket – VERO MODA Brushed Shacket
Capsule wardrobe dresses and skirts
The skirts and dresses you choose can also provide versatile options to ensure that you can put together many, many outfits.
For example, you could wear your wrap dress over your pants. Or you can wear a sequin or asymmetrical skirt formally with a blazer and shirt, or casually with a moto jacket and t-shirt.
Georgette @grownandcurvywomen above (read her style interview here) shows how you can style a shirtdress.
Check out this belted shirtdress from H&M (plus size option here) that you can wear with this similar pleated skirt, sandals, earrings and handbag.
COS Relaxed-Fit Midi Dress Shirt Dress – & Other Stories Printed Collared Midi Dress – Kate Kasin High Waist Pleated A-Line Swing Skirt – Vfshow Ruched Pencil Midi Skirt
Capsule wardrobe shoes and boots
When it comes to choosing the shoes and boots which will work for you, think about your lifestyle as well as what you are most happy to wear.
For example, there is no point in filling your closet with heels that look fantastic on the shelf if you find them too uncomfortable to wear.
As a general guideline, I would say that a pair of sneakers, some sandals or heels, booties and a pair of longer boots will see you through most days.
Marie-Louise @mrsmlmode above wears long boots with her leather pants.
Get her look with this similar sweater, blazer, leggings, boots, crosssbody bag and earrings.
Kenneth Cole New York Levon Knee High Boot – Lucky Brand Basel Ankle Bootie – DREAM PAIRS Ankle Strap Block Heels Sandal – Feethit Slip-On Sneaker
Capsule wardrobe accessories
Your accessories can really make or break your outfits, and your capsule wardrobe concept.
They can also enable you to change up your capsule when you feel that you are tiring of your outfits.
If you have a palette of neutrals in your closet, then simply adding new colors with your accessories can give your outfits a completely different look.
Abi @stealmystyle40 above wears a relatively simple outfit of black pants and a cream sweater but adds something extra with her bracelets, earrings, sunglasses and logo bag.
Recreate her outfit with this similar sweater, leggings, boots, tote and earrings.
BOSTANTEN Genuine Leather Tote Bag – OVER EARTH Genuine Hobo Shoulder Bag – Kaibig Gold Circle Disc Dangle Drop Earrings – Nine West Silver-Tone and Black Agate Frontal Necklace
Reminders on your capsule wardrobe checklist
I hope this article has inspired you to create a capsule of your own. Here are some points to remember to tick off on your capsule wardrobe list before you add any new item to your closet:
Does it go with at least 3 other items that I already own?
How many outfits can I create if I add this to my closet?
Does this tie in with my own personal style?
Very importantly, does it fit properly?
Does it suit my lifestyle?
Now, to put together all of the clothes, shoes and accessories from the capsule wardrobe above.
You can wear these in countless different ways, but below are 9 outfits to get you started.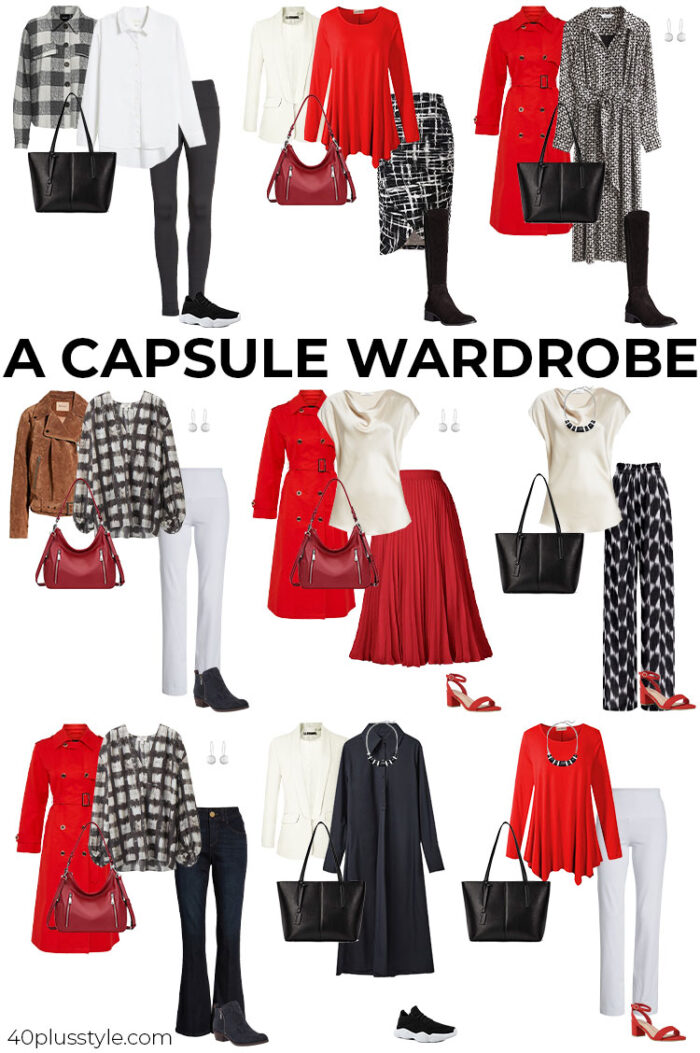 shop some of the items above here:

More capsule inspiration for you
Below are previous season capsules but, because they are so timeless, they should still give you some ideas for your own wardrobe.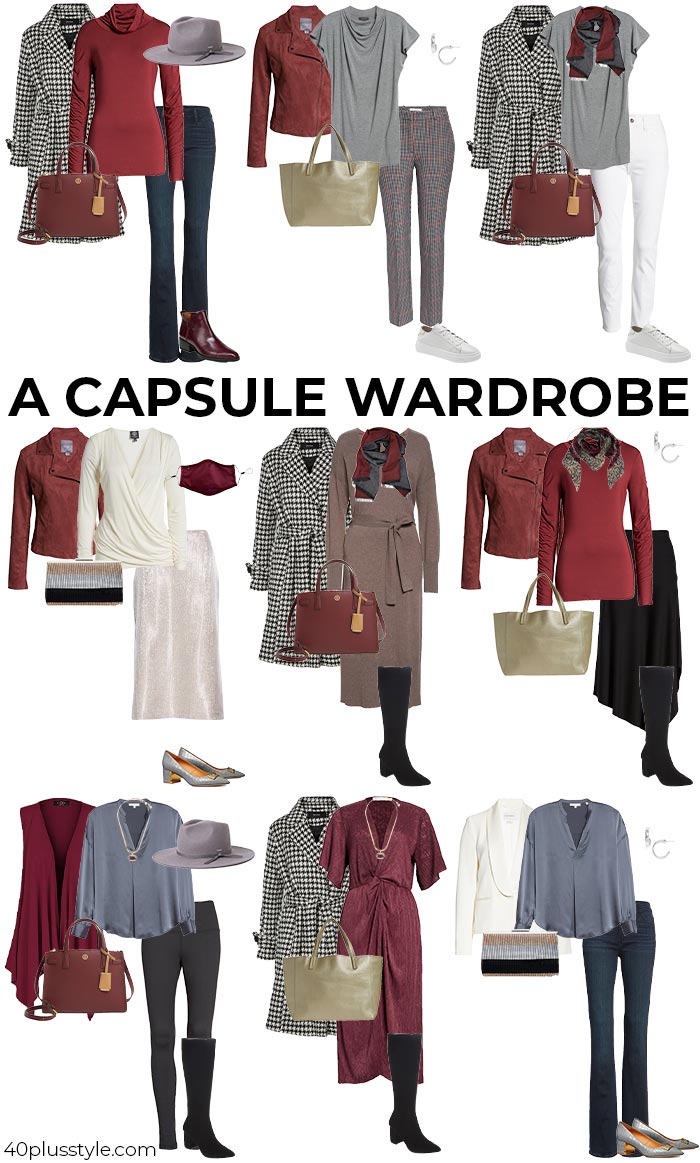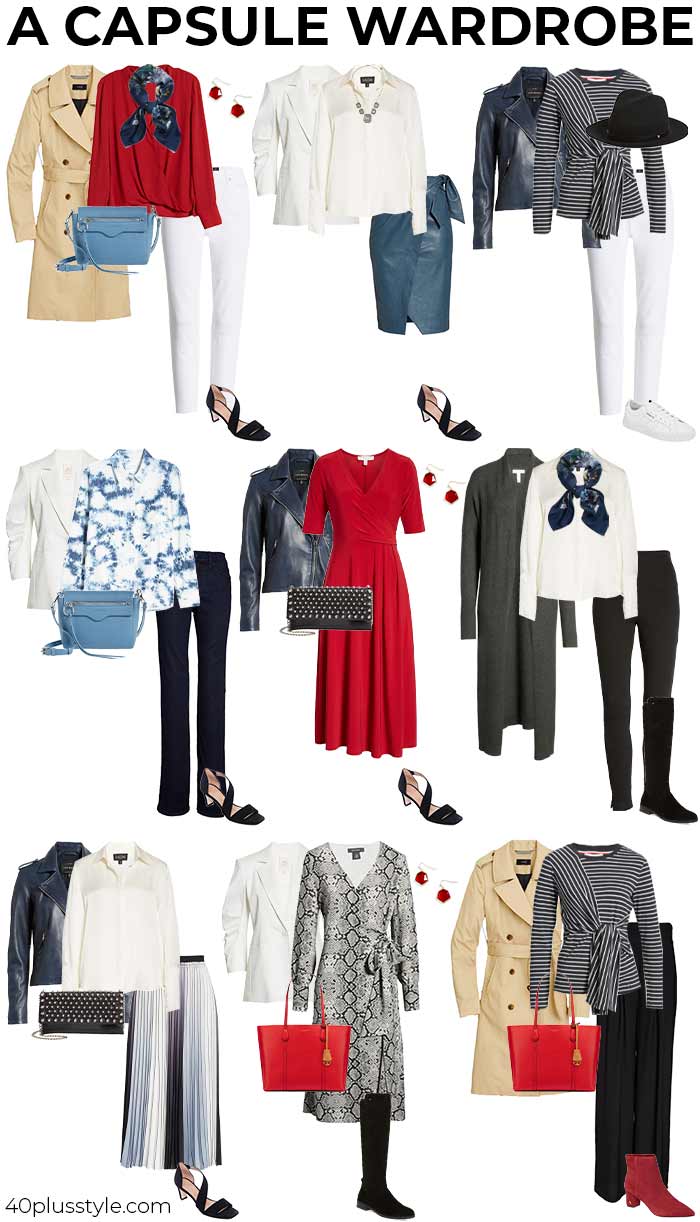 Do you already have a capsule wardrobe? Or is a capsule closet something you are hoping to create? I'd love to hear your own thoughts and tips
Continue reading:
Outfit Ideas: How To Get Inspiration For Your Next Outfit When You're Bored With Everything In Your Closet
Like this post on creating a capsule wardrobe? Share it on Pinterest!
Feature image by Nikki @midlifechic
Want to get more articles from 40+style in your inbox, subscribe here.
You can also connect with 40+style on Facebook, Instagram or Pinterest.
Support 40+style by using the links in our articles to shop. As an associate for Amazon and many other brands, we receive a small commission (at no cost to you) on qualifying purchases which enables us to keep creating amazing free content for you. Thanks!