The Eurochic look is one of those styles that is hard to define. But, you know it when you see it.
You will see the Eurochic style as you sit having a coffee at the airport, or you watch the buzz of the people going by and spot a woman who looks totally at home in her surroundings, yet also stands out from the crowd.
European outfits: A mix of styles
You are likely to find that you are drawn to more than one style personality. That is what makes your own style unique, and by combining elements of your main style personality with the other styles you are drawn to, you can create a style which is uniquely yours.
Because Eurochic style is a blend of the classic and the edgy, you are also likely to find yourself attracted to minimalist, architectural, classic, and street/urban styling.
How to know if you have a Eurochic style?
If you aren't sure about what style personality you are, you can take this fun style personality quiz to find out. Below are more ways to tell if you have a Eurochic style:
1. It's hard to describe.
It is difficult to pin down exactly what the Eurochic style is, but it is seen on women who seem to look effortlessly stylish and hip.
2. You like to combine unexpected pieces together
If you have a Eurostyle, you like to combine more expensive timeless pieces with less expensive high street options. The way you put them together looks very sophisticated.
3. You are aware of trends but don't always wear them
You exude a cool elegance and look stylish but understated. You will always be aware of what is currently on-trend and you might incorporate these trends into your closet, but it's more important to you to find pieces which are well-made and well-cut.
4. You like neutral shades
You prefer neutral shades which coordinate with the other pieces in your outfit. You don't like anything too gaudy.
5. You don't buy on impulse
You're very unlikely to buy pieces on impulse, but you do like to add items to your closet whenever you travel so that your outfits are totally unlike those of anyone else.
European fashion
While you may have bought the pieces in your closet anywhere in the world, your style looks as if it has been honed in Europe.
You would look equally at home in any of the cities in Europe, whether visiting Milan, Paris, Rome or London, or strolling the streets of Capri.
Celebrities with European style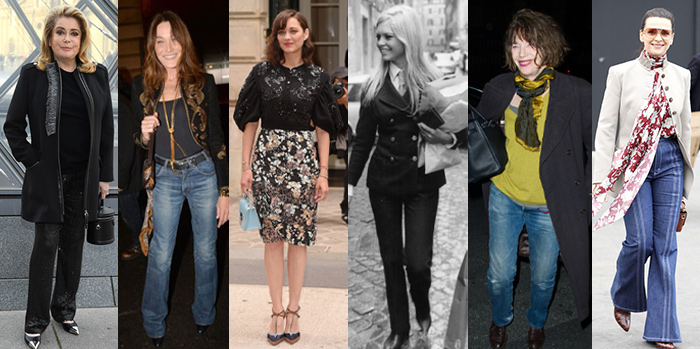 Celebrities with enviable eurochic style include Catherine Deneuve, Carla Bruni, Marion Cotillard, Brigitte Bardot, Jane Birkin and Juliette Binoche.
You will see that they don't necessarily seem to have to have a lot of pieces in their closet as they concentrate on quality and style.
While they are likely to have plenty of designer names in their wardrobes, they don't like showing off their labels. They would consider that to be tacky.
Now, let's take a look at some clothing, shoes and accessories you could put together this summer if you have a Eurochic style.
Eurochic style tops
As you like to concentrate on quality over quantity, you will want to make sure that your tops, as well as the rest of your closet, can be worn in many ways.
You are drawn to tops with have a structural element to them, so you may opt for some draping or asymmetry, or choose cropped tops you can layer over longer pieces. You will tend to have more neutral tops in your closet, but will choose the odd pattern too, particularly if it has an abstract or geometric element to it.
Martina (above) wears a black shirt but adds interest with the detailing on the arms.
Recreate her look with this similar top, wide leg pants, booties, belt, hat and a Louis Vuitton handbag in a different style.
Club Monaco structural top – Madewell stripe shirt – Marks & Spencer plisse top – Stella Carakasi black top
European look: jackets and coats
Like the rest of your closet, your jackets will be classic, but with a twist. You could look for zips, ruched sleeves, asymmetric detailing and sleeveless styles.
Sally (above) wears a trench over her on-trend leather shorts.
Check out this similar shirt, coat, leather culottes, mules, crossbody bag, necklace and hoop earrings.
Club Monaco textured jacket – Chouyatou racer jacket – Romwe waterfall cardigan – Wantdo trench coat
European clothing style: pants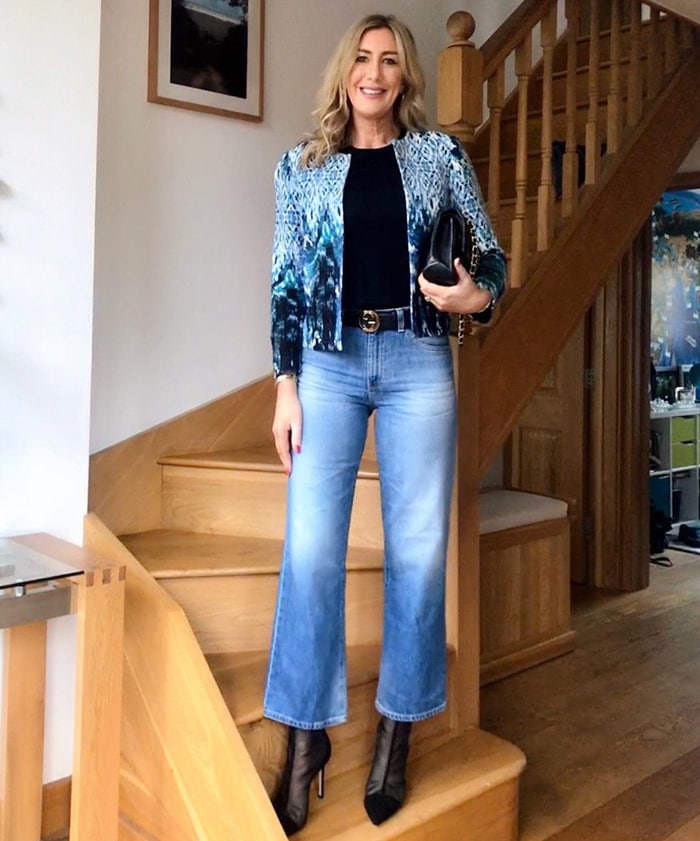 The emphasis with the Eurochic style personality tends to be on tops, although you might choose to add an element of the unusual in your style with pants in a deep burgundy, or vibrant red.
Most of the pants in your wardrobe will be classic styles you can wear in a number of different ways. But, you will make sure they still have a trend-led element. So, you might choose a pair of wide-legged jeans or cropped flares instead of going for a straight-legged option.
Sarah (above) chooses crop flare jeans with her booties and short jacket.
Take a look at this printed jacket that you can wear with this similar black top, bootcut jeans, booties and a Gucci belt.
L'AGENCE crop jeans – Madewell wide leg crop jeans – Veronica Beard tuxedo stripe boot crop jeans – FRAME stripe ankle skinny jeans
European style dress ideas, jumpsuits & skirts
You are likely to be drawn to a number of different dress and skirt options. But, they all have things in common. You might look for asymmetrical elements such as a dipped hemline. You will also look for quality fabrics such as silk or linen mixes.
Nadine (above) combines elements of Eurochic with the glamorous and romantic style personalities.
Steal her look with this similar dress, cardigan, flats, handbag, earrings and sunglasses.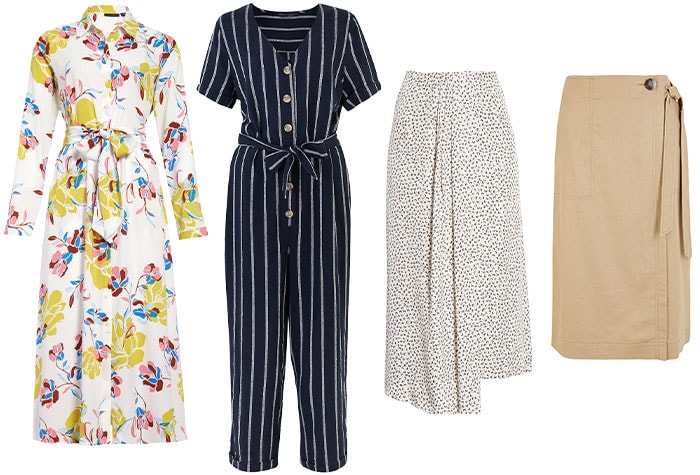 Halogen midi shirtdress – Marks & Spencer belted jumpsuit – Marks & Spencer linen wrap skirt – Vince drape silk blend skirt
Eurochic style shoes
Again, your shoes take elements of classic style and add a certain je ne sais quai. So, you may choose what would otherwise be a classic ankle boot, but opt for a style in a metallic shade or with an open toe.
You might take elements of a certain trend, such as snakeskin print, but you apply it to a classic shape.
Alice (above) opts for ballet pumps with her check pants.
Check out this similar blazer, check pants, embellished flats, handbag and sunglasses.
Miz Mooz block heel sandal – Franco Sarto t-strap sandal – Bueno slingback wedge sandal – 27 Edit loafer
Eurochic style accessories
As with the rest of your wardrobe, your accessories are well thought out to make sure that you can not only elevate your look, but that you can mix and match.
Rather than a classic, structured tote, you are likely to be attracted to a piece which has some slouch to it, in a quality fabric. Your jewelry is likely to be contemporary and geometric rather than a style you might see as more "old-fashioned".
Oxana (above) mixes and matches her prints, but keeps her whole look very balanced because of her color choices.
Recreate her outfit with this similar long sleeve top, jeans, leopard print shoes, handbag, scarf and sunglasses.
Rag & Bone hobo – Clare V. woven leather clutch – Stella Carakasi print scarf – Stella Carakasi necklace – Karine Sultan drop earrings
A capsule wardrobe of 9 outfits for the Eurochic style personality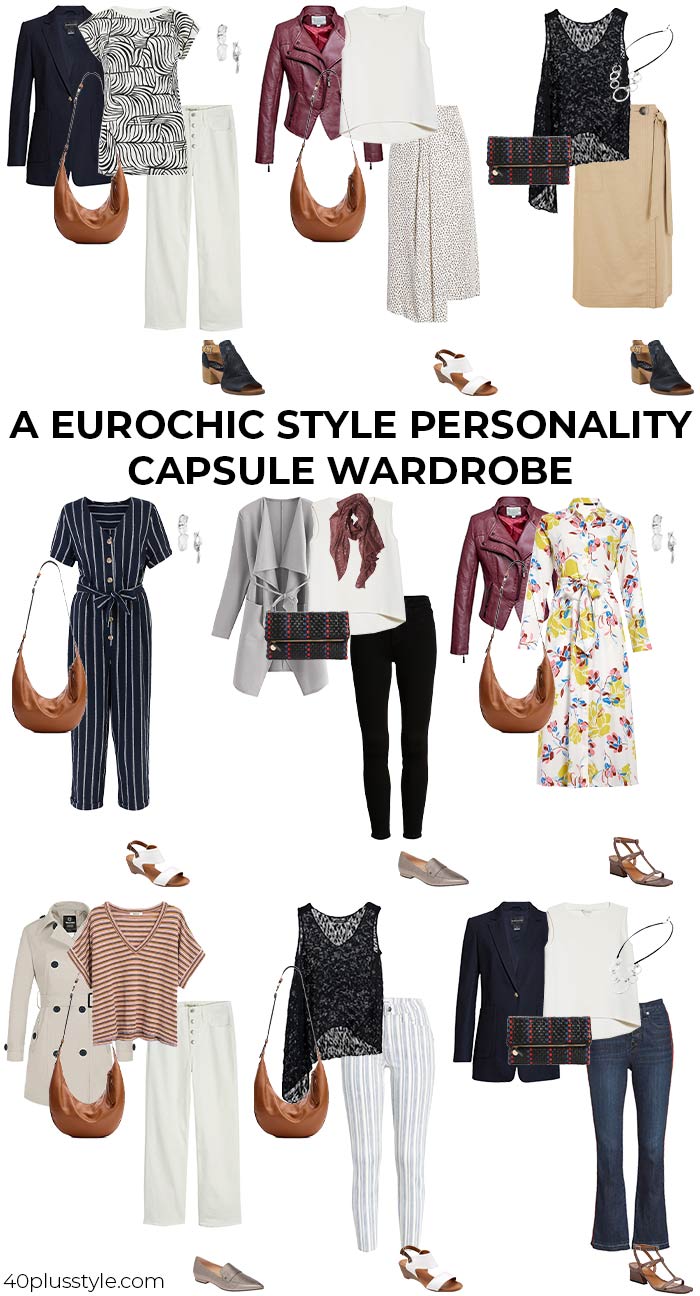 For more inspiration, take a look below at our past season Eurochic capsule wardrobe. You can see that Eurochic is a very timeless, yet bang up-to-date, way of dressing.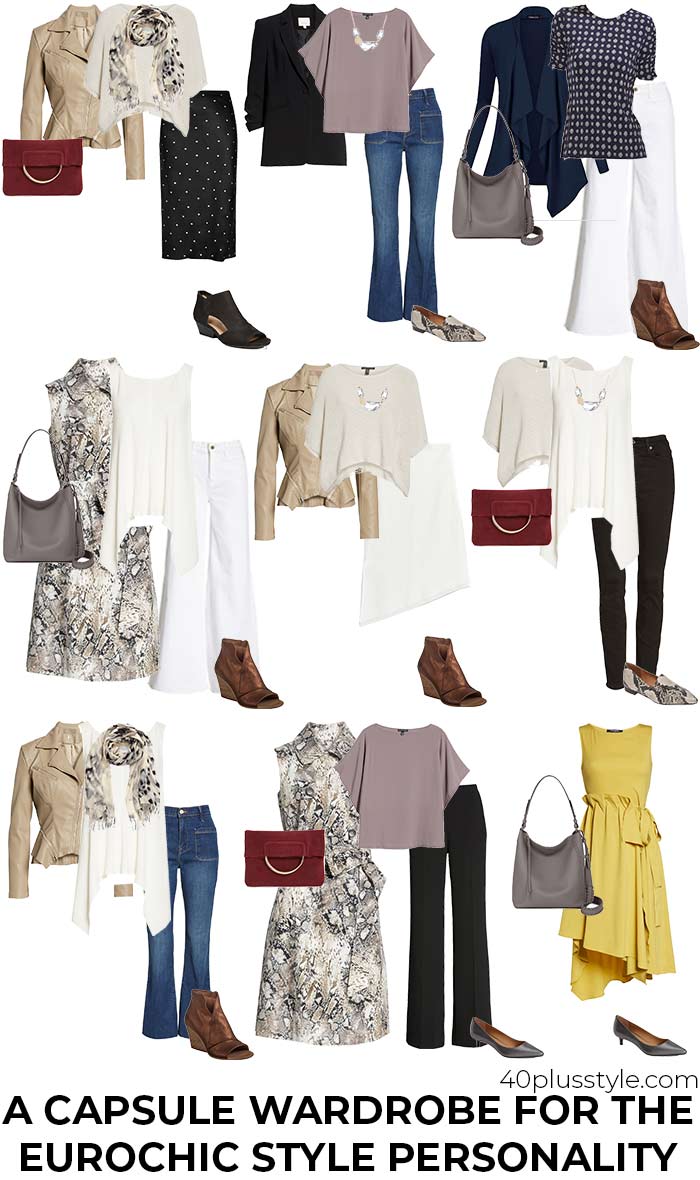 Read our ultimate guide to creating a capsule wardrobe that works best for you.
Brands for the Eurochic style
If you have a Eurochic style, or you would like to incorporate some elements from this look into your own outfits, brands to look at include:
Does the Eurochic style resonate with you? Do you have elements of this European style personality in your closet?
Continue reading:
Like this piece on styling the Eurochic style personality? Share it on Pinterest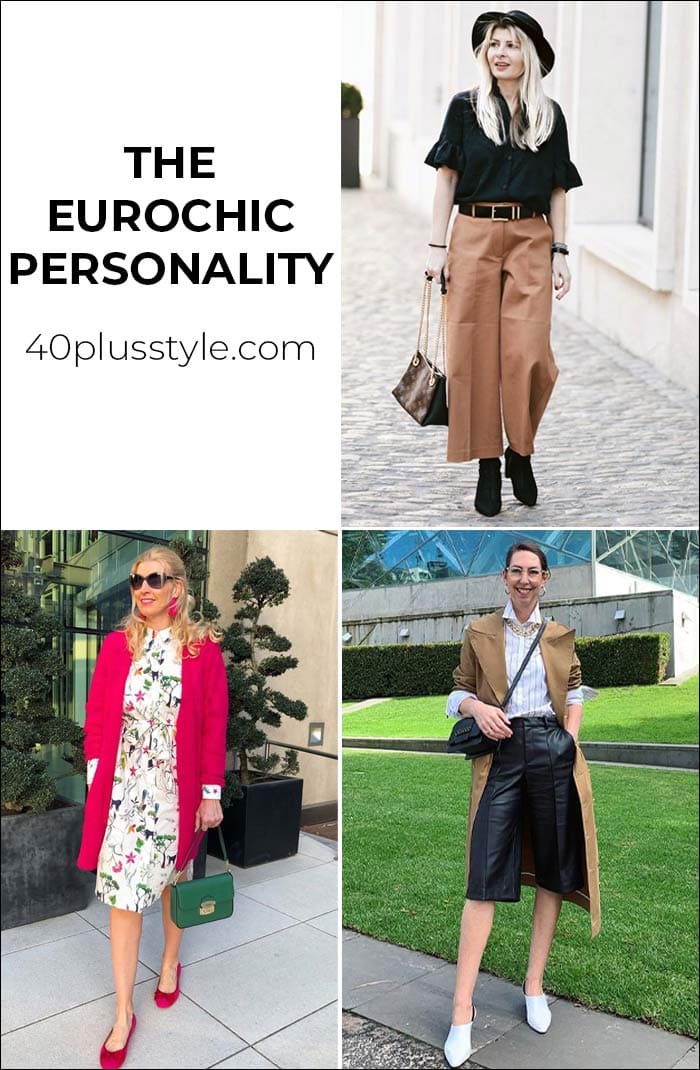 Feature image by Sally
Want to get more articles from 40+style in your inbox, subscribe here.
You can also connect with 40+style on Facebook, Instagram or Pinterest.
Support 40+style by using the links in our articles to shop. As an associate for Amazon and many other brands, we receive a small commission (at no cost to you) on qualifying purchases which enables us to keep creating amazing free content for you. Thanks!