Are your looking for that special gift for the women over 40 in your life. Then, you'll find what you need in this updated guide on the best gifts for women over 40. Read on for plenty of gift ideas for women…
Whether you're searching for gifts for your mother, daughter, sister, friend or anyone else you hold dear, you'll find plenty of inspiration below. Perhaps you're a husband looking for gift ideas for your wife. Or maybe you want to show your loved ones this list as a gentle hint about what you would like yourself!
This list includes my own favorites as well as suggestions you've left for me in the comments from previous years. So, if you have a great gift idea, don't forget to tell me about it in the comments, so we can make this an even better resource.
This gift guide is mostly about fashion and items of style. I believe that every woman loves to receive gifts that make her feel more beautiful and confident in many ways.
Gift ideas for women over 50, over 40 or any age: How to choose what to buy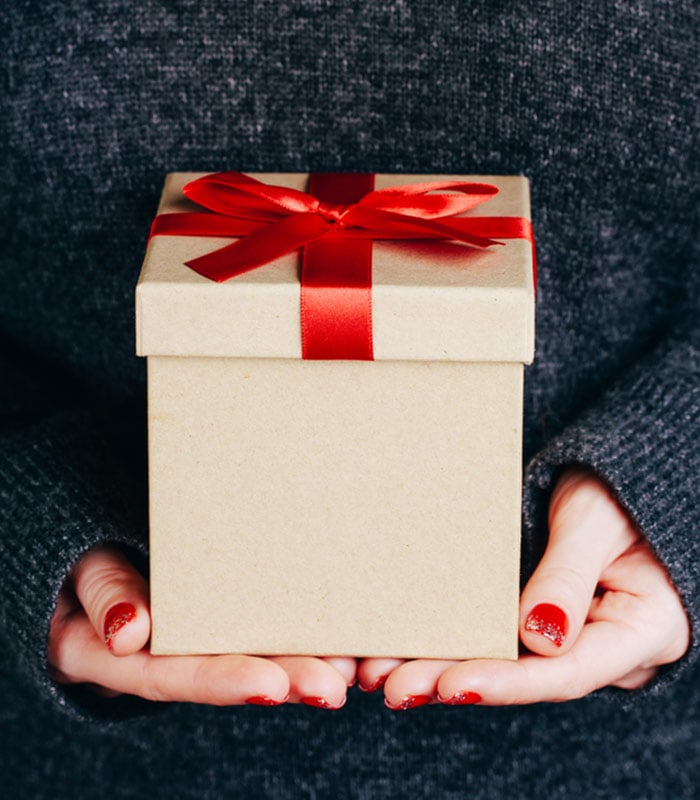 You know your loved one better than anyone, but it can be tricky to keep coming up with new ideas from year to year.
Think about their interests, and about any hints they may have dropped. Is there anything they have admired in the past few weeks or months, or said they would like?
Having said that, gifting is a chance to buy something they wouldn't necessarily have treated themselves to so a surprise will be just as welcome. I'm sure they will love whatever you choose. Whatever you opt for, it shows you are thinking about them.
Below are my suggestions for gifts for women over 40:
1. Gift ideas for women: Handbags
If you're like me you like your bags big! A tote is both stylish and practical in every season to carry all the stuff that you need.
I often carry a tote when I want to take my big and heavy DSLR camera places! You can find a great selection of totes from Nordstrom here.
The black Kate Spade tote (below) is an absolute classic that will never not be in style.
Kate Spade All Day Large Leather Tote
Or, how about a bucket bag that will add a pop of color to any outfit. The Tory Burch bag (below) is perfect for carrying a few everyday essentials.
Tory Burch McGraw Mini Dragonfly Leather Tote
If your recipient prefers to keep their hands free, you could choose a crossbody. The See by Chloé bag (below) is a high-end option that comes in a beautiful shade of burgundy.
See by Chloé Joan Box Leather Bucket Crossbody Bag
A clutch bag is another stylish gift choice, particularly if the woman you are choosing for has evening events she will be attending soon. If you want to buy a designer option, the Issey Miyake clutch gives you that option without completely breaking the bank.
Bao Bao Issey Miyake Prism Pouch
If your loved one likes to travel, the Julian backpack (below) by Rebecca Minkoff is a modern classic.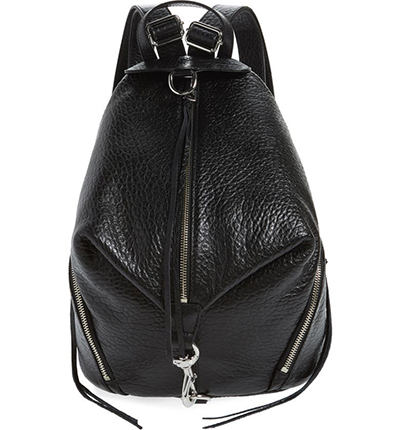 Rebecca Minkoff Julian Backpack
Read our article on the 10 affordable designer handbags in stores now.
2. Great gift ideas for women: Contemporary jewelry
I strongly believe in the power of modern, contemporary jewelry to really lift up an outfit and make the wearer look modern, fresh and youthful.
And my love for bold, contemporary jewelry is on trend right now. Great jewelry is featured in all the latest runways.
Below is a piece that I love. It mixes beads and metal and is a great contemporary necklace that will make every outfit special. If your loved one is working from home currently, a necklace will mean they will look great on those video conference calls without having to worry about the bottom of their outfit!
Ettika Freshwater Pearl Necklace
Or, you could opt for a bracelet. This one (below) from Tory Burch is an on-trend cuff style that would bring evening dresses up-to-date.
Tory Burch Eleanor Hinged Cuff
Or how about a pair of statement earrings that you can wear during the day or for evenings out? The brushed metal earrings (below) mix metals so should go with any other jewelry, whether you prefer silver or gold.
Karine Sultan Cobblestone Drop Clip-On Earrings
Etsy also has some great jewelry options. Here are some of my favorite Etsy stores. You can personalize the necklace (below) with the recipient's special birthstones.
TheBestOfSilverArt Birthstone Necklace
3. Gift ideas for women who have everything: A good book
A good book is always a good idea. If your loved one is into fashion and style, you could choose a book to reflect their interests.
The Peter Lindbergh book (below) features 300 images from the German photographer's career. Reviewers say it is a beautiful, large book that is perfect for a coffee table.
Peter Lindbergh. On Fashion Photography
Another beautiful book is the Marilyn in Fashion book below. While so much of Marilyn's life is discussed, have you ever thought about her influence on fashion? Reviewers say it is fun to see Marilyn's personal fashions and how she obtained them.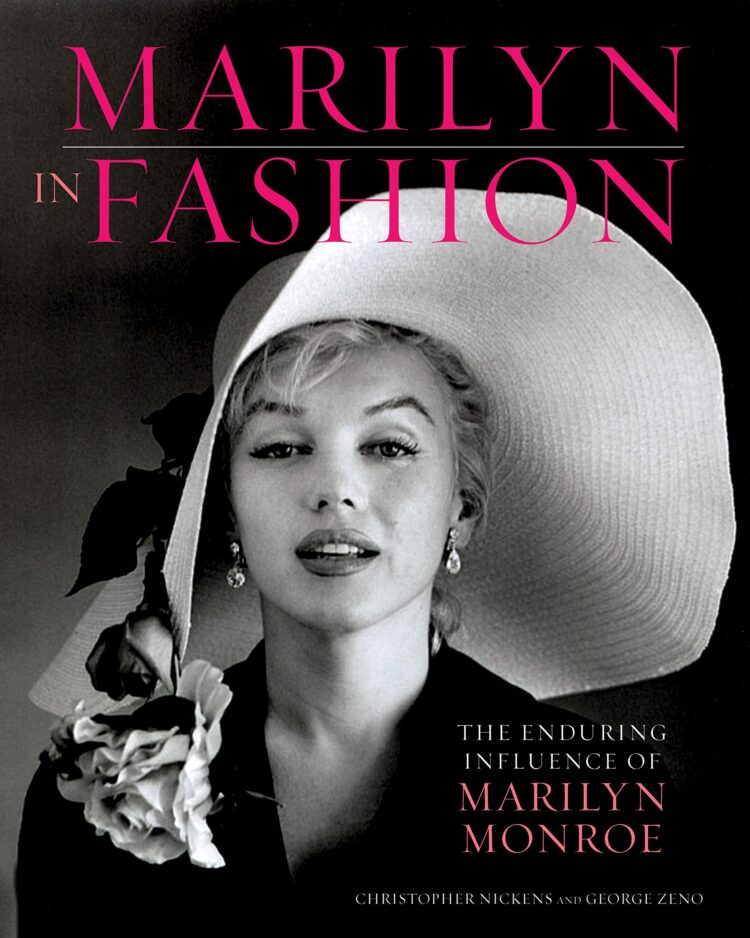 Marilyn in Fashion: The Enduring Influence of Marilyn Monroe
If these have whetted your appetite, I have also created a comprehensive list of best style books and best audio books you can choose from.
4. Style
Learning something new or improving a skill is one of the best gifts there is. The effect is long-lasting and can be life changing.
In our signature course 21 Steps to a More Stylish you, will learn how to create your unique personal style. Learn how to dress for your specific body, personality and color type and become the most stylish person in the room.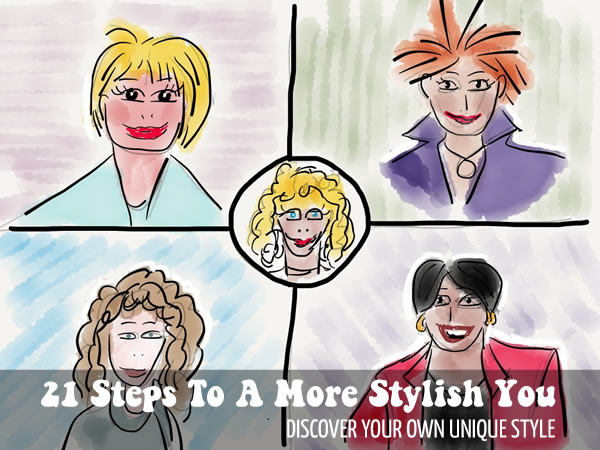 21 Steps To A More Stylish You Course
5. YOGA or pilates wear
Leggings are a woman's best friend year-round and if you follow our guidelines on how to wear leggings, you will look fabulous in them too.
The leggings below are super soft, opaque and have a waist (which is great for flattening and hiding your belly). Perfect for YouTube workouts, a daily walk, relaxing at home, or wearing under dresses and tunics to stay warm in cooler weather.
Check out our extensive guide on how to wear leggings.
Does your loved one do Yoga or Pilates, or go to the gym when she is able to? I'm sure she'd love to look more stylish while exercising. I find if I look good while heading to exercise class, I feel more motivated. I like the back details on the Mippo yoga top (below). It comes in a good choice of colors, and reviewers say it is comfortable and super soft.
Find out what are the best workout clothes from women over 40.
6. Scarves and wraps
Is the woman you want to surprise too fond of her boring black coat? Give her a great scarf to break up the all-black. The Nordstrom scarf (below) is cashmere so will be super soft against her neck, and bright red is sure to get her noticed for all the right reasons.
Nordstrom Cashmere & Silk Wrap
Green is particularly on trend this season, so adding a beautiful green pashmina to existing outfits is the perfect way for an easy update.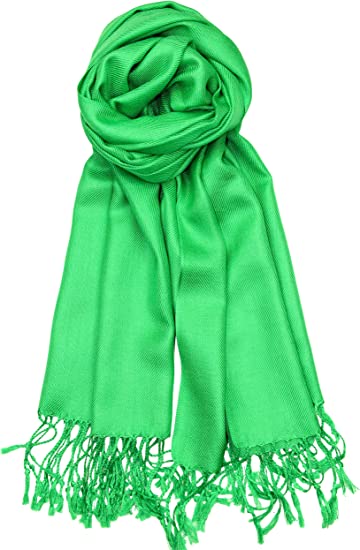 A waterfall style wrap or poncho is very versatile and flattering. Plus, if you aren't sure about her size, you don't have to worry as this style is one-size-fits-all. Wear while lounging at home, or as outerwear over a sweater and jeans on cool days. Reviewers say the PULI poncho (below) is both warm and elegant.
Read more on our article on how to wear a scarf.
7. Shoes as gifts
It's true! Women love shoes. We want them in all kinds of colors, heights and styles. Sneaker-style shoes especially are very popular this season, and are always a great option, as are silver or gold flats and brogues.
Would you like to see your woman in a particular kind of shoe? This is your chance to really surprise her. You know her size (or if you don't, just take a peak inside a pair she wears often), so you can order some fabulous shoes online.
If you're looking for some inspiration before making your gift choice, you might want to check out this piece on the top shoe trends for this season.
The Tory Burch Minnie is a great choice as it is always on trend. You'll see this style is in stores year after year in different colors. Plus, it folds flat, making it a great choice for travel, or if you want to go out in heels, and then change into flats.
Tory Burch Minnie Travel Ballet Flat
Nordstrom / Amazon / Zappos
As the weather is cooler, for most of you, a pair of new boots is a great gift. Opt for a style with an on-trend lug sole.
Paul Green Nobu Zip-Up Boot
Nordstrom / Zappos
Recommended shops for shoes: Amazon, Zappos and Nordstrom
8. Silk shirt
When buying clothes as a gift, it's a lovely idea to look out for luxurious fabrics such as silk, satin or cashmere. A silk shirt is a timeless option which looks just as good worn for a night out, for work, or with jeans for everyday.
9. A cashmere sweater
Talking about luxurious fabrics, cashmere is soft against the skin and almost feels silky to the touch. If your recipient finds wool sweaters itchy, cashmere could definitely be the answer. A cashmere sweater will add a feeling of luxury to even the simplest outfit.
Club Monaco Emma Mock Neck Cashmere Sweater
10. Gift ideas for women: A stylish coat
Has your loved one had the same coat for years and years? Perhaps they'd like to change their winter look this year. A wrap style is a good option as it's flattering for the vast majority of women. A neutral shade will go with everything.
Ted Baker London Rose Wool & Cashmere Blend Wrap Coat
There's more inspiration in this article on how to choose a winter coat.
11. jacket
A moto jacket is always a useful addition to any closet. You can add a little edginess to your outfits. It can be worn over summer dresses with tights and booties so you can wear your favorite dresses even when the weather cools down.
12. cardigan
Another flattering style for all body shapes is a waterfall cardigan or draped cardigan. A draped style is perfect to wear as a layer to create a long, lean effect – and to stay warm, of course. The cardigan (below) comes in a wide choice of neutrals, and is a great choice for lazy days.
Barefoot Dreams CozyChic Lite® Circle Cardigan
13. Wrap dress
If you want to buy clothing but don't know what, you really can't go wrong with a classic wrap dress. It's a universally flattering style that looks good on all body types.
Karen Kane Cascade Faux Wrap Dress
Take a look at the best wrap dress styles for women over 40.
14. Best gift ideas for women: Luxurious pajamas
Pajamas are one of those gifts which can either be boring or beautiful. It goes without saying that you should go for a beautiful option.
There's no better feeling than slipping into a stylish pair of pajamas and relaxing with a glass of wine, or herbal tea, and a book before bedtime. Reviewers love the three-piece pajama set (below). Wearers say the fabric is beautiful. One woman said she had bought every pattern because she loves the style so much.
Escalier Silk Satin Pajamas Set
Or, for a luxurious option, you could try real silk. The silk pajamas (below) come in a good choice of colors and are not only beautiful but the natural fabric means they are breathable and keep you at a comfortable temperature while sleeping.
Lunya High Waist Washable Silk Pajamas
15. robe
A pretty silky robe can also add a feeling of luxury to any bedtime (or breakfast) routine. Choose a thin robe, and you can pack for travel. The Natori robe (below) is soft, fluid, and has a beautiful print.
There's also plenty of inspiration in this piece on the most stylish pajamas for women over 40.
16. Perfumes
Ok, this present is not super original but you can't really go wrong by gifting a popular perfume.
If your loved one already has a favorite perfume and you want to play it safe, while still choosing something a little different, have a look to see if there is a new version of that scent available or a gift box.
You could buy a classic fragrance which she has loved for decades or opt for something new from her favorite brand.
The Dior perfume has a classic, light, floral scent, and (below) comes in a sculptural bottle.
For a more dramatic fragrance, anything by Mugler is a good choice. Alien by Mugler is floral, woody, and ambery, and ideal for a night out.
Alien by Mugler Goddess Intense Eau de Parfum
For a modern, designer treat, you could try the Tom Ford perfumes (below). Choosing miniatures means she can try three perfumes rather than just one, and choose a favorite.
Tom Ford Decanter Discovery Collection
17. A scented candle
If your loved one loves to relax at home, a scented candle is a perfect gift. The Maison Margiela candle below has been created to remind you of a lazy Sunday morning.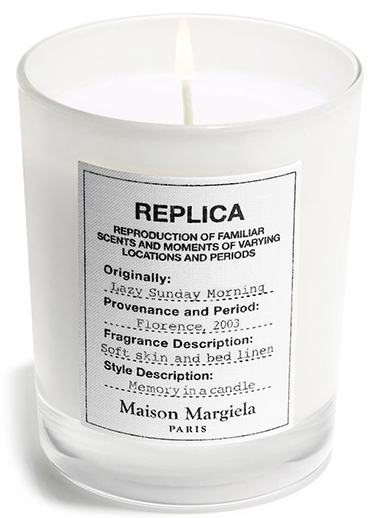 Maison Margiela Replica Lazy Sunday Morning Candle
18. Silk pillowcase
Have you got a silk pillowcase yet? Sleeping on silk helps to keep your hair looking good when you wake up as well as being kind to your skin. It has really helped me reduce the sleeping wrinkles on my face. The pure silk pillowcase from slip (below) helps to decrease the signs of aging, wrinkles, and bed head.
slip Silk Queen Pillowcase Duo ($178 Value)
19. cashmere throw
Another luxurious option, either for bed or for curling up on the sofa with a good book is a throw blanket. One reviewer said she bought several as gifts.
Velanio Cashmere Throw Blanket
20. lounge sets
A great lounge set is one you can wear as pajamas, for lazy days at home, or for running errands. The sweater lounge set (below) comes in a great choice of colors, and reviewers say it's a great set.
21. lounge slippers
If you know someone who always has cold feet, or who just doesn't like to walk barefoot, they would appreciate a pair of comfy, cozy slippers. The UGG slippers below have a luxurious feel as they are made with suede and sheepskin. Reviewers say they are like walking on a cloud.
UGG Scuffette II Slipper
Amazon / Nordstrom
22. serum set
Retinol is often recommended as an anti-aging treatment. And, the Kiehl's Since 1851 set (below) features not just retinol (for nighttime) but also Vitamin C (for day) and Hyaluronic Acid serum for moisturizing.
Kiehl's Since 1851 Ultra Facial Cream Duo ($98 Value)
23. Face cream
Using a face serum is a great way to upgrade your evening skincare routine. The Estee Lauder serum set (below) includes full-size and travel options.
Estée Lauder Advanced Night Repair Synchronized Multi-Recovery Complex Face Serum Trio ($158 Value)
Also take a look at these 14 self-pampering ideas for when you can't get to the spa.
24. face roller
A face roller can be used alone to reduce puffiness or with face oil or serum. Reviewers say the roller (below) has a nice weight, feels durable, and is good for puffiness or for toning your face.
SACHEU Stainless Steel Face Roller
25. A mirror
One item I use almost every day is this mirror. They are not cheap but will save you so much frustration each day as the light is a lot brighter than on most mirrors and you can actually SEE those nasty little hairs that you need to remove.
As my eyes have deteriorated quite badly over the last few years, I have found it increasingly difficult to apply eye makeup or maintain my eyebrows. This mirror makes that so much easier!
simplehuman 8-Inch Sensor Mirror
26. makeup
Choosing make-up can be tricky as you won't necessarily know what shade to opt for. However, the Dior set (below) features neutral shades that will suit any skintone.
Dior The Diorshow 5 Couleurs Couture Eyeshadow Palette – Velvet
27. lipstick set
Or, how about a beautiful lipstick set. The Gucci lipsticks (below) feature a pretty print on the packaging, and the lids.
28. makeup brushes
When was the last time your loved one changed their make-up brushes? Great brushes will make her existing make-up easier to apply.
Laura Mercier An Artist Gift Brush Collection 5-Piece Travel Set ($170 Value)
29. makeup towels
Make-up towels can be a great addition to your bathroom so you can easily remove your make-up without getting mascara on your white towels. The Arkwright towels (below) have good reviews, with users saying they are luxurious and double-embroidered.
Arkwright Makeup Remover Towels
30. Jewelry case
Pretty and practical. This jewelry case is ideal for keeping rings, earrings and necklaces together after you take them off at night. It's also perfect to take jewelry essentials away on vacation if you are planning a trip this holiday season.
Monica Vinader Leather Jewelry Case
31. brush
If you have someone who likes their hair to look perfect everyday, the Revlon dryer brush (below) has been the must-have hair purchase of the year. Reviewers say it makes drying hair simple so your arms don't get tired as they do with a regular hairdryer.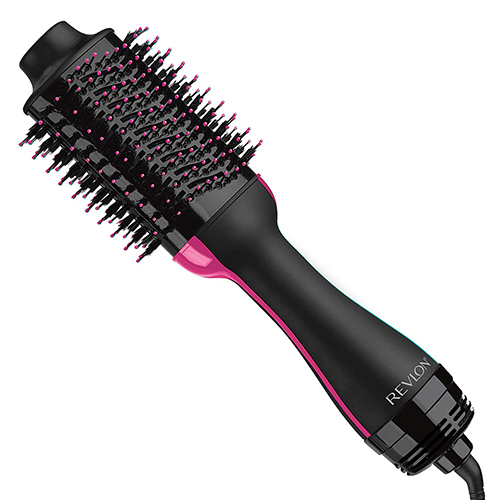 REVLON One-Step Hair Dryer And Volumizer Hot Air Brush
32. A gratitude journal
Most experts agree that one of the best ways to start your day to feel happy and content is to start with gratitude. She could write her thoughts down each morning or evening. Reviewers say the day and night reflection book (below) is a great journal to start a habit.
Gratitude: A Day and Night Reflection Journal
33. reusable notebook
If you know someone who still loves writing notes down, even though she has a laptop or computer, she might like a reusable notebook. There's a free app that goes with the Rocketbook (below) so she can still save her notes before wiping the pages clean.
Rocketbook Smart Reusable Notebook
34. For exercise
I use this roller every single day. It greatly helps with keeping your muscles supple and massages my legs, back and shoulders. I also use it to open up my shoulders. If you're interested, I can do a demonstration at a future date on how I use it.
This roller also helps with cellulite as it evens out the fascia which will help smooth your legs and upper thighs.
It's my perfect tool to keep injuries at bay, my back and shoulders in check and my legs smooth. Highly recommended!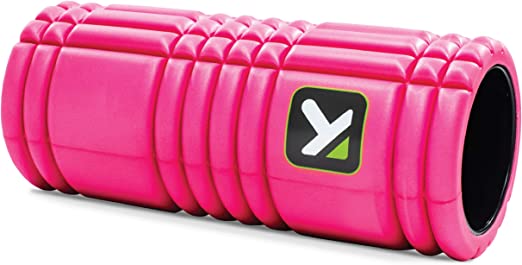 If you have one particular spot or a trigger point that is painful, it's very effective to massage yourself with a ball. Just lean against a wall with the ball on the painful spot and make slight movements to massage it. You'll soon find lots of relief.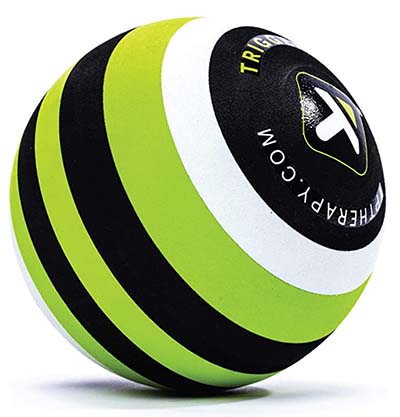 TriggerPoint Foam Massage Ball
Although the roller and massage ball above are very effective in getting your deep muscle tissue in good shape, the TheraGun is even quicker in doing that. Just put it on the painful spots and the machine will do its magic. I spoiled myself with this gift this year.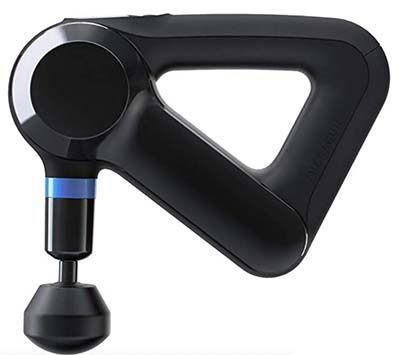 For more fitness gifts check out our workout gifts for women.
35. Leather gloves
As the cooler weather sets it, it's important to keep your hands warm. So, you may as well do that in the most stylish way possible. The leather gloves (below) are warm and cashmere lined. Reviewers say they warm up fast and are incredibly soft.
MGGM Collection Nappa Lambskin Leather Gloves
36. belt
A designer belt can upgrade any outfit, and is ideal if you have someone who loves to wear jeans and pants. The Salvatore Ferragamo belt (below) features the recognisable designer logo, and is made from lovely calfskin leather.
Salvatore Ferragamo Double Gancio Calfskin Leather Belt
37. watch
Given that watches aren't as widely worn as they once were, a watch can feel like a more luxurious piece of jewelry than something completely practical. Because the Tory Burch watch (below) comes in mixed metals, it will go with all your other jewelry.
Tory Burch Robinson Mesh Bracelet Watch, 27mm x 29mm
38. sunglasses
Sunglasses are a great choice anytime of the year, whether your loved one is planning a sunny vacation or would like to protect their eyes from the glare of the winter sun.
Marc Jacobs 53mm Square Sunglasses
39. Glasses case
Most of us wear glasses of some sort and we need to take them anywhere and everywhere. This is one accessory that will get a lot of use. And if you want to keep your glasses in one piece this case below will come in very handy.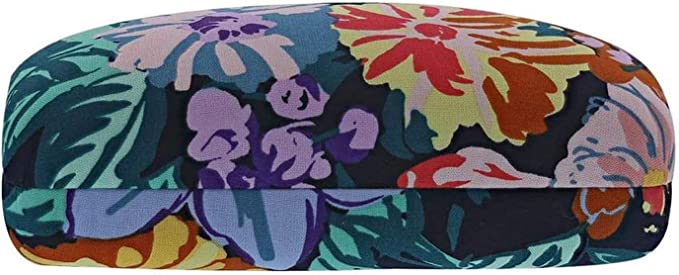 Vera Bradley Sunglasses/Eyeglasses Clamshell Hard Case
40. iPad cases
If you love your iPad as much as I do, you need a good case. And why settle for boring when you can have fun with a print instead? I love the art-inspired pattern on the iPad case (below).
41. tablet holder
Does your recipient use a tablet? A holder can come in handy if they are watching a movie on it, using a keypad or looking at a recipe while cooking.
42. ipad
If you're looking to treat your loved one, an iPad or tablet can make a much-appreciated gift so your recipient can do everything on the move from surfing the internet to checking messages, watching movies to reading books.
43. kindle
If she doesn't already have a Kindle, I'm sure she'd appreciate one rather than carrying lots of heavy reading material with her. If she does, you could always treat her to an upgrade. The Kindle Oasis (below) is waterproof so you can read by the pool.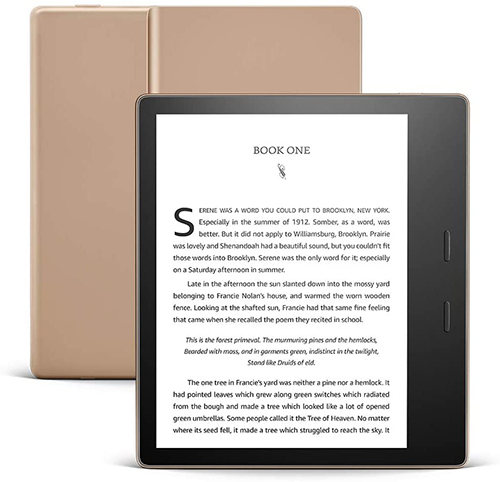 44. earbuds
A pair of earbuds can make a great gift if you choose a pair that are compatible with their smartphone. The wireless earbuds (below) are ideal for exercise or work calls.
Beats Fit Pro x Kim Kardashian – True Wireless Noise Cancelling Earbuds
airtags
AirTags are perfect for travel lovers. I know lots of women who have started to put an AirTag in luggage to make sure they don't lose suitcases, given all the travel disruption that has happened this year.
phone
Do you have a gadget lover in your life? How about a new gadget or gizmo? One of the latest iPhone models will always be appreciated.
a smart watch
Have you tried tracking your activity with a fitbit yet? The Moto 360 smart watch is more aesthetically pleasing than most fitness tracking watches. You can connect to your favorite apps and monitor your workouts.
Moto 360 The Luxury Stainless Steel Smartwatch
Charger
Do you know someone who is always running out of battery? A charging tray could help them keep their phone charged and keep their essentials organized.
WAITIEE 3-in-1 Wireless Charger
Selfie stick with tripod
If you want to take better selfies for your outfit photos to upload to your social networks or in my private Facebook community, you will need this very affordable selfie stick with tripod.
It's the one I use for many of my videos and photos. Just pop it on a table and use the remote or the self timer on your phone for the perfect full outfit photograph!
andobil MagStick Selfie Stick Tripod
Video conferencing lighting
Many of us are holding work meetings or family gatherings via conference call these days. If you want to look great while taking and making video calls, special lighting for your desk can help her to look great, making this one of the best gift ideas for women.
Cyezcor Video Conference Lighting Kit
travel mug
If you have a recipients who love the environment, and coffee, then how about a travel mug? The Fellow Carter mug (below) keeps your drink warm for hours.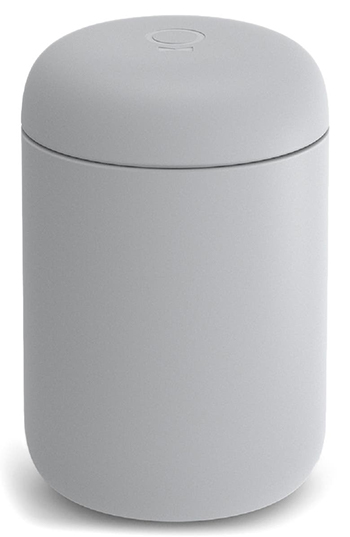 Fellow Carter Everywhere Travel Mug
carry-on case
For the adventurer in your life, a new suitcase that is just the right size for carry-on is perfect. The spinner carry-on (below) comes in an attractive rose gold color, and features internal compartments to organize your outfits.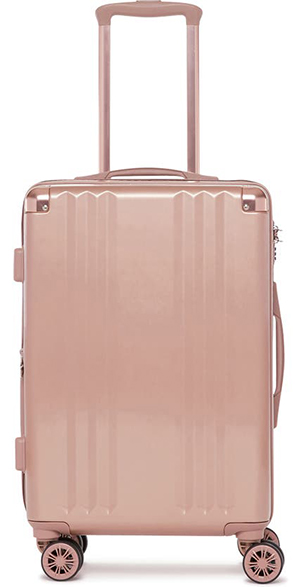 CALPAK Ambeur 22-Inch Rolling Spinner Carry-On
gift ideas for women: Donate to her favorite cause
If you're buying for the woman who truly has everything, why not donate your gift for a good cause? Buy an animal for World Vision, sponsor a child, donate to the Red Cross or provide some microloans through Kiva. It would greatly help others.
I hope I have given you some good gift ideas for women.
How about you? What will you be buying the loved ones in your life this year? What is the best gift you've ever received? Are there any great gift ideas for women that you think I've missed?
Like always, I would be happy to hear your feedback and get your gift ideas for women over 40 as well! What would you like to receive as a gift?
shop the items above here:


Continue reading:
Like this post on the best gift ideas for women over 40? Share this post on Pinterest!
Want to get more articles from 40+style in your inbox, subscribe here.
You can also connect with 40+style on Facebook, Instagram or Pinterest.
Support 40+style by using the links in our articles to shop. As an associate for Amazon and many other brands, we receive a small commission (at no cost to you) on qualifying purchases which enables us to keep creating amazing free content for you. Thanks!