Just because you're working from home, it doesn't mean you can't look stylish. You may be working from home because of the current pandemic, because you've asked for more flexibility at work or perhaps you've always worked from home. Either way, your work from home clothes can be both comfortable AND professional.
Whether you're working from your home office space, from the kitchen table, or you're sitting on the sofa with your laptop on your knee, the outfit ideas below will help you to feel comfy and to get you into the right mindset for a productive day at work.
What makes a great work from home outfit?
Before looking at some specific work from home clothes, what should you consider when choosing your work from home outfits?
Your work from home clothes should be comfortable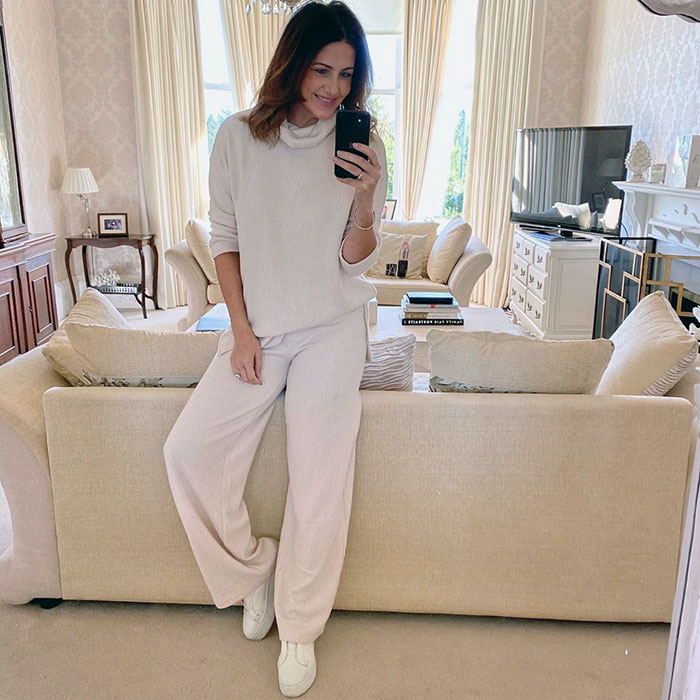 It goes without saying that if you are working from home, you want to feel comfortable. Whereas you might once have donned a pencil skirt and heels for meetings in the boardroom, you'd feel a bit silly doing the same at home. Instead, you'll want clothes that make sure you're comfy and non-restrictive.
Julie (above) looks super stylish in an all-neutral outfit which goes beautifully with her living room.
Recreate her outfit with this similar sweater, lounge pants and sneakers.
It should make you feel productive
Having said that comfort is important, you may not feel in the working mood if you've simply rolled out of bed and kept on your pajamas for work. What you wear helps to set the tone for your day, so a smart casual outfit may help you feel more ready to get on with your tasks.
Jenny (above) keeps herself comfortable but also adds an element of creativity by pattern mixing her stripes and leopard print.
Check out this similar shirt, cardigan, leggings and sneakers.
It should look great on top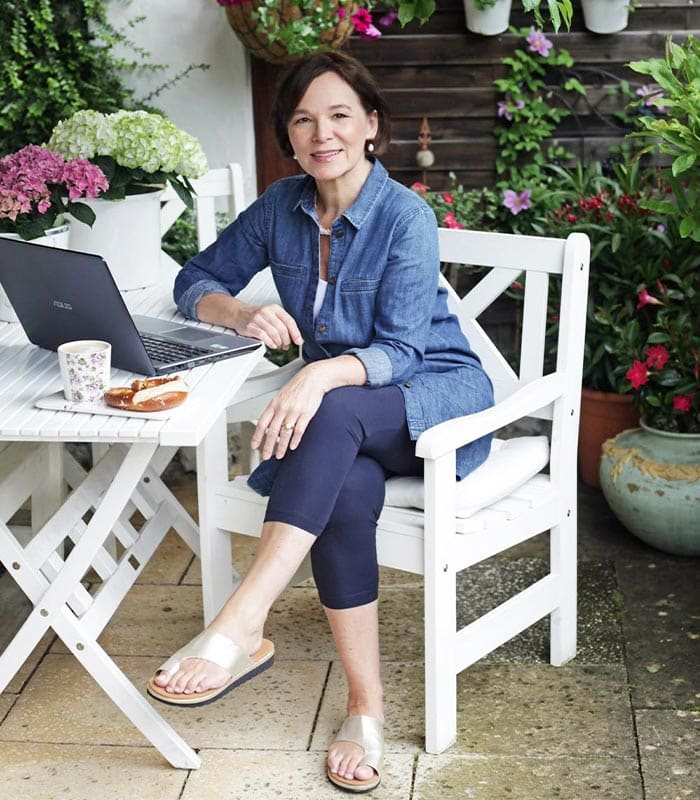 Many of us are taking part in video conference calls these days rather than meeting up in person. If that holds true for you, you may want to concentrate on what you are wearing on top when thinking about your work from home clothes as that is what will show up to the other meeting participants. For instance, a stylish blouse worn with leggings could be perfect.
Annette (above) wears a denim shirt along with a statement necklace and earrings, while keeping her lower half more casual.
Get her look with this similar denim shirt, leggings, sandals, necklace and earrings.
It should multitask if you want it to
When you were at work, you had to change if you wanted to do something such as exercise or go to the gym at lunch time. Choose the right outfit and you can do your work and fit in a yoga session at lunchtime.
Psyche (above) looks very stylish in her white loungewear. She could easily do a yoga session in her outfit, or pop on a coat and sneakers if she needed to run errands at lunch time.
Recreate her outfit with this similar shirt, drawstring pants and layered necklace.
Dress for your mood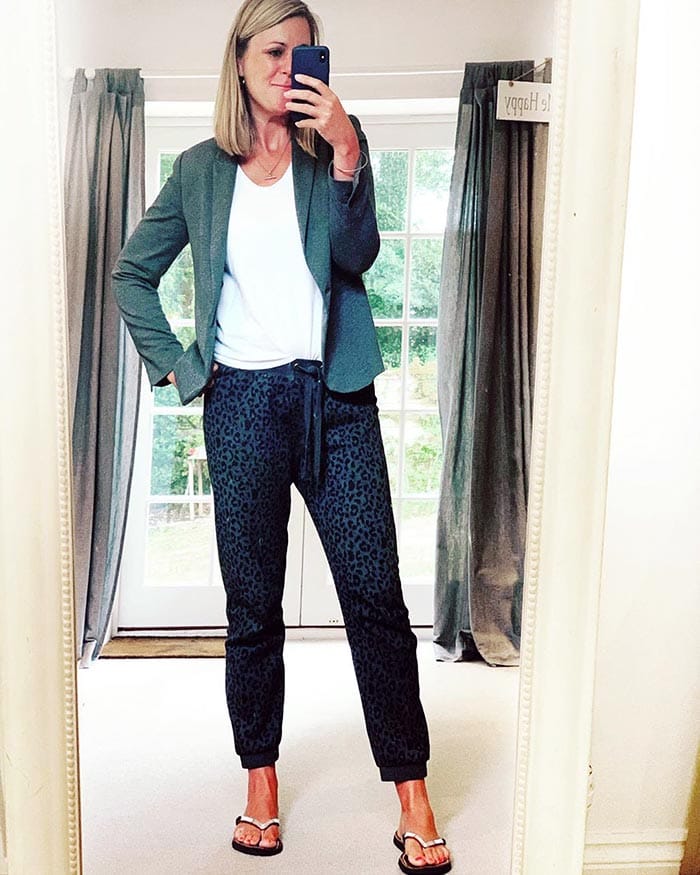 These are challenging times and it's understandable to find some days difficult. Perhaps you're finding it hard to stay motivated, or you're missing the usual routine of being in the office.
Tune in to how you are feeling each morning and dress accordingly. If you have an important task to complete, you may wish to dress in a more businesslike manner for example. If you're feeling a little down, then adding a bright pop of cheerful color may help.
Kate (above) mixes comfort with a smart blazer. The leopard print jogging bottoms add a touch of playfulness to her outfit.
Recreate her outfit with this similar shirt, blazer, pants, slippers and necklace.
It should add boundaries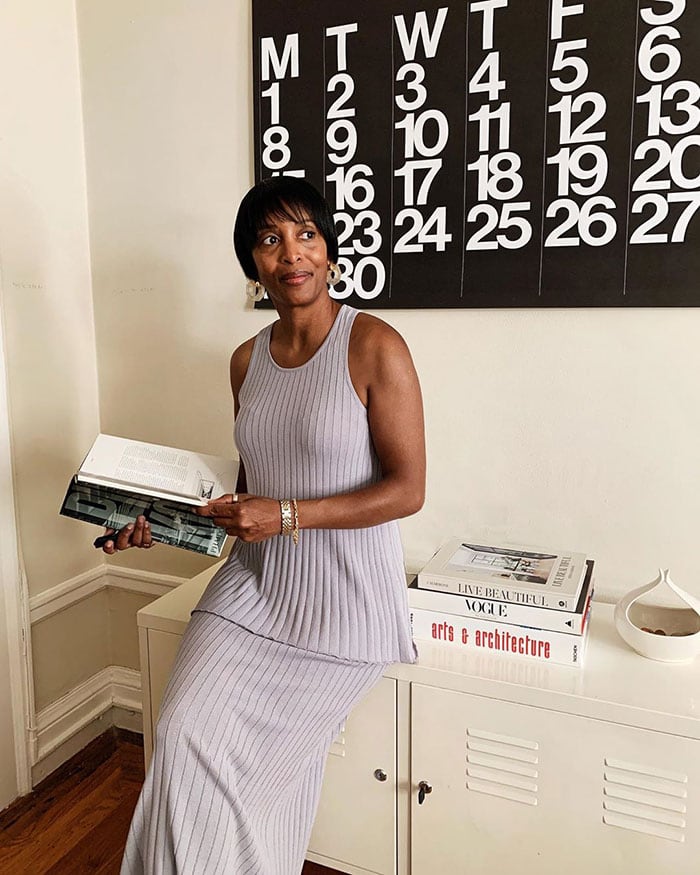 Many people are finding that boundaries are blurred between home and work life while working from home. That may suit you if you need to find other commitments around work. However, if you do want to set clear boundaries, what you wear can help. Change out of your work outfit when you should be concentrating on your home life.
Kim (above) wears a set of coordinates which looks professional and comfortable. She could always switch her skirt for lounge pants when she finishes "work".
Check out these ribbed tank options from Modern Citizen and Amazon, and pair with this similar skirt and earrings.
A work from home capsule
Now that you're thinking about what working from home looks like for you, let's take a more in-depth look at what to wear for your working day.
Below are the key items you will need for your work from home capsule to give you plenty of outfits.
Camisole
A camisole is one of the most flexible items you can have in your closet. You can wear alone when it's warm or under a shirt, sweater or cardigan in the cooler months. Also be sure to check out the best camisoles available online.
T-shirt
It goes without saying that a t-shirt is one of the items you would want to have in any comfy capsule. However, you don't have to opt for a plain t-shirt if you don't want to. Adding a knot, twist or some ruching can add interest even if you aren't leaving the house.
Faherty tie hem cotton blend T-shirt
Tunic shirt
A tunic shirt is a great option if you love to wear leggings during the day. If you have virtual meetings to attend, you could always add a necklace or a scarf.
Blouse
A blouse tends to be more formal that a t-shirt style top so it can be a good option if you like to mix up your outfit a little. You could wear a blouse with your jeans or leggings to look smart for video calls.
Marks & Spencer animal print longline shirt
Cozy sweater
As most of you will now be finding that the weather is turning cool, a warm sweater will be a vital addition to your work-from-home wardrobe (unless you want to have your heating turned up very high all day!).
Choose a long tunic style and it will look great with your leggings.
Long cardigan
A long cardigan is such a great piece of clothing to own. You can wear instead of a coat during transitional weather. And, a long cardigan can also be used to create long, lean flattering lines which can help you to look taller and slimmer (if you want to).
Blazer
Even though you're working from home, there are days when you may want to look extra smart. Perhaps you have an important virtual event to attend or you are heading out to meet a friend for lunch.
Simply adding a blazer to your leggings, jeans or pants can instantly add an element of formality to even the most casual of looks.
Leggings
Now, let's move onto the bottoms in your work from home closet. A pair of leggings are as comfortable as pajamas but look smarter. Wear with your tunic tops.
Lyssé high waist denim leggings
Drawstring pants
If you're working from home, you probably don't want to feel constrained by buttons and zips. Instead, look out for smart casual pants which feature a drawstring.
Soft jeans
Choose your jeans carefully as denim may not feel comfortable to wear all day. However, if you opt for a soft, stretchy pair, you'll feel comfy at your desk (or wherever you're working).
Scarf
If you're someone who tends to feel the cold, adding a scarf can help you to feel cozy at home. A scarf can also be handy to add interest to your outfit for conference calls, or if you'll be popping outside during the day – perhaps to the shops or for a quick walk.
Necklace
While you may not tend to wear jewelry if you're at home, a necklace can be a good option if you will be taking part in virtual meetings.
Sterling Forever layered pendant necklace
Slippers
While you can pad around the house barefoot (if it's warm) or just in your socks, you may prefer to add some footwear to your capsule.
A pair of slippers will help your toes to stay warm. Plus, even if you do have video calls, no one will know what you're wearing on your feet.
Slip-on shoes
I've also included some slip-on shoes which are easy to put on if you feel more professional with some footwear on, or if you want to slip on some soft shoes to head out during the day.
Sneakers
A pair of sneakers are another comfortable option for wearing around the house, or because you want to add footwear to your work from home outfit so you can pop out to the shops, to walk the dog, for the school run, or whatever reason it may be.
Your work from home capsule put together for you
There are only 15 pieces of clothing, shoes and accessories used above. However, if you take a look below, you can see you can easily create plenty of outfits.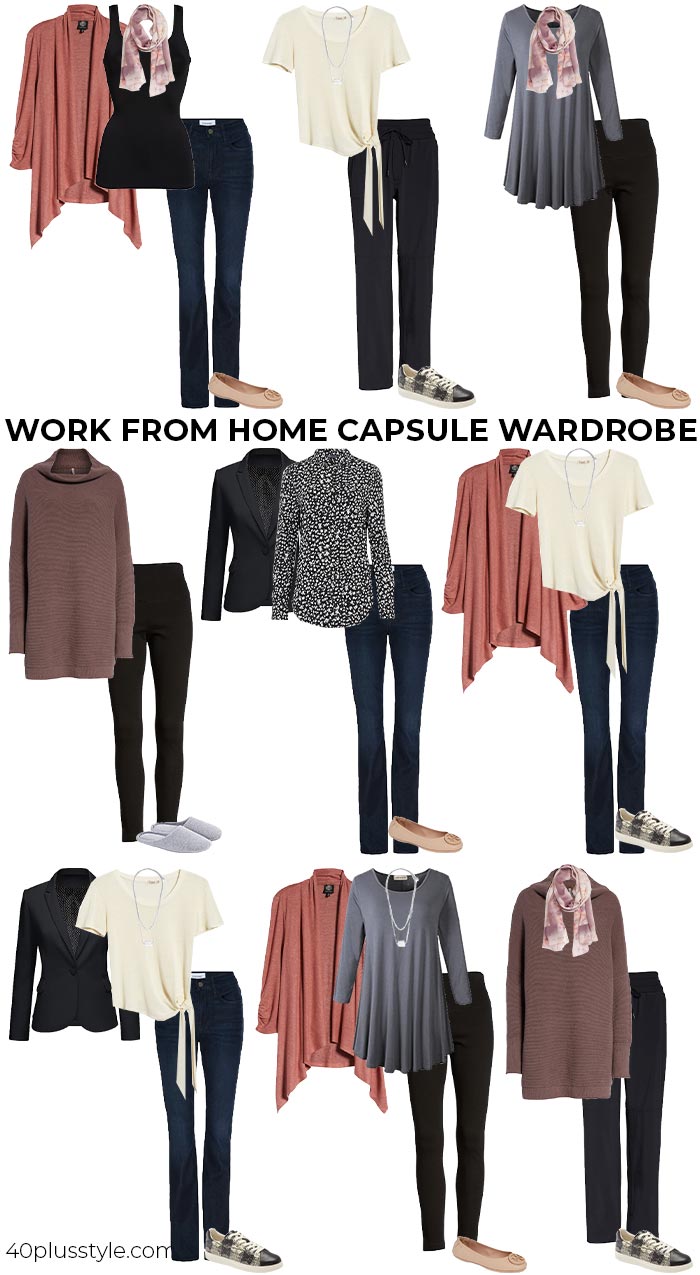 Are you working from home? What are your own favorite work from home clothes to wear?
Continue reading:
Like this post on work from home clothes? Share it on Pinterest!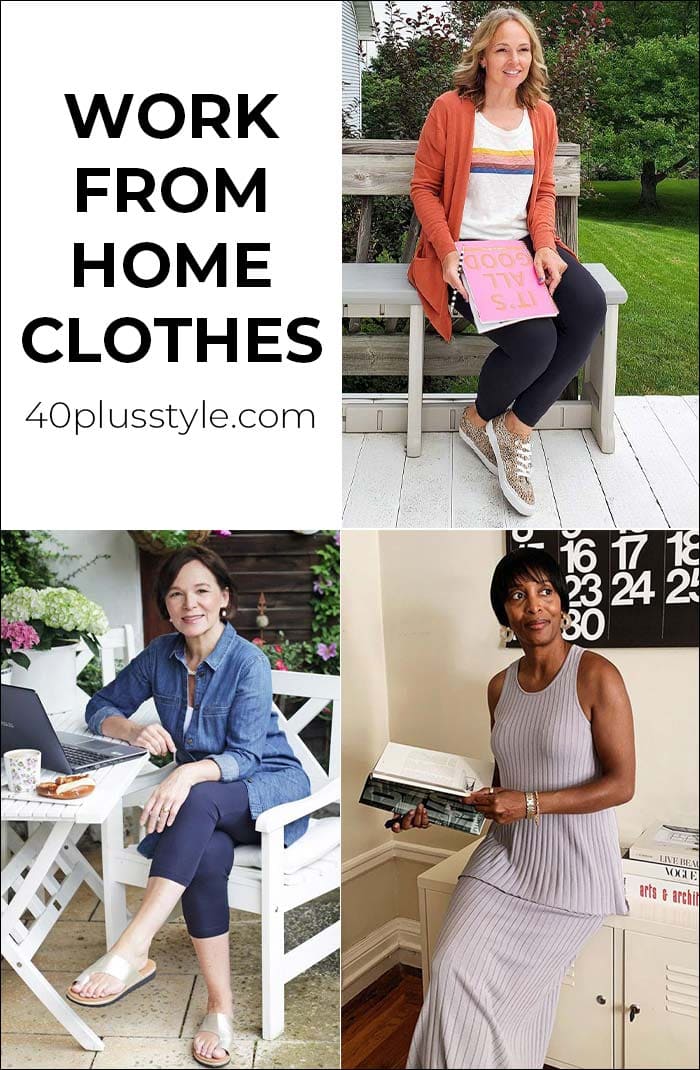 Feature image by Annette
Want to get more articles from 40+style in your inbox, subscribe here.
You can also connect with 40+style on Facebook, Instagram or Pinterest.
Support 40+style by using the links in our articles to shop. As an associate for Amazon and many other brands, we receive a small commission (at no cost to you) on qualifying purchases which enables us to keep creating amazing free content for you. Thanks!