Do you stop wearing your leggings when cold weather arrives, because you don't think you'll be warm enough? You really don't have to. This article has all the best winter leggings to keep you cozy when the mercury dips.
Warm and fleece lined leggings
If you love the style and comfort of wearing your leggings with tunic tops and dresses or with long-line cardigans and sweaters, you can still continue to wear them during the colder months.
Rather than thinner styles that you would wear during the summer which can almost feel as if you have bare legs when the weather really turns cold, look out for fleece lined leggings, thermal leggings or those made from knit fabrics.
Take a look at how to wear leggings for more inspiration on how to wear your winter leggings.
The best warm leggings this season
Below you'll find some of the best warm leggings for you this season as well as leggings outfit inspiration for the colder months.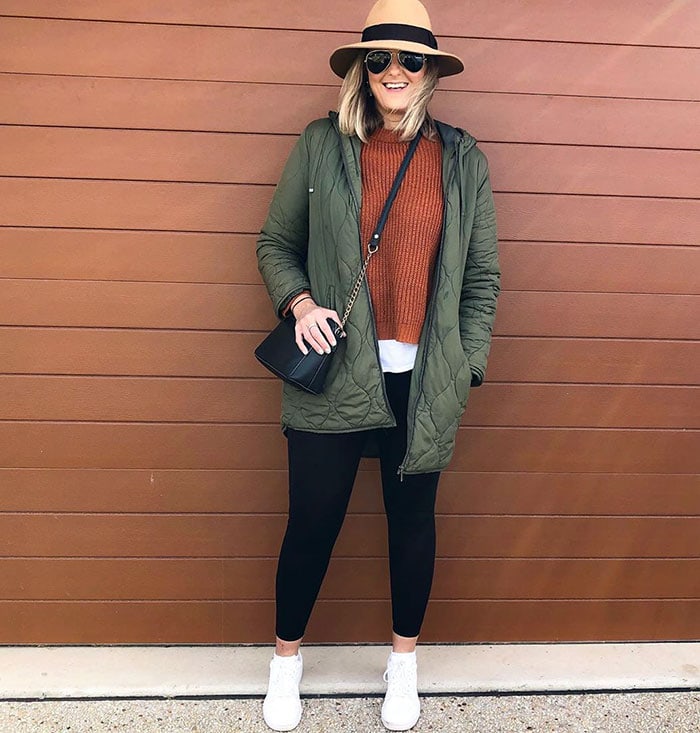 Nic (above) stays warm and stylish in leggings, a sweater and warm coat.
Check out this similar pair of leggings, white layering tee, sweater, jacket, sneakers, crossbody bag, hat and sunglasses.
Winter leggings from Uniqlo
Uniqlo is one of my favorite brands for winter leggings and base layers. The HEATTECH range traps in heat so you stay cozy even as the temperatures dip.

Uniqlo HEATTECH extra warm leggings
Fleece lined leggings from Amazon
When looking for leggings for winter, you will want to look for those which are specifically designed for the cool weather.
A fleece-lined pair will keep you warm. The leggings from Conceited at Amazon (below) come in a huge range of colors and have good reviews from women who say the lining is cozy and warm.
Conceited fleece lined leggings
Warm black leggings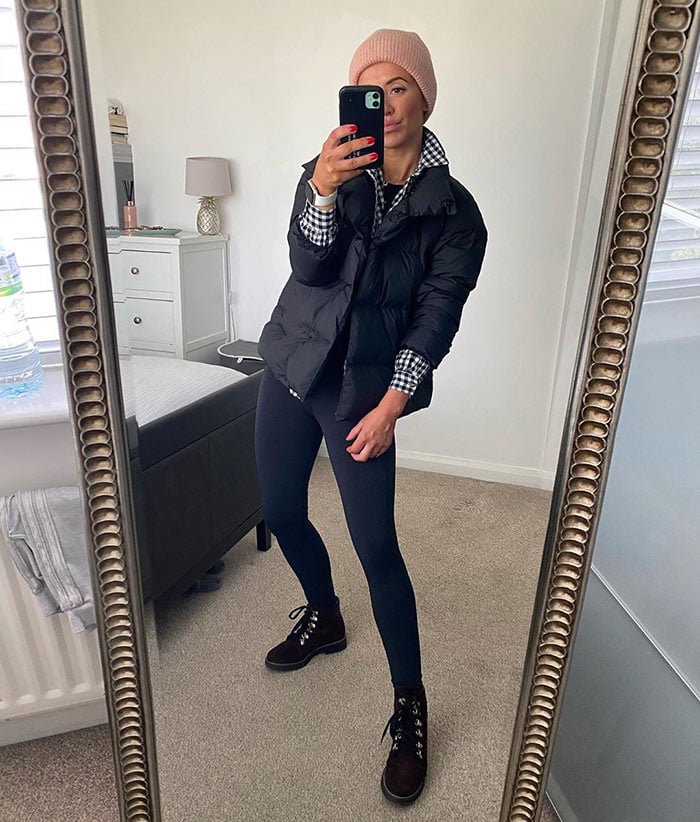 If you already have a pair of classic black leggings that you wear in the warmer months, it could be worth adding a warmer pair to your closet.
You can pop these under your dresses or wear with a tunic or shirt to ensure you can continue to wear them when the weather cools down.
Racheal (above) wears her warm leggings with lace-up boots.
Recreate her outfit with this similar pair of fleece leggings, shirt, jacket, boots and beanie.
Double knit leggings from Ugg
UGG is renowned for its warm winter boots. However, the brand's range has expanded in recent years to include cozy clothes including the leggings below which are lined with double layer fleece to keep you warm.
Thermal leggings 
While thermal wear may once have had a reputation as being frumpy, thermal styles are now very stylish.
You really can't tell the difference in style between a "normal" piece of clothing and thermal wear. The important difference is how warm you will be.
The Thermajane leggings (below) come in a set with a warm thermal long-sleeved top.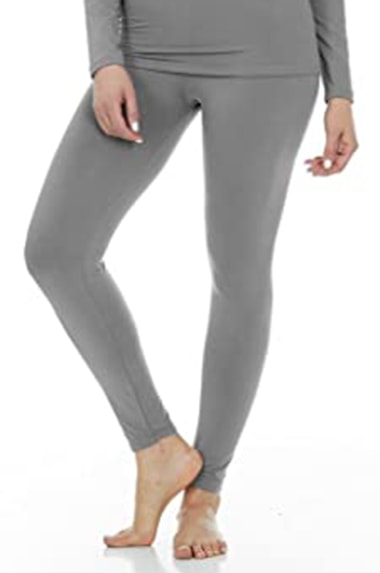 Thick leggings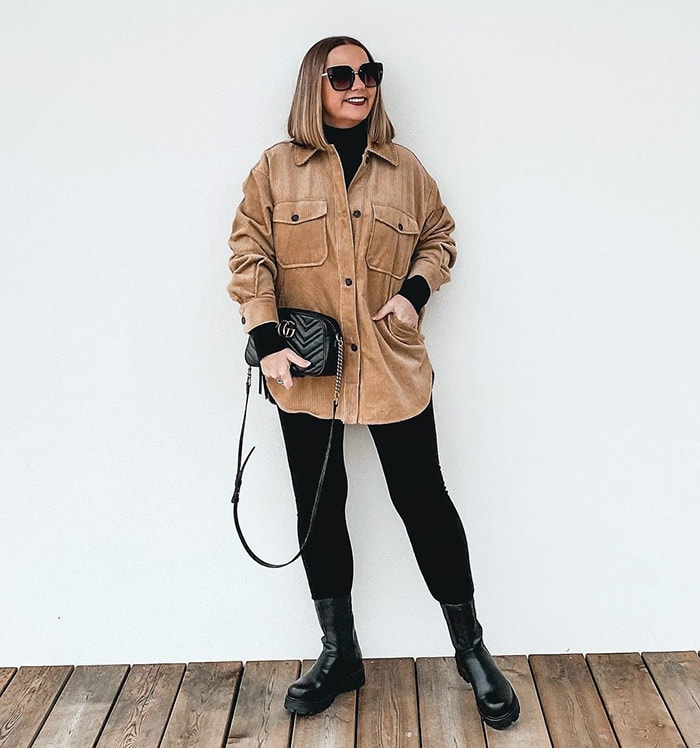 Leggings which are too thin are never good. I'm sure we've all seen women wearing leggings which show more than they intended.
A pair of thicker leggings will provide you with coverage and warmth.
Jona (above) keeps her look neutral with her black leggings, long thick shirt and Gucci handbag.
Steal her look with this similar pair of leggings, turtleneck top. jacket, boots and sunglasses.
The HUE leggings (below) have good reviews from women who say they are thick and aren't see-through.
Merino wool warm leggings
Looking at leggings which feature warm fabrics such as merino wool are a good option. The leggings by Meriwool (below) are designed to be worn as a warm base layer. They have great reviews from women who say they are warm even in the coldest temperatures, making these a good option if you love being outdoors.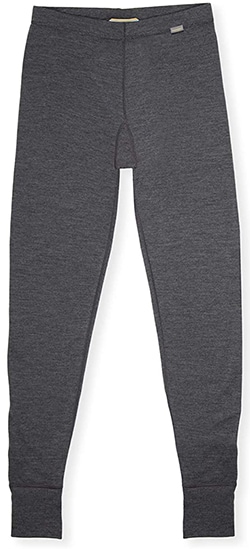 MERINO wool base layer thermal pants
Also take a look at the best tummy control jeans to give you a smoother look.
Thick black leggings
Aroob (above) shows off another outfit featuring thick black leggings for winter, which she teams with her Chanel handbag.
Check out this similar pair of leggings, puffer jacket, sneakers and sunglasses.
Slimming leggings
If you want a pair of leggings that are warm as well as being figure flattering, then the leggings by Homma (below) could be a good choice for you. They have a high waist and compression material to smooth you out and tuck you in.
There are more slimming leggings in this article on tummy control leggings to give you a smoother silhouette.

Homma thick tummy compression leggings
Knit leggings
Knitwear is always a staple for winter and fall. Look out for a pair of knit leggings that you can layer with your other knitwear.
You could, for example, wear with a tunic top and a longline cardigan.
Beth (above) wears her leggings with a cozy teddy bear coat.
Get her look with this similar pair of leggings, top, coat and sneakers.
If you're looking for knit leggings then the Daily Ritual ponte knit leggings (below) could be a good choice. They feature a double knit to keep you warm and reviewers say they hold their shape well.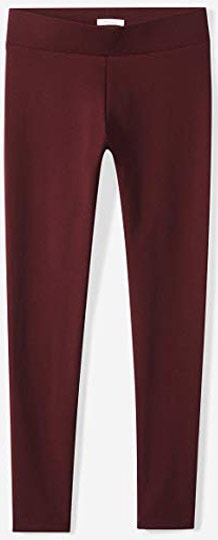 Daily Ritual ponte knit leggings
Warm leggings for winter: wool leggings
If you are heading to very cold climes or you tend to feel the cold more than most, how about looking for a pair of wool leggings which are designed for the ski slopes?
You can wear these on their own with a longer sweater, or as a base layer to stay warm.

Smartwool patterned base layer bottoms
Winter leggings for women that are also slimming
There are plenty of leggings designed not just to keep you warm but also to give you a smoother silhouette.
Julia (above) wears her leggings with a sweater and layers her jacket over the top for extra warmth.
Check out this similar pair of leggings, sweater, boots and necklace.
If you're looking for tummy control leggings, there are more options below.
CakCton fleece lined tummy control leggings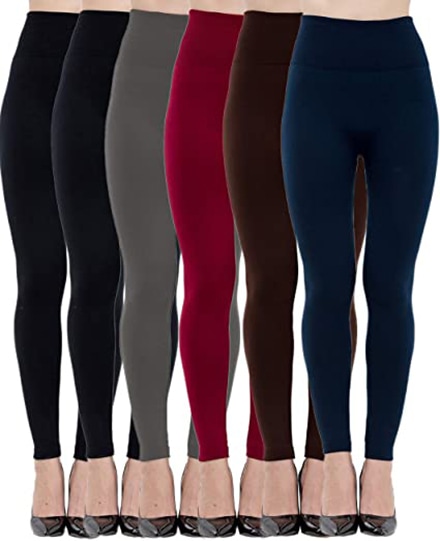 Diravo fleece lined tummy control leggings (6-pack)
Insulated leggings
Lou (above) shows how the simplest of outfits can still be super stylish. She wears her long, white shirt over her leggings.
Recreate her outfit with this similar pair of leggings, shirt, combat boots and crossbody bag.
If you want to wear a similar outfit while making sure you stay warm, then the Heat Holders leggings (below) are insulated.
HEAT HOLDERS fleece lined insulated leggings
Cable knit leggings
On cold days, there's nothing better than a cable knit sweater to keep you warm. But have you thought about cable knit leggings?
At one point cable knit may have fallen out of fashion favor, but it is definitely back on trend.
You could wear a pair of cable knit leggings with a long top and a moto jacket.
Or just wear them as loungewear to relax at home.
Best winter leggings for working out
Do you usually wear your leggings for exercise, for running errands or are you a keen runner?
Choose athletic leggings especially designed to keep you warm if you're exercising in them.
Sandra (above) wears her leggings with sneakers for a look you could go for a walk or run in.
Check out this similar pair of leggings, tunic and sneakers.
The Under Armour leggings (below) are a great choice for winter athletic wear. They have a double layer with a brushed interior and a fast-drying exterior, just in case you get caught in inclement weather.
Under Armour ColdGear leggings
Winter leggings for yoga
Are you a yoga buff? Apparently, 36 million people in America alone have practiced yoga.
If you're one of them, find a pair of yoga leggings for winter. Unless of course, you do your yoga in a heated room!
The 90 degree leggings (below) are well reviewed by women who say they compare favorably to expensive leggings brands.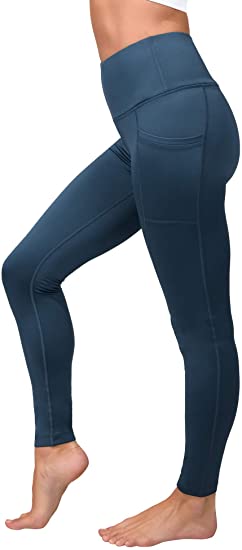 90 Degree By Reflex yoga leggings
Winter leggings as loungewear
Do you tend to wear your leggings as loungewear.
They can be a great option for relaxing at home as well as popping to the shop, walking the dog or running quick errands.
Susan (above) wears her leggings at home with an oversized sweater.
Steal her look with similar pair of leggings, sweater, scarf and slip-on sneakers.
You could also try the lounge leggings below which feel super soft. They're comfy enough to wear at home and thin enough to wear under your jeans if you're heading out.
Also read our article on the best loungewear pieces that will make you feel comfortable and stylish
Leather leggings
Leather or faux leather leggings can keep you warm because they don't let the wind or rain get to your legs.
You could wear with a longer top for a party, or you can wear with a long sweater or cardigan and flat booties for a more casual look.
Claire (above) wears her leather leggings with an on-trend shearling moto jacket.
Check out this similar pair of leather leggings, sweater, jacket, boots, handbag and sunglasses.
Velvet leggings
Velvet is a big trend this season and for good reason. You could wear velvet leggings for a more formal occasion, perhaps with a beautiful long tunic top, or you could style these with a chunky sweater.
Multi-pack winter leggings
If you tend to wear a lot of leggings to layer under your outfits and to wear at home, investing in a multi-pack could make sense for you.
Free to Live seamless leggings fleece lined (6-pack)
Leggings for layering under your pants
Finally one last tip.
If you like to stay warm in winter, but still like to wear your jeans, you can wear leggings underneath your pants.
My favorite brand for leggings to layer underneath is the Uniqlo HEATTECH range. You can get leggings for mild, cold and super cold weather. The latter are excellent to wear as outer layers too.
Uniqlo HEATTECH stretch leggings pants
Do you like to wear leggings in winter? What are your favorite brands? You can let me know in the comments below.
Continue reading:
Like this post on winter leggings? Share it on Pinterest!
Feature image by Aroob
Want to get more articles from 40+style in your inbox, subscribe here.
You can also connect with 40+style on Facebook, Instagram or Pinterest.
Support 40+style by using the links in our articles to shop. As an associate for Amazon and many other brands, we receive a small commission (at no cost to you) on qualifying purchases which enables us to keep creating amazing free content for you. Thanks!