You've obviously heard of shapewear and tummy control pants. But, have you discovered tummy control jeans yet?
If you haven't, you may be missing out on an easy, everyday solution to give you a smoother silhouette.
Tummy control jeans feature built-in panels and special construction and stitching methods to give you the illusion of a flatter stomach.
You can also find shaping jeans especially designed for curvy women and those which smooth your thighs and behind, or which give you a curvier bottom (if that's what you would like).
Why shaping jeans could work for you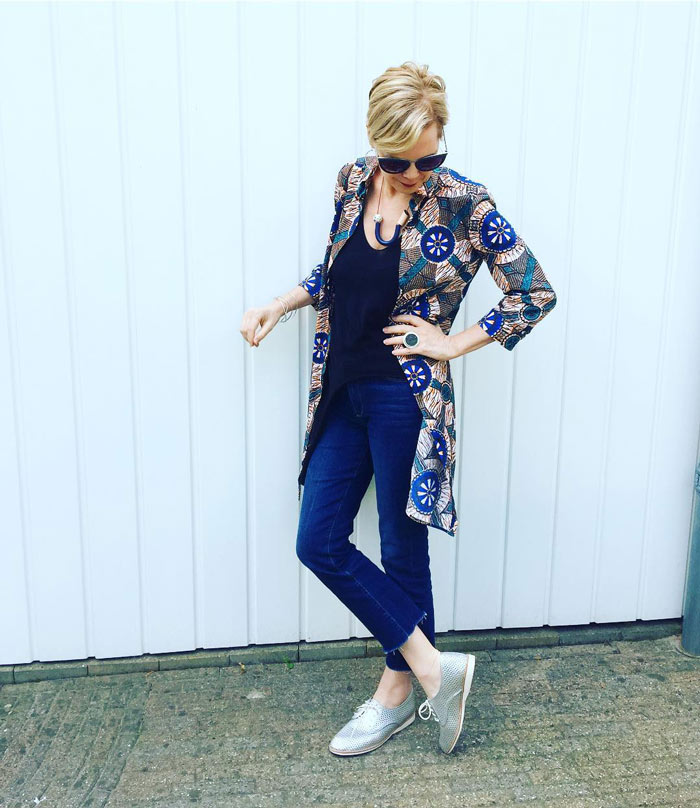 Let's face it, ageing can bring with it not only greater wisdom, but also a few lumps and bulges that we really don't want.
Shaping jeans can help to smooth out the parts of your body you aren't so confident about.
And, the best thing about them, is no one has to know that your jeans are shapewear.
Read more about the best pants and skirts to fit and hide your belly.
How tummy control jeans work
Tummy control jeans vary from brand to brand, but they all feature special panels to help to smooth out the parts of your figure you aren't so keen on and to make your stomach look flatter.
Because denim is a heavier material than your usual shaping underwear, you will find jeans can offer more support, while being comfortable as they will also feature stretchy fabric such as lycra.
Plus, they're definitely more comfortable than wearing your spanx under your jeans.
Read about what are the best body shaper for women over 40.
High-waisted jeans
Another good idea to hold in your tummy, even if you don't opt for specially-designed tummy control jeans, is to go for high-waist jeans, which will naturally pull your tummy in, rather than those with a low rise.
Find out what other pieces will definitely work for you to hide your belly.
Dark wash jeans
If you are wanting to draw attention away from your tummy and smooth out your figure, choosing a dark wash will be much more forgiving.
It's much harder to notice any "imperfections" in a darker color such as black or dark blue.
what to look out for when choosing tummy control jeans
Make sure you're choosing the right size for you. Don't be too caught up by what the label says as denim sizes differ vastly by brand. Choose opt for the pair that holds you in without being too tight.
You'll want to look for jeans with stretch, and those that are especially designed to give you a smoother silhouette, whether that's because of the way they are cut or because they feature tummy control panels.
15 best jeans for tummy control
So, which are the best tummy control jeans and the best brands if you are looking for control top jeans? Below are some of my favorites for you to choose from.
Don't forget to let me know in the comments below if you have your own favorite shaping jeans that you wouldn't be without.
1. NYDJ
NYDJ (Nordstrom, Amazon) are well known for creating denim which is designed to fit and flatter women with curves, rather than your teenage daughter.
The Marilyn high waist stretch jeans are a classic style which you will usually always find in stock.
They have lift-tuck technology which is designed to help flatten the tummy and lift up your rear.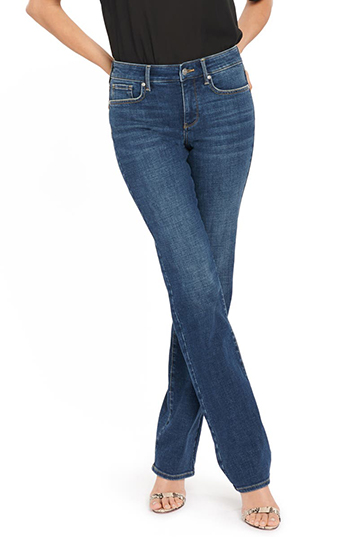 NYDJ Marilyn Straight Leg Jeans (NYDJ, Amazon)
2. Spanx
I'm sure you're well aware of Spanx shapewear given that it's one of the most famous shapewear brands on the planet, worn by many A-listers when they grace the red carpet.
But, did you know SPANX also makes jeans and leggings? The Spanx jeggings (below) team the power of Spanx with the look of jeans. Wear with longer tunics and boots.
Or, choose the flare-style jeans (below) for an on-trend option. They pull on, and have built-in hidden "gut check" shaping panels to streamline the tummy.
Find out our top picks for the best tummy control leggings.
3. Levis sculpt jeans
Levis' Sculpt range is designed to do as it says and sculpt and mold your figure with four-way stretch denim.
The shaping jeans (below) have more than 20,000, largely positive reviews. Women who have tried them say they are extremely comfortable, and are figure flattering without being tight or digging in.
Signature by Levi Strauss & Co. Gold Label Totally Shaping Straight Jeans
4. Vintage America
With slimming mesh panels for tummy control, the Vintage America jeans (below) also feature a hidden inner waistband for a no-gap waist. One reviewer described these as hands-down the best jeans she has ever owned.
Vintage America Blues F'ab Body Sculpt Bootcut Jeans
5. lee
If you like to wear skinny jeans, perhaps with a tunic top, try the Lee sculpting jeans (below). One reviewer said they made her feel slim and trim, while another described the sculpting high waist as awesome.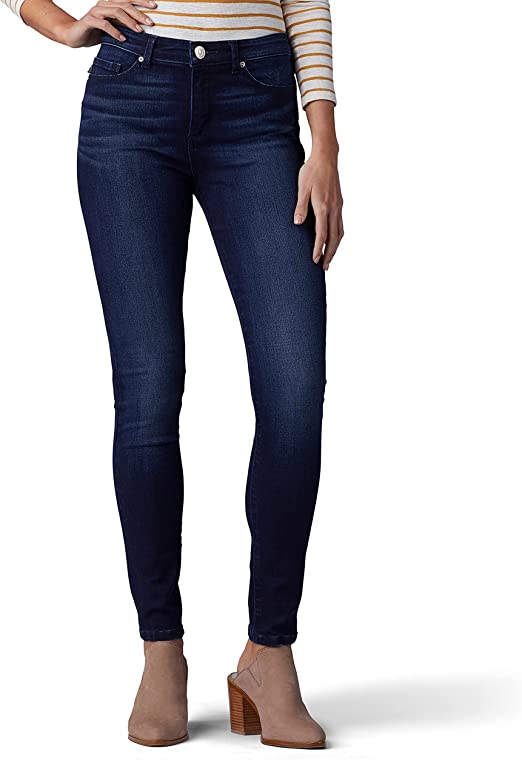 6. wallflower jeans
For a classic bootcut style, the Wallflower jeans (below) are designed to hug and flatter curves. Reviewers say they have the perfect balance of stretch and tightness in all the right places.
WallFlower Instastretch Bling Luscious Bootcut Jeans
7. angels forever young
Sitting above the hip, the Angels Forever Young jeans are designed to slim the tummy area. Reviewers say are ideal for bigger bums.

Angels Forever Young 360 Sculpt Bootcut Jeans
8. democracy
Another slim leg option for you, the Democracy jeggings (below) could be ideal to wear with your longer tunics and shirts. They have flattering Ab-solution technology to help sculpt the tummy. Wearers say they are true to size and are perfect for curvy figures.
Democracy Ab Solution Jeggings
9. good american
Good American builds its jeans with curves in mind. The mini bootcut jeans (below) come with a high waist to keep everything tucked in. They're stretchy and gap-proof, so you won't end up with the waistline gaping at the back when you bend or sit down.
Good American Good Legs Crop Mini Bootcut Jeans
10. curve appeal
CURVE APPEAL's skinny jeans are a great choice to wear with your tunics and booties or to dress up with a blazer and heeled sandals. They feature a concealed elastic waistband together with tummy tuck technology to flatten your belly, and a contoured back to add shape at the rear.
CURVE APPEAL Tummy Tucking High Rise Comfort Waist Skinny Jeans
11. lane bryant
For plus size choices, Lane Bryant is a good go-to. The Lane Bryant jeans (below) feature a no-gap stretch waistband designed to keep you tucked in and to move with you to keep you comfy.
Lane Bryant Tighter Tummy Fit High-Rise Boot Jean
12. everlane
Everlane's high-waist jeans are designed to feature your true waist, which should be where your waistline is at its slimmest. They have great reviews from women who say they have just the right amount of stretch, making them comfy to wear all day, while still holding you in.
13. old navy
Old Navy's straight ankle jeans (below) have clever secret-smooth front pockets to hold you in for a smoothing effect. They have a shug no-gap waist to keep you covered.
Old Navy Curvy High-Waisted Button-Fly OG Straight Cut-Off Ankle Jeans
14. iChosy
With pull-on styling, the iChosy jeans (below) have a hidden tummy control panel. Reviewers say they are comfortable and flattering, but do run large so size down if you are between sizes.

iChosy Shaping Pull-on Skinny Jeans
15. Plus size option
Many of the jeans above also come in plus size choices. You could also try the body sculpting skinny jeans (below) which reviewers say they are the perfect fit for curvey women.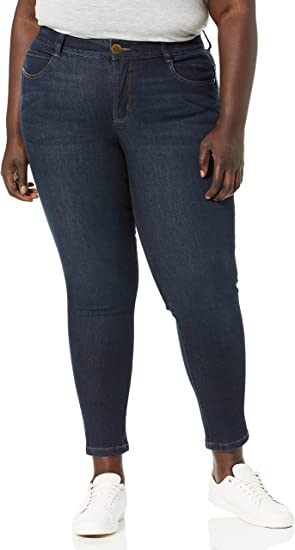 Vintage America Blues F'ab Body Sculpt Skinny Jeans
shop the best tummy control jeans here:

Do you already have tummy control jeans in your wardrobe? Or might you invest in some?
Continue reading:
Like this post on the best tummy control jeans? Share it on Pinterest!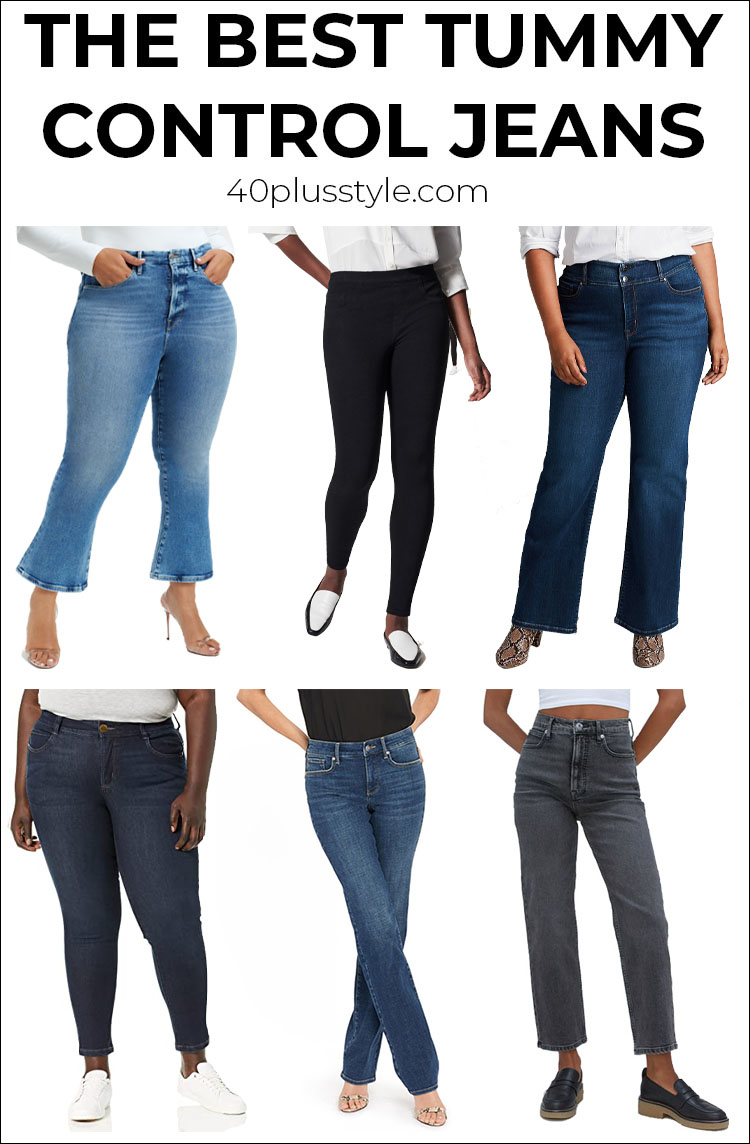 Want to get more articles from 40+style in your inbox, subscribe here.
You can also connect with 40+style on Facebook, Instagram or Pinterest.
Support 40+style by using the links in our articles to shop. As an associate for Amazon and many other brands, we receive a small commission (at no cost to you) on qualifying purchases which enables us to keep creating amazing free content for you. Thanks!