You've obviously heard of shapewear and tummy control pants. But, have you discovered tummy control jeans yet?
If you haven't, you may be missing out on an easy, everyday solution to give you a smoother silhouette.
Tummy control jeans feature built-in panels and special construction and stitching methods to give you the illusion of a flatter stomach.
You can also find shaping jeans especially designed for curvy women and those which smooth your thighs and behind, or which give you a curvier bottom (if that's what you would like).
Why shaping jeans could work for you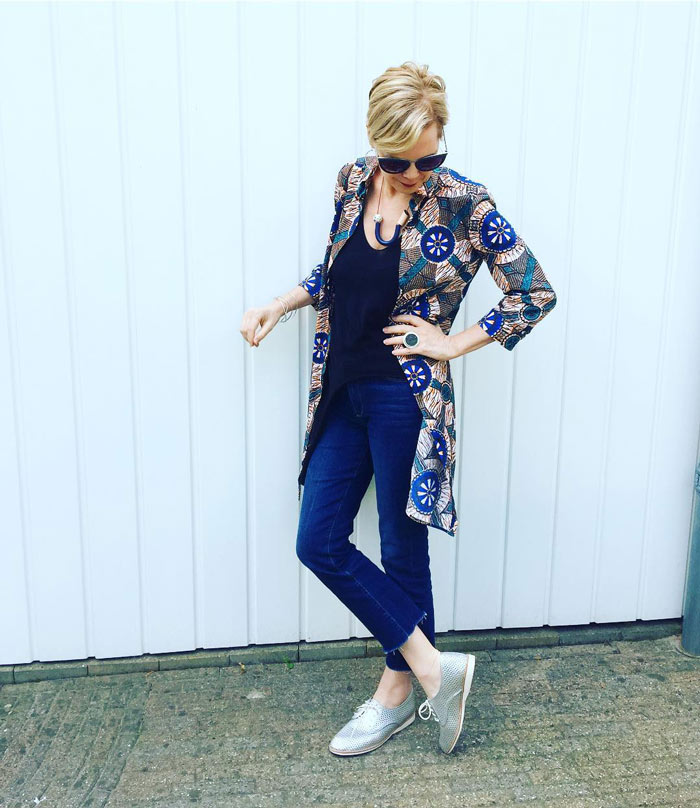 Let's face it, ageing can bring with it not only greater wisdom, but also a few lumps and bulges that we really don't want.
Shaping jeans can help to smooth out the parts of your body you aren't so confident about.
And, the best thing about them, is no one has to know that your jeans are shapewear.
Read more about the best pants and skirts to fit and hide your belly.
How tummy control jeans work
Tummy control jeans vary from brand to brand, but they all feature special panels to help to smooth out the parts of your figure you aren't so keen on and to make your stomach look flatter.
Because denim is a heavier material than your usual shaping underwear, you will find jeans can offer more support, while being comfortable as they will also feature stretchy fabric such as lycra.
Plus, they're definitely more comfortable than wearing your Spanx under your jeans.
Read about what are the best body shaper for women Over 40.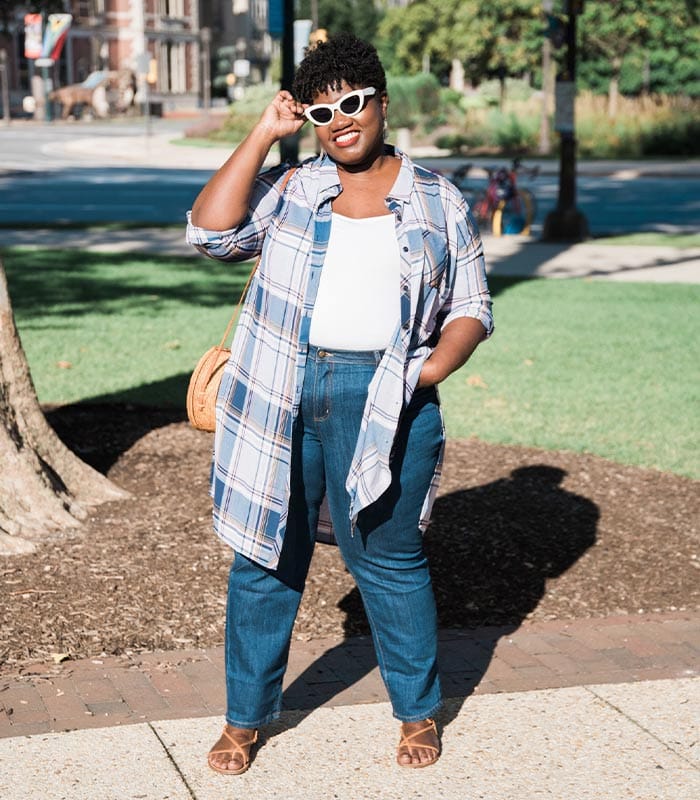 Georgette (above) wears a pair of 'Universal Jeans' from Catherines.
These straight jeans are designed to mold to different body types and shapes.
The flattering design features an all-around, interior elastic waist and a button closure.
High-waisted jeans
Another good idea to hold in your tummy, even if you don't opt for specially-designed tummy control jeans, is to go for high-waist jeans, which will naturally pull your tummy in, rather than those with a low rise.
Find out what other pieces will definitely work for you to hide your belly.
Dark wash jeans
If you are wanting to draw attention away from your tummy and smooth out your figure, choosing a dark wash will be much more forgiving.
It's much harder to notice any "imperfections" in a darker color such as black or dark blue.
10 best jeans for tummy control
So, which are the best tummy control jeans and the best brands if you are looking for control top jeans? Here are some of my favorites for you to choose from.
Don't forget to let me know in the comments below if you have your own favorite shaping jeans that you wouldn't be without.
1. NYDJ
NYDJ (Not Your Daughter's Jeans) are well known for creating denim which is designed to fit and flatter women with curves, rather than your teenage daughter.
The Marilyn High Waist stretch jeans are a classic style which you will usually always find in stock.
They have lift-tuck technology which is designed to help flatten the tummy and lift up your rear.
NYDJ high waist stretch straight leg jeans
2. Spanx jeanish leggings – control top jeans
I'm sure you're well aware of Spanx shapewear given that it's one of the most famous shapewear brands on the planet, worn by many A-listers when they grace the red carpet.
But, did you know Spanx also makes jeans and leggings?
The Spanx jean-ish leggings come in either a black or dark blue rinse, and are also available in plus sizes.
Find out our top picks for the best tummy control leggings
3. NYDJ curves 360
Another style well worth looking at from NYDJ is the curves 360 range.
They have a 360-degree interior panel which is designed to support, slim and lift from the front to the backside.
The denim has a four-way stretch to create this slimming effect as well as being comfortable.
Curves 360 by NYDJ slim straight leg jeans
4. Miraclebody jeans – slimming jeans for tummy
From the same people as the better-known Miraclesuit swimwear, Miraclebody jeans are designed to slim the figure in the same way.
The Samantha bootcut is one of the brand's signature styles, and features a hidden tummy-control panel.
The bootcut style also helps to balance out the hips so this can be particularly flattering for pear shapes.
5. Levis sculpt jeans
Levis' Sculpt range is designed to do as it says, and sculpt and mold your figure with four-way stretch denim.
You'll find this fabric in both the 300 and the 700 ranges from Levis.
Levi's high waist skinny jeans
6. Good American jeans
With a "gap-proof" waistband, the Good American brand can be a good choice if your hips are much bigger than your waist.
These have a contoured waistband to ensure they should fit your curves. Plus, they have a high-waistband to keep your tummy tucked in, as well as "corset-slimming" elasticity.
These jeans are partly the brainchild of Khloe Kardashian who was struggling to find jeans to fit her on both the hips and the waist.
Good American high rise skinny jeans
7. Madewell jeans
While every jeans designer comes up with their own way to create a flattering fit, Madewell has created "magic pockets".
These promise to smooth you out and lift you up, while still allowing you to breath.
Madewell mid rise skinny jeans
DL1961 instasculpt jeans
A fairly new jeans brand on the block, having only been launched in 2008, DL1961 concentrates on the technology, fit and fabrication of its denim.
They are also crafted with what the manufacturers call "instascuplt" denim, which is designed to provide a slimming effect while never losing shape.
DL1961 instasculpt farrow high waist skinny jeans
J Brand jeans
I guess they are trying to market at those who want to look fabulous in their Instagram shops as J Brand has called its denim "photo ready HD".
Jeans that promise to make you look more photogenic – what more could you wish for? They're also meant to have amazing shape retention.
J Brand high waist raw ankle skinny jeans
Citizens of Humanity jeans
If your priority is to make sure your derriere looks good in your jeans, Citizens of Humanity could be the ones for you.
They are made with figure-sculpting denim and are cut slim on the thigh before flaring out into a bootcut.
Citizens of Humanity high waist bootcut jeans
Do you already have tummy control jeans in your wardrobe? Or might you invest in some?
Continue reading:
Like this post on the best tummy control jeans? Share it on Pinterest!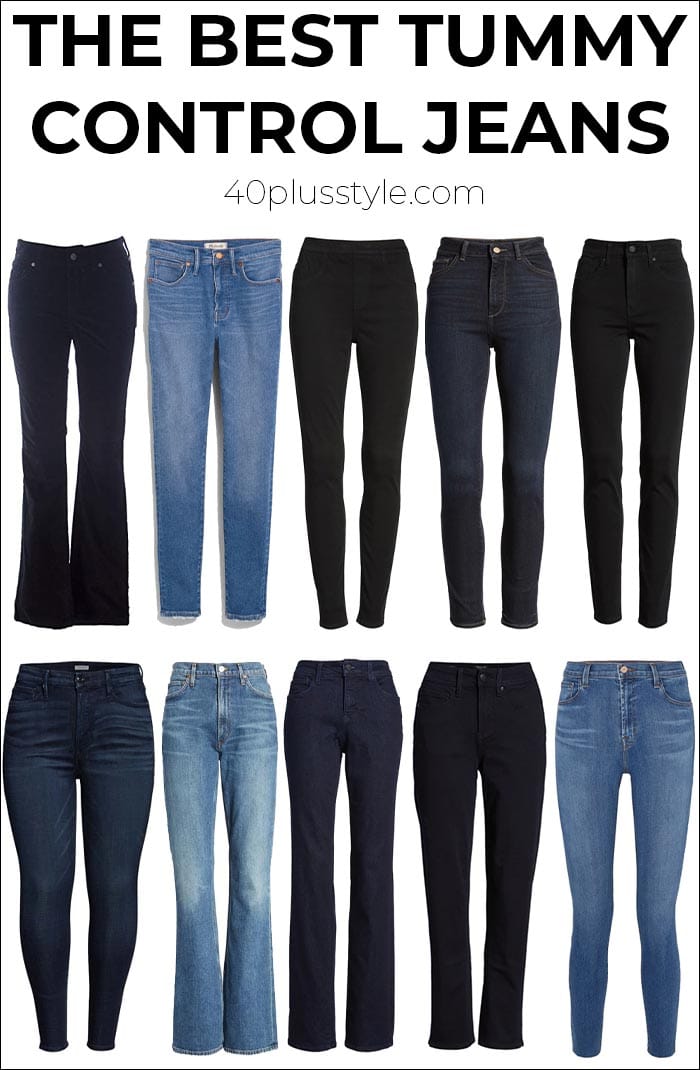 Feature image by Georgette
Want to get more articles from 40+style in your inbox, subscribe here.
You can also connect with 40+style on Facebook, Instagram or Pinterest.
Support 40+style by using the links in our articles to shop. As an associate for Amazon and many other brands, we receive a small commission (at no cost to you) on qualifying purchases which enables us to keep creating amazing free content for you. Thanks!