I know shapewear for women can be a controversial topic to discuss but I would like to give my point of view on this.
Let's face it, after 40 we gain fat in all the wrong places and our skin becomes less elastic. You may feel that I'm the wrong person to discuss this, as I'm still quite slim, but believe me, even I have fat bubbles and loose skin in all the wrong places. And yes, sometimes I wear shape wear under some of my clothes, especially when I wear tight skirts and dresses like those you see below.
 
Why I choose to wear shape wear on some occasions
Quite a few of you will think that we should not submit ourselves to any constrictive wear of any kind and that we should accept ourselves as we are. I agree with this. But I also believe that when we step outside or go to a special occasion, we want to look our best so we can feel our best.
Here are some of the reasons why I choose to wear shape wear:
Tight and thin dresses simple don't look so good when you can see the saddlebags on my thighs and flabby fat on my buttocks.
It streamlines your figure in a nice way. Love handles are controlled and legs look smooth.
You can accentuate your waist more.
And yes, if being overweight is an issue, they do slim you as well.

Shapewear can also be one of the tools in your toolbox on looking taller and slimmer.
Shape wear comes in all different shapes, sizes and comfort levels
It's also important to note that many shape wear pieces are actually not that uncomfortable. Many shops offer shape wear in different comfort levels, from light support to full support. Here are just some examples of Spanx shapewear below.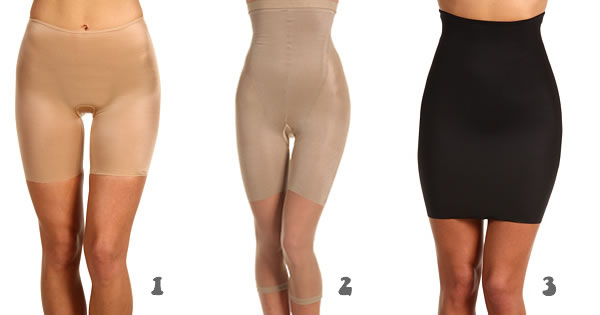 1. Mid-thigh shaper: my upper thighs are my main problem area, so this is one of my favorite styles. I usually opt for a light to medium support in a light fabric. In most cases I would say to opt for skin color shape wear as that is the most invisible.
2. If you want more streamlining and get a more defined waist, you can opt for the Hi-waist mid-thigh shaper.
3. The Spanx simplicity half slip is a good choice to wear under skirts and dresses.
You can find many more styles here from Spanx . For many more options at Nordstrom click here  and more options from Amazon below.
Shapewear for women can, of course, be confusing. Here's a quick rundown of 7 types of shapewear and what they actually do.
Control camis
These are handy if you want to streamline your belly, but you're not keen on wearing control pants. They can also help to streamline your silhouette across your breasts too, helping to prevent any lumps and bumps around your bra.

Control tights
Of course, not all control wear is meant to be worn underneath your clothes. When colder weather comes around, control tights can be handy for sucking in your tummy as well as shaping your legs.

Corsets
Not the Medieval torture devices they once were, corsets, or waist cinchers, can be helpful if you just want to target your waist without also wearing control pants or a cami.

Body suits
Helpful when you want control across your bust area and tummy, you can also find longer bodyshapers or body suits which provide coverage over your thighs too.

Singlets
Singlets, or open bust body shapers, allow you to wear your own bra under your shapewear – helpful if you struggle to find a bra which fits perfectly.

Control pants
An easy introduction to shape wear if you don't want anything too constrictive. Helpful for controlling both tummies and your waist.

Half slips
Slips are a good option to wear under skirts or partywear if you want to avoid VPL and you also want some form of tummy control. You can find half slips, which fit like a skirt, or slips which also provide some upper body coverage, while allowing you to wear your own bra.

I certainly don't wear shape wear all the time. And I don't wear it to appear thinner. My main reason for wearing shape wear is to streamline my upper legs and buttocks. I just feel so much better in my tight skirts and dresses wearing it!
Where do you stand on shapewear for women? Do you wear shape wear or do you prefer not to go anywhere near it?

Like this article? Save it on Pinterest!
Want to get more articles from 40+style in your inbox, subscribe here.
You can also connect with 40+style on Facebook, Instagram or Pinterest.
Support 40+style by using the links in our articles to shop. As an associate for Amazon and many other brands, we receive a small commission (at no cost to you) on qualifying purchases which enables us to keep creating amazing free content for you. Thanks!