In previous articles, I discussed how to determine body shape and dress for your vertical body type.
Today let's go into detail on how to dress when you are short or petite, ie., below the average height of 1.65 m (5'4").
Everything you need for dressing when you are petite
In principle, these guidelines, which are now updated for this spring and summer season, will work for anyone who is short in height, or for those who want to appear longer or leaner in their appearance.
These ideas also work well for those whose upper body is almost the same length as their lower body. In that case, the aim is to make the lower body appear longer so that you look like you have longer legs.
This is the ultimate guide for dressing when you are short or petite. In this article, you will find
26 tips on how to dress to make yourself look longer, leaner and slimmer as well as what not to wear.
a capsule wardrobe and style guide for petite women after 40
The best stores to shop in if you are petite
stylish petite celebrities to give you some extra inspiration
How to dress for Winter and fall if you are petite
You can wear elongating layers in winter and fall, which can make it easier to dress during colder seasons when you are petite.
However, dresses are fabulous for petites and you can create a lengthening effect with a one color dress during warmer weather. You can also try lighter-weight layers such as sleeveless vests.
How to dress when you are petite – what to think about
Petite doesn't necessarily mean small and slim. It simply means that you are 5′ 4" or below.
You can be any size, which makes it even more important to keep your outfits in the right proportion.
When you are short in height you will usually have the following objectives with your dressing:
Appear longer, taller and leaner
Create a flattering silhouette (using the rule of thirds, so you don't split your body in half)
Avoid boxiness which will only make you look wider rather than taller.
Most short women will want to appear taller and leaner.
You may also want to take a look at this article how to look taller and slimmer no matter what your height.
This is relatively easy to achieve if you stick to the following guidelines:
1. Stick to monochrome outfits or outfits with few color variations
You would look perfect in simple shift dresses, with little color accents here and there.
Monochromatic looks will create a vertical image and instantly create the illusion of height.
Dark colors are a great choice to create this illusion as they make the wearer look thinner furthering the perception of height. But essentially this tip will work for any color.
Shauna @chicover50 above (read her style interview here) shows off a good tip for looking taller (if you want to). She wears high-waisted pants and keeps her blouse tucked in, opting for a bootcut style and wearing wedges underneath. All of this makes her legs look longer.
Recreate her outfit with this similar blouse (other options here and here, pants (another option here), platform heels and earrings.
2. Petite dresses: Wear a dress!
Dresses will look great on many short women, as they automatically create the much desired 2/3 – 1/3 look.
If you opt for a form-fitting slim silhouette then this will make you look even taller.
A knee length sheath dress is a great option for a petite frame as the tailored silhouette avoids unwanted bulk.
The end result is a lean look that makes the wearer appear taller. Polish off the look with slingback kitten heels, for a little-added height.
The v-neck, knee-length of the wrap dress (below) is a good option to look out for if you are petite. Most reviewers say to size up if you are big busted.
TuoGo Wrap V-Neck Ruched Dress
3. Petite clothing: Get the right fit
Getting clothes with the right fit and size is even more important for short women. Ill-fitting clothes will add extra bulk.
Avoid oversized clothes (even if they are on trend).
If you do really want to wear oversized clothes, make sure to create a good silhouette and that the balance between fitted and oversize is correct.
Make sure not to have both wide on top and below. A belted dress in one color is perfect for petites.
Ana @mrsamericanmade above (read her style interview here) shows how you can "break some rules" and still make your outfit work if you are petite. In theory, crop jeans can be tricky to wear as they can make your legs look shorter. However, she keeps her outfit in tonal shades and wears nude heels which creates an elongating effect.
Get her look with this similar top (plain option here), wide leg jeans, heels, belt and earrings.
4. Wear shoes that keep your ankles free
Avoid straps around the ankle as ankle straps can make your legs look shorter. Instead opt for shoes that elongate. Mules are a great option for petites.
If you want to wear flats rather than heels, pointed toes can also create the illusion of extra height.
Amazon Essentials D'Orsay Flat Ballet
5. Wear heels with your petite outfits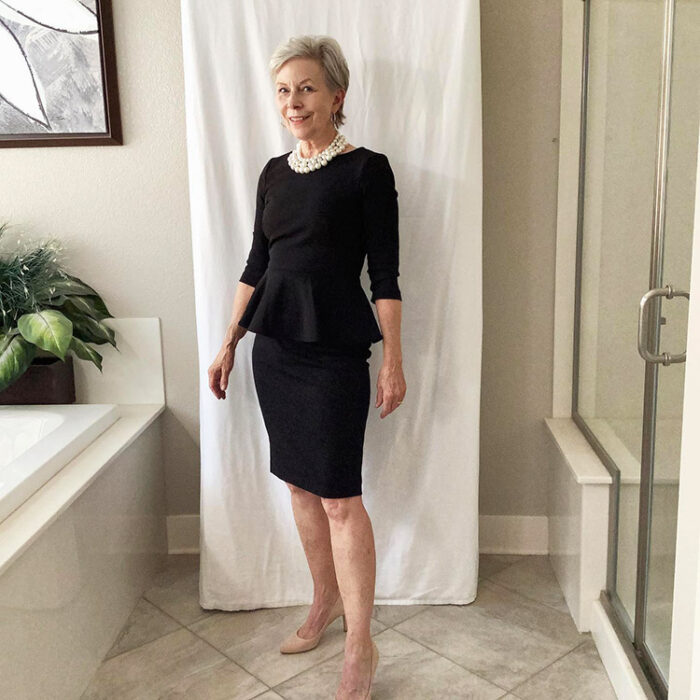 An obvious way to gain height is to wear a heel. However, don't go overboard with these. Getting heels that are too high will make you look out of proportion.
For examples on how I wear heels and a full list of recommended comfortable shoes, also check my article on the best arch support shoes.
Eileen @eileenternullo above shows off a great outfit for petites – a knee-length one-color dress and heels in a similar shade to her skintone.
Steal her look with this similar peplum top, pencil skirt, pumps and necklace.
Below are more heels you could wear to add some additional height. You could add any type of heel you are comfortable with, from stilhettos and kitten heels to wedges and block heels.
6. Wear accessories in proportion
Go easy on the oversized accessories as these may overwhelm you.
Choose accessories that are in proportion with your face and the rest of your body
The bigger you are the bigger your accessories can be.
Choose a handbag that fits your physique. In many cases, oversized handbags are not your best choice as they will make you look smaller.
Calvin Klein Gabrianna Novelty Bucket Shoulder Bag
7. Be smart with belts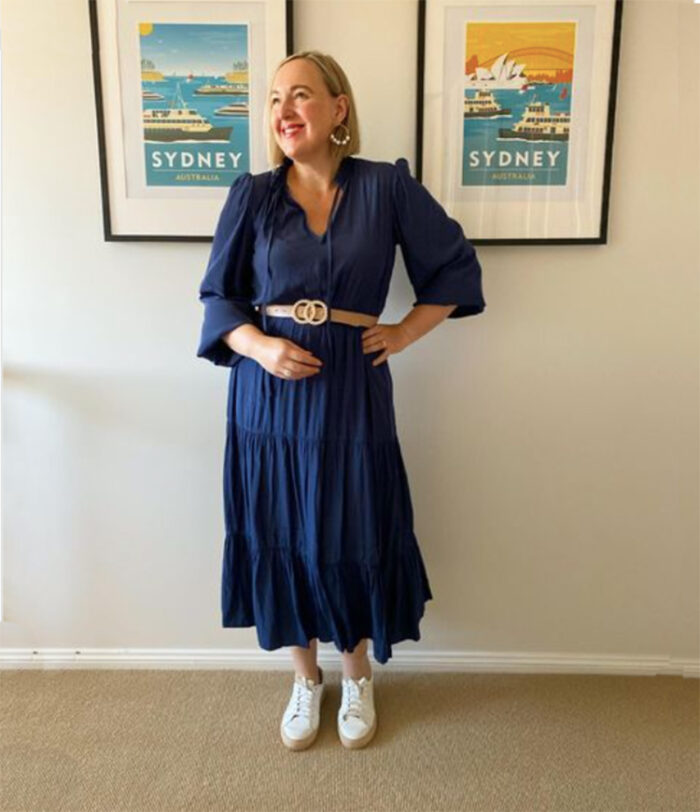 For many petites your legs will be relatively short.
To make those appear longer you can wear the same color belt as your pants or skirt as this will make your legs look longer.
Kylie @kylish_aus above shows that you can also choose a contrasting belt when wearing a dress. This helps to define where your lower body starts, creating the look of longer legs.
Recreate her outfit with this similar dress, sneakers and belt.
SANSTHS Set of 4 Skinny Leather Belts
8. Find your ideal skirt length
Although a short dress can be very effective for short people when they are young, I would advise against a very short hemline over 40.
Instead, opt for styles that fall just below or on top of the knee. A high-waisted skirt or pants would make your legs appear longer.
Kate Kasin Wrap Front Pencil Skirt
You may also like: what is the right skirt length for women over 40.
9. Vertical patterns are your friend
Vertical patterns will always elongate and would be especially good for your pants or skirt.
Horizontal stripes are best avoided as they draw the eye across rather than up and down.
The white stripe pants (below) could be perfect for spring and summer.
10. Create a vertical line with a buttoned shirt dress
Buttoned shirt dresses that stop just above or on top of the knee will create a nice vertical line as well.
Most wrap dresses work really well for petites too.
The shirt dress below could be worn on its own, as a tunic over skinny pants or leggings or you could wear a shirt dress unbuttoned as a sleeveless vest.
11. Create vertical lines in your outfit
You don't necessarily need to feature vertical lines as a print such as a stripe to have vertical lines in your outfit.
Create nice vertical lines with open straight jackets and cardigans.
A great look is to have a cardigan or jacket the same length as your dress.
Long straight cardigans or sleeveless vests are perfect for petites!
Sharryn @thestylishwoman above (read her style interview here) wears an open sleeveless vest over her outfit to create flattering vertical lines.
Check out this similar top, pants, vest, sandals, necklace, sunglasses and head scarf.
The long cardigan below has a vertical stripe running down it which will help with creating your vertical lines. It comes in lots of different colors so you should find your favorite and reviewers say the longer length is stylish and youthful.
GRACE KARIN Open Front Long Knitted Cardigan
This cardigan is available in many different colors (also without stripe)
12. avoid double breasted
As a general rule, avoid a double breasted style, as these will add width rather than length. Instead, choose a slimline single-breasted blazer like the three-quarter sleeve jacket (below). Wearers say the fit is flattering and most say it is true to size.
Beninos 3/4 Sleeve Lightweight Blazer
13. Create vertical lines with a sleeveless vest
I added one of my own outfits. Even though I'm not petite this could have been worn by a petite woman.
The column of color (the black) creates a lengthening vertical line for the red vest.
Check out this similar long red vest (another option here), harem jumpsuit, booties, tote, necklace and sunglasses.
Below, you can see a similar long vest from Amazon, which comes in a variety of colors.
14. WEAR V-LINE TOPS TO FURTHER ELONGATE YOUR LOOK
These open up the neck line and create additional vertical lines.
15. avoid contrasting tops
Avoid wearing tops which are in very different colors to your skirt or pants.
This will draw more attention to the fact that your upper body is almost the same length as your lower body.
16. Make sure that your tops stop at the hipline or above
Longer tops may cut you in half and you will not achieve the golden ratio or rule of thirds (see above). They will also make your legs appear even shorter.
However, you can wear longer tunics over skinny pants or leggings. make sure they are about 2/3 from shoulder to shoe.
17. Pay attention to boot length
Choose boots that stop just below the knee and avoid boots that end on the mid part of your shins.
We already discussed the importance of creating a great silhouette and paying attention to the rule of thirds. Here are a few more tips.
For more tips also see our article on how to look taller and slimmer.
DREAM PAIRS knee high suede boot
18. Embrace high waisted pants and skirts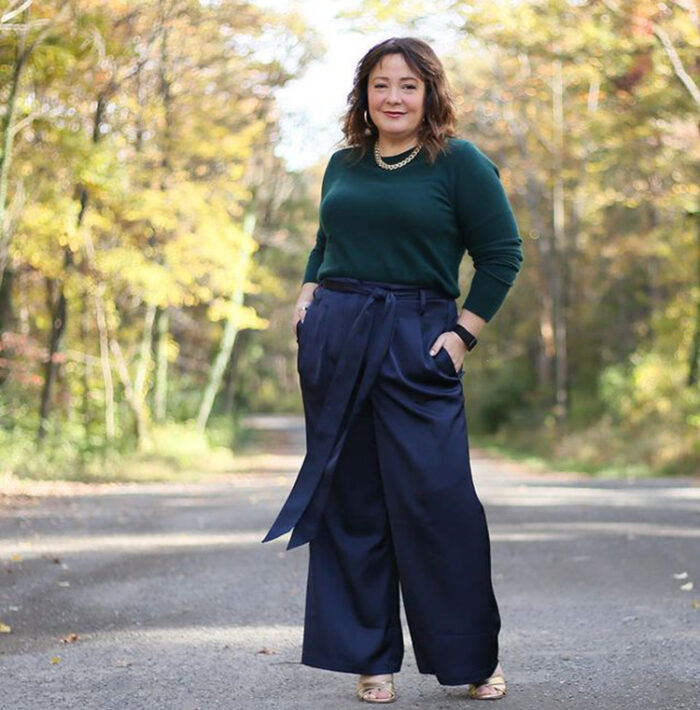 High waist pants paired with heels work together to create a long vertical image. Worn with a short top, the outfit creates the illusion of height.
They will make your legs appear longer. Wide pants with tucked in tops work really well. If you can't tuck in your top because you want to hide your belly consider getting an asymmetrical top.
Alison @wardrobe_oxygen above (read her style interview here) opts for high-waisted belted pants and wears a top that is in a similar shade.
Recreate her outfit with this similar top, wide leg pants (another option here), sandals and necklace.
The high-waisted belted pants (below) come in a huge choice of colors. Tuck your top in for a leg-lengthening effect.
SySea High Waisted Leopard Belted Wide Leg Trousers
19. BE careful with cropped PANTS
Avoid short trousers and pants that stop at the ankle. Best to wear pants with straight pipes or wide legged ones with heels, preferably high-waisted.
If you do wear cropped pants be sure to wear a shorter top to give you a nice 2/3 – 1/3 silhouette.
To read more about the rule of thirds, check out our article on how to wear cropped pants.
20. get a good bra
You want to create as much space between your waist and your bust line as possible. Choose a good, supportive bra to make sure your bust sits where it should.
Hanes Ultimate ComfortBlend T-Shirt Soft Underwire Bra
21. Be Careful With Tucking Pants Into Your Boots
Best not to tuck in your pants into your boots as it will break up the lengthening line. Or keep the rest of the outfit in the same color as that will create a 2/3 – 2/3 effect.
You can also select the boots in the same color as your pants to make your legs look longer.
22. Choose the right size for tops and bottoms
Your size is not necessarily 'petite' top and bottom, so you may need a bigger size on top or vice versa. Making sure you opt for the right sizes for your shape will give you a balanced look.
Lydia @birabiro above (read her style interview here) opts for slim-fitting jeans and a wider top. She adds a little height with her sandals.
Steal her look with this similar blouse (other option here and here), jeans, sandals and handbag.
23. avoid boxiness
You want to create fluid lines in your looks and create a 1/3 – 2/3 silhouette whenever possible.
24. Test what the right belt width is for you
Belts are often best kept narrow, unless you belt them very high up your waist, or they are the same color as your pants.
JASGOOD Leather Skinny Women Belt
25. Fit is everything!
If you can't find clothes that fit properly, find a good tailor.
You may also like: how to fit a blazer.
A petite capsule wardrobe
Now let's take a look at how to put together outfits if you're petite, with all the best options to choose.
petite tops
When looking for tops, anything with vertical stripes or a v-neck will help to elongate your figure. You can also look at showing off your waistline with a cinched in waist as this will make your legs look longer.

Goodthreads Washed Cotton Boyfriend Shirt – Beauhuty V-Neck Top – Romwe Tie Front Knot T-Shirt – Zeagoo Cross Wrap Top
sweaters and cardigans
As the weather gets colder, you'll definitely want to add a few warm sweaters to your petite capsule. As with your tops, v-necks can help elongate your figure. Another option is to choose shorter or crop styles and wewar with high waist pants to make your legs look longer.
Or, you could look out for long line cardigans. Wear these open to create an elongating column effect.
Abi @stealmystyle40 above wears a cardigan with stripes that creates fantastic vertical lines as the pattern literally points up and down.
Get her look with this similar tee, cardigan, leggings, sneakers, sunglasses, and accessorize with this tote from Saint Laurent.
JJ Perfection V-Neck Soft Knit Sweater – BP. Crop Cardigan – A2Y Open Front Sleeveless Vest – GRACE KARIN Open Front Long Knitted Cardigan
coats and jackets
Keep your coats in proportion to your figure. Shorter styles worn with high waisted pants and jeans will look good on you. Or, cinch your waist to ensure your coats don't overwhelm you. As with the rest of your outfit, vertical lines will look good.
Karen Millen Italian Structured Jersey Crop Biker Jacket – Karen Millen Tweed Knit Bomber Jacket – Karen Millen Compact Stretch Relaxed Sleeveless Jacket – Karen Millen Hammered Satin Woven Trench Coat
bottoms
When it comes to your bottoms, choosing the right length is key. If you opt for bootleg or wider pant styles, you can wear heels underneath them and make your legs look super long.
Vertical stripes will also elongate your figure. For your skirts, make sure you choose a length that sits where it should. If the skirt should be knee-length, that's where it should be. You may need to look for petite brands or try a few different brands to find the ones that fit best on your figure.
Emms @beautifuleveryday_uk above shows off a great outfit for petites. She wears a heel under her wide jeans, chooses a blouse with a v-neck and carries a small bag that is in proportion with her body.
Steal her look with this similar blouse, jeans, heels, clutch and sunglasses.
Wit & Widsom Ab-Solution Itty Bitty Bootcut Jeans – BP. Straight Leg Pants – MANGO Wide Leg Suit Pants – Kate Kasin Wrap Front Pencil Skirt
dresses
Dresses look great on petites as they are one column of color and they don't break up your figure. Choose well-fitting, belted styles. If you want to try a pattern, try a subtle one that won't overwhelm your petite figure.
H&M Tie Belt Shirt Dress – GRACE KARIN Belted Pencil Dress – Karen Millen Square D Ring Pencil Dress – Karen Millen Soft Tailored Colourblock Asymetric Dress
shoes
Of course, you can choose any shoes you love. But if you want to add some height, you could try a small heel or a wedge. Another trick is to choose pointed toes as they make your legs look longer without having to wear super high heels.

MARCOREPUBLIC Moscow Peep Toe Bootie – Steve Madden Feather Loafer Flat – Skechers Beverlee High Tea Wedge Sandal – Steve Madden Caliber Sneaker
accessories
When it comes to your accessories, don't choose anything too big that will look large against your petite frame. If you want to, you could add a little height with a hat.
Souri @fabfemme_australia above (read her style interview here) wears an ideal example of a petite outfit. Her dress is in one color and is belted at the waist. Her heels had length to her legs while her hat adds height and she carries a small bag that doesn't overwhelm her petite frame.
Get her look with this similar dress, belt, pumps (another option here), handbag and fedora.

Kattee Genuine Leather Handbag – J-BgPink Envelope Clutch – Befen Leather Wristlet/Crossbody Bag – Kendra Scott Abbie Pendant Necklace – Set & Stones Cubic Zirconia Drop Earrings – Nakamol Chicago Genuine Pearl Drop Earrings – Karine Sultan Pendant Drop Earrings – Treasure & Bond Braided Band Wool Fedora
Putting together your petite capsule
Take a look below at more inspiration for flattering outfits for you if you are petite.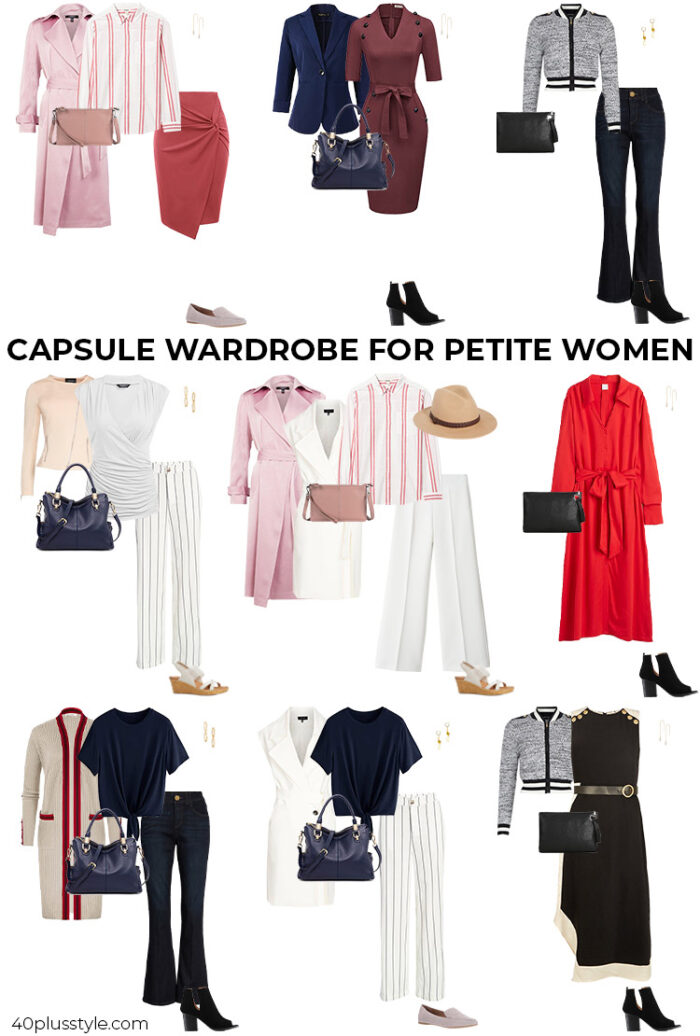 Read our ultimate guide to creating a capsule wardrobe that works best for you.
Shop the items above here:
More petite inspiration
The below capsules, while past season, should give you extra inspiration.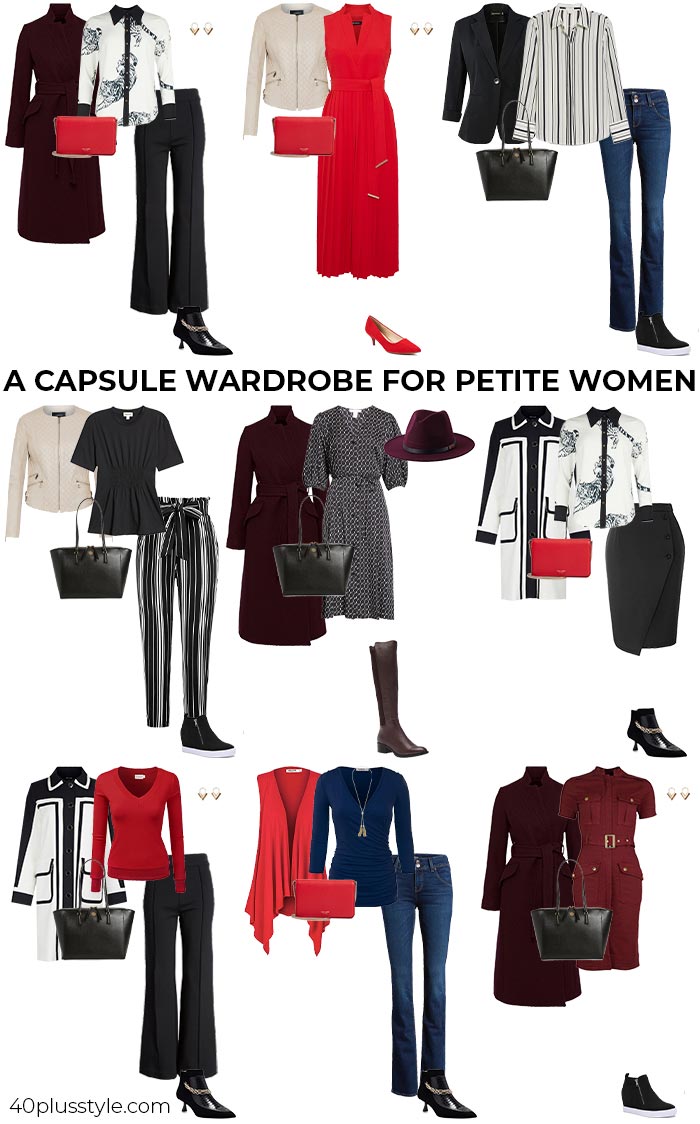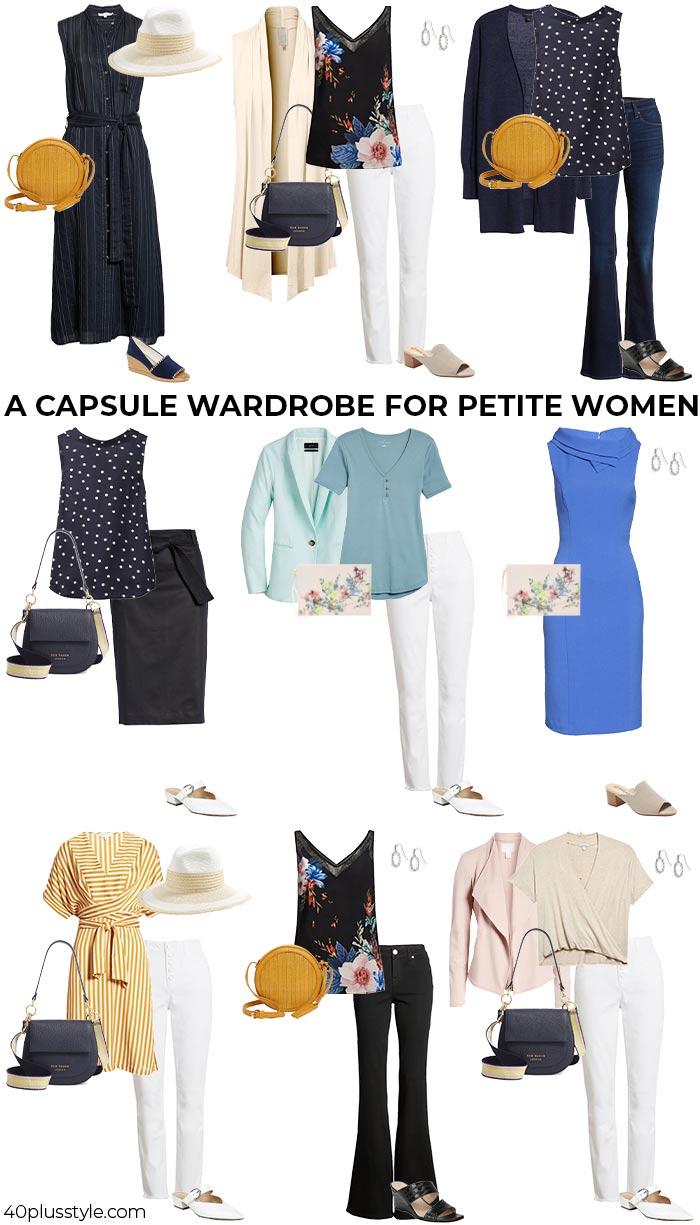 Famous petite women looking gorgeous
If you ever felt that being shorter than average stands in your way of looking absolutely fabulous, think again!
Here are some very famous and fabulous women under 1.65m (5'4") looking stunning. I chose these women for their style and their choice of dressing that in many cases follow the guidelines above.
These women tend to dress to appear longer. If you like to see great style by women that are even shorter, have a look at the list of celebrities under 1.60 listed below.
Madonna
Madonna is a spectacular woman (over 60 already) short on height. She is 5'3" (1.63 meters) high.
She increasingly favors tight dresses just below the knee which she has no problem pulling off with her svelte figure. You can also see that she wears heels under her wide-legged pants, as well as wearing shoes in the same color as her skirt.
Victoria Beckham
Victoria Beckham measures 1.63 (5'3") meters.
Above are some perfect examples of how to dress for lengthening. High-waisted pants, a tight fit, heels and one-color dresses.
She goes quite wide with the shoulder on the red dress, which can be risky, but gets away with it, as she combines it with a v-neck and a very lean silhouette for the bottom part. I love all these looks.
Sarah Jessica Parker
Sarah Jessica Parker is 5'2.75" (1.59 meters) and has really embraced the high heel shoes as her weapon of choice to appear longer.
Now 55, she increasingly uses mid-length dresses which I think suit her the best. In the first look, she took a risk with the slightly oversized coat, but she has added heels to elongate her figure.
Her floral dress fits her vertical body shape perfectly, drawing in at her natural waist, while her gray dress and blazer create vertical lines.
Other celebrities below 1.60
For more inspiration on how to dress your short physique, check out other celebrities who measure under 1.60:
Mary Kate Olsen who is 5'0″ (152 cm),
Rachel Bilson who is 5'1.5″ (156 cm),
Hayden Panettiere who is 5'0.25″ (153 cm),
Nicole Richie who is 5'1″ (155 cm),
Kristen Bell who is 5'1″ (155 cm),
Shakira who is 5'2″ (155 cm),
Eva Longoria who is about 5'2″ (153 cm),
Fergie, who is 5'1.75″ (157 cm) and A
lyssa Milano, who is about 5'1.5″ (156 cm).
Petite clothing stores: Where to shop when you are petite?
Many shops now have special sections for petites. Here are just a few.
More outfit examples
I hope these guidelines will be useful to you. Remember though that they are not written in stone.
I feel that petites can wear almost anything so long as you create the right balance within your outfit and create a great silhouette.
If you are petite and have some tips that I did not cover here, please let me know in the comments below!
Continue reading:
Like this post on how to dress when you are petite? Share it on Pinterest!
Feature image by Shauna @chicover50
Want to get more articles from 40+style in your inbox, subscribe here.
You can also connect with 40+style on Facebook, Instagram or Pinterest.
Support 40+style by using the links in our articles to shop. As an associate for Amazon and many other brands, we receive a small commission (at no cost to you) on qualifying purchases which enables us to keep creating amazing free content for you. Thanks!