Let's talk about skirts today. Getting the right skirt length, but also the right fit and shape, can make all the difference between looking fabulous or looking frumpy between young and hip or a bit old lady.
What is the perfect skirt length for women over 40?
One skirt length that will always be flattering for women over 40 is knee length. I now like my skirts best when they either finish at the top of the knee or just below. However, just above the knee is good too.
What is so flattering about this look is that it shows of your full calve. It creates a slimming elongated look. Avoid getting skirts or dresses that end at the middle (and thickest) part of your calves. The 4 skirts picture above are all either top, middle or just under the knee.
As always, this is just a guideline and certainly not a 'rule' set in stone. I still wear my black skirt seen here which is a lot shorter and also my animal print dress which is a lot longer and I wear a mini dress on a summer holiday to the beach. See a few examples below of considered 'imperfect' lengths for my age.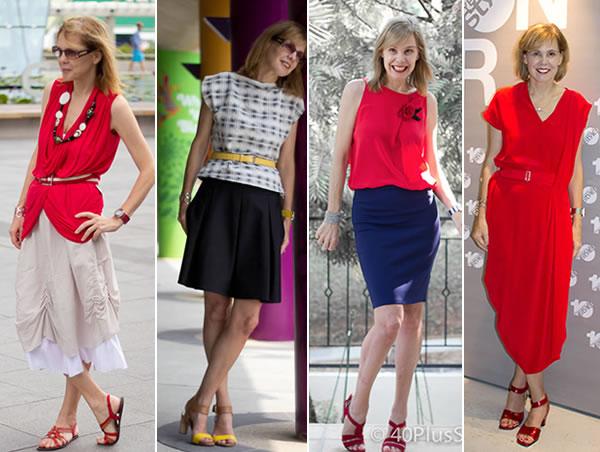 I think I can get away with most of these looks. Partly due to the styling and partly due to the type of skirt and how well it fits me.
When you buy a skirt in these more challenging lengths, do have a critical eye and look in the mirror. If you are short, you may actually prefer slightly shorter lengths.Test out several lengths and see what works best for your body and your personality. Then ask yourself these questions: Does it look good on me? Is the skirt length too aging or unflattering? Does it make me look too young? Trust your own instinct!
However, if you want to play it safe then you can never go wrong with knee length skirts. I'm personally aiming for my new skirts and dresses to be exactly knee length, but every now and then I will break that personal rule as the examples above testify. Especially when I see a nice asymmetric cut like my silk red dress.
What type of skirt is best?
The type of skirt that is best for you depends on your body type. However, I can offer some general guidelines.
You will look more sloppy in skirts that are too wide. It's nice to fit your skirts around your hips and then have a slight A-line or bias cut, rather than having a skirt that is wide all round. I'm a big fan of  that the A-line skirt as I showed you in this black and white outfit and this A-line wide pleads skirt. I find that these slight A-line skirts look the most flattering on me. They are very flattering for many women, especially if you have wider hips, bigger legs or wider shoulders as they balance you out.
Straight skirts are considered a more hip option by many. I personally find them harder to wear because I find them less comfortable and often too body-conscious, but if you are comfortable in those areas, they can be very flattering on many women over 40.
Another skirt that looks good on many women is the trumpet skirt. Fitted at the hips and a flare at the bottom.
And, of course, you all know that I'm a big fan of an asymetric skirt like this blue one. This skirt is not really trendy, but more unusual and will never really go out of style.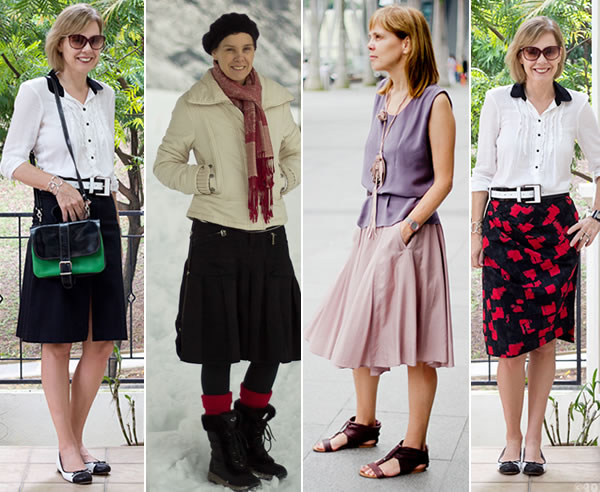 Other types of skirts
Pleated skirt: This will look best when the pleats do not start at the waist. Be careful with small pleated skirts though as they can age you.
Denim skirt: Can look good but be sure to dress them up a bit. Best not to wear them too short and knee length is best.
Balloon skirts: great for people like me who are relatively straight and have a flat bum. This skirt will give you more shape.
Peasant skirt: needs to be worn with care. Make sure it's not too wide and too long.
Full skirt: A trickier look to wear for women over 40. I still like my silk pink skirt which is at a perfect length. It's usually best to wear with a tight top but can also look really nice with a blazer with a hip belt around your waist.
Long skirt: can look nice but may also overwhelm you. In general it's nicer to show a little leg over 40.
It's all about the fit
Whether or not a skirt looks good on you or ages you, is all about the fit. I remember an episode of "How do I look", where a woman was asked to rate 5 outfits in terms of how expensive they were. She got them all wrong. What she had scored as the most expensive outfit was actually the cheapest. And the only reason she had rated that outfit as the most expensive, was because it fit the model perfectly (the most expensive outfits were not fitted that well).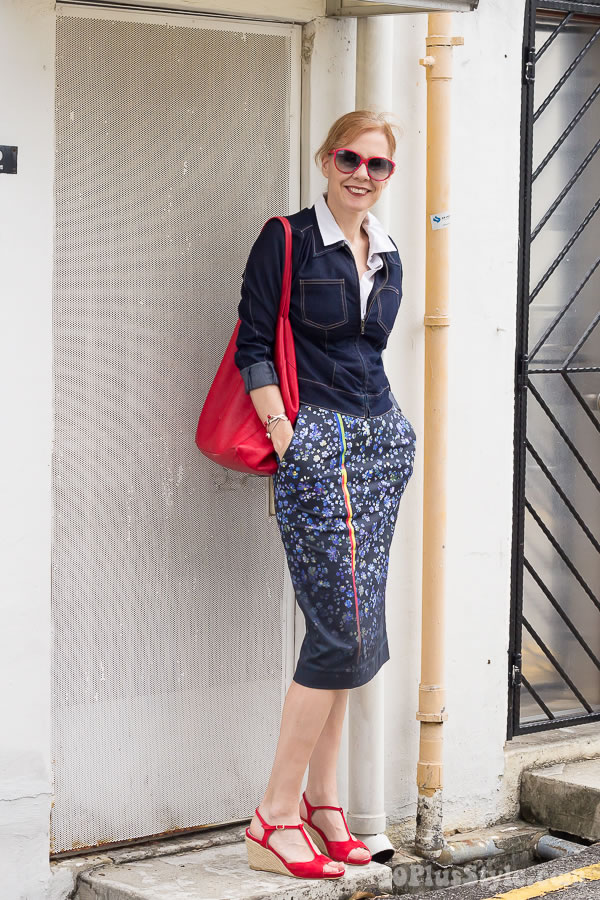 If something fits you well, it not only looks good, it also looks more expensive and will give you more of a young and hip look. So fit in any garment is hugely important. Of course, as mentioned before, pay close attention to your body type to decide which type of skirt is best for you.
Make use of a tailor
When you read the above guidelines and discover some skirts in your wardrobe that just don't suit your body or don't fit well, you may be able to take them to a tailor. They can turn A-line skirts into straight ones, lift your waistline or make your really wide skirt more fitted.
Here are some of my favorite skirts in stores now

Please remember, these are just guidelines that will hopefully be of help to you and help you create a young and hip look after 40! Apply them when needed but don't be afraid to experiment and bend the guidelines whenever it suits you. Trust your own instincts!
Another important factor whether or not your skirt will work or not is to create the right balance within the outfit and apply the rule of thirds. We will discuss that in more detail and lots more in the 40+ Style Course!
What type of skirt and skirt length do you prefer to wear?

Want to get more articles from 40+style in your inbox, subscribe here.
You can also connect with 40+style on Facebook, Instagram or Pinterest.
Support 40+style by using the links in our articles to shop. As an associate for Amazon and many other brands, we receive a small commission (at no cost to you) on qualifying purchases which enables us to keep creating amazing free content for you. Thanks!