It can definitely be hard to justify (and afford) a designer handbag which costs the same as a house, or a car. But today I will take a look at some of the best designer handbags which are much more affordable.
While it may be tricky to find truly cheap designer bags (depending on what your definition of cheap may be), it is certainly possible to choose a top designer bag that you can use for many, many years.
Do you need a designer handbag?
That's a relevant question and the short answer is no. Of course not. There are plenty of cheaper bags that will do the job just fine. Shops like COS or Marks and Spencer often have very stylish bags for a fraction of the price of a designer handbag.
On the other hand, you may love to own a designer handbag, simply because it makes you happy or gives you a feeling of luxury.
Another benefit is that designer handbags can last for a long time! Sometimes they even become investment pieces.
Recently, there have been rare Hermes bags which have sold for millions of dollars, and Chanel pieces have been auctioned for upwards of $250,000.
Now I'm definitely not suggesting you spend quite so much, but if you would love to own a designer bag, you will find some of the best designer handbags to choose from below.
Think about cost per wear of the best designer handbags
First, what should you consider when choosing a designer bag?
I'm definitely someone who believes in buying less and wearing it more.
Especially when it comes to handbags, I'd much rather have fewer quality pieces and wear them more often, but in different ways, than purchase lots of cheap, low-quality, throw-away styles.
When it comes to buying designer bags, you are likely to get much more use out of them when you compare them to your clothing.
If you choose a classic style, you can use it everyday if you want to for years to come. So, I would think about how often you are likely to use your bag and for how long for rather than just considering the initial cost.
You may like to read this piece on how to do more with less.
How to afford the luxury bags you like
If you would like to invest in branded bags, there are 5 ways you can think about doing so:
1. If you have your heart set on a particular brand, you could look at what the most affordable bag option is.
Perhaps you would be happy with something smaller or in a less luxurious fabric to get the brand you like. For example, if you've always wanted to own an Alexander McQueen piece, you could always choose a cardholder rather than a large bag.
Alexander McQueen Croc Embossed Leather Card Holder
You can choose a bright shade so your designer mini purse is sure to be noticed, or opt for a neutral like the Givenchy raffia pouch below.
Givenchy Large Woven Raffia Pouch
2. Look for discount designer handbags or those on sale
Take advantage of the big sales such as the sales you find on Nordstrom.
3. Consider second hand
Do you mind if your bag is new? If not you could consider websites such as TheRealReal and FARFETCH where you can be sure that you are getting an authentic bag.
4. Think about cost per wear rather than initial cost
Even if it costs more now, are you likely to wear it more and keep it for longer than you would a high street bag? It's a different way to think about owning cheap designer handbags.
5. Consider what designer means to you when thinking about the best designer bags
Are you happy with a Michael Kors bag, for example, or does it have to be Dolce & Gabbana?
Discount designer handbags
If you choose to go down the route of looking for discount designer handbags, you will find that Nordstrom usually has handbags on sale.
You could also look at:
TheRealReal which has pre-loved, authentic pieces.
Rue La La which is an online sample sale with free membership.
FARFETCH – which has a pre-owned section as well as regular sales.
I know "affordable" is a relative term. And, many of these bags are still expensive.
But, I've chosen the bags below either because they are a luxury brand which doesn't cost so much as the higher-end brands, while still offering a classic, quality style.
Or, because they are bags from the top-name brands, but they are at the more affordable end of what they offer.
For more inspiration look at this piece on handbag trends 2022.
Accessible luxury handbag brands
Okay, this might seem like an oxymoron, but the popularity of "accessible luxury" or "casual luxury" brands is growing.
These give you a feeling of luxe, and a designer label, without the same price tag as the likes of Chanel, Hermes, Bottega Veneta or Gucci, for example.
Below are some of my favorite accessible luxury handbag brands
1. Best designer tote bags: Tory Burch
If you are looking for a designer handbag that you will definitely get lots of use from, a tote is the way to go.
You can use this everyday to fit all of your essentials in. Plus it will give any outfit an instant lift and feeling of luxe.
One of my own favorite brands for tote bags is Tory Burch. If you choose a timeless neutral shade, you'll use it for many years to come and it will go with everything in your closet.
Tory Burch Small Robinson Leather Tote
Of, course you could also opt for a Tory Burch crossbody bag in an equally timeless style.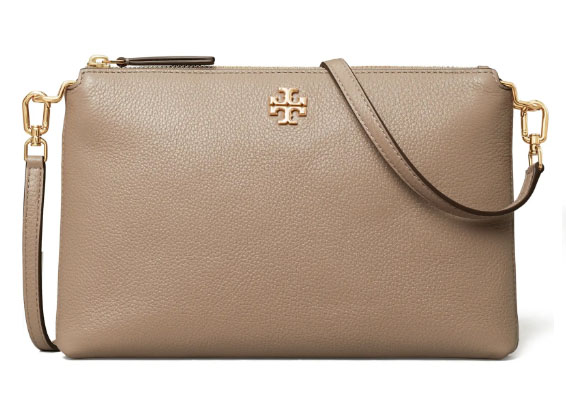 Tory Birch Mercer Pebbled Leather Crossbody Bag
2. Most popular designer handbags: Michael Kors
Michael Kors is, arguably, the man best known for making the "it" bag affordable.
You can still have a designer brand, with the brand name spelled out in shiny gold capitals, without too much outlay.
Plus, his are definitely the kind of investment pieces that won't date, so you can wear them for years to come.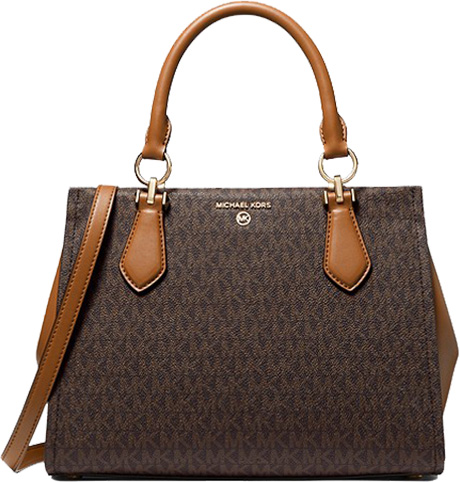 Michael Kors Carine Large Logo Satchel
3. Popular designer bags: Kate Spade New York
Kate Spade New York was another designer who was a trailblazer when it came to introducing the notion of affordable luxury.
At the time, the market was dominated by really high-end options at one end and high street bags at the other end. She cleverly pushed her brand into that gap.
Depending on what you choose, you can get a Kate Spade handbag for around the $300 mark, or even lower if you choose nylon instead of leather.
I love her totes, but also the shoulder bags and evening bags.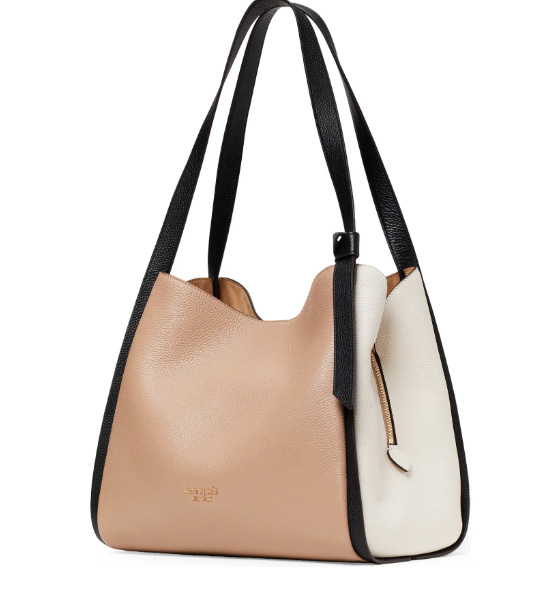 Kate Spade New York Knott Colorblocked Pebble Leather Tote
A textured bag is always a good idea as it adds an extra dimension to your outfit. Great both with black outfits as well as colorful outfits.
Kate Spade New York Medium Hudson Plaid Shoulder Bag
4. High end bag brands: COACH
One of Michael Kors' and Kate Spade's big rivals is COACH, which is also built on the idea that designer handbags don't have to mean taking out a second mortgage.
COACH is a good option if you are looking for designer leather bags.
There are plenty of classic, and more on-trend pieces (yet still with a timeless quality).
I particularly like the slouchier pieces, but there are more structured options too if you prefer a more classic style.
COACH Willow Colorblock Leather Shoulder Bag
5. Marc Jacobs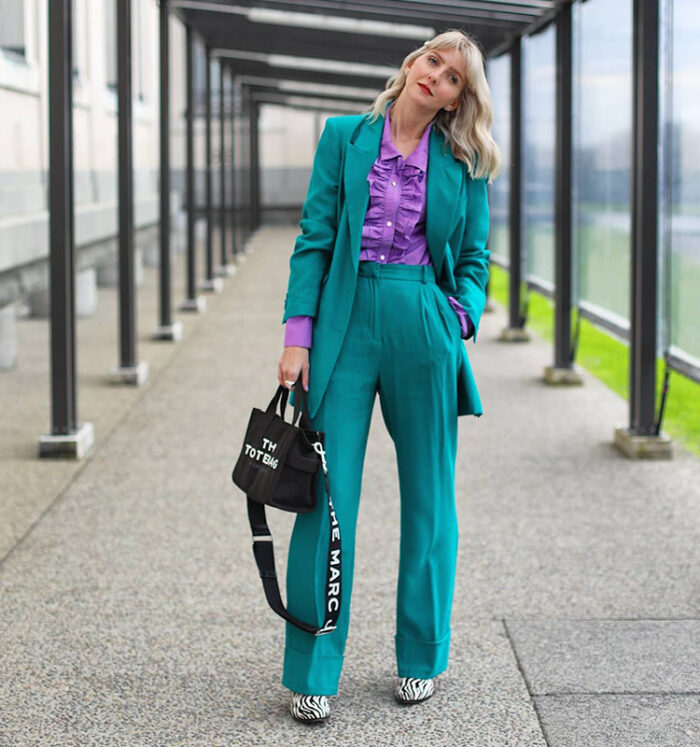 At one point the Marc by Marc Jacobs line was the go-to for affordable pieces while the main The Marc Jacobs line was more expensive.
Now, to save confusion, that has been incorporated into the main Marc Jacobs brand, but you'll still find handbags at varying price points.
You'll find everything from classic totes to on-trend crossbody styles. Some have subtle branding while others have "Marc Jacobs" splashed across them.
Melissa @melissabultburns above opts for an iconic mini tote bag from Marc Jacobs.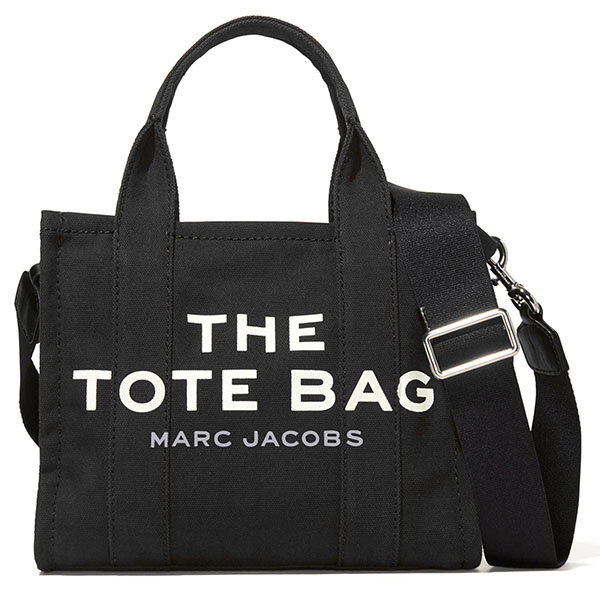 Marc Jacobs The Small Tote Bag
6. Rebecca Minkoff
New York-based brand Rebecca Minkoff is one of the new kids on the block, having been founded in 2005.
Her bags are known to be more fashion-forward than some of the more classic styles on the list, so you'll find plenty of on-trend shapes and fabrics.
But also so many classic options that definitely won't date, no matter how long you use them.
I love the comfort of a backpack and this designer backpack is super stylish and affordable too. Great for travel and every day use. Check out the various versions of this backpack.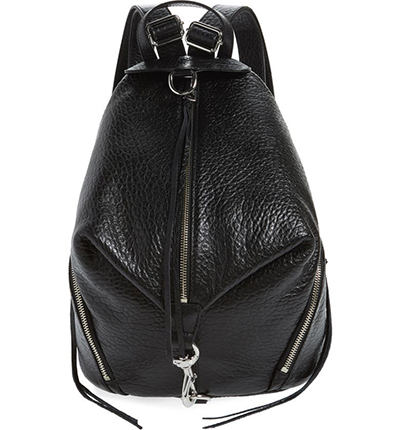 Rebecca Minkoff Julian Backpack
Rebecca Minkoff Julian Small Chevron Quilted Leather Backpack
You could also look at a hobo bag for your day-to-day essentials.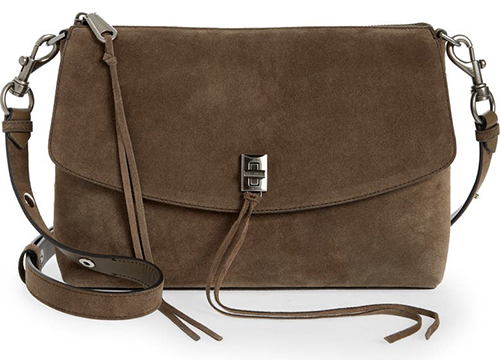 Rebecca Minkoff Darren Leather Shoulder Bag
7. Ted Baker London
Founder Ray Kelvin named Ted Baker London in 1988 after his alter ego – a man he described as an "intrepid aviator, all round sportsman and the consort of princesses and Hollywood beauties!" The women's range was added in 1995 and, while I'm not sure what the women's alter ego is (perhaps you can make one up), it features bags that are classic enough to be used year after year, but which all have a little twist.
Ted Baker London Daliai Leather Crossbody Bag
8. Kurt Geiger London
With its first store on London's iconic Bond Street, Kurt Geiger London, prides itself on combining the aspirational with the affordable. You'll find Chanel-esque quilting and tweed as well as slouchy totes, classic crossbody styles and clutches.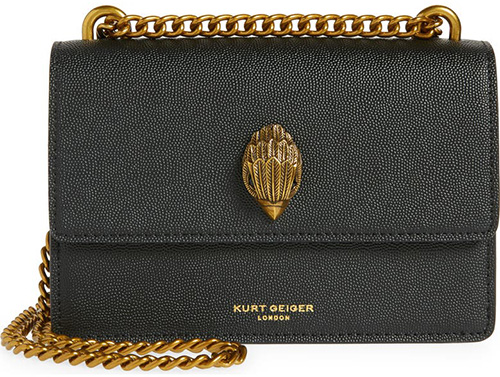 Kurt Geiger London Mini Shoreditch Leather Crossbody Bag
9. Vivienne Westwood
I don't know about you, but I always think of Vivienne Westwood in the category of other big-name designers rather than as an "affordable luxury" brand.
But because she straddles so many price points, you can definitely find a Vivienne Westwood bag you can afford.
The round statement crossbody bag (below) features Vivienne Westwood's unmistakable orb emblem.
Vivienne Westwood Crossbody Bag
10. Fossil
Best known for making well-designed watches, Fossil bags are also definitely worth a look. You'll find plenty of classic handbags in black, taupe or tan as well as more colorful options.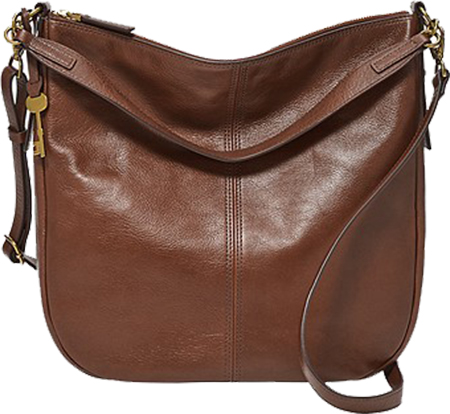 Now for some top designer handbags
If you really love the aesthetic of a particular brand, you don't have to go for what you may consider being "second best".
You can think about purchasing in the sale or perhaps opting for a different fabric or size rather than the really expensive options.
I'm going to finish my top designer bags rundown with some more affordable choices from the bigger name brands, as well as some that you may just want to dream about owning.
1. Best designer crossbody bags: Burberry
Best known for its iconic trench coats, Burberry handbags have just as much timeless appeal, which is to be expected from a brand established way back in 1856! Choose a check style if you want to ensure that your bag is easily recognized as Burberry.
Burberry New Hampshire Canvas & Calfskin Crossbody Bag
2. See by Chloé
Chloé is a French luxury fashion house, but the See by Chloé label offers a more affordable in-route to owning one of its pieces.
See by Chloé Hana Suede & Leather Shoulder Bag
3. Gucci coin purse
Okay, this is a small option, but it is half the price you would expect to pay for a regular-size Gucci handbag.
If you're looking for a designer piece you can just pop your credit card and lipstick into for a night out, this could be a style you use for many many evenings to come.
4. MCM
If you love the idea of a monogrammed logo bag but you want something a little different, how about choosing a bag from MCM? The brand's signature logo-printed material, called Cognas Visetos, features on many of its bags.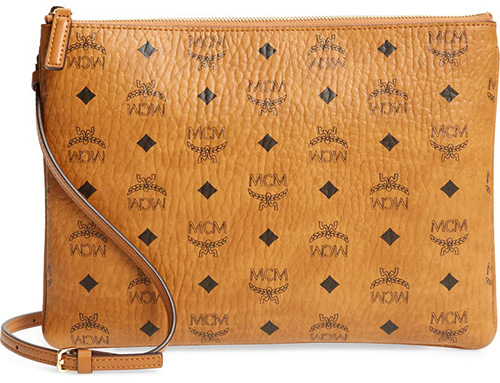 5. Mulberry
Just like Burberry, Mulberry is a British luxury fashion house renowned for its classic styling. You'll find plenty of styles that will definitely stand the test of time.
Mulberry Small Amberley Leather Shoulder Bag
6. Bao bao Issey Miyake
Bao Bao Issey Miyake bags are instantly recognizable because of their triangular shapes. So if you want to be sure that everyone knows you are carrying a designer bag, this could be a good option.
Bao Bao Issey Miyake Prism Tote
7. salvatore ferragamo
Starting off as a shoe designer, Salvatore Ferragamo moved into luxury handbags too. Bags tend to be pricy so you may have to downsize and get one of their stylish wallets.
Salvatore Ferragamo Revival Leather Billfold
8. Moschino
Moschino is known for its colorful, often eccentric designs, so if you're looking for a designer bag that is a little out of the ordinary, this could be the brand for you. Monochrome is a big trend for 2023 as are colorful handbags, and the bag (below) encapsulates both of these trends.
Moschino Logo Colorblock Leather Camera Bag
9. Stella McCartney
If you prefer faux leather rather than real leather, then a great place to look for your new bag is Stella McCartney. The bag below are a big trend at the moment while also being timeless.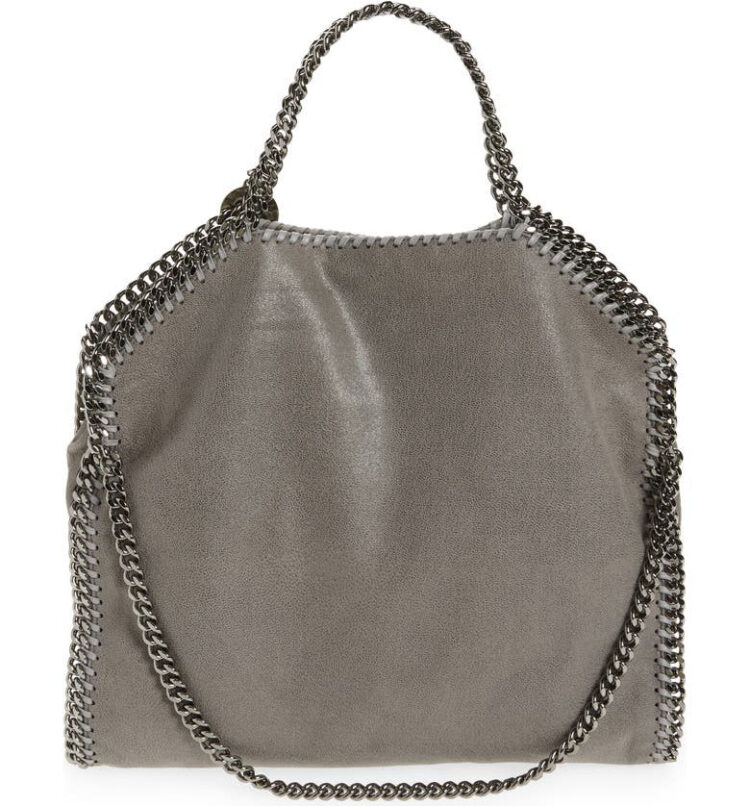 Stella McCartney 'Falabella – Shaggy Deer' Faux Leather Foldover Tote
10. jimmy Choo
Jimmy Choo may be more famous for his shoes, but the brand's handbags are equally glamorous. The satin bag (below) would be perfect for your dinners and events in years to come.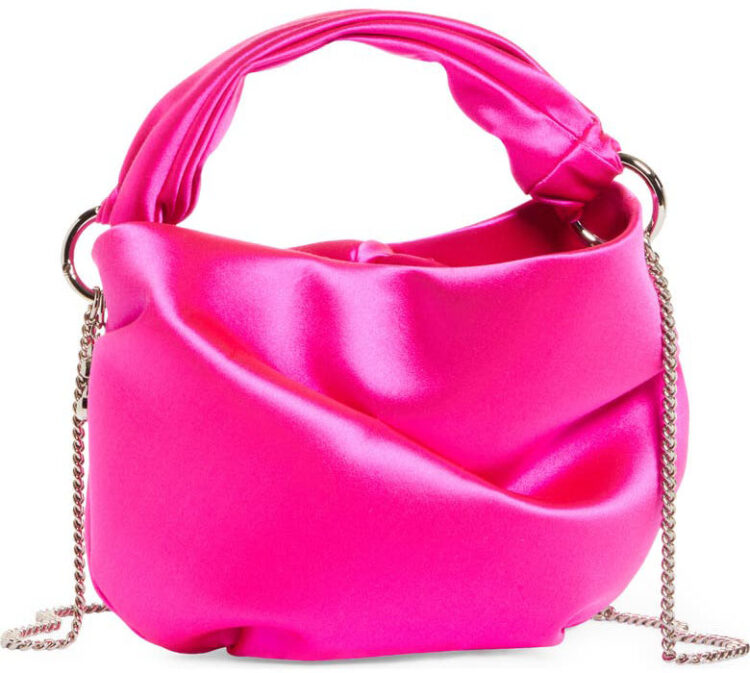 Jimmy Choo Bonny Satin Top Handle Bag
A handy way to search for a designer handbag
If you aren't sure what brand you want, but you know you want a designer piece that will give you quality and longevity, a good way to browse is this nifty feature I noticed on Nordstrom.
It allows you to search for designer handbags under $1,500.
What designer handbag would you love to own?
shop some of the items above here:

Continue reading:
Like this post on the best designer handbags? Share it on Pinterest!
Feature image by Melissa @melissabultburns
Want to get more articles from 40+style in your inbox, subscribe here.
You can also connect with 40+style on Facebook, Instagram or Pinterest.
Support 40+style by using the links in our articles to shop. As an associate for Amazon and many other brands, we receive a small commission (at no cost to you) on qualifying purchases which enables us to keep creating amazing free content for you. Thanks!