How do you define glamorous style?
It can be thought of as a loud-over-the-top style with plenty of bling. But, to me, glamour is more than that.
Glamorous style is more about being able to balance that glitzy side of your style personality without ever venturing into looking tacky.
It's about still looking sophisticated, but with extra pizzazz.
How about you? How would you describe a glamorous style?
How to know if you have a glamorous style personality
If you have a glamorous style personality, I'm sure you know it.
Not just because of the reaction you cause when you walk into a room, but also because you will probably admit you are "high maintenance" when it comes to your fashion and beauty regime.
It may be that glamorous is your main style personality, but you are also drawn to others.
If you aren't sure, you can take this fun style personality quiz to find out.
If you have a glam style personality…
You like to make an entrance
If you have a glamorous style personality, you are unlikely to be a shrinking violet. When you enter the room, you have a certain presence.
Kim (above) shows how to make a pair of jeans and white tee ultra glamorous.
She got her one shoulder drape side top in sequin from Asos. Unfortunately it is sold out but the brand recommends these sequin coordinates to pull off an equally glamorous look!
You will occasionally forgo comfort for style
Unlike style personalities such as the natural style personality, who would definitely rather be comfortable over all else, you will sometimes be a little uncomfortable for your style.
You tend to like wearing heels if heading to dinner or a party, even if your feet are a little sore at the end of the night.
Accessories are important to you
You don't feel fully dressed without accessorizing.
You're likely to have an extensive collection of handbags, statement jewelry, sunglasses, hats and scarves, and you don't keep them for special occasions.
Read more about the must-have accessories on our article on the 10 essential fashion accessories every woman should own
Divina (above) combines elements of the glam style personality with classic style.
Her saddle bag is one of Dior's staples. Check out this similar bandana and sunglasses to add to your next look.
You're not afraid of color or print
If I opened your closet, I may find quite a bit of black and some white, but you love other hues too.
Rather than the pastel shades of the romantic style personality, you love rich, jewel-like colors as well as dramatic prints such as leopard print and bold florals.
Natalia (above) shows that a glam style personality often loves her labels.
Copy her style with this similar leopard print top. Here is her belt and shoulder bag. Here is the new similar Tory Burch Ines slide sandal that you might want to check out.
You also love texture
As well as beautiful colors, you also love texture in your outfits including sequins, lace, leather, cashmere and faux fur.
Màla (above) has a wonderfully unique style which combines glamour with the romantic style personality.
Here is a similar fringe top you can try to recreate this look.
You probably have more evening wear than daywear
Plus, you're not afraid to wear it during the day. So you might go for a glitzy shirt with jeans, or a sequin skirt with a cashmere sweater.
Petra (above) combines a gold shirt with sequin skirt.
Gold is one of the top color trends for fall 2019.
Steal this glamorous look with this similar sequin skirt.
Your favorite designers
You love not only the styles and ideas on the runways for the major fashion shows, but you also love the glamour surrounding the Paris, London, Milan and New York fashion weeks.
Your favorite designer is likely to be Dolce & Gabbana.
Glamorous women with the same style personality as you
As a glamorous style personality, you're likely to be drawn to the glamour of Hollywood, particularly from days gone by.
Celebrities with a glamorous style personality include Joan Collins, Sharon Osbourne, Monica Bellucci, Dita von Teese and Catherine Zeta-Jones, who combines her dramatic style with some elements from the classic style personality.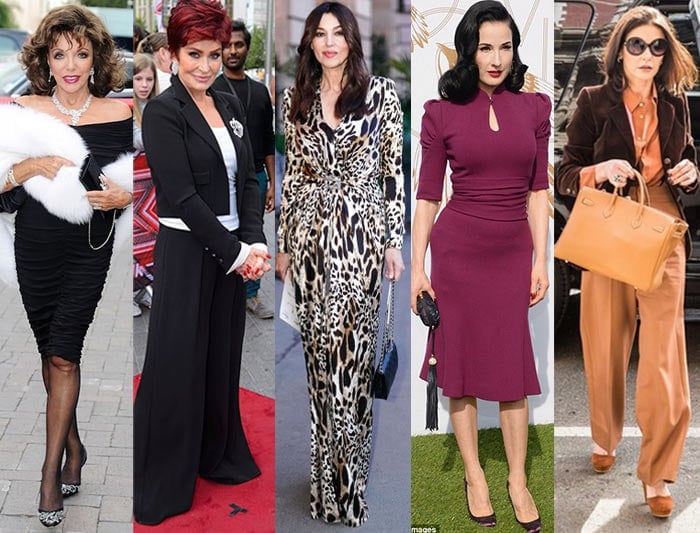 Tops for the glamorous style personality
Look out for beautiful tops featuring sequins, lace and animal print.
But, don't forget a classic white shirt. This will allow you to wear lots of items such as a sequin skirt, or leather pants during the daytime without looking "overdressed".
Vince Camuto mirror sequin top – Joie Fischer blouse – Michael Kors leopard print zip front shirt – Anne Klein lace blouse
Jackets and coats for the glamorous style personality
A classic black blazer will suit the glamorous style personality as well as the classic style personality.
You're also likely to be drawn to Chanel-style jackets which end on the waist.
Look out for animal prints, faux fur and peplum styles.
Ming Wang sequin trim jacket – Kendall + Kylie faux fur coat – Daniel Rainn shawl collar blazer – Ted Baker London peplum leather jacket
Jeans and pants for the glamorous style personality
Although you have a glamorous style personality, that does not mean that elements from other styles won't fit into your closet.
A pair of embellished jeans can look very glam worn with a blazer or sequins and a pair of high heels.
Also try print jeans, leather pants and tuxedo-style trousers.
7 For All Mankind pearl detail jeans – Joe's skinny jeans – Jen 7 by 7 For All Mankind coated skinny jeans – After Six tuxedo pants
Glamorous dresses and glamorous jumpsuit ideas
It is likely that you have a lot of skirts and dresses in your closet – possibly outnumbering pants and jeans.
Lace, sequins and prints will look lovely.
Plus, you could always look out for glamorous jumpsuits rather than sticking to skirts and dresses.
Eliza J lace & velvet sheath dress – Haryln floral embroidered jumpsuit – Alice + Olivia sequin pencil skirt – J.O.A. snake pattern knit pencil skirt
Shoes for the glamorous fashion personality
Opt for a mix of heels and flats. Even your flats, however, are likely to have an element of glamour.
So, you might add a print or a platform sole to add drama.


Matisse bootie – Puma platform sneaker – Vince Camuto genuine calf hair sandal – Sam Edelman flat
Accessories to go with your glamorous clothing
Accessories are very important to your overall look.
While Orphan Annie may have sung that you're "never fully dressed without a smile," you don't feel fully dressed without adding accessories.
You are likely to be drawn to designer handbags, statement jewelry, scarves and brightly-colored jewels.
Gucci Marmont 2.0 leather shoulder bag – BP. triple layered necklace – Kate Spade NY panthera oblong scarf – Kurt Geiger London snake embossed leather clutch
A capsule wardrobe of 9 outfits for the glamorous style personality
While you could put the pieces above together in countless ways, here are nine outfits to get you started.
Read our ultimate guide to creating a capsule wardrobe that works best for you.
How to be glamorous
Do you think you already have a glamorous style personality? Or would you like to be more glamorous.
Much of glamour is about looking well-groomed and put together. So make sure you devote a little time to yourself, even if it is just five minutes to paint your nails.
Then you could always add a few pieces from the glamorous style personality and see if you like the result.
What do you think? Do you have a glamorous style personality?
Continue reading:
Like this post on the glamorous style personality? Share it on Pinterest!
Feature image by Petra
Want to get more articles from 40+style in your inbox, subscribe here.
You can also connect with 40+style on Facebook, Instagram or Pinterest.
Support 40+style by using the links in our articles to shop. As an associate for Amazon and many other brands, we receive a small commission (at no cost to you) on qualifying purchases which enables us to keep creating amazing free content for you. Thanks!