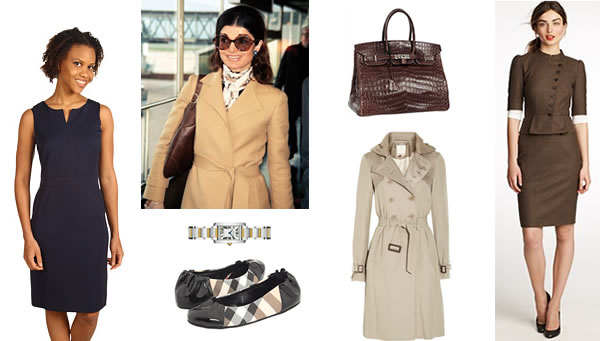 In my previous articles in the finding your style series, I tried to define style and gave some tips on how you find your own style. In an upcoming article I want to take that one step further and see how you could then describe and name your own unique style.
However, before doing that exercize and sharing some ideas on how to describe your style, I thought it would be interesting to look at some current names women use to describe their style.
Classic style
Classic is, as the name suggests, one of the more classic and enduring styles. It's timeless and popular with women over 40 and most of us will have at least a few classic pieces in our wardrobe. These are the pieces that will usually last the longest in your cupboard, so you may want to invest in a few high quality garments that will always make you look good.
Some great examples of classic garments include:
The trench coat
A white button down shirt
A pencil skirt
A tailored jacket or blazer
A cashmere sweater
The turtleneck sweater
Tailored trousers
A shift dress
The twinset
Jeans
Ballet flats
The classic pump
A beret
Animal print shoes and accessories
Leather gloves
Diamond or pearl studs
Cartier Tank Francaise Watch
The hermes Kelly or Birkin Bag
The LL Bean Canvas tote
Examples of people with this style are: Jackie O, Marlene Dietrich, Lauren Bacall, Jodie Foster.
Bohemian Style
"You can't be a behemian in tight clothes. It just doesn't work. you have to be able to move and dance and climb."

Diane von Furstenberg
The Women with bohemian style like movement, color and sparkle. It is an unconforming style that tends to be associated with the hippie era.
Some examples of behemian garments include:
A peasant blouse
The hippie skirt
A (fake) fur vest
A tunic
A caftan
Behommian handbags
Long necklaces
A poncho
Examples of people with this style include: Ali MacGraw, Mary Kate & Ashley Olsen, Diane von Furstenberg.
Minimal Style
Minimalism is not about abandoming pattern or print. I see minimalism to be a philosphy that involves an overall sense of balance, knowing when to to take away, subtract. It's an indulgence in superbly executed cut, quiet plays of color tones and clean strong shapes.".

Calvin Klein
I consider myself a bit of a minimalist, so it's no surprise that the quote above comes from one of my favorite designers: Calvin Klein. I like the philosphy about minimalism: it's about having less aad enjoying the things you have more. So it's even more important to buy the right things; clothes that are of high quality and fit you extremely well.
Some examples of minimal garments include:
A simple tailored jacket
A winter coat
A designer little black dress
A minimal tuxedo
One single handbag
A minimal watch
Examples of people with this style include: Sofia Coppola, Angelina Jolie, Audrey Hepburn.
Trendy / Fashionable
You tend to be fahionable and trendy if you embrace the new trends each year and incorporate them into your style. You are willing to take risks and are happy to stand out. This style can be a lot of fun and very arty, but will look outdated pretty soon.
Clothes for this style are hard to define as the trends change every season. Fashionistas will need to follow the trends through magazines and the latest fashion shows to know what to look for in the shops.
Things that go in and out of fashion include:
Shoulder pads
Platform heels
Colours
Sequins
Outrageous hats
Skirt volume
Have a look at some of my favorite trends this season from the fall 2011 collections.
Examples of people with this style include: Isabella Blow, Lady Gaga, Beyonce, Diana Ross.
Street / Urban
This is the constantly evolving style that develops on the streets of the big cities. It is constantly changing and quite undefinably, but it tends to be a mix of casual and hip and what's happening in the world at any particular time. This style is more prominent amongst youngters as opposed to 40 plussers, although, of course, there are always the exceptions to this rule. Some previous street style trends include: new wave, punk, goth, grunge, mod and hip hop.
Examples of people with this style include: young Madonna, Debbie Harry.
Eclectic Style
This style is hard to describe, which is not surprising, as this style is really a mixture of all kinds of styles. The eclectic woman knows how to mix and match all the different styles and truly make it her own. To make this style really work, it is important to have a good eye for what you like, to know what suits you and to have the innate style instinct or (learned) knowledge to mix it all together. This is a very creative and fun way of dressing.
Examples include: Kate Moss, Laura Bailey, Gwynyth Paltrow.
Creating your own style profile
Now, if you are like most women, you will have elements of a few of these styles in your own personal style. I tend to like classical garments and go for a minimal look. But I also love fashion, new trends and new colours each season. I'm not that attracted to the bohemian style; it just doesn't feel like me. Garments in that style tend to be worn only a few times, so it would be best for me to avoid buying those kind of clothes altogether. You can get closer to your own personal style by formulating your own style statement. Let's discuss what that is in the next instalment of our finding your style series.
How about you? Do you know what style you have? In what broad group would you put yourself?

P.S. If you like to discover your own unique style, you may enjoy our style course!