Do you understand your unique style? Discover all the different styles and get clearer on your style personality.
What different styles are there?
In my previous articles in the finding your style series, I defined style and gave some tips on how you find your own style.
Today let's look at all the different styles and your style personality.
Want to discover yours? Take the style personality quiz!
Different styles – Classic style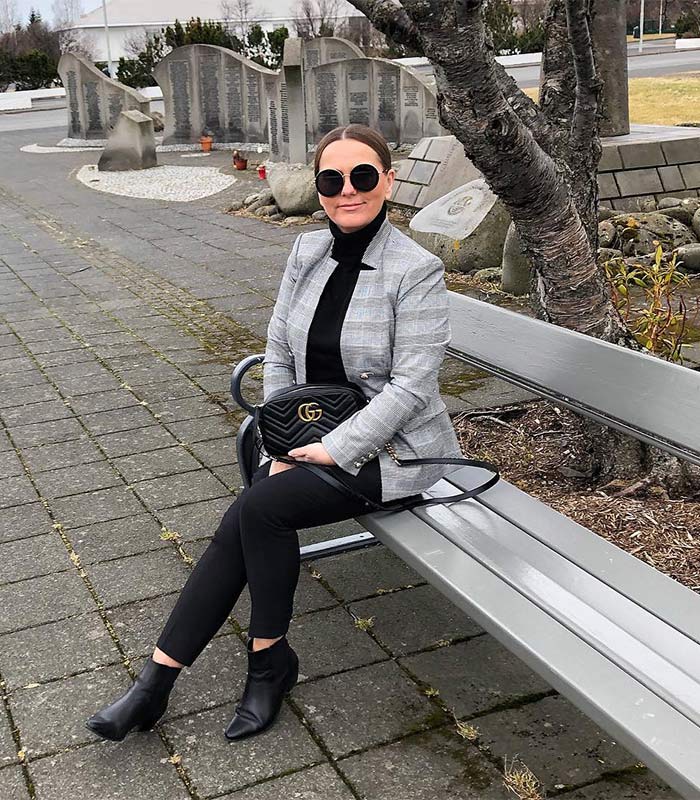 Classic is, as the name suggests, one of the more classic and enduring styles.
Check out our capsule wardrobe for the classic style personality.
It's timeless and popular with women over 40 and most of us will have at least a few classic pieces in our wardrobe.
Jona (above) wears a blazer that manages to be both on-trend and timeless.
These are the pieces that will usually last the longest in your cupboard, so you may want to invest in a few high-quality garments that will always make you look good.
Read our ultimate guide to creating a capsule wardrobe that works best for you.
Sam Edelman double breasted trench coat – Eileen Fisher collar band silk blouse – Vince pencil dress – Halogen cashmere turtleneck sweater
Billabong wool beret – Vince Camuto pencil skirt – Majorica pearl necklace – Sam Edelman flat
Some great examples of classic garments include:
The trench coat
A white button down shirt
A pencil skirt
A tailored jacket or blazer
A cashmere sweater
The turtleneck sweater
Tailored trousers
A shift dress
The twinset
Jeans
Ballet flats
The classic pump
A beret
Animal print shoes and accessories
Leather gloves
Diamond or pearl studs
Cartier Tank Francaise Watch
The Hermes Kelly or Birkin Bag
The LL Bean Canvas tote
Some loves to combine classic and preppy styles such as a classic blazer, a pair of knee high boots and a beret. This combination of styles look pretty fab.
These are often the best bet when it comes to investing in high quality and long lasting pieces that you will wear again and again.
Examples of people with this style are: Jackie O, Marlene Dietrich, Lauren Bacall, Jodie Foster.
Minimal Style
Minimalism is not about abandoming pattern or print. I see minimalism to be a philosphy that involves an overall sense of balance, knowing when to to take away, subtract. It's an indulgence in superbly executed cut, quiet plays of color tones and clean strong shapes.".

Calvin Klein
Vince white button down shirt – Tahari tie waist jumpsuit – Gibson blazer – Daniel Wellington watch
Adelyn Rae off shoulder dress – Vince Camuto slim leg ankle pants – Kenneth Cole coat – Tory Burch crossbody wallet bag
I consider myself a bit of a minimalist, so it's no surprise that the quote above comes from one of my favorite designers: Calvin Klein.
I like the philosophy about minimalism: it's about having less and enjoying the things you have more. So it's even more important to buy the right things; clothes that are of high quality and fit you extremely well.
Check out our style guide and capsule wardrobe for the minimal style personality.
Some examples of minimal garments include:
A simple tailored jacket
A winter coat
A designer little black dress
A minimal tuxedo
One single handbag
A minimal watch
Examples of people with this style include: Sofia Coppola, Angelina Jolie, Audrey Hepburn.
Minimalist style is all about exuding a less is more attitude.
Clothes are extremely well tailored and high quality, and the simplest pieces make the biggest impact. Calvin Klein, Sofia Coppola, Angelina Jolie, and Audrey Hepburn are designers and/or celebrities that fall into this style category.
Different styles: Natural style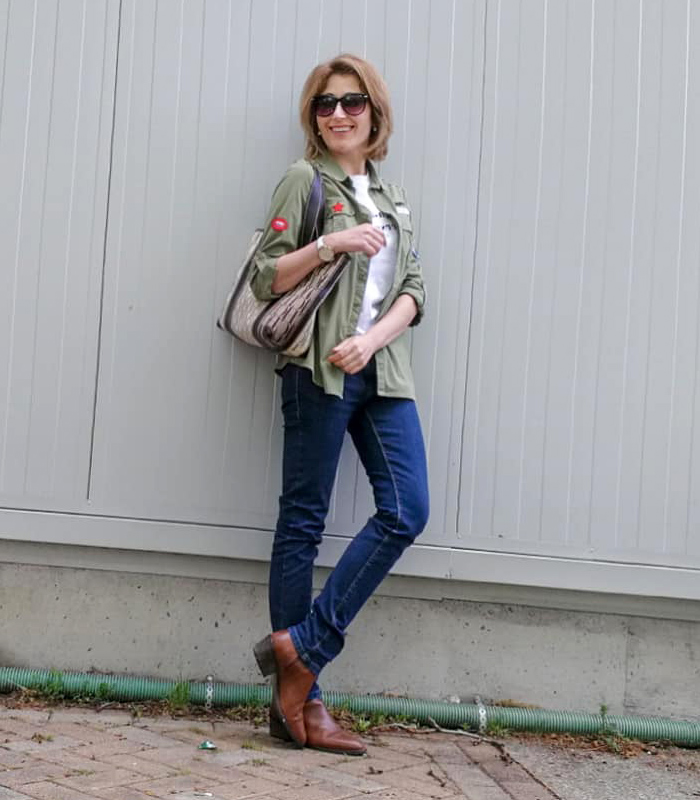 A person with a natural style personality prefers easy-to-wear pieces in relaxed fabrics which allow you to move freely.
You favour fewer pieces in fabrics like leather, suede, linen, silk, wool and cashmere.
You're likely to favor greens, denim blues and autumnal hues – colors you can find in the countryside.
A low maintenance beauty and hair routine is important to you and you aren't too bothered about following fashion trends.
The relaxed, yet stylish, vibe created above by Isa (above) is a great example of an outfit for the natural style personality.
This outfit is casual, yet well put together, with little finishing touches, such as the detailing on the jacket, which make it special.
Larace tunic shirt – Leith sweater dress – Rag & Bone skinny jeans – Vicky slingback sandal
Read our style guide for the natural style personality.
Celebrities with a natural style personality you may admire: Jennifer Aniston, Cameron Diaz, Sandra Bullock, Ellen DeGeneres and Halle Berry.
Trendy/Fashionable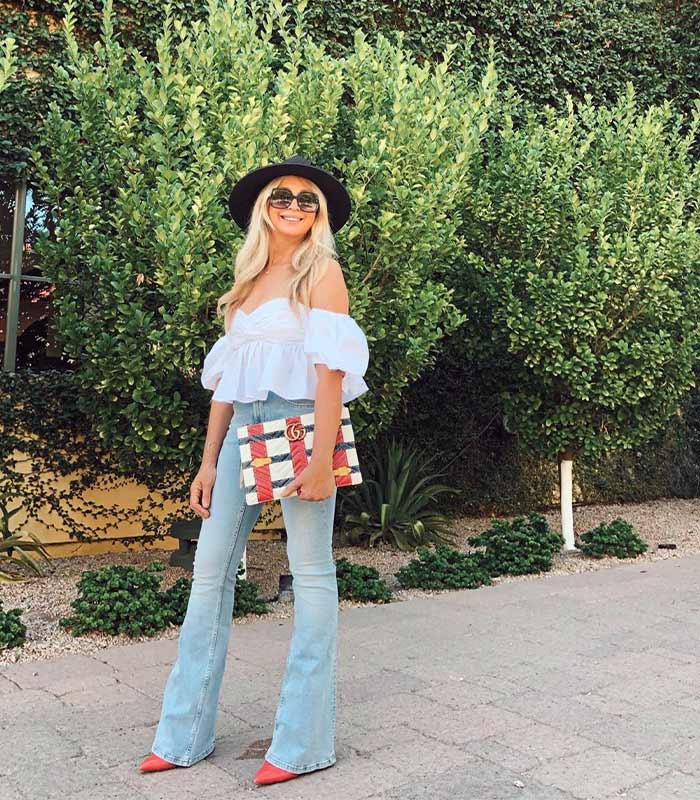 The trendy and fashionable style is an embrace of seasonal trends.
These fresh of the runway looks are about taking risks and gladly standing out. While the looks can be a lot of fun, they are often outdated pretty soon and are often not as timeless as classic or minimalist styles.
You tend to be fashionable and trendy if you embrace the new trends each year and incorporate them into your style.
Gala (above) combines a number of trends in one outfit, including a pair of flare jeans and a Gucci clutch.
You are willing to take risks and are happy to stand out. This style can be a lot of fun and very arty, but will look outdated pretty soon.
Madewell plaid blazer – Lucky Brand embroidered sweater – Kate Kasin pleated skirt
Joie wide leg crop pants – Sole Society round bag – Alias Mae bootie – Cult Gaia hoop earrings
Clothes for this style are hard to define as the trends change every season.
Fashionistas will need to follow the trends through magazines and the latest fashion shows to know what to look for in the shops.
Learn more on our style guide for the trendy style personality.
Things that go in and out of fashion include:
Shoulder pads
Platform heels
Colors
Sequins
Outrageous hats
Skirt volume
Want to see what's on trend right now, check the latest trends!
Examples of people with this style include: Isabella Blow, Lady Gaga, Beyonce, Diana Ross.
Check out our capsule wardrobe and detailed guidelines for this style personality in our article on the trendy style personality.
Glamorous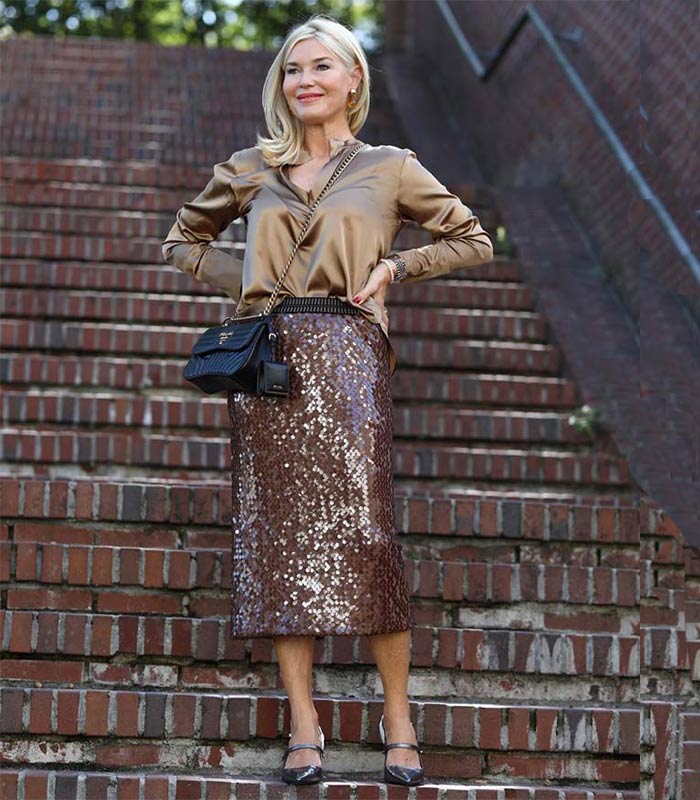 Glamorous style is more about being able to balance that glitzy side of your style personality without ever venturing into looking tacky.
It's about still looking sophisticated, but with extra pizzazz.
You don't feel fully dressed without accessorizing.
You're likely to have an extensive collection of handbags, statement jewelry, sunglasses, hats and scarves, and you don't keep them for special occasions.
As well as beautiful colors, you also love texture in your outfits including sequins, lace, leather, cashmere and faux fur.
Petra (above) combines glamorous pieces in to her outfit including a sequin skirt, gold silk shirt and a Prada bag.
Anne Klein lace blouse – Kendall + Kylie faux fur coat – Alice + Olivia sequin pencil skirt – Matisse bootie – Gucci Marmont 2.0 leather shoulder bag
Celebrities with a glamorous style personality: Joan Collins, Sharon Osbourne, Monica Bellucci, Dita von Teese and Catherine Zeta-Jones
Read our full style guide and capsule wardrobe for the glamorous style personality.
Different styles: Romantic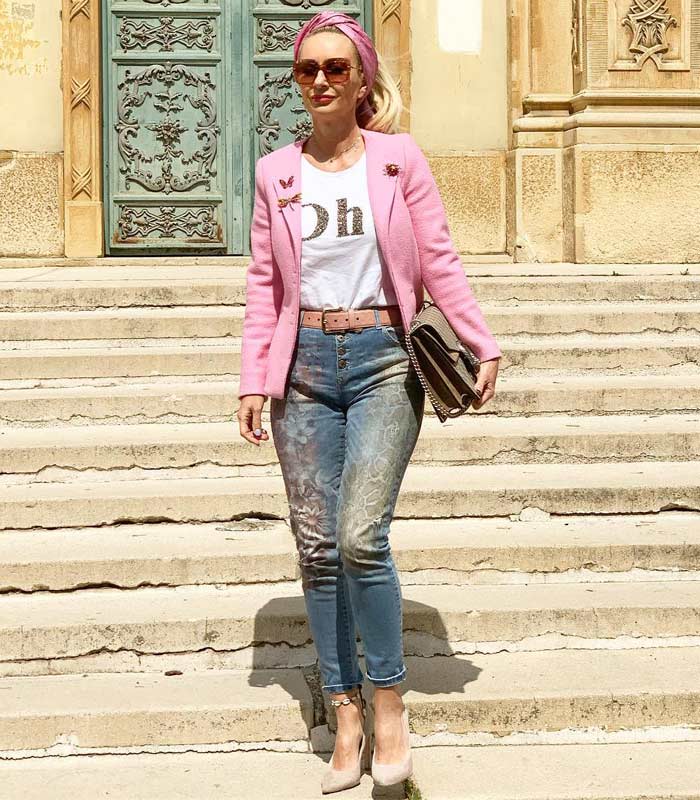 If you love to look feminine and pretty, and you wouldn't go out without looking groomed, you may well have a romantic style personality.
Being practical or comfortable is not always your top priority.
Your eye is drawn to pretty pieces and patterns, including tactile fabrics. Your clothes may feature frills, ruffles, bows and lace and have pastel shades and other soft colors.
You will see that Alice's style (above) features a mixture of romantic and glam style personalities. She uses romantic colors such as soft pinks and taupes, along with floral patterns and brooches which take their inspiration from nature.
Cece ruffle sleeve top – Hudson boyfriend jeans – Ann Klein twill jacket – Bobeau v-neck dress – Sole Society ruffle pump
Read our full style guide and capsule wardrobe for the romantic style personality.
Bohemian Style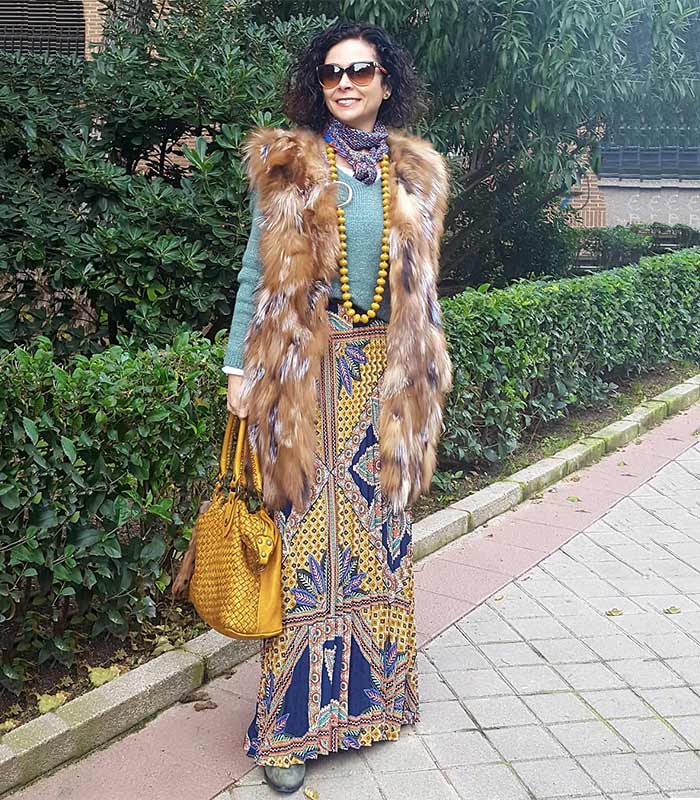 "You can't be a behemian in tight clothes. It just doesn't work. you have to be able to move and dance and climb."

Diane von Furstenberg
Billabong wrap dress – BB Dakota faux fur vest – Dolan split neck tassel tie blouse – Nordstrom scarf floppy hat
Knotty woven top handle bag – Charles David slouch boot – Knotty embroidered cuff bracelet – Karine Sultan multistrand necklace
Women with bohemian style like movement, color and sparkle. It is an nonconforming style that tends to be associated with the hippie era.
Maria (above) layers her faux fur vest over a boho dress for a classic bohemian look.
Check out our capsule wardrobe for the bohemian style personality.
Some examples of bohemian garments include:
A peasant blouse
The hippie skirt
A (fake) fur vest
A tunic
A caftan
Behommian handbags
Long necklaces
A poncho
Examples of people with this style include: Ali MacGraw, Mary-Kate & Ashley Olsen, Diane von Furstenberg.
Street / Urban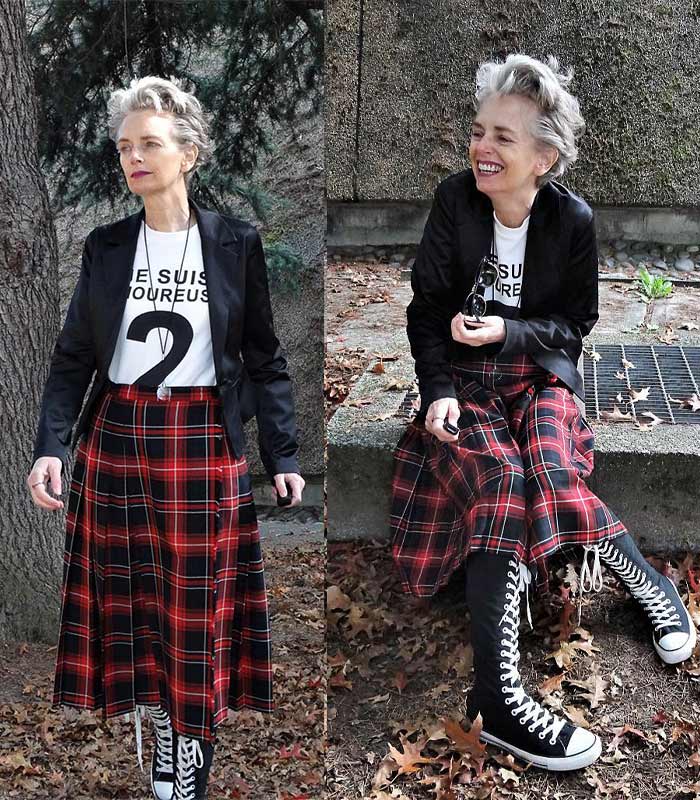 This is the constantly evolving style that develops on the streets of the big cities. It is constantly changing and quite undefinable, but it tends to be a mix of casual and hip and what's happening in the world at any particular time.
Anne Klein funnel neck sweater – Levi's oversize moto jacket – Blank NYC ripped jeans – Dr. Martens '1460' boot
This style is more prominent amongst youngsters as opposed to 40 plussers, although, of course, there are always the exceptions to this rule. Some previous street style trends include: new wave, punk, goth, grunge, mod, hip hop and sometimes rock.
Mel (above) evokes a punk era while bringing her look bang up-to-date.
Examples of people with this style include: young Madonna, Debbie Harry.
Learn more and read our style guide for the street/urban style personality.
Different styles: Rock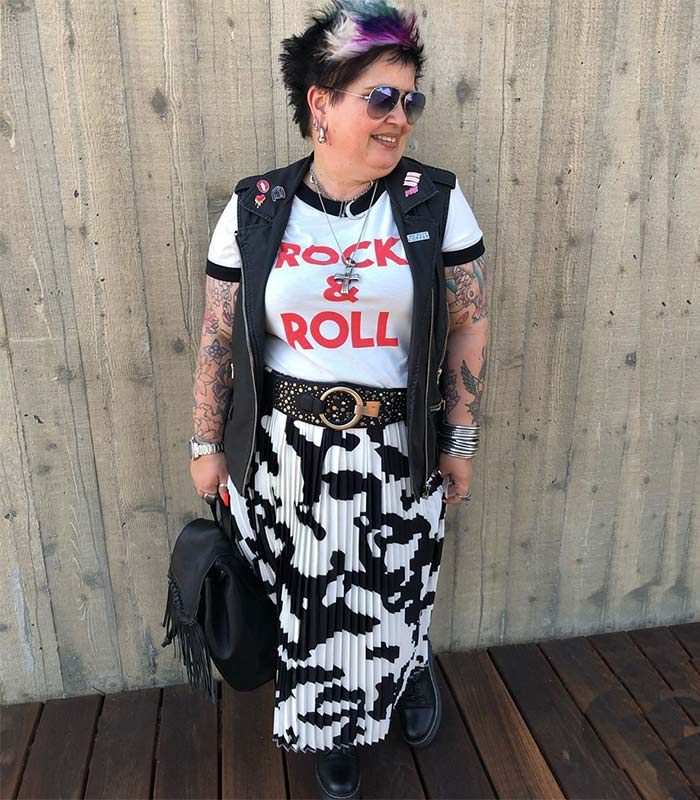 Black is definitely the color that dominates your outfits when you have a rock style personality.
Being comfy and edgy aren't mutually exclusive. Your style is predominantly casual, but with an edgy twist.
While you won't opt for overtly feminine embellishments like embroidery or frills, you do like to embellish your outfits and accessories with buckle and stud details.
Erin (above) embraces the sophistication and edginess of the rock personality and it can show on all of her outfits.
Cotton Emporium tie dye tee – STS Blue boyfriend denim jacket – AFRM printed long sleeve dress – Hoxton raw hem skinny jeans – Söfft studded bootie – Brixton fiddler cap
Celebrities with a rock style personality: Chrissy Hynde, Pink, Stevie Nicks, the late Dolores O'Riordan, Courtney Love and Debbie Harry.
Do you think you have a rock style personality? Read our article to know if you do.
Preppy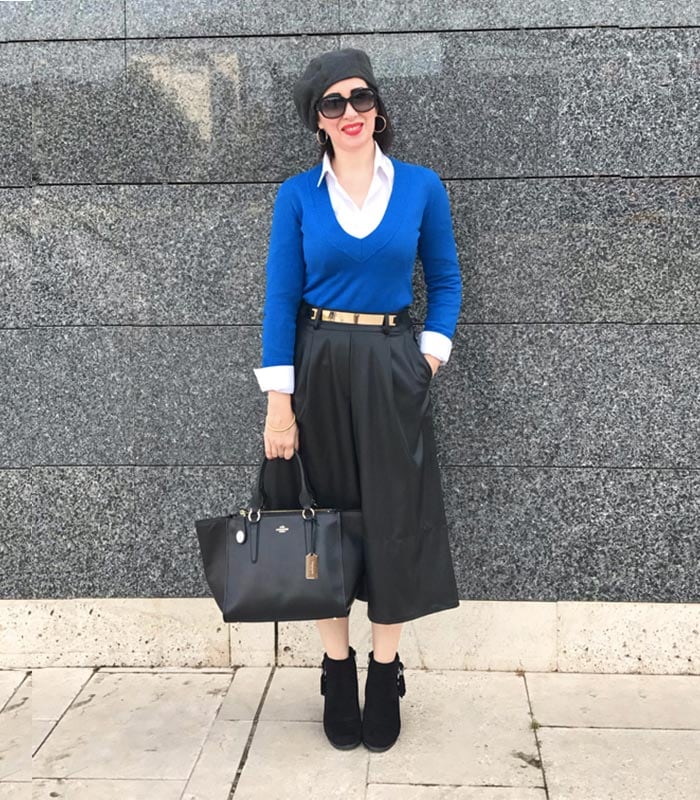 This collegiate-inspired style is casual in the main. You are into a "geek chic" look. You love to wear skirts and dresses as well as classic blouses with pussy bows or peter pan collars.
Patricia's look above is the perfect example of a preppy style.
You love cozy knits, checks and stripes and prefer to wear flat shoes and natural fibers, including leather as well as wool.
You appreciate clean cut styles in your clothings and aren't trend obsessed. It's much more important to you to have a good closet of essentials than to shop for a statement piece each season.
Romwe collared top – Tommy Hilfiger v-neck sweater – Anne Klein pleated skirt – Vionic oxford
The preppy style celebrities: Emma Watson and Olivia Palermo.
Read more on our style guide and capsule wardrobe for the preppy style personality
Eurochic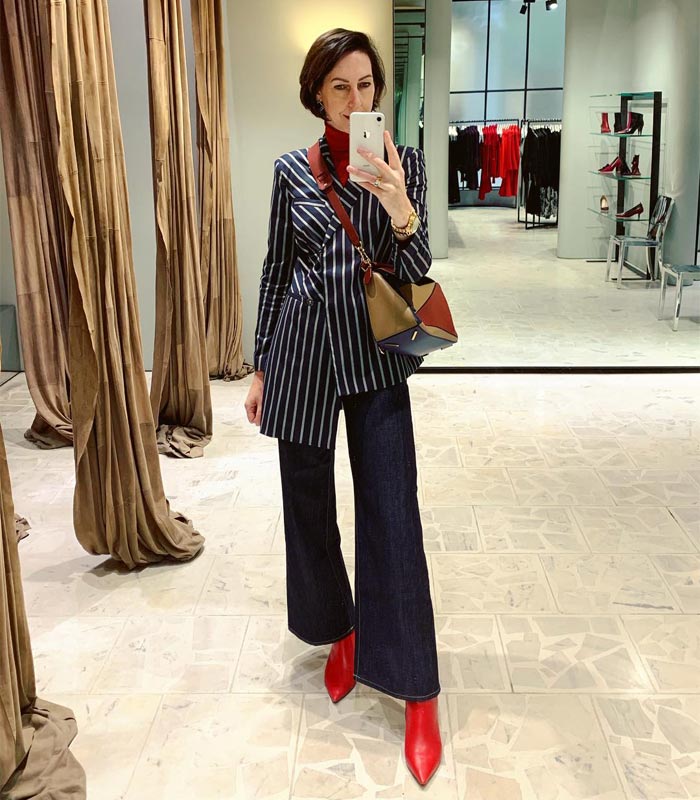 It is difficult to pin down exactly what the Eurochic style is, but it is seen on women who seem to look effortlessly hip and stylish
If you have a eurostyle, you like to combine more expensive timeless pieces with less expensive high street options. The way you put them together looks very sophisticated.
While you may have bought the pieces in your closet anywhere in the world, your style looks as if it has been honed in Europe.
You would look equally at home in any of the cities in Europe, whether visiting Milan, Paris, Rome or London, or strolling the streets of Capri.
Sally (above) is based in Melbourne, Australia, but her styling means she would look at home anywhere. Her outfit is the perfect example of taking classic pieces and adding a twist to them.
Eileen Fisher silk shirt – Cinq à Sept ruched sleeve blazer – Alice + Olivia bootcut pants – Miz Mooz open toe bootie
Celebrities with this style: Catherine Deneuve, Carla Bruni, Marion Cotillard, Brigitte Bardot, Jane Birkin and Juliette Binoche.
Read and learn more on our style guide for eurochic style personality
Architectural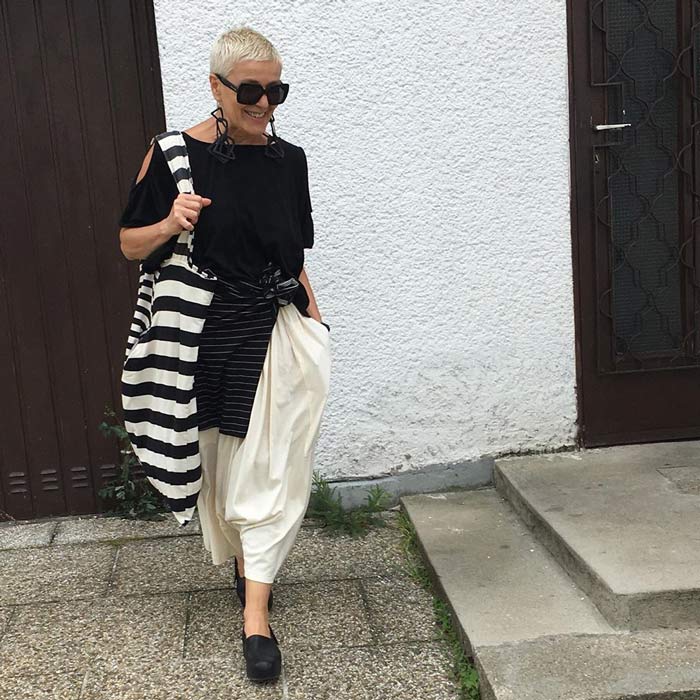 You aren't too keen on floaty, flowing fabrics if you have an architectural style personality. Instead you like your clothing to have structure.
You are likely to opt for fabric which gives some shape to your look rather than a smock style, for example.
Mila (above) has chosen a structural skirt, with the shape created by pleats and paneling. She combines her look with very architectural earrings.
You are likely to opt for contemporary pieces which have geometric shapes and unique structures – from your tops down to your accessories.
Stella Carakasi horizon coat – Frame silk blouse – Vince asymmetrical skirt – Fly London sandal – Madewell necklace
Examples of people with this style include: Tilda Swinton and Cate Blanchett.
Check out our style guide and capsule wardrobe for the architectural style personality.
Eclectic Style
This style is hard to describe, which is not surprising, as this style is really a mixture of all kinds of styles.
The eclectic woman knows how to mix and match all the different styles and truly make it her own. To make this style really work, it is important to have a good eye for what you like, to know what suits you and to have the innate style instinct or (learned) knowledge to mix it all together.
This is a very creative and fun way of dressing.
Examples include: Kate Moss, Laura Bailey, Gwynyth Paltrow.
Velvet by Graham & Spencer sequin top – Lucky Brand peasant top – Gibson maxi skirt – BP. floral wide leg pants
Akola bangle set – Stella + Ruby chiffon flower earrings – Quay Australia cat eyeglasses – Halogen buckle mule
Creating your own style profile from these different styles
Now, if you are like most women, you will have elements of a few of these different styles in your own personal style. I tend to like classical garments and go for a minimal look.
But I also love fashion, new trends and new colors each season.
I'm not that attracted to the bohemian style; it just doesn't feel like me. Garments in that style tend to be worn only a few times, so it would be best for me to avoid buying those kinds of clothes altogether.
How about you? Do you know what different styles are part of your style personality?
P.S. Want to discover your style personality? Do the style personality quiz!
Like this article on understanding the different styles? Save it on Pinterest!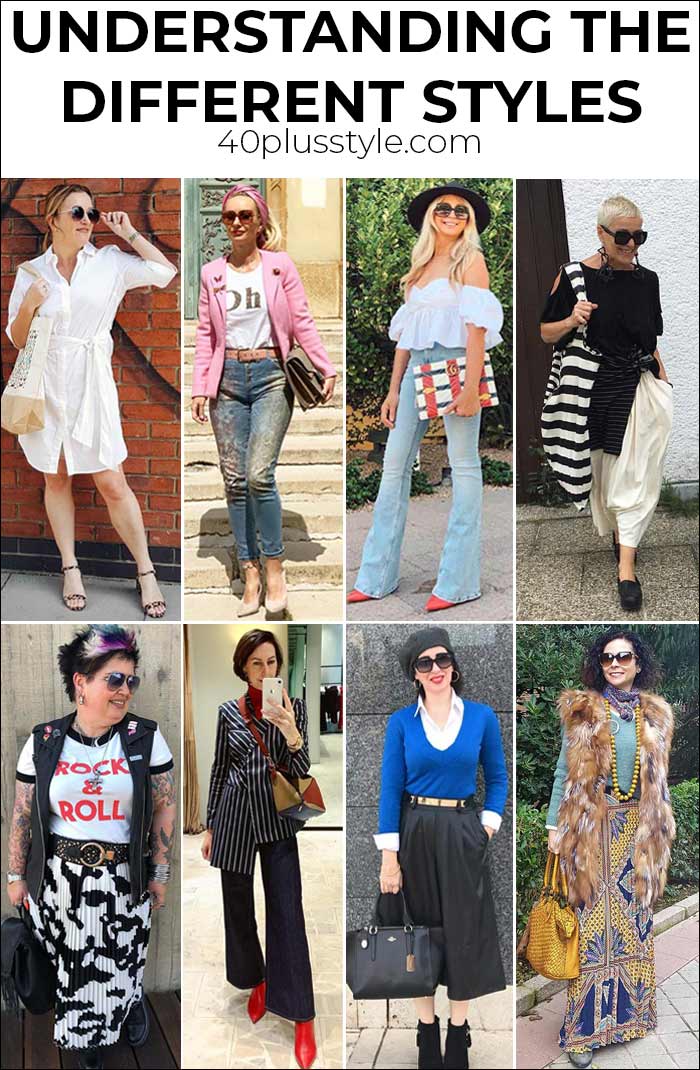 Want to get more articles from 40+style in your inbox, subscribe here.
You can also connect with 40+style on Facebook, Instagram or Pinterest.
Support 40+style by using the links in our articles to shop. As an associate for Amazon and many other brands, we receive a small commission (at no cost to you) on qualifying purchases which enables us to keep creating amazing free content for you. Thanks!