Do you love shapes and structure in your outfits? Do you like unusual and bold geometrical jewelry? Do you admire the inimitable style of Narnia actress Tilda Swinton? If you are drawn to this type of architectural fashion, then you may well be an architectural style personality.
If you aren't sure what your style personality is, you can take this fun quiz to find out.
You are likely to have one dominant style personality, and then a second style personality that you are drawn to. As an architectural style personality, you are likely to also find yourself attracted to elements of minimalist and classic dressing.
For instance, Mel (above) wears a top which could also fit in the closets of other style personalities, including the romantic and glamorous personalities. She teams it with a pair of pants which are perfect for the architectural style personality.
Check out this similar blouse, pants, booties, earrings and sunglasses.
How to tell if you are an architectural style personality
1. You pay attention to the structure of clothing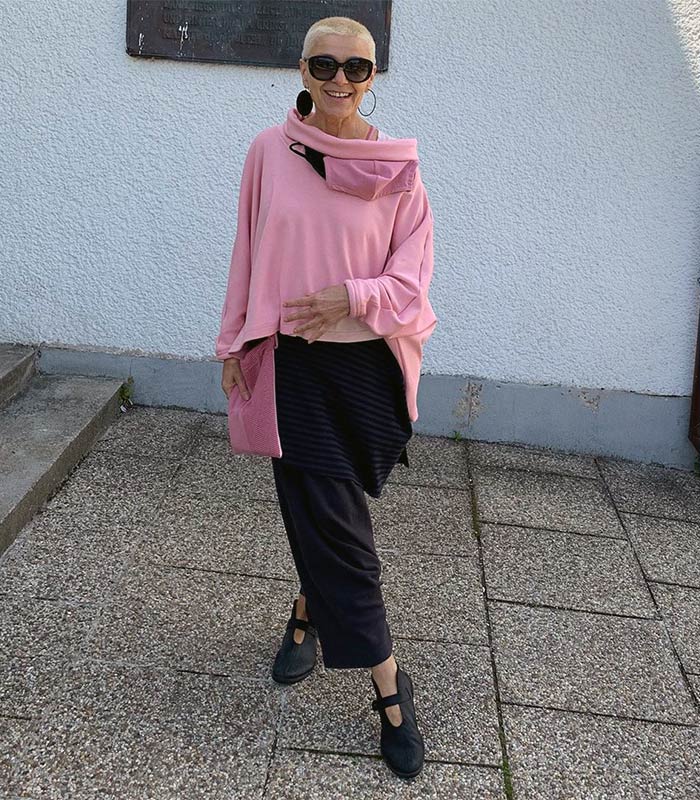 You aren't too keen on floaty, flowing fabrics. Instead you like your clothing to have structure. You are likely to opt for fabric which gives some shape to your look rather than a smock style, for example.
Mila (above) chooses a very architectural style from top to toe. Notice the structure of the neckline, the asymmetric detailing of her top's hemline, the extra interest created with the skirt-style layer over her pants and the structured shape of her shoes.
Recreate her outfit with this similar cowl neck top, pants, shoes, earrings and sunglasses.
2. You choose heel shapes which are unusual
As an architectural style personality, one of the ways to show off your taste is in your shoes. You like heels which have architectural detailing such as a square or cone shape, twist or cut-out detailing.
Luckily, you'll find plenty of choice this season, as architectural heels are one of the key shoe trends for summer 2022.
3. You like geometric jewelry
You aren't a fan of whimsical jewelry featuring florals or soft shapes. Instead, you are likely to opt for contemporary pieces which have geometric shapes. Your bracelet of choice will be a cuff style.
Diana (above) wears black and white, which tend to be strong colors for those with an architectural style. She adds structure to her waistcoat by turning up the collar, and combines with cuff bracelets, earrings and sunglasses which all have a strong shape as well as layers of necklaces.
Check out this similar vest, necklace, bracelet, ring, earrings and sunglasses.
You can read more about Diana's style in her style interview here.
4. You may also have architectural hair
If you have an architectural style personality, you are unlikely to have loose, flowing locks. Your hair is a reflection of your style, so you may opt for an asymmetric cut, a bob or blunt fringe. Or you may wear your hair back.
Greetje (above) often combines elements of architectural and classic style. Her blunt-cut bob reflects that as does her choice of asymmetric, geometric necklace.
Steal her look with this similar blouse, jeans, shoes and necklace.
You can see her as a brunette and read more about Greetje's style in her style interview here.
Celebrities with an architectural style personality
You're in very stylish company when it comes to celebrities who have an architectural style personality. Tilda Swinton and Cate Blanchett are two famous examples.
Both women don't like wearing floaty, bohemian pieces. Instead, they opt for structured items and like to mix it up a bit on the red carpet. You are just as likely to see them wearing a tuxedo as a dress.
They are also drawn to minimalist and classic styling, but like to give their looks an architectural twist. So, you might see them wearing a dress with structured shoulders, an oversized collar, a funnel neck, a cape or a dress with an unusual neckline.
Read our ultimate guide to creating a capsule wardrobe that works best for you.
Architectural style personality tops
The architectural style personality will usually have a white shirt in their closet because of its versatility. You can wear with a tuxedo, or under a dress.
You will also want to look out for tops with structured necklines such as a funnel neck and asymmetric detailing.
Patricia (above) opts for a minimal white one-shouldered top which would go with anything in the architectural style personality closet.
Recreate her outfit with this similar one shoulder top, skirt, sandals, scarf, earrings and sunglasses.
COS draped top – COS oversized a-line shirt – Nanushka one-shoulder satin top – Everlane silk square shirt
Architectural style personality jackets and coats
You are likely to want to keep your coat in a neutral shade. But, having said that, you won't rule out any color provided that it suits your style. A primary color such as red will go beautifully with your monochrome pieces or you could look at a more unusual, unexpected shade.
Boyfriend blazers, tuxedo styles, trenches and moto jackets with zips and asymmetry will appeal to you.
Kim (above) teams a structured blazer with a skirt deliberately created to provide a voluminous shape below the hips.
Check out this similar v-neck top, blazer, skirt, sneakers, necklace and sunglasses.
BLANKNYC drape front jacket – Chelsea28 longline vest – Topshop blazer – COS sleeveless blazer
Architectural style personality pants
The architectural style personality is often more likely to wear pants than skirts and dresses.
Look out for wide-legged pants, tuxedo styles with stripes on the side of the legs and pants with geometric patterns. Striped pants are particularly on trend this summer.
Dayle (above) wears an asymmetrical tunic over her wide-legged pants.
Steal her look with this similar tunic, wide leg pants, shoes, scarf and earrings.
You can read about how to make your style more arty in Dayle's style interview here.
FRAME mini bootcut jeans – Lyssé asymmetrical crop denim leggings – 7 For All Mankind metallic side stripe skinny jeans – Rails paperbag waist pants
Architectural style personality dresses and skirts
You are also drawn to skirts and dresses which have some structure and elements of asymmetry. When it comes to skirts, you may also be drawn to the structure of a pencil skirt.
COS knot drape dress – COS color-block dress – Lyssé handkerchief hem midi skirt – Tommy Bahama stripe maxi skirt
Architectural style personality shoes
Shoes are another great way to show off your style personality. Look out for shoes which come in a beautiful metallic color such as a burnished bronze.
Also, shoes which have unusual style detailing will appeal to you. Look out for heels which have a cone shape, or are circular, transparent or have a shape that is different from the norm.
When looking for sandals, a platform pair with wider straps is likely to suit the rest of your outfits. Or opt for sandals where the straps are designed to cross your feet asymmetrically. You'll find plenty of this type of sandal, both heeled and flat, in stores this summer.
Deborah (above) chooses flat, asymmetrical strap sandals to go with her asymmetrical top and geometric earrings.
Check out this similar asymmetrical top, skirt, sandals and earrings.
Eileen Fisher flat sandal – Jeffrey Campbell slide sandal – Marc Fisher LTD pointed toe mule – COS square toe ankle boots
Architectural style personality accessories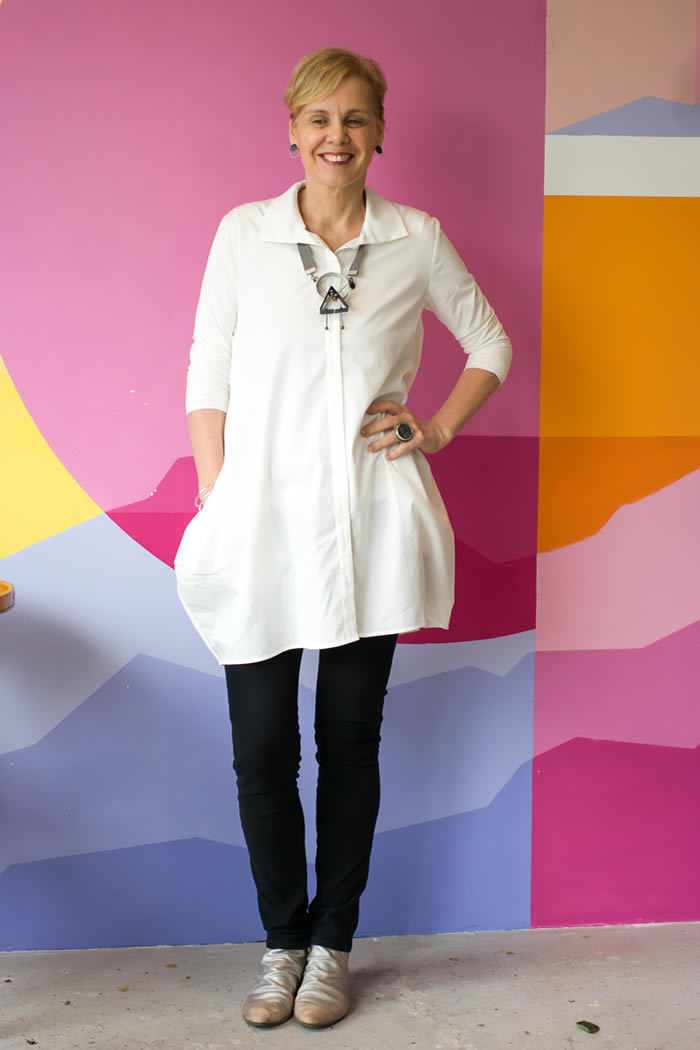 The old saying goes that the devil is in the detail. That's definitely true when it comes to adding accessories.
A classic architectural style combination would be a white shirt and contemporary, geometric jewelry like in my outfit above.
I consider myself a mix of architectural, Eurochic and a natural style personality. I love geometric and architectural pieces but I also need comfort and natural materials.
One of my favorite ways to add a bit of architecture to my looks is contemporary jewelry and asymmetry.
The tunic above has an unusual shape as it goes wider at the hip making this tunic very architectural. It's super comfortable and one of Stella Carakasi's best sellers. You can get it here.
Necklace is from Singapore brand In Good Company. Here is a similar necklace from Etsy. Ring by Birabiro designed by my friend Lydia. She has a lot of fantastic contemporary jewelry in her shop. I couldn't find the exact same ring, but I'm loving this galaxy ring.
While other style personalities might opt for classic styles of teardrop-shaped drop earrings or jewelry and scarves featuring florals, you will prefer geometric, contemporary shapes.
You will also like some structure in your bags. While you like to carry a tote, you opt for pieces with contemporary styling, or some stitching which adds shape.
COS leather shopper bag – COS strap detail shopper bag – Brixton straw hat – Victoria Beckham sunglasses – Sole Society double circle pendant necklace – Alexis Bittar mismatched stud earrings – Ettika geo square hoop earrings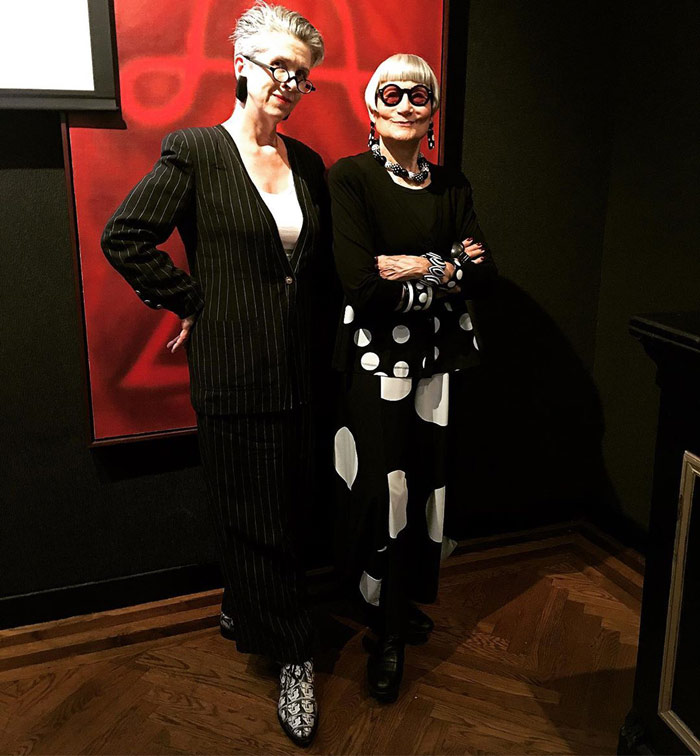 Jean and Valerie (above) show off architectural style with aplomb, teaming geometric shapes with chunky jewelry.
Here are 9 outfits for the ARCHITECTURAL style personality using clothes and accessories from above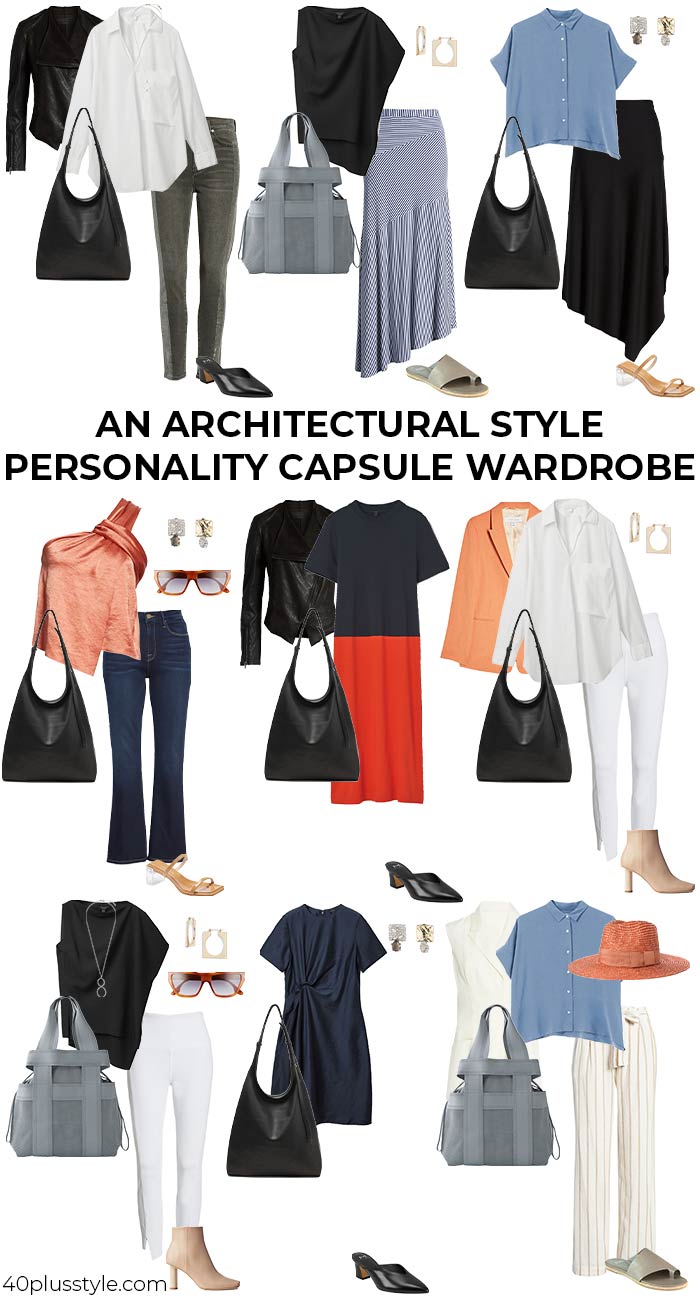 More architectural style inspiration
Below you can see a previous season architectural capsule, demonstrating how timeless this way of dressing is. You'll find many of the sweaters and the layered dress (below) are still available at Stella Carakasi.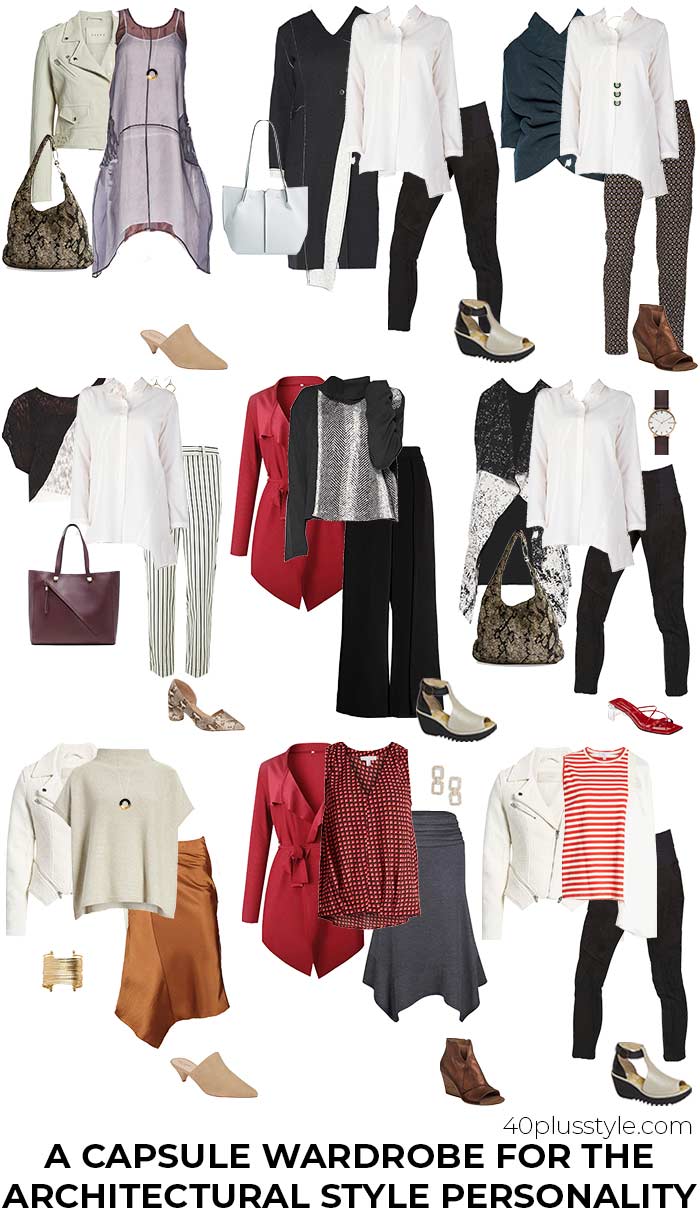 Stores to try if you have an architectural style personality
Reader Vilma had some great recommendations for architectural clothing on Etsy
How would you describe your style personality? Does this style for the architectural style personality resonate with you?
Continue reading:
Like this article on how to dress the architectural style personality? Share it on Pinterest
Feature image by Mila
Want to get more articles from 40+style in your inbox, subscribe here.
You can also connect with 40+style on Facebook, Instagram or Pinterest.
Support 40+style by using the links in our articles to shop. As an associate for Amazon and many other brands, we receive a small commission (at no cost to you) on qualifying purchases which enables us to keep creating amazing free content for you. Thanks!