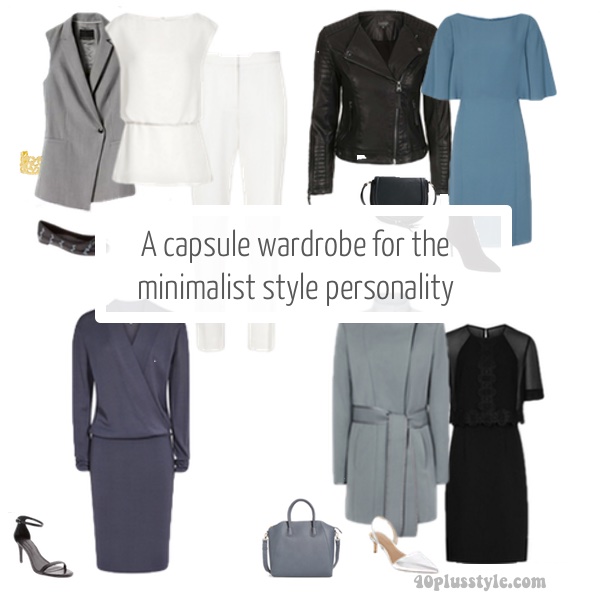 A minimal style wardrobe can be one of the chicest choices for women over 40. As the saying goes, "less is more".
A minimal style wardrobe doesn't have to be boring, on the contrary. A minimalist style is classic and timeless and truly lets a woman's own beauty shine through. Angelina Jolie, Annette Bening, and Charlize Theron are just a few of the many beautiful women who opt for a subtle and minimalist style.
If you gravitate towards simple, uncomplicated style, a minimalist capsule wardrobe might be a great choice for you. A minimalist capsule works well with many body shapes and since this style doesn't include lots of trendy details, this wardrobe style can look stylish and fresh longer than a trendier of-the-moment wardrobe can.
If you'd like to create your own minimalist capsule wardrobe, keep these rules in mind:
Highlight one stand-out accessory or one unique detail.
Choose understated, neutral colors like black, navy, white and gray to build a solid minimalist base.
Select styles of clothing that showcase a clean, long line.
Choose tops, pants and jackets that follow the lines of the body, but aren't too clingy or too baggy.
Steer clear of ruffles, embellishments, or overly trendy details.
Wear columns of solid colors (or if you do include prints, choose subtle tone on tone prints)
Dresses
One of the most important elements in a minimalist wardrobe is a simple, clean lined statement dress, a simple dress with one stand out detail that can be dressed up or down. Select a fabric that works winter or summer like a lightweight, seasonless wool or silk.  Select a simple wrap, sheath or subtle A-line.
Here are a few dress options to build out your minimalist wardrobe.
Pants
Choose pants that flatter your shape. Good choices are a slim cropped pant in a gray, navy, or black. Another flattering option is a full legged trouser cut pant, or a boot cut trouser in a dark color which will lengthen your legs and create a long visual line. You can also add a casual cropped corduroy pant for a more casual style.
Jackets
For the minimalist style, choose jackets and coats with a body skimming style. Steer clear of anything too baggy or trendy. Opt for clean lines and neutral colors. That doesn't have to mean black! You can choose gray,white, tan or navy.
Accessories and Jewelry
Less is more when it comes to jewelry for the minimalist style. Choose one exceptionally stylish piece of jewelry rather than a layer of pieces.  If you want to add a statement piece, choose something oversized rather than delicate. Silver, gold or other metallics are a great option. For bags, select a satchel or crossbody with tonal details, styles which pairs well with a minimalist style.
Shoes
Classic, flattering, and feminine shapes like pumps, boots with a pointed toe, ballet flats, mules and slingbacks complement a minimalist style. You can opt to add a pop of color with a shoe like a metallic kitten heel which stays with a classic shape but adds an unexpected detail.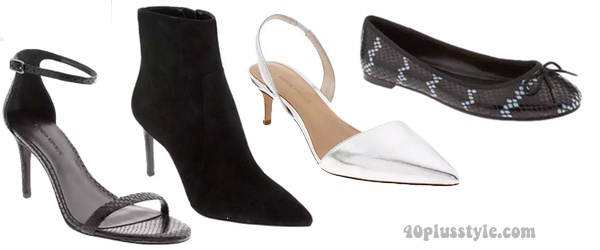 Here are twelve looks we created for the minimalist style capsule wardrobe, plus you can shop the boutique for these looks and more to create your own capsule wardrobe below.