Do you have a minimal style personality? Then you will love this capsule wardrobe for the minimal style personality!!
Not sure what style personality you have? Find out in our style personality quiz!
Do you have a minimal style personality?
A minimal style wardrobe can be one of the chicest choices for women over 40. As the saying goes;"less is more".
A minimal style wardrobe doesn't have to be boring, on the contrary.
A minimalist style is classic and timeless and truly lets a woman's own beauty shine through.
Celebrities with a minimal style personality
Angelina Jolie, Annette Bening, and Charlize Theron are just a few of the many beautiful women who opt for a subtle and minimalist style.
I'm sure you would agree that, while their minimal style is pared back, it is far from dull.
How to tell if you have a minimal style personality
You gravitate towards simple style
If you naturally have a minimal style personality, the you will prefer outfits which are simple and uncomplicated.
You like a neutral palette
If I opened your closet right now, I would be unlikely to see lots of color and pattern. You prefer a palette of neutrals and, if you do go for patterns, they are likely to be simple stripes or smaller prints.
You are a minimalist in your home too
If you like a minimal style wardrobe, you probably don't like to much clutter in your home either. Marie Condo is a woman after your own heart.
You may find yourself drawn to other similar styles
If you have a minimal style personality, you may find that you also like elements of classic style, Eurochic style or architectural style.
Why a minimalist wardrobe could work for you
A minimalist capsule works well with many body shapes and since this style doesn't include lots of trendy details, this wardrobe style can look stylish and fresh longer than a trendier of-the-moment wardrobe can.
Jona opts for a minimal style look here, but she adds interest by wearing a black v-neck with 3/4 sleeves.
While her top is patterned, it has a very simple pattern. She keeps the rest of the look stylishly simple with a pencil skirt and a pair of block-heeled sandals.
Get a similar bell sleeve top here.
'Rules' of minimal style
If you'd like to create your own minimalist capsule wardrobe, keep these rules in mind:
Highlight one stand-out accessory or one unique detail.
Choose understated, neutral colors like black, navy, white and gray to build a solid minimalist base.
Select styles of clothing that showcase a clean, long line.
Choose tops, pants and jackets that follow the lines of the body, but aren't too clingy or too baggy.
Steer clear of ruffles, embellishments, or overly trendy details.
Wear columns of solid colors (or if you do include prints, choose subtle tone on tone prints)
Tops for the minimal style personality
Like the rest of your closet, your tops will be classic, timeless and are likely to be in neutral shades.
That's not to say you can't add a pop of color if you would like to. However, if you do, you are likely to prefer a block shade rather than, for example, a flamboyant pattern like florals.
Here I've included four tops that you could wear for season upon season, year after year, and they will never date.
Options such as a neutral short-sleeved t-shirt, a classic button-down skirt, a turtleneck and a wrap top will give your closet the clean, classic look you love.
However, I have added interest with the texture of the tee here, and the subtle stripes on the shirt.


Halogen jacquard knit top – Splendid mock neck tee – Equipment stripe shirt – Vince Camuto wrap front blouse
Mrs. Kandinsky is wearing a check long sleeves here. But, even with the checked pattern, her look is still very clean and simple. Check out this similar piece from Rails.
Dresses and skirts for your minimalist closet
One of the most important elements in a minimalist wardrobe is a simple, clean lined statement dress, a simple dress with one stand out detail that can be dressed up or down.
Select a fabric that works winter or summer like a lightweight, seasonless wool or silk. Select a simple wrap, sheath or subtle A-line.
Here are a few dress options to build out your minimalist wardrobe.
Lewit slit front dress – Black Halo zip slit sheath dress – Boss square neck sheath dress – A.L.C. rib knit wrap skirt
Gail wearing a white Marks & Spencers shirtdress. Get a similar look with this piece from the brand.
Maudie wearing a black slit midi skirt. Check out this skirt from Topshop for a similar look.
Pants for your minimal fashion look
Choose pants that flatter your shape. Good choices are a slim cropped pant in a gray, navy, or black.
Another flattering option is a full-legged trouser cut pant, or a boot cut trouser in a dark color which will lengthen your legs and create a long visual line.
You can also add a casual cropped pair of pants for a more casual style.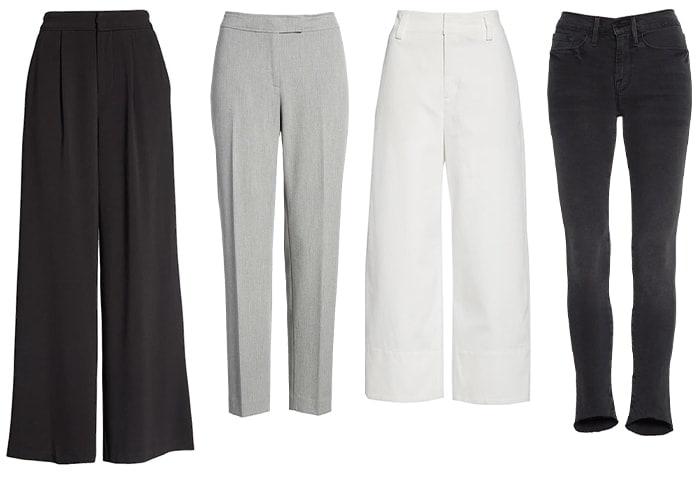 Endless Rose wide leg pants – Anne Klein twill pants – Vince wide leg crop pants – Frame ankle skinny jeans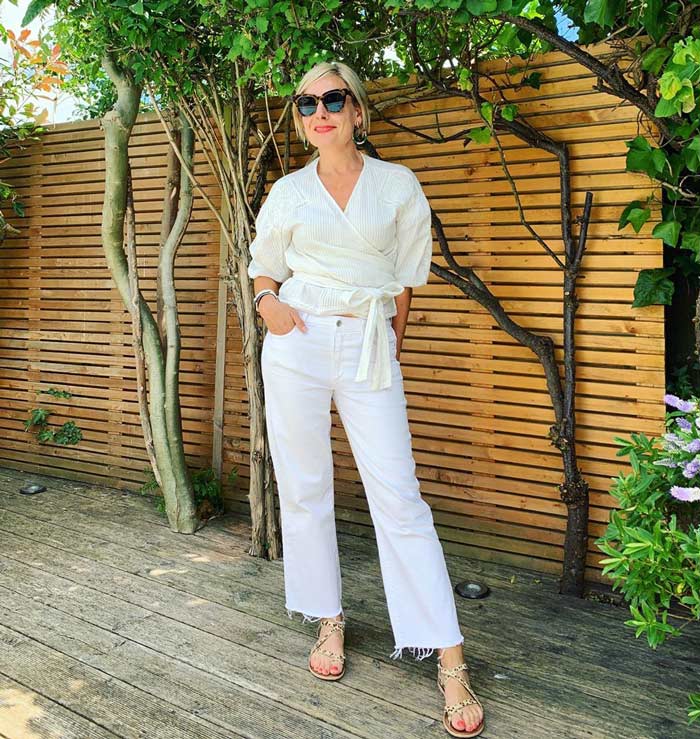 Claire wearing a raw hem wide leg pants in white. Get a similar piece here from Joe's.
Deborah wearing a black skinny pants. Copy her look with this similar piece.
Jackets for the minimal fashion look
For the minimalist style, choose jackets and coats with a body skimming style.
Steer clear of anything too baggy or trendy.
Opt for clean lines and neutral colors. You can opt for black. But, you don't have to. You can also choose gray, white, tan or navy.
Oodji Collection asymmetrical belted vest – Cupcakes and Cashmere long vest – Cinq à Sept ruched sleeve blazer – Blank NYC moto jacket
Helen got her blazer from Marks & Spencer.
Adaline wearing a black moto jacket. Check out a similar piece here.
Accessories and Jewelry to go with your minimalist clothing
Less is more when it comes to jewelry for the minimalist style.
Choose one exceptionally stylish piece of jewelry rather than a layer of pieces.
If you want to add a statement piece, choose something oversized rather than delicate.
Silver, gold or other metallics are a great option. For bags, select a satchel or crossbody with tonal details; styles which pair well with a minimalist style.
AllSaints leather bag – Thacker shoulder bag – Ten 79 LA drop earrings – Nordstrom print scarf – Karine Sultan sculptural cuff – Lisa Freede knot lariat necklace
Kim wearing a pair statement earrings. Get a similar hexagon pair here.
Georgette using a Tory Burch tote bag. Get a similar style here from the brand.
Shoes to go with your minimalist outfits
Classic, flattering, and feminine shapes like pumps, boots with a pointed toe, ballet flats, mules and slingbacks complement a minimalist style.
Linea Paolo bootie – Calvin Klein slide sandal – Calvin Klein slingback flat – Steve Madden sneaker
Nicola pairs her whole look with suede booties. Check out a similar pair here.
Gitte wearing strappy flat sandals. Check out a similar pair here.
A capsule wardrobe of 9 minimalist outfits using the pieces above
Here are 9 looks we created for the minimalist style capsule wardrobe. But there are lots more combinations you could create from these pieces.
Remember, most of us don't just have one style personality. We are a usually a mixture and can also like elements of other style personalities. However, usually one is dominant.
You may like to check out our capsules for the preppy style, classic style, Eurochic style, natural style or architectural style.
Read our ultimate guide to creating a capsule wardrobe that works best for you.
Let me know what style personality you are! Does the minimal style personality speak to you?
Like this article on the minimal style personality? Share it on Pinterest
Feature image by Gail
Want to get more articles from 40+style in your inbox, subscribe here.
You can also connect with 40+style on Facebook, Instagram or Pinterest.
Support 40+style by using the links in our articles to shop. As an associate for Amazon and many other brands, we receive a small commission (at no cost to you) on qualifying purchases which enables us to keep creating amazing free content for you. Thanks!