Less can definitely be more! If you love the idea of a minimal wardrobe, but are worried you may get bored with your outfit choices, this article is especially for you. You may also like our latest capsule wardrobe for the minimal style personality.
I will show you how you can do more with less and how versatile a minimal wardrobe can be. There are tips on how to ensure your minimal outfits aren't boring. This is also very useful when you want like to travel with a carry-on suitcase.
11 ways to make sure that your minimal wardrobe is anything but boring
First, let's take a look at some of the general principles you should bear in mind to keep your minimal wardrobe interesting. After all, there's a big difference between minimal and boring.
1. Choose a star of your minimal wardrobe
If you want to keep your outfit simple, but you still want to make sure it makes an impact, a good rule of thumb is to pick one item as the star of your outfit. Let it shine and keep the rest of your look relatively pared down.
For example, you could choose a pair of metallic or silver shoes or booties.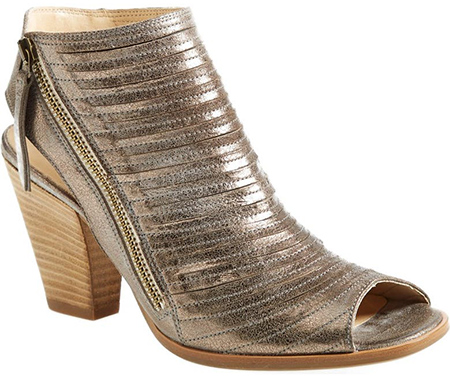 Paul Green Cayanne Leather Peep Toe Sandal
2. Choose interesting quality fabrics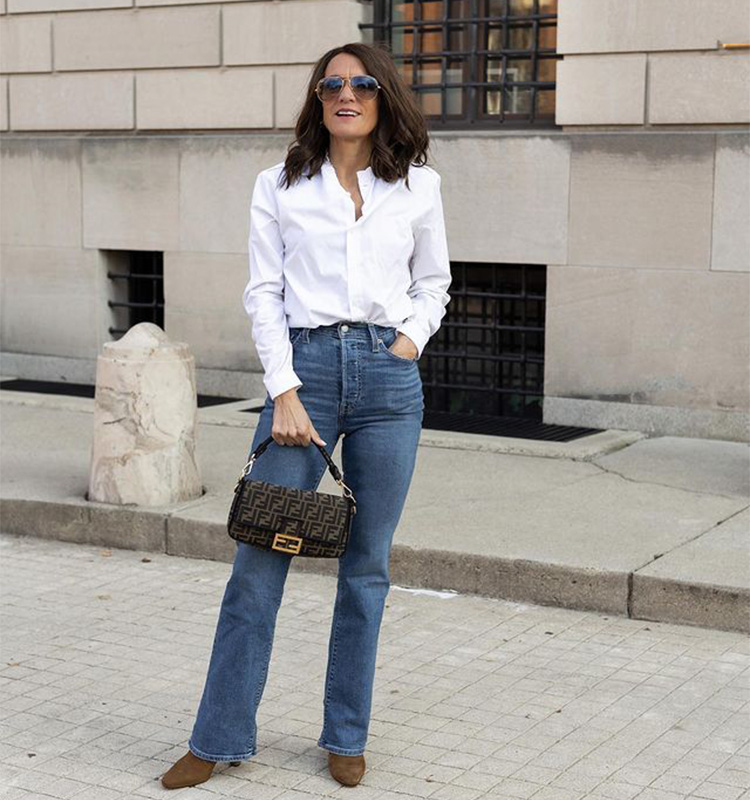 If you want, or already have, a minimal wardrobe, you will want to ensure that every item you have is high-quality, well-made and fits well. You can invest in each piece of clothing as you will want to wear it for many years to come.
Look out for fabrics such as silk, satin, cashmere, cotton and linen which will look classy and feel great against your skin.
Sylvia @sylviacolella above (read her style interview here) opts for a classic cotton shirt that won't date and she can wear with everything.
Recreate her look with this similar shirt, jeans, booties, handbag and sunglasses.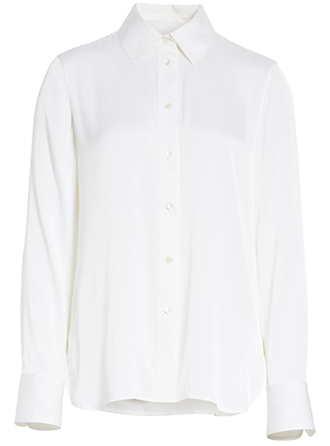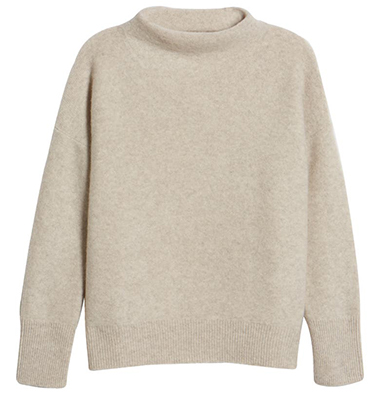 Vince Boiled Cashmere Funnel Neck Pullover (another option here)
3. Take a look at how to do more with less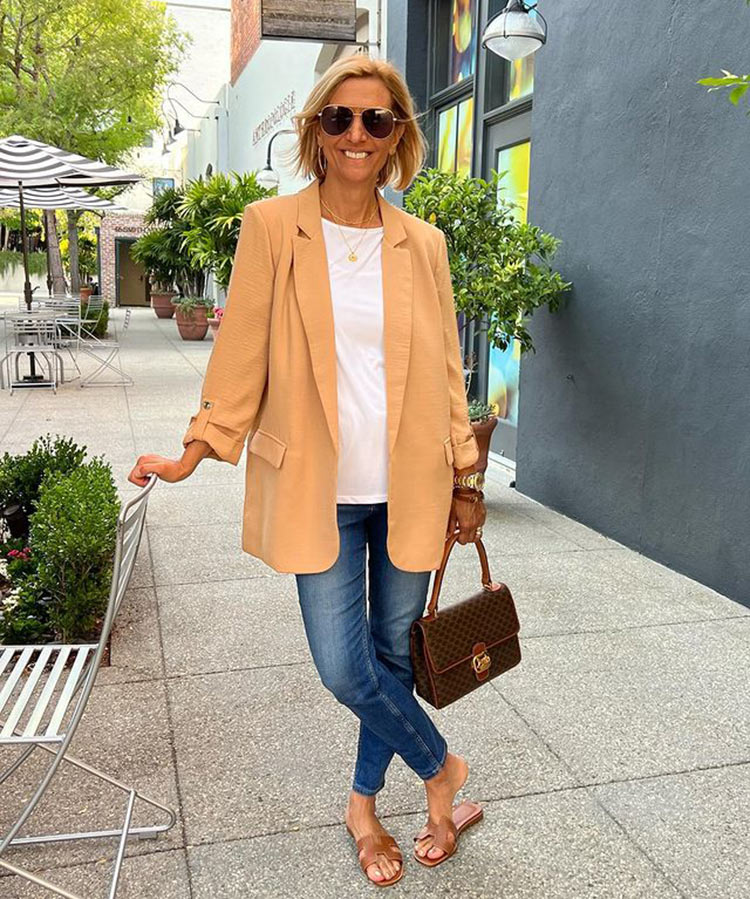 When creating a minimal wardrobe, it's important to think about how you can wear a few items in many different ways. You'll find plenty of inspiration and ideas on how to do this in my article on how to do more with less.
Nora @jacketsociety above (read her style interview here) opts for a blazer, jeans and white t-shirt, which would easily match lots of items in your closet.
Check out this similar top, blazer, jeans, sandals, handbag, necklace and sunglasses.
4. Choose interesting shapes for your minimal wardrobe
You're likely to be a fan of neutrals if you are putting together a minimal closet. However, you can still make sure that your outfits all have a wow factor by looking for interesting shapes, such as asymmetry when choosing new clothing. You may also like to read our style guide for the architectural style personality.
Maggy London Asymmetric Neck Sheath Midi Dress
5. Choose contemporary jewelry
I'm a huge fan of contemporary, geometric jewelry to add modernity to any outfit. You can take even the simplest of outfits to the next level with a statement necklace.
I love my asymmetrical necklace (above) and wear it with both plain and patterned tops and dresses. Similar necklaces here, here and here.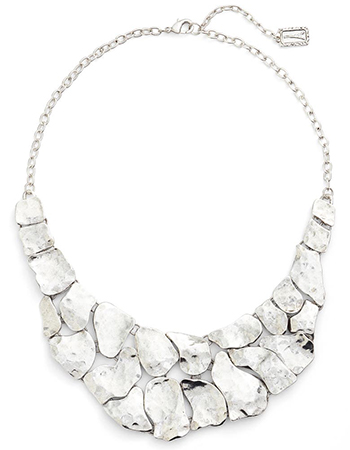 Karine Sultan Alice Statement Necklace
6. Add texture to your minimal wardrobe
You can still wear a very minimal style or shape, but add an extra element to your outfit by choosing clothes or shoes featuring texture. For footwear, reptile or crocodile textures are particularly on trend this season.
Sharryn @thestylishwoman above (read her style interview here) opts for a linen look for summer.
Get her look with this similar top, wide leg pants, sneakers, sunglasses and earrings.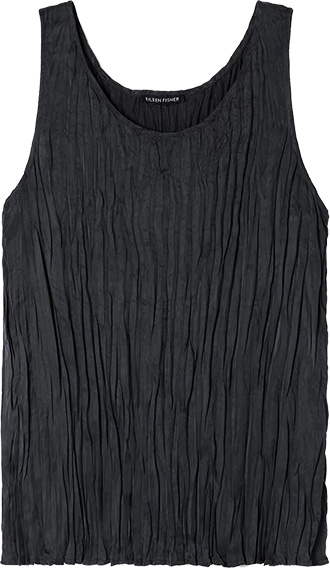 Eileen Fisher Crushed Tank (another option here)
Loeffler Randall Brit Pleated Clutch
You'll find more inspiration in the handbag trends for winter and fall 2023.
7. Choose a favorite brand
Finding a brand you love has two big advantages. You'll be sure that the items you order are likely to fit because you will get to know the size that fits you best.
Plus, if you love to put together a capsule wardrobe, you can add one or two pieces from your favorite brand each season and they are likely to go with everything else you have in your closet.
Sarah @style_designco above layers her shirt over her t-shirt.
Check out this similar top, denim jacket, jeans, sneakers, crossbody bag and earrings.
Some of my favorite brands for minimalist style are COS, Eileen Fisher and Stella Carakasi. See below for an outfit put together mainly from Eileen Fisher.
Eileen Fisher Organic Cotton Pucker Mandarin Collar Jacket (another option here) – Eileen Fisher Jersey Top – Eileen Fisher Organic Linen Crop Wide Leg Pants (another option here) – Eileen Fisher Razz Metallic Leather Ankle-Strap Sandal (another option here) – Eileen Fisher Sleek Italian Leather Crossbody Bag – Alighieri The Amore Unlocked Locket Necklace (another option here)
8. Play with proportions
Another good way to ensure your minimal looks are anything but dull is to play around with the proportions of your clothes. You could opt for an oversized top, for example, or leave a shirt untucked to create interest. You can layer one top over another – more on layering in the next tip.
Karen @styledbykaren above layers a white shirt under her vest.
Check out this similar shirt, cropped top, pants, mules and sunglasses.
Eileen Fisher Organic Linen Gauze Poncho (similar) – Eileen Fisher System Silk Georgette Crepe Bateau Neck Shell – Anne Klein Slim Ankle Pants – Eileen Fisher Giga Leather Slingback Sandal – Eileen Fisher Sleek Italian Leather Everything Crossbody Bag – BOCAR Statement Necklace
9. Layer, layer layer
Layering can be the key to a fantastic look for so many reasons. If you're not confident about your tummy area, for example, layering can be the perfect way to hide a belly.
Adding lots of layers can also create new looks from existing items of clothing in your minimal closet.
Deborah @deborahgates_ above (read her style interview here) wears a long vest over her outfit.
Get her look with this similar top, cardigan vest, pants, sandals and earrings.
You could also layer your jumpsuit or dress over a white shirt.
COS Poplin Shirt – COS Wide Leg Jumpsuit (similar) – SARTO by Franco Sarto Tracy Flat – COS Leather Medium Tote Bag (similar) – COS Contrast Link Leather Necklace (similar)
10. Don't be afraid of prints
While you wouldn't necessarily think that patterns would be part of a minimalist's wardrobe, by choosing subtle, or bold graphical prints, you can incorporate these into your outfits.
Anne Klein Geo Print Short Sleeve Mock Neck Top
11. Be inspired by the other style personalities
Most of you won't just have one style personality. So, while you may be a fan of minimal styling, you're also likely to be drawn to the classic, architectural and urban style personalities. Combining elements of other style personalities can be key to creating an individual look.
Adaline @sdmomstyles above adds a very subtle touch of glamour with the leopard print handle on her bag.
Recreate her outfit with this similar dress, sandals, tote and sunglasses.
Your minimal capsule wardrobe for summer
Take a look at the items featured above together in one capsule. You can easily switch around the tops, bottoms, jackets and accessories to create different looks.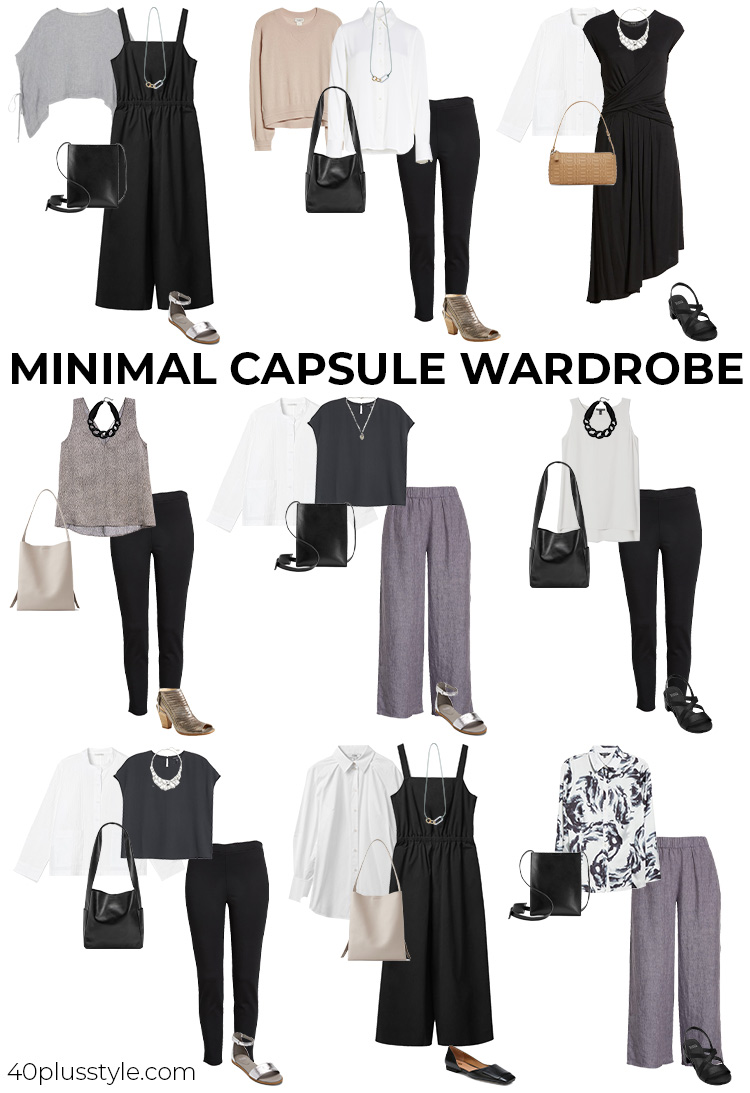 shop the items above here:

Older, but totally timeless minimal capsule wardrobes
Want to have more inspiration for your minimal wardrobe which can also be used for other seasons? Check out some of the capsule wardrobes we created earlier.
Read our ultimate guide to creating a capsule wardrobe that works best for you.
The below capsule wardrobe is quite a bit older, but I still wanted to include is as it shows how just a few pieces of clothing can create many different outfits. I wore the same booties with all outfits and the these of the capsule was asymmetry. Many of these pieces were from Stella Carakasi.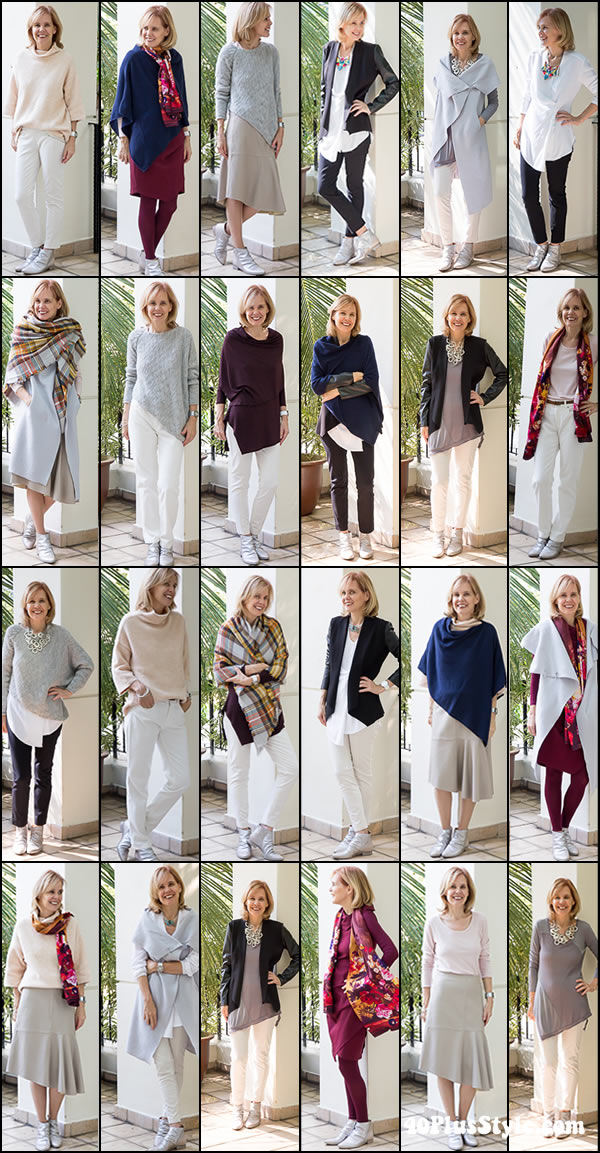 And here is how I wore these outfits with the coat!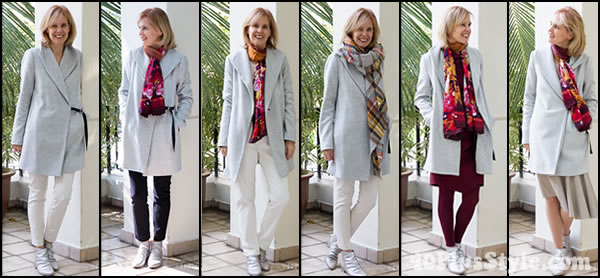 I was very sparse with the use of additional accessories here (only one pair of shoes!), but I'm sure you have a variety of accessories already in your wardrobe that you could easily mix and match with the outfits of your capsule.
For a list of comfortable shoes, be sure to check out my recommendations for the best arch support shoes.
Also note the absence of blue jeans. Although I gravitate more towards lighter colored jeans, these outfits would all look great with blue jeans too.
Want to see more capsule wardrobes?
Want to see a more recent capsule wardrobes, check out all capsule wardrobes in this section or check out my capsule wardrobe for the minimal style personality.
Also, di you know? We also created capsule wardrobes for 12 different style personalities! To access the capsule that is right for you, take the style personality quiz here!
Do you like the idea of creating a minimal capsule wardrobe? How would you do it?
Continue reading:
Like this article on how a minimal wardrobe need not be boring? Share it on Pinterest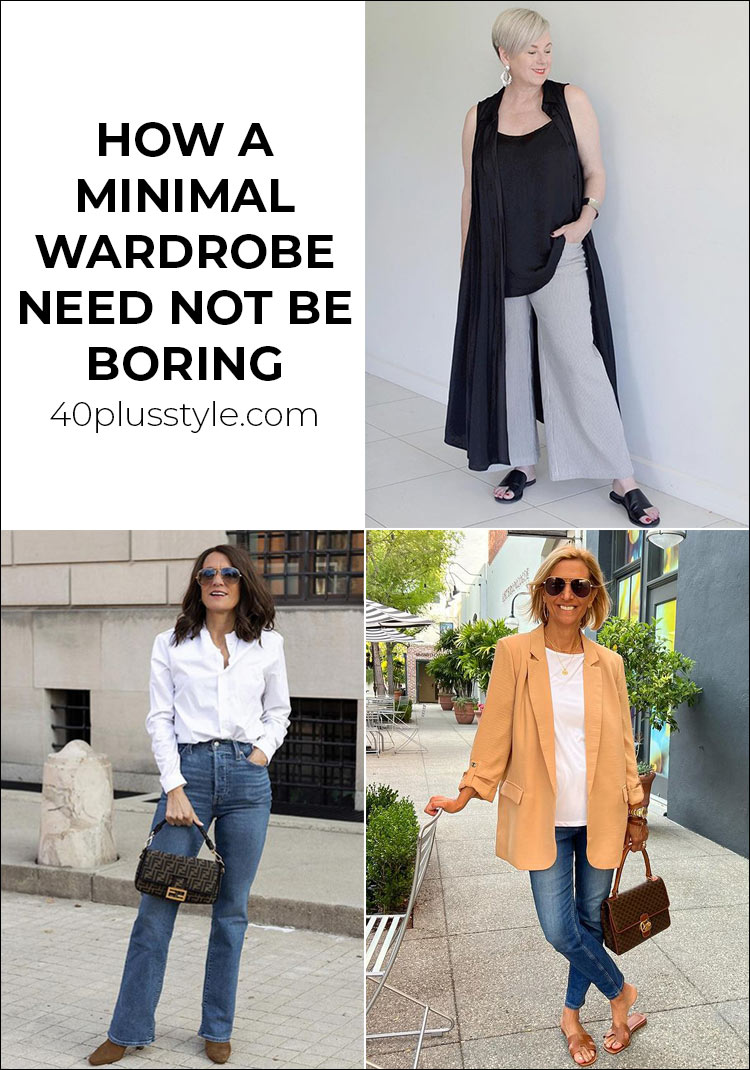 Feature image by Sylvia @sylviacolella
Want to get more articles from 40+style in your inbox, subscribe here.
You can also connect with 40+style on Facebook, Instagram or Pinterest.
Support 40+style by using the links in our articles to shop. As an associate for Amazon and many other brands, we receive a small commission (at no cost to you) on qualifying purchases which enables us to keep creating amazing free content for you. Thanks!