This is the last of the winter capsule wardrobe challenge articles, so I thought I would give you a complete overview of how versatile it can be.
These are just a sampling of the outfits that can be created with the pieces from my winter capsule wardrobe. 
The capsule can form the basis of a minimal wardrobe, now getting more and more popular.
I hope I have been able to show you that a minimal wardrobe need not be boring or monochromatic. If you are smart with your choices you can still wear lots of color and wear a variety of different silhouettes.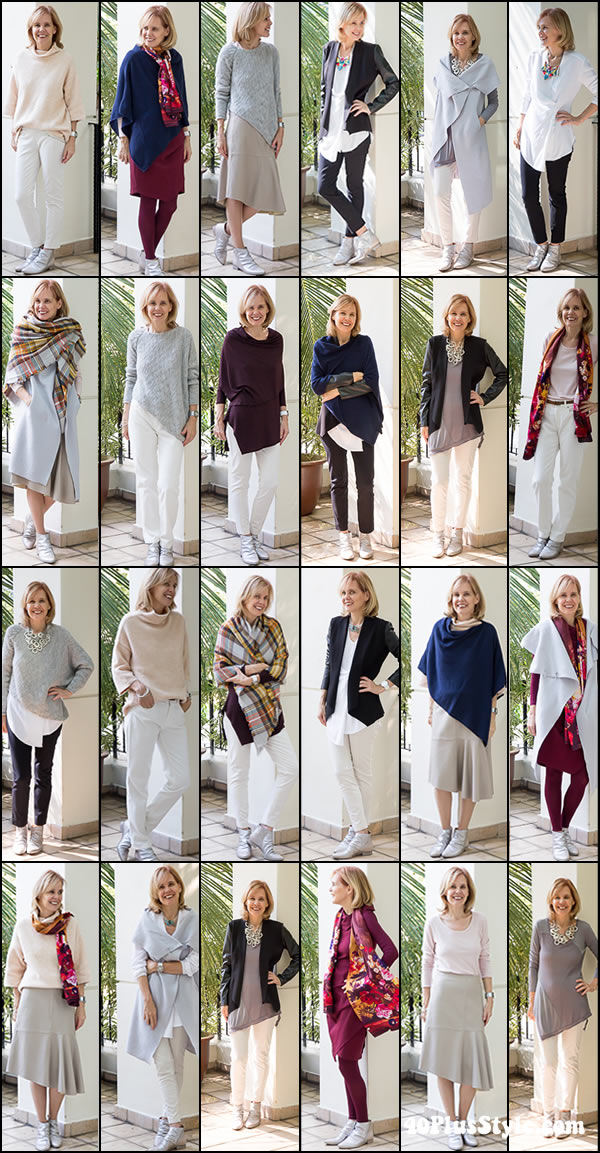 And here is how I wore these outfits with the coat!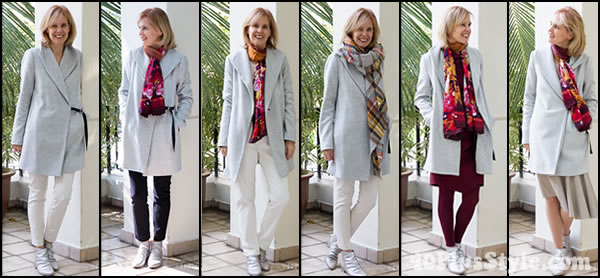 I was very sparse with the use of additonal accessories here, but I'm sure you have a variety of accessories already in your wardrobe that you could easily mix and match with the outfits of your capsule.
Also note the absence of blue jeans. Although I gravitate more towards lighter colored jeans, these outfits would all look great with blue jeans too.
The capsule star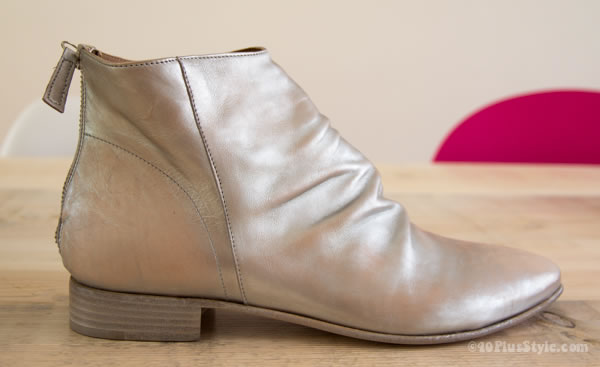 Did you notice that I wear the same shoes with all these outfits?
It's fair to say that my silver booties with brownish undertone have been the absolute star of this capsule! I loved wearing them with every outfit and they were also super comfortable. Some of you have asked where to buy them, but unfortunately I cannot find them online. I do offer a list of other great booties here.
Hopefully this illustrated to you that flat shoes can be worn with a variety of outfits and you can still look chic and modern with flat shoes.
Of course, I'm not saying that you would need to wear the same shoes with every outfit! On the contrary. It's fun to vary your shoes and you can often transform an outfit with a special pair. The skirt and dress outfits for example would probably look even nicer with heels.
What this exercize did illustrate though is that you do not necessarily NEED a lot of shoes. Again, choose wisely so your shoes can last the distance.
Thanks to all of you who participated in the challenge in the private members forum. I will share a few more of your outfits on my Facebook page.
Outfit details
White asymmetrical shirt: c/o Stella Carakasi.
Black Skinnies: Cos (old)
Gray asymmetrical sweater: c/o Stella Carakasi
Cream skinnies: Zara (old)
Peach sweater: Zara
Faux leather skirt: Zara
Black blazer: c/o Stella Carakasi
Brown layered top: c/o Stella Carakasi
Pink sweater: c/o Stella Carakasi
Blanket scarf: Zara
Silk scarf: present from Suzanne Carillo
Jewelry: a/o Suzanne Carillo and Jewelry to your Doorstep
Grey coat: Zara
Grey sleevesless long vest: c/o Stella Carakasi. Now also available in a winter version.
Dress: Porto c/o GetDressed2
Gray asymmetrical T-shirt: c/o Stella Carakasi
Cashmere blue poncho: Black.co.uk
Leggings (worn as tights): Uniqlo
Cream corduroy pants: Zara
Layering tops: Uniqlo
Shoes: Laura Bellariva
I would love your feedback!
Did you enjoy this capsule wardrobe series and challenge? Would you like to see more of this?
As I mentioned earlier I would like to develop some further courses and challenges for 40+Style and I would love to have your input as to what you would like to see here.
I  hope you can give me some feedback in the attached form (completely anonymous) so I can create the content you like and create a future style challenge or course that will be even more fun and educative!
Online contact and registration forms from
Wufoo
.
In the comments, please let me know which outfit is your absolute favorite from all the above?

Related posts: