Do you love the classic style looks of Audrey Hepburn, Kate Winslet or Princess Diana? They all have a classic style personality.
Many of the world's most recognizable beauties choose a classic wardrobe style and for good reason.
A classic wardrobe lasts, rarely goes out of style, and a few well-selected pieces can take you just about anywhere at any time.
How to be sure you have a classic style personality
Are you certain of your style? Do you know you have a classic style personality.
If you aren't 100% sure, you could try this fun style personality quiz. Most women find they have one main style personality but are drawn to elements of others.
Here are some other ways to determine if you have a classic style personality…
As a classic style personality you prefer timeless looks
While you are aware of the trends, you prefer classic looks which are totally timeless. The clothes, shoes and accessories you wear look stylish year after year.
Kim (above) looks fabulous in classic neutrals and pumps.
Get her look with this similar cardigan top, skirt, pumps, handbag, earrings and sunglasses.
You don't like throwaway fashion
You aren't one to hit the shops every weekend. You would rather have fewer, quality pieces in your closet that you know will last you for seasons.
If this sounds like you, you might also like to take a look at my article on how to do more with less.
You always look elegant and well put together
You aren't bothered about being the trendiest person in the room.
But you do always look elegant, refined and your outfits are well put together.
That's partly because your outfit choices suit any occasion and partly because you tend to gravitate towards well-cut pieces in good quality fabric.
Sarah (above) shows how a simple pair of jeans can be elevated with a blazer and neutral tones.
Recreate her outfit with this similar tee, blazer, jeans, booties, bag and necklace.
You tend to have classic colors in your closet
If I opened your closet, I would likely find a lot of neutrals, but you do like classic shades such as red.
You also like classic patterns like polka dots, leopard print and stripes. I'm unlikely to find more unusual hues such as orange or purple.
Also, if I were to take a peak into your wardrobe, I would probably see you have many of the items from my list of 28 essentials every woman over 40 should own.
Celebrities with a classic style personality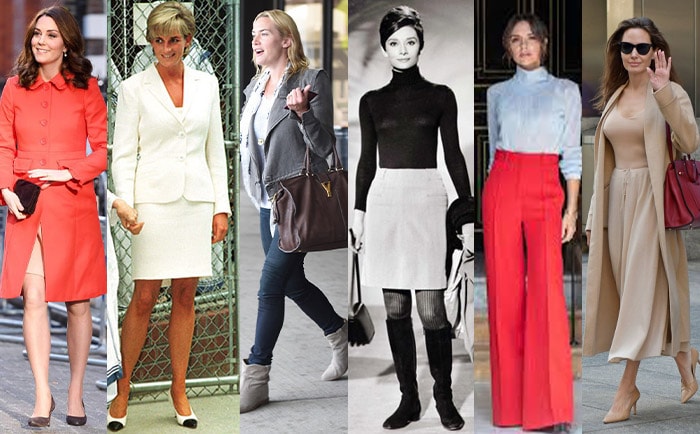 Are you drawn to the style of the celebrities above? If so, you are likely to have a classic style personality yourself.
Kate Middleton (who also loves some preppy styles), Princess Diana, Kate Winslet, Audrey Hepburn, Victoria Beckham and Angelina Jolie (although she combines elements of the minimal style personality) all have a classic style personality.
Here are tips on how to build your own classic capsule wardrobe
If you have a classic style and you really want to hone your closet, here's how.
You may also like to read our ultimate guide to creating a capsule wardrobe that works best for you.
Start with a neutral palette
Black, navy, gray or tan work as an anchor color to build your classic capsule wardrobe.
Choose wardrobe staples in one of these neutrals and build your capsule wardrobe from there.
Choose classic shapes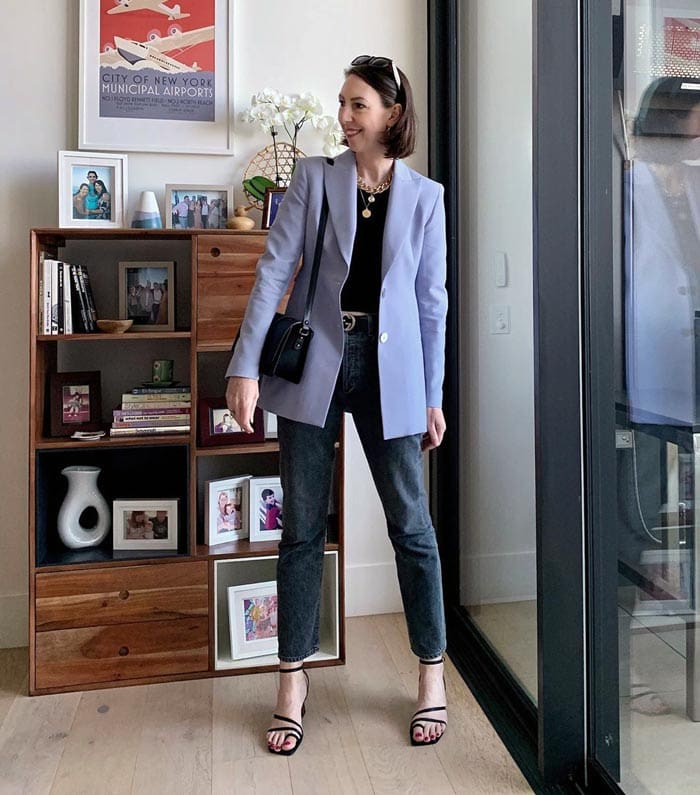 A classic capsule is built from tailored classics that flatter the body.
One of the best investments is a fitted blazer; a flattering style that works on just about any size or body shape.
Select a blazer style jacket in your chosen neutral shade.
Make sure the blazer buttons comfortably and doesn't pull across the bust line, and it's loose enough through the arms and back to allow ease of movement as well as allow you to comfortably layer a shirt or sweater underneath.
A stylish pair of cropped pants are another classic wardrobe staple. A flat front style with a side zip is flattering for most body types.
They work with flats, booties or heels, and can transition easily from daytime to evening with a simple change of jewelry or shoes.
Sally (above) opts for a perfectly fitting blazer with classic straight leg jeans.
Recreate her look with this similar tank top, blazer, jeans, sandals, bag and necklace.
Choose fabrics that can work year round
If you're a classic style personality, I'm sure you agree with me when I talk about why I have a problem wearing synthetic fabrics.
A crisp cotton poplin shirt can be worn knotted with a pair of cropped pants for summer, or worn underneath a sweater and jacket for fall.
A cashmere or lightweight wool sweater can work during winter months when layered with other shirts and jackets.
Invest in a few high quality timeless pieces
It may actually save money in the long run to invest in a few well made pieces that will work for years to come.
A leather or suede jacket in a classic shape, a wool overcoat, trench coat and merino or cashmere wool sweaters are all pieces that will stand the test of time.
Patricia (above) shows off an outfit that you could wear year after year.
Steal her look with this similar shirt, cardigan, pants, booties, necklace and sunglasses.
A capsule wardrobe for the classic fashion personality
Now that you are thinking about your style and what will work best for your every day outfits, you will find all the tops, bottoms, shoes and accessories below that the classic style personality needs to build a capsule closet.
The classic style capsule below has been especially updated for spring and summer 2020.
Tops with a classic look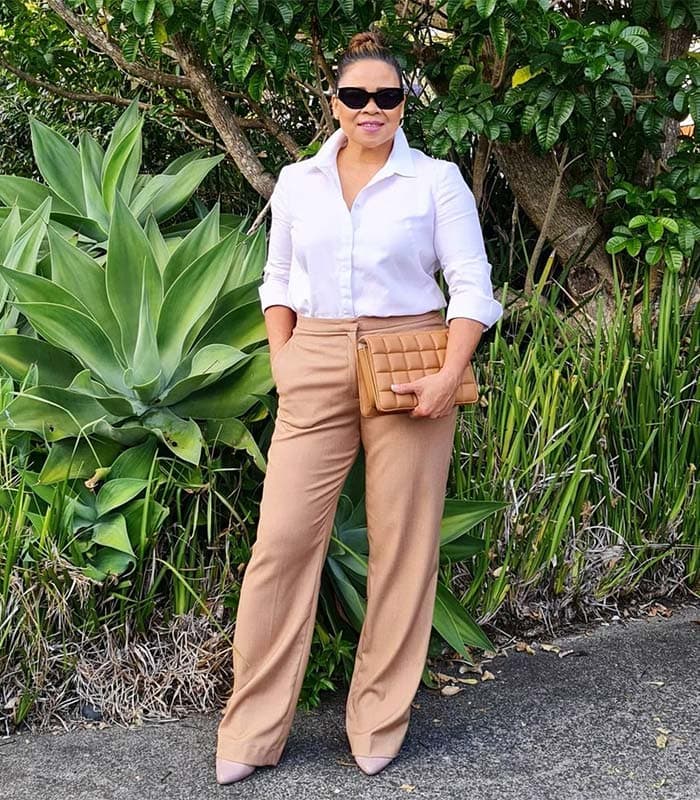 Start with a classic white shirt that you can layer underneath jackets and sweaters.
Add a silk blouse that can be dressed up with slacks or worn with jeans for a more casual look.
Choose a cashmere or quality wool sweater and think about patterns which won't date when choosing tops and blouses.
When selecting knits, select styles that are not too clingy, especially if you tend to carry weight in your stomach area.
A longer cardigan sweater can help camouflage a tummy area without clinging, and cover your arms when wearing a sleeveless top or dress.
If you carry weight around your hips, avoid sweaters that hit above your hip, which can draw attention to that area and make you appear fuller.
Sweaters that fall at or below mid hip work well on most women and flatter lots of body types.
Lisa (above) wears a classic white shirt with her beige pants. She adds an on-trend element to her outfit with her padded bag.
Recreate her outfit with this similar shirt, pants, pumps, bag and sunglasses.
Frank & Eileen cotton shirt – Nordstrom V-neck shirt – Zeagoo cross-front V-neck ruched cap sleeve blouse – Boden cap sleeve top
Jackets and coats to add to your classic clothing capsule
Make sure the jacket fits properly, but not too snug.
Jacket and coat styles to give you a classic look include a blazer, trench and moto jacket.
Adaline (above) chooses a black dress and a denim jacket for an outfit that will never go out of style. She adds an element of fun with her print sandals.
Check out this similar dress, denim jacket, sandals (exact pair here) and tote.
Anne Klein peaked lapel blazer – AG denim jacket – Lyssé faux suede moto jacket – Club Monaco trench coat
Pants and Jeans for classic fashion style
When selecting pants and jeans think about shapes, shades and patterns that won't date.
While you may find that skinny jeans are "in" one season and "out" the next, a pair of bootcut jeans will stand the test of time.
You could also add black pants, white jeans and a pair of pants in a subtle pattern such as a check, polka dot or stripe.
Mo (above) opts for white, straight leg pants with her blue shirt.
Get her look with this similar shirt, pants, sandals, handbag and sunglasses.
Vigoss bootcut jeans – Hue denim skimmer leggings – Eileen Fisher straight leg linen pants – Club Monaco slim pants
Dresses and Skirts to create classic outfits
Invest in a classic dress. A sheath or wrap style are both classic shapes that will quickly become wardrobe staples.
Pair with heels for work or dressy events and tights paired with booties for more casual days.
Select skirts in a length that flatters you best (an inch or two above the knee is flattering for most women). Stay away from anything too tight or too baggy.
Monika (above) shows that a little red dress can be just as classic as a little black dress.
Check out these red dress from Vince Camuto, LIKELY and Amazon, and wear with this similar pair of ankle strap pumps.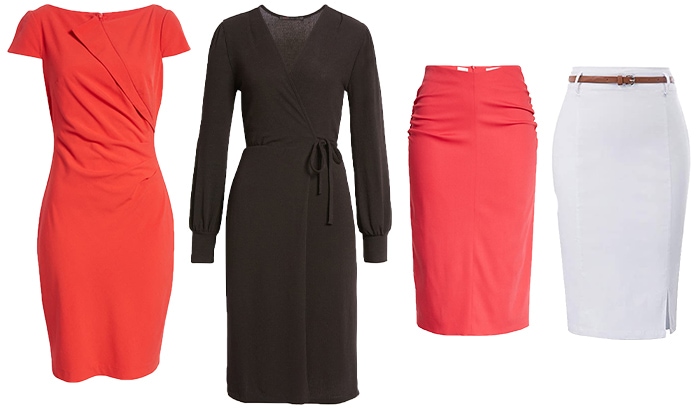 Vince Camuto sheath dress – Fraiche by J wrap midi dress – BOSS ruched skirt – Kate Kasin pencil skirt
Shoes to go with your classic style clothing
As with your clothes, you will want to make sure that your shoes are classic, timeless and versatile.
A pair of classic heels, some black booties and some flats, including a pair of classic white sneakers, should take you through most situations.
@ageingdisgracefully (above) opts for a pair of loafers, which manage to be both classic and on-trend at the same time.
Steal her look with this similar tee, jeans, jacket, loafers, bag, belt and necklace.
Tory Burch ballet flat – Trotters pointed toe loafer – Trotters pump – Superga sneaker
Accessories to add to your classic wear
Add color to your classic capsule wardrobe with tops, jewelry and accessories. Or layer other neutrals to add texture and interest.
Pair your basics with statement necklaces, scarves and bold accessories to add emphasis and personality.
Kay (above) pairs a scarf and rattan bag with her jumpsuit look in an outfit that merges elements of the classic and natural style personality.
She is wearing a dress and scarf from J.Jill, denim jacket from Levi's, sandals from Talbots, handbag from Brighton and sunglasses from Tory Burch.
Kurt Geiger London leather tote – Nordstrom clasp minaudière – Petit Moments hoop earrings – Nordstrom stud earrings – Kate Spade New York pendant necklace – Kate Spade New York stripe oblong scarf
Stores and brands for the classic style personality
Where do you like to shop if you are a classic style personality? Don't forget to tell me in the comments below. Here are some of my own favorites.
Here are 9 looks created from these classic wardrobe choices
Below you can see many of the separates shown above put together in one capsule wardrobe for spring and summer. You could easily mix and match to create countless different outfits.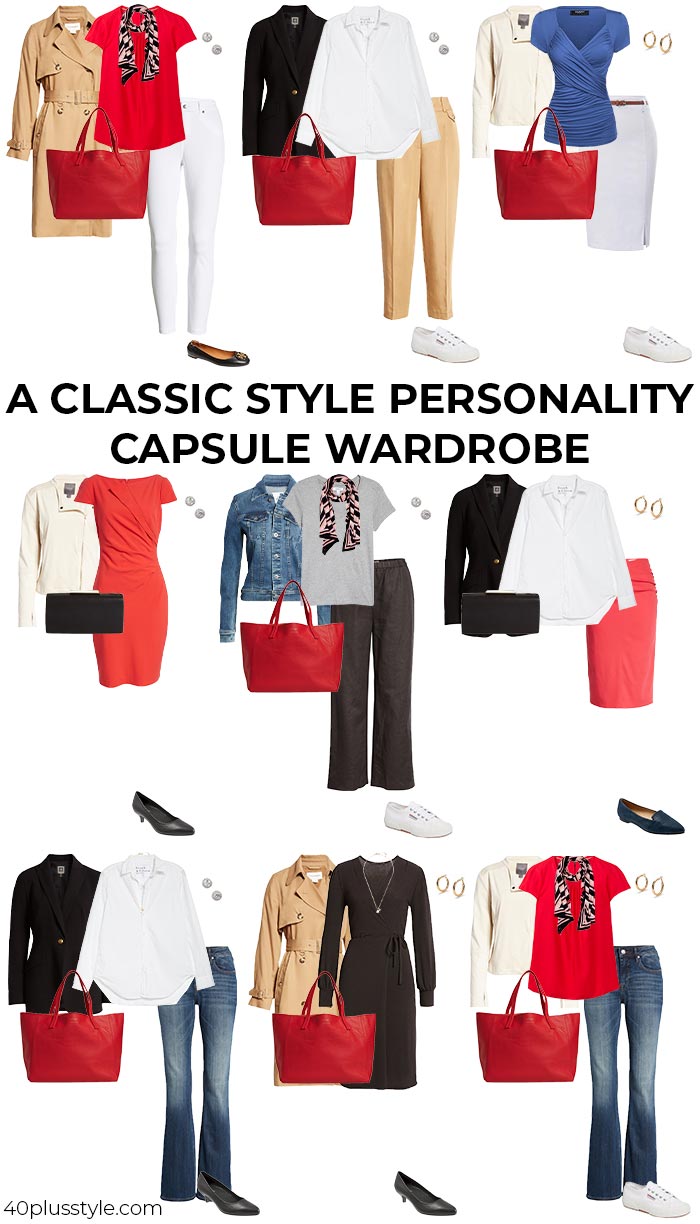 shop all items above here:

More classic style inspiration for you
Below is an earlier capsule I created. You can see I've been drawn to classic shades of blue, red and white. While the items are past season, they may still provide you with inspiration as they are all so timeless.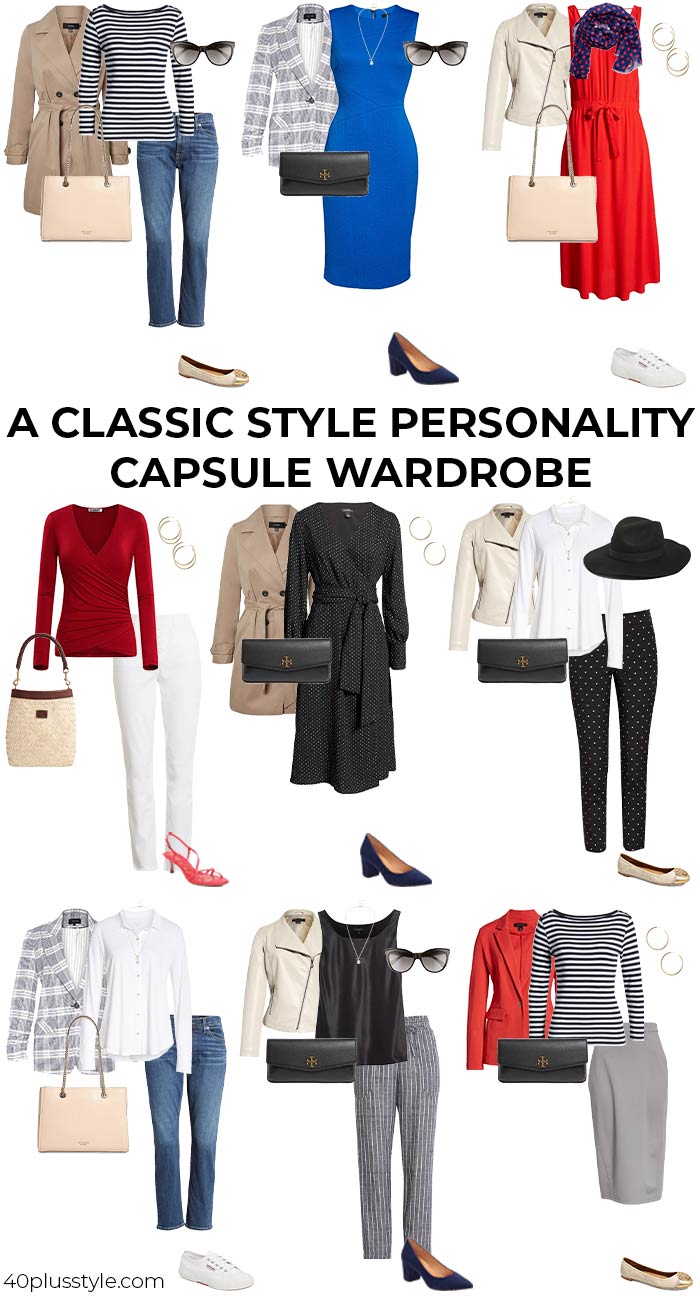 While the capsule below is from previous seasons, you may also like to take inspiration from the looks here: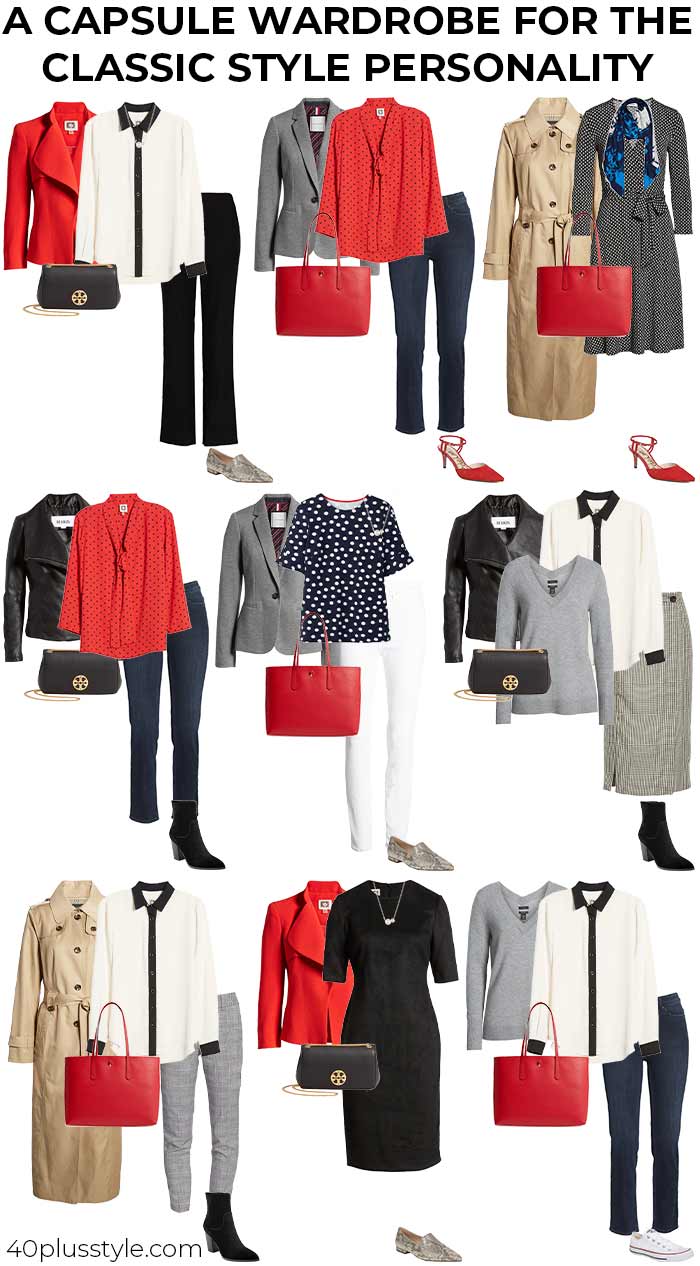 A well designed classic capsule wardrobe will make you feel pulled together, chic and confident, and will make getting dressed easy and stress free.
Further reading:
Do you have a classic style personality? What are your go-to pieces?
Like this post on the classic style personality? Share it on Pinterest!
Feature image by Kay
Want to get more articles from 40+style in your inbox, subscribe here.
You can also connect with 40+style on Facebook, Instagram or Pinterest.
Support 40+style by using the links in our articles to shop. As an associate for Amazon and many other brands, we receive a small commission (at no cost to you) on qualifying purchases which enables us to keep creating amazing free content for you. Thanks!