I focus a lot on 'regular' clothing on 40+Style. However, for many of us, myself included, sport and fitness is an important part of their daily routine. Style shouldn't step as soon as you enter the fitness room so today we will look at some great fitness clothes for women over 40.
With many of us making a New Year's resolution to get fitter, healthier and stronger during 2019, it's the perfect time to think about fitness clothing.
If you feel good about what you're wearing before you hit the gym, take to the courts, hop on your bike, go for a hike, or whatever your exercise of choice is, you're much more likely to feel motivated once you start your workout.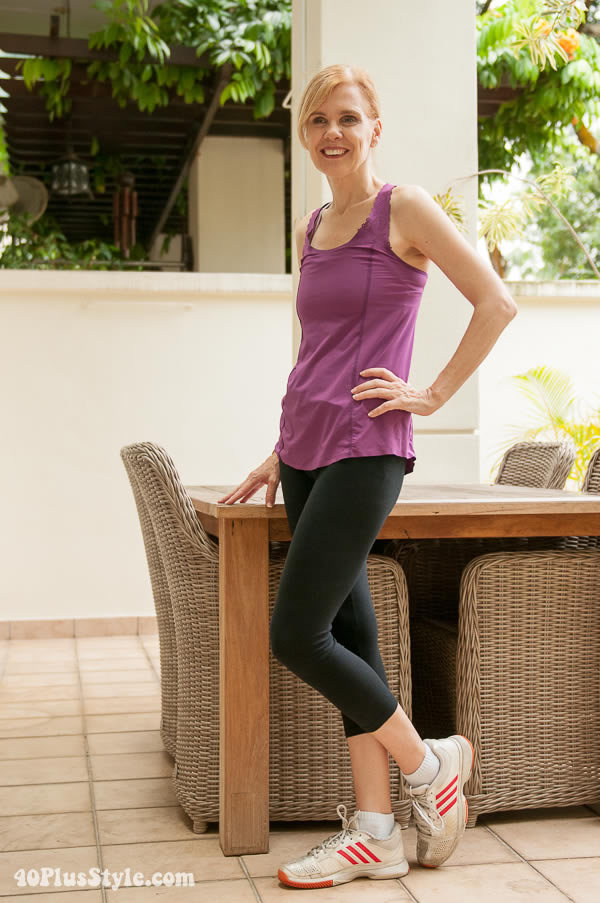 What is important in fitness clothes?
Here is what I personally find important in fitness clothes.
1. Fitness clothes need to be comfortable
This is very important as these clothes have a clear function. It's hard to focus on your workout or yoga session when your clothes are too tight. I personally find that many inbuilt bras are too tight and stop me from being comfortable. For that reason, I often choose tops with inbuilt bras 1 or 2 sizes up. They still give enough support but not are not so tight that they prevent me from breathing properly.
2. Light fabrics that are specially created for sports are often better
Although I dislike synthetic fabrics, fabrics especially created for sports often perform better than cotton. They do a better job at keeping you cool.
3. Choose tops that match your climate
As I live in Singapore, I have very open tops. In colder climates, I would choose more coverage.
For my tennis clothes I now always use covered tops during the day to protect me from the sun, while I choose open tops for the evening.
I don't need a coverup here, but would definitely have one in a cooler climate. Make sure that you have one or two that match your outfits.
4. Mix and match as much with fitness clothes as your other clothes
Although I sometimes buy 'sets'. I find it a lot more fun to buy tops and bottoms that I can mix and match with each other. Even if I do buy a set, I will often wear the top or bottom with something else.
If you're just starting out, or getting back into, your fitness journey, you could always start by buying two or three full outfits. Then you will be able to create different combinations.
5. Pay special attention to your underwear!
Hugely important! If you wear pants in stretchy fabrics you can clearly see the outline of your panties. Choose superthin seamless underpants that are invisible. Although you can wear g-strings too, they often create very defined buttocks and I personally don't like the look of that.
6. Make sure your pants are not sheer!
Leggings can be quite sheer and in clear light you can see everything. Be sure to choose a fabric that is not sheer to avoid this.
7. Think about the type of workout you'll be doing.
You will need, for example, tightly-fitting clothes if you are doing yoga, so that your top doesn't ride up while doing the downward dog! But, you will have greater flexibility in what you wear if you are heading for a run or a brisk walk.
8. Durability
You may wish to spend more than you would on a pair of leggings for your workouts as your fitness clothing needs to retain its shape and have durability. You will be putting it through its paces as you bend, stretch or run, and you'll also be washing it after every workout.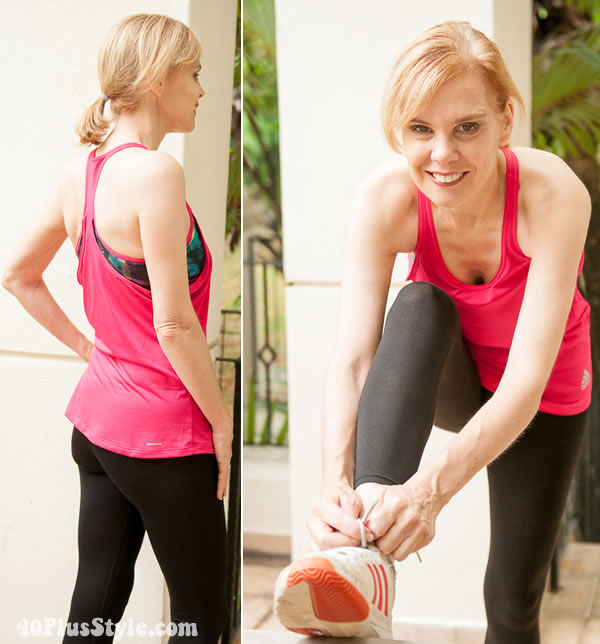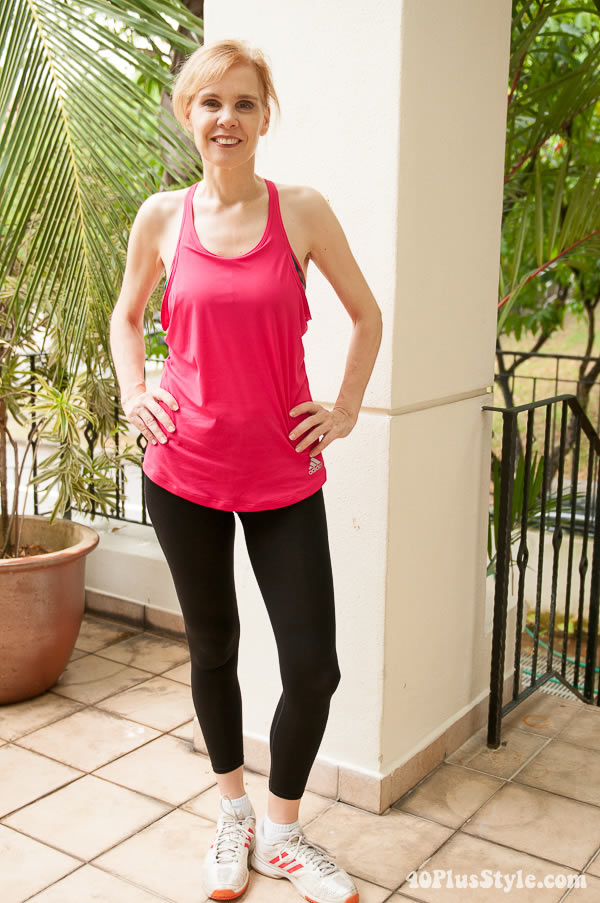 You can opt for a looser style in pants or a choose a leggings style. In the past, I personally always opted for wider options until I recently embraced close fitted leggings. Now I prefer the look of those and they are super practical for both yoga and fitness classes.
I like my neutrals just as much as brighter colors. If you normally don't choose a bright color for your clothes, you may want to give it a go for your fitness class and have some fun with color!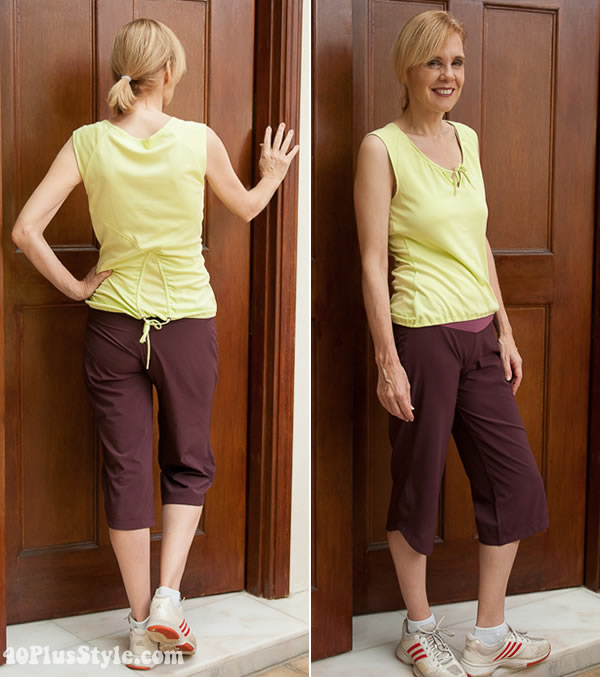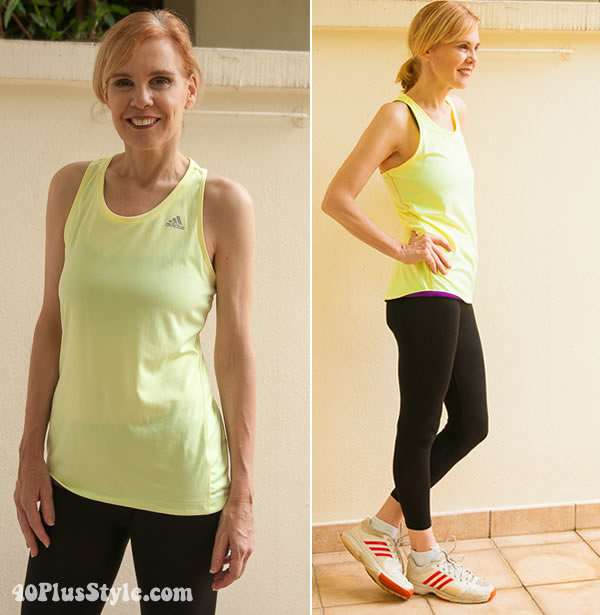 I never really match my shoes to my outfits as may be clear from these photos. I'm actually due for a new pair of trainers as I tend to use these for everything, both fitness and tennis which is a bit silly.
Here are some of the sneakers I have my eye on. If you're looking for sneakers for everyday casual wear rather than sportswear, you may also want to take a look at this piece on sneaker styles.
But I always make sure I feel good in the fitness clothes I wear and will mix and match as much as with my regular clothes. I suggest you do too!
Some of my favorite brands include Lululemon, Adidas and especially Stella McCartney for Adidas, although the latter is featured more with my tennis clothes and yoga clothes.
Here are some of the best pieces from Stella McCartney for Adidas. Stella can definitely be pricier than some workout options, but I think it's a good investment as you feel great wearing her pieces. Plus, workout wear doesn't go out of style in the same way as some everyday trends can.

Also, if you tend to head straight to a fitness class from work, or like to fit in running or tennis while on the go, you might want to invest in a bag especially for your fitness clothes, so you always have them with you. Here are some of my favorites.

Do you pay attention to your fitness clothes? What do you like to wear?

Want to get more articles from 40+style in your inbox, subscribe here.
You can also connect with 40+style on Facebook, Instagram or Pinterest.
Support 40+style by using the links in our articles to shop. As an associate for Amazon and many other brands, we receive a small commission (at no cost to you) on qualifying purchases which enables us to keep creating amazing free content for you. Thanks!