No one wants their underwear on display – well, unless you're Kim Kardashian, of course. But, how do you avoid visible panty lines, particularly if you don't want to wear a thong under your clothing? Take a look below at the best no show underwear that you can wear under everything in your closet.
You'll find choices that won't show even under your leggings or tight clothing.
What causes panty lines?
So, why do you get panty lines in the first place. Well, it tends to be the result of wearing underwear with heavy seams, combined with tight or thin clothing. The seams dig into your butt, creating an indentation and making it obvious what underwear you are wearing.
Why you want to avoid panty lines
Having a VPL, or visible panty line, can emphasize a lack of firmness, but can also create an unflattering appearance for even the pertest of posteriors.
Three choices to avoid visible panty lines
When making sure that the lines of your underwear aren't visible under your jeans, skirt or whatever you happen to be wearing, there are really three main choices available to you.
You could opt for a thong so that you can't see any visible seams across your derriére. Or, if you find thongs uncomfortable to wear, you could choose to wear a fuller, smooth brief. I've concentrated on fuller briefs, but his article gives you options for both so you can choose what works best for you.
The other option is, of course, to think about what you are wearing on top. Thicker fabrics, and patterns or prints will help to disguise any panty lines. Or wear a longer top. For instance, wearing a tunic over your leggings means you won't be able to see any underwear lines, no matter what underwear you are wearing.
How to avoid panty lines
Whatever your underwear preference, make sure you get panties that fit. Too tight, and you can find that your panties dig in, creating an appearance of excess skin where the seams are. Too loose, and the extra material could exacerbate the VPL.
What color to choose for your no show underwear
Depending on your outfit, you could potentially choose any color at all and it won't show through. But, if you are wearing lighter colors, the best color to wear is nude. Choose panties as close to your skintone as you can find.
The best no show underwear
Now, let's take a look at some of the most recommended no show underwear for you to choose.
Women's seamless underwear: SPANX Undie-tectable
SPANX is obviously well-known for their longer-length shapewear. However, the Undie-techtable panties (below) are a good everyday option to huge your tummy while making sure you have no visible panty lines.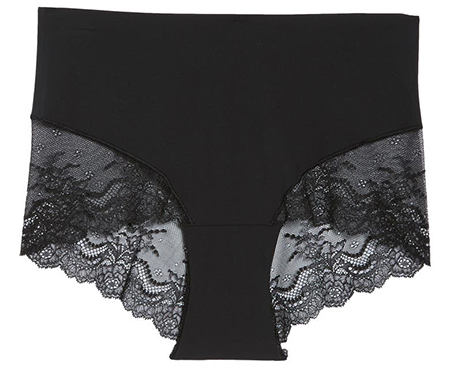 SPANX Undie-tectable Lace Hi-Hipster Panties
Invisible underwear: Seamless hipster panties by Commando
You don't actually have to go commando to make sure you don't have underwear seams on show! The Commando hipster panties (below) have a seamless construction and raw-cut edges to make sure you get a line-free look. Reviewers say they stay in place and don't show under jeans or leggings.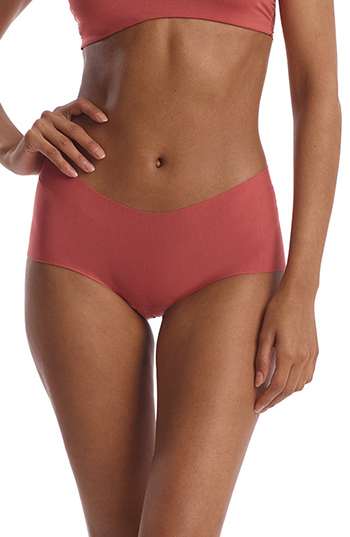 No show panties: Wacoal hipster panties
Flattering and super comfortable, Wacoal's b.bare panties are super soft and won't give you a muffin top. Reviewers say they lay perfectly flat.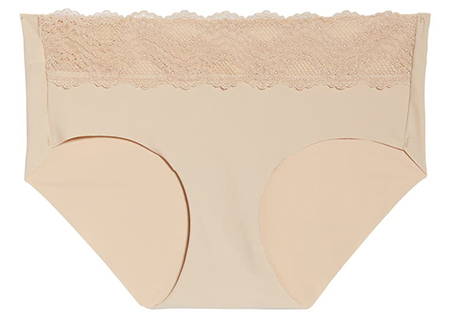 b.tempt'd by Wacoal b.bare Hipster Panties
SOMA vanishing edge
A reader's favorite, Soma Vanishing Edge is a microfibre hipster that comes in a large variety of colors.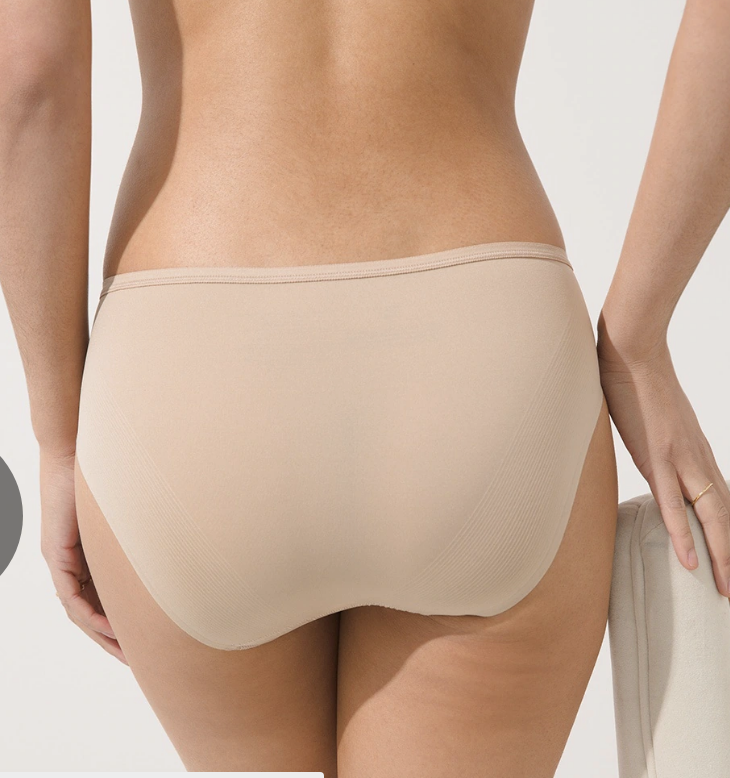 soma Vanishing Tummy
If you want to hide some extra help in hiding your tummy as well then the Soma Vanishing tummy retro brief is a good choice. It's both functional AND beautiful.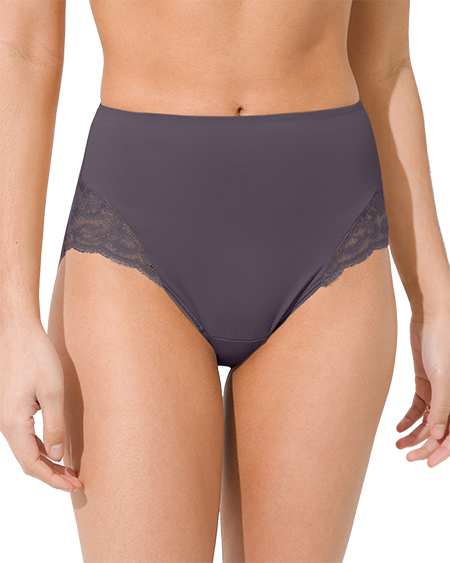 SOMA Vanishing Tummy Retro Brief With Lace
Chantelle Lingerie seamless hipster panties
Another good hipster choice is the Chantelle seamless hipster panties which come in a wide range of colors. Reviewers say they have worn them under everything without any seams showing.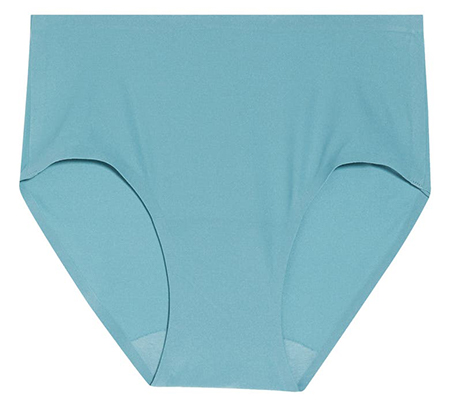 Chantelle Lingerie Soft Stretch Seamless Hipster Panties
On Gossamer mesh bikini briefs
Ultra light, low rise and gossamer thin, On Gossamer's bikinis come in a pack of three. Reviewers said they have swapped their thongs for these as they don't show through their clothes.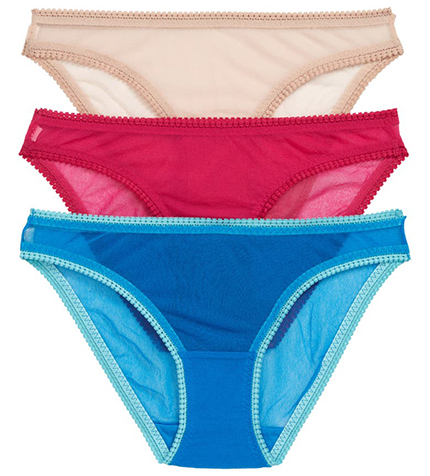 On Gossamer 3-Pack Mesh Hip Bikinis
Hanro seamless briefs
If you like to wear cotton because you like the feel of natural fabrics against your skin, You could try the high-cut briefs from Hanro (below).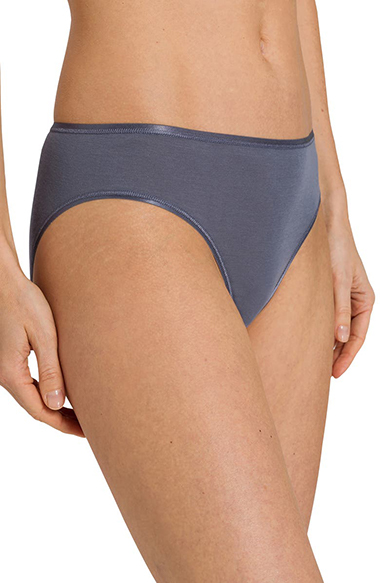 Hanro Seamless Cotton High Cut Briefs
Fruit of the Loom
If you are looking to replace a number of your panties at one time, you may prefer to choose a pack rather than purchasing individually. The Fruit of the Loom panties (below) from Amazon have very good reviews with women saying they provide plenty of coverage without looking frumpy.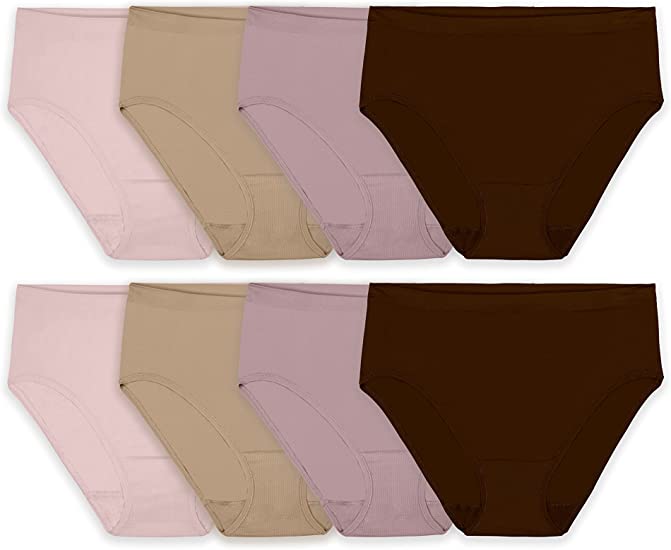 Fruit of the Loom Seamless Underwear
Underwear for leggings: ALTHEANRAY
Another choice for a pack of panties, but this time in more muted colors, the seamless panties (below) don't ride up. Many reviewers say they are the perfect workout panties.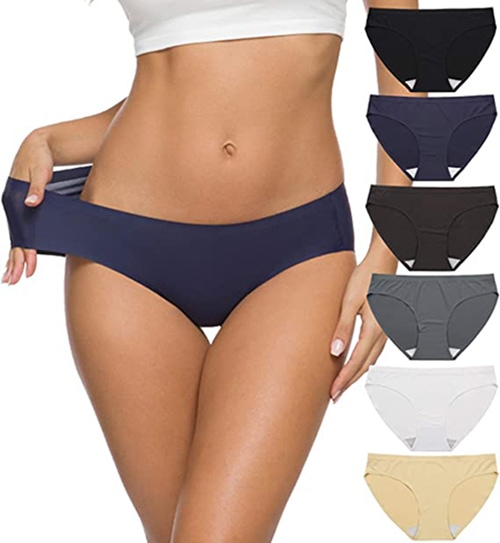 ALTHEANRAY seamless no show panties
Calvin Klein invisible panties
Calvin Klein is well known for its minimal styling and its panties are no exception. Plain, simple and stylish, they won't show up under your clothing.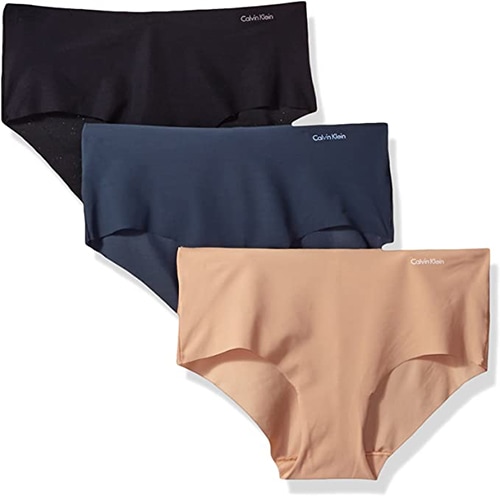 Calvin Klein Invisibles Seamless Hipster Panties
Alyce Intimates laser cut panties
Looking out for laser-cut panties can be a good way to ensure that your panties won't show under your clothing. As you can see (below), the Alyce Intimates panties from Amazon come in a huge choice of colors, so you can definitely have a pair for every day of the week (and more).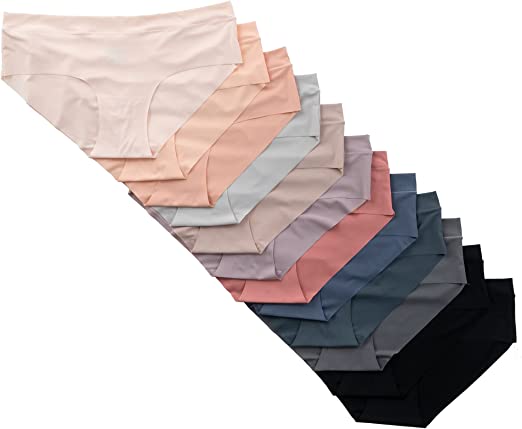 Alyce Intimates Laser Cut Bikinis
COSOMALL invisible panties
The COSOMALL underwear (below) are well rated with women saying they feel "barely there".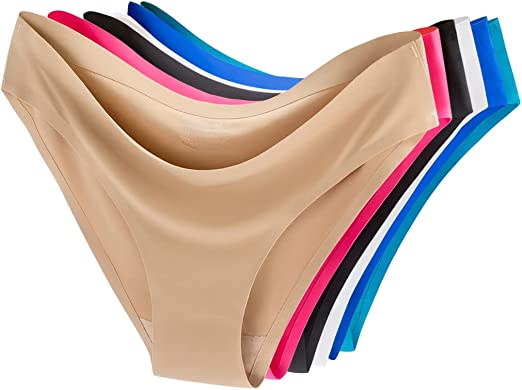 amazon essentials no-show underwear
Another minimal choice for you, the seamless hipster panties (below) from Amazon Essentials are comfortable, stretchy and smooth, and would be a good choice for wearing day-to-day. Reviewers particularly liked the fact they are mid-rise so they are not too low and not too high.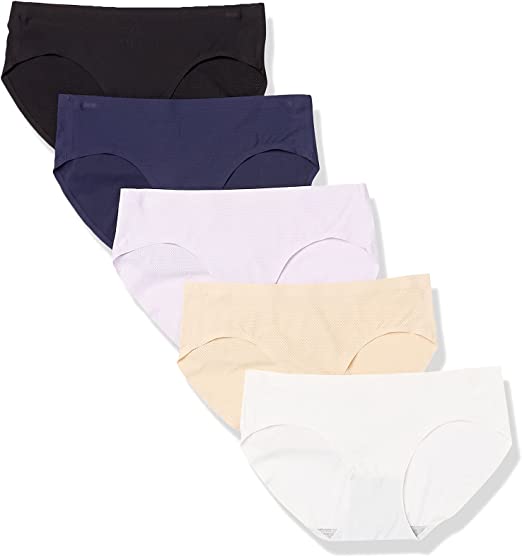 Amazon Essentials Seamless/No Show Panties
Anzermix
Reviewers say the laser-cut panties (below) fit like a second skin. Good for working out, you should find you are free of visible panty lines, even if you are wearing leggings.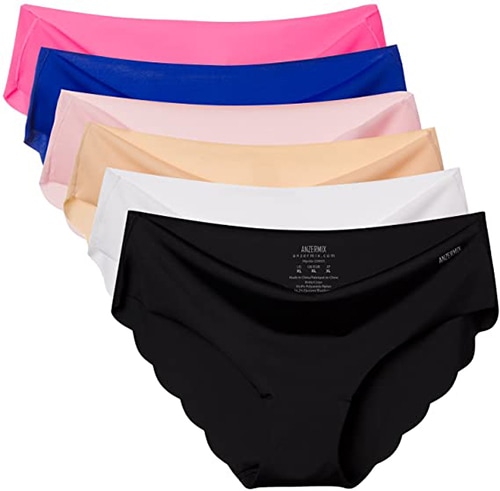 Anzermix Seamless Laser Cut Panties
Areke
With great reviews, the Areke hipster panties (below) have 4.6 stars out of 5 on Amazon. Women say they offer comfy coverage without showing through jeans.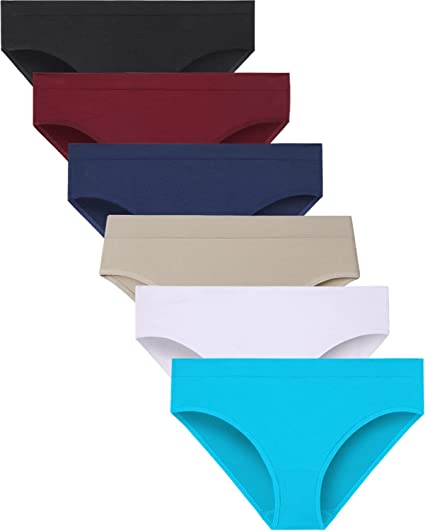 Areke Seamless Hipster Panties
Wealurre seamless panties
Laser cut and breathable, Wealurre's panties (below) offer a smooth look below clothes. Reviewers say they look good under leggings and don't chafe, making them a good option for running or working out.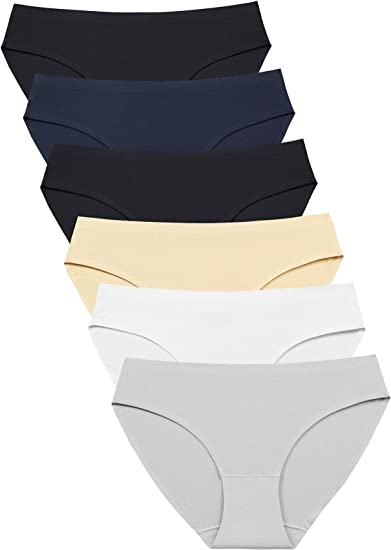 Wealurre Breathable Spandex Panties
R RUXIA seamless panties
While the panties by R RUXIA (below) look smaller than other options on the list, reviewers say they fit well once they are actually on. They wick moisture away from the skin, while the gusset area is made from cotton for added comfort.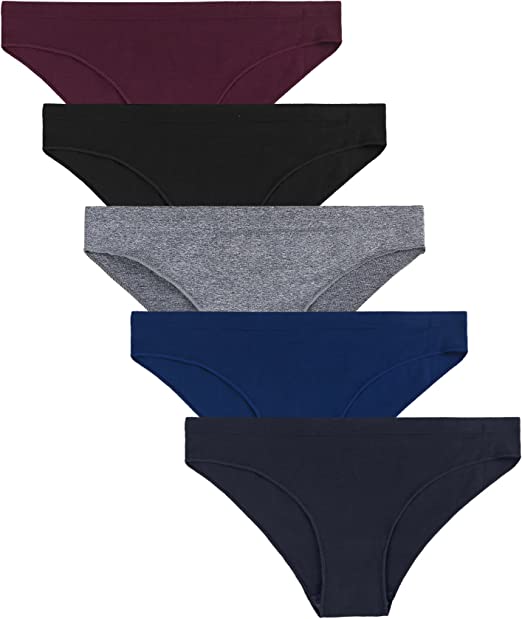 R RUXIA Seamless Low-Rise Panties
Jockey women's panties
Jockey is particularly well known for creating basics with clean, simple lines. The Jockey no panty line bikini briefs (below) come in a very wide range of colors and patterns. Reviewers say they have a silky, comfortable fit.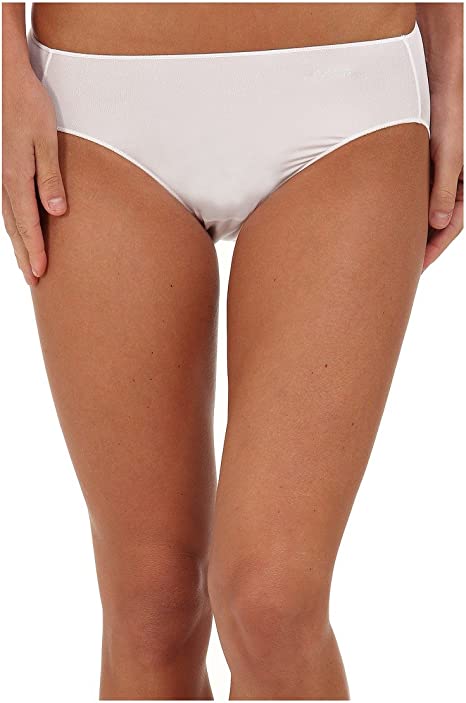 Jockey No Panty Line Promise Tactel Bikini
high waist brief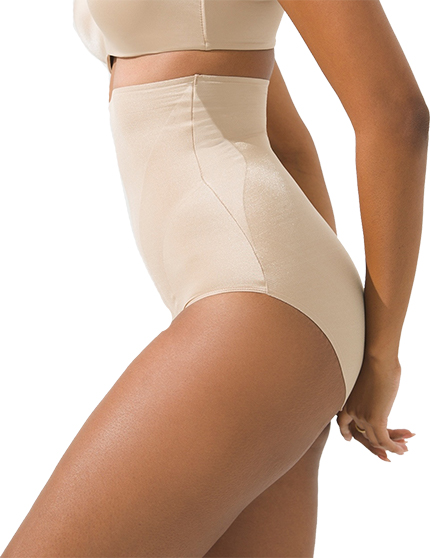 Soma Vanishing Edge High Waist Brief
Boyshort panties for women
As well as fuller briefs, you could also think about boy shorts. As these provide more coverage across your bottom, it can help to ensure you don't get panty lines where you don't want them.
Alyce Intimates boyshorts
The Alyce Intimates boyshorts (below) have largely good reviews from Amazon with most reviewers saying they are comfortable and they don't roll up while wearing.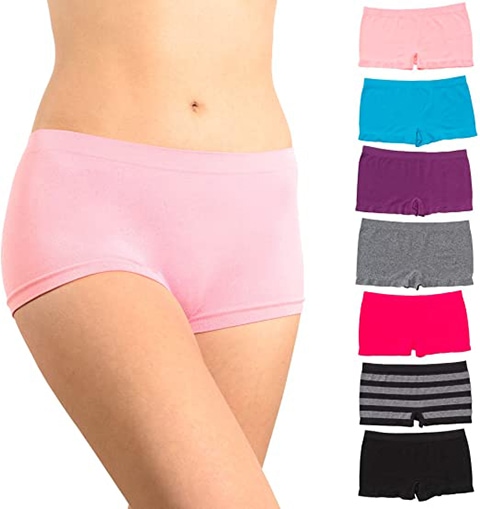 Alyce Intimates Seamless No Show Boyshort Panties
Ruxia boyshort panties
If you'd prefer darker colors, but still want to make sure that you have a seamless look under your clothing, Ruxia's boyshorts (below) could be a good choice. Reviewers say they are soft, have a lot of stretch, and also make great pajama shorts during the summer months.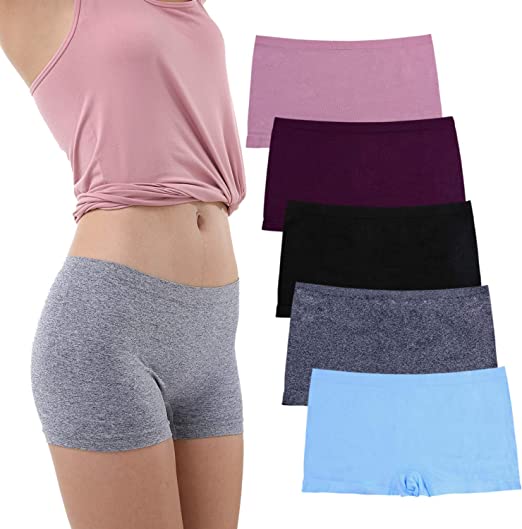 Ruxia Seamless Boyshort Panties
No show underwear: Thongs
Of course, if you don't want visible panty lines, a thong is always a reliable option. However, many thongs can be uncomfortable. You could try one of the choices below…
CHANTELLE LINGERIE
Plain, simple and comfortable, the thong by Chantelle Lingerie (below) sit at the hips and have minimal coverage at the back. They have 5* reviews on Nordstrom with women saying they wish they had ordered more.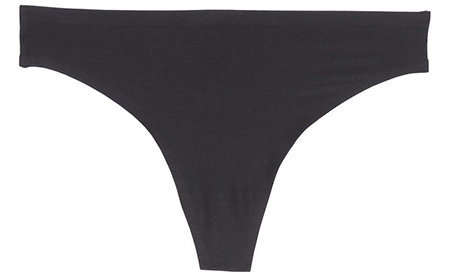 Chantelle Lingerie Soft Stretch Thong
b.temptd by Wacoal b.bare thong
You can still add a little bit of lace and make sure you don't have VPLs. The Wacoal thong (below) features lacey sides and no panty lines.
b.tempt'd by Wacoal b.bare Thong
Natori
Natori's thongs are designed to disappear underneath clothing, with smooth lace waistbands. Reviewers say they wear and wash well, and are incredibly comfortable.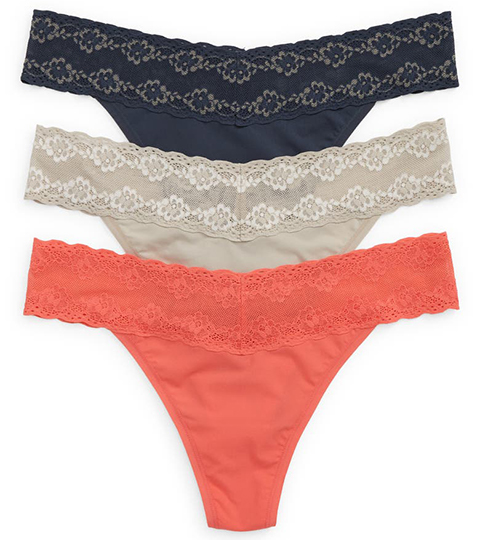 Natori Bliss Perfection Lace Trim Thong
Yummie
If you want to ensure you have no panty lines, while adding some tummy control, you could try the Yummie panties (below).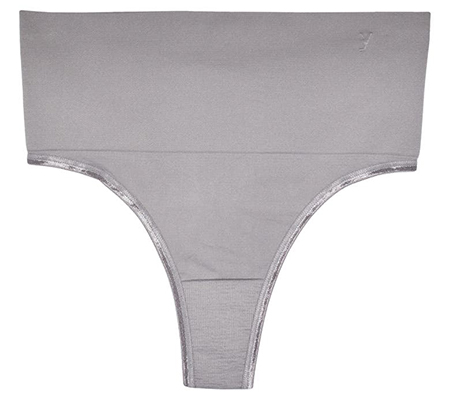 Yummie Ultralight Seamless Shaping Thong
Shapewear
Shapewear can also be a good way to hide any VPL. Choose a pair of shorts and these will streamline your figure as well as making sure there aren't any obvious lines under your outfit.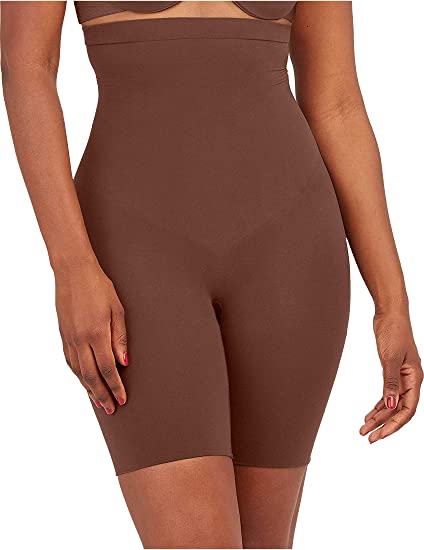 Check out our article on the best shapewear for women.
If you really want to be daring!
Ever wondered how celebrities wear those dresses with incredibly high thigh splits, well they're probably wearing a stick-on thong like the one below.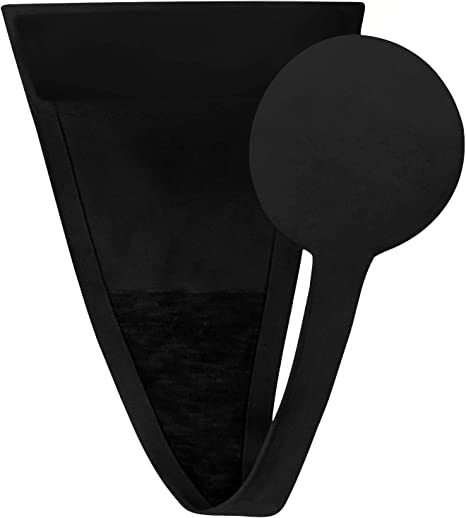 Silicone Valley Reusable Self Adhesive Sideless Thong
What to avoid
While cotton panties are good in so many ways – they're breathable, moisture-wicking, and comfortable – they do tend to have obvious seams that show up under your clothing. So you might want to save your cotton panties for under thicker or looser clothing.
What are your favorite no-show underwear brands? I'd love to know. You can let me know your recommendations in the comments below.
Continue reading:
The Best Camisoles For Women Over 40– Which Brands To Buy, How To Wear Them And The Best Shaping Camisoles
Like this post on the best no show underwear? Share it on Pinterest!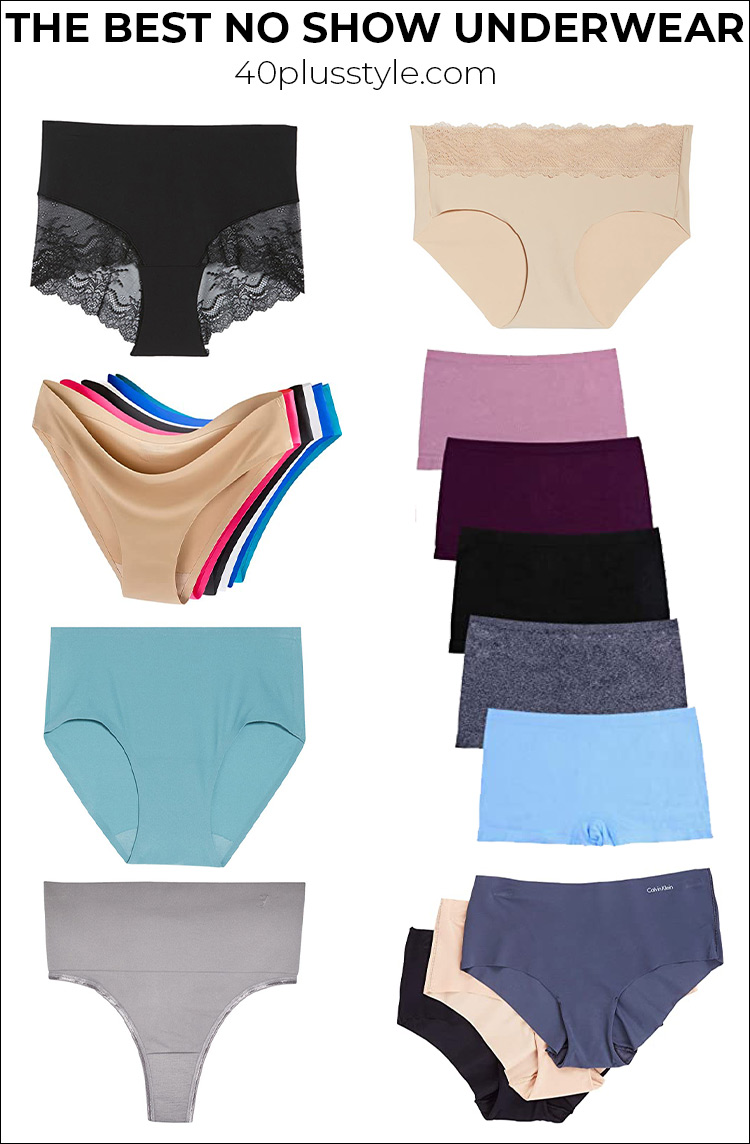 Want to get more articles from 40+style in your inbox, subscribe here.
You can also connect with 40+style on Facebook, Instagram or Pinterest.
Support 40+style by using the links in our articles to shop. As an associate for Amazon and many other brands, we receive a small commission (at no cost to you) on qualifying purchases which enables us to keep creating amazing free content for you. Thanks!