Boardrooms, presentations, and meetings do not have to be a denim free zone.
If you like wearing jeans, you will love our tips on how to wear jeans to work.
Quite a number of offices have, at a minimum, a casual Friday where wearing jeans is encouraged.
More and more offices, however, are embracing the spirit of permitting their employees to wear jeans to work almost every day.
There is a catch. In most cases you are still expected to look like a professional despite the casual allure of denim.
You can also check our tips on how to wear jeans over 40 in general.
Jeans for work
In this post, we show you how to wear jeans in a professional (and stylish) manner without looking like you're leading a meeting wearing your leisure Sunday best.
Are jeans business casual?
A business casual dress code may sound like a dream as you get to wear more casual pieces to the office.
But, it can just lead to confusion as what is acceptable varies from job to job and workplace to workplace.
One thing is clear is that business casual doesn't mean wearing a t-shirt, sneakers and jeans. Nor does it mean a full, matching suit and high heels.
Instead, business casual attire for women falls somewhere between.
I think, depending on where you work, you can definitely wear jeans in a way to meet the business casual dress code.
5 quick rules for wearing jeans to work
If you want to wear jeans to work, keep these guidelines in mind.
1. A darker rinse looks more professional
A darker rinse jean is considered to be the standard for a more professional denim look.
Denim with a lighter wash is considered to carry a more casual tone that might not be suitable for all offices.
Choose darker blue and black hues for a more professional look.
DL1961 crop bootcut jeans – Wit & Wisdom bootcut jeans – NYDJ slim jeans – Gloria Vanderbilt tapered jeans
Nikki (above) shows how black jeans can look very polished either for work or for dinner. Here is a similar pair of black jeans.
2. Shoes matter
To keep the look pulled together and professional, veer towards the direction of shoes you might otherwise wear at the office.
Think structured pumps, professional looking wedges, and well fitting flats.
Definitely steer away from sneakers and anything which looks too casual.
Sally (above) opts for lighter jeans. But the rest of her look is still very polished with a blazer and kitten heeled booties. You can find a similar pair of pointed booties here and her light gray jeans here.
For more style inspiration, read our article on how to wear blazer with jeans
3. Pull it all together with a great blazer
A tailored blazer that fits well is exactly what is needed to take a casual pair of jeans to the next level.
Do not just think you have to stick to the basic black blazer.
Depending on how much freedom you have in regards to sartorial creativity, experiment with different colors and lengths for a look that is unique, chic, and still acceptable for professional norms.
Hallie (above) wears a plaid blazer from 1.State to pair her jeans and leopard print heels. Check out the same blazer from the same brand that has a different colorway and check here for a similar pair of bootcut jeans.
4. Keep it clean
No matter how hard you try, quite distressed denim cannot be upgraded to a very professional look.
The intrinsic nature of torn and shredded denim does not translate well to a professional office look. There are some exceptions of course, especially for those who work in creative industries.
You could try a trouser jeans style with a crease in the middle for a look which combines the feel of pants and jeans.
Vanessa (above) opts for trouser jeans worn with a chic blouse and pointed-toe shoes. You can find a similar wide leg denim pants here.
5. Make it tailor made
Make sure the jeans you select fit well. Whether you go with a trouser cut or skinny jeans, make sure they fit you well (note: are not too tight OR too loose) and are the appropriate hem.
Dahlia (above) wears an ankle-grazing pair of printed jeans. If you do have the flexibility for printed pants in the workplace, you could always add a black blazer. Here is a similar pair of snake print jeans.
Karen (above) chooses to wear a polka dot print blouse and a bold red long coat and pairs it with skinny jeans with belt and chic booties.
Tops and blouses to wear with your formal jeans for work
If you're wearing jeans for work, you want to make sure that the top you choose elevates your style from the casual to the professional.
So, veer away from t-shirts and, instead, opt for classic white shirts, pussy bow or formal blouses and tops in luxe material.
You could also wear a dress over your jeans to create a different look.
For more inspiration take a look at this piece on how to wear a tunic or short dress over pants.
Rails shirt – Boden blouse – Eileen Fisher textured velvet top – Tommy Bahamas wrap dress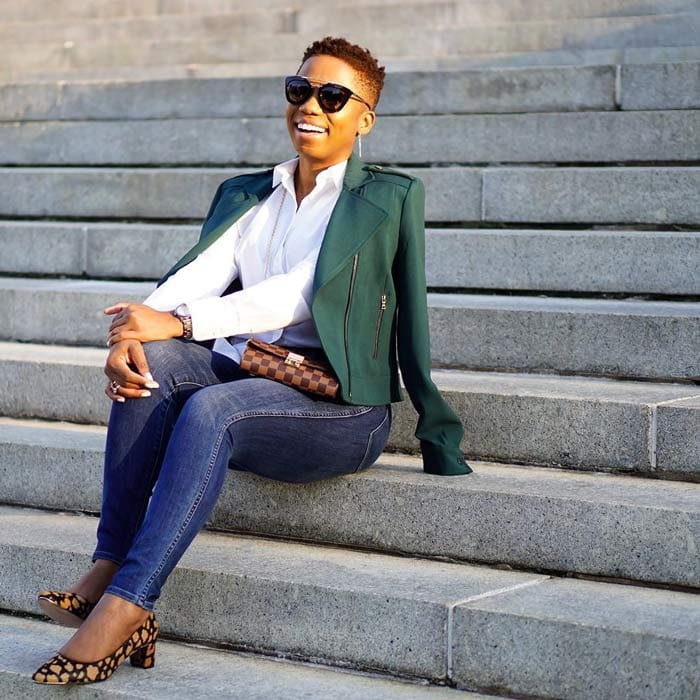 Psyche (above) wears a collared long sleeves shirt from J. Crew. Here is a similar pair of skinny jeans.
Blazers to wear with your women's work jeans
As mentioned in my top 5 tips, a blazer is your best friend when it comes to styling your jeans for work.
You could opt for classic black, or you could add a pop of color or choose an on-trend print.
Another good option with your jeans is a sleeveless jacket, which you layer over your shirt or blouse.
Check our tips on how to wear sleeveless vests.
Halogen fitted blazer – Caslon linen boyfriend blazer – Halogen plaid jacket – Oodji long vest
Anett (above) wears a corduroy blazer from H&M. Here is another blazer you can check out from the same brand. Get a similar pearl embellished jeans here.
For more tips, check our guidelines on how to fit a blazer.
Shoes to wear with your best work jeans
Keep your shoe choices formal when it comes to workwear.
So, opt for pumps, stylish booties, pointed flats or loafers. The key is not to deviate from the shoe choice you would usually have made for work if you were wearing a skirt or pants rather than jeans.

Charles David calf hair pump – Naturalizer square toe pump – Vionic weather resistant bootie – Marc Fisher LTD pointy toe loafer
Claudia (above) wears a colored stripe blouse and pairs it with cuff straight jeans and 'v' pumps. Check out these similar heels here and jeans here.
Check out some of the latest shoe trends here.
Accessories to wear with your jeans and business casual outfits
Your accessories will also help to raise your jeans a style notch so that they are work appropriate.
Carry a formal satchel or tote bag and add a chic scarf or necklace.
Kate Spade leather satchel – Tory Burch pearl drop earrings – Ted Baker skinny scarf – Isabel Marant stone pendant necklace
Jennifer (above) adds a scarf, mini satchel and pointed flats to her look. Get this similar printed skinny scarf here and white flare jeans here.
9 work jeans outfit ideas
Here are just a few ideas on how you could put together the jeans and other pieces used above. But, there are countless other ways you could mix and match these items for work.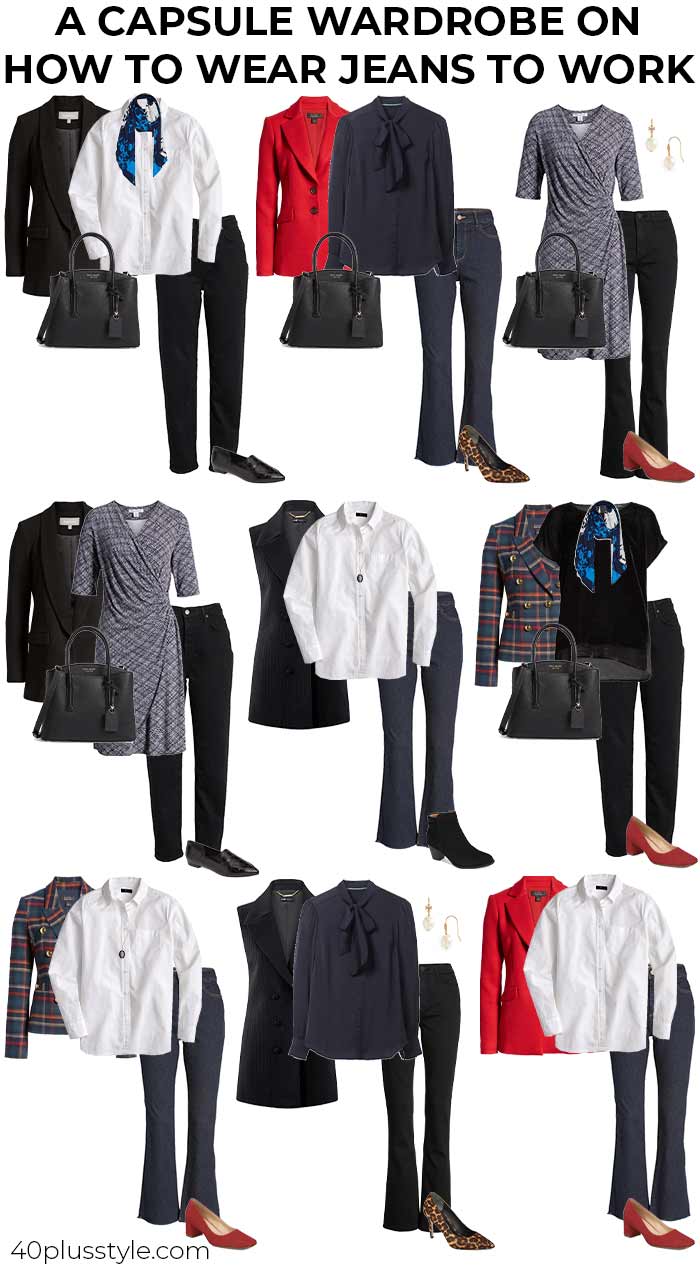 A few more examples
Three looks for the workplace in a more traditional office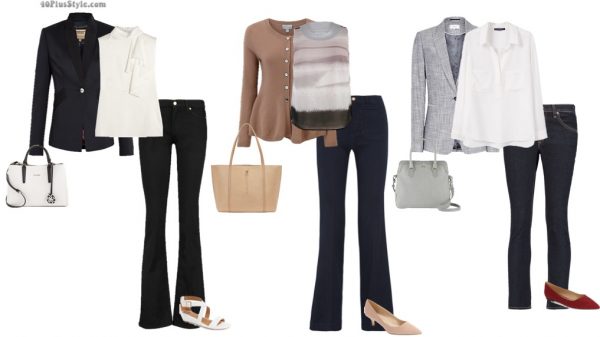 Three looks for a more casual office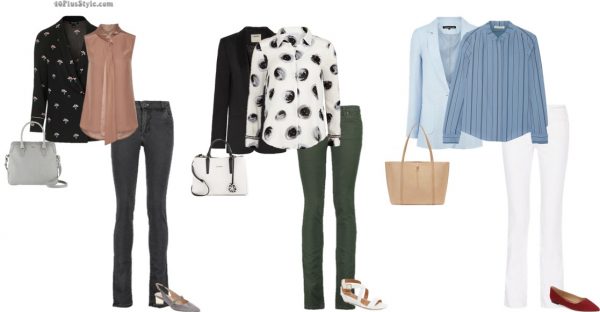 Which jeans meet the business casual dress code, are professional and fit well?
Three of my favorite brands for choosing jeans which are suitable for work are NYDJ, Paige and Kut from the Kloth. Take a look at some options from these brands below.



Fore more tips check out my article on how to wear jeans after 40.
Continue reading:
Do you wear jeans to work? What is your go to approach for making jeans more professional?
Do you like this article on how to wear jeans to work? Share it on Pinterest!
Feature image by Karen
Want to get more articles from 40+style in your inbox, subscribe here.
You can also connect with 40+style on Facebook, Instagram or Pinterest.
Support 40+style by using the links in our articles to shop. As an associate for Amazon and many other brands, we receive a small commission (at no cost to you) on qualifying purchases which enables us to keep creating amazing free content for you. Thanks!