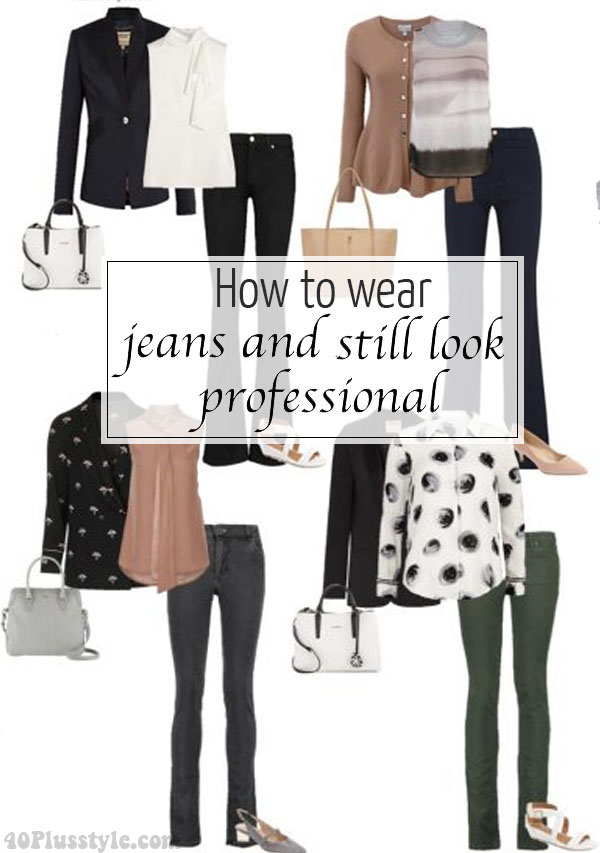 Boardrooms, presentations, and great work do not have to remain well removed from the space where you wear denim. Quite a number of offices have, at a minimum, a casual Friday where wearing jeans is encouraged.
More and more offices, however, are embracing the spirit of permitting their employees to wear jeans to work almost every day. There is a catch. In most cases you are still expected to look like the face of professionalism despite the casual allure of denim.
In today's post, we show you how to wear jeans in a professional (and stylish) manner without looking like you're leading a meeting wearing your leisure Sunday best.
5 quick rules for wearing jeans to work
1. A darker rinse is a more professional rinse
A darker rinse jean is considered to be the standard for a more professional denim look. Denim with a lighter wash, whiskers, etc. is considered to carry a more casual tone that might not be suitable for all offices. Choose a darker blue and black hues for a more professional look.
2. Shoes matter
To keep the look pulled together and professional, veer towards the direction of shoes you might otherwise wear at the office. Think structured pumps, professional looking wedges, and well fitting flats.
3. Pull it all together with a great blazer
A tailored blazer that fits well is exactly what is needed to take a casual pair of jeans to the next level.
Do not just think you have to stick to the basic black blazer. Depending on how much freedom you have in regards to sartorial creativity, experiment with different colors and lengths for a look that is unique, chic, and still acceptable for professional norms.
4. Keep it clean
No matter how hard you try, quite distressed denim cannot be upgraded to a very professional look. The intrinsic nature of torn and shredded denim does not translate well to a professional office look. There are some exceptions of course, especially for those who work in creative industries.
5. Make it tailor made
Make sure the jeans you select fit well. Whether you go with a trouser cut or skinny jeans, make sure they fit you well (note: are not too tight OR too loose) and are the appropriate hem (take a look at our article on selecting the right pants length).
Traditionally professional dark wash jeans
Jeans that fit more casual and flexible workplaces
Three looks for the more traditional office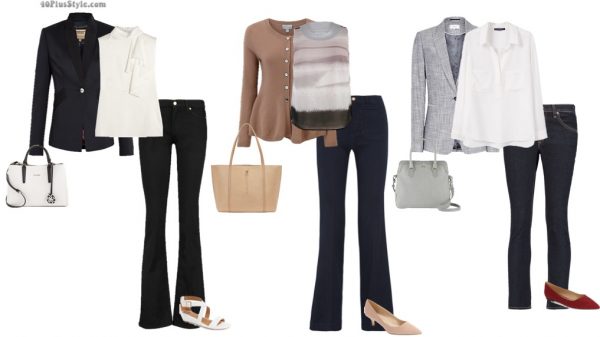 Three looks for a more casual office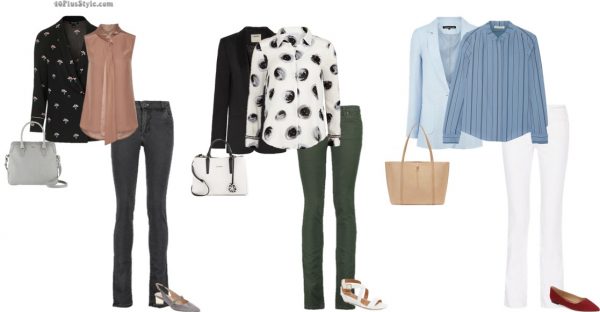 Shop the jeans and looks featured in this post here below

Also check out a few more favorite jeans brands for 40+women:
Fore more tips on wearing jeans after 40 check out this article.
Do you wear jeans to work? What is your go to approach for making jeans more professional?