Like it or not, you're often judged by your appearance as well as your professionalism when it comes to work, which means figuring out what to wear to a conference can be tricky.
Perhaps you usually work from home, so you don't go into an office environment at all, or maybe the event you are attending calls for a more casual – or a more formal – type of business dress than you usually wear. We will give you all the best outfit ideas for your next conference, so you can feel confident in front of a new set of people, whether you're preparing for an in-person event or a virtual conference.
What to think about when choosing what to wear to a conference
When deciding on how to dress for a conference, there are a couple of things to keep in mind.
Where is the conference?
We're all working differently these days. It may be that you travel for business and are heading to a physical, in-person event, or perhaps you are attending a virtual conference.
Either way, you will have to consider the weather and the formality of the venue when choosing your outfits.
What is the conference dress code?
If you have been invited to a conference, you may find that there is a dress code on the invitation – both for the conference itself and any associated evening events. Make sure you follow the code, while adding your own style twists so you can fit in with the crowd – but also stand out!
How long are you there for?
If you will be travelling for a few days, it's best to consider your conference attire in terms of a capsule wardrobe. That way, everything will go with everything else – making getting dressed each day a breeze. Read on and you'll see I've put together an example conference capsule for you!
Is it just work? Or will you get time to relax too?
Does your hotel have a pool, for example or will you get the chance to catch up with old friends in the destination you are going to. You may want to take your swimsuit, or some more casual wear.
What to wear to a conference or business meeting: example outfits
The style of outfit you choose will depend on the type of conference you are attending. Below are a few outfit examples which should fit in at most conferences, presentations and meetings…
Business casual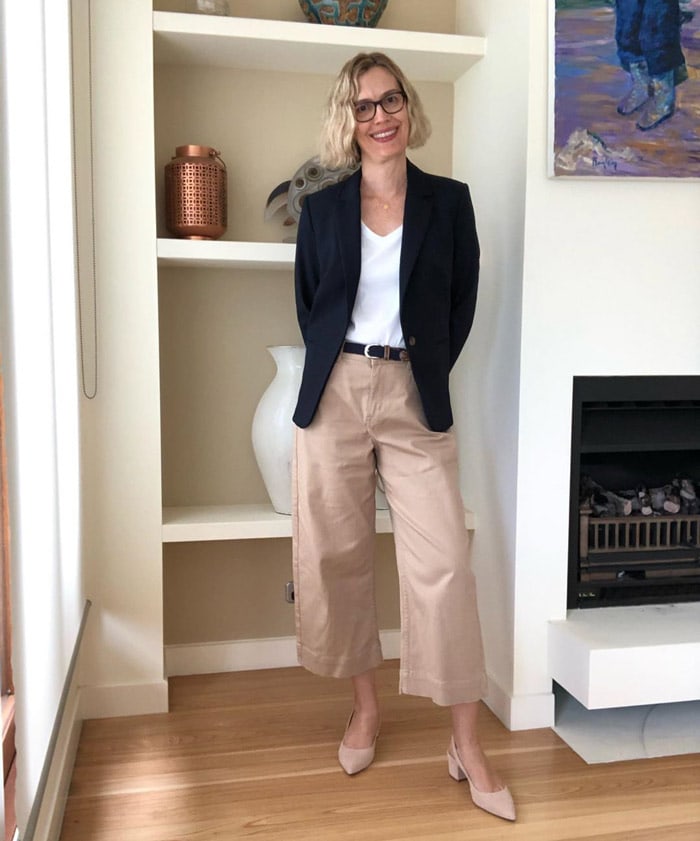 If there's no dress code on your conference invitation, your safest bet is to opt for outfits which are "business casual". Mix formal elements of business attire with more casual items such as a printed blouse or flat loafers, for example.
Dimitie (above) looks professional and put together without looking stuffy and overly formal.
Recreate her look with this similar top, blazer, wide leg pants, slingback pumps and belt.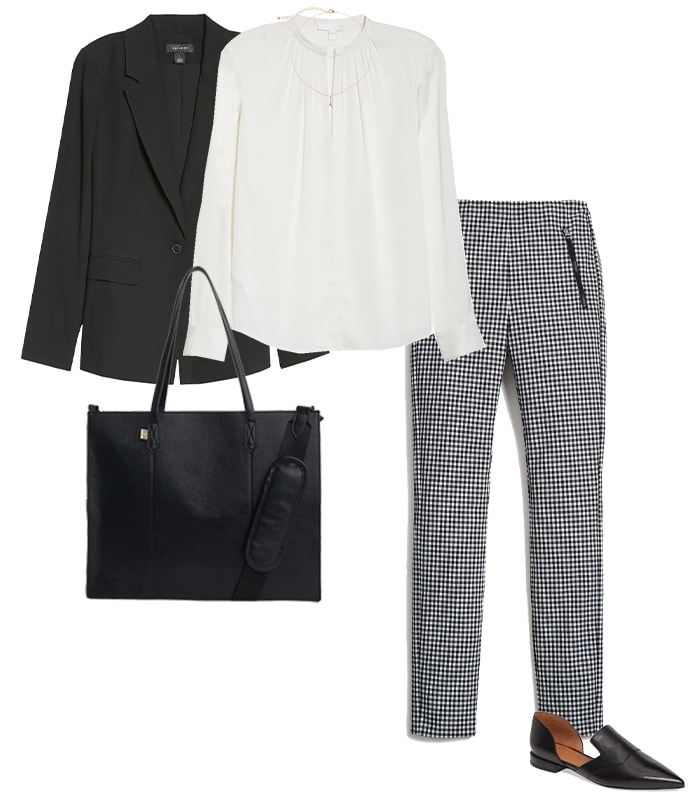 BOSS split neck blouse – Halogen one-button blazer – rag & bone gingham crop pants – SARTO by Franco Sarto pointed toe flat – Béis work tote – Uncommon James by Kristin Cavallari pendant necklace
Formal conference attire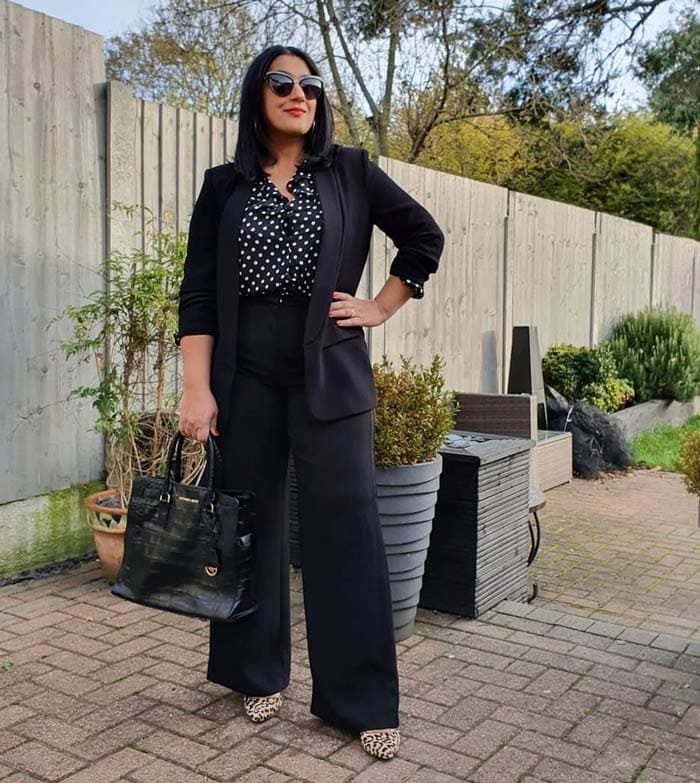 If the conference that you are attending is very formal, this will usually mean a more traditional business suit, but that doesn't mean you can't still add your own style elements.
Jas (above) wears a formal black suit, but she adds some playfulness by mixing her prints. Notice her polka dot blouse worn with leopard print shoes.
Check out this similar blouse, blazer, pants, pumps, handbag and sunglasses.
BOSS split neck blouse – Halogen one-button blazer – Ming Wang side slit knit midi skirt – Naturalizer slingback pump – Kate Spade New York laptop bag – Ted Baker London monogram scarf
Video conferencing and online meetings
Many of us are holding meetings via video conferencing tool at the moment. If this is the case for you, then sitting in your home in a full business suit doesn't seem right. Concentrate on wearing something smart and stylish on your top half. I'd avoid busy prints and patterns on camera.
It really doesn't matter whether you are wearing jeans, shorts (or even pajama bottoms) on your bottom half, as no one will see.
Annette (above) opts for a semi-formal shirt on top and wears with leggings and sandals.
Steal her look with this similar denim shirt, leggings, slides, earrings and necklace.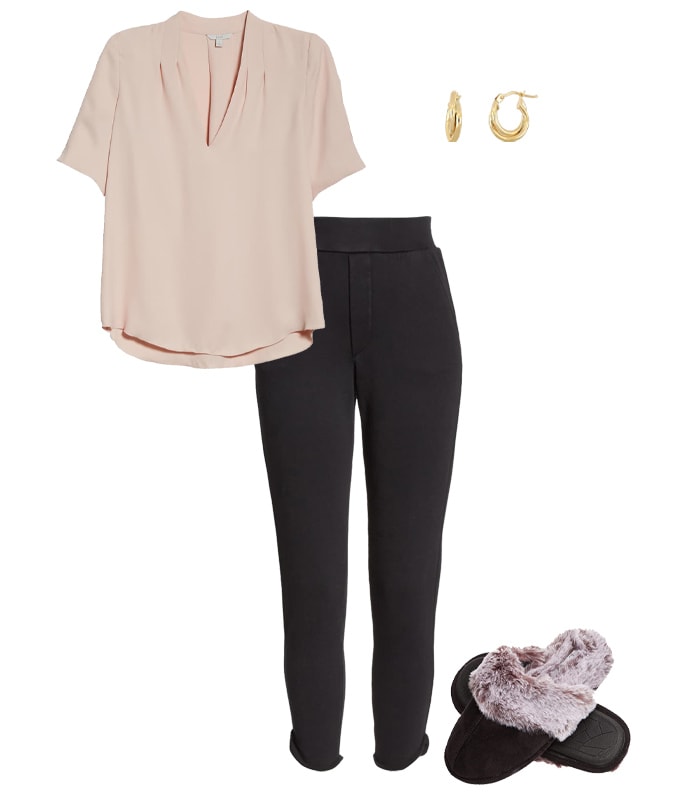 Joie silk blouse – Frank & Eileen trouser sweatpants – Jessica Simpson faux fur slipper – Bony Levy hoop earrings
Reception or night out with colleagues
A conference or work presentation often isn't all about working during the day. You may find that there are evening events too – perhaps as a way to meet other attendees, or to wrap up the event – so you need to factor this in when thinking about what to wear to a conference.
Monika (above) wears a bright, structured, dress which could be worn with a black blazer during the day, and then funked up with silver heels during the evening.
Check out these dresses from Tommy Bahama and Amazon and wear with this similar pair of pumps and necklace.
COS drape dress – Steven New York slide sandal – Nina crystal minaudière – Set & Stones drop earrings – Kendra Scott cuff bracelet
Conference capsule: Your conference packing list
If you are heading away for a few days, you will find some of the best pieces to choose for a conference, which you can mix and match so you're presentation ready.
The perfect conference shirts and tops
You're likely to want one shirt or blouse for each day of the conference but you can take fewer pants and skirts.
Joy (above) wears a white shirt which would go with everything in your conference closet.
Get her look with this similar shirt, trousers, pumps, necklace, earrings and handbag.
BOSS split neck blouse – Equipment silk shirt – Halogen v-neck top – BP. scoop back t-shirt
What to wear to a conference: Conference blazers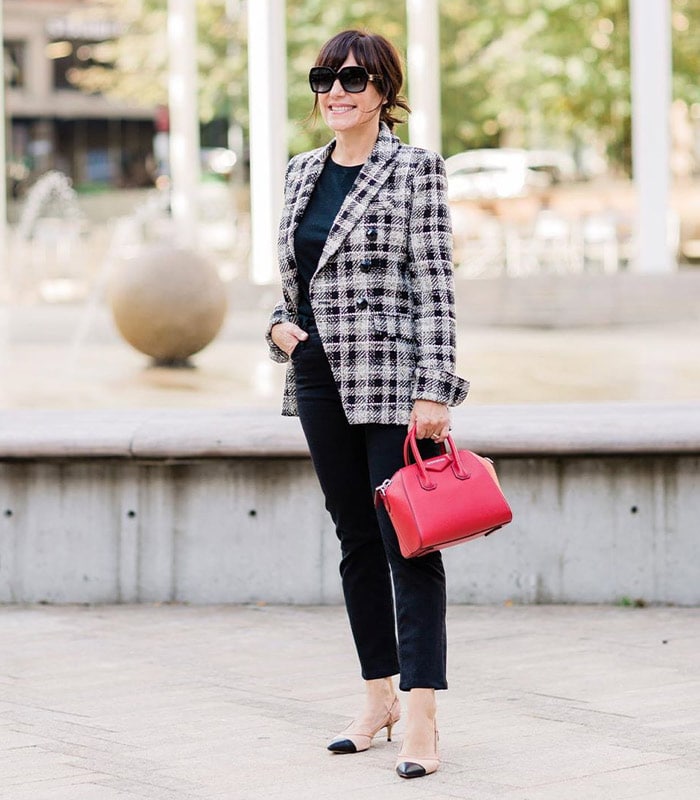 A blazer is the perfect jacket for a conference. If your work is casual, you can wear your blazer with dark jeans. Or, you can wear more formally with a matching pair of pants or skirt. If you want to make sure you stand out – perhaps because you will be speaking on stage – you could choose a bright color and wear with neutrals.
Take a look at how to fit a blazer to make sure yours looks just right.
If you need outerwear for heading outside your conference venue, a trench coat is a good option as you can wear with day and evening wear.
Susie (above) opts for an all-black outfit which creates a flattering column effect, tops with a blazer and accessorizes with a Givenchy handbag
Recreate her outfit with this similar blazer, jeans, slingback pumps and sunglasses.
Nordstrom Signature plaid blazer – Halogen one-button blazer – Ted Baker London ruched sleeve crop jacket – Boden trench coat
Conference pants, skirts and dresses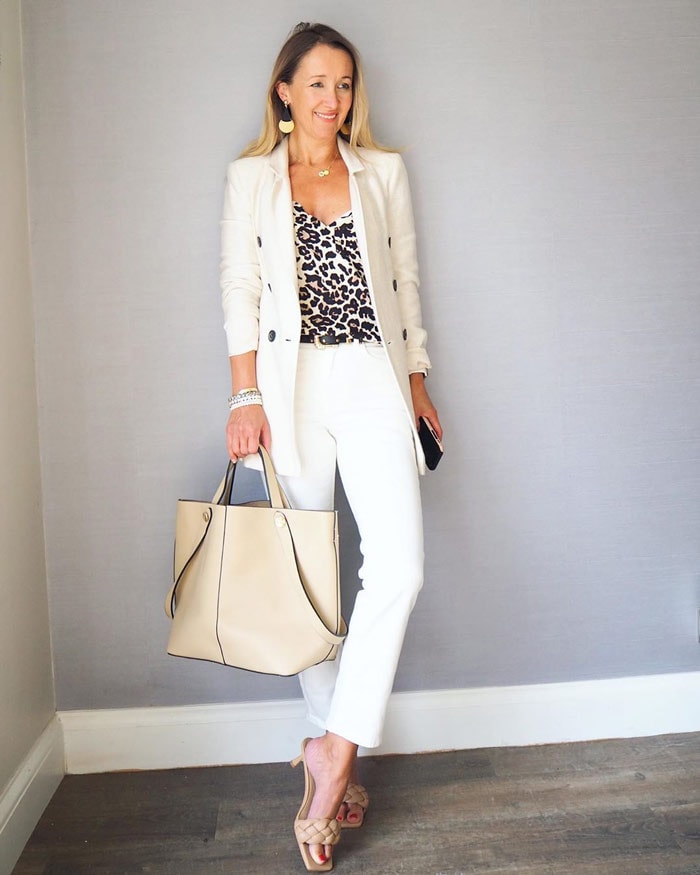 You may prefer pants or perhaps you would rather pack dresses. Either way, one pair of trousers or one skirt per two days should be fine.
Karen (above) shows that, while darker colors are often worn in business, pale neutrals can work just as well.
Check out this similar top, blazer, pants, sandals, tote, earrings and necklace.
Vince Camuto sheath dress – Eliza J tie waist balloon sleeve jumpsuit – Vince crop trousers – Ming Wang side slit knit midi skirt
Conference shoes
You should be able to manage with one pair of shoes, particularly if you opt for a neutral shade. However, you may want to choose to pack two – one pair of heels and one pair of flats.
Fee (above) wears pointed loafers with her black pants and mustard yellow blouse.
Steal her look with this similar blouse, pants and flats.
Tory Burch logo ballet flat – SARTO by Franco Sarto pointed toe flat – Naturalizer slingback pump – J. Renée slingback pump
Accessories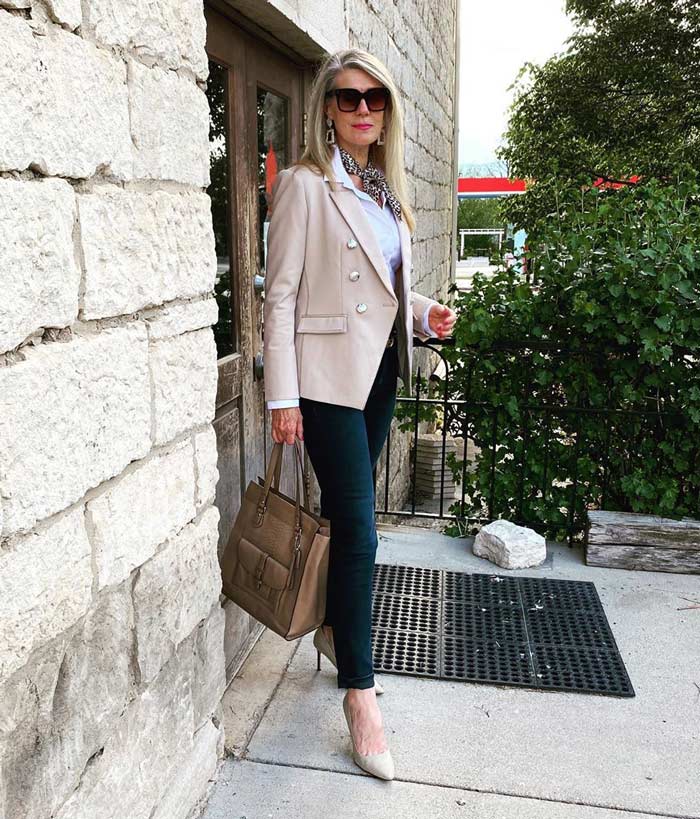 Arguably the most important thing to think about are your accessories. If you choose a palette of neutrals – such as blacks, navy and white for your conference attire, you can easily change your outfits by adding vibrant accessories.
@mymidlifestylist (above) wears a palette of neutrals and adds interest with her leopard print scarf.
Check out this similar shirt, blazer, pants, pumps, handbag, scarf, earrings and sunglasses.

Kate Spade New York leather laptop bag – Nordstrom leather minaudière – Nordstrom cashmere & silk scarf – Nordstrom print modal & silk scarf – Jane Basch stud earrings – ela rae collar necklace
Your conference capsule wardrobe
Below you can see many of the clothes, shoes and accessories from above put together in a conference capsule.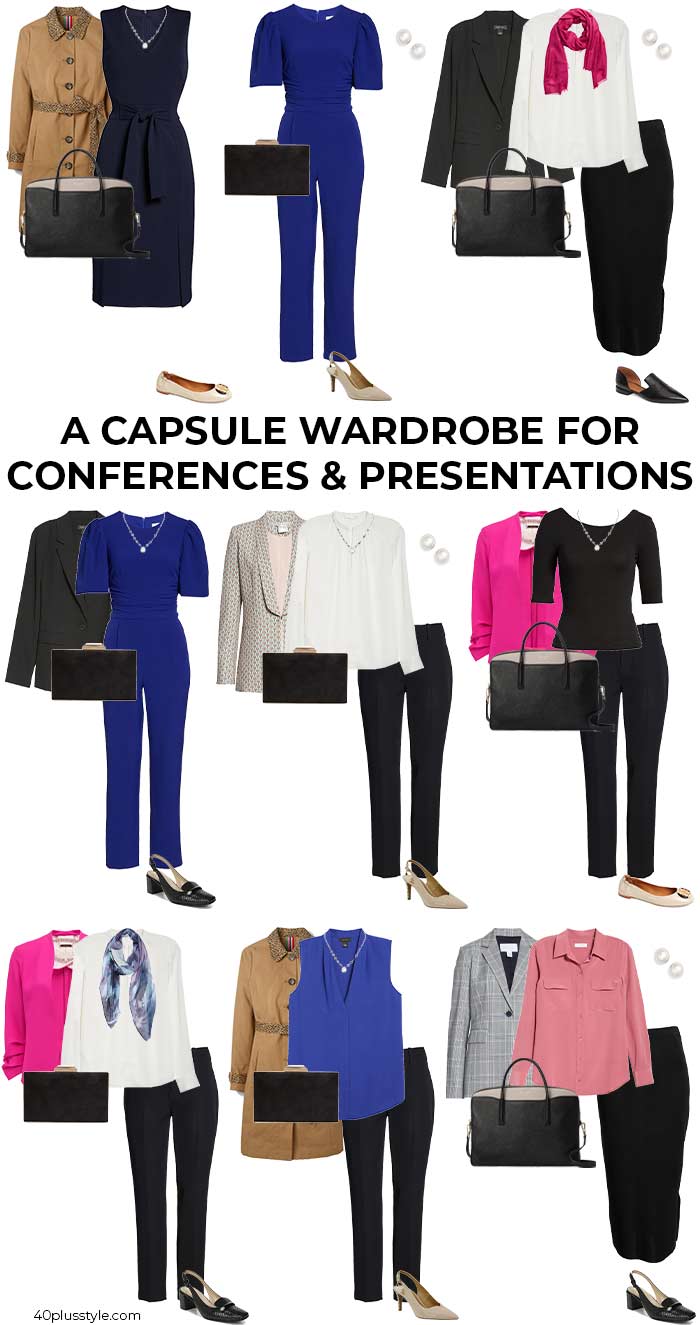 A weekend bag to put it all in
Last but not least, if you are going away for a business conference, you will need a bag the right size to put a few days of outfits in. Choose one on wheels that will easily fit into a cabin. That way, you won't have to wait for your luggage when you arrive at your destination.
What do you pack when you are heading to a business conference? I'd love to hear about your own essentials.
Continue reading:
Like this post on what to wear to a conference or presentation? Share it on Pinterest!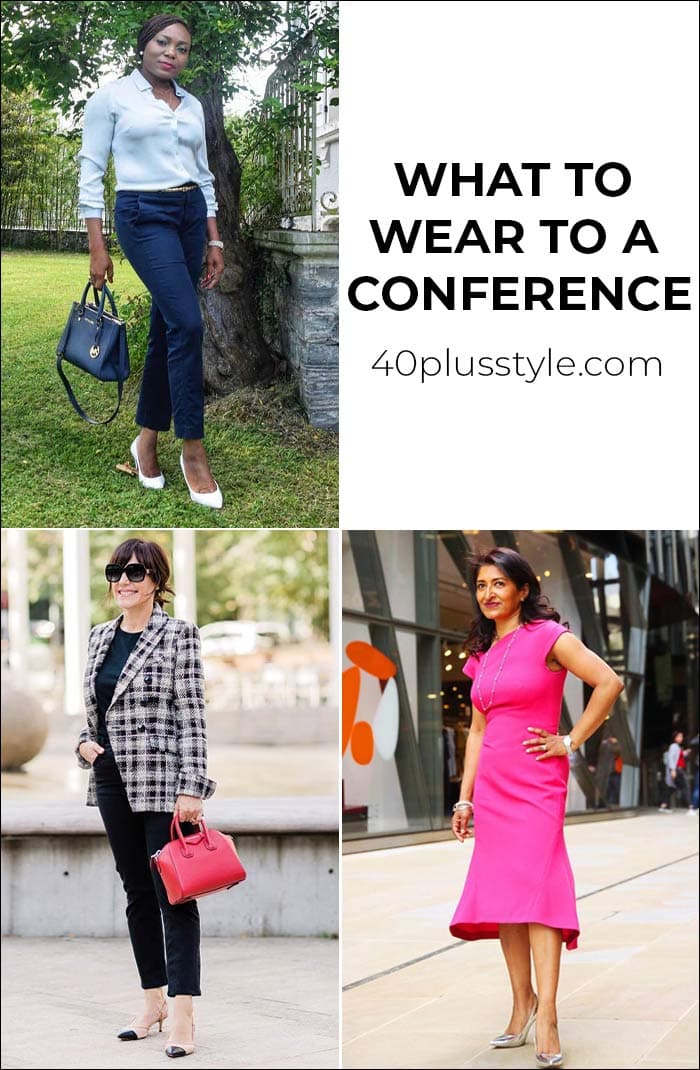 Feature image by Susie
Want to get more articles from 40+style in your inbox, subscribe here.
You can also connect with 40+style on Facebook, Instagram or Pinterest.
Support 40+style by using the links in our articles to shop. As an associate for Amazon and many other brands, we receive a small commission (at no cost to you) on qualifying purchases which enables us to keep creating amazing free content for you. Thanks!