Heels get a lot of love for their figure lengthening benefits and the multitude of styles and colors that they come in. However, wearing flats can be a just as stylish if you know how to wear flats the right way.
However, when not paired well with the right outfit (and taking body shape into consideration), you may run the risk of looking frumpy rather than stylish.
In this article, we dive deep into the world of flats. We show you how to wear flat shoes and explore the many varieties, how best to wear them, and how to go from frump to chic with a few changes.
First of all some general pointers on how to find the most comfortable flats that are also stylish:
1. Make sure you buy your shoes in the right size
Many women go up a size in shoe as they age, so don't assume that you will keep the same size throughout life.
2. More is not more when it comes to shoes
You don't need a huge number of shoes (unless you want to, of course). Invest in quality and stick to good quality leather whenever possible. It's worth investing in flats as you are likely to wear them more often than your heels. You may enjoy our article on how to create a shoe capsule.
3. Make sure that you buy shoes you can walk in
Even flats can be uncomfortable, particularly if you opt for a pointed style. Ensure your shoes aren't pinching anywhere and they are comfy enough for all-day wear. You may enjoy our recommendations for the best shoes with arch support.
4. Keep an eye on the latest trends
When your outfit is very basic and simple, opt for trendier shoes to give the outfit a bit more of a young and hip vibe. Conversely, when your outfit is very hip already you may want to tone it down with simple and elegant shoes. (As usual it's all about balance). Take a look at these summer shoe trends for inspiration.
5. Matching or contrasting – it's up to you!
Although you often will match your shoes with one of the colors of your clothes, you can also do the opposite and add a contrasting color. Make sure though that the tone of color has the same kind of saturation as the other colors in your outfit. This is easiest to do with black and white, which can be matched with any bright color like red, yellow, green or blue.
6. Be careful with ankle straps
Ankle straps will shorten your legs, so be careful with this look if your legs are already short.
7. Look for padding
A good thing to look out for is padding. As you age, you loose quite a bit of the natural padding in your feet, so you may need to compensate for that with your shoes.
There are quite a few few tools that help make your shoes more comfortable. They include shoes with inbuilt cushioning and custom-made orthotics, prescribed by a podiatrist. Take a look at the best shoes with arch support.
8. To the point
If you want to create the illusion of height, you can do so with a pointed toe rather than having to opt for heels.
9. Choose the right shoe for the pant that you're wearing
Different shoes look best with different kind of pants. You may like to refer to our guide on how to combine your shoes with your pants.
Best flat shoes: Types of flat shoes
Flats can fall into various categories relative to how high up they are on your leg. Specifically, there are four main categories. Let's take a look at these categories before examining some specific types of flat shoe.
1. Beneath the ankle
Beneath the ankle styles are your more typical flats (From round toe to peeptoe, as well as sandals). The height of these style flats is right below your ankle bone.
These can be quite flattering on a variety of body shapes and tend to go with most looks from dresses to looser pants. Much like nude pumps, when you select a great tone matching pair with the right toe shape (like pointed toe flats), you can elongate your figure when pairing the flat with a knee-length dress, shorts, etc.
To keep them looking chic (and not frumpy), pay attention to your body shape and the type of bottoms or skirt/dress you are wearing. Leaner body shapes can usually pair these flats with wide leg or extremely loose trousers.
This look adds a bit more volume to your frame, which is not the best look for a balanced and fuller bodied frame. For more curvaceous figures, these types of flats look best when paired with knee length or long skirts and dresses (we do not recommend midi) and slightly more structured bottoms, which do not add additional volume.

Tory Burch Minnie Travel Ballet Flats – Naturalizer Darry Loafers – COACH Vae Skimmer Flats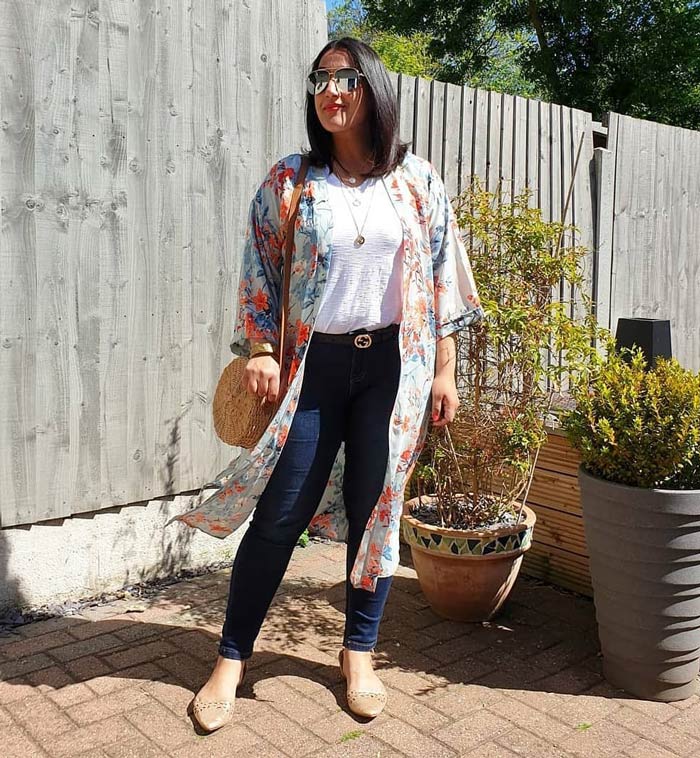 Jas (above) looks fabulous in her flat, nude pumps.
Recreate her outfit with this similar pair of flats, tee, cardigan, jeans, bag, necklace, belt and sunglasses.
2. Ankle length
Peeptoe sandals, ankle boots, etc. all are part of the ankle height flat shoe family. When we get to the ankle height, styling becomes a bit more challenging than the below the ankle style shoes. Simply put, you're "cutting" more of the leg, which is creating the illusion of a shorter leg.
These style shoes come in right on the ankle bone or slightly higher than the ankle bone. The most popular variation of this style are ankle boots, sling back flats, and ankle strap flats. If your legs are already on the shorter side, it is recommended that you wear a flat shoe style with a bit of a lift (think 1/2 inch to 1 inch heel). Wearing a shorter hemline will definitely elongate the leg.
However, if you go with pants or jeans, showing some skin between the top of the shoe and the hem of your pant leg will also contribute to a bit of an elongated leg. The other option, if you go with a longer pant, is to go for a monochromatic or neutral look. This creates continuity between your shoes and pants, which does not create an unflattering or awkward division from your feet up.

SOREL Ella II Sandals – Lucky Brand Nasli Espadrille Sandals – Steve Madden Sunnie Sandal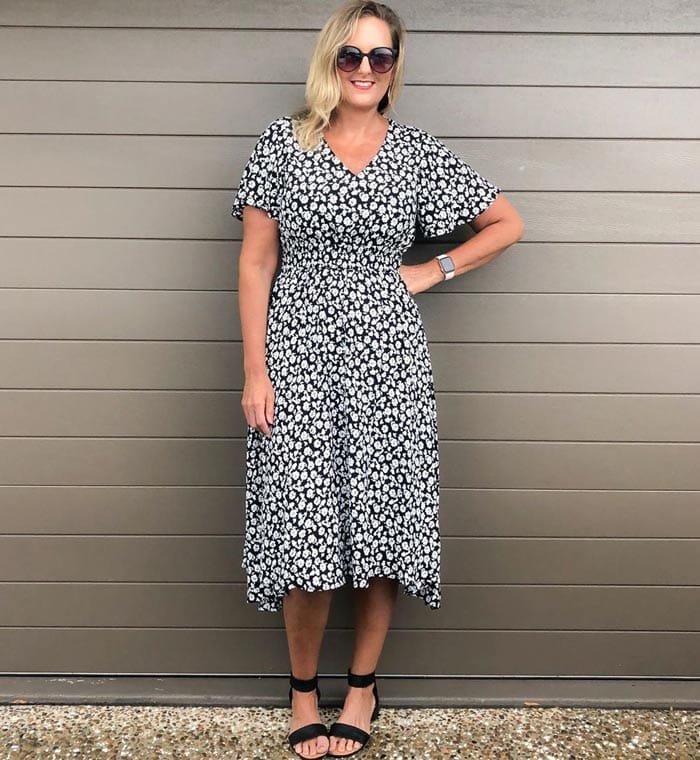 Nic (above) matches her ankle strap sandals to the black background of her dress.
Get her look with this similar pair of sandals, dress and sunglasses.
3. Immediately above the ankle to the calf
Flat shoes that go above the ankle bone into calf territory can be a bit awkward to style. They cut across your leg at height that can severely shorten your frame, if not styled correctly. A warning about these types of shoes: If they are flats that leave your foot pretty exposed (such as those below), understand that they can widen the look of your feet.
Ideally, to avoid this you should go with a pair of lace-ups or straps that criss cross across your feet before making their way up. A pointed toe is also best for this, as that style automatically elongates the foot and frame.
Another trick to try is going with a minimalist tone shoe. Nude, black, white, etc. shades tend to blend in with your outfit. This allows the shoe to serve as an extension of what you're wearing and makes the path up your calf less severe.

Steve Madden Ainsley Sandals – Seychelles Trinket Ankle Strap Flats – Journee Collection Emelie Espadrille Sandal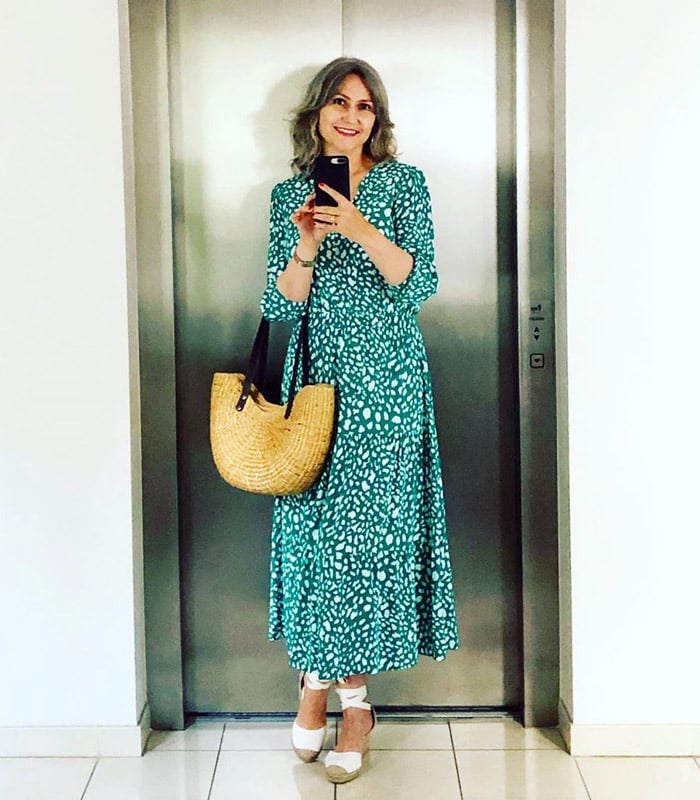 Renata (above) opts for ankle-tie espadrilles, matching them to the white florals of her dress.
Check out this similar pair of espadrille sandals, dress and tote.
4. Knee high to over the knee
Knee-high to over-the-knee flat shoes are all the rage these days. The challenge, however, lies in how to wear them in such a way that is both classy and chic.
Shorter hemlines tend to be a perfect fit with these shoes although I would caution against showing too much skin between boot top and hemline. The also look great worn with a longer dress with a side slit.
DREAM PAIRS Over The Knee Riding Boot – Emmanuela Leather Gladiator Sandals – ANUFER Knee High Gladiator Sandals
Stylish flat shoes: Types of flats to add to your closet
Now that you are considering the shaft height of the flats you choose and what may be most flattering for you, below are some of the classic flat styles you may want to think about adding to your closet.
These are styles which will stand the test of time, meaning you can wear them for many years to come.
Ballet flats
The ballet flat can trace it's history back centuries, so it will definitely still be on trend next year and the one after that!
The Tory Burch Minnie ballet flat is always a popular style and is usually released in different colors each season.
Tory Burch Minnie Travel Ballet
Loafers
Loafers can be the trickiest style to wear as they can run the risk of looking frumpy, particularly when styled with dresses or skirts.
However, they can also look great when worn with skinny jeans or cropped pants, particularly if you show off a little bit of ankle. They're also perfect for slightly shorter hemlines, and will be most suited to the preppy style personality.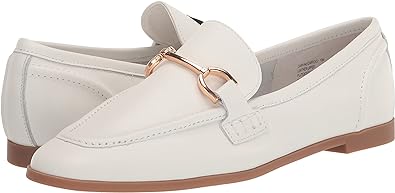 For more style inspiration on how to wear your pair of loafers, see our article on the best loafers for women over 40.
Mules
Minimal mules have been a trend for the past two summers, and they're definitely still on trend this year. Easy to slip on and effortlessly stylish, they go with everything from jeans and shorts to dresses.
Because mules don't have any ankle straps, they don't have the leg shortening properties of some other flat shoe styles.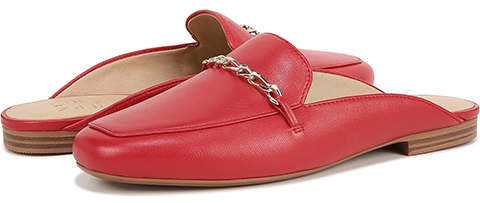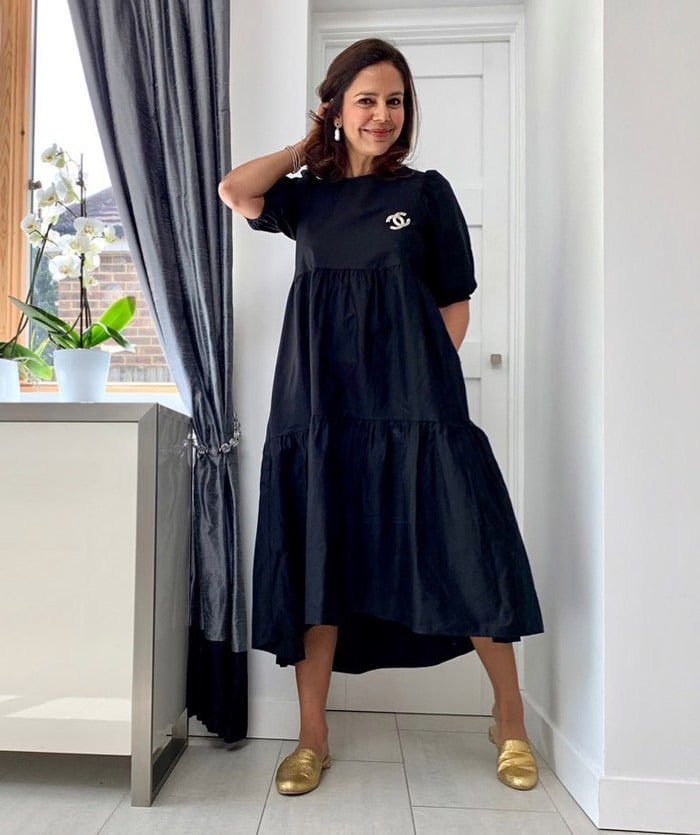 Anita (above) teams a pair of gold mules with her tiered dress.
Steal her look with this similar pair of mules and dress.
Oxfords
Like the loafer, the oxford is another menswear-inspired style. You can wear with a slightly androgynous outfit to keep the menswear styling going throughout your look, or contrast with a more feminine skirt or dress.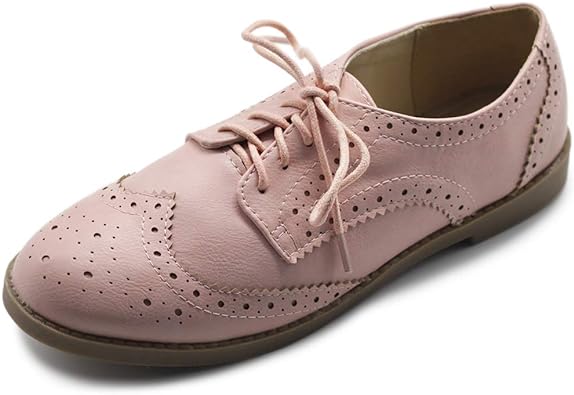 Sandals
A perennial style stable, a great pair of sandals is essential for summer. Choose a pair in a neutral shade, or metallics, and they should go with everything in your summer closet.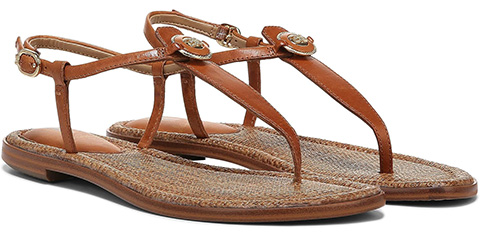 Sneakers
Sneakers have never been so on-trend, which is great, as you get to be comfortable while following one of the latest trends.
Wear with your jeans and t-shirt for casual days, or dress down your dresses with a pair of sneakers.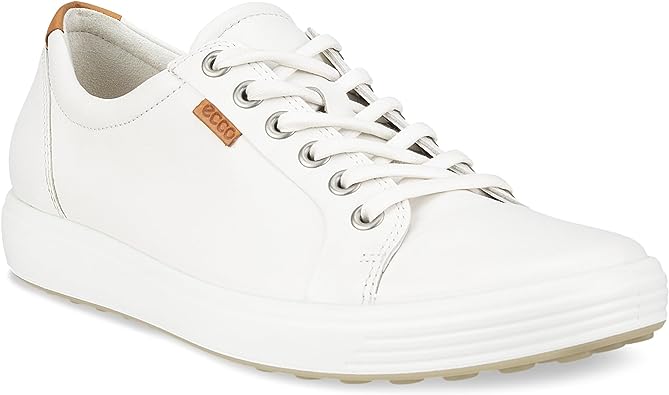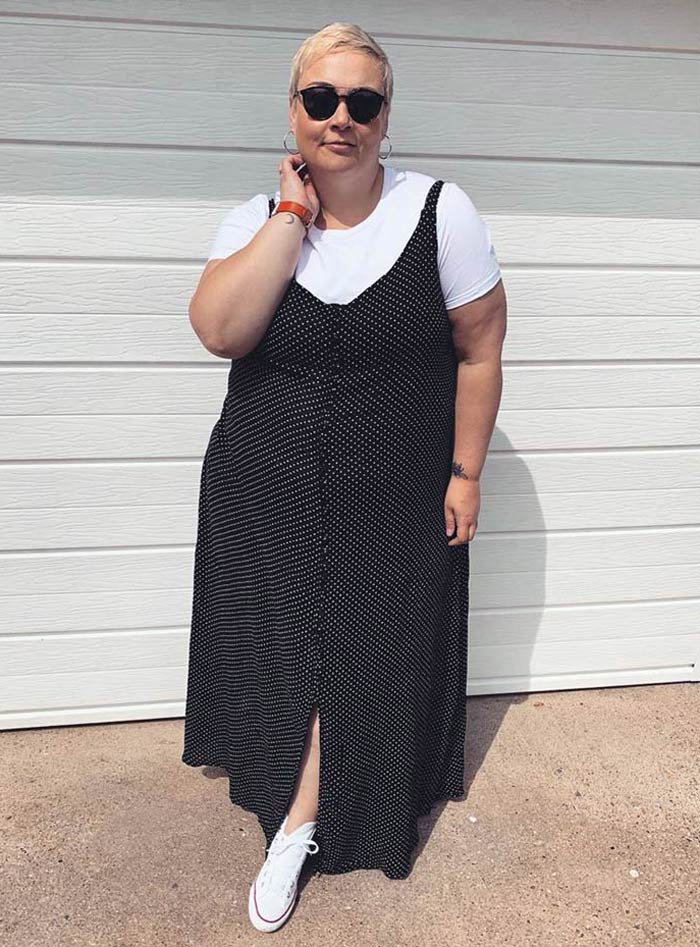 Becky (above) wears her sneakers with her maxi dress.
Get her sneakers from Converse and wear with this similar tee, dress, hoop earrings and sunglasses.
Pointed flats
If you are worried about your flat shoes not looking formal enough, or about flats making your legs look shorter, then a pair of pointed flats is the answer.
The pointed toe has an elongating effect for your legs in the same way that a pair of heels does.
Espadrilles
Created to be simple and functional, espadrilles are now very stylish. You can wear as an alternative to sandals if you prefer a closed-toe shoe.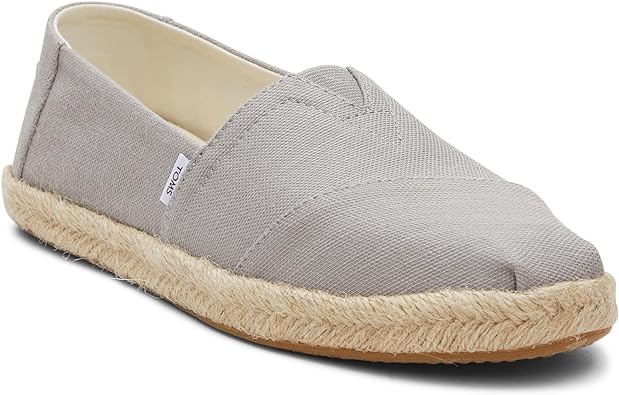 TOMS Alpargata Rope Espadrille Flat
Flat boots
When looking at how to wear flat shoes, flat booties can be one of the hardest working pairs of shoes in your closet. Comfortable enough to wear everyday, they're also incredibly useful for transitional dressing.
When the weather is cooler, you can still get some wear out of your summer dresses by pairing them with booties rather than sandals.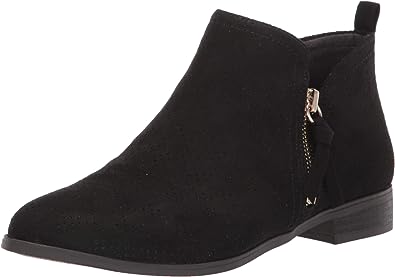 Dr. Scholl's Rate Zip Ankle Boot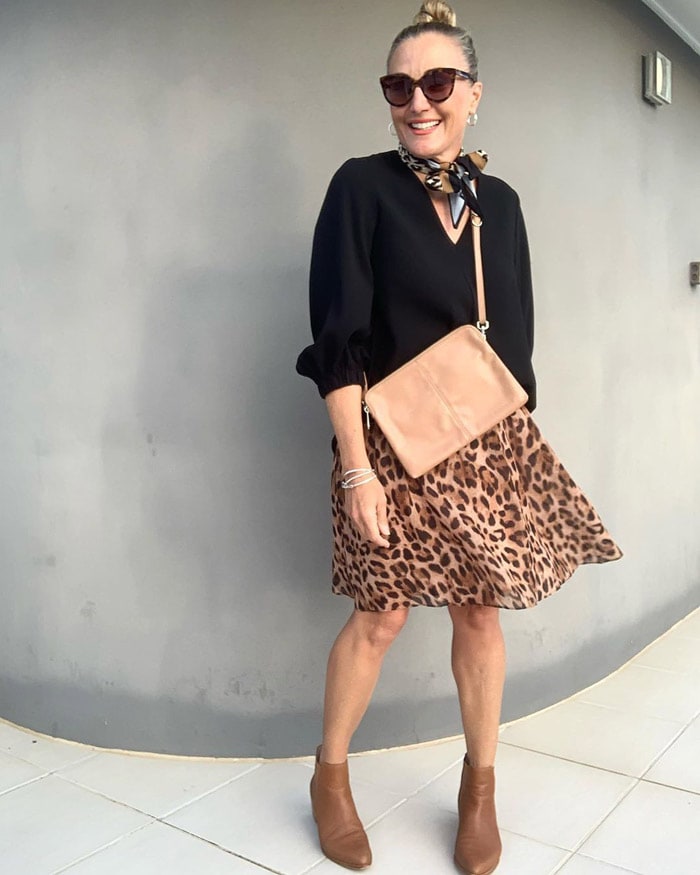 Melinda (above) opts for an all-neutral outfit, pairing her tan booties with leopard print.
Check out this similar pair of booties, blouse, skirt, bag, scarf, hoop earrings and sunglasses.
Evening flats
Going out for the evening doesn't necessarily mean you have to wear heels. There are plenty of flat shoes around which are just as beautiful as a pair of stilettos!
Look for pointed toes, embellishment, luxe fabrics such as velvet and dressy styles such as Mary Janes.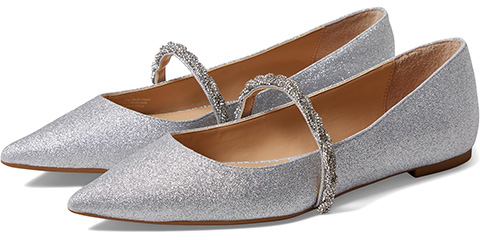 Badgley Mischka Vana Embellished Flats
How to wear some of the most challenging flat shoes
As discussed, some of these styles of flat shoes are easier to wear than others. Let's take a look at some of the trickiest – and how you can wear them without looking frumpy at all.
How to wear flat shoes: oxford style flats
Let's quickly dispel the rumor that you need to be a celebrity, off-duty model, or fashion blogger to be able to pull off oxfords. The menswear-inspired look can be worn by almost any woman, as long as it is styled with body shape, fit, and tone in mind. Go with a monochromatic look to elongate your frame.
Keep in mind that with such a traditionally masculine style, paying attention to balanced proportion, body shape, and tone is critical. Here are 3 ideas on how to approach wearing oxfords:
You can fully commit to a complete menswear look
You can go menswear light (with tones of menswear)
You can pair your oxfords with a very feminine look
All three options can work. Below is an outfit featuring a menswear-inspired shirt and blazer along with a more feminine pair of skinny jeans.
Grayson shirt – Treasure & Bond plaid blazer – 1822 Denim crop jeggings – Rollie lightweight derby perforated lace-up flat shoe – Ted Baker London hobo bag
How to wear flat shoes: over the knee flat boots
Over the knee boots can be a challenge but there are ways to wear them in a stylish, classy way. I would steer clear of patent leather and high heel styles. Opt for flat boots that come over the knee (but don't quite hit mid-thigh).
The goal is to select a tasteful and classy outfit to pair with your boots. We recommend selecting a conservative item of clothing or something that of heavy material. Do not show much skin between your hemline and the top of your boots. We also recommend going with suede material, which is still bold enough without adding an overtly risque look of leather.
You could wear over your skinny jeans, keeping the rest of your outfit very classy (as below), or try with a maxi dress which features a side split to show off your boots.
Grayson shirt – Cinq à Sept ruched sleeve blazer – FRAME skinny jeans – Kenneth Cole REACTION riding boot – COACH leather clutch – ALLSAINTS silk scarf – Tory Burch pearl drop earrings
How to wear flat shoes: ankle strap flats
Ankle straps are universally confusing. Some guides say to avoid them at all costs unless you are a certain height, while others say to go for it as they can elongate the frame.
Truth is, both perspectives are kind of right. Ankle strap shoes are difficult for many women to style because when done the right way they can look great or if styled the wrong way they are very unflattering. Specifically, the ankle strap can come in at an area (the ankle) where it seemingly cuts across the leg in such a way that is shortening.
Your best bet? For a universally flattering look, go with a higher hemline. A monochromatic look paired with a higher hemline is a sure fire way to get the ankle strap look without losing on your leg real estate. The shorter hemline creates the illusion of a longer leg, while the monochromatic look allows for some visual consistency.
Ankle strap flats also work very well with 7/8 pants.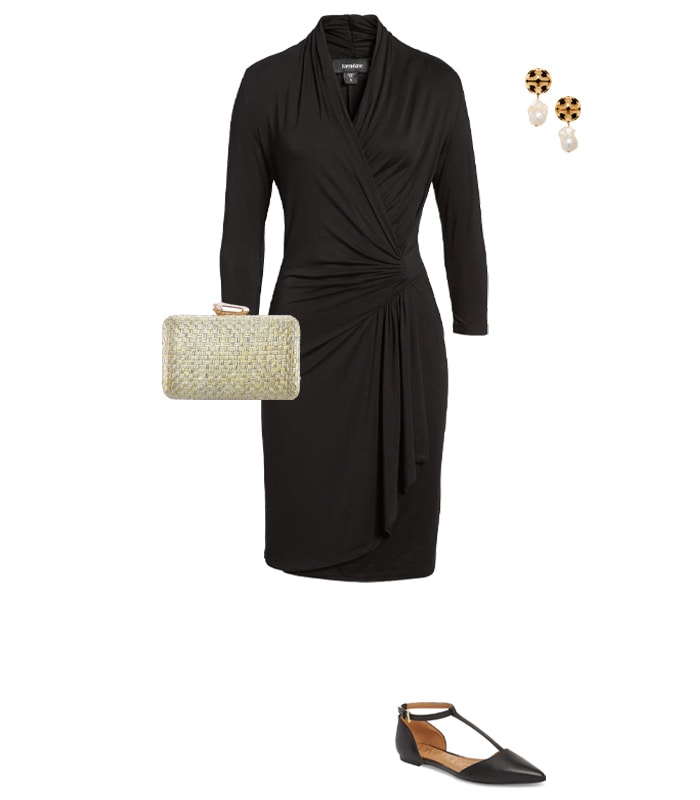 Karen Kane faux wrap dress – Calvin Klein t-strap flat – Nina metallic minaudière – Tory Burch pearl drop earrings
More ideas for wearing your flats
Whether you're treating yourself to a new pair of flats, or shopping your closet, let's have a look at some more flattering, funky outfit ideas.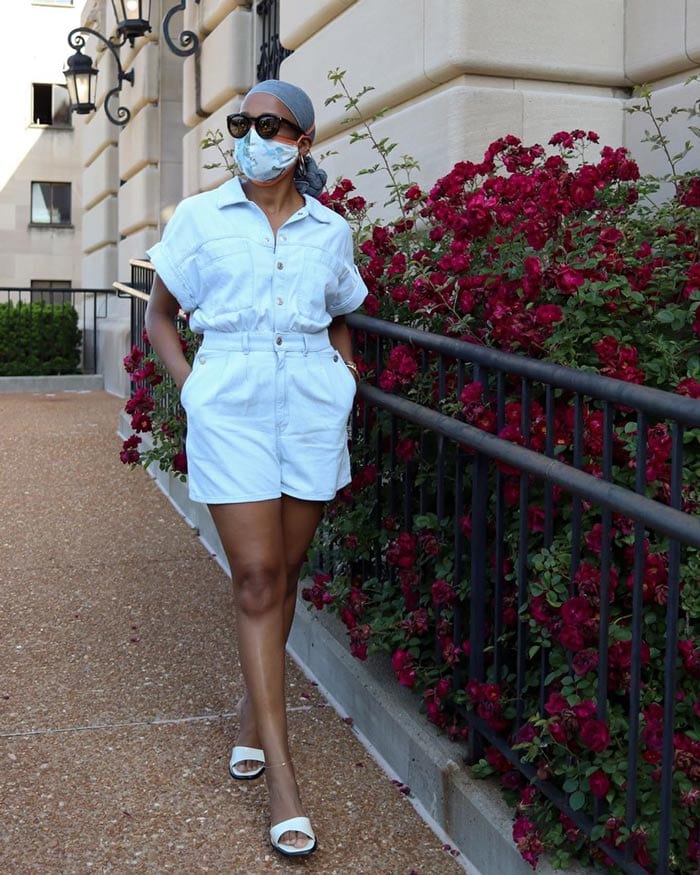 Psyche (above) looks fabulous for summer in her mules and shorts.
Check out this similar pair of slides and pair with this denim romper from Dickies.
Charlotte (above) opts for a casual pair of sandals and utility pants, worn with a feminine blouse.
Recreate her outfit with this similar pair of sandals, blouse and utility pants.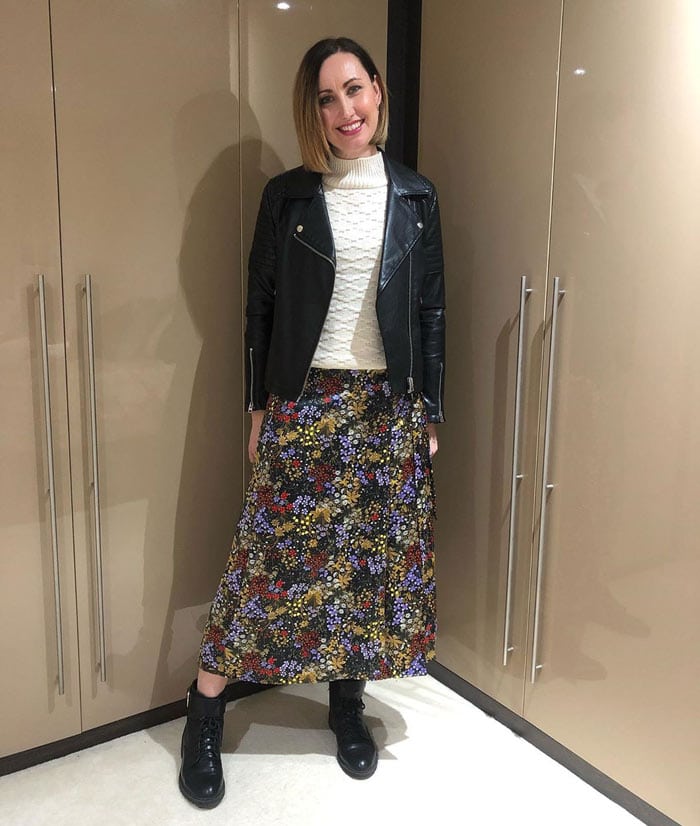 Lou (above) toughens up her floral skirt with a pair of ankle-height biker boots.
Get her look with this similar pair of boots, turtleneck top, moto jacket and skirt.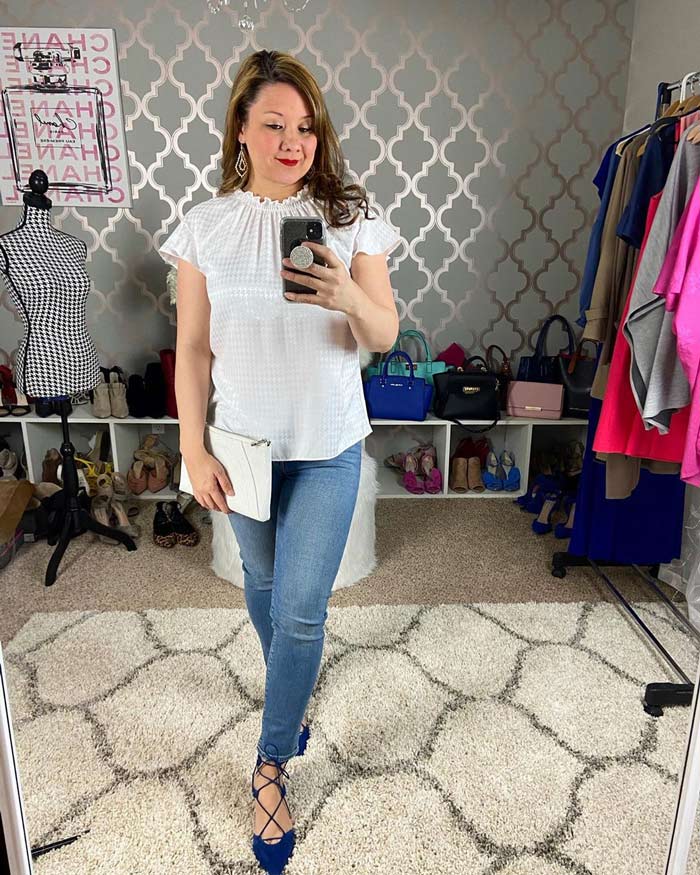 Suzie (above) shows that flats can look just as good as heels for an evening out.
Steal her look with these similar lace-up flats, mock neck top, jeans, clutch and earrings.
Tanasha (above) looks fabulous in her red loafers and accessories.
Check out these similar loafers, shirtdress, crossbody bag and earrings.
Lizzi (above) opts for sneakers with her dress and leather jacket.
Recreate her outfit with this similar pair of sneakers, dress, jacket and backpack.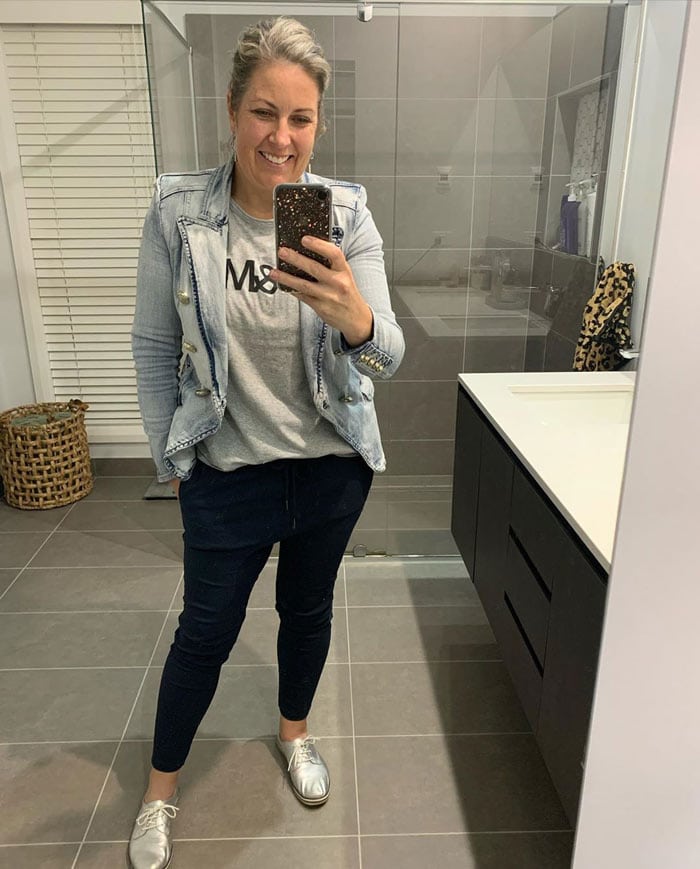 Beth (above) wears metallic oxfords with her skinny jeans.
Check out these similar shoes, shirt, jacket and jogger pants.
And what not to wear with flats
Fashion and style have evolved so much that you can almost anything with flats.
Although heels can often look better with skirts, it's now also very trendy to wear your sneakers or brogues with them.
Wearing an ankle strap pair of shoes with a skirt can also be tricky because you visually create a line across your ankle, which can make your legs look shorter. On the hand it can also create an edgy look that becomes extra stylish.
If in doubt, then a pair of sandals can be easier with most casual outfits, or a pair of pointed flats can create the illusion of longer legs and added height with more formal looks.
Comfortable walking shoes
As well as opting for flats for style, you may also specifically add a pair of flats to your closet for walking.
Brands to look out for when looking for comfortable shoes include Cole Haan, Arthur Beren, Dansko, Born, Ecco and Attilio Giusti Leombruni. Let me know if you have any other brands to recommend. I'm particularly looking for brands that stock shoes that are both comfortable AND modern.
Continue reading:
How do you like to wear flat shoes? What are some of your biggest style challenges?
Like this article on how to wear flat shoes and not look frumpy? Share it on Pinterest!
Feature image by Charlotte
Want to get more articles from 40+style in your inbox, subscribe here.
You can also connect with 40+style on Facebook, Instagram or Pinterest.
Support 40+style by using the links in our articles to shop. As an associate for Amazon and many other brands, we receive a small commission (at no cost to you) on qualifying purchases which enables us to keep creating amazing free content for you. Thanks!