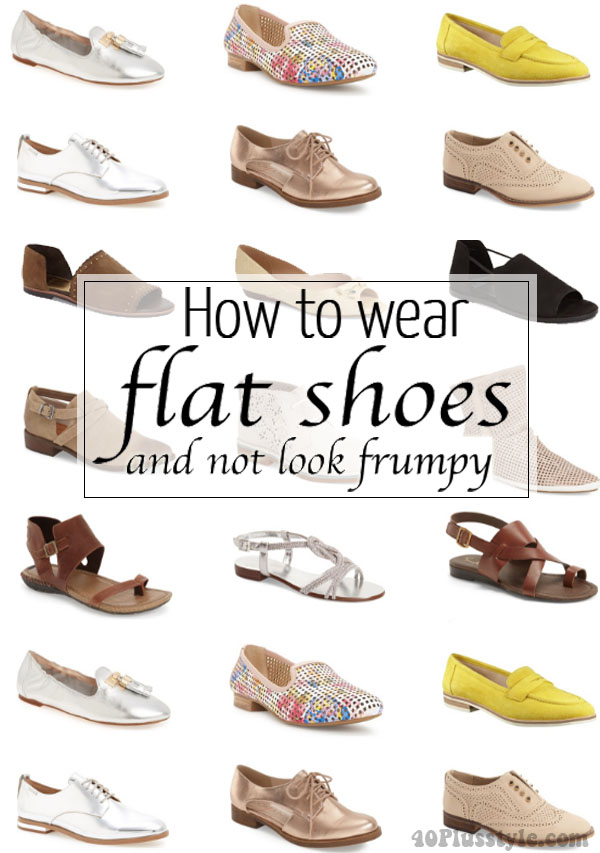 Heels get a lot of love for their figure lengthening benefits and the multitude of styles and colors that they come in.
Flats, however, can be a bit of a challenge for many. When not paired well with the right outfit (and taking body shape into consideration), you may come across more frumpy than stylish.
In this article, we dive deep into the world of flats. We explore the many varieties, how best to wear them, and how to go from frump to chic with a few changes.
The four heights
Flats can fall into various categories relative to how high up they are on your leg. Specifically, there are four main categories:
1. Beneath the ankle
Beneath the ankle styles are your more typical flats (From round toe to peeptoe, as well as sandals). The height of these style flats is right below your ankle bone.
These can be quite flattering on a variety of body shapes and tend to go with most looks from dresses to looser pants. Much like nude pumps, when you select a great tone matching pair with the right toe shape (like pointed toe flats), you can elongate your figure when pairing the flat with a knee length dress, shorts, etc.
To keep them looking chic (and not frumpy), pay attention to your body shape and the type of bottoms or skirt/dress you are wearing. Leaner body shapes can usually pair these flats with wide leg or extremely loose trousers.
This look adds a bit more volume to your frame, which is not the best look for a balanced and fuller bodied frame. For more curvaceous figures, these types of flats look best when paired with knee length or long skirts and dresses (we do not recommend midi) and slightly more structured bottoms, which do not add additional volume.
2. Ankle length
Peeptoe sandals, ankle boots, etc. all are part of the ankle height flat shoe family. When we get to the ankle height, styling becomes a bit more challenging than the below the ankle style shoes. Simply put, you're "cutting" more of the leg, which is creating the illusion of a shorter leg.
These style shoes come in right on the ankle bone or slightly higher than the ankle bone. The most popular variation of this style are ankle boots, sling back flats, and ankle strap flats. If your legs are already on the shorter side, it is recommended that you wear a flat shoe style with a bit of a lift (think 1/2 inch to 1 inch heel). As we discuss below, wearing a shorter hemline will definitely elongate the leg.
However, if you go with pants or jeans, showing some skin between the top of the shoe and the hem of your pant leg will also contribute to a bit of an elongated leg. The other option, if you go with a longer pant, is to go for a monochromatic or neutral look. This creates continuity between your shoes and pants, which does not create an unflattering or awkward division from your feet up.
3. Immediately above the ankle to the calf
Flat shoes that go above the ankle bone into calf territory can be a bit awkward to style. They cut across your leg at height that can severely shorten your frame, if not styled correctly.  A warning about these types of shoes: If they are flats that leave your foot pretty exposed (such as those below), understand that they can widen the look of your feet.
Ideally, to avoid this you should go with a pair of lace-ups or straps that criss cross across your feet before making their way up. A pointed toe is also best for this, as that style automatically elongates the foot and frame.
Another trick to try is going with a minimalist tone shoe. Nude, black, white, etc. shades tend to blend in with your outfit. This allows the shoe to serve as an extension of what you're wearing and makes the path up your calf less severe.
I
4. Knee high to over the knee
Knee-high to over-the-knee flat shoes are all the rage these days. The challenge, however, lies in how to wear them in such a way that is both classy and chic.
Shorter hemlines tend to be a perfect fit with these shoes although I would caution against  showing too much skin between boot top and hemline.
How to wear some of the most challenging flat shoes
How to wear oxford style flats
Let's quickly dispel the rumor that you need to be a celebrity, off duty model, or fashion blogger to be able to pull off oxfords. The menswear-inspired look can be worn by most any woman, as long as it is styled with body shape, fit, and tone in mind. Go with a monochromatic look to elongate your frame.
Keep in mind that with such a traditionally masculine style, paying attention to balanced proportion, body shape, and tone are critical. Here are 3 ideas on how to approach wearing oxfords:
You can fully commit to a complete menswear look
You can go menswear light (with tones of menswear)
You can pair your oxfords with a very feminine look
All three options can work.
How to wear over the knee flat boots
Over the knee boots can be a challenge but there are ways to wear them in a stylish, classy way. I would steer clear of patent leather and high heel styles. Opt for flat boots that come over the knee (but don't really hit mid-thigh).
The goal is to select a tasteful and classy outfit to pair with your boots. We recommend selecting a conservative item of clothing or something that of heavy material. Do not show much skin between your hemline and the top of your boots. We also recommend going with suede material, which is still bold enough without adding an overtly risque look of leather.
How to wear ankle strap flats
Ankle straps are universally confusing. Some guides say to avoid them at all costs unless you are a certain height, while others say to go for it as they can elongate the frame. Truth is, both perspectives are kind of right. Ankle strap shoes are difficult for many women to style because when done the right way they can look great or if styled the wrong way they are very unflattering. Specifically, the ankle strap comes in at an area (the ankle) where it seemingly cuts across the leg in such a way that is shortening.
Your best bet? For a universally flattering look, go with a higher hemline. A monochromatic look paired with a higher hemline is a sure fire way to get the ankle strap look without losing on your leg real estate. The shorter hemline creates the illusion of a longer leg, while the monochromatic look allows for some visual consistency.
Ankle strap flats also work very well with 7/8 pants.
Here are some of our favorite flat shoe styles
Ankle boots

Ankle strap

Boots

Lace-ups

Loafers

Oxfords

Peeptoe

Sandals

Sneakers

You can shop the looks and styles featured above below.

How do you like to wear flat shoes? What are some of your biggest style challenges?