In the first part of this two part series, we tackled how long and short the hems of 9 types of pants should be. The other side of the equation is the constant challenge of what shoes to wear with what pant style.
In this article, we de-mystify the most flattering shoe-pant combinations.
Shoe options
Here are 14 diverse style of shoes ranging from peep-toe booties to knee high boots, which can be combined with a number of pant styles.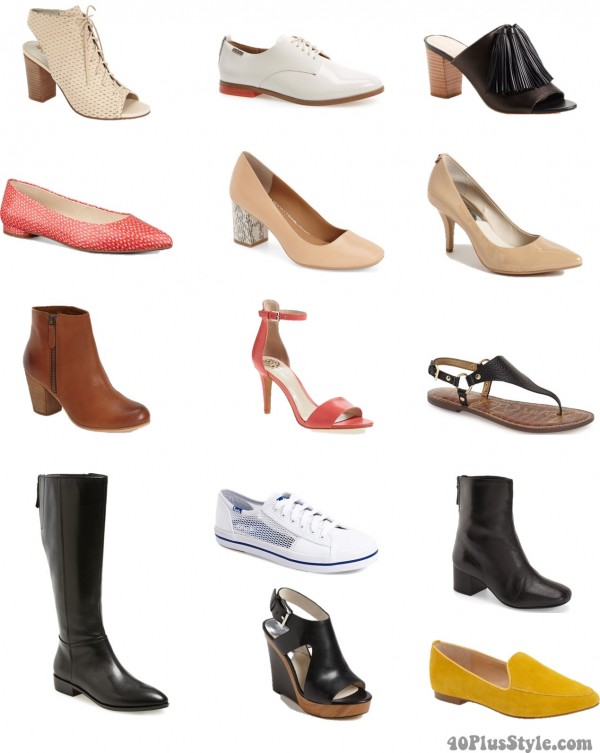 Ankle pants
It's important to remember that ankle pants look best when worn immediately above or right on your ankle bone. When selecting the right shoes, pairing ankle pants with high vamp shoes (booties, loafers, etc.) is the most flattering approach. Whether flat, medium, or high-heeled, we certainly recommend trying a diversity styles (such as the sandals we selected below), as ankle pants tend to work well with a number of shoe styles.
Bootcut pants
Bootcut pants are one of the most versatile style of pants. They look best when they touch the floor, yet do not completely cover the entire shoe. Depending on whether of not you're going for a dressed up or casual vibe, you have a diversity of options with bootcut pants. Pointy toed pumps tend to look very chic when paired with bootcut pants, as do mid-heel height boots and loafer style flats.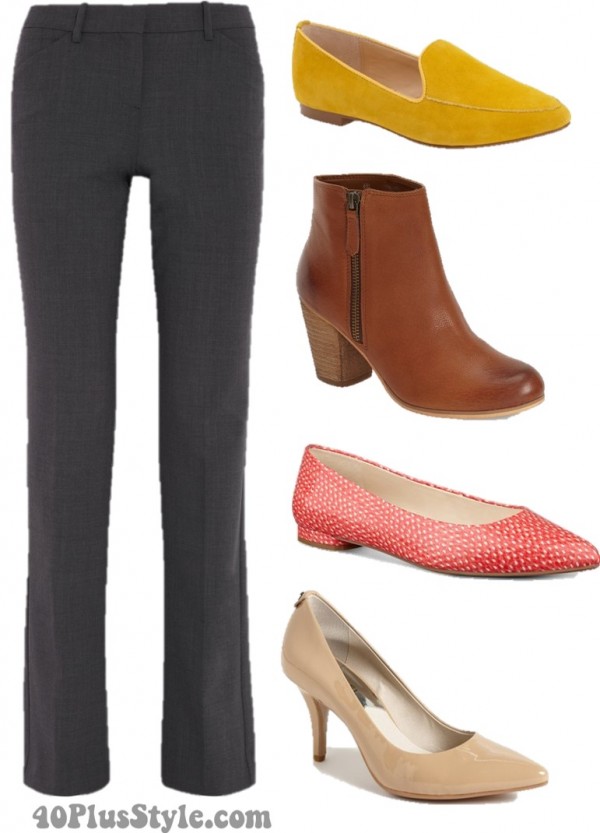 Boyfriend style pants
The epitome of chic comfort, boyfriend style pants look best with a cuff that hits at mid-calf. Though the pants can be loose and relaxed, you can created a well-tailored look by selecting a more structured flat or heeled shoe. Oxfords create an on-trend menswear inspired look and dress up the look. We also recommend pointed toe flats, low key sneakers, and pointed toe flats.
Cropped flared pants
The right fitting cropped flared pants should hit anywhere from mid-calf to right above your ankle bone. When selecting shoes to wear with these pants, we recommend ensuring that you go with a lengthening look (best done with a monochromatic tone) and/or select a shoe that minimizes the flare to create a leaner bottom. Our top shoe selections are block heels, mules, ankle boots (make sure your pants hit right at or below the top of the boots) and pointed toe heels. If you go with boots for this look, a matching boot (black-on-black, nude-on-nude, etc.) is the best option to create a streamlined look.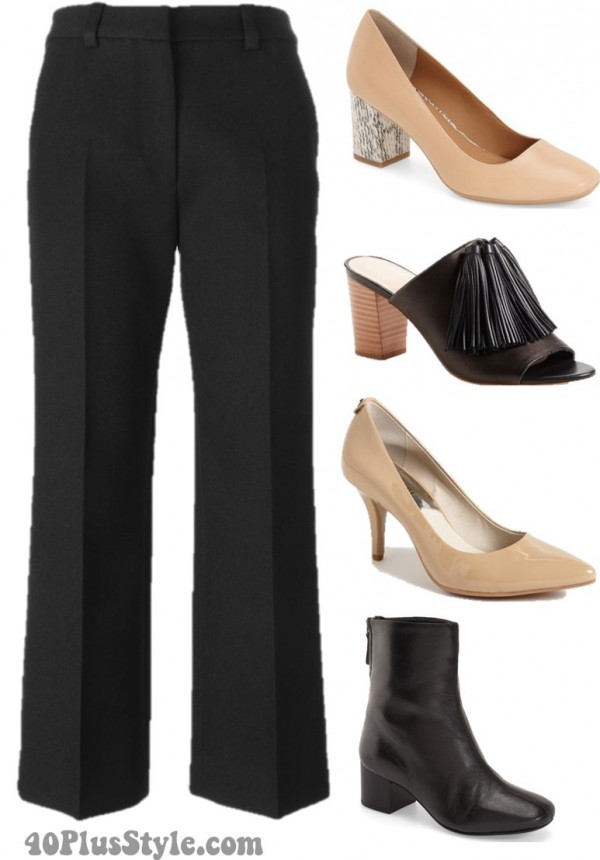 Cropped wide leg pants
Cropped wide leg pants (like cropped flared pants) are quite on trend this season. Though they can be a challenge to style, the payoff for getting it right is great. The goal is to avoid adding more volume to your bottom. We definitely do not recommend wearing ankle straps with this pant style, as you can bring too much focus on one part of your body. Select more dainty looks, such as structured pointy toe pumps, a loafer, and minimal mules.
Skinny leg pants
The key to selecting the right pair of skinny leg pants is to remember that the less they bunch around the ankle, the easier it is to create a well-tailored look. Go for a pair that hits right around or slightly above the ankle bone. Once you have the perfect pair selected, you also have the option of pairing skinny leg pants with a countless number of shoe styles. Some of our favorite options are strappy sandal heels, pointed toe heels, flats, shorter ankle bits (make sure they fit a bit snugly around the ankle, and knee high boots).
Straight leg pants
Most shoes will flatter the straight leg, so the choice ultimately falls on the tone of the look you're going for and the type of top you are wearing. They are fuller than bootcut style pants, and cover the shoe more so than bootcut style pants. Our favorite looks are strappy sandals, pointed toe pumps, boots (keep the shaft a bit more tall to avoid a bunching look), and low key sneakers.
Wide leg pants
Wide leg pants will always look best below the ankle bone and/or skimming the floor. Completely flat shoes can be paired with this pant style, but we definitely recommend ensuring that if you go that route you keep it well tailored. A very slouchy look is not flattering on all body types, and the casual chic vibe can quickly turn into a sloppy and unflattering look.
Whether you select a very minimal 1 inch heel or 3 inch heels, a bit of height will help create a longer silhouette. For this look we recommend block style heels, chunky heels, wedges, and strappy sandals. Pointed toe pumps can work great, as well, just make sure the pants are not so long that the toe of your pump continuously gets caught on the material.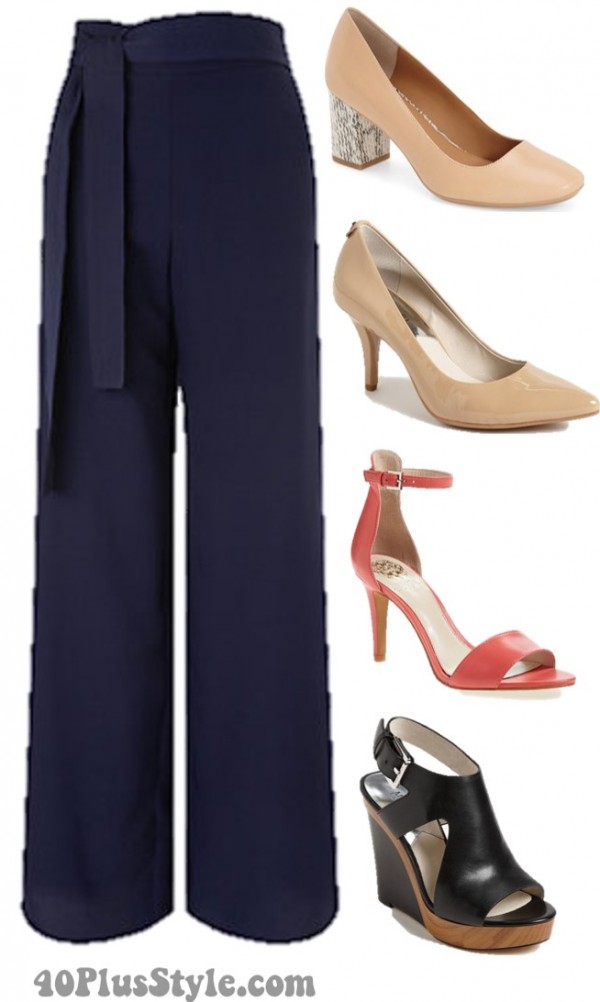 What pant-shoe combination are your struggling to master? What is your favorite combination?

Related posts: