Wide legged pants are coming back on trend this season, especially white ones. I personally love wider pants which can be a very good choice of trousers for many women over 40.
It's great for short legged women like me, as flared pants are very leg lengthening when they fit well at the top. Be sure to wear them with (high) heels though.
They may cover up your muffin top (if you have one) and hold your tummy in if you select a high waisted one.
Pear shaped women also benefit from wearing wide legged pants as they draw attention to the ankle and hips appear narrower.
If you are heavy at the top, flared pants will give you a nice silhouette.
However, not all wide legged pants are created equal. Some examples are:
High waist – full flare: good if you want to hide a muffin top or want to create an hourglass figure as it accentuates the waist.
Tight upper pants – small flare: good if you have skinny legs. Not so good if you have saddle bags.
Standard leg – wide flare: Good to hide thicker thighs.
Wide leg: very wide pants all over and good for tall women. Short or bulky women, be careful with this style!
Some additional tips on how to wear wide pants
Buy them long. I don't like the look of flared pants that are too short. It's nice when your pants hide your high heels.
Wide pants look particularly good if you define your waist with a belt.
Try to balance the total look and wear something slim fitting on top. Flared pants can make for a very classical look so they will look great with a well fitted shirt.
Although a slim fitting top is the easiest and most flattering way to wear wide pants, I also like to combine them with short dresses and wider tops. It's a tougher look to pull of, but I personally like the silhouette it creates.
Short people can also wear wide pants. Just make sure they are more fitted at the top and the pants don't flare too much.
Although wide legged pants can be perfect for the pear body shape, make sure you don't have any side pockets as that will add extra bulk.
Pear shapes also benefit from flat front pants, as opposed to pleated ones.
Want even longer legs? Try flared pants with vertical stripes.
Wear them with heels!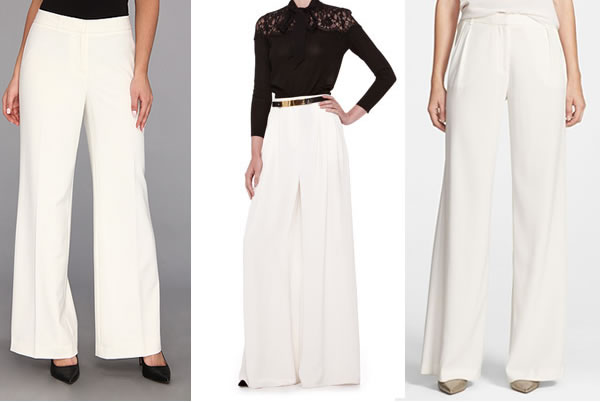 Want some more inspiration on wearing wide pants?
Here are some examples of how I have worn my favorite white flared pants.
Here are some newer looks with wide flares and jeans flares: how to wear flared pants.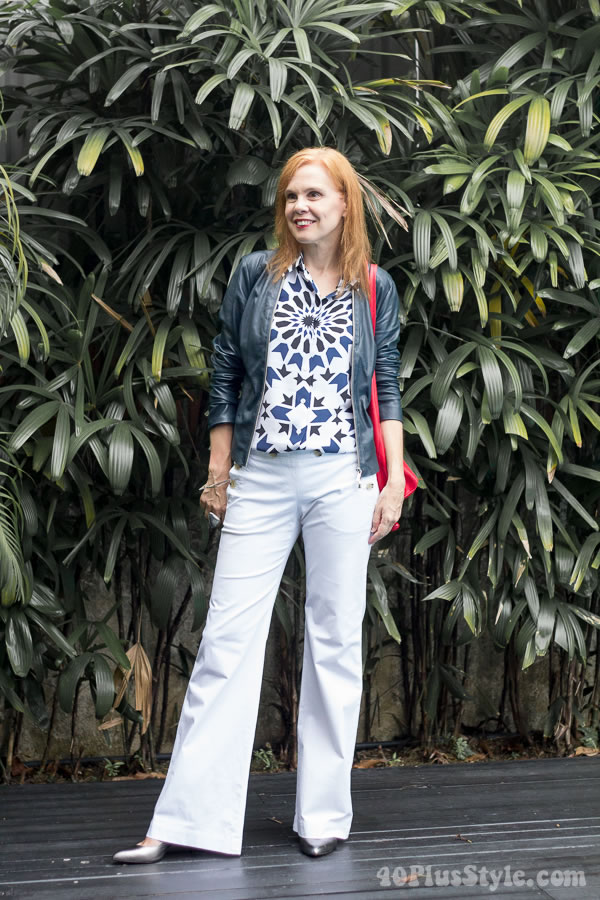 For these jeans and other favorite brands, visit how to wear jeans over 40.
More information on how to wear wider pants
For even more ideas on how to wear wide leg pants, you can visit my special inspiration board on Pinterest: How to wear wide pants.


Like this article? Save it on Pinterest

How do you wear wide pants?