In my article on how to determine body shape I discussed several general body types. Now it's time to take that one step further and to see how to dress for your specific female body type. Today I'll be sharing my tips for the pear shaped body type, also called the triangle shaped body, with lots of tips on how to create the most flattering shapes for your body shape and lots of ideas for clothes you can buy right now.
First, here is a short video on how to dress the pear body shape from our style expert Ruth Essex.
Video: How to dress your pear shaped body type

What is a pear shaped body?
As a quick recap you have a pear shaped body when:
Your hips are wider than your shoulder
Fat tends to accumulate on your thighs and sometimes the buttocks
You tend to have an elongated waist and the legs tend to be shorter in comparison to the rest of your body
You have a defined waist
The aim of dressing for your body type is to achieve a flattering look that accentuates your strengths.
In general you will want to achieve a nice hourglass shape. In order to achieve that you will accentuate the shoulders, draw attention to your upper body and waist and elongate the legs.
Please note that these are general guidelines as every body is different. Always experiment with your unique shape and see what works for you.
How to dress for your pear body shape?
Pears tend to store their weight on their thigh and their legs may be heavy. Often they have a very good upper body which is why much on the emphasis in dressing is on the upper side of the body.
Here are a few examples looks that you can purchase right now!
1st look: Lewit spring green dress – Baublebar statement necklace – Sachin and Babi earrings – Sam Edelman heels
2nd look: Topshop knot front blouse – Paige Bootcut pants – Walking Cradle slingack shoes – Talbots scarf – Patricia Nash Crossbody bag – Madewell stack ring – Pared Eyewear shades
3rd look: Kut From The Kloth Denim Jacket – BP bow loafer – Komarov A-line dress – Frye saddle bag
Which garments are good for a pear body shape?
Since your hips are a lot wider than your shoulders you want to emphasize the shoulders and widen them. So it's actually good for pears when shoulderpads are back in fashion!  Puffy shoulders will work too. Always make sure that the shoulders are properly fitted.
To give the impression of longer legs and a shorter torso you can wear a a few layered tops with one very short, like a short jacket. This well break up your enlongated torso and give the illusion of longer legs. You can see an example of this in the left image at the top.
Wear trousers that are not too tight or light. Boot leg trousers are very good for pears.
Avoid pants that are too low on your hips. Higher rise is better.
Wear something catchy on top. Either a catchy colour or some nice detail on your top. Breast pockets, big collars or a pattern are also good. Horizontal stripes help to widen your upper body to bring it more into balance with your hips as do (subtle) shoulder pads.
It's best that your tops and jackets end either above or below the widest point of your hips and bottom
Use accessories to further emphasize the top part like necklaces and scarves.
Waist belts may look good on you as they emphasize your small waist.
You will look best if your trousers or skirt are the darkest part of your outfit.
Wear structured A-shaped coats of knee length. A great coat for you is the trench. Make sure you get one with lots of details on top (like lapels on shoulders) and plain from the waist down.
Wear a good bra.
A line dresses will always look good on you. Dresses with defined shoulders and a good a line are particularly good.
V-line tops will draw further attention to your upper half
High boots are very flattering for your legs
Be careful with high shoes or shoes with ankle straps as they will shorten your legs
Wear medium to chunky heals with a bit of height to further elongate the legs.
What to wear for the pear body type
Here are a few examples of good outfits for this body shape with looks for spring 2018 that you can purchase right now.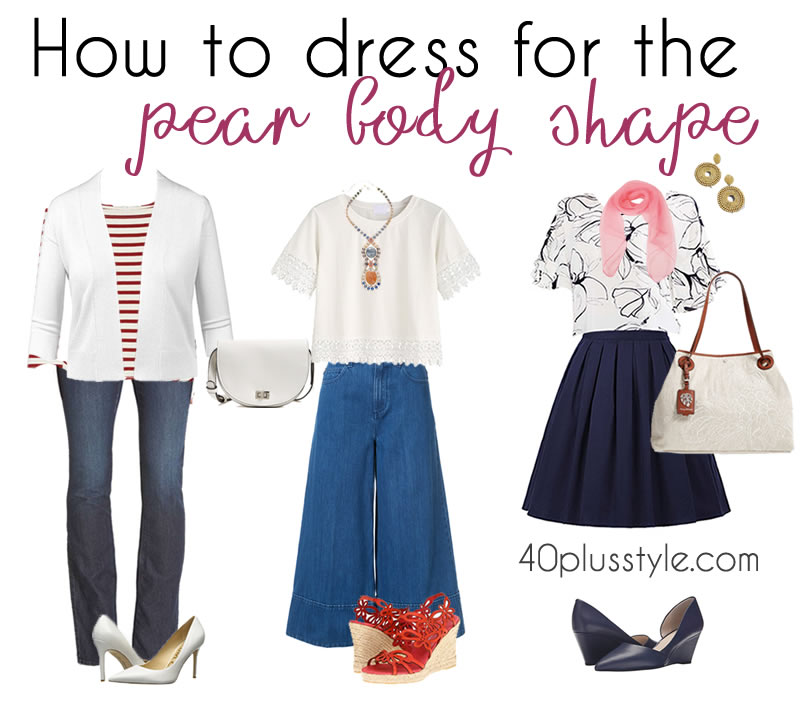 1st outfit: Veronica Beard striped top –Baublebar statement necklace – Biadani crop cardigan – NYDJ Bootcut jeans – Steve Madden crossbody bag
2nd outfit: Romwe white top – Chico's statement necklace –Blue high waist denim  – Eric Michael red wedge
3rd outfit: Fresco ruffled sleeve top – Grace Karin a-line skirt – Kenneth Cole New York Ellis shoe – Tommy Bahama bag – Ora hoop earring – BCBG Generation cuff –
Waisted blazers or blazers with a belt
These are perfect for the pear body shape as they draw attention to your waist and highlight the upper body. Select one in a print or lighter or brighter color to further draw the atttention up.
wrap jacket – Check suiting belted blazer – Striped blazer
The bootleg jeans
These are the most flattering jeans for pears, especially when you combine them with a bit of a heel to lengthen your legs.

Some of my favorite brands for jeans include:
Best skirts for pear shaped women
A-line skirts are a pear shaped woman's best friend. When you wear a well-structured A-line skirt that emphasizes your waist, people will not even notice your wider hips. Here are some great ones that we found for you in online shops.

Good brands for Aline skirts:
Dresses for pear shaped body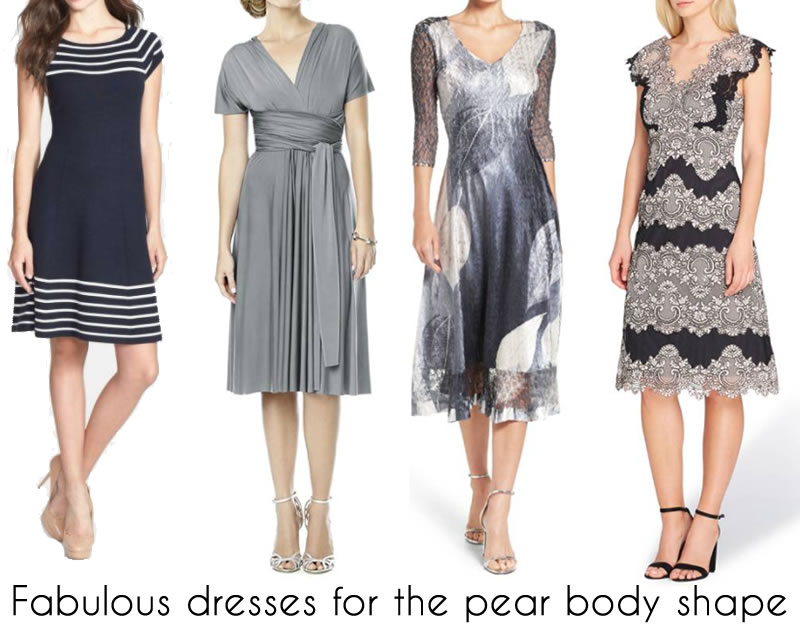 Women like Kim Khardashion like the emphasize their pear shape with form fitting dresses and skirts but most women prefer to downplay their hips and A-line dresses are perfect for doing that. Here are some of my current favorite dresses at Nordstrom.
striped dress – wrap dress – charmeuse dress – Tahari dress
Famous pear shaped women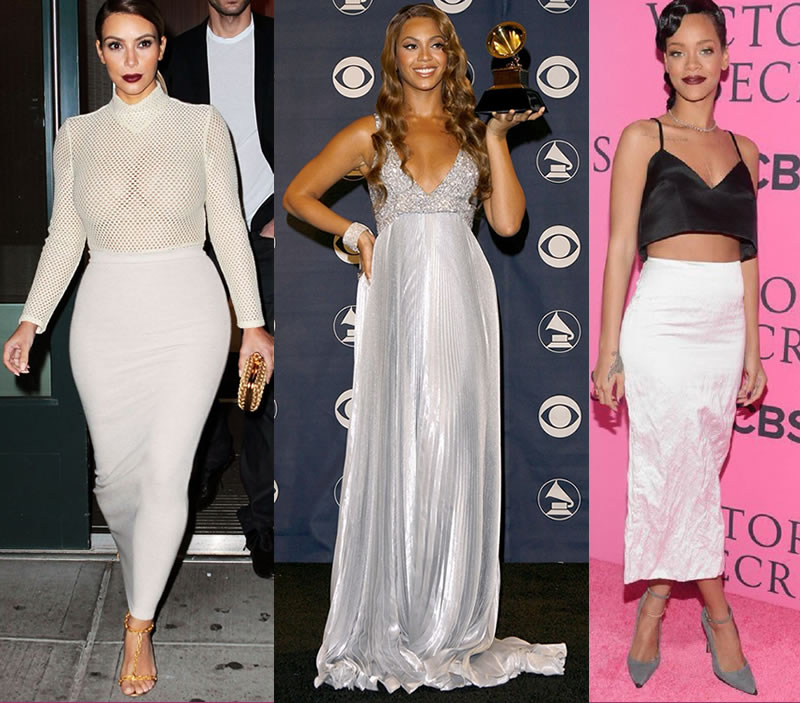 The most famous pear shaped women include Kim Khardashian, Beyonce and Rihanna.
More examples on how to dress for the pear body shape
Belted jackets and bootcut jeans are the perfect combination.

Put a lot of emphasis on yur top part with colorful jackets, strops and bold accessories.

The A-line skirt and dress is your best friend!

Put emphasis on the waist.

What not to wear?
Skinny jeans (can be worn with some tunics or A line long tops)
Pencil or straight skirts
Very short skirts
Tops with narrow shoulder lines
Pleats and pants with a lot of detailing
Shoes and booties with ankle straps, too delicate footwear and kitten heels
Please note that the guidelines above are for general guidance only. Everyone is different and you certainly don't have to stick to the above guidelines to dress well. If you have anything further to add, let me know!
Need to discover your body type?
Want to know more about women body types, you can discover your body type here. From there you can browse to all the other body types: apple, rectangle, hourglass and inverted triangle. All these articles will be updated over the coming weeks with helpful videos and looks for spring!
How do you prefer to dress your pear shaped body type?

Like this article? Save it on Pinterest!