This is a refresher article on how to dress the hourglass body shape with some new shoppable options featuring the spring and summer 2021 trends.
In this part of dressing for your body type series we will have a look at the hourglass figure.
Characteristics of the hourglass body
Well defined (narrow) waist
Hip and bust tend to be almost the same and quite big
The hourglass is seen by many as the ideal body shape, although it may also present some challenges if you have a significant bust.
You may also have gathered some weight around the abdomen area in which case you will have some characteristics of the apple body type as well.
You can see tips here on how to dress the apple body shape.
Celebrities with the hourglass body shape
Some celebrities with this body shape include:
Marilyn Monroe
Raquel Welch
Nigella Lawson
Salma Hayek and
Christina Hendricks
So, if you have an hourglass figure, you're certainly in good company!
Runway looks for inspiration on how to dress the hourglass
While many designers cater for the rectangle or inverted triangle because a lot of models are build this way, there are others who celebrate the hourglass shape and don't shy away from dressing women with a larger bust and hips.
If you're looking for inspiration on the catwalks, then the runways of Dolce & Gabbana, Alexander McQueen and Roland Mouret are good shows to look out for.
Roland Mouret – Dolce & Gabbana – Alexander McQueen
The aim of dressing for your hourglass body type
You will want to accentuate your very feminine body so fitted clothes (at the right places) are key. Another objective may be to elongate your legs.
You are lucky in that your body is already balanced. Your bust and hips are around the same size. Other body shapes will find that they need to add balance.
So you will want to keep the balance that you have and avoid adding any "bulk" with your clothing.
If you add ruffles or extra width to your bust, for example, you will lose your ideal hourglass shape and end up looking "top heavy".
If you add extra width to your waist with boxy styles, you will look heavier than you really are because you will hide your lovely shape.
Nikki (above) shows off a good dress for hourglass figure as it accentuates the waist.
Check out these printed dresses from Fraiche by J, Eliza J and Amazon, that you can wear with these similar boots.
How to dress the hourglass body shape
So, now we've looked at what you shouldn't do – ie, not to add extra bulk, what should you do?
Upper body
A good bra is essential for this body type. Make sure you get a good supportive bra that will thrust your bust forwards.
You will want to wear mostly V-shaped tops or tops with a deep neckline. High necklines will just make your bust area look too bulky
Look for dresses that fit your boobs and elongate your waist. They should fit very snugly around that area.
If you have some weight around the abdomen then make sure your buy your dress in supportive fabric.
T-shirts look nicest when they fit your waist, have a V-neck and have some accents on the shoulders.
Get a coat that highlights your waist and features a V-neck.
Wear single-breasted jackets that are tailored. They will often look best when left open to create a nice vertical line, which elongates
Choose shirts that accentuate your boobs and that don't have buttons all the way to the top.
Tops that flare just below the boob area and go to below your crutch can be very flattering with trousers.
Little fitted jackets that tuck in your boobs will look great on you.
Use light scarves in winter to cover your open V-neck.
Wear darker colors on top to make your boobs appear smaller, if you want to.
Patricia (below) makes sure that her waist is accentuated with a fitted dress. She adds interest with the detailing on sleeves. Note that her sleeves end at her slimmest part, at her waist, making this an extra-flattering option.
Recreate her look with this similar dress, pumps, clutch, headband and earrings.
Lower body
A pencil skirt is a good shape on you as it will go in and out with your curves.
Bootcut and flared styles will look great on you when it comes to pants as they compliment your curves.
Top wardrobe tips for the hourglass:
Pencil skirts that fit well are ideal for the hourglass as they accentuate your wonderful curves.
Other skirts can work too but will usually look better when they end around the knee.
Opt for flat front boot cut trousers, preferably with stretch for a snug fit.
Choose shoes that accentuate your curves, such as shoes with rounded toes, peep toes or bows.
Madeline (above) chooses a peplum top that is perfect for the hourglass along with a pencil skirt that ends at the knee. She's following the basic "rules" of the hourglass and looks fantastic.
Recreate her look with this similar peplum top (plus size option here) pencil skirt and hoop earrings.
A spring and summer capsule wardrobe for the hourglass
If you have an hourglass figure and want to put together all of the tips in one capsule wardrobe, read on for tops, pants, skirts, dresses, shoes and accessories, which are all flattering for your figure, as well as having a nod to this season's trends.
Also take a look at how to create a capsule wardrobe.
Tops for the hourglass
When looking for tops, you will find that scoop neck styles look good on you as they will show off your collar bone, and the curve of the neck will mirror your own curves.
The other style to look out for is a v-neck. This cuts the width of your top half visually in half by drawing the eye down instead of across.
If you aren't keen on your upper arms, then look for tops which have slanted sleeves, or where the sleeve ends at a slim part of your arm rather than the widest part.
Peplums, fitted waist styles, wrap tops and belted styles will also look great on you.
Erica (above) opts for a square neckline which can be a good shape for the hourglass as well as making sure she cinches her waist.
Steal her look with this similar belted top, pants, sandals and sunglasses.
ACEVOG drape cardigan – Marks & Spencer floral peplum top – Veronica Beard puff sleeve top – Zeagoo cross front blouse
Jackets and coats for the hourglass
As with the rest of your clothing, your jacket or coat should show off your waist.
Boxy styles won't do you any favors as they will actually make you look larger than you are, and they will hide your lovely waistline.
The most flattering shapes for you will be those which either go in at the waist which are tailored, or which are belted at the waist.
You could also think about the kind of retro-style bomber jackets that were popular in the 50s (seen on the Pink Ladies in the movie Grease!).
You could look for a classic trench style, a swing coat, a peplum jacket or a tailored blazer.
These have made a come back in recent seasons and have a band at the waistline which would also show off your slimmer waist. Trench coats featured heavily on the spring and summer catwalks this year.
Petra (above) shows off a classic belted style which would work well for the hourglass.
Steal her look with this similar belted coat, pants, pumps, handbag and sunglasses.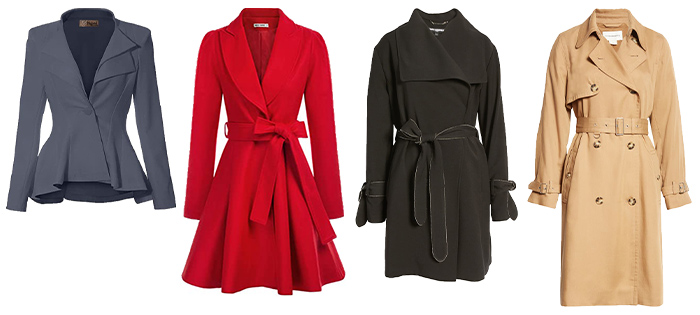 Hybrid & Company notch lapel blazer – Grace Karin notch lapel belted pea coat – Karl Lagerfeld Paris drop belted trench coat – Club Monaco trench coat
Dresses and jumpsuits for the hourglass figure
As a general rule, hourglass shapes look fantastic in dresses. A wrap style in a knee-length or midi length is a very good shape for you.
A wrap dress has a flattering v-neck as well as coming in at the waist and then flaring out over your hips.
Choose a style with a tie or a belt so you can draw attention to your waist. Retro styles tend to be a good option too. Fifties-style dresses are made to flatter the hourglass figure.
Julie (above) looks fabulous in a yellow striped wrap dress.
Check out these wrap dress options from Maggy London, Amazon and New York & Company, and wear with these similar wedge sandals, handbag and earrings.
You can read more about Julie's style in this style interview.
You could also opt for a jumpsuit. Choose a style which is either fitted at the waist, or which you can draw in with a belt. Opt for a v-neck.
Loveappella tie waist wrap dress – Vince Camuto floral belted dress – Karen Kane faux wrap dress – Donna Ricco cowl neck jumpsuit
Best jeans, pants and skirts for hourglass figures
A slightly flared or bootcut style will be the most flattering for your figure as it balances out your curves. Look out for a stretch denim with a high waist.
You can also wear skinny jeans if you want to show off your curves. But make sure to get a stretch denim for a better fit.
Nikki (above) opts for a pair of wide pants and makes sure to show off her waist with a belted style.
Recreate her look with this similar blouse, pants, heels, clutch, necklace and head wrap.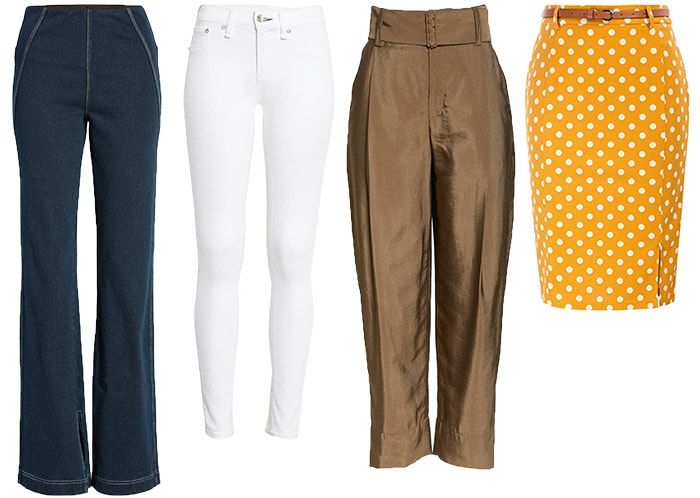 Lyssé boot denim leggings – rag & bone skinny jeans – Vince belted tapered pants – Kate Kasin pencil skirt
A pencil skirt is the best shape for an hourglass as, even though it is straight in style, it will go in and out in all the right places with your curves.
Choose a knee-length to show off your shapely calves. Or, you could opt for a midi-style.
But if you do go for the longer option, you are likely to look best if you choose to wear a little heel with your pencil skirt, whether you opt for a pump or a bootie, because hourglasses, as a general rule, can be shorter in the leg than other body shapes.
Take a look at the most comfortable heels to wear.
Shoes for the hourglass
If you are an hourglass body shape, you are all about beautiful curves. Look out for shoes which mirror your curves.
A round toe is likely to be most flattering for you. Think about ballet flats and pumps you can wear with jeans and pencil skirts.
You are likely to have lovely shapely ankles, so you could draw attention to them with an ankle strap, but if you do have shorter legs, be aware that a strap across your ankle can make your legs look even shorter.
Lizzi (above) wears a neck-tie scarf, round-toe pumps and carries a handbag with curved edges.
Recreate her outfit with this similar jumpsuit, pumps, bag and scarf.
Vionic wedge sandal – Tory Burch ballet flat – Trotters suede pump – Superga sneaker
For more style inspiration, see our article on how to wear short dresses with pants.
Accessories for the hourglass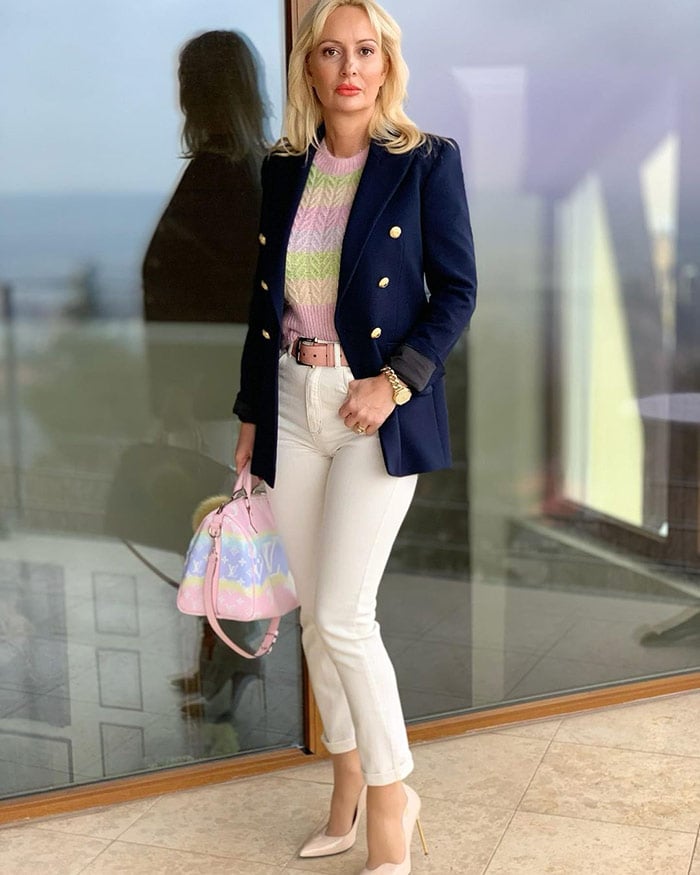 When it comes to accessories, retro style scarves will flatter your style. But, as hourglasses do tend to be busty, you probably won't want to add too much bulk to your top half.
As with your shoes, look out for jewelry and handbags which have a rounded shape. This will flatter your figure rather than working against it (as can happen if you choose more angular shapes).
When you choose a handbag, look out for the strap length. If you opt for a style which sits at your bust, you will end up adding width there. Instead, choose a bag which either ends at your slim waist to draw attention there, or a bag which you hold so that it ends on your shapely legs.
If you do feel that a style looks a little bulky or boxy on you, you can wear a belt over the top.
Belts will be your favorite accessory as they draw attention to your waist.
You can simply pop a belt over a coat, a cardigan, a dress or a top to show off your shapely waist. Look out for stretchy styles so you have the flexibility to wear your belt over anything.
Alice (above) opts for a playful bag style. Her outfit would work for many body types.
Check out this similar sweater, blazer, jeans, pumps (affordable option here), handbag and belt
Frances Valentine leather shoulder bag – Kate Spade New York leather camera bag – Ettika starburst earrings – MARC JACOBS cat eye sunglasses – RUESPARI clasp stretch belt – Sterling Forever pendant necklace – Kate Spade New York dot silk twill scarf
What not to wear if you have an hourglass figure
Also, take into account the width of your belt. If you are fairly short-waisted, don't choose a style which is too wide as this will reduce the space between your bust and your hips.
I've looked at what you SHOULD wear to fit and flatter your lovely curves. But, how about what not to wear?
Here are a few tips on what to stay away from.
Avoid too many frills on your clothes as they will add extra bulk to places where you don't need it.
Avoid excess fabric for the same reason.
It can sometimes be best to stay away from obvious waistbands or belts. Instead, you can let your clothes accentuate your small waist.
Flat lace-up shoes can be unflattering to your shapely legs.
Be careful when choosing casual clothes as they can make you look boxy.
9 outfits for the hourglass shape using the pieces above
Below are 9 outfit ideas for you using the pieces from above.
But, there are obviously lots more ways you could mix and match all of these pieces to create dozens more outfits.
Read our ultimate guide to creating a capsule wardrobe that works best for you.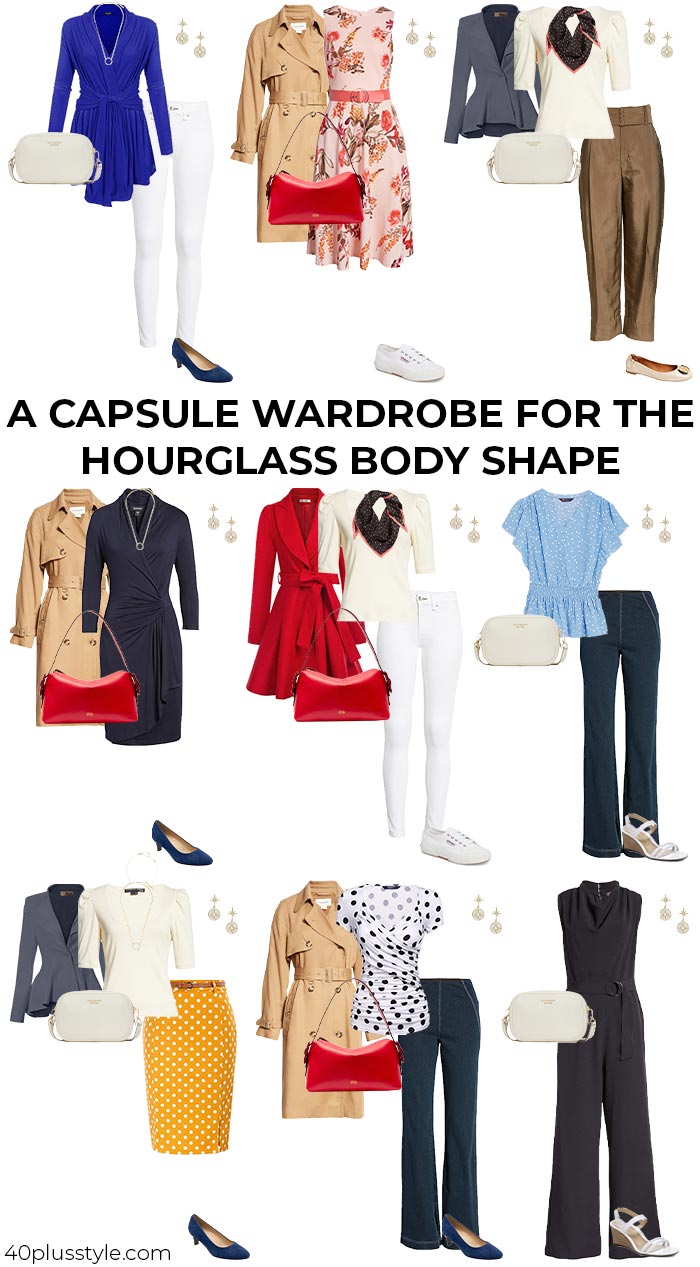 SHOP ALL items above here:

More hourglass inspiration for you
Below is an earlier hourglass capsule I created. You can see that all of the items may be past season but they are timeless so should still provide you with plenty of inspiration.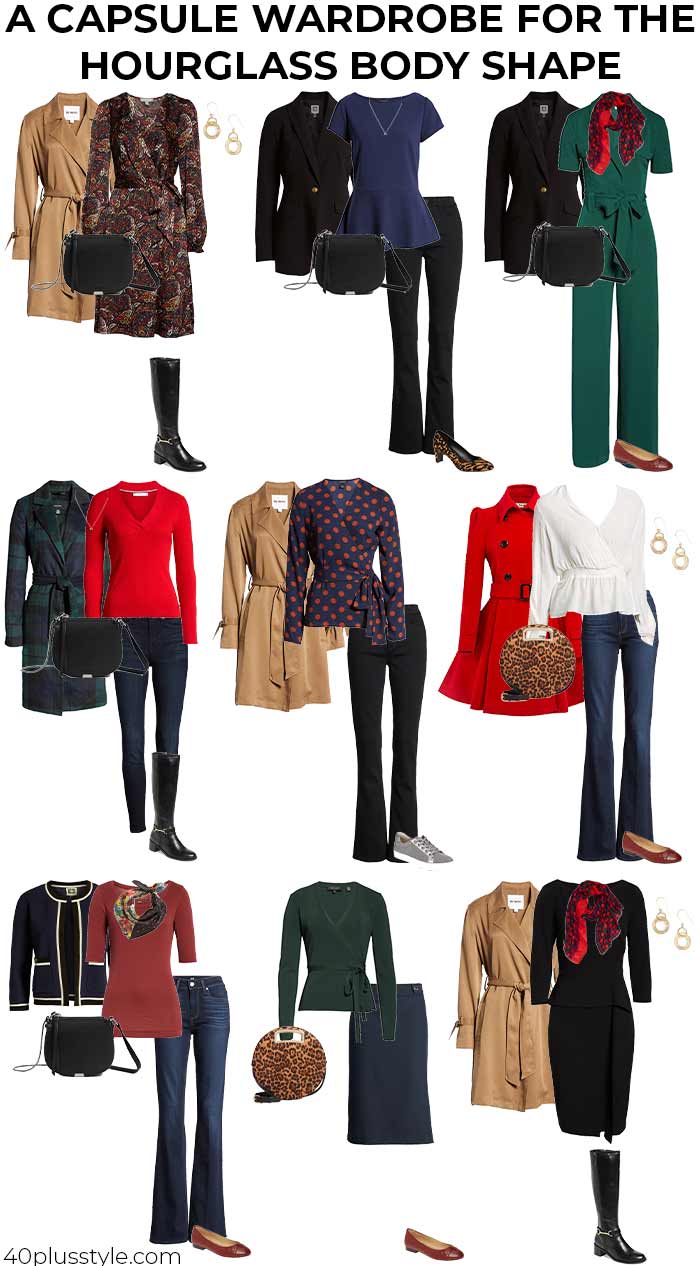 How do you dress your hourglass shape? What are your favorite pieces and brands when it comes to how to dress the hourglass? Let us know!
Continue reading:
P.S.: Please note that the guidelines for the hourglass body shape above are for general guidance only. Everyone is different and you certainly don't have to stick to the above guidelines on how to dress the hourglass to dress well.
Like this article on how to dress the hourglass body shape? Save it on Pinterest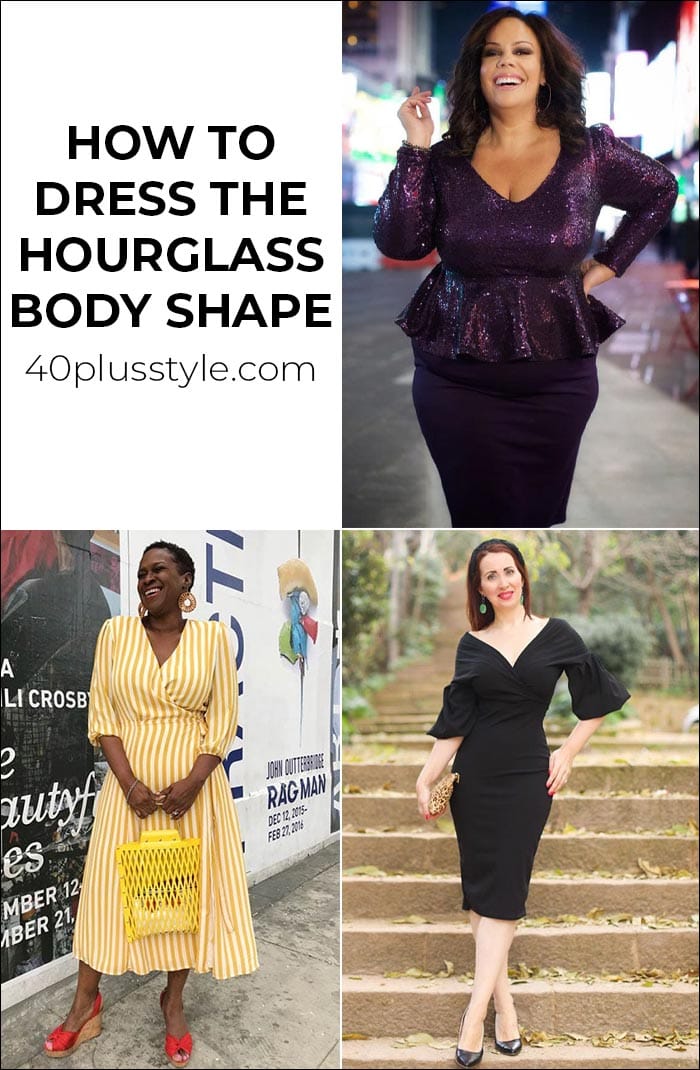 Feature image by Julie
Want to get more articles from 40+style in your inbox, subscribe here.
You can also connect with 40+style on Facebook, Instagram or Pinterest.
Support 40+style by using the links in our articles to shop. As an associate for Amazon and many other brands, we receive a small commission (at no cost to you) on qualifying purchases which enables us to keep creating amazing free content for you. Thanks!