Ok, before I begin this article, don't get worked up about the title. I write about what people want to know and many women would like to know how to look taller and slimmer in their clothes.
I'm not saying that you HAVE TO dress to look taller or slimmer or that it is important. But if looking taller and slimmer is your objective on any particular day, or gives you extra confidence, then this article will provide some guidelines.
Is it okay to want to look taller?
It's also ok to have an objective like this.
When I look at myself, some days I want to dress to appear taller.
Some days I want to highlight my figure or accentuate my waist.
Some days, I just want to be edgy and I don't care if the silhouette I choose is the most flattering.
Some days I don't want to dress my age or care about slimness and just have fun.
It's all ok.
If on any particular day, I want to dress to look slimmer, it does not mean that I don't accept who I am or that I'm unsatisfied with the body I have, it just means that on that particular day I want to look as tall or as slim as I possibly can.
Clothes are a great tool to deceive the eye and obtain the objective you are after. It's like using perspective in art. So why not use it?
With that out of the way, let's get to it!
How to look taller and thinner
There are many ways to look taller and thinner. Check out our tips below to look longer and slimmer below and combine to your heart's delight for the best effect.
1. Wear Heels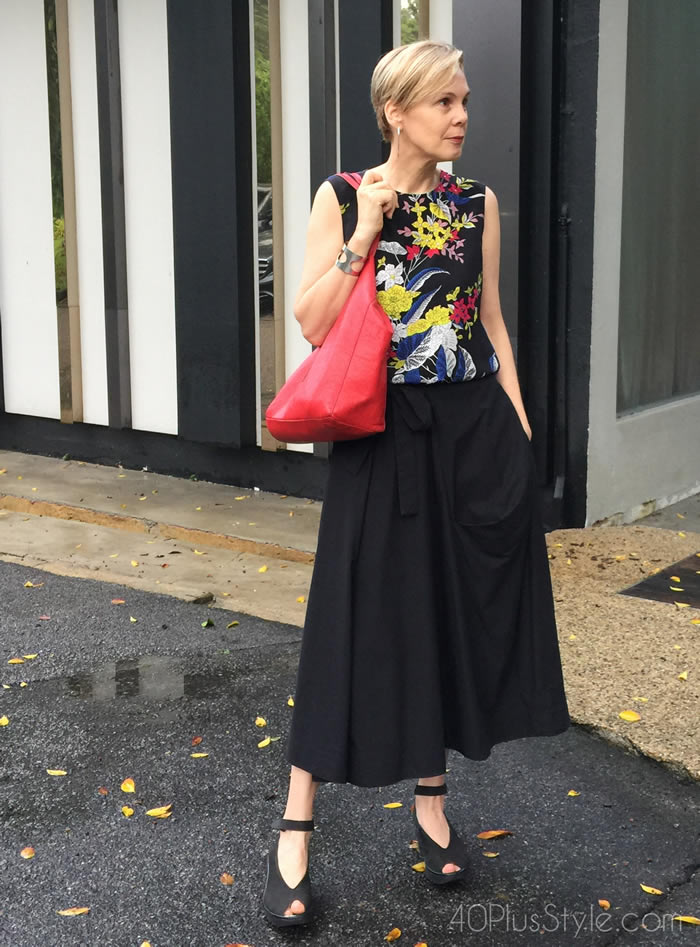 This is quite an obvious one of course.
One of the best ways to look taller is to avoid too much color blocking from the waist down. That means using tights or stockings in a color that coordinates your skirt or shoes.
Or coordinating pants with your shoes. Doing so elongates your body from the waist down.
Another great trick, especially in the summer months when it's too hot to wear stockings, is to choose nude color shoes. Nude shoes work with all colors and make your legs look longer, since a contrasting shoe color tends to interrupt your leg line.
You probably know that heels work magic by adding height and improving your posture, giving you a taller, slimmer look. But many heels are uncomfortable to wear. Look for deceptively comfortable heels. Brands like Cole Haan make fashion-forward shoes with comfort touches like padding built in.
I like my heeled shoes form Fly London that are extremely comfortable and great for walking, yet still add some height.
You don't have to wear sky-high stilettos to streamline your look. 2-3″ of height can make a big difference. Some of the best everyday heels include:
A kitten heel, with just a little bit of height in a sexy, thin heel shape
A heel with a rubber sole for comfort and impact resistance
A stacked pump with a thicker, more stable heel
A wedge heel, which offers more support and stability
A platform pump or sandal. It's more comfortable than it looks if you think about it. A pump with a 2″ platform and a 5″ heel is not actually 5″ high. The heel feels more like a 3″ high pump but lifts you up a full 5″.
Add further comfort to your high heels with the adhesive Dr. Scholls Dreamwalk High Heel Gel Insoles in your heels.
The insoles cushion the heel and ball of your foot, where most of the walking impact happens. Dr. Scholls offers a full gel insole for pumps and boots or an adhesive arch-only insole for open toe heels, slings backs and sandals.
Here are some ideas for stylish, comfortable heels that will help you look taller and slimmer. All of the shoes below have a 2″ to 3″ heel. I've chosen wedge, block and platform heels rather than stilettos.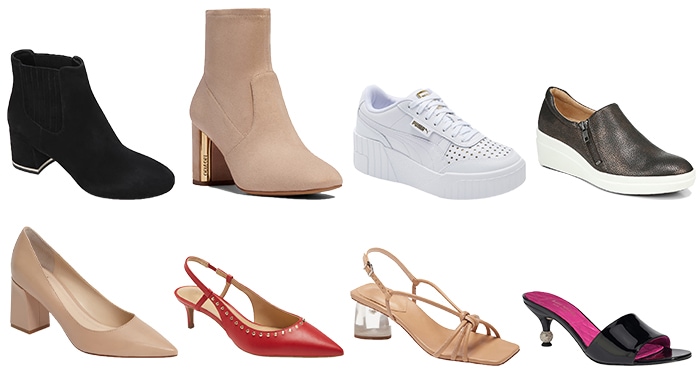 Kenneth Cole New York bootie – COACH bootie – PUMA x Charlotte wedge sneaker – Naturalizer wedge sneaker
March Fisher LTD block heel pump – Michael Kors pointed toe pump` – Schutz strappy sandal – Kate spade New York slide sandal
If you want to stay comfortable while wearing your heels check out our recommendation for the best arch support shoes.
2. Create a Skinny Waistline with a Belt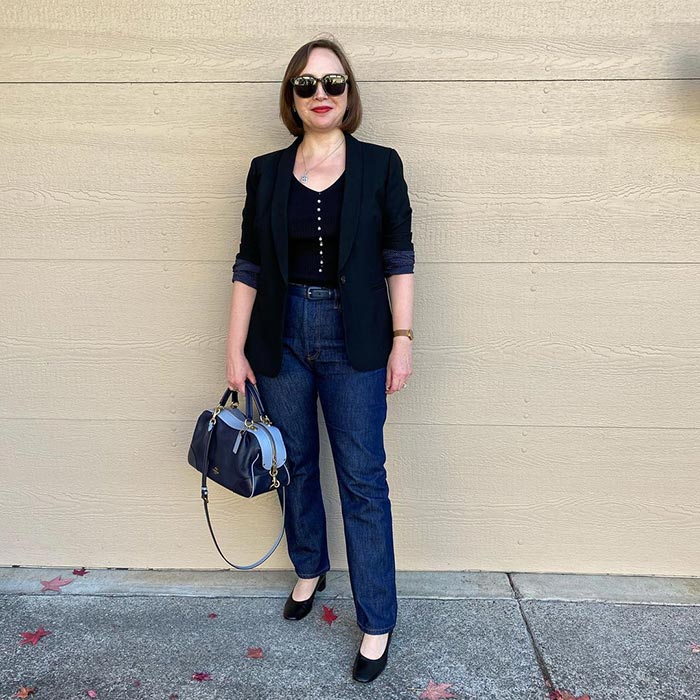 Belts are a great addition to your wardrobe. If you want to know how wear them, check out an older article on how to wear a belt.
But besides being a great fashion accessory, a belt helps cinch the waist and add an hourglass shape to your body. The latest trend in Japanese-inspired Obi belts is the perfect slimming belt that cinches your waistline comfortably.
If you want to use a belt to look both taller and thinner, skip the contrasting belt and match the belt color to your pants or skirt—it will give the illusion that your legs are just a little longer.
Sometimes layering gets a bit bulky. But layering is an important tool in looking taller and slimmer. A belt will help streamline the effect of layering if you feel there's too much fabric on you. The best way to use a belt with layering is by adding the belt over your cardigan or shawl to draw the fabric in and give you curves.
Oxana (above) shows how a belt in the same color as your pants can make you look taller – as you don't visually create a line through your body with a contrasting color.
Recreate her outfit with this similar top, blazer, jeans, pumps, handbag, belt, necklace and sunglasses.
Below are some fashionable, slimming belts: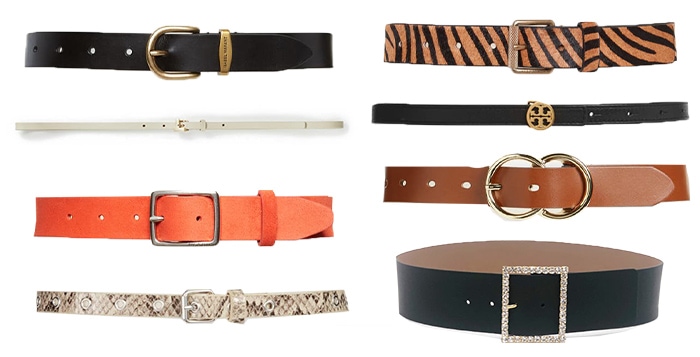 Isabel Marant leather belt – Lafayette 148 New York leather skinny belt – rag & bone boyfriend belt – Halogen snake embossed skinny belt
ALLSAINTS tiger print genuine calf hair belt – Tory Burch skinny leather logo belt – Halogen double ring leather belt – B-Low crystal buckle leather belt
Can't belt because your belly is too big? You may like to check out our tips on how to hide your belly and create beautiful long lines. 
3. Dress in Columns of Color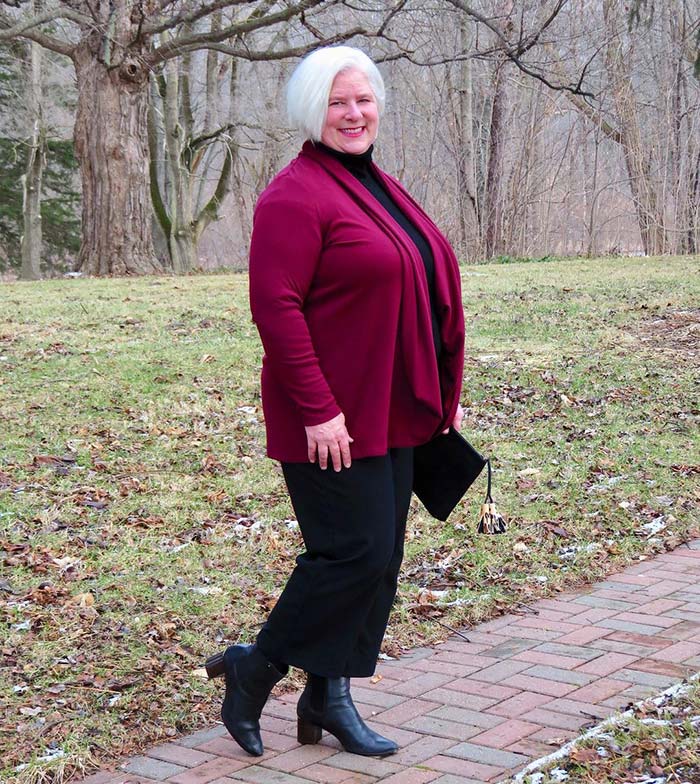 Columns of color when used strategically, help heighten and slim your shape.
The slimming process consists of two elements: color and layers. Think carefully about color choice. Although it's true that black is slimming, wearing too much black can be boring and age you.
Any dark, rich color can be just as slimming as black, so opt for the latest colors like navy, dark red, merlot, dark indigo denim or rich, charcoal gray. Emerald or forest green is making a big comeback, too.
Once you've picked a dark, slimming color, add a cardigan, jacket or sleeveless vest to slim and lengthen you further. The layered jacket effect is a great lengthening secret. Add impact to your columns of color strategy by paying attention to the length of your legs.
Julia (above) wears a column of black outfit and top it with a red cardigan. She wears a heeled bootie for additional height.
Get her look with this similar sweater, cardigan, pants and booties.
Take a look below at more outfit ideas which create an elongating effect through the use of creating a column of color: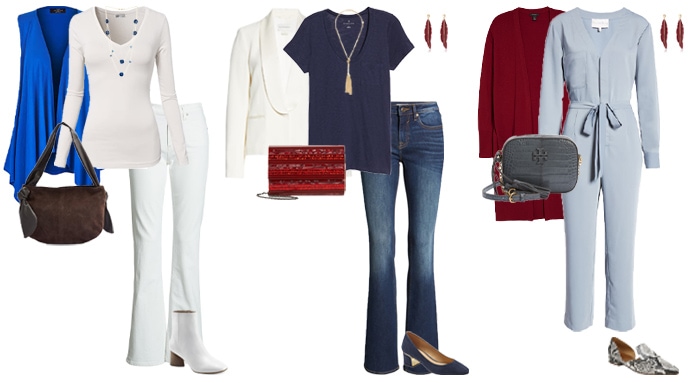 Outfit 1: MBJ drape vest cardigan – H2H long sleeve shirt – Hudson Jeans bootcut jeans – Aerosoles bootie – Topshop shoulder bag – COOLSTEELANDBEYOND two-strand necklace
Outfit 2: Club Monaco tuxedo blazer – Caslon t-shirt – Vigoss bootcut jeans – Michael Kors suede pump – Kurt Geiger London stripe envelope clutch – NVENF feather Tassel dangle earrings – LUREME tassel necklace
Outfit 3: Halogen open front cardigan – Charles Henry tie waist jumpsuit – Franco Sarto flat – Tory Burch leather camera bag – NVENF feather Tassel dangle earrings
4. Wear a short jacket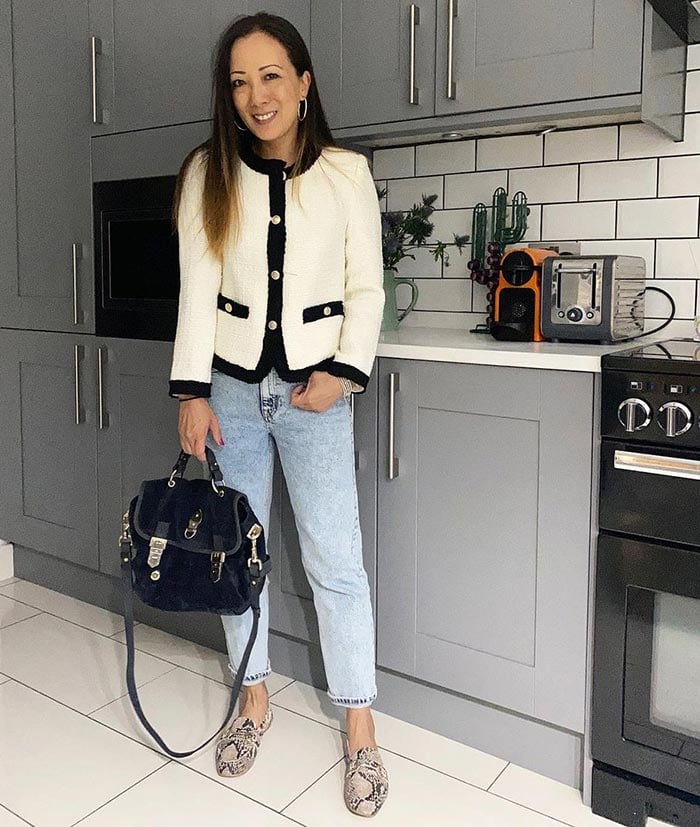 As well as using long vertical lines to create the illusion of being taller or slimmer, another way to create a visual illusion is to wear a shorter jacket and to team this with long, wide pants.
That way, your torso will look shorter, and your legs will look longer, creating the illusion of height.
Abi (above) wears a jacket which hits just at the top of her jeans. note the vertical stripes on her jacket also help to create length.
Check out this similar jacket, jeans, mules, handbag and earrings.
EIMIN 3/4 sleeve open blazer – ALLSAINTS leather biker jacket – BB Dakota drape front suede jacket
5. Add Vertical Details to Your Style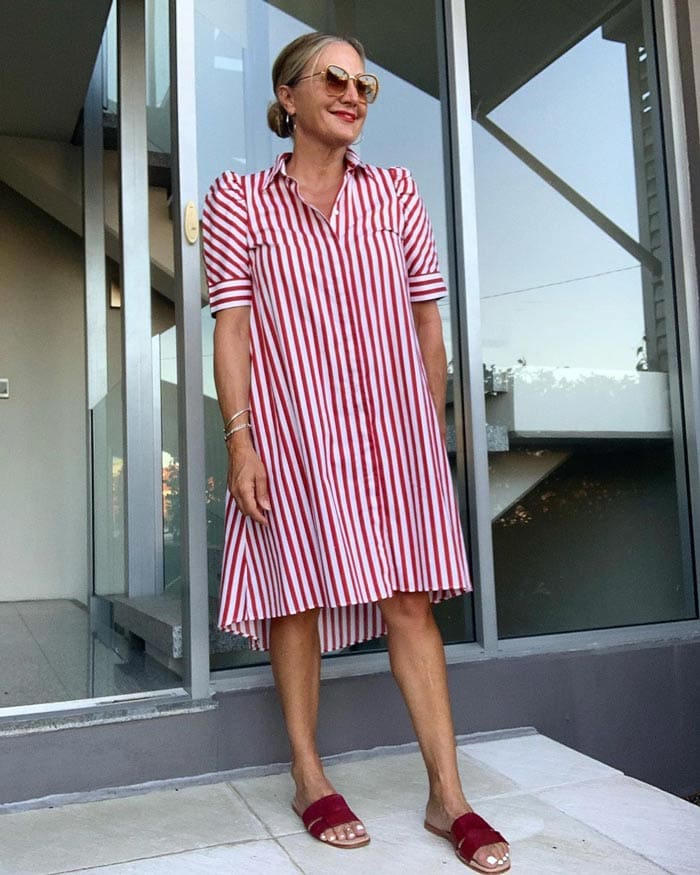 Choose long, vertical lines, prints and seams instead of horizontal ones.
Vertical details will lengthen you and help with the illusion of a taller and slimmer frame by forcing the eyes to scan up and down instead of sideways. The detail can be subtle, like piping or a tuxedo stripe. Or a two-tone hourglass cutout on a dress.
Melinda (above) opts for a relaxed-fit vertical-striped shirt dress. She keeps her look to two colors, even matching her toe nails to the white stripes on her dress.
Check out this stripe dress option that you can wear with this similar pair of red slides, sunglasses and earrings.
Below are some more examples of great pieces in stores now that have vertical details that lengthen and slim.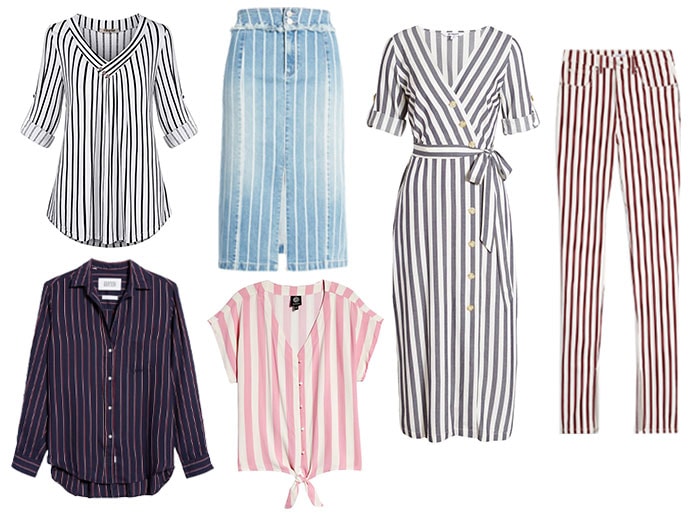 Hibelle cuffed tunic top – Grayson button-up shirt – WASH LAB front slit jean skirt – Bobeau stripe tie front top – BB Dakota midi dress – We Wore What high waist skinny jeans
6. Wear jeans with a flare or a bootcut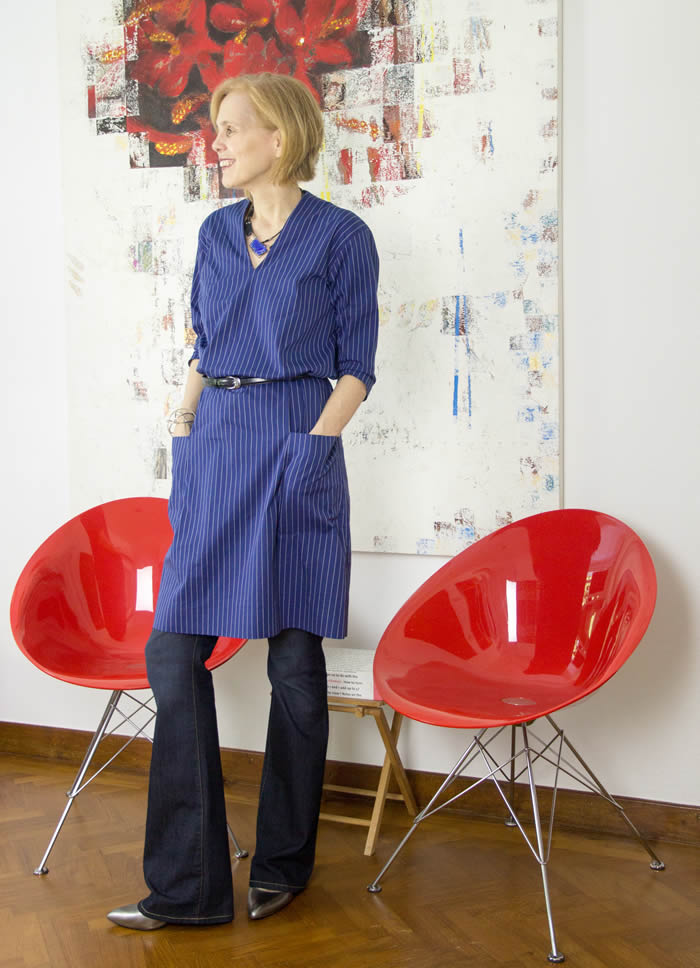 Opt for jeans with a flare, which will draw the attention down and give the illusion that you are taller. Opt for a leg length which comes closet to the floor, but which doesn't skim it (you don't want to be tripped over your pants!).
By choosing longer length jeans, you create longer looking legs. Choosing cropped jeans would visually draw a line across your calves or ankles, making your legs look shorter.
These kind of jeans look best with a (small) pointy heel which will further lengthen the look.
In the look above I've used 5 lengthening and slimming strategies:
I'm wearing a short dress with vertical stripes which are lengthening.
I've also belted my thin belt quite high, making my legs appear longer.
This is further emphasized by the bootleg pants that I'm wearing. These are hemmed for heels.
The heels add further inches to my height. The pants almost touch the ground so the heels are barely visual
The pointy toe shoes further lengthen the look
I'm wearing an IGC dress which is no longer available but this is similar, Paige bootcut jeans and silver pumps (similar)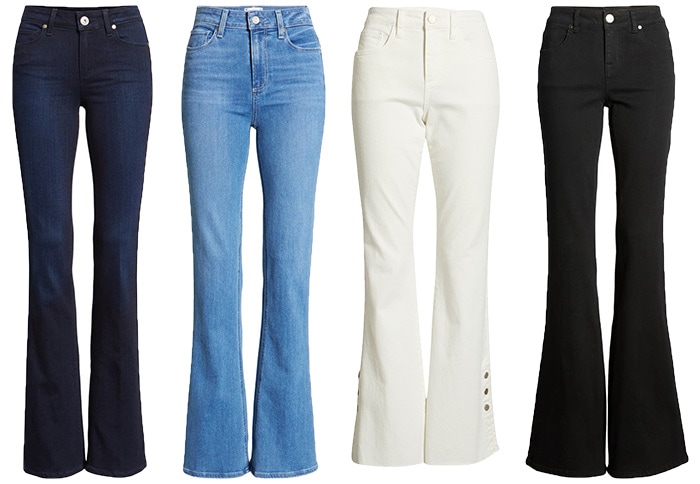 PAIGE bootcut jeans – PAIGE high waist flare jeans – WASH LAB side snap flare jeans – 1822 Denim flare jeans
7. Choose a form-fitting dress with a defined waist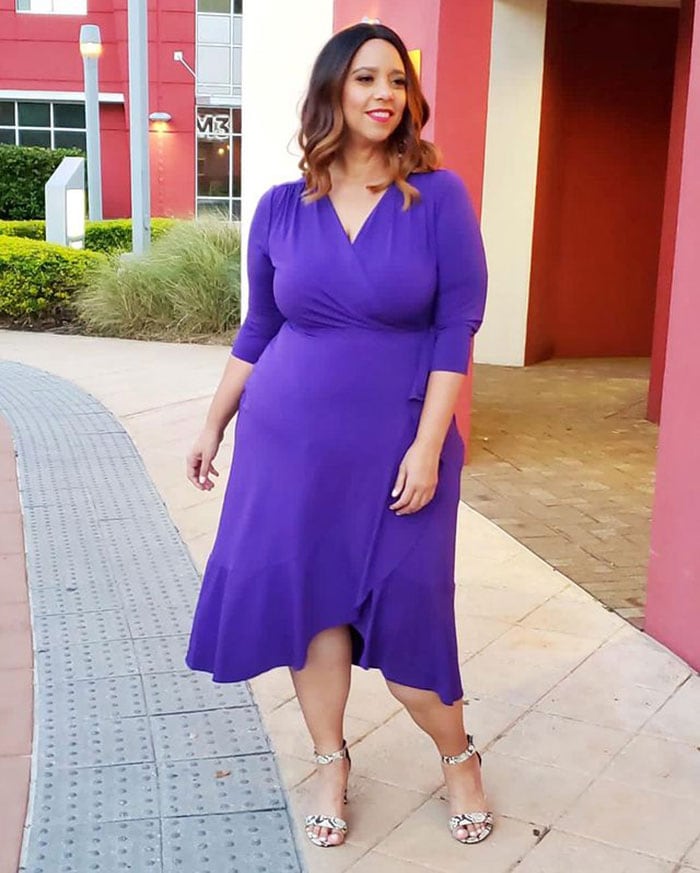 Opting for a dress with a defined waist, or a top with a waist tie can give the illusion that your legs are longer, making you look taller.
Estrella (above) wears a wrap dress that perfectly flatters her figure, defining her waist at the slimmest point under her bust.
Recreate her outfit with this similar wrap dress and ankle strap sandals.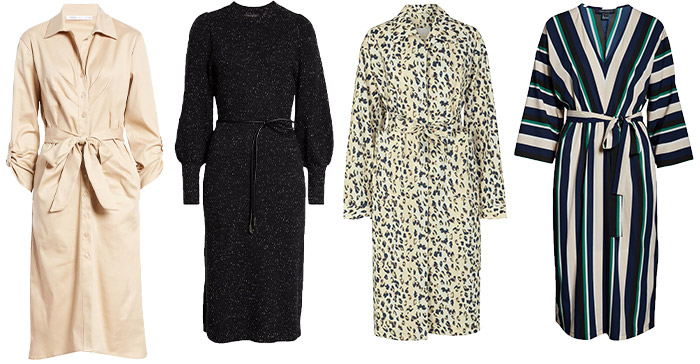 Fraiche by J tie front shirtdress – Ted Baker London wool blend midi dress – REMAIN Birger Christensen leopard print shirtdress – French Connection multi stripe dress
8. Choose high-waisted styles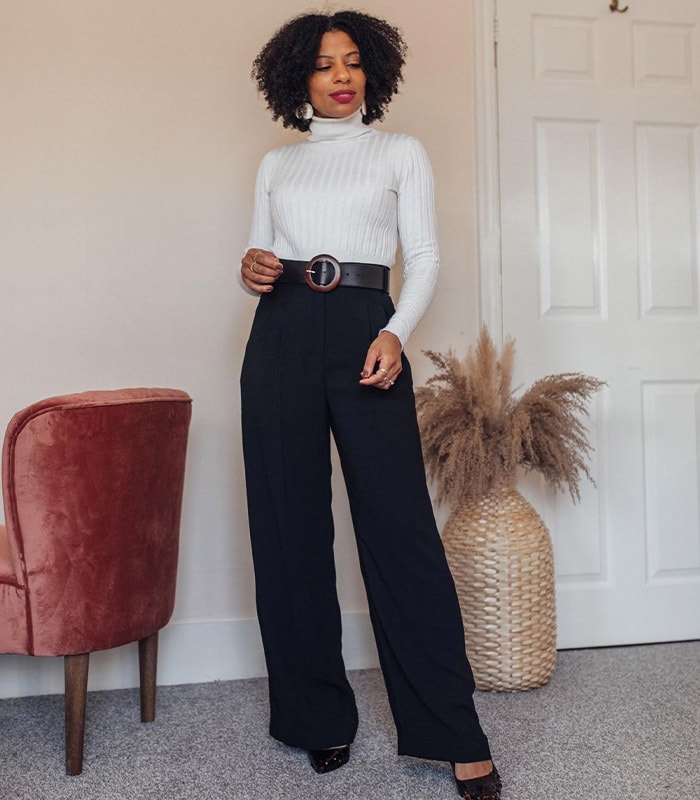 Higher-waisted pants and skirts will make your legs look longer and your torso appear shorter. This creates a lengthening effect.
In the same way that choosing styles with a defined waist will help you to look taller, so too will opting for pants, jeans and skirts which have a high waist.
If you choose bottoms which start at the hips, they are likely to make you, and your legs, look shorter than they really are.
Eleanor (above) shows how a high waistline makes her long legs look even longer. Using a belt the same color as her pants emphasizes this effect.
Steal her look with this similar sweater, wide leg pants, pumps, belt and earrings.
Below are more high-waisted styles you could try: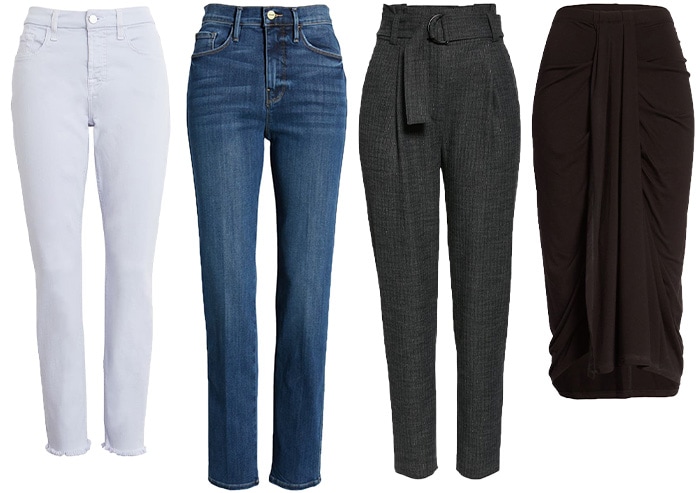 JEN7 high waist ankle jeans – FRAME straight leg jeans – A.L.C. belted high waist pants – Donna Karan New York sarong skirt
9. Wear V-necks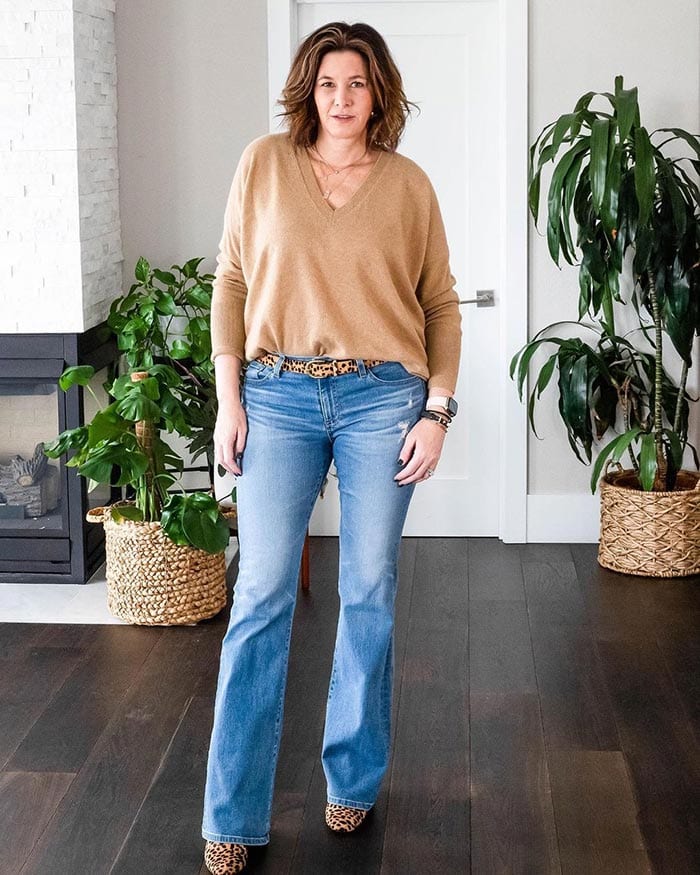 Choose V-neck tops where possible. They will add height to your frame by creating a triangular, vertical line.
For the best result, wear with your high-waisted jeans or pants.
If you are wearing a button-down shirt instead or a v-neck, then you can leave a few buttons open to create the same kind of look as a v-neck.
Dahlia (above) uses several techniques that can help you look taller. She wears an elongating v-neck as well as heels worn under bootcut jeans.
Get her look with this similar sweater, bootcut jeans, booties, belt and necklace.

Halogen twist detail t-shirt – Al In Favor surplice top – Club Monaco stripe tuxedo top – 1.STATE cozy knit top
10. Tuck your tops in
Rather than letting your tops hang over your bottoms, tuck your top into your jeans, pants or skirt.
This will make your torso look shorter and your legs look longer, which will give the illusion of height.
11. Look for tops with slimmer sleeves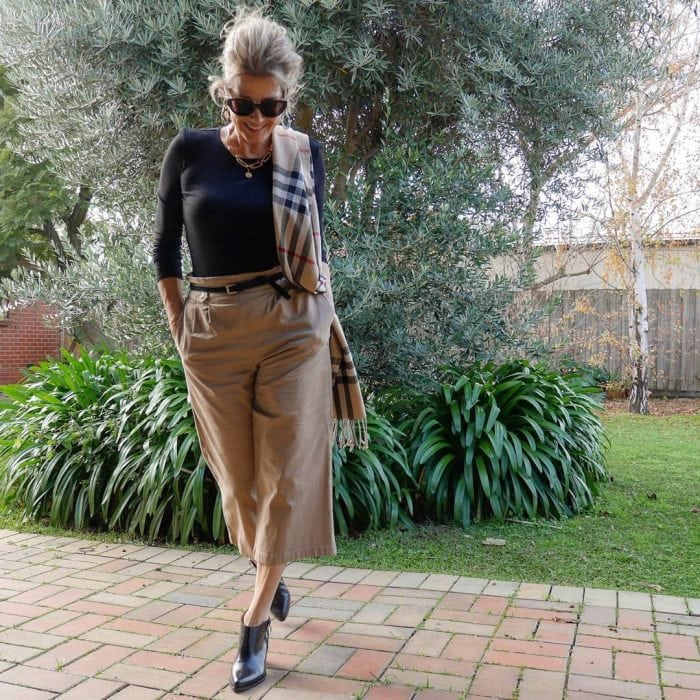 While statement sleeves, such as bell sleeves or puff sleeves, are on trend, they can make your top half look wider.
This, in turn can draw the attention width ways, rather than lengthways. If you are trying to look taller, then look for tops which have slimmer sleeves.
Opting for a three-quarter length sleeve, rather than a short sleeve will also work well.
The same goes for the width of your tops. If you choose a top which is slimline this will elongate your figure to create extra height rather than width.
For example, notice how the tops below are very similar in color and style, but the top with the shorter, wider sleeves draws your attention to the sides rather than up and down.
Suzie (above) opts for high-waisted pants and a classic black top with slim sleeves. The way she is wearing her scarf also helps to draw the eye up and down rather than across.
Check out this similar top, pants, booties, scarf, necklace, belt and sunglasses.

Made By Johnny dolman shirt top – Bobeau twist front top – Groceries Apparel cotton tee – BOSS animal print jersey top
12. Wear a hat with a little height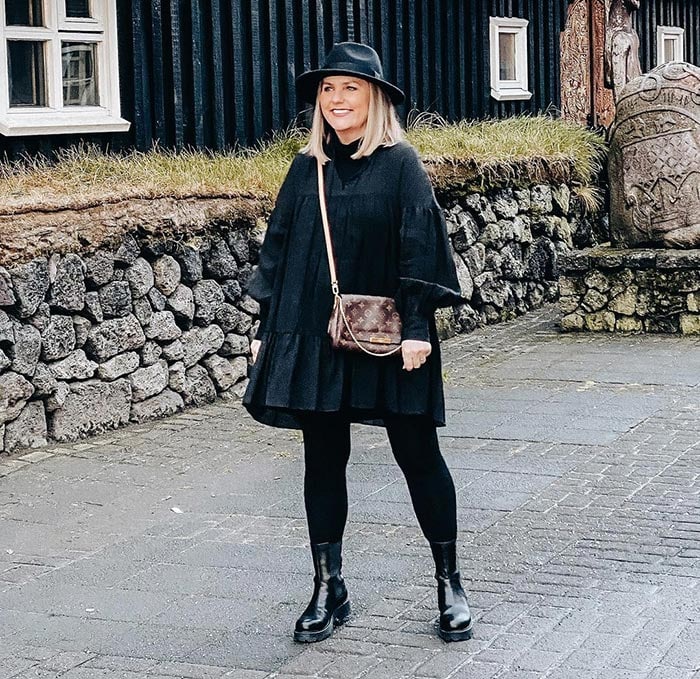 Wearing a hat can not only provide a style statement, giving you the perfect finishing touch to your outfit, but it can also draw the eye upwards, helping you to look taller.
Opt for a hat which has a little extra height on the crown.
Jona (above) chooses an on-trend dress which is voluminous. It looks fabulous but may not be the best choice if your aim today is to look taller.
However, she keeps her outfit in balance with the small heel on her boots and the height she gains from her hat. Not she also wears boots in the same color as her tights, which makes her legs look longer.
Check out this similar dress, tights, boots, crossbody bag and fedora.

Brixton wool fedora – Brixton fisherman cap – Brixton wool felt fedora – Halogen wool felt panama hat
13. Improve your posture
I'm sure we're all guilty of slouching or not paying attention to our posture during the day.
But, just by standing, or sitting tall, rather than slouching your spine or shoulders can instantly add an inch or two onto your height.
14. Opt for pointed toe shoes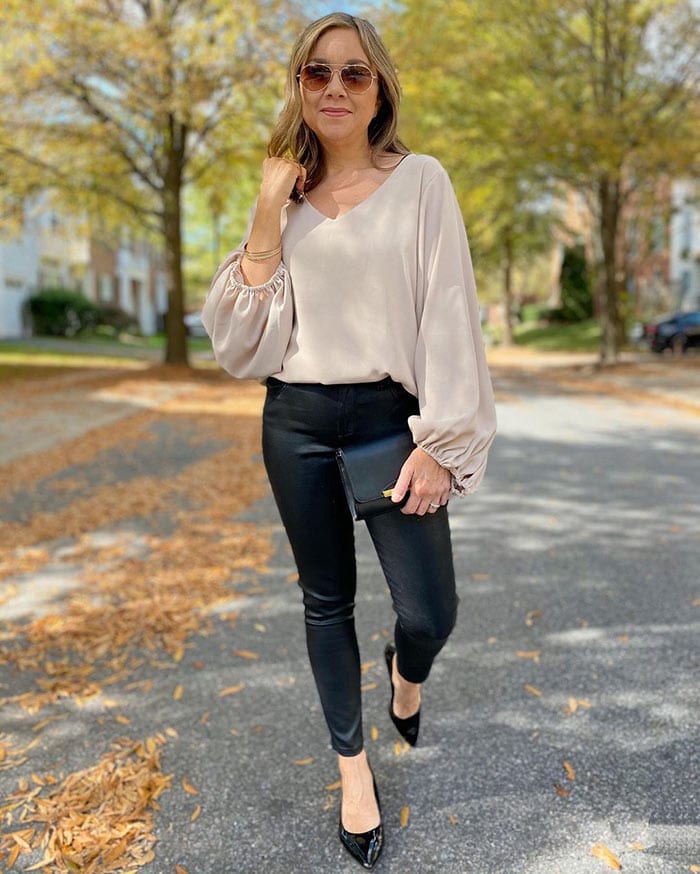 I talked earlier about wearing high heels, which is one of the more obvious tips for looking taller.
But another good tip is to wear pointed toe shoes rather than those with a round toe.
Pointed shoes can add an inch or two to your foot, and elongate your leg. You could opt for either heels or, if you want a more comfortable everyday look, for flats.
Jamie (above) shows that pointed flats can look just as stylish as heels.
Recreate her outfit with this similar blouse, pants, pumps, clutch and sunglasses.

Frye flat – SARTO by Franco Sarto slingback flat – SARTO by Franco Sarto pointed toe slingback flat – SARTO by Franco Sarto d'Orsay loafer
Linea Paolo flat – Naturalizer pointed toe flat – Rockport ballet flat – Vionic pointy toe loafer
15. Avoid big prints
If you're trying to look taller and slimmer then it's best to avoid big, busy prints as these can draw the eye across the body rather than up and down it, creating the opposite effect to the one you are aiming for.
If you do want to wear a print, choose a smaller pattern.
16. wear long necklaces
A long necklace which creates a v-shape can have the same elongating effect as a v-neck on your top.
Ashley (above) shows how a long necklace can draw your eye up and down, creating the illusion of extra length.
Recreate her outfit with this similar dress, slides, bag, and necklace.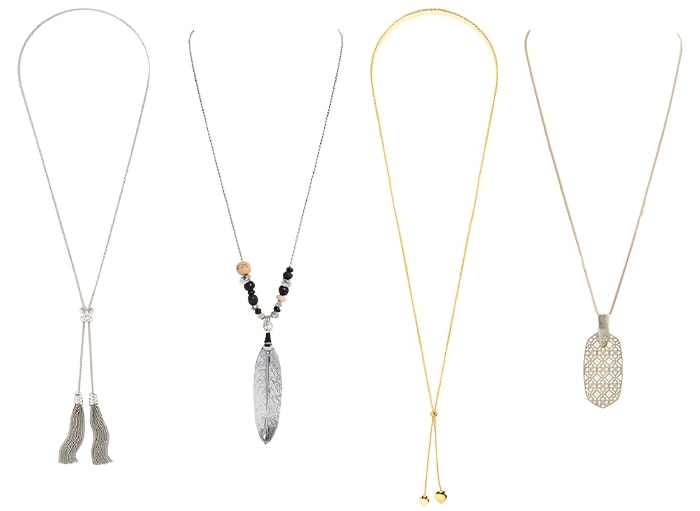 Kendra Scott tassel necklace – Gas Bijoux necklace – Sterling Forever dangling necklace – Kendra Scott pendant necklace
17. For an even more streamlined look, use shape wear
Start with the right bra and underwear – it's the foundation for your look.
Proper shapewear will lift and support where you need it to and smooth and streamline other parts, giving you a slimmer, longer look.
Shape wear doesn't have to look like something your grandma used to wear, fashion details like lace or contrasting panels in the undergarments give you a powerful combination of practicality and beauty.
Be open minded and give shape wear a try.
Today's top shape wear companies like Spanx, Yummie and others are founded by women or work with women designers that know how a woman wants to look — and feel. That means that there is a fashionable selection of undergarments that tuck, lift and hide flaws while being pretty comfortable for all seasons, too.
Here's a collection of some of the best: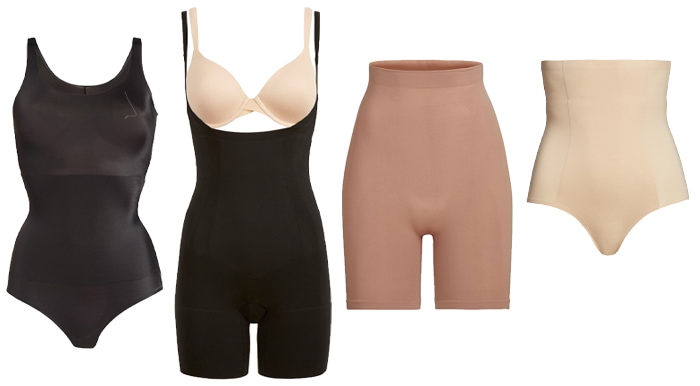 TC bodysuit shaper – SPANX mid thigh shaper bodysuit – SKIMS sculpting seamless shorts – Wacoal shaping brief
A capsule wardrobe to look taller and slimmer
Below are some of the items of clothing as well as shoes and accessories used above put together in a capsule closet to look taller and slimmer this summer.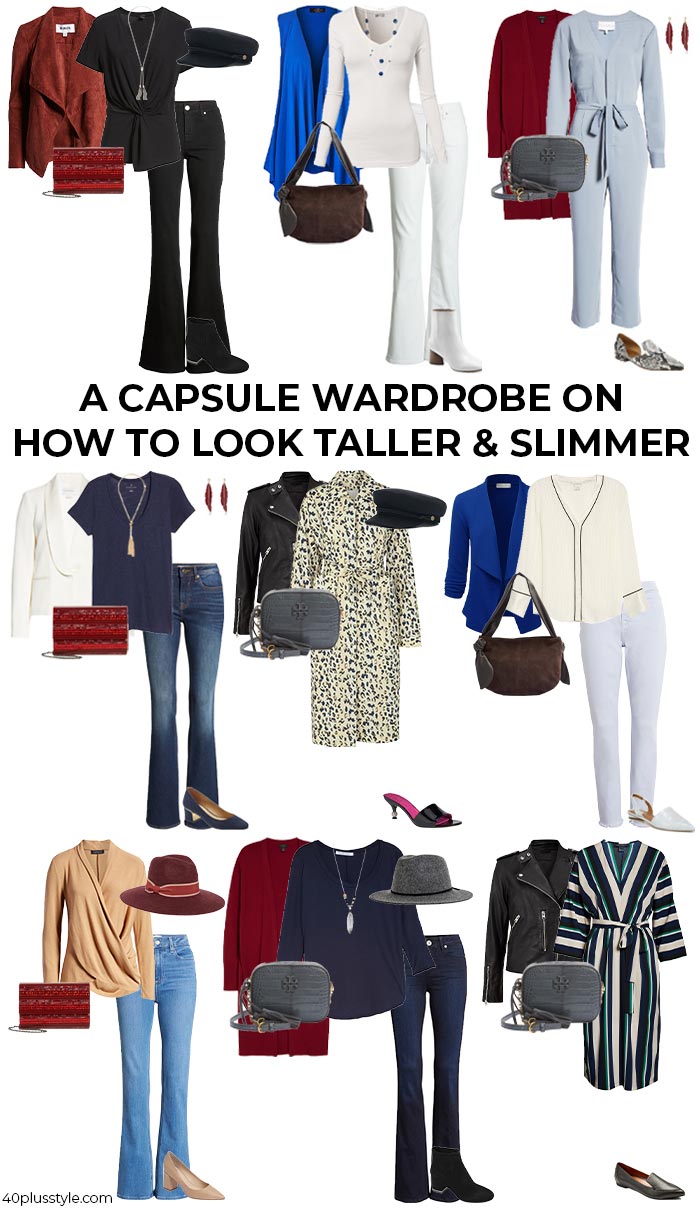 More inspiration
The capsule below is one I created earlier. So, although the items are past season, they are timeless enough to give you plenty of inspiration for the upcoming warmer months.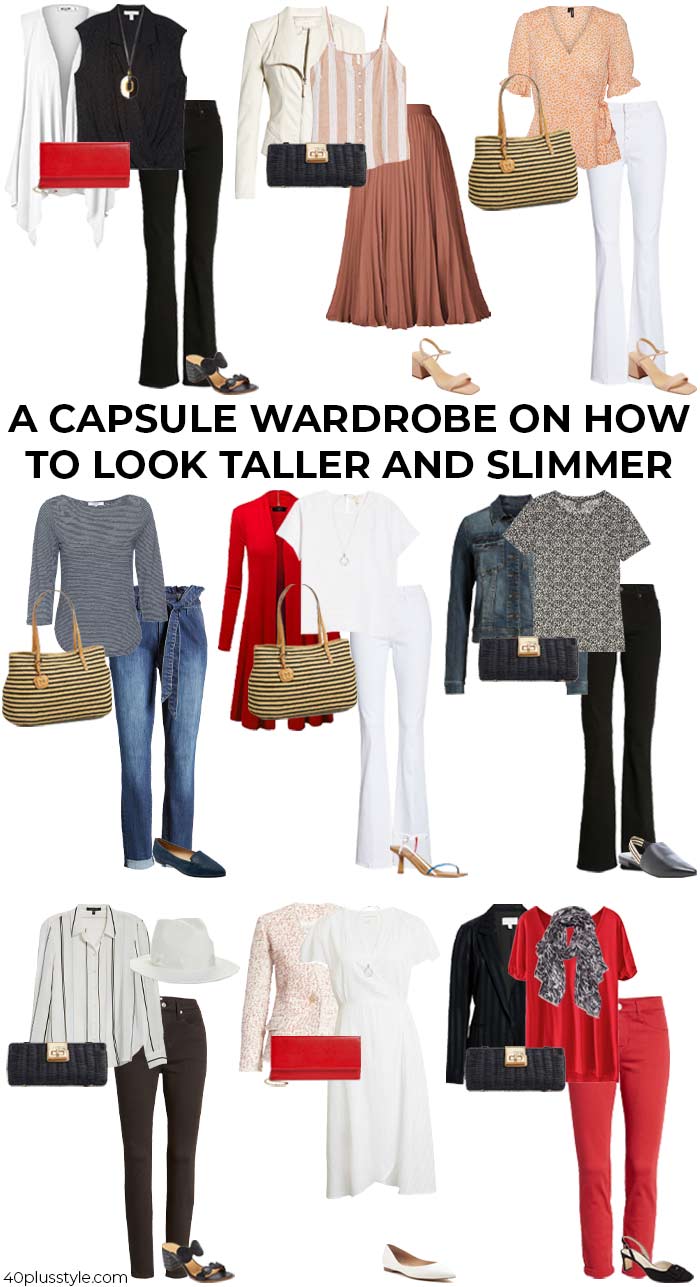 What tricks do you use on the days when you want to look taller and slimmer?
Like this article on how to look taller and slimmer? Save it on Pinterest!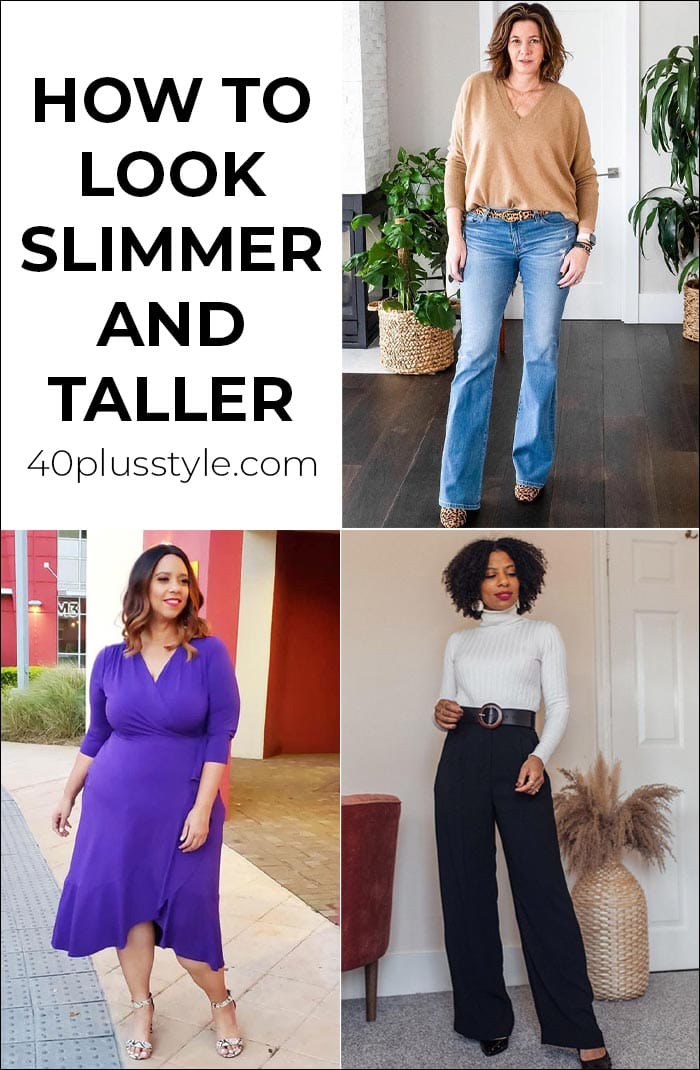 Feature image by Eleanor
Want to get more articles from 40+style in your inbox, subscribe here.
You can also connect with 40+style on Facebook, Instagram or Pinterest.
Support 40+style by using the links in our articles to shop. As an associate for Amazon and many other brands, we receive a small commission (at no cost to you) on qualifying purchases which enables us to keep creating amazing free content for you. Thanks!