Ok, before I begin this article, don't get worked up about the title. I write on what people want to know and many women would like to know how to look taller and slimmer in their clothes.
I'm not saying that you HAVE TO dress to look taller or slimmer or that it is important. But if looking taller and slimmer is your objective on any particular day, or gives you extra confidence, then this article will provide some guidelines.
It's also ok to have an objective like this. When I look at myself, some days I want to dress to appear taller. Some days I want to highlight my figure or accentuate my waist. Some days, I just want to be edgy and I don't care if the silhouette I choose is the most flattering. Some days I don't want to dress my age or care about slimness and just have fun. It's all ok.
If on any particular day, I want to dress to look slimmer, it does not mean that I don't accept who I am or that I'm unsatisfied with the body I have, it just means that on that particular day I want to look as tall or as slim as I possibly can. Clothes are a great tool to deceive the eye and obtain the objective you are after, so why not use it? So let's get to it!
Here are 5 ways to streamline your shape fashionably and look taller and thinner.
1. Wear Heels
One of the best ways to look taller is to avoid too much color blocking from the waist down. That means using tights or stockings in a color that coordinates your skirt or shoes. Or coordinating pants with your shoes. Doing so elongates your body from the waist down.
Another great trick, especially in the summer months when it's too hot to wear stockings, is to choose nude color shoes. Nude shoes work with all colors and make your legs look longer, since a contrasting shoe color tends to interrupt your leg's lines.
You probably know that heels work magic by adding height and improving your posture, giving you a taller, slimmer look. But many heels are uncomfortable to wear. Look for deceptively comfortable heels. Brands like Cole Haan make fashion-forward shoes with comfort touches like padding built in. Sylvia recently got heeled shoes form Fly London that are extremely comfortable and great for walking, yet still add a lot of height.
You don't have to wear sky-high stilettos to streamline your look. 2-3″ of height can make a big difference. Some of the best every day heels include:
A kitten heel, with just a little bit of height in a sexy, thin heel shape
A heel with a rubber sole for comfort and impact resistance
A stacked pump with a thicker, more stable heel
A wedge heel, which offers more support and stability
A platform pump or sandal. It's more comfortable than it looks if you think about it. A pump with a 2″ platform and a 5″ heel is not actually 5″ high. The heel feels more like a 3″ high pump but lifts you up a full 5″.
Add further comfort to your high heels with the adhesive Dr. Scholls Dreamwalk High Heel Gel Insoles in your heels. The insoles cushion the heel and ball of your foot, where most of the walking impact happens. Dr. Scholls offers a full gel insole for pumps and boots or an adhesive arch-only insole for open toe heels, slings backs and sandals.
Here are some ideas for stylish, comfortable heels that will help you look taller and slimmer:
You may like to go here for a complete list of comfort shoe brands and recommendations.
2. Create a Skinny Waistline with a Belt
There's a whole post here on why belts are a great addition to your wardrobe. But besides being a great fashion accessory, a belt helps cinch the waist and add an hourglass shape to your body. The latest trend in Japanese-inspired Obi belts is the perfect slimming belt that cinches your waistline comfortably. If you want to use a belt to look both taller and thinner, skip the contrasting belt and match the belt color to your pants or skirt—it will give the illusion that your legs are just a little longer.
Sometimes layering gets a bit bulky. But layering is an important tool in looking taller and slimmer. A belt will help streamline the effect of layering if you feel there's too much fabric on you. The best way to use a belt with layering is by adding the belt over your cardigan or shawl to draw the fabric in and give you curves.
Here are some fashionable, slimming belts:
3. Dress in Columns of Color
Columns of color, or color blocking, when used strategically, help heighten and slim your shape. The slimming process consists of two elements: color and layers. Think carefully about color choice. Although it's true that black is slimming, wearing too much black can be boring and age you. Any dark, rich color can be just as slimming as black, so opt for the latest colors like navy, dark red, merlot, dark indigo denim or rich, charcoal gray. Emerald or forest green is making a big comeback, too.
Once you've picked a dark, slimming color, add a cardigan, jacket or sleeveless vest to slim and lengthen you further. The layered jacket effect is a great lengthening secret. Add impact to your columns of color strategy by paying attention to the length of your legs.
When selecting a bottom, opt for a higher waist pant or skirt to elongate your legs.
These tips will make your legs and body longer, while the jacket layering accentuates your gorgeous face. And on days you really need a mood (and height) lift, wear a bold, rich color in a monochromatic, head-to-toe look. Here are some ideas: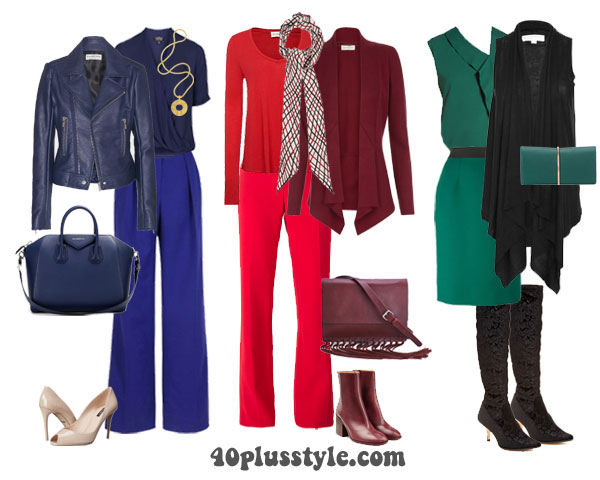 4. Add Vertical Details to Your Style
Choose long, vertical lines, prints and seams instead of horizontal ones. Vertical details will lengthen you and help with the illusion of a taller and slimmer frame by forcing the eyes to scan up and down instead of sideways. The detail can be subtle, like piping or a tuxedo stripe, as shown on the navy pants below. Or a two-tone hourglass cutout on a dress. Here are some examples of great pieces that have vertical details that lengthen and slim:
5.For an even more streamlined look, use shape wear
Start with the right bra and underwear – it's the foundation for your look. Proper shape wear will lift and support where you need and smooth and streamline other parts, giving you a slimmer, longer look.
Shape wear doesn't have to look like something your grandma used to wear, fashion details like lace or contrasting panels in the undergarments give you a powerful combination of beauty and brawn! Be open minded and give shape wear a try. Today's top shape wear companies like Maidenform, Spanx, Yummie and others are founded by women or work with women designers that know how a woman wants to look — and feel. That means that there is a fashionable selection of undergarments that tuck, lift and hide flaws while being pretty comfortable for all seasons, too.
Here's a collection of some of the best:
What tricks do you use on the days when you want to look taller and slimmer?
Cynthia Bowman is a former fashion stylist and current zen fashionista blogging about looking stylish while traveling with 2 kids, a dog and husband in tow. She currently lives in San Sebastian, Spain.