A belt is one of the hardest-working items in your closet.
It's fashionable and most importantly, accents your curves when you know how to wear a belt properly.
With so many options available, the most important advice on what belt to choose comes down to what's most flattering on you.
When should you wear a belt?
As often as you'd like!
A good rule of thumb is to help break up the transition between a loose top and tight bottom (or the opposite), when you want to hide waistline imperfections or when you want to accentuate your waist.
Add a belt to define your curves under layers including a top and jacket or cardigan.
You can also check out our article on the best accessories to wear this fall.
How to wear a belt – Should you go matchy-matchy?
Gone are the days of matching the belt to the shoes and handbag.
In fact, a belt works best when it stands on its own, drawing attention to the waist it cinches so well.
Because we're all different, the most important advice is to try different ways of wearing a belt until you like what you see.
Try different belts and different ways to wear them
If you don't normally wear belts, they make take some getting used to at first.
If you're comfort minded, start off with a stretchy or elastic belt.
And always buy a belt that fits you properly — not too tight or so long that you have to use the last notch in the belt to wear it well.
10 ways to wear a belt
1. over a long tunic shirt
Depending on what you are trying to achieve with your outfit, wearing a long tunic can leave you looking shapeless.
Pop a belt over the top and, hey presto, problem solved.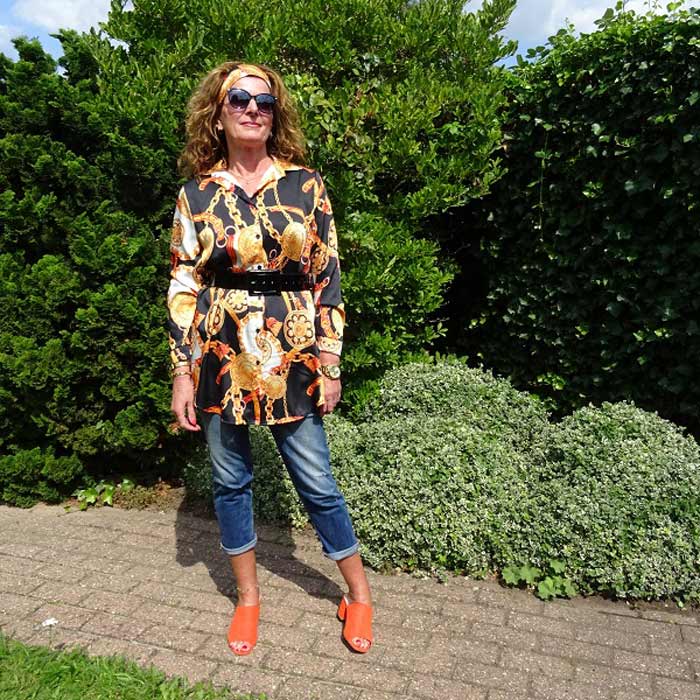 Nancy (above) looks fabulous in her on-trend tunic.
Get this similar belt, chain print top, jeans and slide sandals to steal her look.
2. to tie in the other colors in your outfit
If you are pulling together several colors, or just one accent shade, a belt can be a great way to bring your whole outfit together.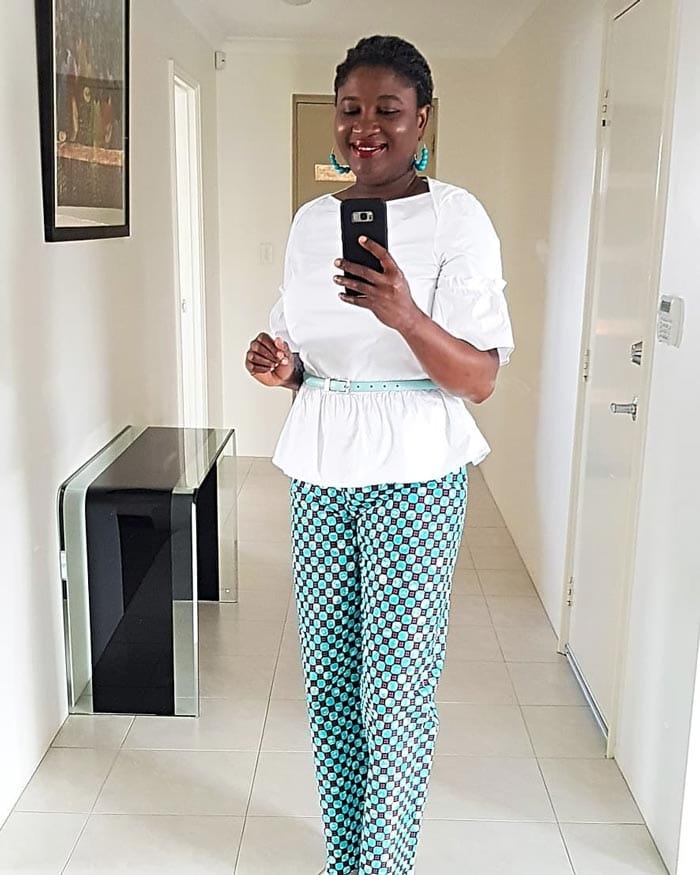 Elsie (above) picks a belt in the same accent color as her pants and earrings.
Steal her look with this similar belt, blouse and pants.
3. to cinch in your dress
A belt can bring so many different looks to the same dress. It can also stop a tunic or shirt dress from looking shapeless.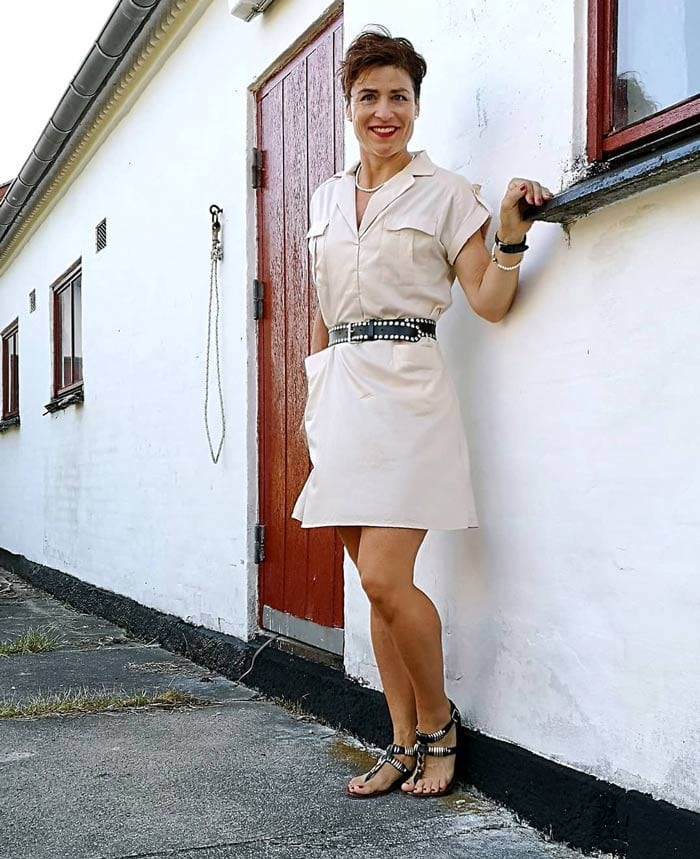 Gitte (above) opts to cinch her waist with a belt, and matches it with her sandals.
Get this similar studded belt and check out these shirtdress options from Mark & James by Badgley Mischka and Gal Meets Glam Collection.
4. over your classic style pants
Without a belt, some pants can look as if they are missing a vital element.
Wearing a belt can make your outfit look instantly smarter.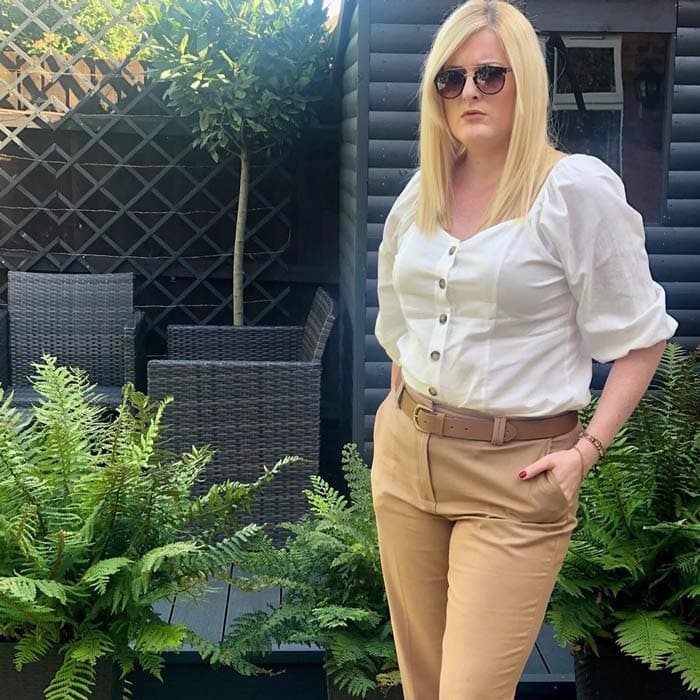 Jo (above) goes for a classic neutral look.
Recreate her look with this similar belt, blouse and pants.
5. over your blazer
This is a very on-trend way to wear your blazer right now, and is perfect if you have an oversized blazer which needs definition.
Also see how to fit a women's blazer.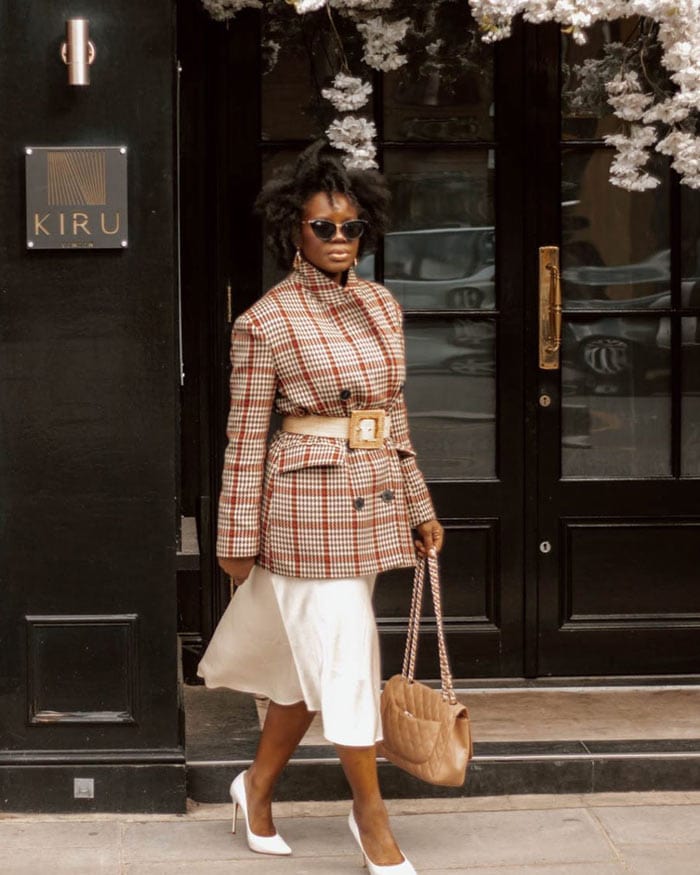 Aba (above) pulls in her waist with a neutral belt over her on-trend check blazer.
Check out these plaid blazers options from 1.State and Vero Moda and you can pair it with this similar belt, skirt and pumps to steal her look.
6. to emphasize your curves
A belt is your best friend if you are an hourglass or a pear shape as it will show off your waist.
You can also use a belt to give the illusion of a waist if you are a rectangle or inverted triangle, and you can play around with where you cinch your belt to give you the most flattering look if you are an apple shape.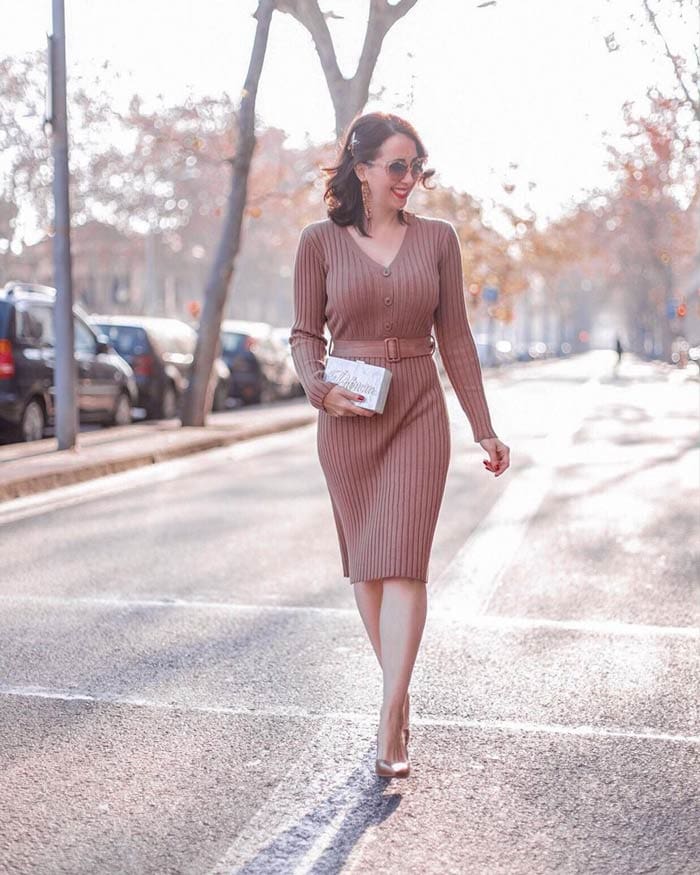 Patricia (above) shows off her waist with a belt.
Check out these sweater dress options from BP. and Eloquii. Complete her look with this similar belt.
7. to highlight your waist
If your waist is your favorite feature, you can draw attention to it with a wide, light or bright colored belt.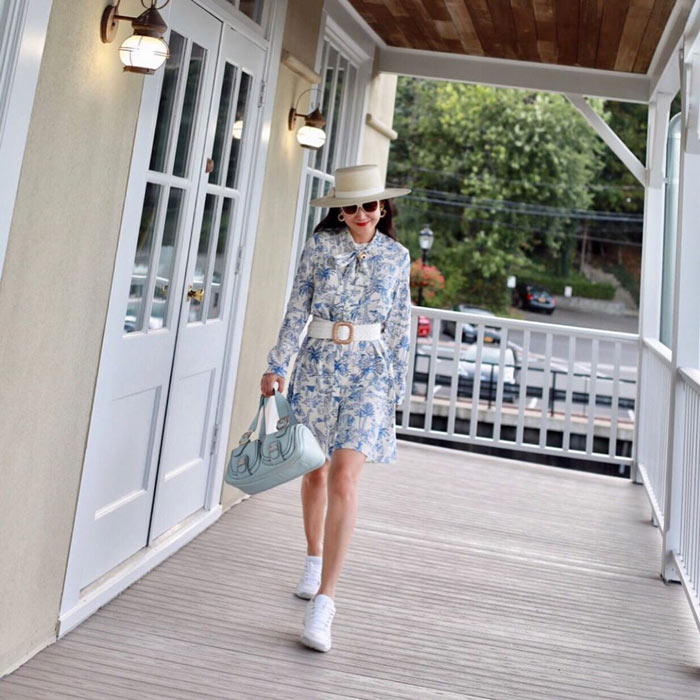 Cari (above) sticks to two colors for her stylish outfit.
Here is a bow shirtdress you can try from Ann Klein and you can wear it with this similar belt, hat and sneakers.
8. to cinch your jumpsuit
If you have a jumpsuit which doesn't fit at the waist in a flattering way, before you consign it, try adding a belt.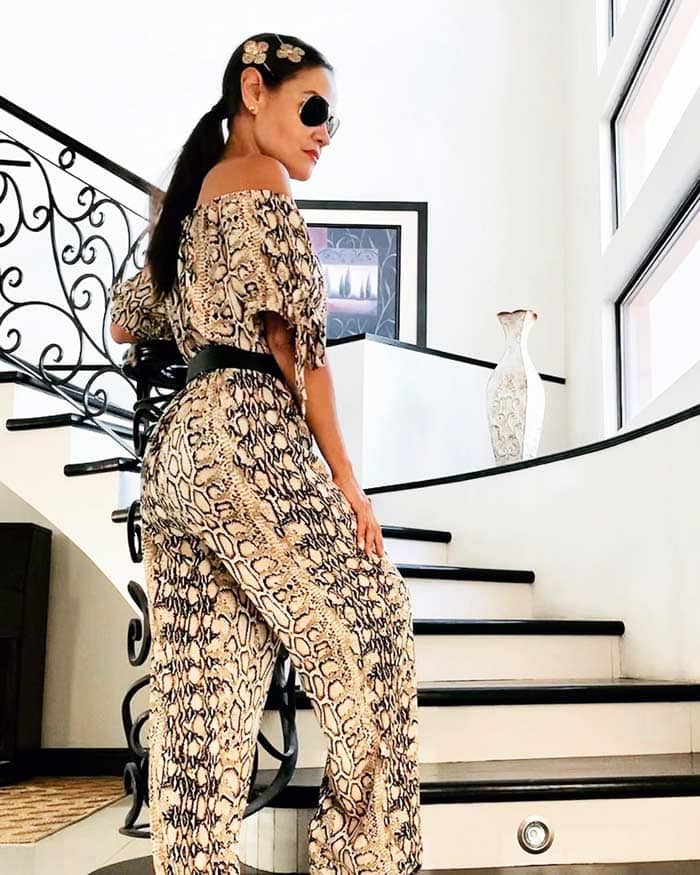 @staying.young (above) looks beautiful in her print jumpsuit.
Check out this jumpsuit with a similar snakeskin print and pair it with this similar belt.
9. to add shape to your dress
A belt is a great way to add extra definition to your dress.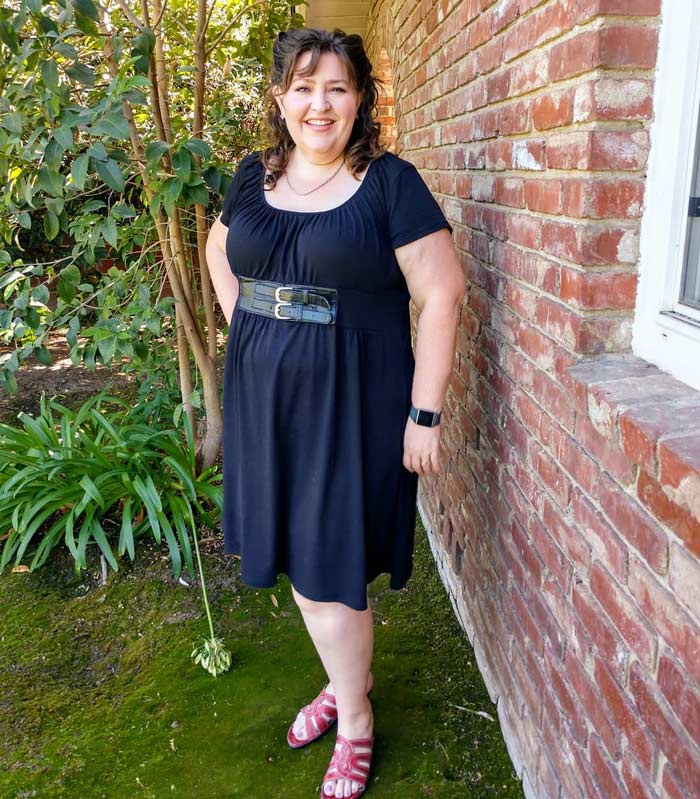 Jacqueline (above) wears a wide belt over her little black dress.
Get this similar dress and belt to recreate her look.
10. with a shirt and skirt
To pull together your shirt and skirt, you could opt for a belt which draws in the colors of your outfit.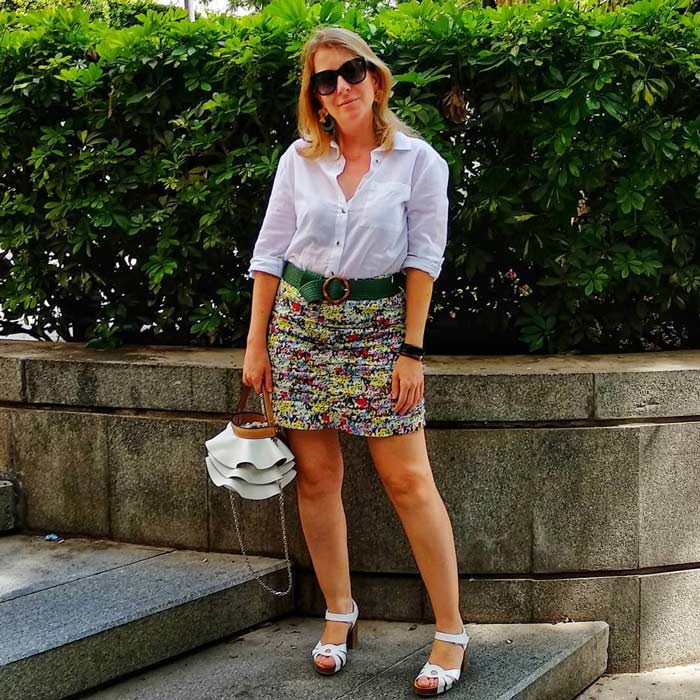 Monica (above) opts for a green and white outfit.
Steal her look with this similar belt, collared shirt and ruched skirt.
Belt Types
With the variety of belts including leather, elastic, woven or a combo of all, as long as you're conscious of what belt is most flattering on you, wear any style or color.
Belts with some elastic are comfortable because they cinch your waist while still managing to move with you.
braided belt
A braided belt is particularly useful if you want a versatile option where you can alter the size.
For example, you can easily wear this over a dress and then simply fasten it a little looser if you would prefer to wear on your hips with your pants.

embossed belt
A textured look is very on-trend this winter and fall.

Tory Burch croc embossed leather belt
chain belt
Another on-trend option, a chain belt is a great way to update a little black dress.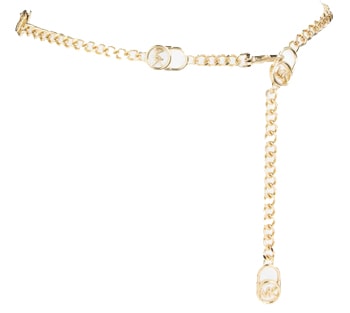 silver belt
Choose a metallic option if you are looking for a classic style, which will draw the attention to your waist.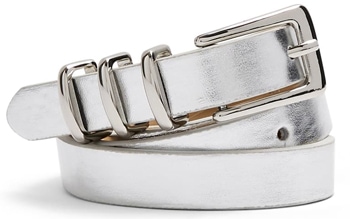 croc embossed belt
Another great embossed option – crocodile and reptile textures in general are particularly on-trend just now.

Something Navy croc embossed belt
skinny belt
You can decide whether a skinny style or a wide belt is more flattering for your figure.

red belt
For an attention grabbing look, try red. You could team with other red accessories or wear with a monochrome outfit.
wide belt
A wide belt is good to wear over your blazer or your dress.

stretch belt
If you want to make sure that you are comfortable while wearing your belt, how about a stylish stretch option?

snakeskin belt
Snakeskin has been on trend for a couple of seasons now, and it is still a stylish option this winter and fall. You could also wear with a white dress for summer.

Rag & Bone leather boyfriend belt
Where to Wear a Belt on Your Body
On the Waist
Ok, this may seem like an obvious place to tell you to wear your belt, but bear with me because there are also other alternatives.
Find the narrowest part of your torso. That's your waistline and the spot you want to accentuate.
Anita (above) teams a leopard print belt with her jeans and cardigan.
Check out this similar belt, sweater, wide leg pants and booties.
Some ideas on how to wear a belt on the waist include:
With a flowy long skirt
A belt over a cardigan (dressier skinny belt version vs. chunkier wide belt for a more casual look)
With a form-fitting skirt or cocktail dress
To cinch a bulky fall or winter jacket
Naomi Watts wore a black skinny belt to add contrast to a tailored suit (below)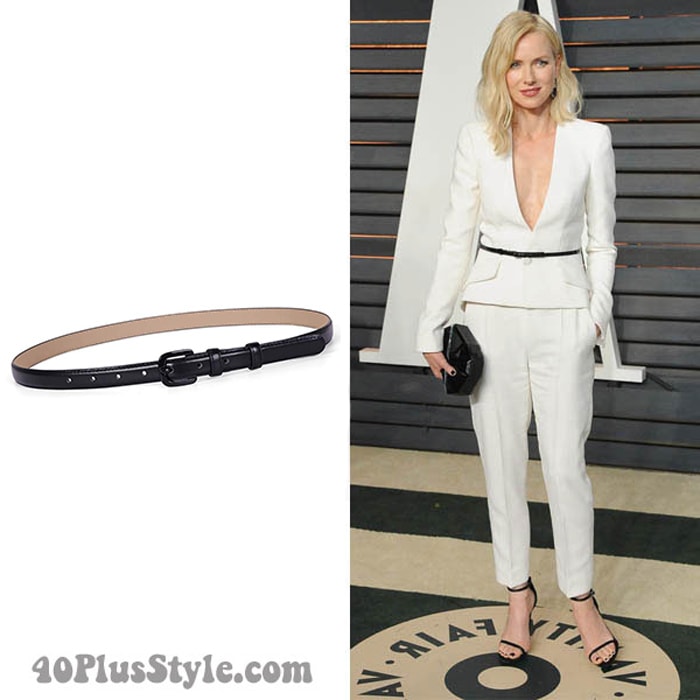 Belt Worn at the Hips:
When trying a low-slung belt at the hips, medium or wider belts work best. Try wearing a hip belt with:
A maxi dress
Layered over a casual boyfriend sweater look
To dress up jeans and a t-shirt
With a short, summery dress – you can always wear your dress over leggings if you don't want to show too much leg.
For more inspiration take a look at how to wear leggings.
Sitting Closer to the Ribs:
Wearing a belt just above the waistline elongates your legs and accents your bust.
With a loose or flowy bottomed dress, wearing a belt closer to the ribs also hides small belly flaws.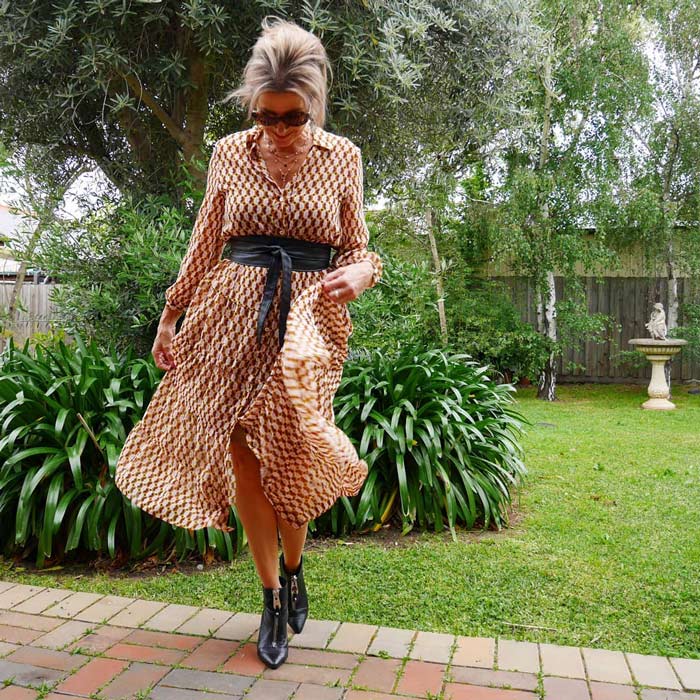 This is one of the trickier looks to pull off since the ribcage expands and contracts, causing a high belt worn too tight to constrict breathing or slip down your torso.
Suzie (above) looks lovely in her high-waisted belt.
Check out this printed shirtdress you can try out to pair with a wide belt and front zip booties.
A stretchy or fabric belt is more comfortable worn high.
Belt loops are helpful to keep the belt in place, or add a bit of double stick tape to the inside of the belt to keep the high belt in position.
Just be sure the fabric you're adhering the tape to isn't fragile, like some silks can be.
How and why wear a high waist belt:
To accent the bust
To lengthen legs paired with a flirty, loose or A-line dress
The latest Japanese style Obi belts are great touches to try for this look. They're also the most comfortable, thanks to a little stretch
Michelle Obama is a big fan of wearing a high-waisted belt
What Belt Looks Best by Body Type
Are you ready to rock a belt yet? Here's more advice on what type of belt to select, according to body type:
If You're Tall and Straight
Wide belts create the illusion of hips and curves
Lower skinny belts add to hip volume
Try high contrast by using a belt in a different color or a patterned belt.
Tanasha (above) accentuates her waist with a wide belt.
Get this similar maxi dress and belt to steal her look.
Also, take a look at how to dress if you are tall.
How to wear a belt if you're Petite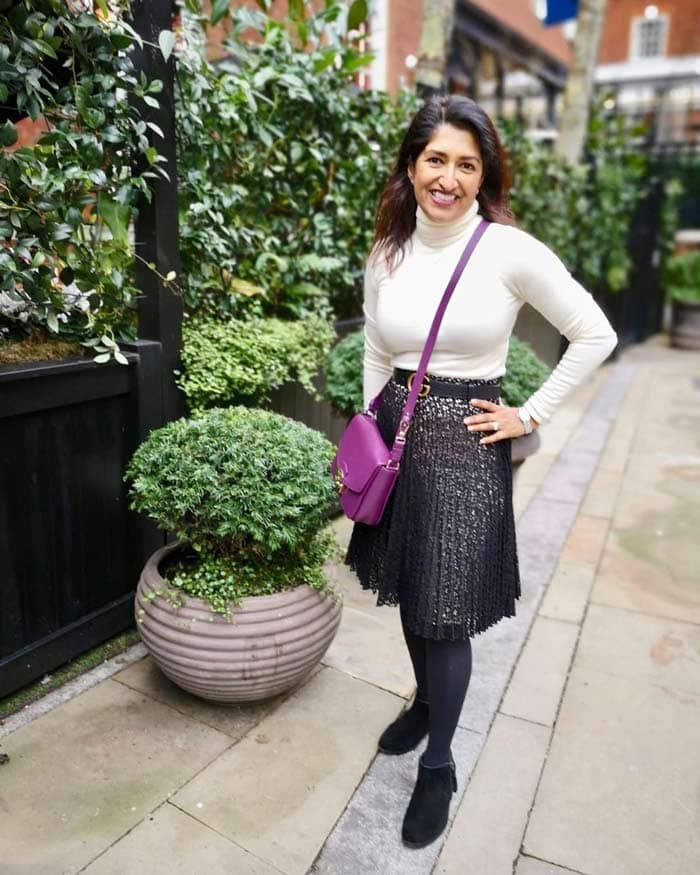 Match the belt color to the pants or skirt to lengthen the legs
Select a thin or medium belt so it doesn't overpower your frame
Hip belts hide if you're short-waisted or to create the illusion of being curvier than you are
Monika (above) wears her Gucci belt with a similar color skirt and a pair of Vionic boots.
Complete her look with this similar turtleneck sweater, skirt and tights.
There are more tips here in how to dress if you are petite.
How to Wear a Belt if You're Curvy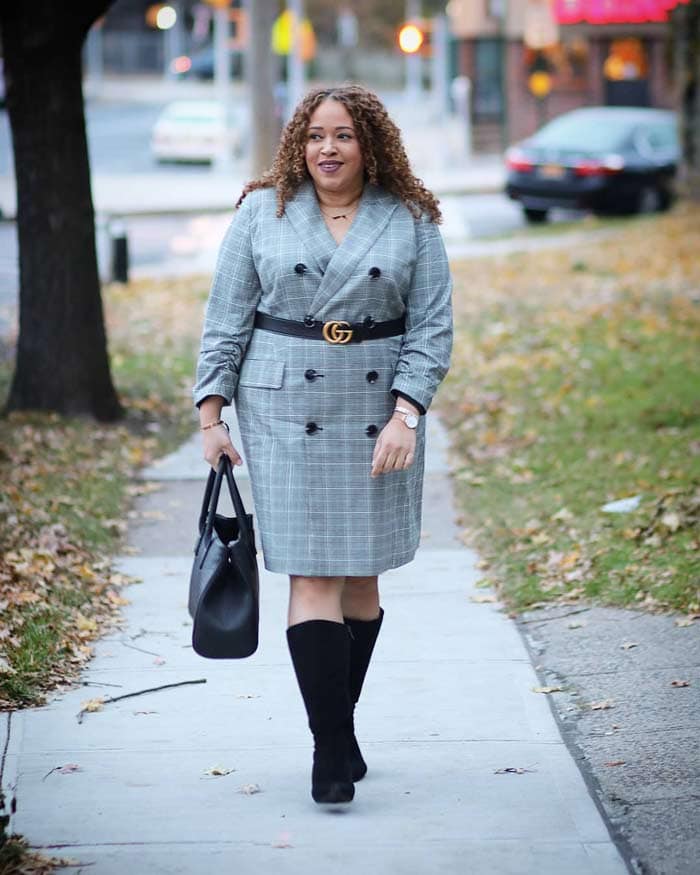 If you're curvy, you're lucky! Of all the body shapes, you can create the most impact with a belt.
Show off your sexy, feminine figure by selecting:
Belts with stretch that cinch the waist and define your silhouette
Belts in dark colors to visually slim your figure
Wear belts at the narrowest part of your waist to create an hourglass figure
When sporting a wide, high belt, keep the belt 2 inches lower than your bustline if you're busty
Sandra (above) wears her Gucci belt over a long blazer dress.
Check out these blazer dress options from ASTR the Label and Judith & Charles and pair it with this similar pair of boots to copy her look.
Waist belts for dresses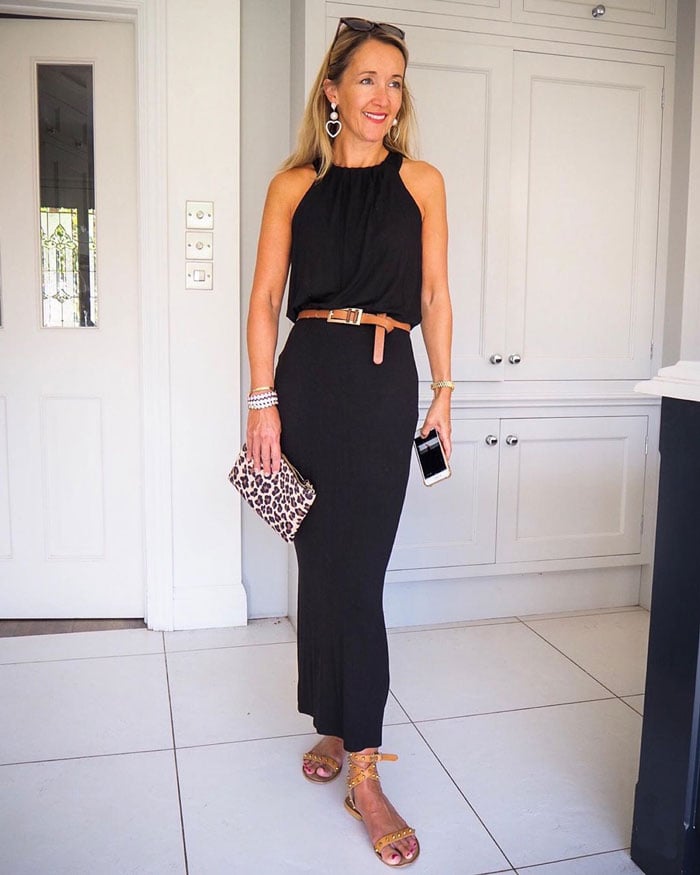 If, after all of that fabulous inspiration, you like the idea of using a belt to cinch your dress, what belt should you choose?
It's really up to you. You can choose either a wide or a skinny belt to cinch in your waist over your dress, but I would think about proportions.
Karen (above) matches her belt to her sandals.
Get this similar maxi dress and belt to copy her look.
If you have a curvier figure, you may wish to opt for a wider belt to showcase it, while if you have less of a waist, you might opt for a skinnier belt.
But, there are really no hard and fast rules. The beauty of cinching in a dress using a belt is it creates extra versatility within your wardrobe.
You could, for example, take a fairly plain shift dress and add pizzazz with a bright, wide belt.
jeans belt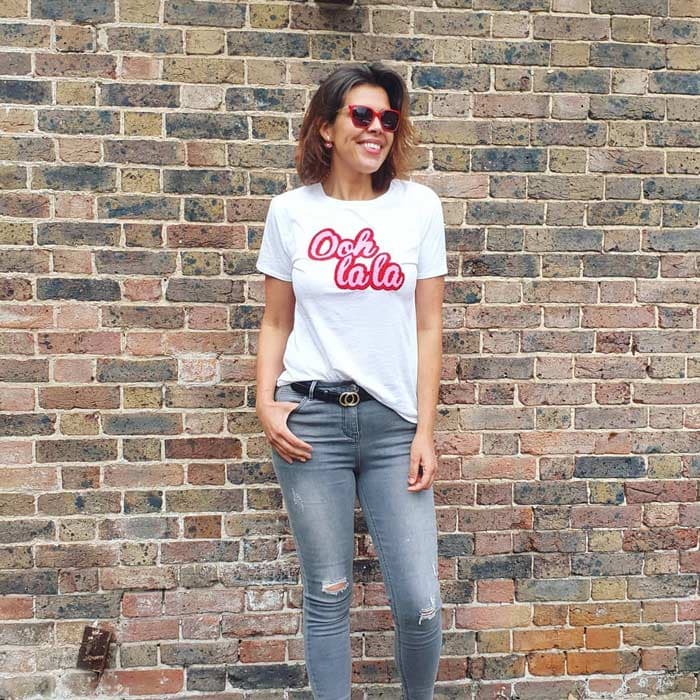 Whether you wear a belt or not with your jeans is really down to personal preference, the look you are trying to achieve, and whether your jeans fit perfectly.
Helen (above) adds interest to her jeans and print t-shirt with a black belt.
Recreate her look with this similar belt, shirt and ripped jeans.
You can get away with wearing jeans which are a tiny bit too big at the waist by cinching them in with a belt.
Just make sure the belt you buy is narrow enough to fit through your belt loops.
what size belt to buy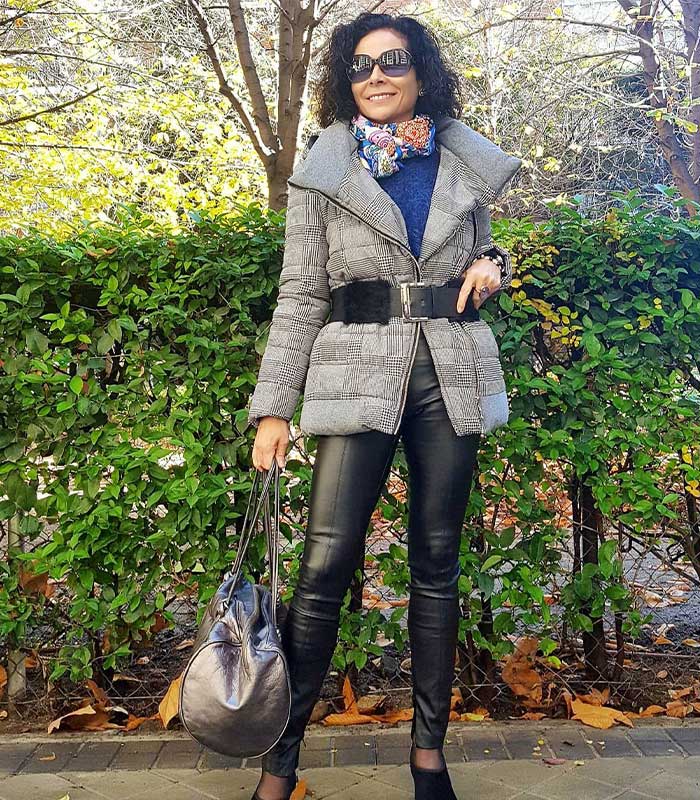 Maria (above) shows how to cinch a puffer jacket to add shape.
Check out this similar wide belt, puff jacket and leather leggings.
Often when you buy a belt, it is only sized S, M or L, or perhaps S/M or M/L, so it's vital to check the sizing guide if you are buying online.
Then, you will have to decide where you want to wear your belt.
If, for example, you want to wear it around your waist, you might want a S/M, but if you want to wear your belt on your hips, you might need a larger size.
Just get a tape measure and measure around the part you want to wear your belt – allowing for some leeway to fit over your jeans or pants.
How to wear a belt – Takeaways
Try different belts with a variety of outfits to find your signature look.
The latest trends involve knotting a belt in a unique way, choosing metallics, or wearing a high contrast belt in a complementary color.
A belt is a great accessory to accentuate your shape in ways that other accessories can't.
It's okay to take risks with bold belts because, in the end, whether you wear a belt for fashion or function, you can't go wrong.
Have fun accessorizing – belts create a look that's one of a kind, just like you.
Do you know how to wear a belt correctly? Tell us, what's your favorite way to wear a belt?
Continue reading:
Like this article on how to wear a belt? Share it on Pinterest!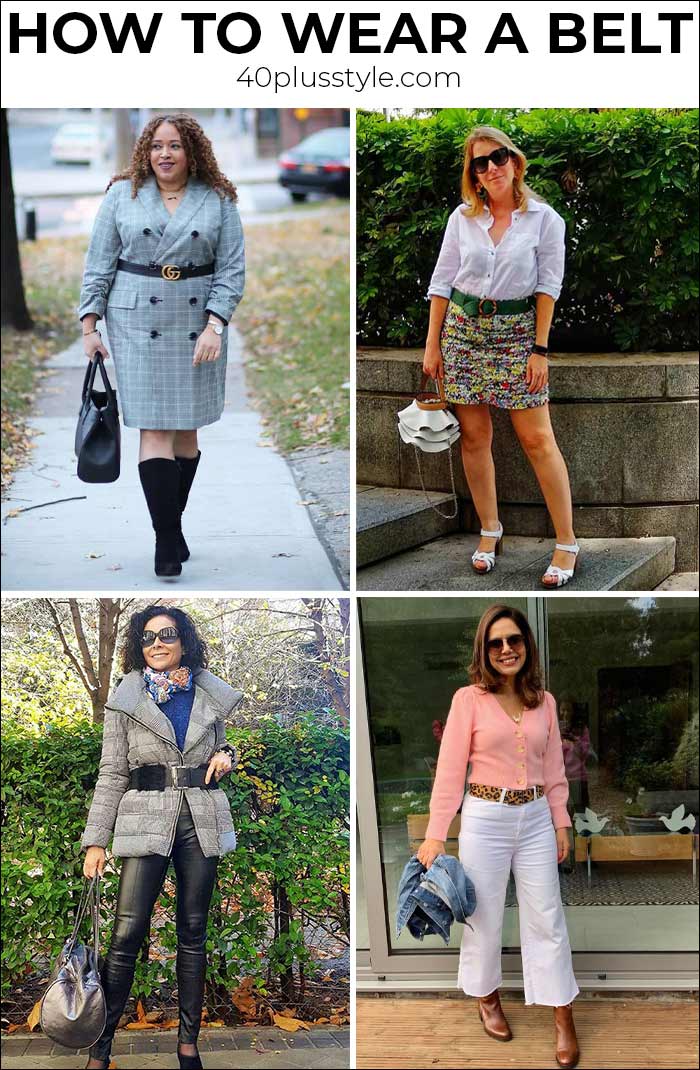 Feature image by Maria
Want to get more articles from 40+style in your inbox, subscribe here.
You can also connect with 40+style on Facebook, Instagram or Pinterest.
Support 40+style by using the links in our articles to shop. As an associate for Amazon and many other brands, we receive a small commission (at no cost to you) on qualifying purchases which enables us to keep creating amazing free content for you. Thanks!