The perfect little black dress (LBD) is a fashion staple. It's versatile, working hard from day to night. But how to find the perfect little black dress to flatter your body shape?
In this article, you'll find the best little black dresses for you as well as how to style your LBD, whether you're treating yourself to a new one or shopping your closet.
The perfect little black dress – a history
Of course black dresses were around before this, but Coco Chanel is credited with creating the perfect little black dress as we know it when one of her designs featured in Vogue in 1926.
Coco Chanel said:
"The little black dress is a uniform for all women of taste."
Effortless and polished, the LBD reached a style pinnacle when it was worn by Audrey Hepburn in Breakfast at Tiffany's.
Since then, the little black dress has continued to cement its iconic status, in all sorts of guises.
Remember Liz Hurley in her safety pin Versace number, Angelina Jolie in her split-to-the-thigh dress at the Oscars or Jennifer Aniston in just about every type of little black dress you can think of.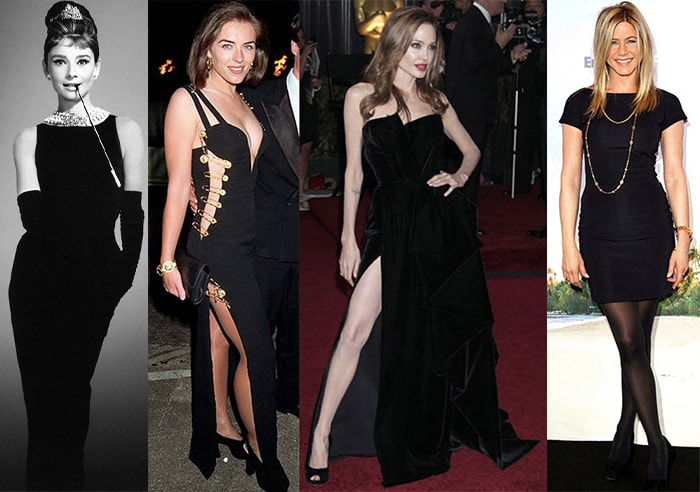 The reason for its enduring appeal is that the little black dress flatters anyone, no matter what shape or size you are.
One of the reasons for its timeless allure is not only does the LBD flatter all body shapes, but it is perfect year round, whether for a winter party or a summer vacation.
How to choose the perfect little black dress for you
I've put together some tips on how to wear a little black dress and choosing the best LBD for your shape so you can feel comfortable and look fabulous all year.
If black is too harsh for you, feel free to replace black with navy blue which is softer for most women.
Another fabulous color to consider this year is burgundy or dark green.
You will find more inspiration here in the best colors for fall 2022.
Another way to wear a black dress even if the color is too harsh for you is to use colorful accessories in a shade that flatters your skin tone close to your face.
You may also like or article on how to find the best dresses to hide your tummy and also how to wear black over 40.
Some tips for choosing the perfect little black dress
The little black dress knows no bounds when it comes to shapes, styling and versatility.
That can be a blessing because there are so many black dresses to choose from, so there is bound to be one out there which is perfect for you.
But it can also be a curse because – how do you know where to start when there are so many options?
Below are some initial tips to get you thinking about how to wear a little black dress that will work for you.
1. Consider when you will wear it
Are you looking for the perfect little black dress for daywear or for evening (you can of course use it for both).
If it's mainly for eveningwear, you can think about luxe fabrics like lace or velvet.
But if you mainly want it for daytime, you could look at a more casual fabric such as jersey.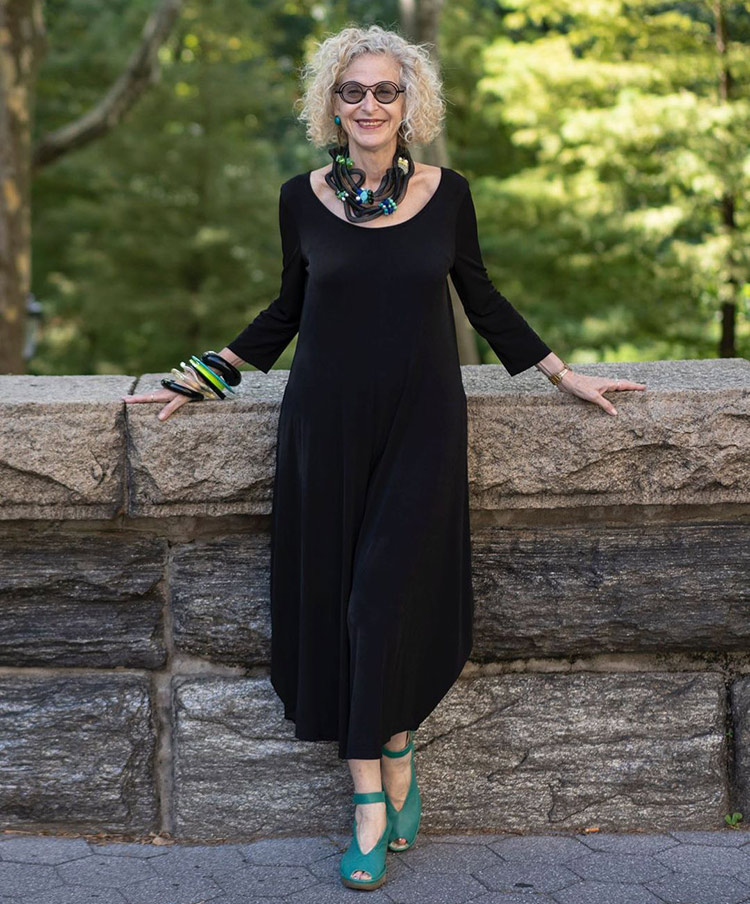 Dayle @artfulcitystyle above (read her style interview here) wears a black midi dress that could easily be styled for day or evening.
Get her look with this similar long sleeve dress, sandals (another option here), bracelets and necklace.
Also take a look at our article on the best midi dresses in stores now.
2. You probably want more than one little black dress
Although there are definitely plenty of black dresses that will take you to any occasion, you probably want to invest in more than one.
I would choose one that is more suited to daywear and one that is your go-to LBD when you have an unexpected evening event.
3. What do you want to show off?
More on this later! But, as with any item in your closet, think about how it will flatter your body type, disguise your "flaws" and show off the parts of your body you like.
You might want a dress with sleeves to cover your upper arms, or you could opt for a one-shoulder number because you love your shoulders. You may want to look for a dress with some ruching around the tummy area to hide a belly.
The choices are endless.
Nikki @40notfrumpy above wears a maxi dress that shows off her shoulders.
Recreate her outfit with this similar dress, sandals and tote.
4. You may need to wear more make-up
While black can be universally flattering to your figure, it is not always so flattering for your skin tone as it can wash you out.
Bear in mind that you might want to add more make-up or wear a brighter scarf or jewelry near your face.
5. Change your look with accessories
The beauty of a black dress is it is often a blank canvas.
No one will remember whether you've worn it to countless events because you can make it look different each time with the accessories you choose.
Cathy @themiddlepageblog above (read her style interview here) opts for layered necklaces with her black midi dress.
She is wearing a dress from Athleta. Check out this similar sandals, shoulder bag, necklace and sunglasses.
Little Black Dresses for Curvy Women
If you're curvy, a little black dress is one of your best friends.
Black is naturally slimming and the right dress can create a sexy look that shows off your best assets.
Here are some more tips for selecting the right LBD:
Pick one that brings attention to your chest with a sexier cut or v-neck.
Wear a good, supportive bra to lift.
Add a belt to your LBD.
Or pick an LBD with a belt or waist-cinching detail.
Choose a length either right below the knee or slightly above the knee.
A sheath or wrap dress is the perfect LBD choice for curvy women.
I love the Fraiche by J dress (below) as it is an absolute classic that will flatter most figures.
Fraiche by J Flutter Sleeve Faux Wrap Maxi Dress
For more tips, read our article on how to dress when you have a large bust
Little Black Dresses for Petite Women
Petite women are known as anyone under 5'4″.
And just because a woman is petite in height, that doesn't mean all shorter women are one size. Many petite women are busty or curvy or plus size.
But there are some rules all petite ladies can use when choosing a LBD:
Choose an LBD with vertical details that will make you look longer.
Add sheer black stockings to lengthen your legs, or wear nude shoes.
Avoid large details like ruffles which may overpower you.
A three-quarter length sleeve elongates your arms.
Go with a shorter dress or one two to three inches below the knees.
If you're a big-busted petite, a higher, empire waist dress will lengthen your body.
Have your LBD fitted perfectly by a local tailor.
Keep your accessories small and simple.
The little black dress remains a wardrobe staple. You could also dress it up a bit with some statement tights? For more inspiration on how to wear tights you can refer to this article.
A belt is a good idea to define your waist if you are petite.
For all our tips check our article on how to dress when you are petite.
Little Black Dresses for Plus-Size Women
There is no reason that a plus-size woman needs to wear oversized, flowy clothing. Think about which assets are your favorite and emphasize them.
How?
If you love your legs, wear a shorter LBD.
If your legs make you self-conscious, wear a longer black dress.
Love your butt? Find a little black dress with a sexy, pencil-skirt cut.
Use boldly colored and patterned accessories, bags and shoes to avoid looking too somber.
The most important tip for plus size women in search of the perfect little black dress is that you find the best quality material that flatters and supports.
Avoid thinner, tight and shiny materials that will accentuate 'flaws'.
A wrap dress is a timeless classic that will flatter all figures.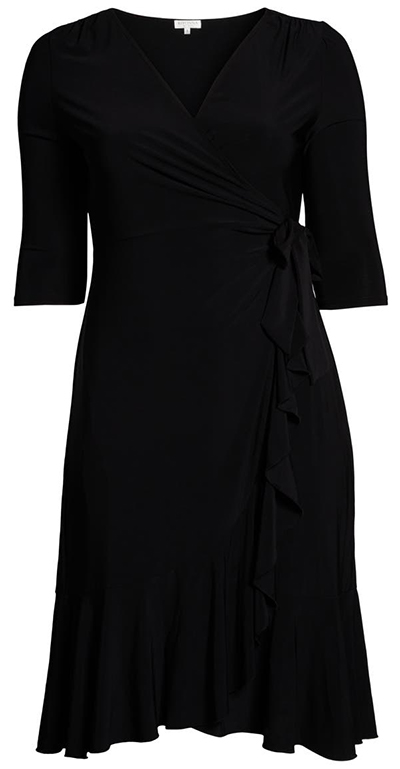 Little Black Dresses for women – for hiding those parts that you want to downplay
I like to use this as its own category because we all, regardless of body shape, have something we want to downplay while accentuating something else.
Most of us will want to conceal is our tummy, while accentuating a smaller waist.
To flatten the tummy and accentuate your waist more, you'll need an LBD with some good, built-in support.
"Bandage dresses" are nice and tight in the tummy area. Kimono dresses are forgiving.
Another idea is to go with a panel waistband and flared skirt.
Good shapewear underneath your LBD will make all the difference in the world in smoothing and tucking the waist and tummy area. Or you could try a dress that incorporates tummy control like the option below which reviewers say is stylish, comfortable, and washes and travels well.
Rekucci Fit-and-Flare Crossover Tummy Control Dress
Also see our article on how to look taller and slimmer.
Black dresses for your individual body shape
Now, let's take a look in more detail at some little black dresses that may suit your body shape.
LBD for the apple shape
If you are an apple shape, you're likely to want to skim over your tummy area. Opt for a dress which drapes over your figure rather than clings.
COS Organza Paneled Midi Dress
Pear shape
If you have a pear shape figure, you are likely to want to downplay your hips and thighs. Look for a dress which draws attention to your upper half and swings out from the waist.
oxiuly Half Sleeve Swing Dress
Hourglass
Creating a great outfit is often about creating balance. If you're an hourglass, you're lucky, your figure is already balanced. You can make the most of that by choosing a dress which nips in at the waist to show off your lovely curves.
MUXXN Button Down Mermaid Midi Dress
Rectangle
As a rectangle shape, you may want to make the most of your athletic figure or you might want to create some curves through the dress that you choose. For example, a belt will create the illusion of a waist.
Many models are rectangle shaped, so you may want to experiment and choose a LBD which is a bit different to the norm.
Eliza J Long Sleeve Tuxedo Gown
Inverted triangle
As an inverted triangle, you will want to create balance in the opposite way to the pear shape. Therefore, you'll want to downplay your shoulders. A halterneck can do that because the eye is drawn to the lines of the dress.
River Island Arlo Halter Neck Satin Slipdress
More perfect little black dresses to flatter your figure
Now that you're thinking about the shape of the dress that will look good on you, let's look at some of the most stylish dresses in stores you could choose.
Black cocktail dress
If you have a party or special dinner to attend, a cocktail dress is perfect. The Kay Unger openwork dress (below) gives you coverage as well as some subtle sex appeal.
Kay Unger Floral Lace Midi Dress
Emms @beautifuleveryday_uk above opts for a puff sleeve dress with a thigh split.
Get her look with this similar dress (another option here), platform heels, clutch and hoop earrings.
Black wrap dress
The wrap dress is an icon of style that is flattering for most women, no matter what your body shape.
COS The Wool Jersey Wrap Dress
Black dress with sleeves
A little black dress doesn't have to be sleeveless. You can opt for an LBD with sleeves if you aren't so keen on your upper arms.
If you do prefer to cover your upper arms, you don't have to have sleeves that go all the way down to your wrist.
You could opt for sleeves which end above the elbow, or for three-quarter length sleeves if you prefer.
KOBI HALPERIN Ruched Long Sleeve Dress
Beth @styleatacertainage above (read her style interview here) accessorizes her midi dress with a zebra-print belt.
Steal her look with this similar dress, sandals (another option here), belt, tote and sunglasses.
Also take a look at the best dresses with sleeves.
Black formal dresses
For formal occasions, a longer-than-the-knee black dress can be the perfect option. Choose a classic style and you'll be able to wear it year-after-year. Or look out for on-trend details such as volumnious sleeves.
La Femme Ruched Jersey Column Gown
Black midi dress
Midi lengths are particularly on trend right now and can show off the slimmest part of your calves. The Nordstrom dress (below) would be ideal for any season.
Nordstrom Long Sleeve Trapeze Dress
Black mini dress
If you've pushed your mini dresses to the back of your closet, it could be time to think again. A black mini dress can look fantastic worn over leggings, skinny jeans or slim pants.
Karen Millen Tailored Military Pleat Short Sleeve Mini Dress
Black long dress
A maxi dress will always create drama, in the best way possible. You could choose from a formal option for an evening event or a summer maxi dress for a vacation. The maxi dress (below) has thousands of good reviews from women who say it is soft and flattering. One said it is the most beautiful dress she has seen in a long time.
AUSELILY Long Sleeve Maxi Dress
Black sweater dress
For daywear when the weather is cooler, you could try a sweater dress. Wear with your leggings or tights and knee boots.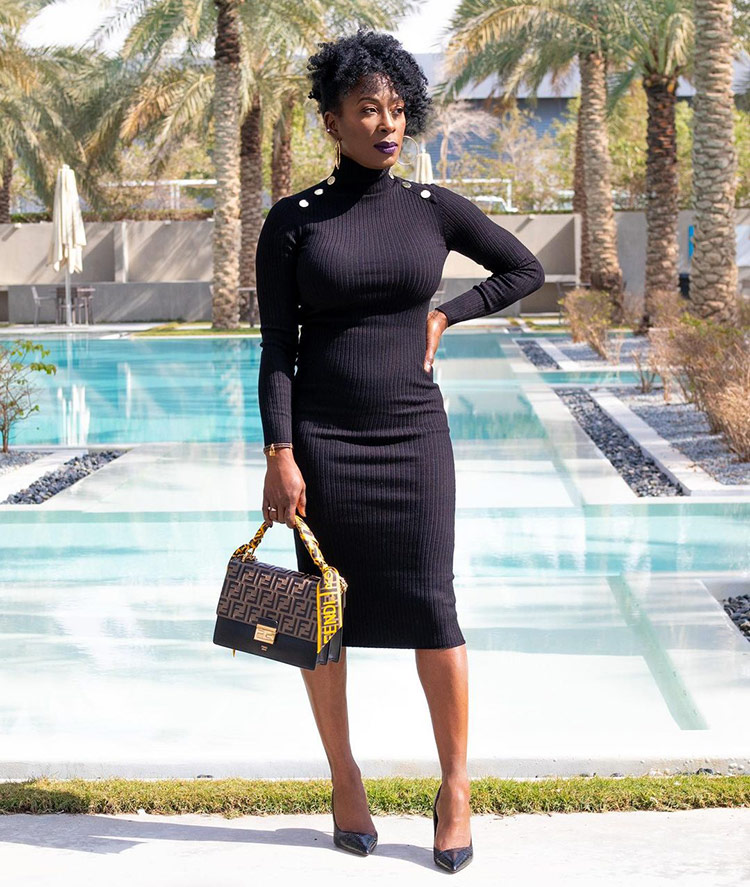 Angela @angelamashelle above (read her style interview here) opts for a button detail sweater dress.
Recreate her outfit with this similar dress, pumps, handbag and earrings.
Black shirt dress
A shirt dress is a flexible option you can wear throughout the year. You can wear as it is, as a cover-up, or unbuttoned as a lightweight duster jacket.
Sopliagon Cotton and Linen Shirt Dress
Black maxi dress
The jersey maxi dress (below) could be worn casually for winter with a moto jacket and boots. Or you can wear as it is styled with a long necklace and sandals for summer.
Karen Kane Jersey Knit Maxi Dress
Black off the shoulder dress
If you feel self-conscious about other parts of your body but you love your shoulders, then you could opt for a stylish off-the-shoulder dress.
Donna Karan New York Off the Shoulder Long Sleeve Rib Sweater Dress
Black slip dress
Slip dresses were on trend in the 90s, and they're back in style now. However, given that most slip dresses have spaghetti straps, they can be unforgiving. You could stay on-trend by wearing a sweater over the top, or a t-shirt underneath.

Anne Klein Linear Shine Slipdress
Black blazer dress
A blazer dress could be another versatile option to consider. You could wear as it is, or layer over a long-sleeved sweater.
Dorrie @seniorstylebible above (read her style interview here) looks both timeless and edgy in her blazer dress worn with on-trend pattern tights and chunky heels.
Check out this blazer dress that you can wear with these similar tights, pumps, handbag, earrings and sunglasses.
If you choose a shorter style, you can wear with leggings or leather-look leggings underneath.
Tankaneo Long Sleeve Lapel Blazer Dress
Black sequin dress
To really make an impact, you could choose a dress with sequins. You can keep your jewelry to a minimum and add a slick of red lipstick.
Julia Jordan Velvet Sequin Long Sleeve Faux Wrap Dress
Black velvet dress
Luxurious and decadent, velvet is always a good option for winter, giving your festive event wear some drama.
Charles Henry Ruched Velvet Midi Dress
Black satin dress
Satin can be a tricky fabric to wear because it can show every lump and bump if it is too thin.
Look out for dresses with thicker fabric. Also, for a vintage style, you could choose a fit and flare dress.
If you're worried about satin showing up any "flaws" on your hips and thighs, look for a dress with satin on the top and a different material on the lower half.
Rachel Parcell Long Sleeve Hammered Satin Wrap Dress
Black silk dress
Silk is always a beautiful option for any season. If you find a flowy dress, you can create different looks by cinching it at the waist or leaving it loose.
COS Silk Halterneck Midi Dress
Black lace dress
Lace is great for adding texture, glamour and interest to your LBD.
Black summer dress
The LBD looks just as beautiful for summer as it does during the cooler months. Style with metallic accessories for a stylish vacation.
Deborah @deborahgates_ above (read her style interview here) chooses an asymmetric style.
Recreate her outfit with this similar dress, sandals, bracelet and earrings.
shop the dresses above here:

How about you? Have you found the perfect little black dress for your body shape?
Continue reading:
Like this article on how to find the perfect little black dress for your body shape? Share it on Pinterest!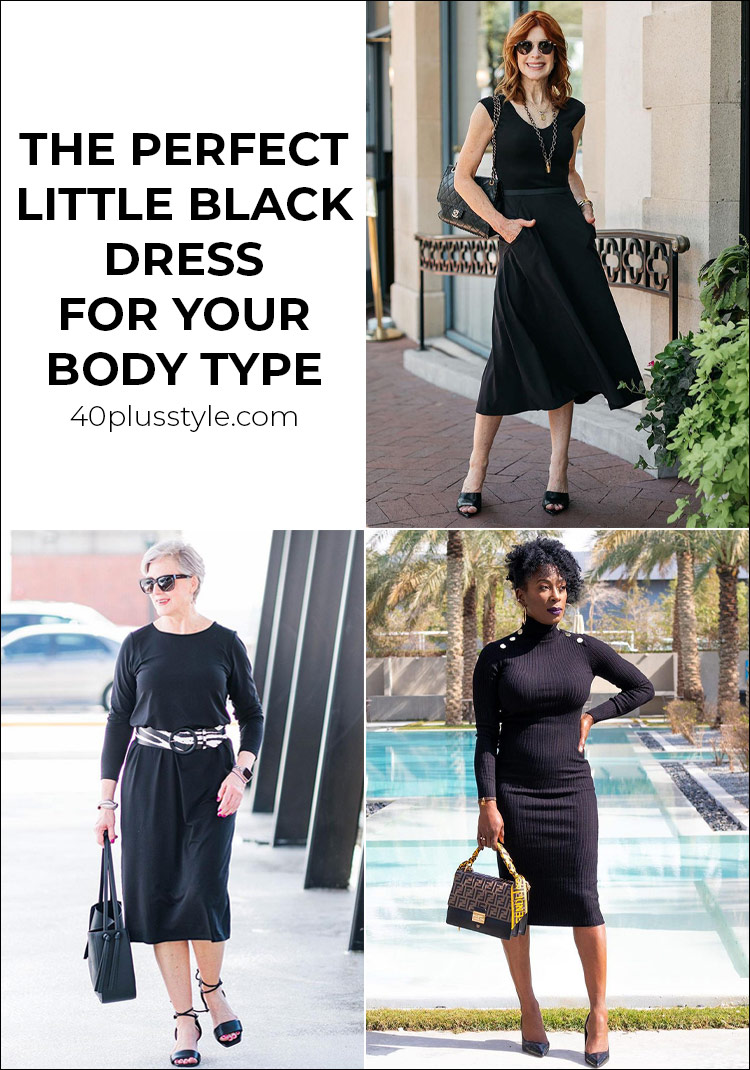 Feature image by Cathy @themiddlepageblog
Want to get more articles from 40+style in your inbox, subscribe here.
You can also connect with 40+style on Facebook, Instagram or Pinterest.
Support 40+style by using the links in our articles to shop. As an associate for Amazon and many other brands, we receive a small commission (at no cost to you) on qualifying purchases which enables us to keep creating amazing free content for you. Thanks!