The midi dress has been the on-trend hem length for the past few seasons, and it's definitely not going anywhere for summer 2020. Take a look below at our pick of the best midi dresses to choose now.
You only have to look at how Kate Middleton wears her midi dresses to see what a stylish option this can be.
Why consider a midi dress this season?
The midi dress is a stylish option for all seasons as well as being universally flattering.
First fashionable in the 40s, the mid-length style fell out of fashion favor in the 60s when mini skirts were all the rage.
Later we moved onto knee-high dresses.
But, right now the mid dress is very much in vogue again and is a stylish option for any age.
Whereas once midi dresses were seen as a frumpy style, there's definitely nothing drab or dull about these dresses.
Why should you wear a midi dress?
Here are just a few reasons why getting a midi dress is such a great idea.
1. A midi dress can be both worn in summer and winter.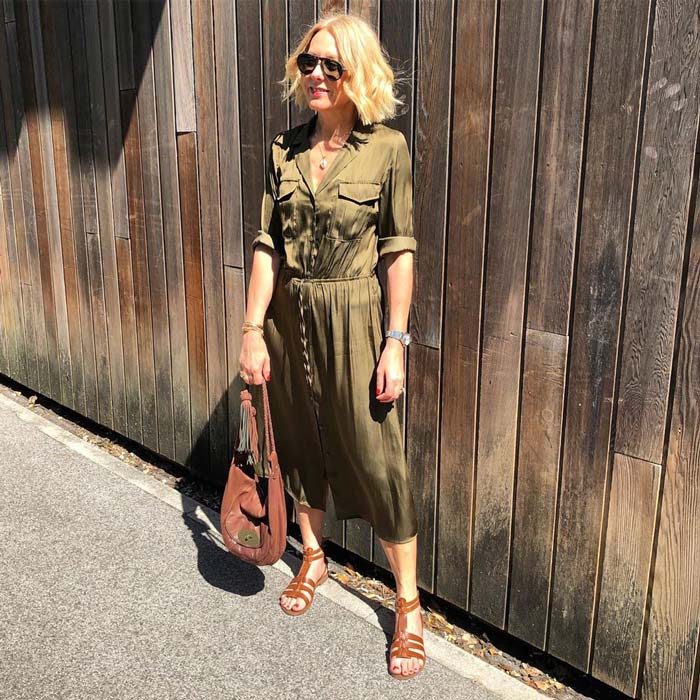 Many midi dresses are available with sleeeves and you can easily wear them with long boots.
Michelle (above) wears a beautiful satin shirtdress which could easily be styled for summer and fall.
Here is a green shirtdress that you can try. Wear with this similar pair of sandals, handbag and sunglasses.
For more style inspiration, read our article on how to wear a shirtdress.
2. Midi dresses are flattering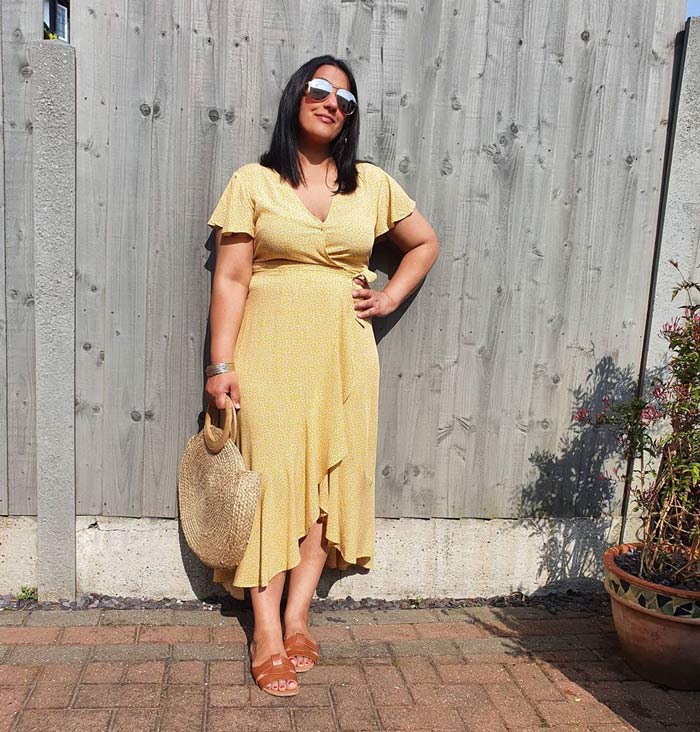 Midi dresses can be very lengthening, helping to create long, lean lines – and you can easily structure them with belts to show off your waist. Women of every height can wear this dress so long as you pick the right height and shape for your body type.
You can always go a bit longer or shorter or belt your dress a bit higher or lower.
If your calves are wide, opt for a dress that is a bit longer so it doesn't end at the widest part of your calves.
I now prefer to cover my knees and the midi dress is excellent at that.
Jas (above) looks picture perfect for summer in her yellow wrap-style midi dress and tan accessories.
Check out this similar wrap dress, sandals, handbag and sunglasses.
3. Wear your dress in different ways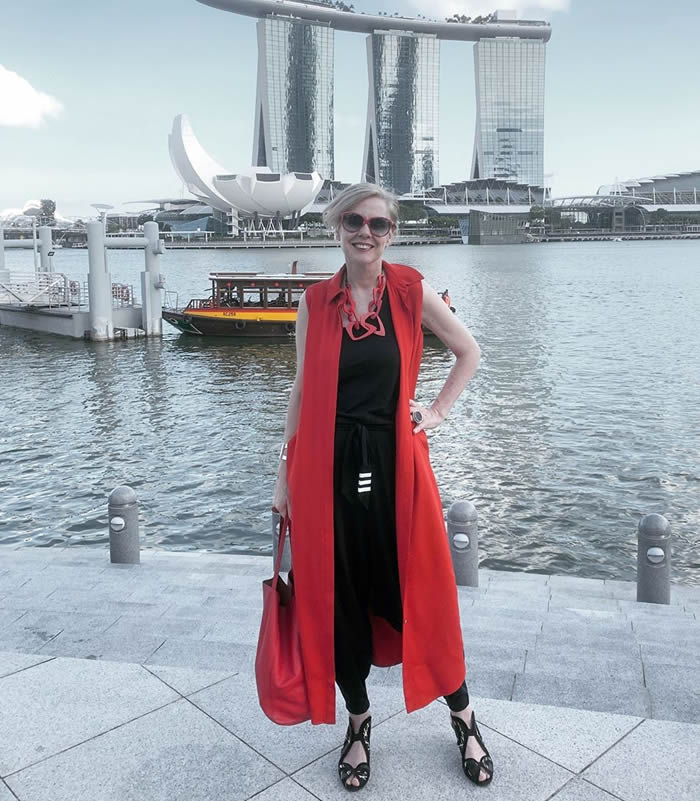 You don't always have to wear your dress in a way that's intended. Some small busted ladies may like to wear the dress back to front.
Or wear your dress over pants, which can be an edgy look in winter.
Some dresses can also be worn as long vests. Above I wear my red dress as a vest but I recently wore this as a dress.
You can also easily style your midi with additional long or short jackets and cardigans.
Get this look with this similar jumpsuit, red dress, booties, handbag, necklace and sunglasses.
4. A midi dress is chic and sophisticated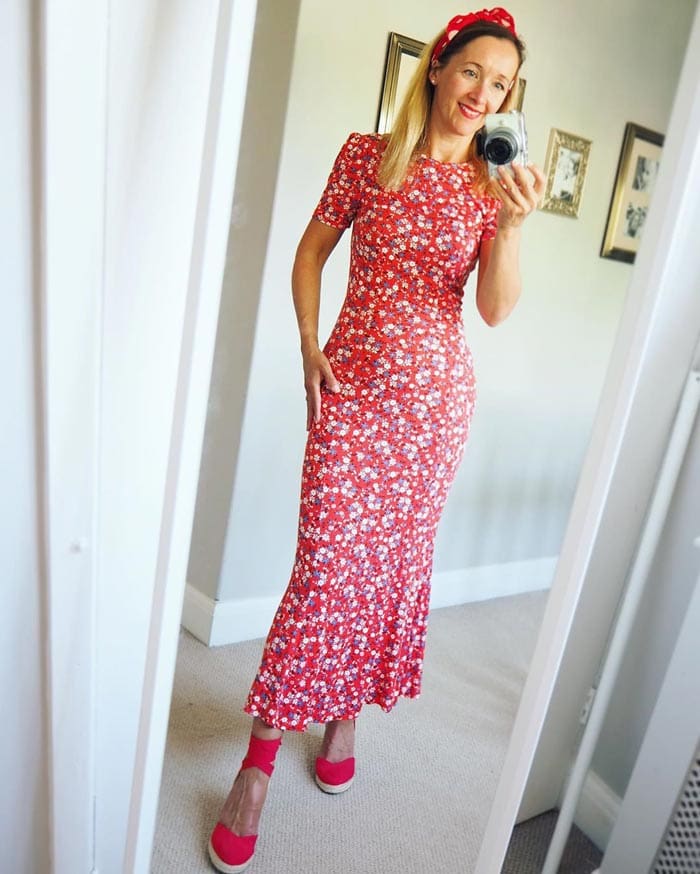 There's just something about the midi dress that screams sophistication.
It's chic and ladylike and you can easily make it more special with the right statement jewelry or boots.
Karen (above) opts for an all-red look with her floral dress and matching accessories.
Get her look with this similar floral dress, espadrille sandals and headband.
What to consider when choosing the best midi dresses for you
Technically, a midi dress is a dress which ends around mid-calf.
However, if you aren't too keen on your calves, you may wish to think more carefully about where the hem ends, as this will be where attention is drawn to.
Choose a dress which ends at the slimmest point on your calf area, or you could decide to go for an option which is just below the knee instead.
How to wear a midi dress for summer
As most of you will now be heading into fall, you are likely to want to wear your midi-dress with layers. Here are a few ideas.
1. For casual days with a cardigan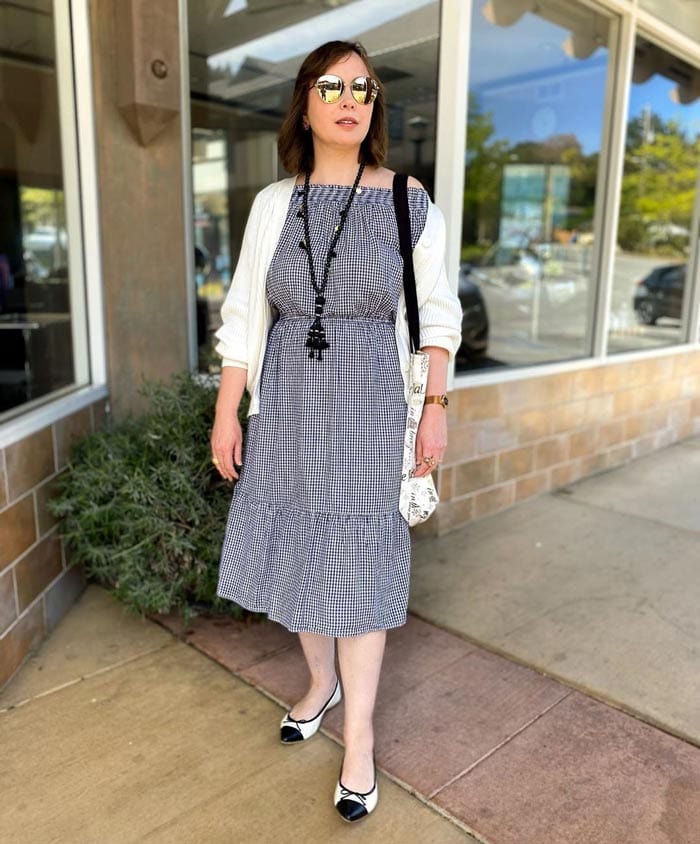 For a chic, everyday look, just pop a cardigan or any light weight jacket over your midi dress and pair with sandals or flats.
Oxana (above) styles her midi dress for daytime with a cardigan and flats. She elevates her look by matching her tassel necklace to the black toe detailing on her pumps.
Check out this similar dress, cardigan, flats, statement necklace and sunglasses.
2. As a sophisticated evening option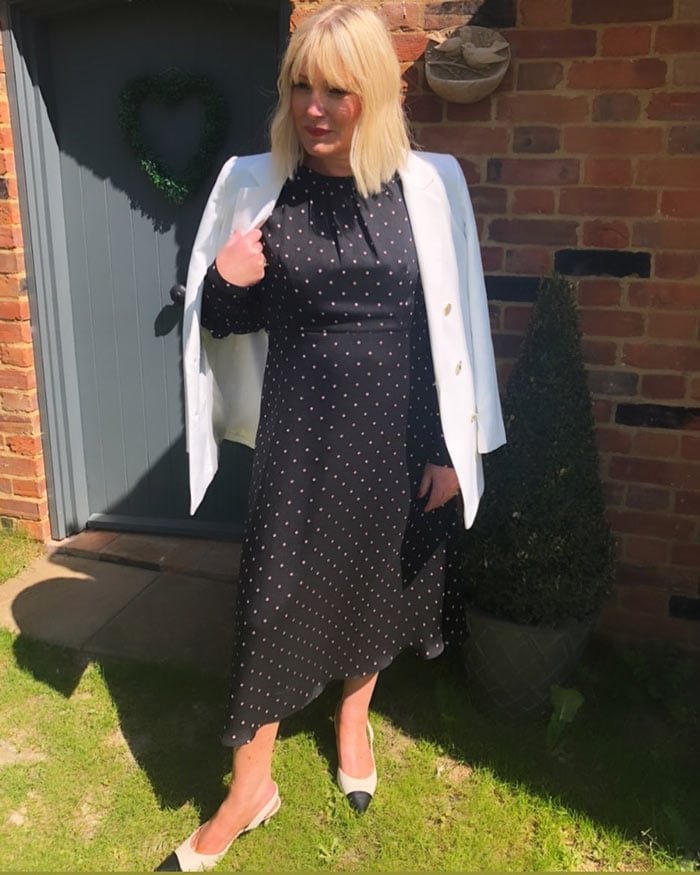 If you have parties, dinners or events to attend this season (or you're dressing up for a virtual event if you can't see friends and family yet), a midi dress could be an elegant option.
Just add heels – and either statement or delicate jewelry depending on your own preference and the style of your dress.
Sam (above) chooses a sophisticated polka dot dress and teams with a blazer and kitten heels.
Get her look with this similar dress, blazer and slingback sandals.
3. With any type of shoe style
The beauty of the midi dress is it goes with any shoe you would like to pair it with.
You can style it with sneakers, mules, booties, heeled sandals, ballet flats, knee-high boots – really anything goes.
Just bear in mind that if you do have shorter legs, you may want to add a heel.
Annette (above) adds casual flare to her outfit by wearing her red midi with classic white sneakers.
Recreate her look with this similar wrap dress, sneakers, crossbody bag and earrings.
4. With sandals for summer
When the weather warms up, or if you are heading off on a vacation or cruise (when it becomes possible again), just pair your midi dress with a pair of sandals (a metallic or neutral pair looks great) and you're good to go.
Dahlia (above) shows how the 90s trend of wearing a slip dress over a t-shirt is back in style. So, if you have a shoulder strap dress you no longer wear because you prefer not to show your upper arms, how about trying this styling technique?
Recreate her outfit with this similar shirt, slip dress, sandals and hoop earrings.
Below are my favorite midi dresses in stores for summer
If you want to buy a dress which is timeless, flattering and versatile, the midi is the perfect option. Below are some of the best midi dresses in stores now… do you have a favorite among these?
Long sleeve midi dress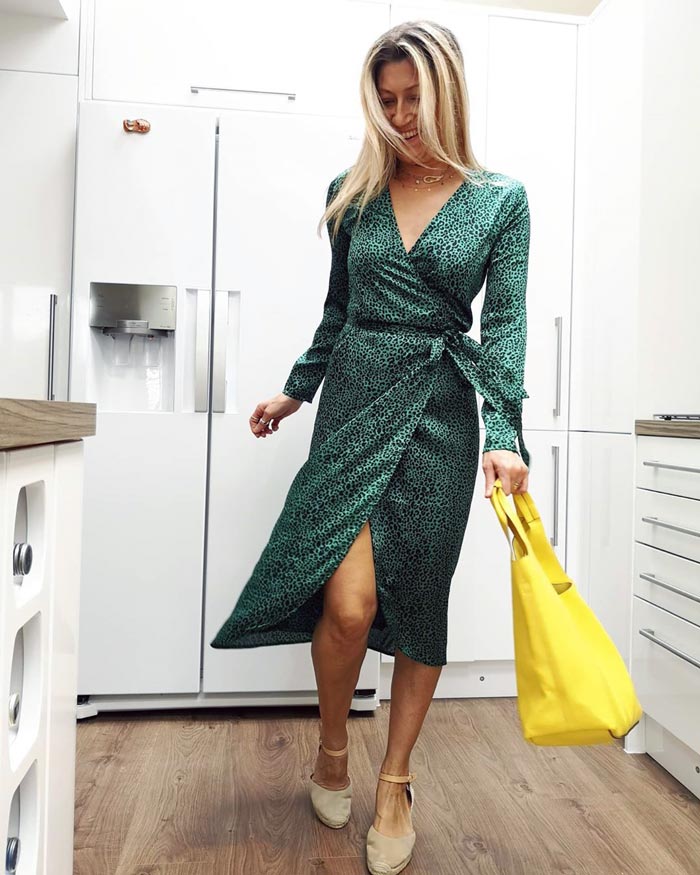 Abi (above) wears a long-sleeved green midi and adds summer styling with her espadrilles and yellow bag.
Check out this green dress from Amazon that you can wear with this similar pair of ankle strap shoes and handbag.
Halogen long sleeve midi shirtdress
If you prefer not to show your upper arms, also take a look at this article on the best dresses with sleeves for summer.
A midi shirtdress
A shirt dress is always a versatile option which will take you from day to night with ease.
For day time wear with sandals. Then just switch to small heels for evening.
Melinda (above) wears her navy shirtdress with nautical-style espadrilles.
Recreate her outfit with this similar shirtdress, sandals, handbag and sunglasses.
Asymmetrical midi dress
I love adding an element of asymmetry into my outfits. You'll find more asymmetrical tops and dresses in this article.
If you don't want to show your upper arms, you could always wear with a short jacket or cardigan.
White midi dress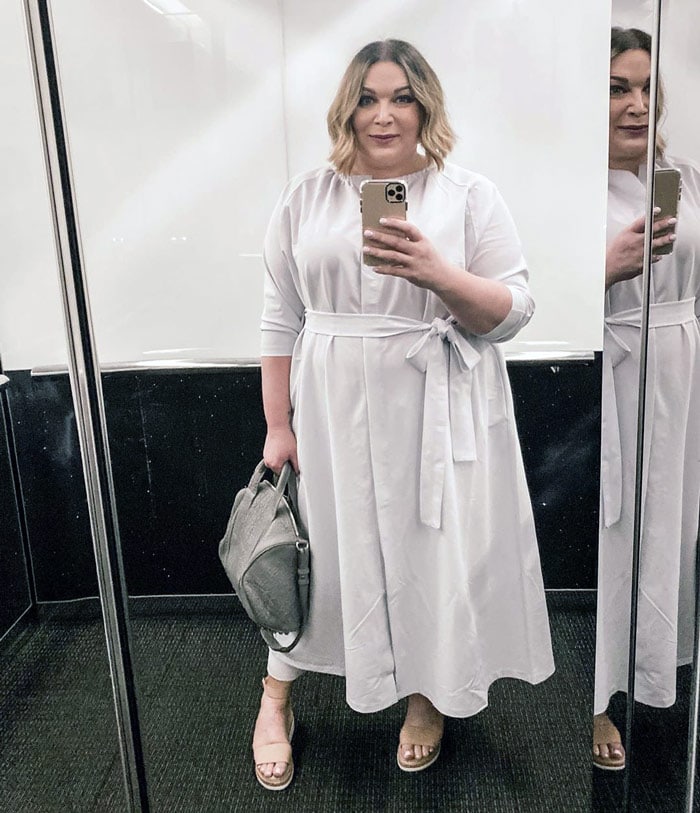 Sara (above) keeps her outfit all-neutral with her midi dress and accessories.
Check out this similar midi dress, sandals and handbag.
Vince stripe drapey shirtdress
Navy midi dress
For a more formal option which would look lovely styled for work, dinner or a formal event, you could choose a form-fitting navy midi dress.
Take a look at how to wear navy for ideas on what colors to wear with your dress.
Maggy London midi sheath dress
Beige midi dress
Who says beige has to be boring? A beige or tan midi dress is a lovely option for summer, and would look beautiful styled with metallic shoes and accessories, or with a pop of color such as red.
Printed midi dresses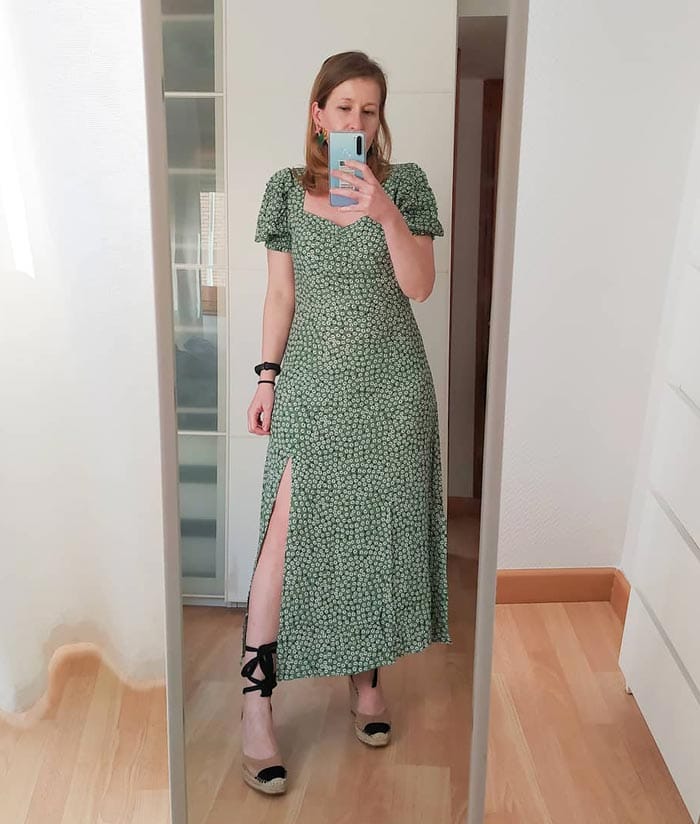 Monica (above) wears a green printed dress with on-trend cap sleeves, and shows off her lovely legs with the side split.
Check out this printed dress from ASOS that you can wear with this similar pair of lace-up sandals.
Floral midi dress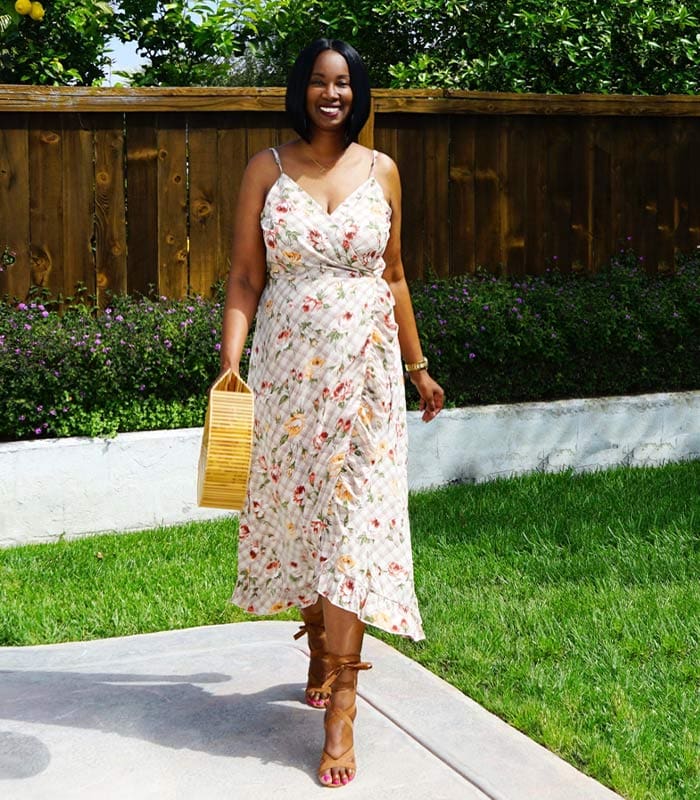 Florals are, of course, always a style staple for summer. If you love wearing florals, you may like this style guide for the romantic style personality.
Tanasha (above) wears a beautifully-fitting wrap dress which shows off her lovely figure perfectly. She teams it with neutral accessories.
Recreate her look with this similar wrap dress, lace-up sandals and handbag.
This floral dress below features subtle prints and would be a good option for so many style personalities.
Leopard print dress with sleeves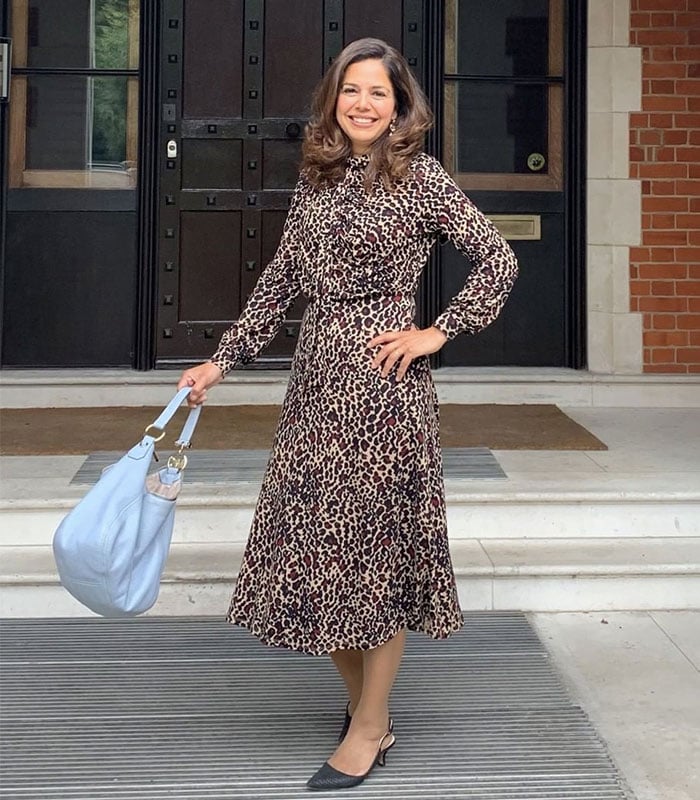 Below is a beautiful animal print dress in a traditional leopard print.
This is such a versatile piece. You could wear with heels for a party, with a moto jacket or with a blazer for a smarter look.
Anita styles her leopard print dress with a pale blue bag which adds modernity to her outfit.
Check out this similar leopard printed dress, slingback pumps and handbag.
Vertical stripe midi dress
Vertical stripes are always a stylish way to add long lean lines.
You can style you vertical stripe midi dress with Chanel-style espadrilles and a classic straw hat.
Check out this blue striped dress that is perfect to match with this similar pair of espadrille flats, hat and sunglasses.
Lafayette 148 faux wrap midi dress
For more inspiration take a look at how to look taller and slimmer.
Gorgeous polka dot dress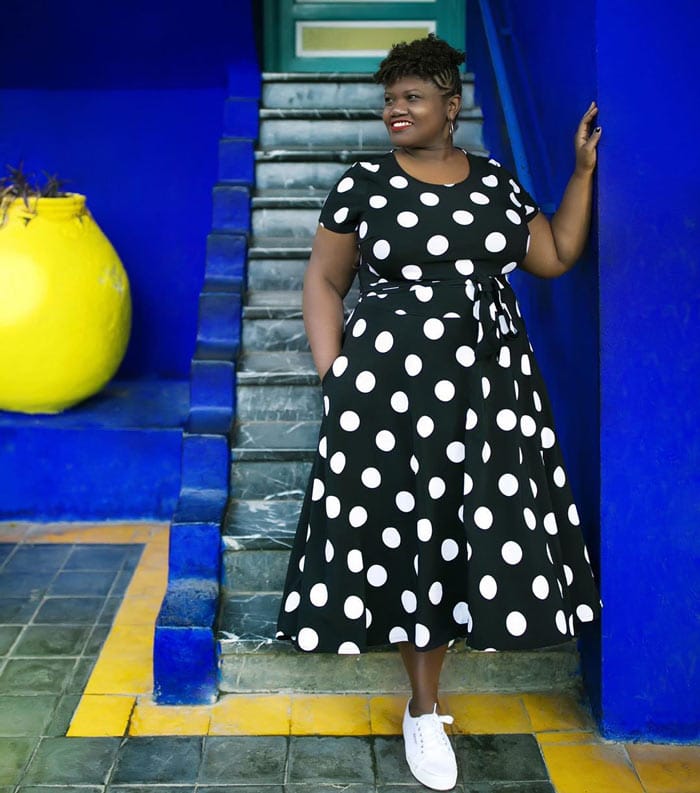 Another very classic print is the polka dot. This wrap style is universally flattering with its v-neck and tie-waist.
Georgette (above) shows off a polka dot dress with on-trend larger dots.
Steal her look with this similar polka dot dress and sneakers.
The best brands to look for midi dresses
I've already featured dress options from Nordstrom, which is a great go-to for midi dresses as you can search via dress length as well as size. Below are more brands which are known for their stylish midi dresses
Marks & Spencer
Marks & Spencer was best known as the place to go for quality, but basic, underwear, gaining a reputation for being a bit frump. However, it definitely has its fashion mojo back, and has become one of the best places to shop for on-trend midi dresses.
Amazon
You can find pretty much anything on Amazon, so it stands to reason that there is a good choice of midi dresses. A good place to look if you have a particular style in mind that you can't find elsewhere.
Mango
Spanish clothing company Mango is a great example of a store which caters for all age groups. There's a fabulous choice of midi dresses right now.
Boden midi dresses
Boden is the place to go to add a bit of fun and lightness into your closet – and we could definitely all do with as much cheer as possible right now. It's also a good brand to look at if you love wearing pattern and color.
COS
Have you discovered COS yet? It's the grown-up sister store to H&M and is definitely worth checking out. It's clothing is on-trend yet timeless – you can easily wear for many seasons.
What do you think are the best midi dresses for you? Have you already found the perfect midi dress? Let me know in the comments below
Continue reading:
Like this article on the best midi dresses? Share it on Pinterest by pinning the image below!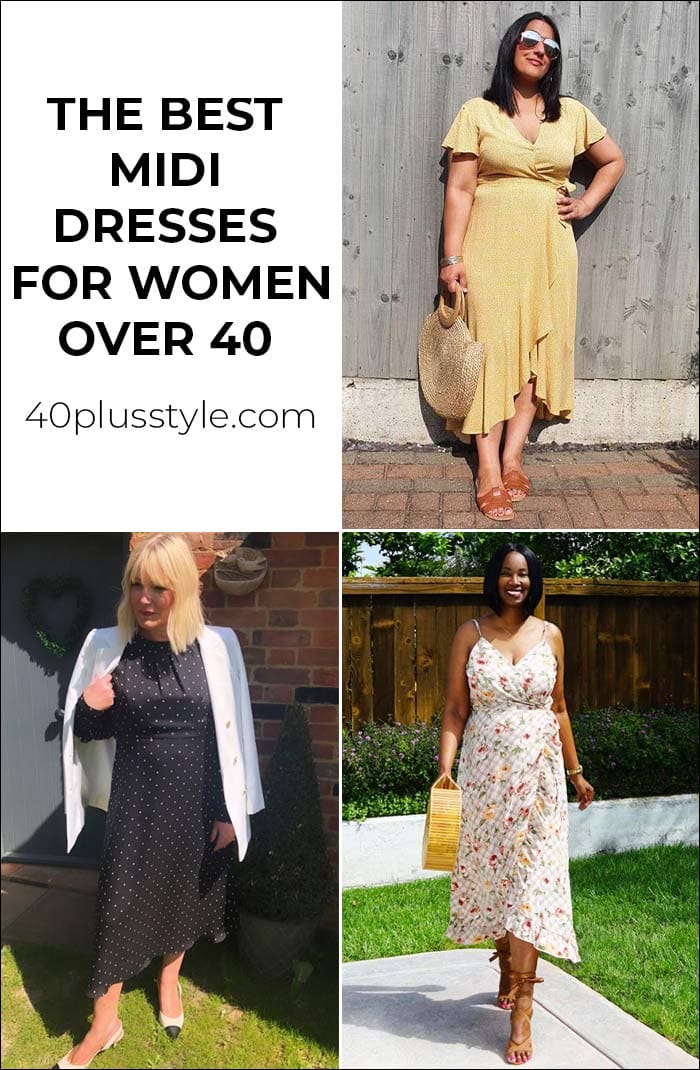 Feature image by Tanasha
Want to get more articles from 40+style in your inbox, subscribe here.
You can also connect with 40+style on Facebook, Instagram or Pinterest.
Support 40+style by using the links in our articles to shop. As an associate for Amazon and many other brands, we receive a small commission (at no cost to you) on qualifying purchases which enables us to keep creating amazing free content for you. Thanks!