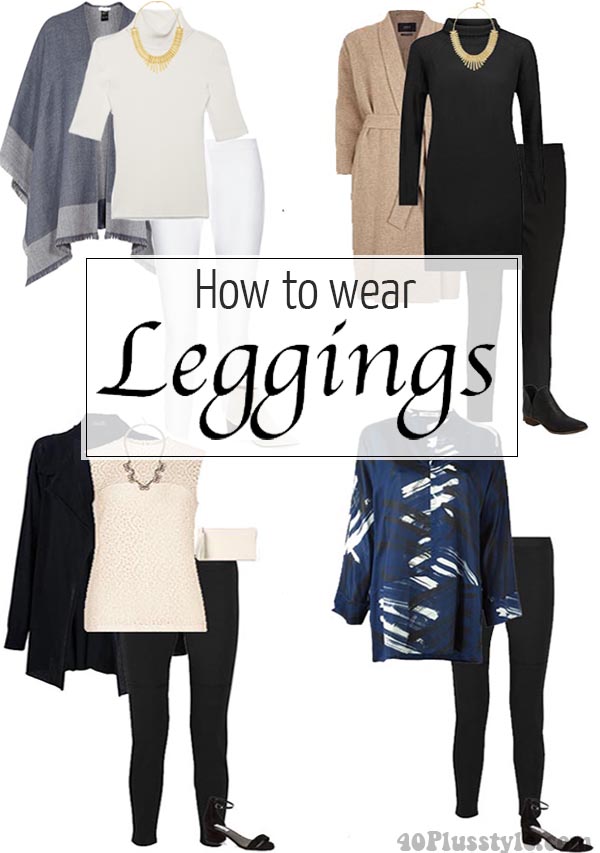 Leggings can be an extremely comfortable piece of clothing to wear throughout the year. Leggings are thicker than tights so they are nice and warm and give good coverage for your legs. But how do you wear leggings so they also look good?
In this updated article I will give you lots of guidelines on how to wear leggings over 40, 50 and beyond and where you can buy the best leggings online.

How to wear leggings so you look stylish?
In my opinion, you should not wear leggings like normal trousers. I would not do that at any age, but it certainly does not look very classy when you are over 40.
As they reveal all curves of your legs, I feel it is much nicer to wear leggings as a supportive element for the rest of your clothes, rather than a main garment.
I'm also a big fan of looser fitting leggings, jeggings or skinny jeans. These will not show every curve in your legs, but will provide nice vertical lines and make your legs look long and slim.
Have a look at how loose fitted leggings were worn at Chanel a few years ago below. All were combined with nice tunics and dresses that would suit many women over 40, as they are both comfortable to wear while at the same time looking very stylish.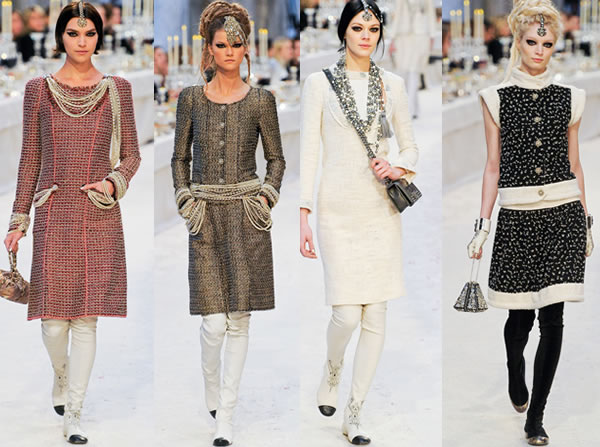 For which body type would leggings be suitable?
If you follow some of the guidelines below, all body types will be able to wear leggings. If you have very thick calves though I would recommend you wear skinny jeans though so the pants skim over you calves and will make them look slimmer. Wide legged pants are also an option or you could wear leggings with nice knee-high boots.
Leggings can work especially well for the apple body type. Your long tunic or top covers your belly and the leggings show off your fantastic legs. You could never tell that Anja does have a tummy from these images.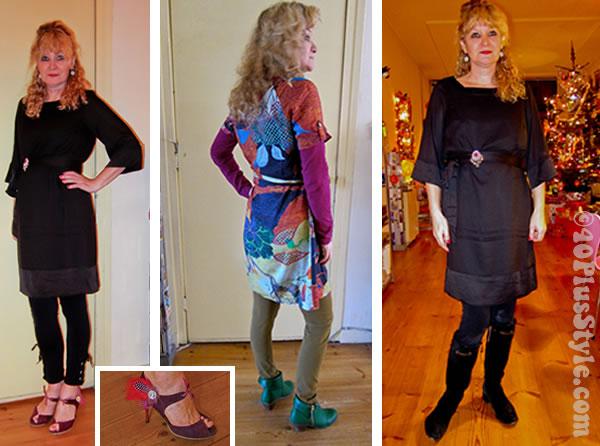 Although women with the pear body shape can wear leggings as well, it is important that they choose a top with sufficient length over them.
What garments work well with leggings?
Leggings are ideal to combine with tunics and short dresses. I often wear a short dress over pants but they would look equally nice over leggings. Leggings are also great contenders to wear with boots.
Below are a few combinations that would be great for spring, autumn or winter.
Look 1: Spanx black leggings – Henwei belted cardigan – Anne Klein black v-neck top  – Lucky Brand Black bootie
Look 2: Bishop and Young beige and white poncho – Hue denim leggings in white – Joie cream turtleneck – B.P. bootie in taupe – Aiden rose gold necklace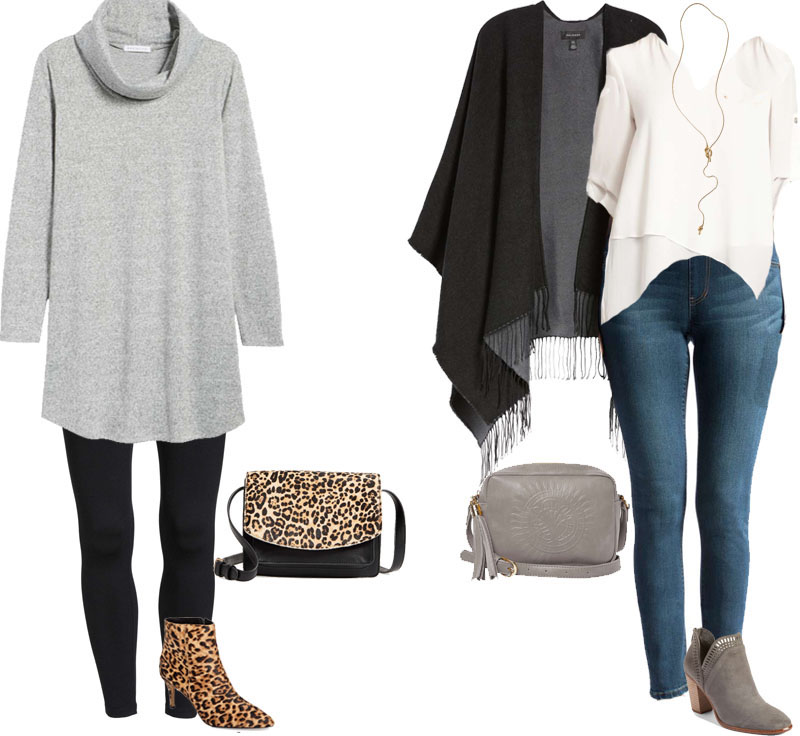 Look 1: Socialite gray sweater dress – Halogen leopard print booties – Sole society leopard print bag – Karen Kane leggings
Look 2: Liverpool blue denim leggings – Halogen black and gray cape – Karen Kane wrap top – Vince Camuto grey booties – Madewell gold necklace – Urban Originals gray handbag
In general, your ideal garments to combine with leggings include:
Tunics
Asymmetric tops and tunics
Short dresses
Knit dresses
Long knitted sweaters
Longer asymetrical pieces
Long cardigans
Big wide sweaters
Sweater dresses
Here are a few options for spring and summer:
Look 1: Bardot drape dress – AG white leggings – Halogen white ankle strap sandals – Madewell Violet handbag – Nadri moonstone necklace
Look 2: Lush quail tunic – Eileen Fisher wrap – Natasha necklace – Nina sandals
Look 3: Vince Camuto leaves tunic top – Sanctuary grease leggings – Vince Camuto sandals – Frances Valentine bucket bag – Karine Sultan gold necklace
Look 1: Rip curl kimono top – Nordstrom cropped leggings white – Dr. Scholls' black sandals – Anna Beck earrings – Urban Originals straw tote 
Look 2: Reiss olive tunic – Zella black leggings – Topshop embroidery bag – Nine West loafer
Look 3:Eileen Fisher top in Mimosa – Spanx leggings – Pink Paradox London silver sandals – Urban silver tote – Karina Sultan statement necklace in silver
Here are a few more travel looks with leggings.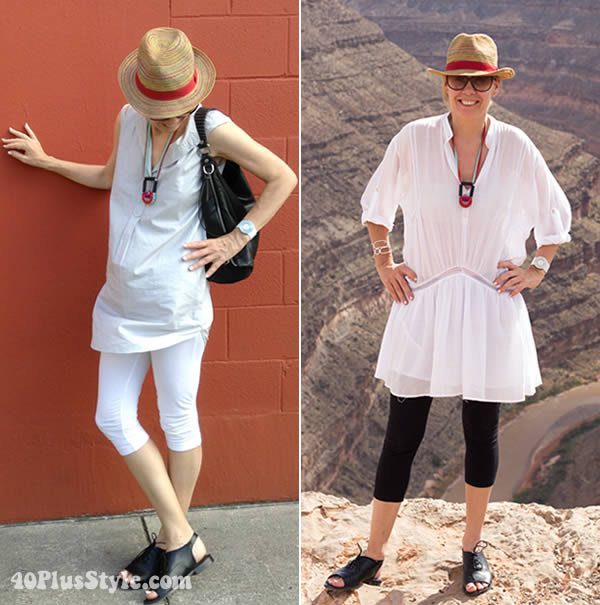 Here is how I wore black and white leggings on a recent holiday. Tunic by Stella Carakasi (They also have a winter version).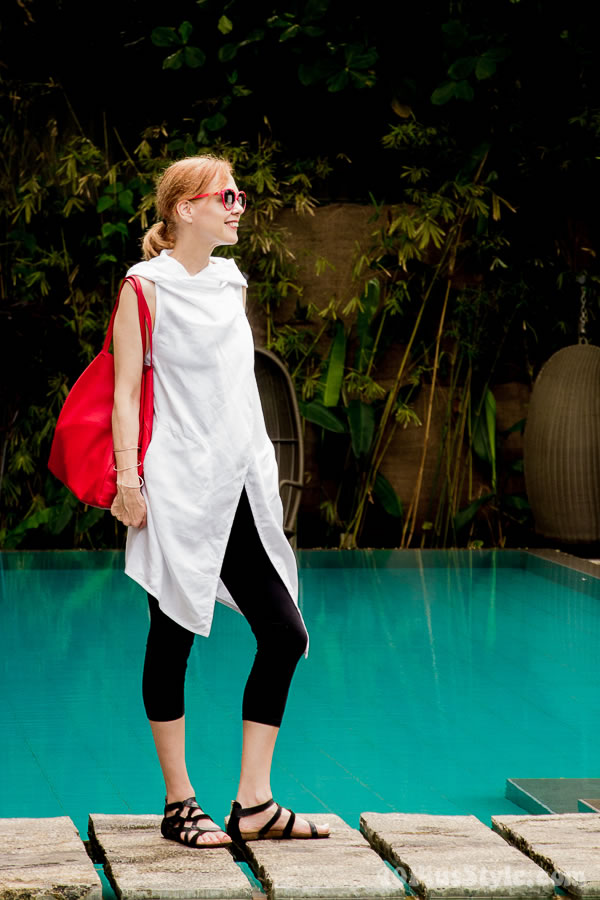 Black tunic over capri leggings.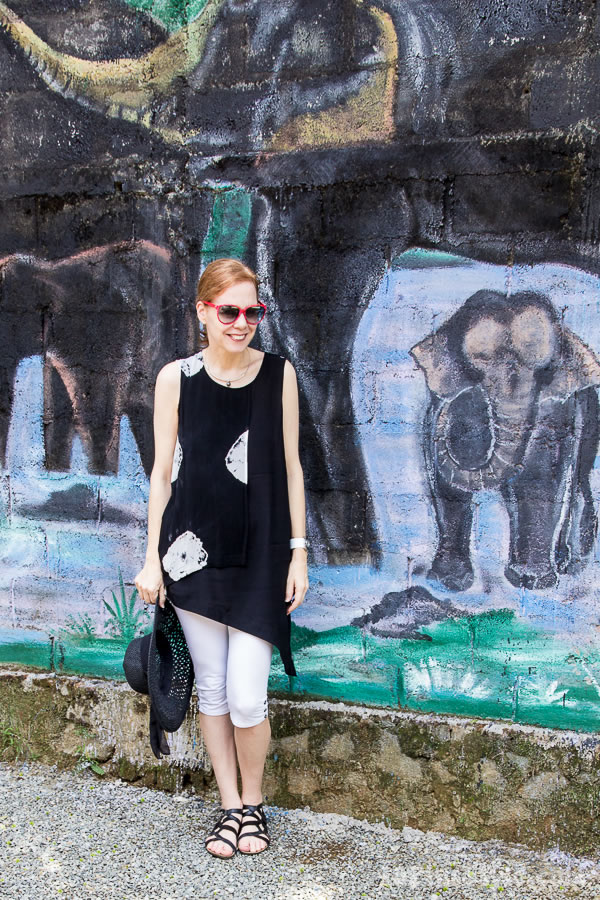 Leggings with asymmetrical tunics
I especially love asymmetric tunics and tops as they create an interesting silhouette and lengthen you through additional vertical lines. Here is how I recently wore a super asymmetrical black top with white over the knee skinnies and a high / low tunic with very stretchy skinnies.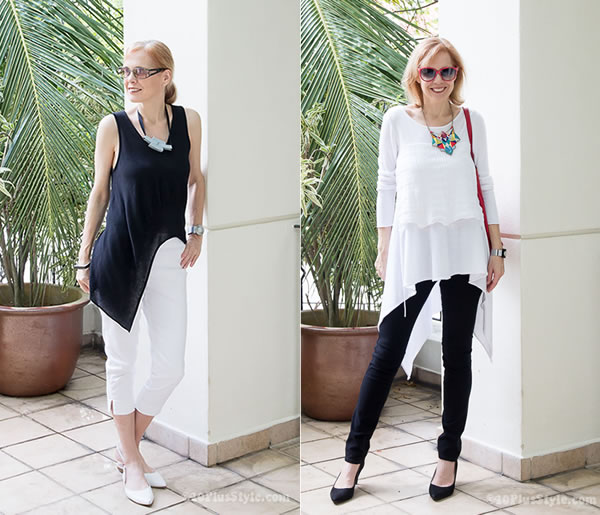 Here are some more examples of women wearing asymmetrical tops over leggings. You can always find a great selection of tunics at Eileen Fisher and Stella Carakasi. In winter, layer these looks with sweaters and cardigans.
Eileen Fisher cowl neck tunic – Eileen Fisher sheer silk top – Eileen Fisher asymmetrical tunic
What not to wear with leggings over 40
Avoid any tops that are higher than mid thigh
Don't wear tops that are too tight
Avoid animal prints and disco fabrics for your leggings and remember that the classier the top, the better leggings will look. The luxury fabric of silk, wool or cashmere will create a great contrast with the comfortable jersey leggings.
What is the ideal length of your leggings
You can never go wrong with full length leggings. These elongate and will make your legs appear longer.
Ankle high leggings can also look sexy especially with heels or booties. If you are short though, mid calf and short leggings should be worn with caution as they will make you look smaller.
Here is a look with an asymmetrical tunic and draped leggings which are available in many colors.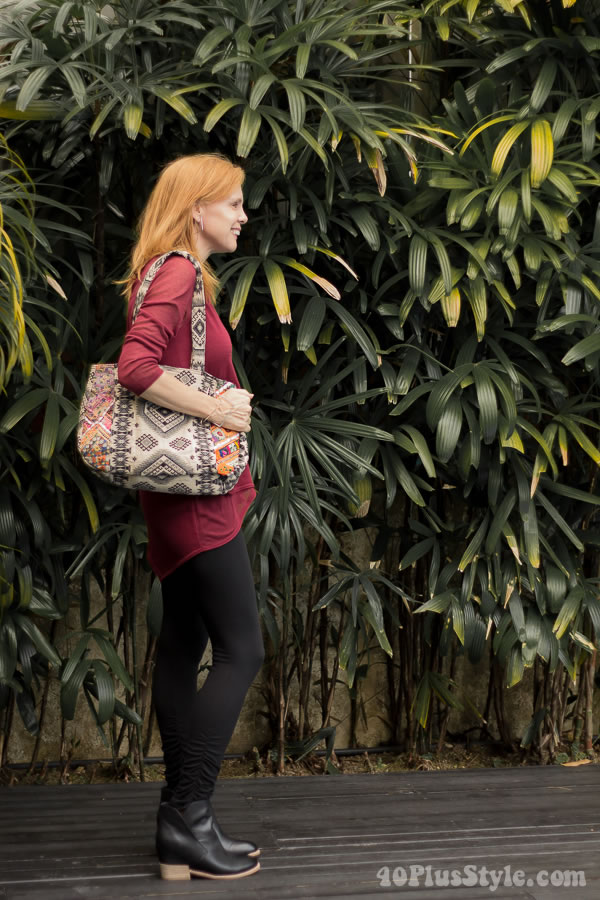 Another length I like in warmer weather is just below the knee. These Second Nature Capri leggings  from Stella Carakasi are super fab. Not too thin and very stretchy and comfortable. They are also great for tucking in your tummy. Worn here with the printed Attitude is Everything tunic and the long camisole in serene.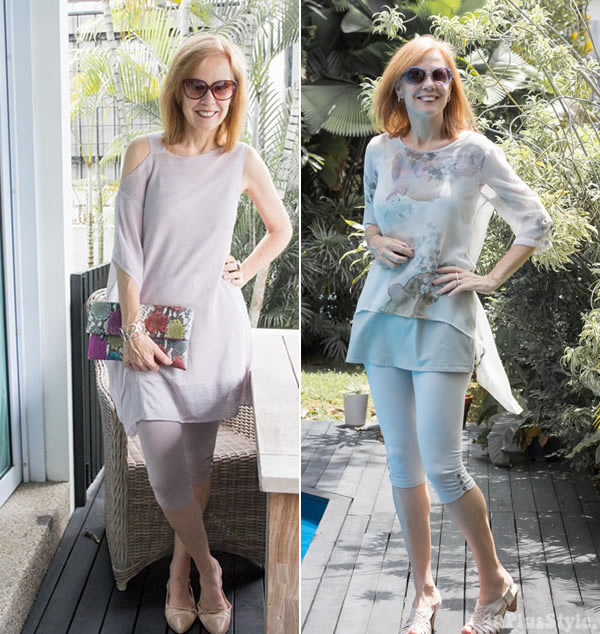 I have these leggings in various colors and also use them for working out and yoga!
Which shoes to wear with leggings?
As you may have seen from the images above, it is great to wear a shoe in the same colour as your leggings as it elongates your legs even further. Tall flat boots can work really well with leggings, but short booties and ballet flats can work equally good. I would not wear leggings with stilettos or very high boots over 40, unless you really know what you're doing and you're sure you're not looking trashy.
For more info on what kind of shoes to wear with what pants check out this article.
What about jeggings and skinny jeans?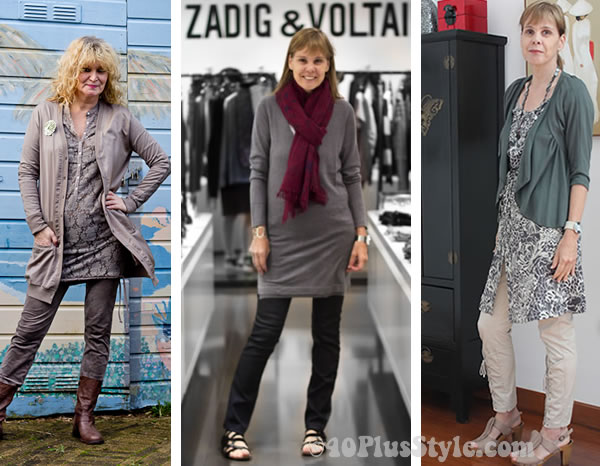 Depending on the kind of jeggings and skinny jeans, your tops can be shorter for these pants although they will also look look with longer tops. They can be a great asset for any wardrobe of women over 40.
Skinny jeans are usually a bit thicker and roomier so can be worn with shorter tops. Be sure to wear the right underwear though, so there is no clear VPL (visible panty line). (Featured below is myself and Greetje).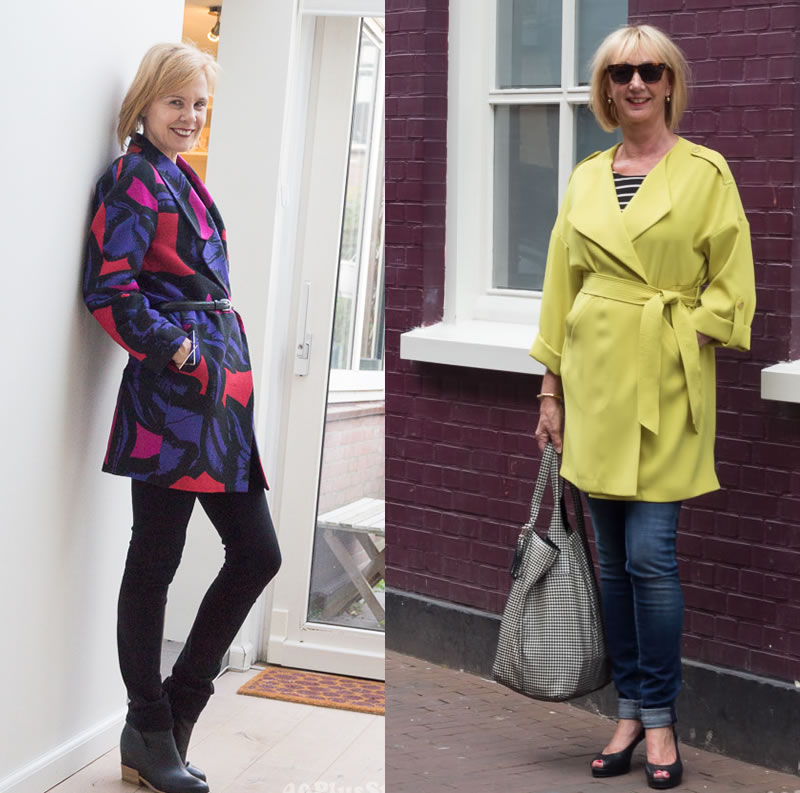 Which leggings to buy?
You will want to make sure that your leggings are thick enough and have a good stretch, yet are still firm enough to give your legs a great shape. For that reason, it's wise to invest in a good pair.
Ponte leggings (a hybrid of leggings and pants) are also a good choice. If you like even thicker leggings, you may consider jeggings or elasticated skinny jeans. I would steer clear of shiny or sheer leggings.
Leather or faux leather leggings are great for an edgier look and can be easily 'softened' with a silk tunic.
Some great brands for leggings include:
Finally here is an overview in this short video!

This concludes my guide on how to wear leggings. I may add to this guide later as I discover new tips on how to wear them best, or have new photos to illustrate.
If you want to make sure, you never miss an article and to get the best tips straight into your inbox as well as a free guide on how to find your style, be sure to subscribe to the weekly newsletter.
What do you think? Do you like wearing leggings and how do you usually wear them?

Like this article? Save it on Pinterest!
This article contains affiliate links.