No matter whether you are travelling by air, land or sea, you will want to look effortlessly chic while ensuring you are comfortable throughout your entire journey. Below, you will find the best travel clothes for women and outfit inspiration for all of your trips, whether you're taking a quick road trip or a long haul vacation.
I know that travel is harder at the moment, but parts of the world are opening up. Many of us can't wait to travel again. If you are going on a trip soon, read on for a travel capsule as well as the best airport outfits.
Travel clothes for women
I normally travel a lot and love to share some of my tips on how to build the perfect fashionable travel wardrobe to make fashionable travel easy.
I believe that dressing in a stylish way for travel is just as comfortable and easy as flying in an old t-shirt and cargo pants or sweats.
But one of these two options makes a better first impression! Don't worry, I'm not asking you to wear anything too fussy or high maintenance.
In fact in the image below I'm wearing a t-shirt and pants, but I've elevated my style through the print on my top and by adding silver shoes.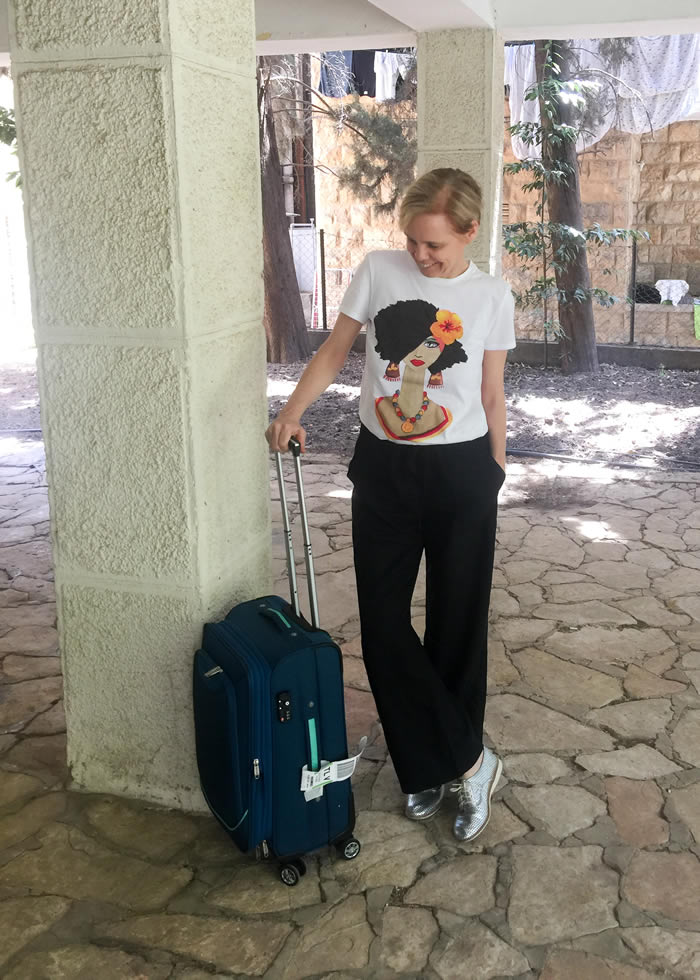 I'm wearing comfy airy pants (similar ones here) and I make the outfit more stylish with Rollies shoes (similar pair here).
When it's a bit cooler I will add a short stylish jacket too in stretch fabric like this one.
Travel clothes for women: best travel outfits
You may consider getting a few designated travel outfits. Investing in stylish travel clothes for women can help you to put together a "stylish travel clothes uniform". You'll also find your travel outfits work well for day-to-day wear and running errands.
Before you build the perfect women's travel wardrobe for your needs, consider these 3 points below when choosing your own signature travel outfits:
Best travel outfits for planes
1. Fabrics for traveling
The material of your clothing makes all the difference in the world when choosing travel clothes for women! Natural fibers like cotton and linen wrinkle easily, so you may wish to avoid wearing 100% linen or cotton fabrics if that bothers you. The best wrinkle-resistant fabric options include:
Polyester (although you may wish to consider whether you will be too hot as this doesn't breathe)
Wool
Cashmere
Tencel
Lycra
Knits
Jersey
Spandex
A blend of any of these with a natural fiber like cotton would be perfect, giving you the stretch you need for long period of sitting while still looking crisp.
Kylie (above) opts for a dress and sneakers at Sydney harbour. If you wanted to turn this into an outfit for travelling in, rather than sightseeing, you could always add a pair of leggings.
Check out this similar dress, sneakers, crossbody bag, hat, earrings and sunglasses.
2. The best fit for your travel wear
Loose fitting, easy tailoring is the best choice when traveling, especially regarding your pants or bottoms of choice.
You don't want to deal with tight, constricting pants when you're in a small cabin for a few hours.
Choosing materials with some stretch to them further adds to your comfort level. Eileen Fisher is a wonderful source for travel clothes!
Joy (above) looks ultra chic and comfortable in her loose-fitting dress, styled with a denim jacket for extra warmth.
Get her look with this similar maxi dress, denim jacket, sandals, hat and necklace.
3. What to wear when traveling – Color
Go with patterns or darker tones when traveling.
You're likely to be crammed into a public seat that may not be 100% clean. And coffee spills from those wobbly tray tables happen.
If you're traveling to a foreign country, darker or earthy, neutral colors help you blend in and look more low-key, too. Save the white clothes for when you get there.
Andrea (above) opts for a tiered black dress.
Recreate her outfit with this similar dress, crossbody bag and tote.
Travel clothes for women: must-haves all stylish ladies should travel with
Now that you're thinking about the best travel clothes for women, below are some of the best options for pants, tops, dresses, skirts, shoes and accessories to choose from this season, as well as a travel capsule wardrobe.
1. The best travel purse ever
Let's start with your bag. Your carry-on purse for travel needs to hold more than you normally would carry.
Documents, valuables, your iPad or some magazines and maybe a small makeup kit are some things you should have in your bag.
A tote is great for travel because it's so easy to load up. But a crossbody bag is also excellent, especially for keeping it secure when you need your hands free for other things.
Safety and security will be a key priority when you travel. You want to make sure that even if you are in busy markets or in places where pick pocketing may be a problem, that your belongings are secure.
The Travelon brand is highly recommended for travel bags with anti-theft features. This one below comes in a range of colors, from classic neutrals to funkier patterns like leopard print.
Travelon anti-theft crossbody bag
Also check our top 10 picks of the best purses for travel.
2. Travel scarf or shawl
A scarf or shawl ALWAYS travels with me, even in summer. Airlines don't hand out blankets or pillows on flights as much anymore, particularly if you're travelling in short-haul or domestic economy.
A scarf or shawl will keep you warm and comfortable, work as an airplane pillow when rolled up and will add some chic to your outfit when you arrive.
A blanket style could be the perfect option because you can use it as a blanket or head rest on the plane. Then, when you arrive, you can use as a shawl to keep you warm on chilly evenings, or as a beach towel or a picnic blanket.
Or another great choice, particularly if you are heading to a destination where you don't want your valuables in plain sight if to choose a travel scarf with a hidden pocket, such as the infinity scarf (below).
Abi (above) wears an outfit with a scarf that is perfect for transitional weather or cooler evenings.
Check out this similar jacket, dress, sneakers, tote, scarf and sunglasses.
WAYPOINT GOODS infinity scarf with hidden zipper pocket
Here's a tutorial and video for you on how to style a scarf.
3. Best travel shoes
Choose a pair of flats that are comfortable.
Bear in mind that you are likely to have to take your shoes off to go through security. So, you may prefer to have a slip-on style rather than laces.
I would make sure your travel shoes double up as really comfortable walking shoes.
7. Women's travel shirts
A great button-down isn't just a good travel option for men. It can look great worn with pants for your journey. Then, you can wear with shorts or over your swimsuit or your dress as a cover-up when you arrive for your vacation.
8. Travel t-shirt
T-shirts can be the basic core of any wardrobe, and your travel closet is no exception. You can wear to travel in and then team with shorts and skirts when you arrive. Or, you can wear instead of a pajama top to sleep in.
I'd stick to quality fabric without any logos on the front, so you can team with lots of pieces from your suitcase. Opt for something you can dress up with a statement necklace or scarf, or down just with sneakers and shorts.
Kimba (above) wears a tunic style shirt over her jeans.
Steal her look with this similar top, jeans, sneakers, handbag, scarf and sunglasses.
Sweaty Betty asymmetric T-shirt
4. The perfect travel dresses
Do you prefer traveling in pants, or do your prefer the feeling of coolness and freedom you get from a comfortable dress?
If you do choose a dress, I would look for one in flexible, stretchy fabric such as jersey so you don't feel restricted on your journey, just like this dress from ATM Anthony Thomas Melillo.
You could wear with sneakers for your journey and then dress up with heels or sandals when you reach your destination.
ATM Anthony Thomas Melillo dip dye T-shirt dress
5. Flying clothes: Travel cardigan
No matter where you are travelling, you are likely to need a cover-up in case it gets a little chilly on your journey, or for when the sun goes down in the evening.
If you choose a draped cardigan in a neutral shade, it should go with most outfits in your suitcase. The Nordstrom cardigan (below) can either be worn open as a cardigan, or closed so it looks more like a draped top.
Nordstrom drape front cardigan
6. Lightweight women's jacket for travelling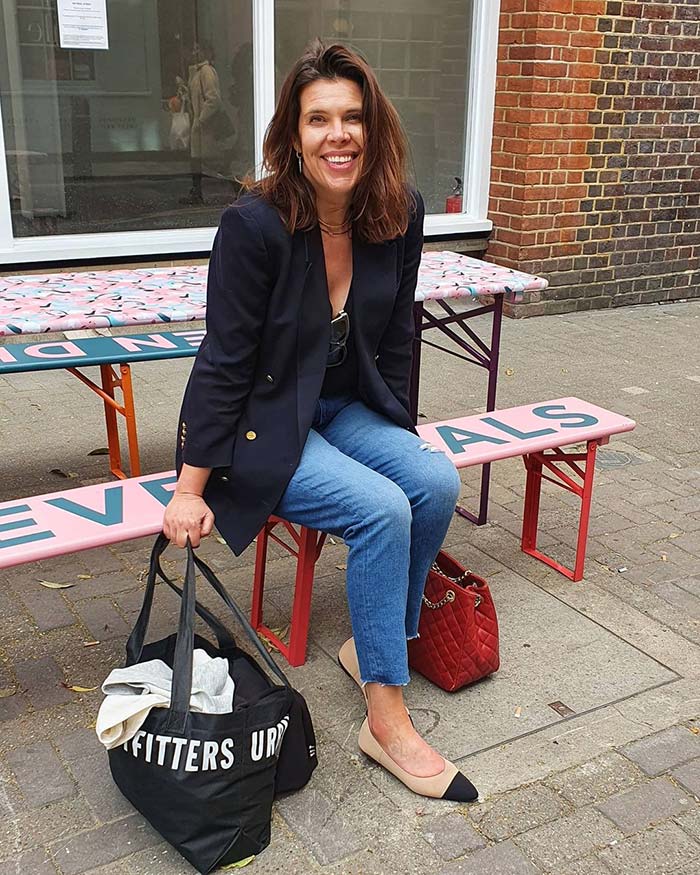 You won't want to be taking too many jackets on vacation with you as they take up suitcase space, so make sure the one you do choose is comfortable and versatile.
Of course, the best travel jacket for you will depend very much on where you are going. While a blazer will be perfect for the south of France, for example, you are unlikely to want such a dressed-up option on safari in South Africa.
If you choose a blazer, I think you can wear it beautifully with pants and a pair of sneakers for the plane. Then, for a night out on vacation, you could team with sandals or heels.
A natural fiber like linen will crease, but I think that's part of the charm of linen blazers. Or you could opt for a piece with a wool mix for cooler climates, or in a polyester mix if you are worried about it creasing.
Helen (above) wears her blazer with jeans and two-tone flats.
Recreate her outfit with this similar blazer, jeans, flats, quilt bag and shopping bag.
J.Crew blazer in stretch twill
You may also like our article on how to fit a blazer.
5. The best women's travel pants
Many of you will prefer to travel in a pair of pants rather than a dress. I would tend to avoid jeans as they aren't particularly comfortable if you want to have a snooze on the plane!
A pair of drawstring pants, such as the ones by Paige (below) are a good option for both travelling and sightseeing.
Another good tip is to look for pants which have an elasticated waist so you don't feel constricted during your journey.
Eileen Fisher organic cotton crop wide leg pants
There are more elasticated waist options in this article on the best pants and skirts to fit and hide your belly.
Best pants for travelling: Travel leggings
Or, how about choosing a comfy pair of leggings to travel in? You can wear with a loose tunic to make sure you're comfortable.
Ruth (above) opts for an all black outfit, but adds a pop of color with her cover-up.
Get her look with this similar sleeveless top, leggings, sandals and suitcase.
7. Travel skirts
Skirts can be a great staple in your travel closet. You could opt for a cotton A-line knee-length style for an easy style to wear with sneakers. Midi or maxi lengths also look relaxed and stylish on vacation.
For travelling, I would stick with a knee-length or a midi. You don't want trailing skirts to be getting stuck anywhere while you board and deal with your luggage.
The Caslon midi skirt ties at the waist and won't dig-in anywhere if you are trying to snooze on your journey.
Caslon tie waist linen blend midi skirt
Best travel clothes for women
Now that you have a good plan for your travel outfits, below are more stylish travel looks for you, to give you some inspiration according to your style personality.
Airplane outfits for the classic and casual woman
This classic and comfortable travel look starts with a relaxed-fit pair of pants or jeans and a pair of sneakers.
For your casual look, choose a comfortable t-shirt, either plain or with some interesting design detail or pattern and top it with a classic, stretch or knit jacket to add a little polish to your travel look!
Psyche (above) chooses an all-white look, which will be beautiful on vacation, topped with a baby blue blazer.
Steal her look with this similar V-neck top, pants, blazer, sneakers, necklace, suitcase and tote.
J.Crew linen blazer – Caslon V-neck shirt – PAIGE drawstring waist pants – Superga sneaker – Longchamp nylon tote
The best travel clothes for a feminine look
For a more feminine, romantic look, you could choose a floral top with a pastel jacket.
Or, a nicely chosen fit and flare style dress in a good jersey, knit or stretch fabric is a great travel outfit.
It's far more comfortable and forgiving than you think! You can always add capri leggings underneath if you want to layer it or wear tights to cover your legs.
Nordstrom drape front cardigan – Ted Baker London floral top – 1822 Denim crop jeggings – ESTALON leather crossbody bag – Me Too ballet flat
Plane clothes for a modern-chic style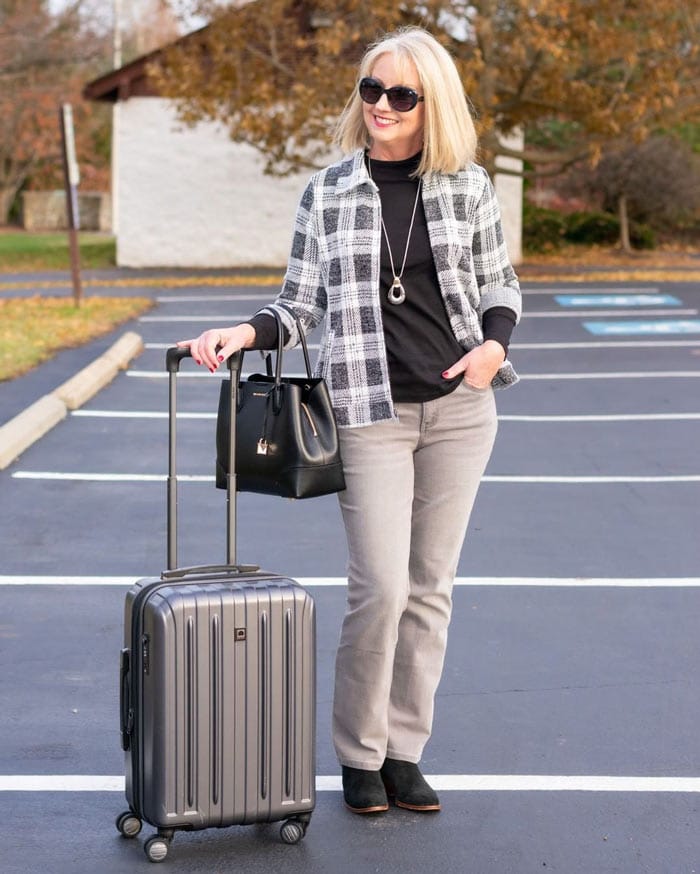 A modern-chic look can be one of the most comfortable and easy to pull off. Go with monotone neutral colors with an occasional splash of color.
Tailoring is important and comes in the form of cropped pants, or a silhouette that is a little more fitted. It's the most minimal of all the styles and can mix and match quite well with other pieces.
Kay (above) chooses a stylish, minimal palette of neutral tones.
Check out this similar mock neck top, jacket, jeans, booties, suitcase, handbag, necklace and sunglasses.
BLANKNYC drape front suede jacket – Sweaty Betty asymmetric T-shirt – 1822 Denim crop jeggings – Franco Sarto flat – Samsonite expandable luggage – WAYPOINT GOODS infinity scarf with hidden zipper pocket
For more style inspiration on how to wear your pair of loafers, see our article on the best loafers for women over 40.
Travel wear for a sporty look
Take advantage of the latest yoga-chic athletic trend! This includes state-of-the-art fabrics that are durable, comfortable and look good.
Choose a yoga-style boot cut athletic bottom or a tight capri or legging. Many, like the one featured, are higher-waisted and have a built-in band to hide the belly.
Layer with a longer-length lightweight pullover, tunic or sweater to have a very chic athletic look that also hides flaws well.
Zella wrap jacket – Zella knot T-shirt – Zella high waist leggings – Cole Haan slip-on sneaker – Ben Sherman travel luggage
Plane outfits for long haul travel: What to wear on a long flight
While all of the travel clothes above are very versatile, if you are travelling long haul, you are likely to want to try to get some sleep.
Therefore, comfort is especially important. You could choose a stylish leisure set which is as comfy as pajamas, but looks more like daywear. You can always wear as separates when you get to your destination.
VNVNE rib-Knit pullover sweater top & pants
Best travel outfits for warm climates
Of course, what you wear and what you pack will vary depending on where you are travelling to. For warmer climates, a loose-fit dress in a natural fabric can be a stylish, cool choice.
Travel clothes for cold climates
For cooler weather, you'll want to ensure that your travel closet includes a warm, but packable jacket which doesn't take up too much space.
Jona (above) opts for a long, quilted vest and comfy sneakers.
Check out this similar sweater, puffer jacket, leggings, sneakers, cap and pair them with this Gucci crossbody bag.
You may also want to pack some thermals that you can wear under your clothes and as pajamas.
The North Face packable jacket
Travel clothes for business trips
What about if you aren't travelling for leisure, but for business? A comfy jumpsuit can be a good option. You can wear with a cozy cardigan and slip-on shoes for travelling, and then switch to a blazer and heels for your business meeting.
a belt can be really useful
A belt is a very useful accessory when travelling. You can use it to cinch dresses or tunics to create different looks when you reach your destination.
There are more tips and tricks here on how to wear a belt for the most stylish effect.
9 travel outfits using the pieces featured above
You can put together the travel clothes, shoes and accessories used above into a capsule closet (below) to give you plenty of different looks during your journey and while on vacation.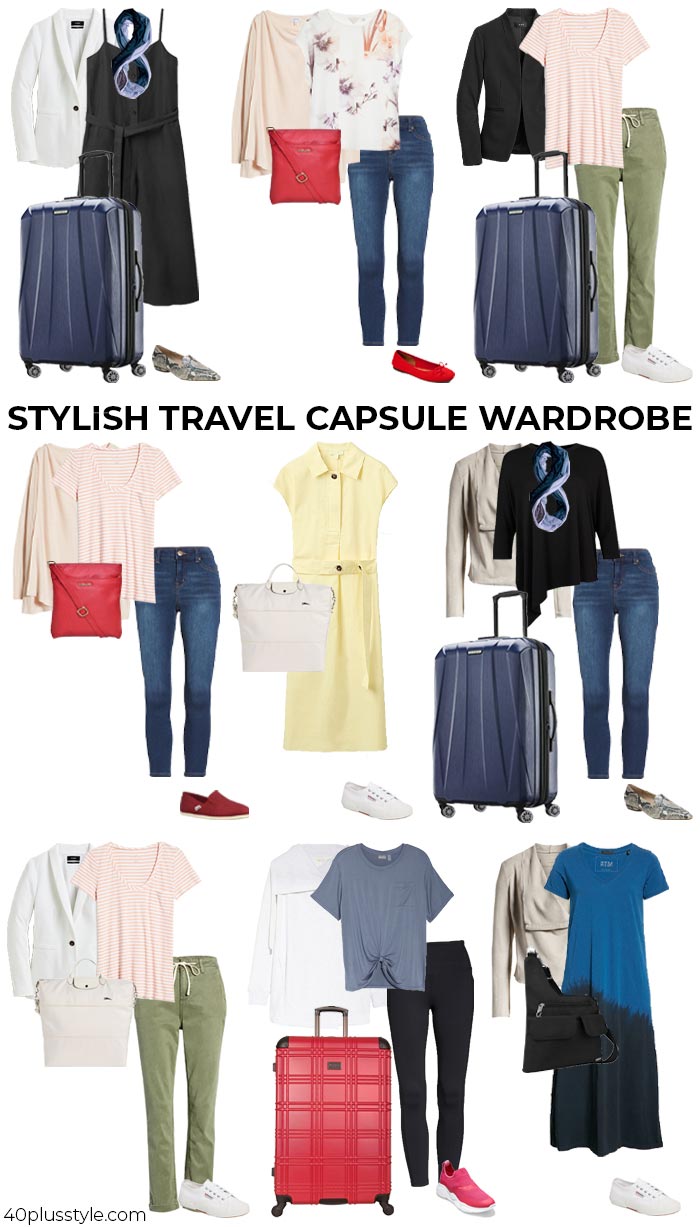 shop all items above here:
Below is a past season travel capsule which should still give you plenty of inspiration.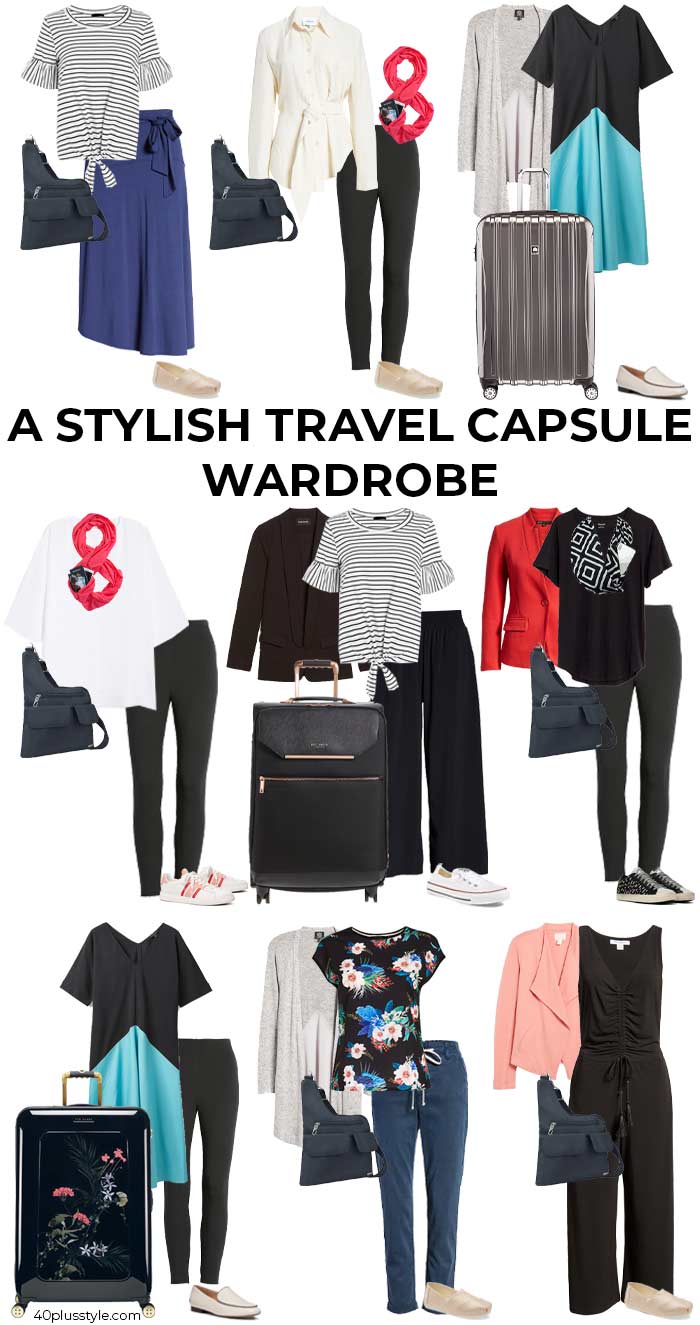 Read our ultimate guide to creating a capsule wardrobe that works best for you.
Best brands for travelling
What do you consider the most stylish travel clothes for women? What are your go-to travel outfits?
Continue reading:
Like this article on the best travel clothes for women over 40? Share it on Pinterest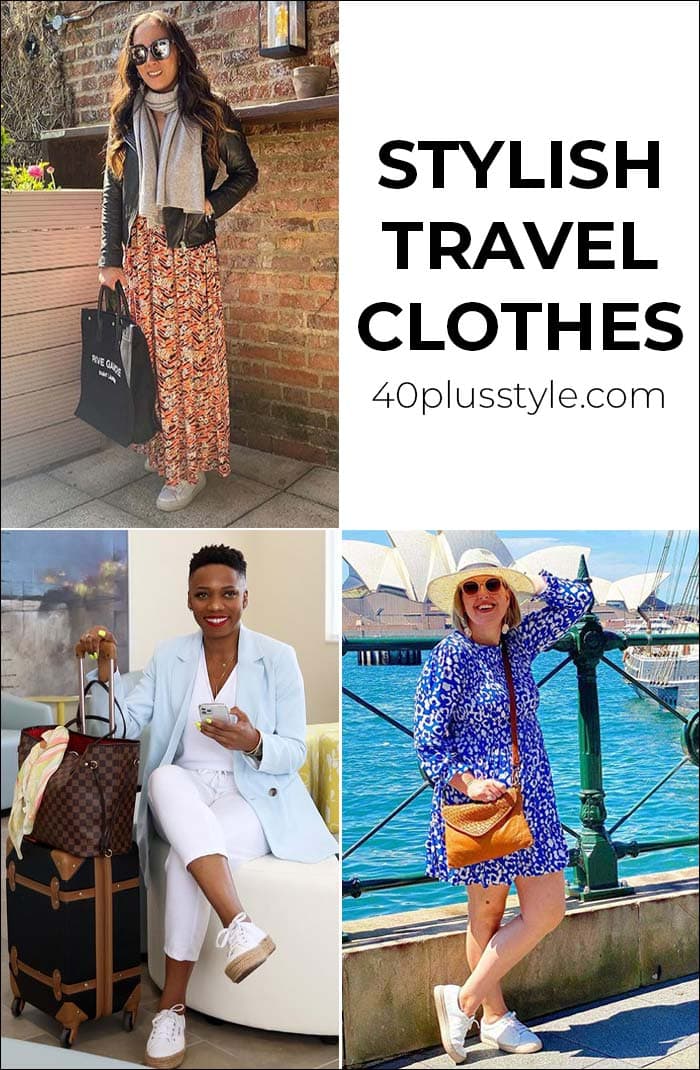 Feature image by Psyche
Want to get more articles from 40+style in your inbox, subscribe here.
You can also connect with 40+style on Facebook, Instagram or Pinterest.
Support 40+style by using the links in our articles to shop. As an associate for Amazon and many other brands, we receive a small commission (at no cost to you) on qualifying purchases which enables us to keep creating amazing free content for you. Thanks!