Plane travel isn't as glamorous as it once was but that doesn't mean you can't look effortlessly chic. There are fashionable travel clothes that will not only help you look stylish but are also comfortable to wear. I travel a lot and want to share some of my tips on how to build the perfect womens travel wardrobe to make fashionable travel easy. Ready?
I believe that dressing fashionably for travel is just as comfortable and easy as flying in an old t-shirt and cargo pants or sweats. But one of these two options makes a better first impression! Don't worry, I'm not asking you to wear anything too fussy or high maintenance. Here's my go-to travel outfit: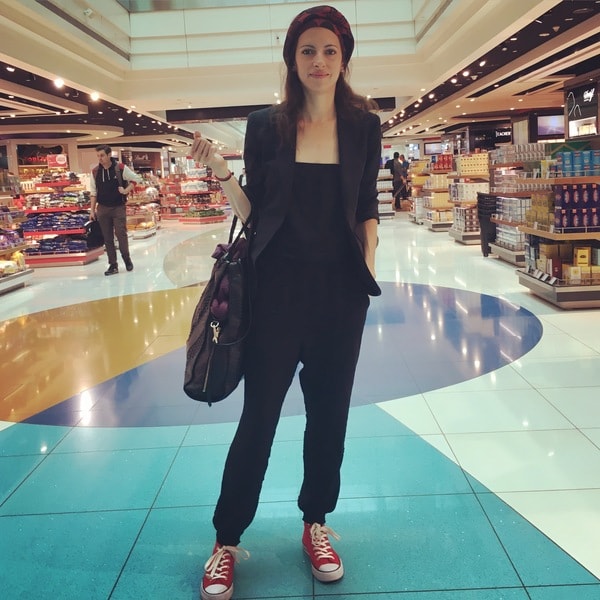 As you can see my outfit was nothing remarkable but I look stylish and presentable, don't you think? I wore a slouchy, stretch waistband pant and sneakers. But I topped it with a nicely tailored, lightweight blazer in a rayon blend that doesn't wrinkle easily and carried my favorite crossbody bag. I had to add my red Converse sneakers to make it more me.
Here's a secret – I only have 2 travel outfits I wear. They're like my "fashionable travel clothes uniform". Sometimes I change out the shoes or wear the scarf around my neck instead of as a turban like in the image (I was in Dubai).
This travel outfit works for me because it's dark so I don't look as dirty, doesn't wrinkle much and is loose fit so I can curl up in a ball in my tiny airplane seat and sleep. And I can use the outfit's components more than once on the trip, too.
Before you build the perfect women's travel wardrobe for your needs, consider these 3 points when choosing your own signature travel outfits:
1. Fabrics for traveling
The material of your clothing makes all the difference in the world! Natural fibers like cotton and linen wrinkle just by looking at them, so avoid wearing 100% linen or cotton fabrics. The best wrinkle-resistant fabric options include:
Polyester
Wool
Cashmere
Tencel
Lycra
Knits
Jersey
Spandex
A blend of any of these with a natural fiber like cotton would be perfect, giving you the stretch you need for long period of sitting while still looking crisp.
2. The best fit for your travel outfits
Loose fitting, easy tailoring is the best choice when traveling, especially regarding your pants or bottoms of choice. You don't want to deal with tight, constricting pants when you're in a small cabin for a few hours. Choosing materials with some stretch to them further adds to your comfort level. Eileen Fisher is a wonderful source for travel clothes!
3. Color
Go with patterns or darker tones when traveling. You're crammed into a public seat that isn't very clean. And coffee spills from those wobbly tray tables happen. If you're traveling to a foreign country, darker or earthy, neutral colors help you blend in and look more low-key, too. Save the white clothes for when you get there.
3 womens travel wardrobe must-haves all stylish ladies should travel with:
1. The best travel purse ever
Your carry-on purse for travel needs to hold more than you normally would carry. Documents, valuables, your iPad or some magazines and maybe your makeup kit are some things you should have in your bag. A tote is great for travel because it's so easy to load up. But a crossbody bag is also excellent, especially for keeping it secure when you need your hands free for other things.
2. Scarf or shawl
A scarf or shawl ALWAYS travels with me, even in summer. Airlines don't hand out blankets or pillows on flights as much anymore. A scarf or shawl will keep you warm and comfortable, work as an airplane pillow when rolled up and will add some chic to your outfit when you arrive. Here's a tutorial and video for you on how to style a scarf.
3. Shoes
Choose a slip-on pair of flats that are comfortable. Avoid laces (as I've learned the hard way from that time I wore lace up high tops in Dubai). And that's because you'll need to take your shoes off to go through the security line and you want to be able to get your shoes off and on fast.
Now that you have a good plan for your travel outfits, here are 4 stylish travel looks for you, according to your style personality.
Travel outfit for a feminine look
A nicely chosen fit and flare style dress in a good jersey, knit or stretch fabric is a great travel outfit. It's far more comfortable and forgiving than you think! You can always add capri leggings underneath if you want to layer it or wear tights to cover your legs. All items in this and all the capsules have been chosen for style, comfort and versatility.
In this capsule:
Dress: Maggy London Stretch Fit and Flare Dress
Cardigan: Banana Republic Merino Pointelle Cardigan
Shoes: Naturalizer Brittany Ballet Flat (very comfortable!)
Tote: Kate Spade Harding Street Stripe Riley Tote
Rolling carry-on: Ambeur Rolling Spinner
Travel accessories: Travelon Passport Wallet and Luggage Tag Set
Feminine and fashionable travel clothes in stores now:

Cardigans perfect for travel:

Travel outfit for a sporty look
Take advantage of the latest yoga-chic athletic trend! The state of the art fabrics are durable, comfortable and look pretty good. Choose a yoga-style boot cut athletic bottom or a tight capri or legging. Many, like the one featured, are higher waisted and have a built-in band to hide the belly. Layer with a longer-length lightweight pullover, tunic or sweater to have a very chic athletic look that also hides flaws well.
In this capsule:
Top: St. John Collection Stripe Wool Jersey Tunic
Pants: Barely Flare Booty High Waist Athletic Pants
Shoes: On Cloud Slip-On Sneakers
Overnight bag: Adidas by Stella McCartney Gym Bag
Scarf: Eileen Fisher Maltinto Striped Organic Cotton Scarf
Passport Cover: Express Eccolo Cover
Sporty, stylish travel clothes in stores now:

Travel outfit for the classic and casual woman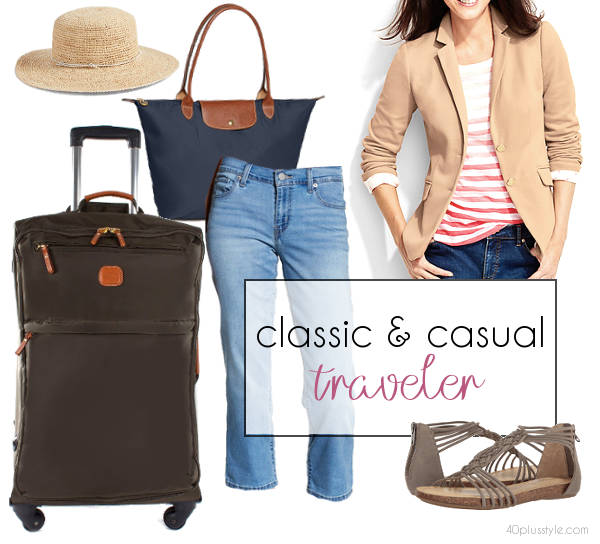 This classic and comfortable travel look starts with a relaxed-fit pair of Levis capri-length pair of cropped jeans. A zip-up sandal with a cushioned, formed sole and some strapping detail goes great with cropped bottoms. For your casual look, choose a comfortable t-shirt with some interesting design detail or pattern and top it with a classic, stretch or knit jacket to add a little polish to your travel look!
In this capsule:
Jeans: Levi's Classic Capri
Jacket: Talbot's Aberdeen Knit Blazer
Shoes: Adam Tucker by MeToo Cali Sandal
Tote: Longchamp Large LePliage Tote
Rolling carryon: Bric's X-Bag
Hat: Caslon Packable Raffia Hat
Classic and casual travel clothes in stores now:

Travel outfits for a modern-chic style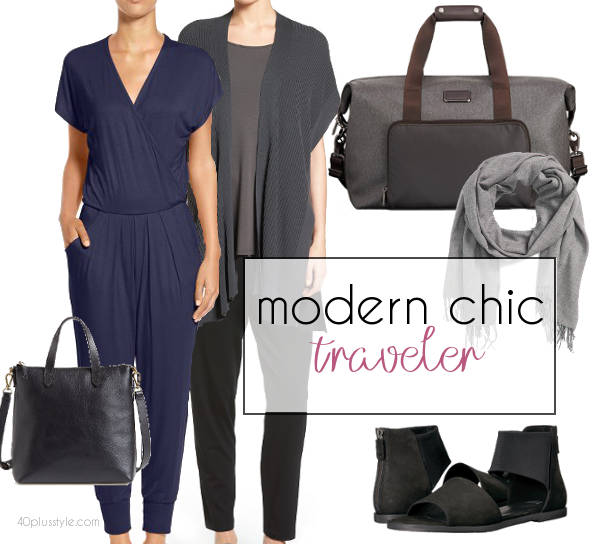 A modern-chic look can be one of the most comfortable and easy to pull off. Go with monotone neutral colors with an occasional splash of color. Tailoring is important and comes in the form of cropped pants, or a silhouette that is a little more fitted. It's the most minimal of all the styles and can mix and match quite well with other pieces. I've shown 2 outfit ideas because some women don't feel as comfortable in a one piece. A flowing cardigan is a great topper for a modern-chic travel outfit.
In this capsule:
Pantsuit: Loveapella Jersey Wrap Jumpsuit
Cardigan: Eileen Fisher Tencel Kimono Cardigan
Pants: Eileen Fisher Cropped Stretch Knit Pants
Shoes: Eileen Fisher Sign Sandal
Weekend Bag: Alpha 2 Travel Satchel
Scarf: Tissue-Weight Wool and Cashmere Scarf
Handbag: Madewell Transport Leather Crossbody Bag
Modern chic travel clothes in stores now:

What's travel outfit do you like most?