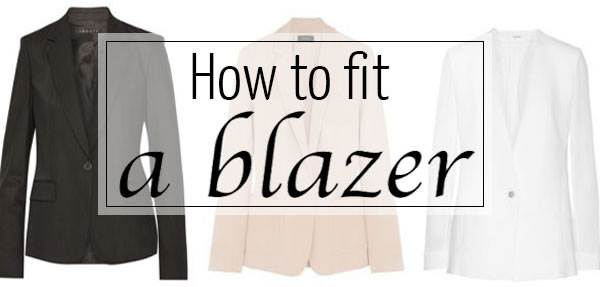 Blazers are the quintessential closet staple. Often an effortless finish to a look, the diverse variety of styles, cuts, and colors can be a bit confounding. Often, a blazer purchased right off the rack will not provide the best fit or flatter you as well as it could.
Tailoring, one of the best wardrobe investments you could make, is key to creating a custom fitting look.
In this article we go over different blazer styles and provide quick tips for getting the best fit.
First watch this video by 40+Style stylist Ruth Essex
Open front, belted, single breasted, and double breasted styles
There are multiple styles of blazers you will encounter. Open front blazers do not have any buttons enclosing the blazer. They tend to have a draped looked and are very flattering for women with larger bust sizes.
Mural open front shawl collar blazer – Amour Vert collarless grey blazer – Theory wool suit jacket
Belted blazers tend to have no buttons and are reflective of a more structured open front blazer. The difference is, as the name implies, that they can be belted. Belted blazers can create either a straight or peplum style silhouette, which can both be very helpful in creating an illusion of a more defined waist.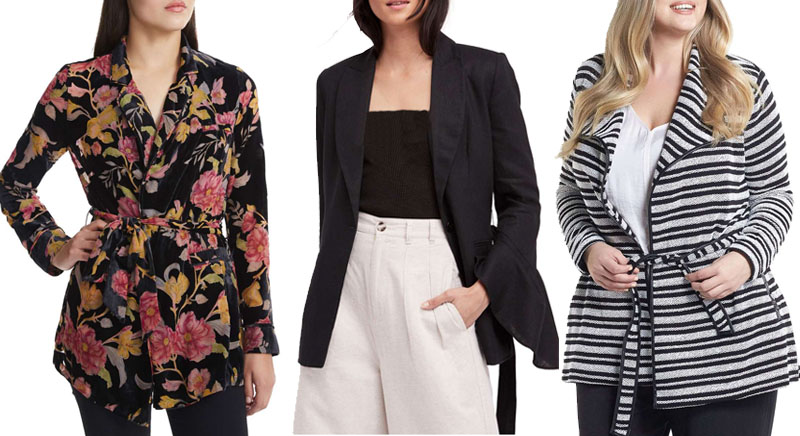 AFRM floral belt wrap jacket – Free People flared sleeve blazer – TART belted stripe blaze
Single breasted blazers have a single row of buttons to close the blazer. Single breasted blazers tend to be universally flattering, as long as the fit is well-tailored.

ELIZA J ruched sleeve blazer – Caslon knit blazer – T TAHARI
Double breasted blazers have two rows of buttons that allow the material of one side of the blazer to cross over the other side. Double breasted blazers tend to be a bit dressier.

MURAL oversized burgundy blazer – Bardot black blazer – ASTR double breasted plaid blazer
There are 6 key areas you should take into account when finding the best fitting blazer:
Bust
Buttons
Lapels
Length
Shoulder
Sleeve
Bust
The bust area is often one of the most challenging areas of a blazer to fit. Depending on both the size of your blazer and your bust size, you can wind up with a blazer that is either quite tight or loose across the bust area. The industry standard is that each side of you blazer must be able to go across half of a breast. Buttoning should not cause your blazer to appear (or feel) tight and create a too tight look.
On the other side of the spectrum, your blazer should not be so loose in this area that buttons create an overly draped look or a significant amount of bunching.
Buttons
A word you will occasionally hear in reference to buttons on a blazer is "stance". The highest point where the buttons on your blazer are, is considered to be the stance. For a blazer that best fits your body type, you should definitely pay attention to this. Typically, the higher the stance the more buttons you will find on a blazer.
As an example, you might find three buttons on a blazer that has a high stance while a blazer with a low stance has one button. Some key things to keep in mind is that if you have a larger bust, you might find a better fit with a two or three-button blazer.
Lapels
While it might not be an initial thought, the style and fit of the lapel is essential to the overall look of your blazer. The bigger the lapel the more bulk it will create on top, and the less lengthening your look will be. Usually, the less petite you are, the more you can get away with wearing larger lapel sides.
Length
There is a myriad of lengths blazers are made in. The length of a traditional blazer is around your hipbone. They tend to be flattering for most body shapes.
Longer and shorter blazer lengths can also be stylish options and depend on your preferences, where you're wearing the look, current trends and your body shape.
Whichever length you choose, be sure to keep the proportions of your overall look in mind to create the best silhouette for you. This is a topic that we discuss at length in our style course where we give you easy tips and examples to achieve a golden ratio with your overall outfit for your specific body type.
Traditional length blazers, as mentioned above, fall along the hipbone and are flattering for most shapes.

Treasure and Bond white crepe blazer – City Chic captain jacket – Foxcroft dot print blazer – Vince Camuto zip pocket blazer
Cropped length look best when paired with pants or skirts that have a higher waist. Alternatively, wearing them with longer tops also creates an elongating look. They also are the perfect partner to a well fitting dress.


Boss crop blazer – Ming Wang jacquard knit blazer – Joie bell sleeve jacket – City Chic smart blazer
Extra long are often the boyfriend style blazers that are another effortless layering piece. When wearing a boyfriend style blazer, the key here (for most body shape types) is to balance the oversized look with a more fitted bottom. As an example, wear an oversized blazer with slim fit jeans for a more balanced silhouette.

Mural long black necklace – Leith white blazer – Mural long navy blazer – Halogen knit boyfriend jacket
Shoulder
Under no circumstances should your blazer feel so tight around your shoulders that you can hardly raise your arms or move around comfortably. While the look and feel should be fitted, you do not want too loose of a fit around the shoulders (unless the style is intentionally cut that way, which is not universally flattering).
The goal is to have the seams of the shoulder be as close to the end of your shoulders as possible. If a jacket seam does not reach the end of your shoulder it may be too tight. If it goes over your shoulder you will will get the bunching effect on your upper arms which is very unflattering.
We would also recommend that you do not turn your nose up at the idea of shoulder pads. They serve a very functional purpose of maintaining the shoulder shape and fit.
Sleeve
The sleeves of your blazer are also important to take into account when purchasing or sizing a blazer. Ideally, the sleeves of your blazers should end at your wrist bone. However, there is always the case of different lengths (as discussed above), which could affect how and where your sleeve hits various points of your arm.
One thing to keep in mind is that if you are going for a professional look, it is not beneficial to have sleeves that hit mid arm or do not quite reach your wrist bone. Other settings will allow almost any type of sleeve, as long as the look is flattering to your body shape. A ¾-length sleeve tends to work quite well with cropped blazers for example.
Shop some of our favorite blazers here below

Are blazers part of your style profile? What are some of your biggest challenges when it comes to getting the right fit?

Like this article? Save it on Pinterest!