Blazers are the quintessential closet staple. However getting the perfect fit can be quite a challenge. Today we look at how to fit a blazer and we also show you some fabulous blazers currently available online.
It's definitely blazer season now. Spring and summer are the perfect time to wear a blazer because it provides just the right amount of warmth (not to mention style) for cooler days when you don't want to wear a big coat.
A blazer is the perfect option when you want to look a little more polished without trying very hard at all.
You can simply pop a blazer on over your jeans and a t-shirt to instantly elevate your style.
But, if you get the wrong fit, it can make your outfit look dated. Too big it can add unwanted width. Too small, and you will feel like you are spending the day in a straightjacket as you won't be able to move your arms properly.
Read our article on the best blazer styles to instantly elevate any outfit to learn more.
Here is how to fit a blazer and which blazer should you get?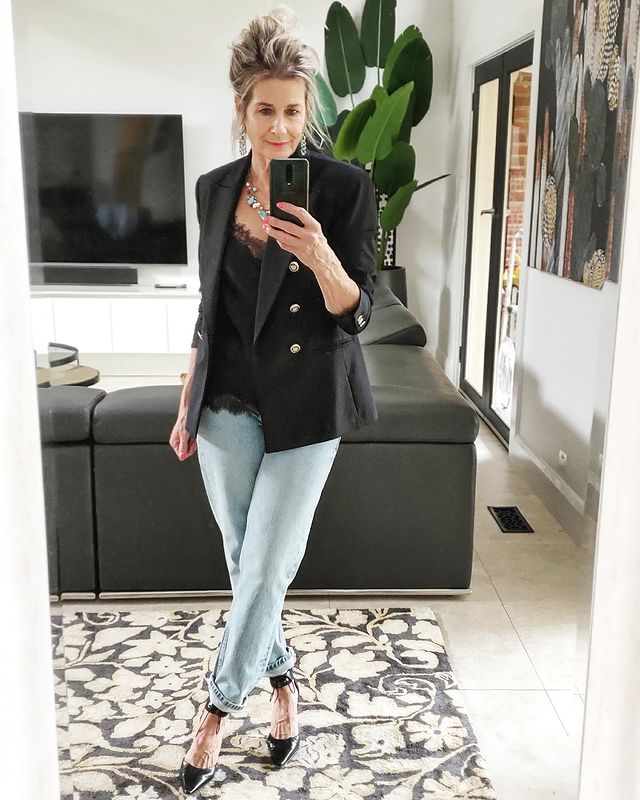 Often an effortless finish to a look, the diverse variety of styles, cuts, and colors can be a bit confounding.
But you'll need the right fit and often a blazer purchased right off the rack will not provide the best fit or flatter you as well as it could.
Tailoring, one of the best wardrobe investments you could make, is key to creating a custom fitting look.
Suzie @suzie.richetti above chooses a double breasted blazer with her boyfriend jeans.
Get her look with this similar blazer (another option here), camisole, jeans, pumps, earrings and necklace.
In this article we go over different blazer styles and provide quick tips on how to fit a blazer.
I'll tackle these in more detail later on. But first, here are a few quick points to think about.
1. Your shoulders
The seams of the shoulder of your blazer should end on your natural shoulder.
2. Arm length
Women are luckier than men when choosing blazers because you can opt for a full-length arm style, or three-quarter length. Just make sure the arm length isn't too long or short if you do opt for a full arm style.
3. Style
There are so many blazer styles to choose from and they will each be flattering for different body shapes. Work out what looks best on you – a looser boyfriend style, for example, or a tie waist blazer.
4. When will you wear it?
Are you looking for a blazer for work, to wear over an evening dress, or to pop over your jeans for a casual look? You may want to have two or three styles to choose from in your closet.
Types of blazers
Now let's take a look at some of the blazer styles you could choose…
cotton stretch blazer
There are multiple styles of blazers you will encounter. One of my personal favorites is the standard cotton or wool stretch blazer.
This blazer makes any outfit a bit classier (so perfect to wear with jeans and create that casual chic look) and the stretch makes sure that it's comfortable and a snug fit.
The J Crew blazer (below) comes in 4 different colors and is a great classic to add to your wardrobe.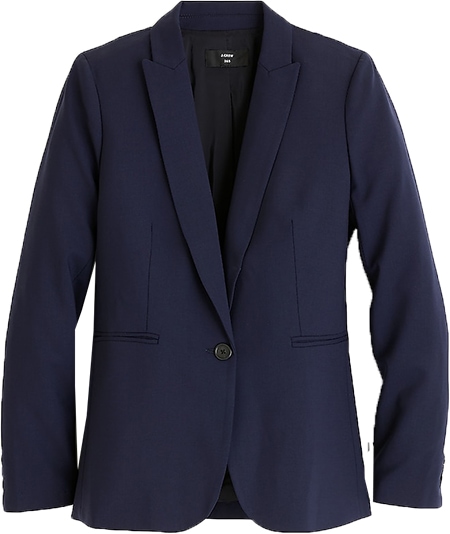 J.Crew Blazer in Italian Stretch Wool
Open front blazer
Open front blazers do not have any buttons enclosing the blazer. They tend to have a draped look and are very flattering for women with larger bust sizes. You could try a simple style like the J.Crew Going Out blazer (below).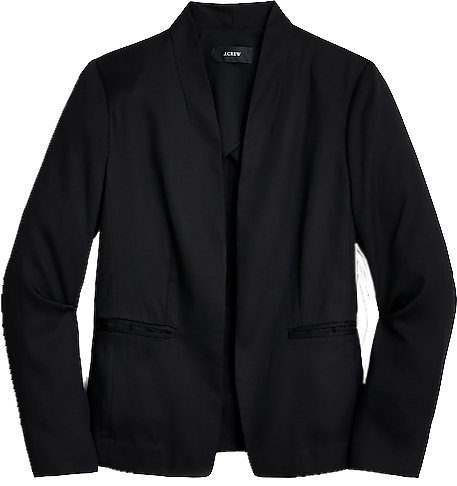 J.Crew Going-Out Blazer in Gramercy Twill
Or, the Urban Coco blazer (below) gives a modern take on a tuxedo style, and comes in a good choice of colors. Reviewers say it is good quality for its price point, and one even said it's the best blazer she has bought in a long time.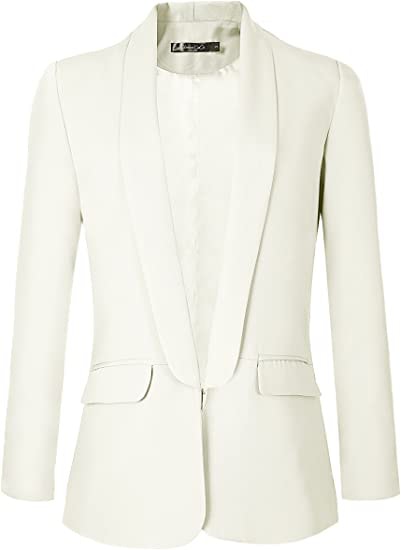 You may also like our article on what to wear to work – a professional work capsule
Single breasted blazer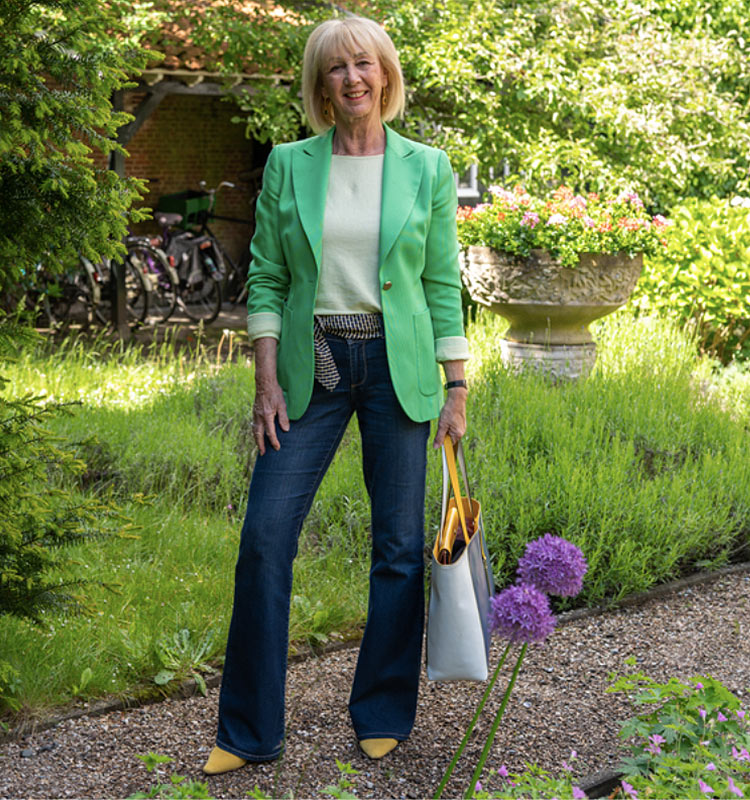 Single breasted blazers have a single row of buttons to close the blazer. Single breasted blazers tend to be universally flattering, as long as the fit is well-tailored.
Greetje @no_fear_of_fashion above (read her style interview here) looks fabulous in her single-breasted green blazer.
Steal her look with this similar blazer (another option here), top, bootcut jeans, pumps and tote.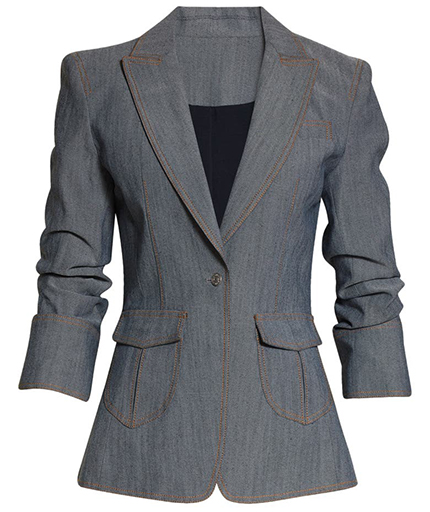 Cinq à Sept Louisa Cotton Blend Jacket
A fitted blazer is a great choice for wide leg pants. Discover how to wear wide leg pants and shop them online.
Double breasted blazer
Double breasted blazers have two rows of buttons that allow the material of one side of the blazer to cross over the other side.
Double breasted blazers tend to be a bit dressier but can also add bulk so are a bit harder to wear. The trick is to choose a double breasted style where the buttons start off wider and then taper in at the waist, as this creates a flattering effect.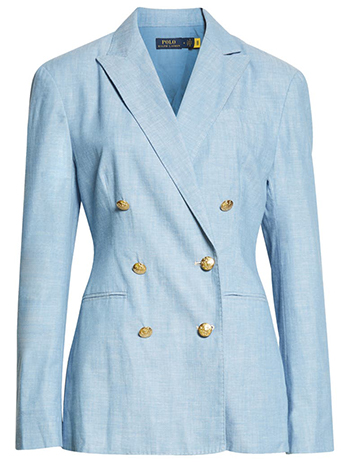 Polo Ralph Lauren Slim Double Breasted Blazer
Belted blazer
Belted blazers tend to have no buttons and are reflective of a more structured open front blazer.
The difference is, as the name implies, that they can be belted. Belted blazers can create either a straight or peplum style silhouette, which can both be very helpful in creating an illusion of a more defined waist.
These tend be especially popular with hourglass shaped women as it emphasizes their waist even more. Rectangle women like them too as it will give them more shape.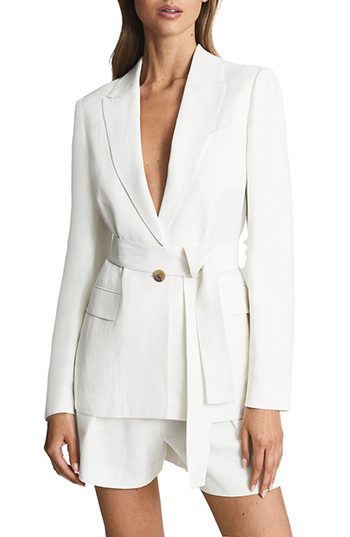 side tie
A new, modern blazer style gives a take on the tie waist by adding a side tie rather than a belt.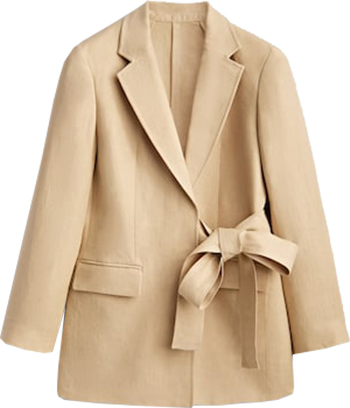 Massimo Dutti Linen Blazer with Tie
boyfriend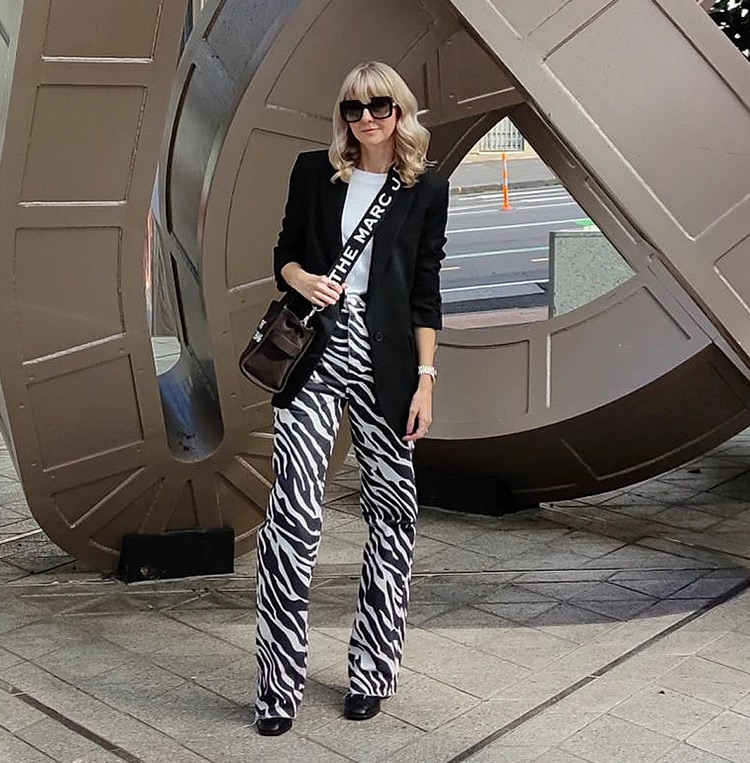 If you want to add a more casual style to your outfits, a looser, boyfriend-fit blazer could be the answer. This style is particularly flattering for the rectangle body shape. Keep the rest of your look tailored or slimline to create balance.
Melissa @melissabultburns above opts for a boyfriend style with her print pants.
Recreate her outfit with this similar blazer, tee, pants, pumps, bag and sunglasses.
The casual blazer (below) comes in a wide-range of colors and is well reviewed, with women saying it is well-fitting and a flattering length.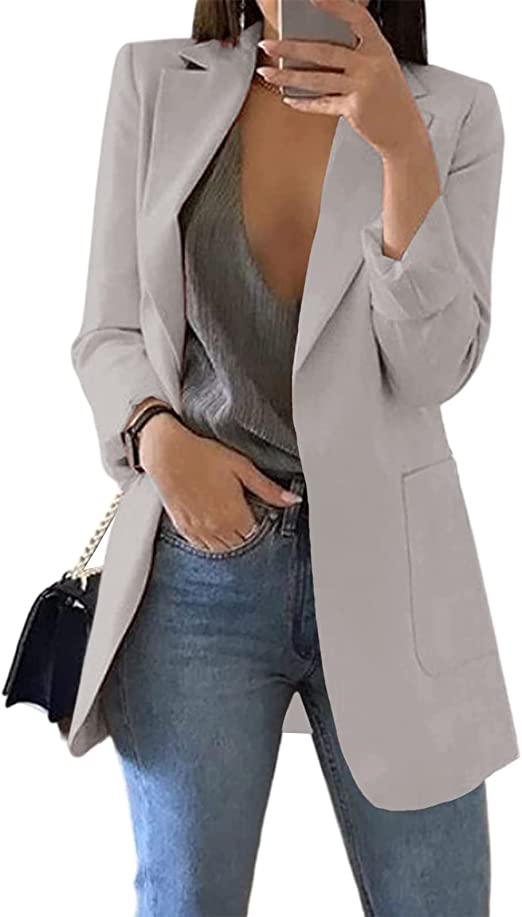 straight cut
You can choose a blazer which is fitted, and which nips in at your waist, or which skims down your body in a straight style like the Nordstrom blazer (below).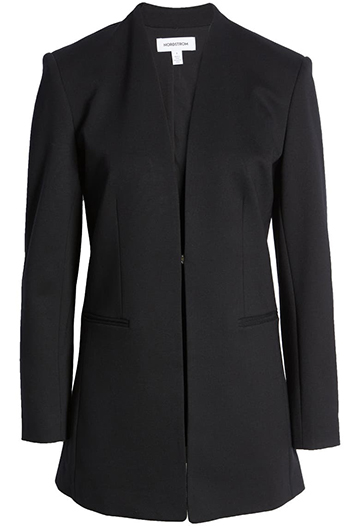 sleeveless
For summer or transitional months, you could choose to add a layer to your outfit without adding too much warmth by choosing a sleeveless blazer. For winter, you could wear a turtleneck sweater underneath.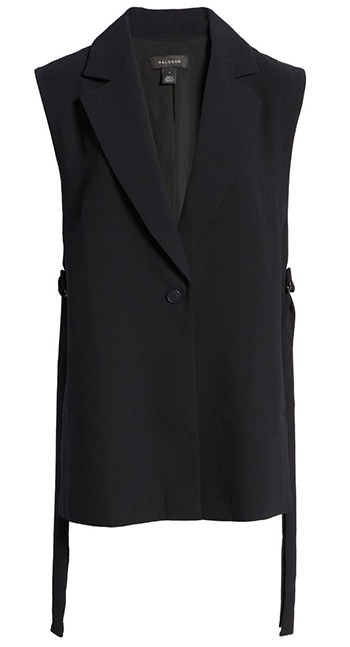 Halogen Side Strap Blazer Vest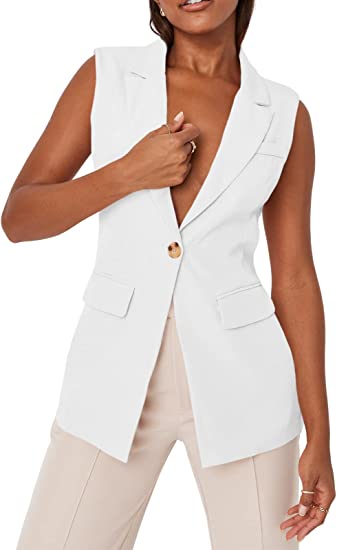 Teurkia Sleeveless Single Breasted Blazer
peplum blazer
A peplum style is perfect if you want to show off your waist, or you want to create the illusion of one.
The peplum style (below) comes in a huge choice of colors so you should find your favorite. Reviewers say it looks very high-end.
Hybrid & Company Double Notch Lapel Blazer
sweater blazer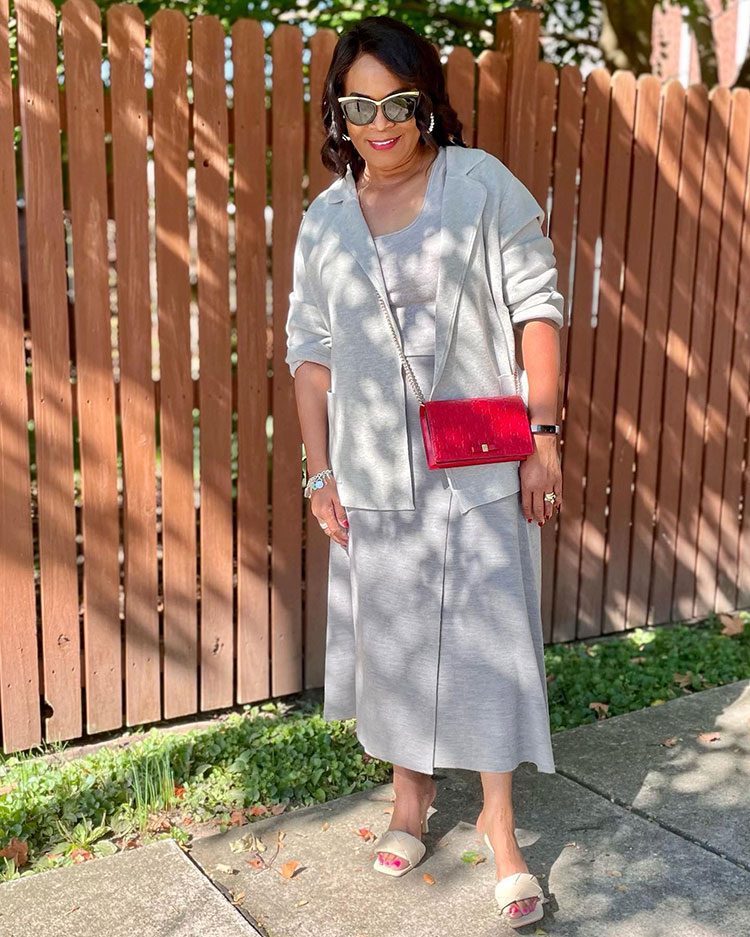 For a more casual style, you could choose a cross between a blazer and a cardigan. This could be perfect for travelling as it won't crease.
Eugenia @theeageofgrace above (read her style interview here) chooses a sweater blazer that coordinates with her top and skirt. You could also wear your sweater blazer with jeans and sneakers for easy elegance on casual days.
Steal her look with this similar blazer, top, skirt, sandals, crossbody bag, sunglasses and earrings.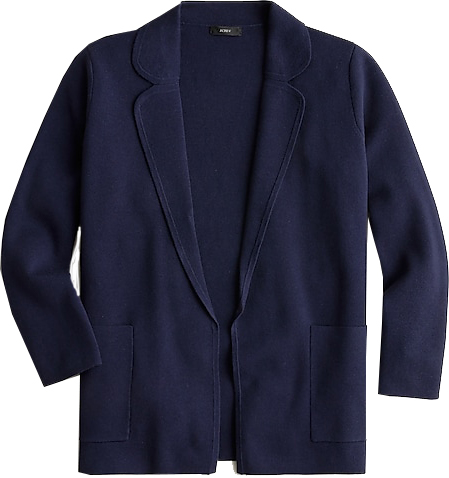 Reviewers of the cardigan blazer (below) say it washes well and drapes beautifully.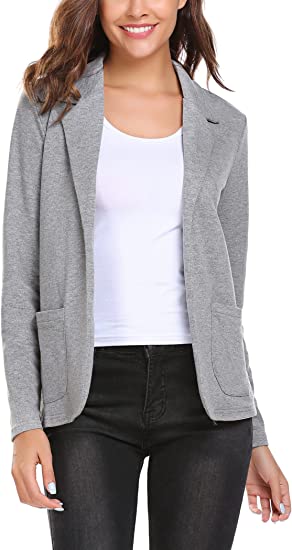 linen
For summer, you'll want to make sure that the fabrics you choose aren't too heavy. A linen blazer will crease a little, but I think that's part of the charm.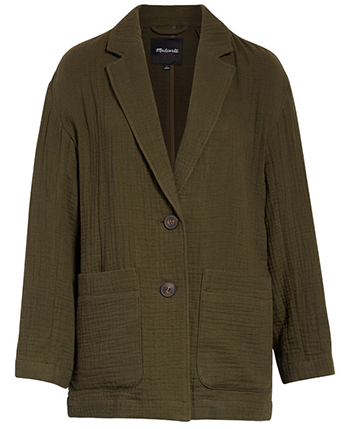 Madewell Crinkled Linen Blend Blazer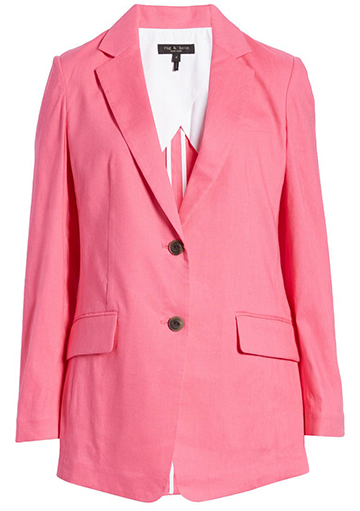 rag & bone Charles Linen Blend Blazer
Zip front blazer
While you may usually think of a blazer as being open or having buttons, you could also try a different style by adding a zip. The Karen Millen style (below) could look good with your wide leg pants.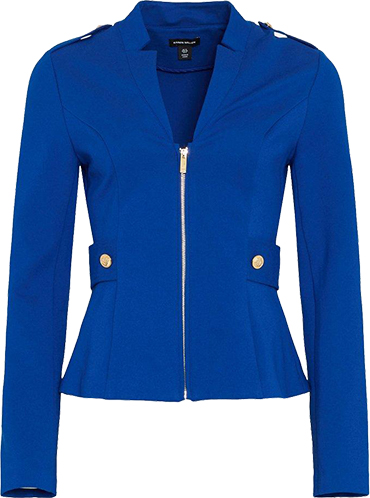 Karen Millen Military Zip Front Ponte Jersey Blazer
There are 6 key areas you should take into account when finding the best fitting blazer:
Bust
Buttons
Lapels
Length
Shoulder
Sleeve
1. How to fit the bust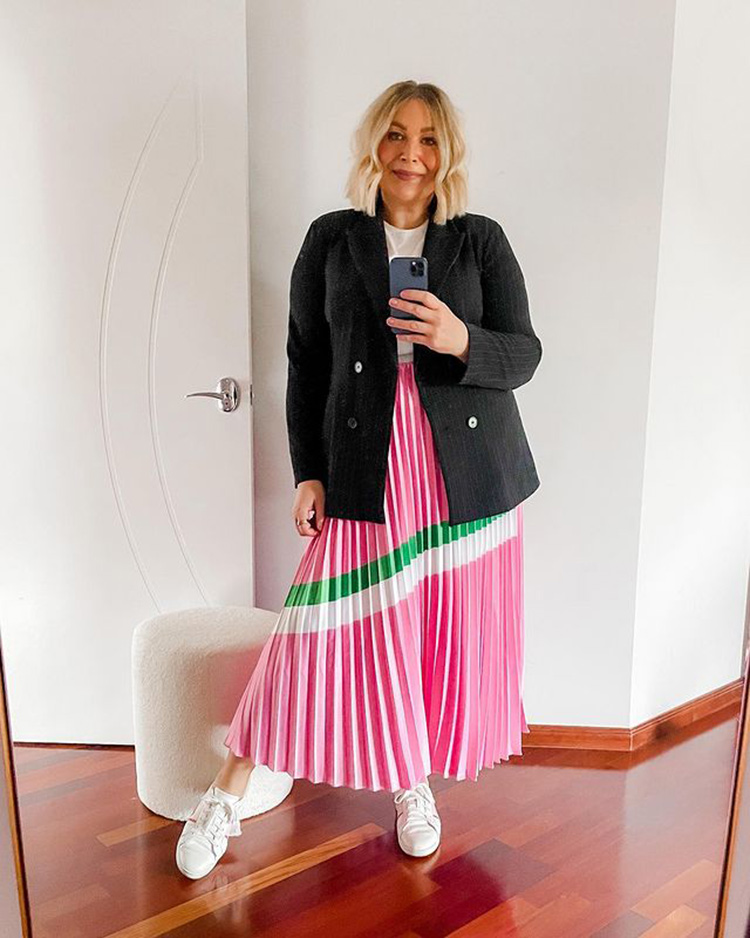 The bust area is often one of the most challenging areas of a blazer to fit. Depending on both the size of your blazer and your bust size, you can wind up with a blazer that is either quite tight or loose across the bust area. The industry standard is that each side of you blazer must be able to go across half of a breast. Buttoning should not cause your blazer to appear (or feel) tight and create a too tight look.
On the other side of the spectrum, your blazer should not be so loose in this area that buttons create an overly draped look or a significant amount of bunching.
Sara @style_designco above chooses a relaxed style over her pleated skirt.
Recreate her outfit with this similar blazer (another option here), pleated skirt and sneakers.
2. What is the best button style on a blazer and where should they be?
A word you will occasionally hear in reference to buttons on a blazer is "stance". The highest point where the buttons on your blazer are, is considered to be the stance. For a blazer that best fits your body type, you should definitely pay attention to this.
Typically, the higher the stance the more buttons you will find on a blazer.
As an example, you might find three buttons on a blazer that has a high stance while a blazer with a low stance has one button. Some key things to keep in mind is that if you have a larger bust, you might find a better fit with a two or three-button blazer.
3. Blazer lapels
While it might not be an initial thought, the style and fit of the lapel is essential to the overall look of your blazer.
The bigger the lapel the more bulk it will create on top, and the less lengthening your look will be. Usually, the less petite you are, the more you can get away with wearing larger lapel sides.
4. Blazer length
There is a myriad of lengths blazers are made in. The length of a traditional blazer is around your hipbone. They tend to be flattering for most body shapes.
Longer and shorter blazer lengths can also be stylish options and depend on your preferences, where you're wearing the look, current trends and your body shape.
Whichever length you choose, be sure to keep the proportions of your overall look in mind to create the best silhouette for you.
This is a topic that we discuss at length in our style course where we give you easy tips and examples to achieve a golden ratio with your overall outfit for your specific body type.
Traditional length blazers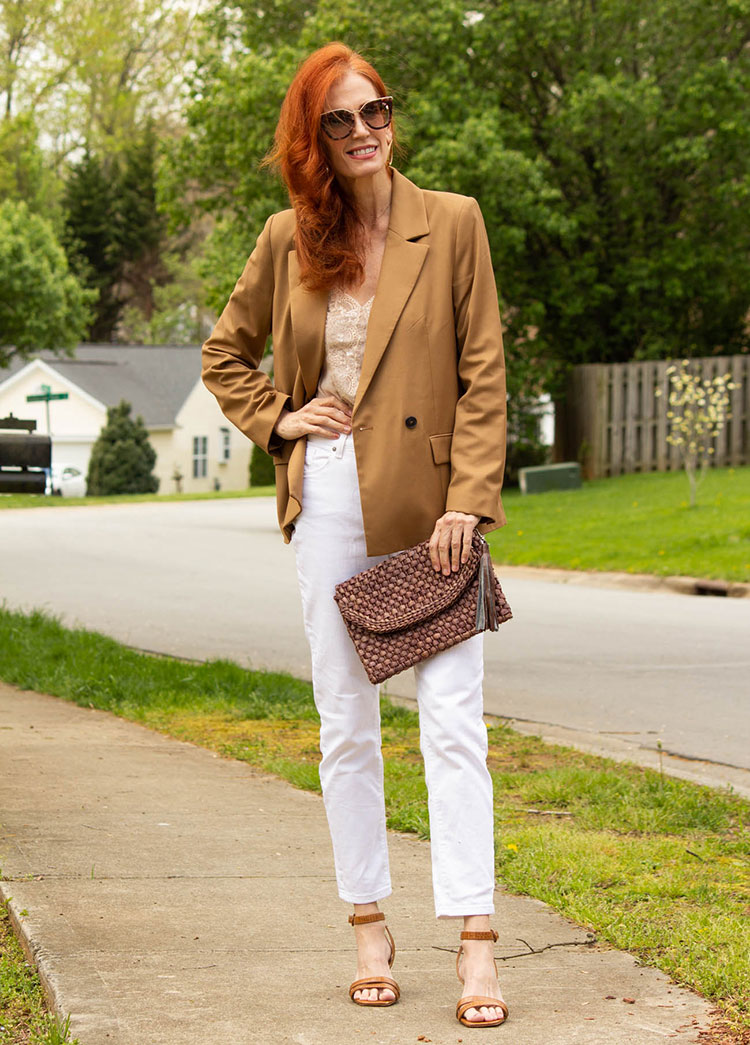 Traditional length blazers, as mentioned above, fall along the hipbone and are flattering for most shapes.
Jess @elegantlydressedandstylish above (read her style interview here) wears an all neutral outfit.
Get her look with this similar blazer (another option here), camisole, jeans, sandals, clutch, sunglasses and earrings.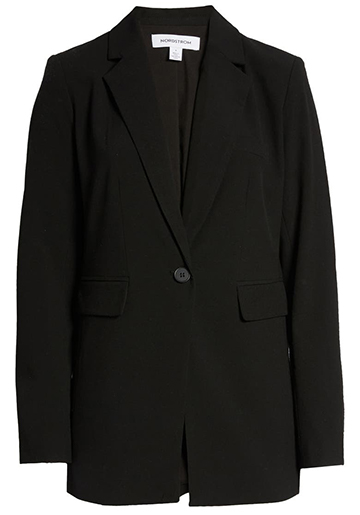 Nordstrom Cinched Waist Blazer
For more style inspration, read our article on how to wear blazer with jeans.
Cropped length blazer
Cropped length blazers look best when paired with pants or skirts that have a higher waist.
Alternatively, wearing them with longer tops also creates an elongating look.
They also are the perfect partner to a well fitting dress and look particularly good worn with wide-leg pants.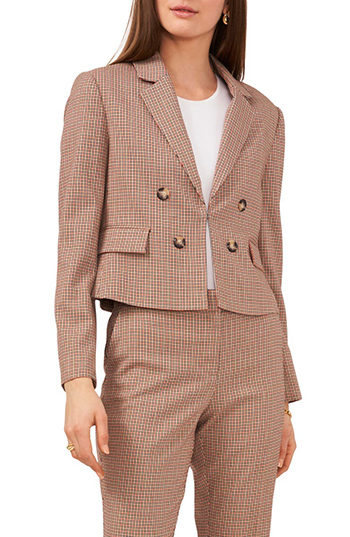 Vince Camuto Houndstooth Check Crop Jacket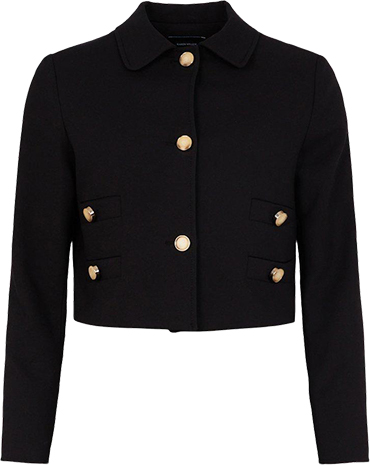 Karen Millen Compact Stretch Pocket Detail Cropped Jacket
Extra long blazer
Extra long blazers are often the boyfriend style blazers that are another effortless layering piece. When wearing a boyfriend style blazer, the key here (for most body shape types) is to balance the oversized look with a more fitted bottom.
As an example, wear an oversized blazer with slim fit jeans for a more balanced silhouette.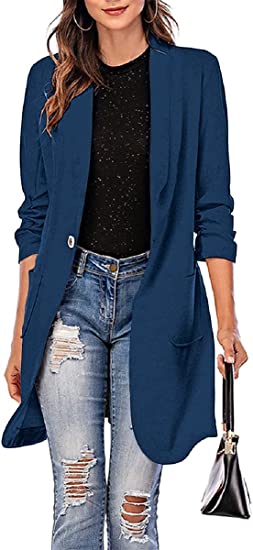 5. How to fit the shoulder of a blazer
Under no circumstances should your blazer feel so tight around your shoulders that you can hardly raise your arms or move around comfortably.
While the look and feel should be fitted, you do not want too loose of a fit around the shoulders (unless the style is intentionally cut that way, which is not universally flattering).
The goal is to have the seams of the shoulder be as close to the end of your shoulders as possible. If a jacket seam does not reach the end of your shoulder it may be too tight. If it goes over your shoulder you will will get the bunching effect on your upper arms which is very unflattering.
We would also recommend that you do not turn your nose up at the idea of shoulder pads. They serve a very functional purpose of maintaining the shoulder shape and fit.
6. Where should the sleeves of your blazer end?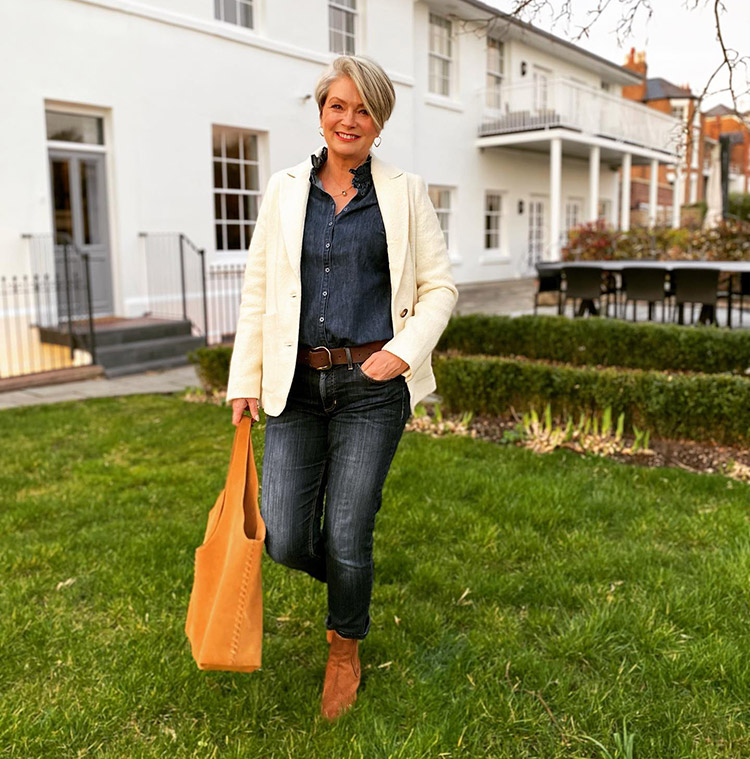 The sleeves of your blazer are also important to take into account when purchasing or sizing a blazer.
Ideally, the sleeves of your blazers should end at your wrist bone. However, there is always the case of different lengths (as discussed above), which could affect how and where your sleeve hits various points of your arm.
One thing to keep in mind is that if you are going for a professional look, it is not beneficial to have sleeves that hit mid arm or do not quite reach your wrist bone.
Other settings will allow almost any type of sleeve, as long as the look is flattering to your body shape. A ¾-length sleeve tends to work quite well with cropped blazers for example.
Nikki @midlifechic above opts for a cream blazer over her denim outfit.
Check out this similar blazer, chambray shirt, jeans, booties, tote and earrings.
shops and brands for blazers
Want more direction and tips on how to fit a blazer?
Be sure to watch the video on this page for detailed guidelines.
Are blazers part of your style profile? What are some of your biggest challenges when it comes to getting the right fit?
Shop more blazers here:

Continue reading:
The Ultimate Checklist Of Wardrobe Essentials: Which 33 Essential Pieces Do You Need In Your Closet?
Like this article ON HOW TO FIT A BLAZER? Save it on Pinterest!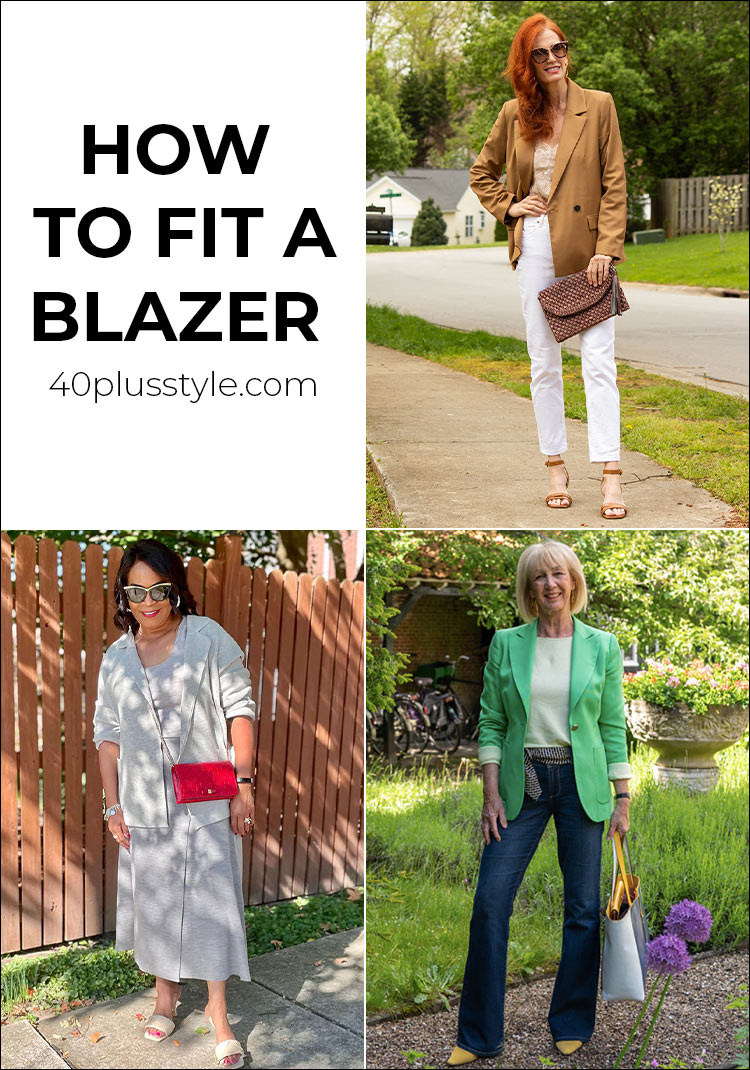 Feature image by Greetje @no_fear_of_fashion
Want to get more articles from 40+style in your inbox, subscribe here.
You can also connect with 40+style on Facebook, Instagram or Pinterest.
Support 40+style by using the links in our articles to shop. As an associate for Amazon and many other brands, we receive a small commission (at no cost to you) on qualifying purchases which enables us to keep creating amazing free content for you. Thanks!