As the weather cools down in the Northern hemisphere it's time to think about the best winter coats for women to suit your style!
A great coat is an essential element of your style in cold weather and it's one of the most important buying decisions you will make this season. A good coat can truly elevate any look – as well as keeping you warm, of course.
Why choosing a great coat is important for your style
A coat can set your style mood or even pull your look together on a day that you don't really feel like dressing up so much.
A good coat will also make an entrance and leave an impression. Plus, you will wear it many times over the season.
Enough good reasons to buy a really good one! Let's explore how to choose a coat and select the right one for your style!
What are the essential coats and best women's coats for your wardrobe?
The essential coats will be different for each person as we all have different style personalities, lifestyles and comfort levels.
You also need to determine if you want to have multiple coats or go for a one-coat-suits-everything solution.
Ideally though, you will have multiple coats in your wardrobe as it's difficult to find a coat that would be ideal for all situations.
Georgette @grownandcurvywoman above (read her style interview here) looks fabulous in her yellow coat. I love the way she has teamed it with the equally strong purple color of her pants.
Get her look with this similar top, pants, coat, pumps and hoop earrings.
Below are some great coat trends for Fall 2021, including many which incorporate the best fall 2021 coat trends.
Below are my suggestions for a ladies winter coats wardrobe:
1. One regular coat that you wear during the day.
This would be your most regularly worn coat. When thinking about the best winter coats for women to choose from, this coat should be your priority.
The ideal length would be around knee-height or mid-thigh. You can choose a casual coat or something dressier, depending on your style personality.
2. A super chic, versatile coat
When thinking about the best winter coats for women, choose a coat that will be your go-to to wear over evening wear, or for dressy occasions. You could think about a shorter faux fur coat, for example (which you could also wear with jeans) or you could choose a swing coat to follow the lines of your dress.
3. Best winter coats for women: A more casual coat
Look for a coat which will be more casual for the weekends. This will be perfect for weekend strolls. Usually, this one will be shorter.
4. A warm parka or short pea coat
This could give your wardrobe extra flexibility and would look great worn with jeans. This one will be great when heading out for walks or running errands.
5. A raincoat or trenchcoat
Unless you live somewhere where the seasons are all pretty much the same, you will want a coat which isn't too heavy in weight, but which can make sure you stay dry.
This will be ideal for transitioning from summer to fall, or from winter to spring and is definitely among the styles of best winter coats for women.
The trench coat makes almost every essential items list by celebrity stylists since it's just so timeless.
This coat could last you a long time and is great for those in-between seasons.
Claudia @glamupyourlifestyle above (read her style interview here) shows how you could wear your trench coat with jeans.
Check out this similar sweater, jeans, trench coat, sneakers and crossbody bag.
The trench coat is one of my picks in this piece on the 28 essential pieces every woman over 40 needs in her closet.
Women's coats you can combine
1, 2 and 3 could be combined as well as 3 and 4 if your budget is limited or you prefer a smaller coat wardrobe.
If you are like me, you may want to add one really current and fashionable coat which you could use for either your number 1 or 2 coat.
Some questions to ask yourself when buying a women's coat
Am I happy to invest in quality?
A good coat can last you several years so it is often worth it to buy one of great quality.
You may choose to go for lower quality when it comes to very fashionable coats.
To determine the quality, check the lining and finishes of the coat. They are usually good indicators.
Best winter coats for women: Do I want something timeless or trendy?
The smaller your budget the wiser it is to choose a coat that is more timeless and classic. However, you could always opt for a more expensive timeless coat and a lower-budget trendy option.
What is the main function of my coat?
How practical does my coat need to be?
Will I be sitting a lot while wearing it?
Will I ride a bike?
Or will this coat mainly be for evenings out and walking?
Clearly, have the function of the coat in mind when you are considering the best winter coats for women and what will work for you.
It's very important to have coats that make you feel comfortable and do their job well.
When you have a lot of evening events, it's good to have at least one good 3-quarter-length coat that will fit well over your dresses.
Melissa @melissabultburns above opts for a faux fur coat that you could easily dress up or down.
Recreate her outfit with this similar sweater, coat, jeans and shoes.
What will I wear underneath?
Will it have to accommodate bulky sweaters? (very trendy this season)
Will it cover my longer skirts?
Can I still wear it with a lighter jacket or blazer underneath if I want to?
Be sure to have at least one coat that easily accommodates a jacket underneath.
Although it's not necessary that your skirts are completely covered these days, you may still like to have one long coat that does as it's a very clean and stylish look.
Read our ultimate guide to creating a capsule wardrobe that works best for you.
What are the weather conditions in which I will wear this coat?
How thick does the coat need to be?
Do I get cold easily?
Will I be wearing it a lot outside?
Or will it mainly be used in already heated trains or buses?
Similar to the question above, but really consider the thickness of the coat here.
Do I want to make a statement or blend in? Do I dare to take a risk with a color or pattern?
Although it's good to always have one black or very neutral coat, you don't need three of those.
I have often expressed my wish for more colorful and unusual coats on this site.
Even if you are normally a neutrals person, a colored coat would make a really good addition and fit well with all your neutral outfits and this year there are lots of print and bold colored coats in stores.
We need to brighten up those dark streets in winter ladies!
What shape of coat or winter jackets for women should you go for?
When choosing a coat it's good to consider your body type. Try to determine where the bulk of the coat is and how that affects your figure. The best winter coats for women will be different from one woman to the next.
You will want your coat to skim over any areas you aren't so keen on and highlight those parts of your figure that you like.
Marie-Louise @mrsmlmode above opts for an on-trend shearling moto jacket.
Check out these jackets from CHARTOU and LV VAREY LIN, that you can wear with this similar jumpsuit, sneakers, bag and sunglasses.
Below are the main shapes of women's coats to choose from as well as some ideas about current trends and colors to opt for:
1. Almost straight coat
This type of coat will skim your body, flowing straight down, rather than nipping in at the waist.
That's not to say, however, that you can't add some interest with the color you choose, or the shape of the coat collar.
This kind of style is ideal for daytime, especially the shorter versions.
But, it can still look very chic and can be dressed up for a special occasion too.
Nordstrom notch collar textured coat
2. Dress coats for women – a tailored coat for dressy days and evening
Dressy coats are usually more tailored. They can have a straight or a-shape silhouette.
Or you could opt for a more retro style like the swing coat, which nips in at the waist and would be idea over a flared skirt.
Choose a fabric that is not too thick to maintain a sleek clean line and make sure your coat closely follows the contours of your body.
You may want to go for a coat with a flared skirt for added drama, or perhaps take inspiration from tailored menswear.
If you love the menswear-inspired coats which are very on-trend now, there are more below for you!
ForeMode swing double breasted wool pea coat
3. Menswear-inspired coats
A menswear-inspired coat can look very stylish for so many occasions.
You could opt to wear over a more feminine dress to play on the contrast or you could simply wear over jeans and a sweater with booties or loafers.
For added style points, you could combine two trends in one by opting for a menswear inspired style combined with an on-trend print such as plaid.
An oversized or menswear inspired piece can (believe or not) make your look more polished.
The classic cuts (and in many ways the neutral hues) have a way of pulling a look together with very minimal effort.
Style tip: With such classic and masculine cuts, do not be afraid to create a flattering contrast by selecting very feminine pieces to accompany your cut, or selecting a menswear inspired piece in fascinating prints and shades.
4. Women's belted coats
Belted coats are chic and comfortable and often very figure flattering on many women.
Apple shaped women may want to opt for a slim tailored coat without a belt that creates a similar effect but will often look better as it will skim over the belly.
Whether you leave your belt hanging loose in a askew-but-chic look, tie it right at the center, or get creative with an off-center tie, belted coats and jackets are a classic piece.
Style tip: When belting short coats or jackets, make sure the jacket is well fitting and sleek. Any additional material will create a bulkier silhouette, which might not be the most flattering look.
Nordstrom Signature waterfall lapel coat
5. Ladies long coat
If you are taller, you can also opt for longer coats, which are currently very fashionable and can add drama to your look.
Shorter women should be careful with this coat style as it can overwhelm them. They often look better with a shorter coat.
Karen Millen Italian wool blend notch coat
There is more advice here on how to dress if you're petite.
6. Ladies leather jacket
A leather coat is a great addition to your coat wardrobe. Great to make a classic outfit more edgy or practical for the weekends.
A great advantage is that you can wear a light leather coat both indoors as well as on warmer fall or winter days.
You could opt for a classic black moto jacket or a bright shade to get you noticed.
If you already have a black biker in your closet, you could look for a different color, such as burgundy, navy or olive. Take a look here at the most on-trend colors for fall 2021.
Nikki @40notfrumpy above opts for an on-trend shirt style jacket.
Recreate her outfit with this similar coat, wide leg pants and sandals.
Karen Millen leather notch neck short coat
7. Short coats
Short coats are very practical and can be very hip. Choose something that is slightly tailored or has a bit of an edge. A short coat can look great styled with high-waisted wide leg pants as this is a look that can make your legs look longer.
Ted Baker London plaid crop jacket
8. Women's parka coats
Practical and handy for weekends and great for keeping you warm, but be mindful that puffy thick parkas will add bulk.
The most flattering parkas are usually tailored at the waist.
Utility style jackets and parkas are the epitome of not overthinking your outerwear.
If you're looking to keep it casual, go with well fitting jeans or leggings that complement your coat or jacket of choice.
A skin tone complimenting shade (the army green is one option), instantly gives off a casual chic look that is hard to miss.
Style tip: To amp up your look, pair your parka with select luxe pieces (like tailored slim/straight leg black pants and eye catching shoes).
You can check out our list of the best leather jackets for women that you can wear with everything!
9. Women's trench coat
The classic trench is always chic and is frequently recommended as an essential wardrobe piece by many stylists.
It never goes out of a style and you can't go wrong with the standard three-quarter camel version but shorter versions are very practical and chic too.
Go for a well-tailored cut that fits your body well without too many embellishments, but make sure it has a belt.
Karen Millen geo stretch jacquard trench coat
10. Warmest winter coats for women
If you are looking for a coat which is very practical to give you extra warmth, you may want to opt for a quilted piece.
This can, obviously, add extra bulk to your look, so I would keep the rest of your pieces streamlined.
The North Face water repellent parka
11. Ladies hooded winter coats
You may wish to have a hooded coat so you can pull up your hood for extra warmth, and protection against the elements.
But, it can be hard to find hooded coats which are sleek and stylish. A classic wrap coat or zipped style with a belt which also features a hood could be a good option.
Josephine @chicatanyage above (read her style interview here)
Get her look with this similar coat, pants and boots.
Cole Haan Signature hooded trench coat
12. Women's winter coat with fur hood
A coat with a fur hood can be cozy if you live in a climate which is particularly cold. You can wear it with jeans and any pair of winter boots.
I would look for a coat which is slightly tailored at the waist to flatter your figure.
WenVen puffer jacket with removable fur hood
13. Women's red coat
If you really want a color to make you stand out from the crowd, what could be better than red?
Anthropologie faux fur-trimmed knit coat
14. SHACKETS
Overshirts made of thicker material so they serve as a coat are particularly on trend right now. You can buy them in longer shirt-jacket hybrids, or "shacket" and a shorter version.
Wear the long shacket open to create nice, long lines. A shorter shacket looks good worn with another of this season's trends, wide-leg pants.
Reiss long twin pocket overshirt
Floerns plaid crop jacket coat
More things to talk about when choosing your coat
Which colors should you choose? Should you always opt for a womens black winter coat?
It's always good to have at least one neutral coat in your wardrobe or perhaps two.
A black or dark navy coat is very practical in climates where the weather is wet or unpredictable.
Be sure to have a good assortment of brighter colored or light scarves though to brighten up your face.
I also love the look and sophistication of a cream or light colored coat. This can be very chic for both the day and evening.
I would definitely encourage you to add a colored coat as well.
Choose one in a color that suits you well. They are much easier to wear than you might imagine and they will make lots of impact on your style.
How do I fit a coat?
You will want to buy a high-quality coat that will last you several seasons, therefore a perfect fit is crucial! Here are some pointers to get it right.
Be sure to get a good fit from the shoulders. It should hang straight down.
Make sure there is enough room through the armholes.
Make sure that any seams, pleats, closures or pockets lie flat and that the hem is even.
Coats with full arm lengths should cover the wrists.
Close the coat completely and make sure it does not pull anywhere.
Make sure you can move around in your coat comfortably. Walk a bit and sit down and ensure that the fit and weight suits you.
More styles of coats
1. animal print
Animal print is always on trend. Kimba @kimbalikes above styles her long leopard print coat with skinny jeans, booties and extra layers underneath.
Check out this similar tunic top, green shirt, coat, jeans, booties and sunglasses.
Bernardo animal print coat (plus size option here)
2. floral
Floral coats are a big trend for the winter and fall 2021 season. Opt for bold prints and keep the rest of your outfit relatively simple.
Anthropologie abstract duster jacket
3. quilted trench
There were lots of quilted styles on the fall 2021 catwalks, but any quilting or padding can add unwanted bulk. Look out for options that nip in at the waist or which have a belt for a flattering silhouette.
4. Faux fur
Fur stoles, fur on shoes, fur on gloves, fur coats, fur and shearling were everywhere on the Fall 2021 catwalks.
If you are feeling creative and experimental, select a bright and bold hue.
Style tip: If you like the idea of fur but aren't feeling too bold, go with a neutral shade in a classic cut that will last you season after season.
5. faux fur collar
If you don't want a full-on faux fur look, you could always add a little fur – and keep your neck warm – with a faux fur collar.
Via Spiga asymmetrical wool coat with faux fur collar
6. quilted
Eileen @eileenternullo above shows how you could style a shorter quilted coat.
Steal her look with this similar jacket, jeans, sneakers, handbag, cap and earrings.
Bernardo fleece trim quilted puffer coat
7. Women's suede jacket
Yes, the material and coat style reminiscent of the 70s is very much still on trend.
Choose a longer style or a moto jacket – bot are on trend.
8. shearling
Shearling is having a style moment for the new fall season. Choose a coat with a shearling collar or lining to keep you cozy.
Bernado moto jacket with faux shearling lining
9. Cape coat
Capes are still the rage this fall and instantly upgrade your look (from wearing over sheath dresses to your most distressed jeans).
Take a glance at a capsule challenge I did around capes and ponchos for additional inspiration.
Karen Millen leather belted biker cape
10. high neck
High neck styles featured on many of the designer catwalks this year. This style can look very modern and, of course, keep your neck warm without you needing to wear a scarf.
Karen Millen funnel neck wool coat
11. military inspired
Another top trend for this fall and winter is the military inspired coat. The Karen Millen coat (below) combines a the military and trench coat trend – as well as featuring one of the key color trends for fall; olive green.
Karen Millen colorblock wool coat
12. Sleeveless jacket
Sleeveless coats and jackets seem to be almost counter-intuitive when thinking about keeping the chill away.
However, achieving the sleeveless outerwear look while keeping warm is possible.
The goal here is to make sure you select pieces underneath that do a great job of keeping you warm without adding bulk (think cashmere or thinner wool pieces).
Think of your sleeves as an interchangeable aspect of your look. More so, you can dress up the look with luxe cashmere turtlenecks or opt for a dressed down sweater-like sleeve.
Style tip: Embrace the sleeveless look by creating a new style every time you wear it.
Anthropologie collared sleeveless sweater coat
There are more ideas here on why you need a sleeveless vest in your closet.
Which coat will you buy this season? What do you consider to be among the best winter coats for women? How do you choose a coat? Which coats do you (wish you) have in your wardrobe?
Which coat is right for you when thinking about the best winter coats for women depends on all the points we have discussed above.
I hope this article answered all or most of your questions on how to choose a coat. I'd love to hear about your own favorite coats for winter and fall.
If you are looking for one right now then happy shopping!
shop the items above here:
What kind of coat will add to your wardrobe this season?
Continue reading:
Like this article on the best winter coats for women? Save it on Pinterest!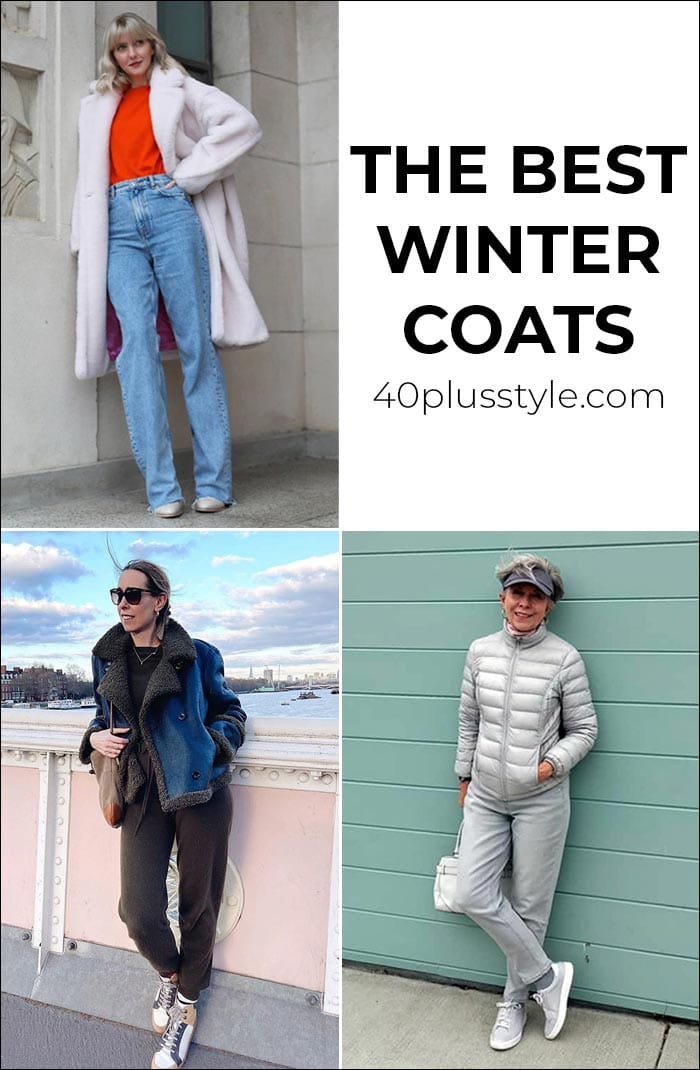 Feature image by Melissa @melissabultburns
Want to get more articles from 40+style in your inbox, subscribe here.
You can also connect with 40+style on Facebook, Instagram or Pinterest.
Support 40+style by using the links in our articles to shop. As an associate for Amazon and many other brands, we receive a small commission (at no cost to you) on qualifying purchases which enables us to keep creating amazing free content for you. Thanks!