I often talk about adding more color to your wardrobe.
One really fabulous color to add is red. The color of love.
In this article I will show you how to wear red in many different ways and we will also show you how you can find your right shade of red.
How to wear red
The color red is especially good for women with a warm skin tone like myself, as it brightens up your complexion and makes you shine even more.
However, even if you have a cooler skin tone, you can still wear this color and look amazing.
There are many ways to wear red.
Red makes an impact. When you wear red, people will notice you. Red is also a very versatile color. Easy to combine with black, white, blue, camel and so many other colors.
I'm growing ever more fond of red and have learned to embrace the color for myself.
You can can wear red in a subtle way by wearing a red accessory or you can make a bolder statement with the color. Whatever your comfort zone with the color red, there is a way to add this color to your wardrobe for everyone.
Let's explore all the different ways on how you can wear red!
Wearing a bold color like red with just one other color is your easiest option and one of the nicest and easiest options by far is to pair it with white. It's also one of my favorite combinations.
Wearing a red top
Wearing a red top is my most used choice for wearing red. Nothing brightens my face and makes me come more alive than wearing red close to my face. I have several red tops in several colors that I wear with both pants and skirts.
The pleated red top below is great at hiding the belly and can be worn on its won or with a jacket.
Wearing a printed red top
If full on red is too much for you you can consider a printed top that includes red to soften the look. This blouse comes in several prints and also in solid red.
Treasure & Bond printed blouse
Wearing a red dress
A red dress makes a statement on its own. This versatile piece will look great with the right statement necklace. But it can also be worn over skinnies and leggings.
Wearing red as an accessory
If you'd like to include red as part of your style but want to do it in a subtle way, red accessories are the way to go.
Red add a bit of polish to your look and red shoes can each outfit a lift. These shoes are stylish and comofrtable.
A red bag can give an otherwise monochrome or neutral outfit a lift. This clutch bag that can also be worn over your shoulders is the perfect accessory.
Michael Kors leather envelope clutch
Are you looking for more creative ideas on how to wear red?
If I like to get more ideas on how to combine a certain color and create really interesting combinations, I go to colourlovers. This tool allows you to see many color palettes immediately and will give you lots of ideas. Just search for red in the colour palettes search box and you will instantly get lots of different options.
Here are some great color combinations I found.
Another way to get inspiration for a great color palette or the colors for your outfit is to look at an image that you love. I was struck by this image from Yoox. This image actually inspired this article!
I just LOVE this color combination and feel that it's the most current and hip way to wear red right now. So I took this picture into Colourlovers and created a unique color palette from this image.
This color palette is the main inspiration for the shopping options I will give you today as I feel this combination looks chic, modern and special. I'm very tempted by many of these items, but I actually think I have the building blocks available in my closet to create this look, so stay tuned!
Lots more examples on how to wear red
Red with white
A loose cropped red top from Stella Carakasi which you can layer with tops underneath.
A refreshing red and white look for spring and summer.
You can also wear this color combination during transitional weather.
With wide leg cropped pants.
More details on this look here.
Red and white looks chic and understated. If you don't want too much red close to your face, combine it with a white top. This is one of my favorite skirts and it combines with a lot of my tops like this white top from CK Calvin Klein.
You can do the reverse if you do like to have red close to your face as I do as it brightens up my complexion. Same sophistication, just slightly different.
White and red works well in a print too.
Red is the perfect color to make a white dress more interesting and vibrant.
For more glamour add a bit of gold into the mix!
Red from head to toe
Red with black
Many of you prefer black to white and that is a great easy option too.
Red with blue
Red and blue is another versatile combination. Instead of a skirt, opt for some great blue jeans!
Red with purple
More unusual is red with purple, but it is actually a really good combination as this look shows.
Red – bohemian style
Red and gold
Adding a third color
Most looks are even more interesting when a third color is added. You can do so with an additonal garment, a print or an accessory.
Red with blue and white
A chic color twist on my favorite asymmetric pieces.
A very traditional and always chic combination is red with blue and white. It creates a marine look that is always in style.
Red, white and black/gray
Black and white always works well with red and creates a more graphical look.
Red, fuchsia and gray
A more unusual combination for an arty look.
Red with camel and brown
More details about this outfit.
A more sophisticated and chic combination, especially if you add some animal print into the mix.
Red with camel and white
Similar to above but now with white added into the mix for a slightly fresher look.
Add a print into the mix!
Adding a third color will often make your outfit more interesting and dynamic. This will be further enhance if you add some print as well. You can do that within your clothing or with an accessory or shoe.
A chic floral jacket with jeans.
Red with yellow / mustard and brown and animal print
The animal print shoes make this outfit more special.
One of my favorite looks. Camel with red look super chic and the yellow makes it more funky. The animal print belt makes this outfit hip and modern.
Red, camel, white and animal print
Great for casual lunch!
Red with white, green and yellow
If you like a bit more of a color splash, you can play with the primary and secondary colors. This look is playful, fun and fresh.
Red with blue
Make a statement with head to toe red
Sometimes you just want to stand out and nothing shows more confidence to the world than an all-red outfit.
Wear a beautiful print with the color red
Red is not just for solids, it looks great in many prints too.
Wearing a darker red – burgundy or oxblood red
If you prefer your red to be more muted you can also opt for a darker red like burgundy or marsala (which is actually the color of the year!). Here are some color palettes for wearing burgundy.
Here is how you could appy the Curtain Closed palette.
Burgundy with orange
A beautiful color combination with the colors of fall.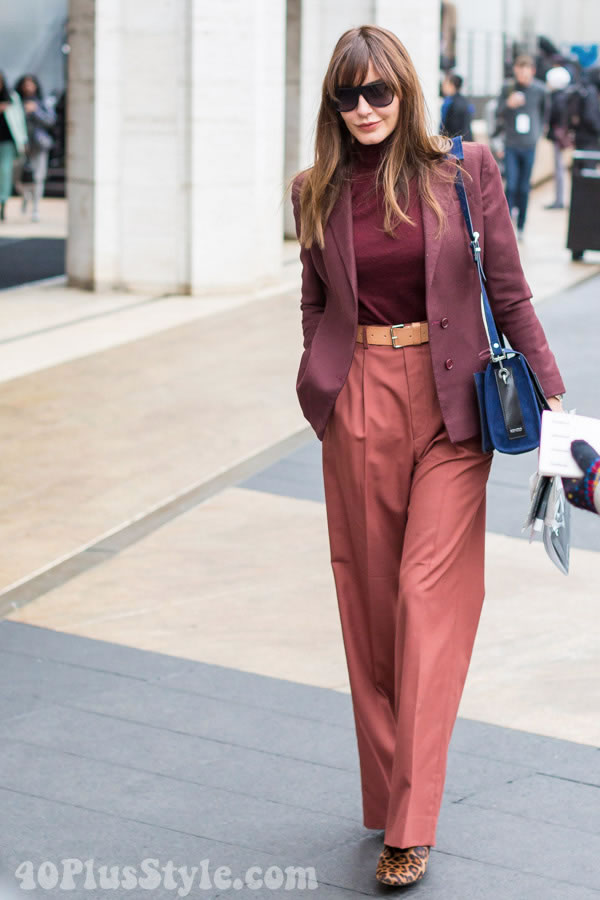 this woman combines layers of red with beautiful prints (photo by Denton Taylor).
This is how I recently wore it.
Do you find it hard to wear red? Try accessories!
If red is normally not your color or you are afraid to stand out, then opt for a red accessory. It often really brightens up your outfit and adds extra interest.
Wear red sunglasses
Comfortable and chic.
Add a red hat or some red lipstick
More details about this outfit.
Add a red bag as a color accent
Soft green with red.
Look how much more fun and interesting this outfit is with the addition of a red bag!
More details about this outfit.
Adding red accessories is also a great tactic when you want to wear clothes that are not necessarily the best color for you. Wearing the gray without the red would be too bland for me.
Add a necklace with a red color accent
Sometimes all you need is a red necklace or pendant.
Add a red scarf
Add some red shoes
I wear my red shoes a LOT. It's so easy to make a neutral outfit more interesting by adding some red shoes!
I hope this guide on how to wear red has given you some inspiration to wear this color! Perhaps you like to give it a go if you don't normally wear it. Or you may try to wear it in a different combination from what you normally do.
Below is a really helpful video from 40+Style stylist Ruth on how to find the best shade of red for you.
How to find your right shade of red
Want more? We have a lot more training on color and choosing the right colors for you in the style club. Get access here.
More interested in another color, I also have guides on
Do you like to wear red? What is your preferred way of wearing it?

Like this article on how to wear red? Save it on Pinterest!
Photos from Denton Taylor
Want to get more articles from 40+style in your inbox, subscribe here.
You can also connect with 40+style on Facebook, Instagram or Pinterest.
Support 40+style by using the links in our articles to shop. As an associate for Amazon and many other brands, we receive a small commission (at no cost to you) on qualifying purchases which enables us to keep creating amazing free content for you. Thanks!