Orange is not the easiest color to wear as the color can be quite bright and overpowering. However, if you look more carefully, there are actually a lot of fabulous ways to wear orange in all kinds of color combinations.
In this updated comprehensive guide I show you how to wear orange in a number of surprising ways. 
Colors that go with orange
As I usually do when I look for inspiration on how to wear a certain color I visited colourlovers.com.
It's a great site where you can create your own color combinations or get inspired by those of others.
Here is what I found.




The versatility of orange
Can you believe that orange looks so good with so many colors? It's actually proving to be quite a versatile color.
I have seen orange in the shops in all kinds of shades from very bright to more demure colors, so you can just pick the color orange that suits your complexion and temperament best and mix and match with all these other fine colors.
Prefer coral? Check out how to wear coral, the color of 2019.
You don't even have to buy a garment in this color. Just adding a scarf or a bag will already give you that orange flavor and will add some flair to your outfit.
Here are the perfect orange clothes and accessories for you
The perfect orange dress
This orange dress has flattering ruching across the tummy area as well as interest created through the asymmetrical detailing on the pencil skirt.
It has an impressive 1,487 reviews on Amazon, giving 4.5 stars on average.
"I got so many compliments on this dress." – verified Amazon customer


"I wore this dress for a wedding and received rave reviews. The fabric was great, not thin yet breathable. I have a small belly so the ruching was perfect to cover that." – Chris

orange dress, 1,487 reviews – 4.5 stars
The perfect orange maxi dress
This dress by Eliza J is perfect for summer events and vacations.
It makes a statement all by itself, meaning you could keep the rest of your accessories to a minimum and still make a big impact.
The perfect orange shirt
You probably already have a classic white shirt in your closet, but how about an orange shirt in a classic shape?
This shade of shirt from Topshop would style well with black as shown below, or with white. It has great reviews on Nordstrom, although reviewers do advice to go up one size.
"Gorgeous top. I purchased PEACH. Very classy and classic. The material is silky but not to thin." – RyanJoa

"Seriously in love with this top!" – samlc
orange shirt
The perfect orange top
The styling for this orange top from Halogen shows how beautifully white goes with orange.
An orange top would look lovely with white jeans and metallic accessories for summer.
The perfect orange cardigan
A long, draped cardigan can be a lovely way to add interest as well as to hide any parts of your body you aren't so confident about, and to create nice, long lean lines.
The asymmetrical hem on this cardigan, which is made in the US, would add an extra element to your outfits.
"I LOVE this cardigan. I am a teacher and have cute pencil skirts and form fitting dresses that are flattering. However, I don't like my rear end to be the only thing my students see as I write on the board. This cardigan is the perfect solution." – Lacie
orange cardigan, 292 reviews, 4.5 stars
The perfect orange sweater
Orange can be the perfect color to add some flair to even the most casual of outfits.
You could wear an orange sweater with your jeans and sneakers, or with a leather or pleated skirt.
Of course, orange is not just one shade. This sweater by free people has a flattering v-neck and is a burnt orange hue, so is more muted than brighter tones of orange.
The perfect orange pants
You could opt for a pair of orange jeans, or choose a more tailored pair of orange pants. Either way, these will be the hero piece in your outfit.
This casual pair of twill pants from LA denim brand AG have great reviews on Nordstrom.
"Love love love these pants. Perfect fit, comfortable!!" – Heather2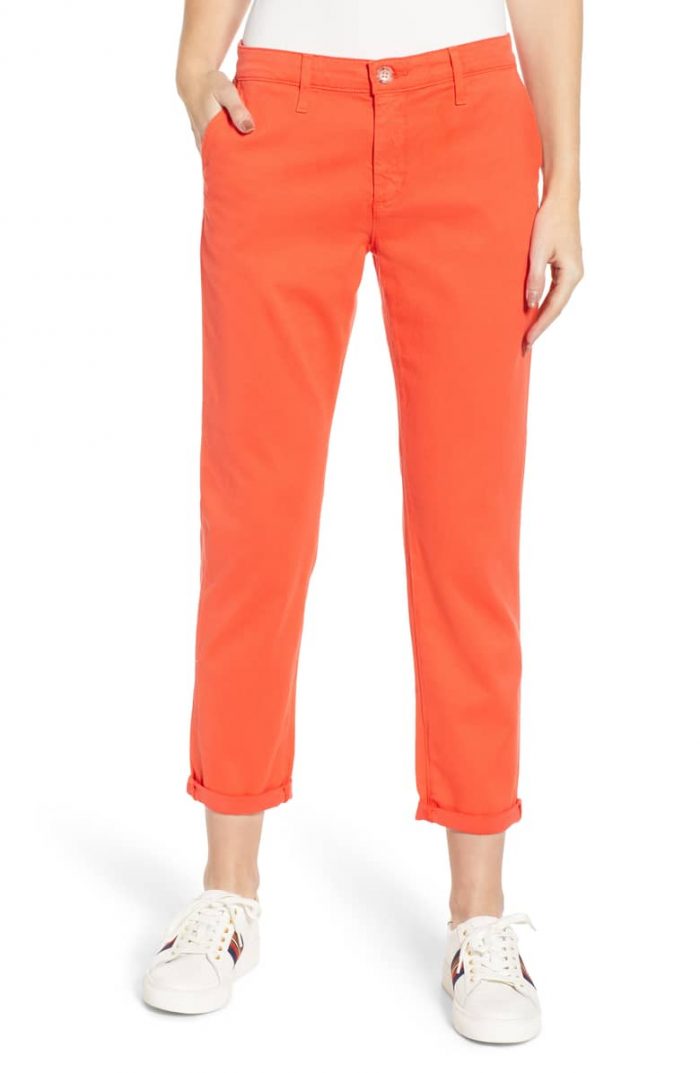 The perfect orange skirt
This skirt from Amazon is stretchy and features spandex to keep its shape. It has reviews which praise its style and comfort.
"I like the soft feel of the fabric, and the foldover waistband is flattering and comfortable." – Mel

"Very comfortable and soft! Perfect for spring and summer." – Holly
orange skirt, 238 reviews, 4 stars
The perfect orange shoes
Shoes can be a stylish way to transform an outfit.
This pair of pumps by Marc Jacobs are easier to walk in than other heels because of the block heel.
They have 327 reviews giving an average of 4.5 stars.
"I absolutely LOVE these shoes. I now have 4 pair. They are so comfortable and chic. I get constant compliments." – scm1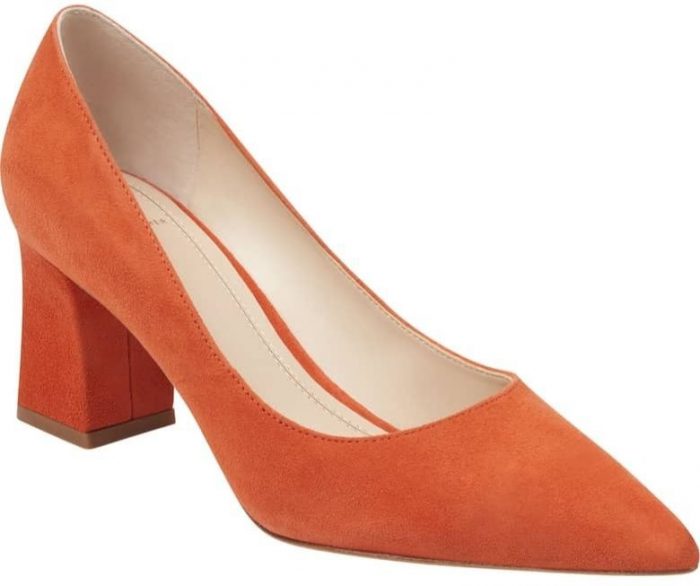 orange shoes, 327 reviews, 4.5 stars
The perfect orange bag
Just as the shoes you wear can make a big difference to the overall look of your outfit, the handbag you opt for can create a refreshing pop of brightness.
This Hobo bag is casual enough to use everyday and would look great with jeans and a white shirt or sweater.
"This Hobo bag is made with soft, pliable leather and is large enough to carry all necessities without being oversized. I love this brand because you are never disappointed with the quality." – Karhleen
orange bag,22 reviews, 4.5 stars
Here are 5 quick tips to inspire your styling with the punchy hue.
1. Pair orange with neutrals
A great way to let the bold tones of your orange piece stand out without competing with any other color, is to pair orange with neutrals. From black to nude shades, your look will be cleaner and more refined with the fun and punchy characteristics of orange.
Outfit 1: Similar orange blouse – Similar pencil skirt – Similar tassel pendant – similar Michael Kors sandals – similar color block clutch
Outfit 2: Topshop orange trousers – Steve Madden white sandals – similar raffia clutch – similar knotted t-shirt – similar tassel earrings
Outfit 3: similar orange dress – Sam Edelman nude pumps – similar embellished bag – Canvas bar earrings
2. Go with prints
Combining bold orange hues with unique prints is a very effortless approach to putting together a visually interesting look, with enough of a bright dimension to lighten up your look.
Sarah looks fabulous in this orange printed jumpsuit.
More examples:
Similar floral pattern dress – similar sundress – Eliza J maxi dress – similar striped dress – Dress with similar colors
Similar orange skirt – similar orange striped sweater – similar striped blouse – similar orange color sweater – Eliza J high low dress
3. Embrace the purple-orange clash
Orange and purple are a style favorite when it comes to contrasting combinations. Visually appealing, the two dynamic shades create a bold and chic look when paired together. The key here is to ensure you add a neutral piece, such as a pair of white shoes or a dash of gold jewelry, to the look to keep it from being an overwhelming display of colors.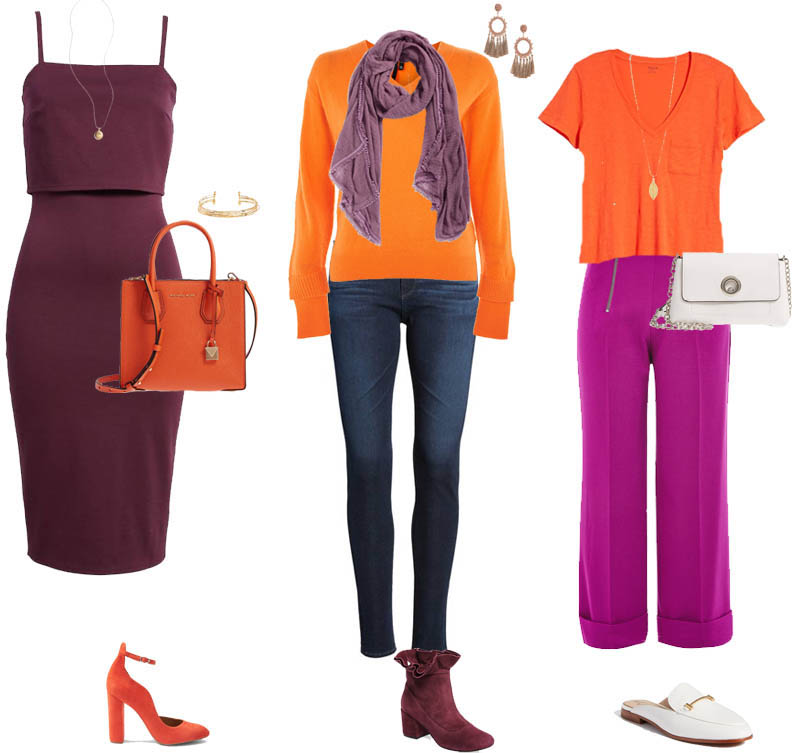 Outfit 1: similar orange shoes – similar orange bag – similar purple dress – similar pendant necklace –a similar cuff bracelet
Outfit 2: similar orange sweater – similar tassel hoop earrings – similar purple booties – similar purple scarf – similar high rise skinny jeans
Outfit 3: similar purple pants – Madewell tee –similar white crossbody bag – Sam Edelman white mules – Karin Sultan multistrand necklace
4. Orange with cobalt blue
Pairing orange with cobalt blue can bring out the best in both colors. By sticking to classic styles and shapes, or including a neutral piece like a pair of white pants, the look is vibrant yet clean.
Outfit 1: Similar blue skirt –similar orange sandals – similar orange top – similar circle gold pendant
Outfit 2: Dolce Vita orange platform – similar cobalt blue top – similar white crop jeans – similar circle pendant
Outfit 3: similar orange bag – Similar cobalt blue dress – Via Spiga orange pump
5. Accessorize with orange
Not ready for a full bold display of orange? You can add the punchy color as a highlight to your look by incorporating as an accessory or go-to beauty tool. We particularly love the orange nail polish, which is flattering on a number of skin tones.
Similar orange tassel earrings – similar fan shape orange earrings – similar orange statement necklace – similar orange scarf
similar orange clutch bag – Longchamp orange bag – Similar orange sunglasses – similar orange mules – similar color nail varnish – similar orange watch
Let's take one color combination to the test
Although I love them all, I picked Storming Psychedelia as the inspiration for some outfits that I created at Polyvore. In this set orange is only visible in a subtle way and is mainly added as a pop color.  Have a look at what you can achieve with these colors! Very stylish and certainly not boring! You can mix and match and add more orange if you like to all these outfits.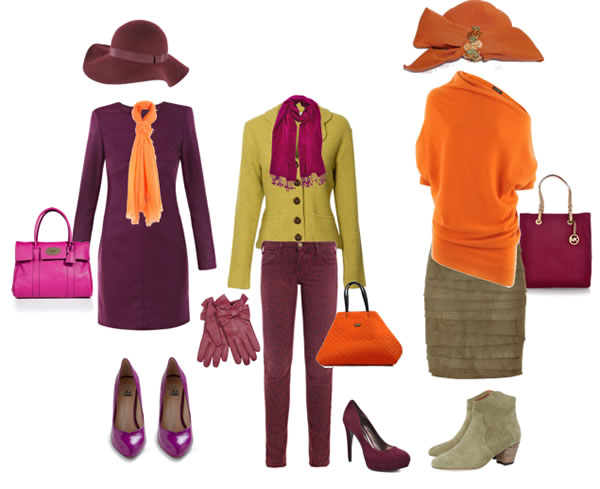 Here are a few more ideas from Liz on how to wear orange
"It was only while thinking about how to wear orange, that I realized I have much more orange in my closet than I thought. Plus, it got me out of my comfort zone and thinking about how to wear favorite items in a new way.
The orange top is actually a dress tucked into a suede skirt, which is from Miss Selfridge, or white jeans from H&M. Sylvia inspired me to experiment with using my dress as a top in her piece on how Diane von Furstenberg is her latest style crush!
I'd never actually worn the khaki dress. It was one of those items I bought in the sale and popped into the back of my wardrobe, but pairing with orange shoes is a new idea for me. The orange paisley skirt is a Topshop purchase from my student days!"
More outfit ideas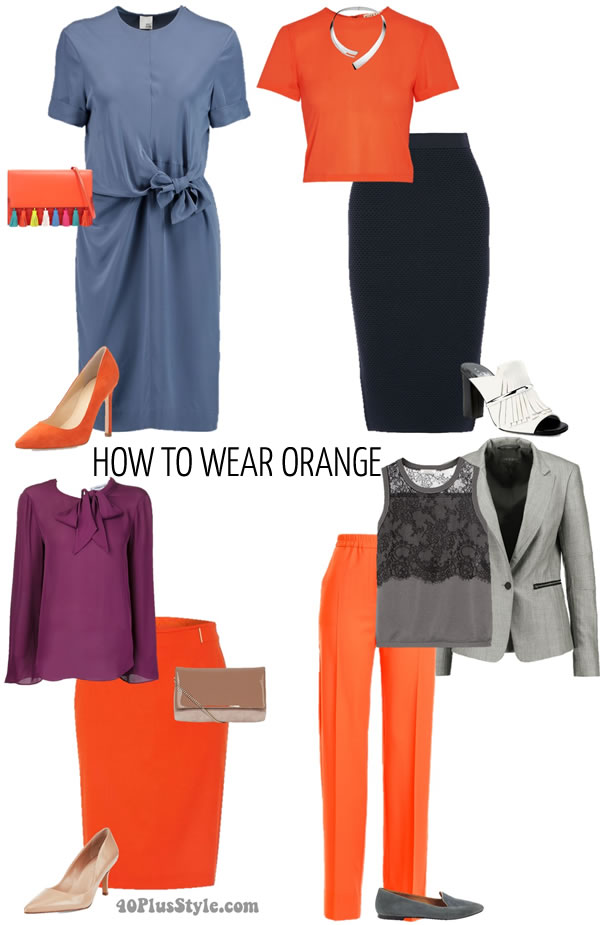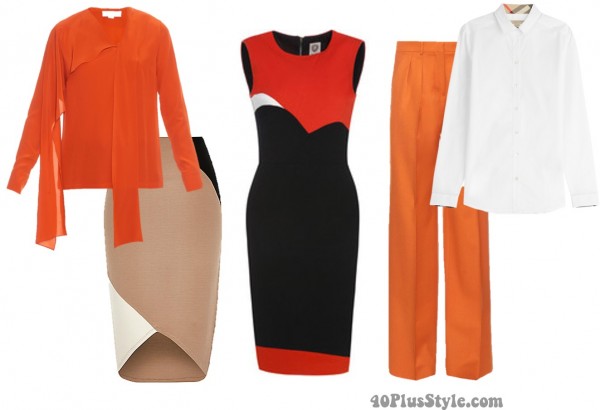 Want to add some orange to your life? Here are some fabulous orange items you can buy right now!


Want to know how to wear other colors too?
I have created several color guides for popular colors right now:
Do you plan to wear orange this coming season and which color combination is your favorite?

Like this article? Save it on Pinterest!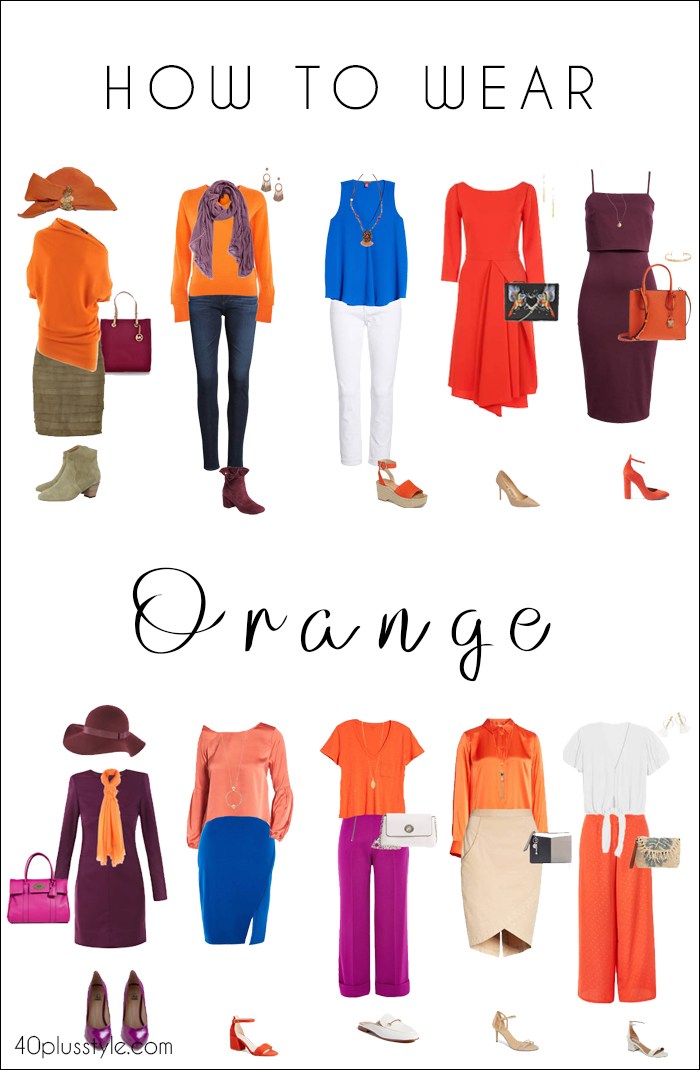 feature image: @zincmoon