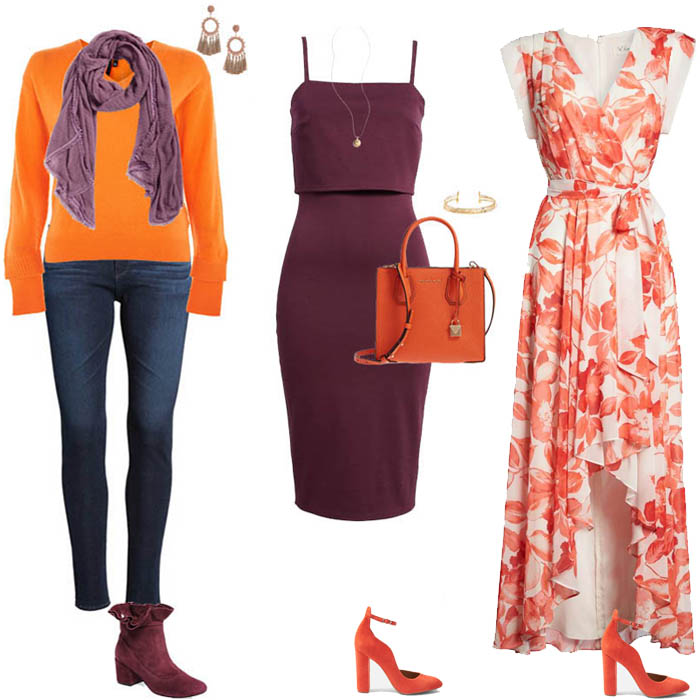 Orange is not the easiest color to wear as the color can be quite bright and overpowering. However, if you look more carefully, there are actually a lot of fabulous ways to wear orange in all kinds of color combinations.
In this updated comprehensive guide I show you how to wear orange in a number of surprising ways. 
As I usually do when I look for inspiration on how to wear a certain color I visited colourlovers.com. It's a great site where you can create your own color combinations or get inspired by those of others. Here is what I found.




The versatility of orange
Can you believe that orange looks so good with so many colors? It's actually proving to be quite a versatile color.
I have seen orange in the shops in all kinds of shades from very bright to more demure colors, so you can just pick the color orange that suits your complexion and temperament best and mix and match with all these other fine colors.
You don't even have to buy a garment in this color. Just adding a scarf or a bag will already give you that orange flavor and will add some flair to your outfit.
Here are 5 quick tips to inspire your styling with the punchy hue.
1. Pair orange with neutrals
A great way to let the bold tones of your orange piece stand out without competing with any other color, is to pair orange with neutrals. From black to nude shades, your look will be cleaner and more refined with the fun and punchy characteristics of orange.
Outfit 1: Similar orange blouse – Similar pencil skirt – Similar tassel pendant – similar Michael Kors sandals – similar color block clutch
Outfit 2: Topshop orange trousers – Steve Madden white sandals – similar raffia clutch – similar knotted t-shirt – similar tassel earrings
Outfit 3: similar orange dress – Sam Edelman nude pumps – similar embellished bag – Canvas bar earrings
2. Go with prints
Combining bold orange hues with unique prints is a very effortless approach to putting together a visually interesting look, with enough of a bright dimension to lighten up your look.
Similar floral pattern dress – similar sundress – Eliza J maxi dress – similar striped dress – Dress with similar colors
Similar orange skirt – similar orange striped sweater – similar striped blouse – Topshop tiger print sweater – Eliza J high low dress
3. Embrace the purple-orange clash
Orange and purple are a style favorite when it comes to contrasting combinations. Visually appealing, the two dynamic shades create a bold and chic look when paired together. The key here is to ensure you add a neutral piece, such as a pair of white shoes or a dash of gold jewelry, to the look to keep it from being an overwhelming display of colors.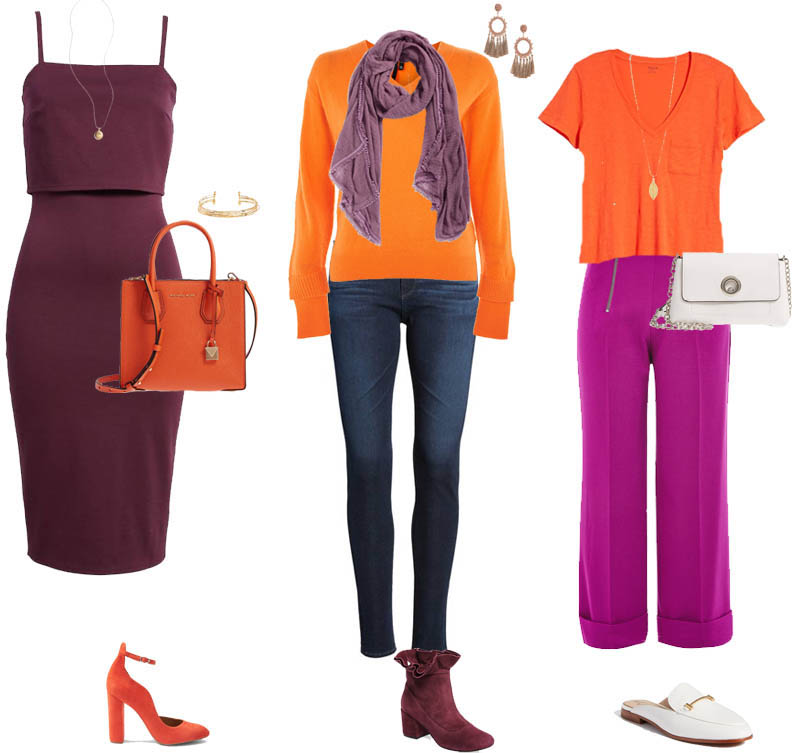 Outfit 1: Gracie orange shoes – similar orange bag – similar purple dress – Cam pendant necklace –a similar cuff bracelet
Outfit 2: Tophsop orange sweater – similar tassel hoop earrings – similar purple booties – similar purple scarf – similar high rise skinny jeans
Outfit 3: Topshop wide-legged pants – Madewell tee –similar white crossbody bag – Sam Edelman white mules – Karin Sultan multistrand necklace
4. Orange with cobalt blue
Pairing orange with cobalt blue can bring out the best in both colors. By sticking to classic styles and shapes, or including a neutral piece like a pair of white pants, the look is vibrant yet clean.
Outfit 1: Similar blue skirt –similar orange sandals – similar orange top – similar circle gold pendant
Outfit 2: Dolce Vita orange platform – similar cobalt blue top – Paige white crop jeans – similar circle pendant
Outfit 3: similar orange bag – Similar cobalt blue dress – Via Spiga orange pump
5. Accessorize with orange
Not ready for a full bold display of orange? You can add the punchy color as a highlight to your look by incorporating as an accessory or go-to beauty tool. We particularly love the orange nail polish, which is flattering on a number of skin tones.
Similar orange tassel earrings – Ssimilar fan shape orange earrings – similar orange statement necklace – similar orange scarf
similar orange clutch bag – Longchamp orange bag – Similar orange sunglasses – similar orange mules – similar color nail varnish – similar orange watch
Let's take one color combination to the test
Although I love them all, I picked Storming Psychedelia as the inspiration for some outfits that I created at Polyvore. In this set orange is only visible in a subtle way and is mainly added as a pop color.  Have a look at what you can achieve with these colors! Very stylish and certainly not boring! You can mix and match and add more orange if you like to all these outfits.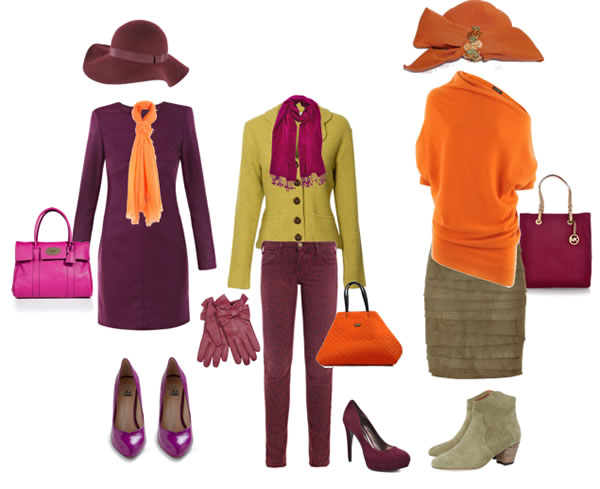 Here are a few more ideas from Liz on how to wear orange
"It was only while thinking about how to wear orange, that I realized I have much more orange in my closet than I thought. Plus, it got me out of my comfort zone and thinking about how to wear favorite items in a new way.
The orange top is actually a dress tucked into a suede skirt, which is from Miss Selfridge, or white jeans from H&M. Sylvia inspired me to experiment with using my dress as a top in her piece on how Diane von Furstenberg is her latest style crush!
I'd never actually worn the khaki dress. It was one of those items I bought in the sale and popped into the back of my wardrobe, but pairing with orange shoes is a new idea for me. The orange paisley skirt is a Topshop purchase from my student days!"
More outfit ideas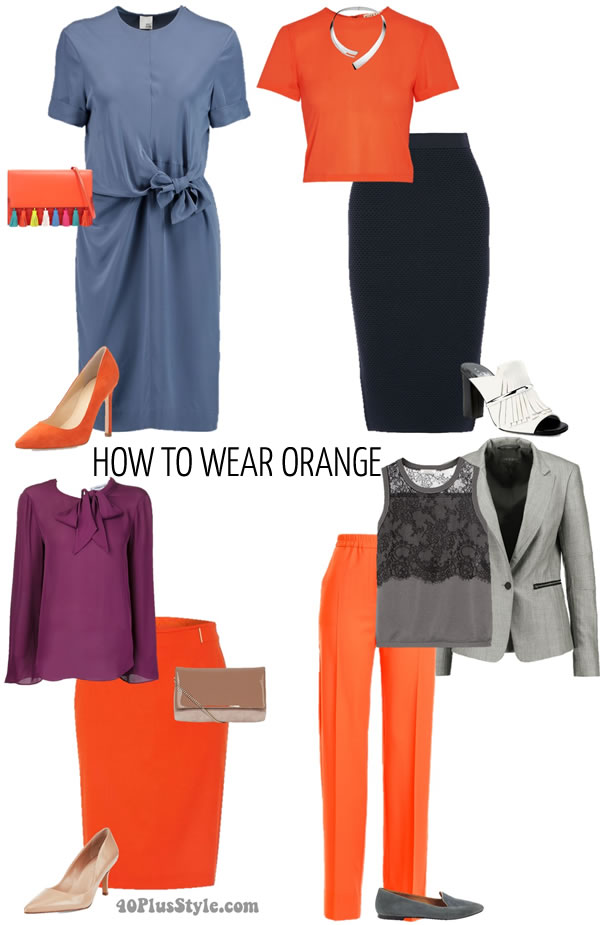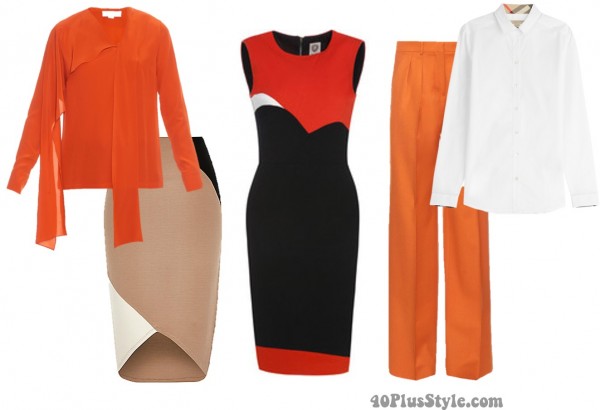 Want to add some orange to your life? Here are some fabulous orange items you can buy right now!


Want to know how to wear other colors too?
I have created several color guides for popular colors right now:
Do you plan to wear orange this coming season and which color combination is your favorite?

Like this article? Save it on Pinterest!