Yellow remains popular as an accent color. As you may recall from my article on the psychology of color, yellow is associated with laughter, happiness, optimism and good times. All the more reason to wear it wholeheartedly!
First, you may like to discover which hue of yellow is right for you
You may dismiss yellow immediately as a color that you cannot wear, but you don't have to go full out in yellow to embrace the color. I personally don't like the color too close to my face but have still added yellow elements to my wardrobe like this yellow skirt.
And it's featured in the top too.
I also still enjoy wearing my yellow and nude sandals, my yellow skirt and a yellow belt. Since yellow is a bright color you don't need much of it to give your outfit just that bit of color or extra flair.
How to wear yellow?
As a blazer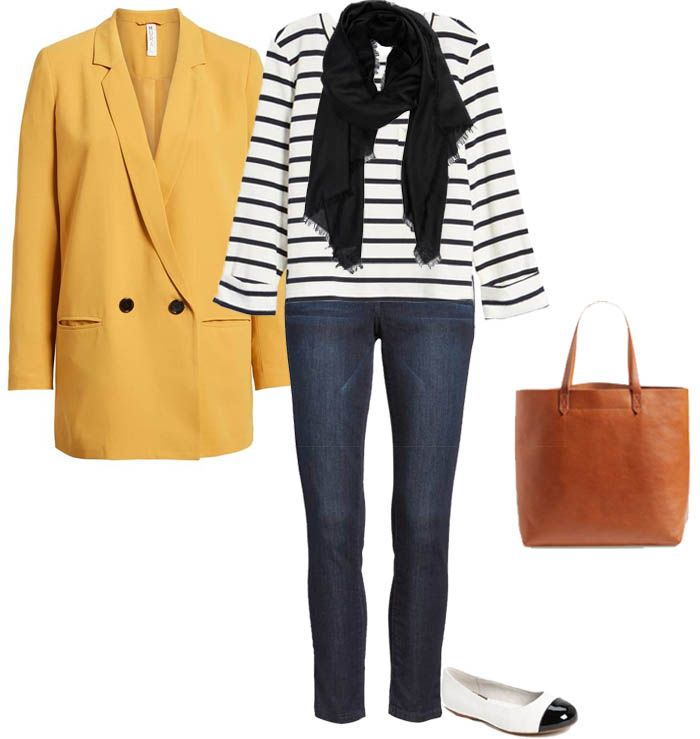 Mural oversized blazer –Madewell tote –  Bishop and Young breton top – Wit and Wisdom jeans – Napa flats – Nordstrom cashmere scarf
Everyone from Gwen Stefani to Eva Longoria has been rocking the yellow blazer trend! It looks great teamed with breton stripes, blues and whites.
As a coat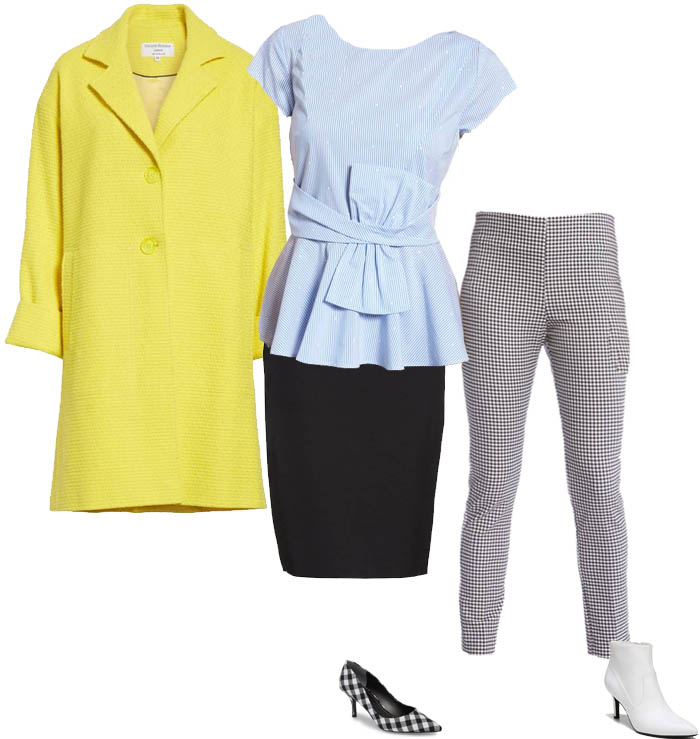 Perform pencil skirt – Helen Berman yellow coat – Karen Kane gingham pants – Halogen bow detail top – Halogen white boots –Charles David gingham pumps
If you are not afraid of the color, yellow can look fabulous on a coat. It will brighten up those dark winter days in winter and add a ray of sunshine in summer. Yellow looks fabulous with a black and white outfit and makes the overall look really chic!
A more toned down yellow
As a top
Trouve knot front tee – Paige jeans – Sole Society stripe bag – Bella Vita heel sandal – Natasha pendant necklace
Yellow can be easily worn as a top. Fabulous with neutral bottoms like blue jeans, white or black. If solid yellow is too bright for you, then choose a striped one. You can minimize the effect of the yellow by combining your yellow top (like a tank) with a blazer in a more neutral color. This will still give you the hip vibrancy of yellow without the yellow overpowering you too much.
As pants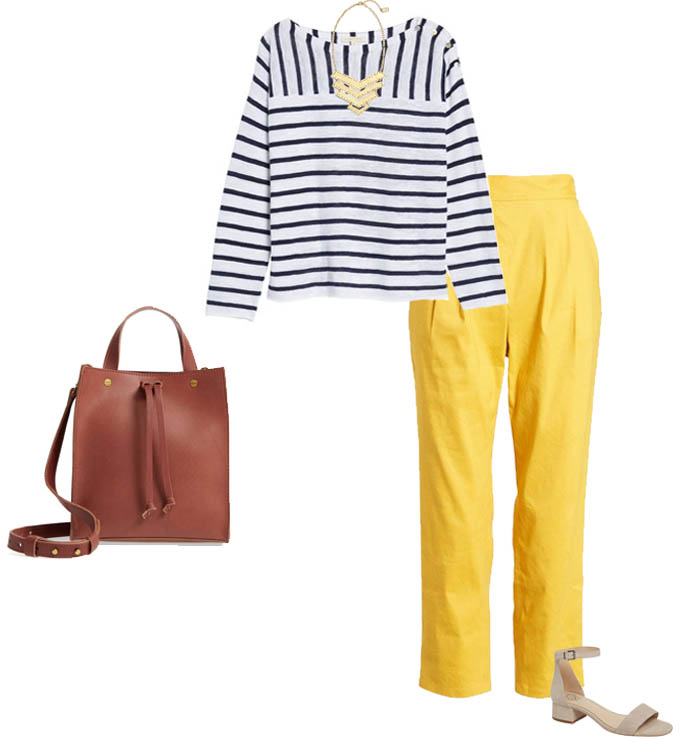 Lieth yellow pants – Eileen Fisher striped top – Vince Camuto nude sandals – Madewell navy tote – Karine Sultan pendant necklace
If you don't like yellow too close to your face you may opt for a yellow pair of pants instead. I like to combine mine with neutral colours like white and black, so the color does not overpower me too much.
As part of a print
Catherin ruffle sleeve blouse – J.Crew crop pants – BP wedge sandal – Rebecca Minkoff quilted clutch – J.Crew orbs pendant
Don't want to go for all-out yellow but like the happy vibe of yellow, then choose a print that includes this color. Prints are very much on trend so you should be able to find a few fabulous ones in the stores. You can choose a print that combines yellow with all your other favorite colors.
As an accessory
Vince Camuto yellow cross body – Wave navy crop pants – Stuart Weitzman white mules – Emerson Rose silk blouse – Adia Kibur blue earrings
If you are not too keen on wearing color but still like to liven up your outfit with a bit of sunshine, then accessorizing is the way to go. It is an excellent way to add color to your outfit and take it to the next level. Very nice with an all-white outfit or a black and white combination. Just add a yellow bag, belt, scarf or necklace and you're good to go. This is by far the easiest way to add a bit of yellow to your wardrobe and still get the benefits.
Wear a yellow shoe
Leith pointy toe pumps – Vince Camuto stripe top – Sole Society emerald crossbody bag – Vince Camuto high waist crop pants – Kendra Scott cuff bracelet – Karine Sultan layered necklace
Shoes can make a big impact to your outfit and adding a bit of yellow here is very hip. Yellow shoes look perfect with neutral outfits or any other outfit that has just a little bit of yellow in it. Take for example my red skirt with camel top that has a yellow rim. Adding my yellow / nude shoes to the outfit highlights the bit of yellow in the outfit and takes it from boring to exciting and happy!
Color combinations with yellow
Yellow is great to wear with some of the neutrals, especially white. But here are a few other more creative color combinations you may consider.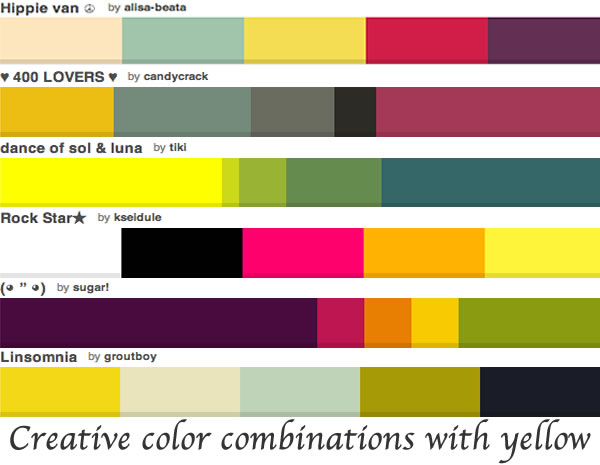 More ideas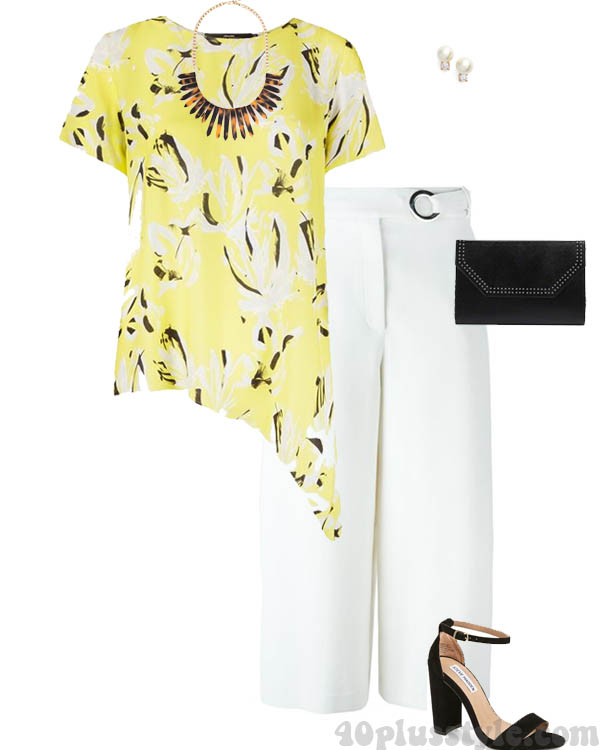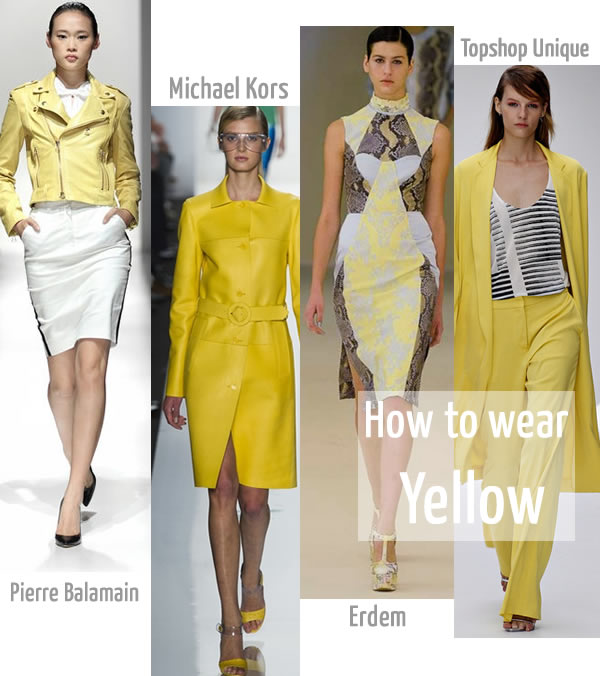 Here are a few yellow items currently available online.

Do you already have some yellow in your wardrobe? How would you style the color yellow?

Like this article? Save it on Pinterest!