A while ago 40+Style photographer Denton photographed Dayle in a bright and colorful outfit and I featured the image on this site and on Instagram. The owner of a shop which Dayle frequents regularly noticed and shared the image with her.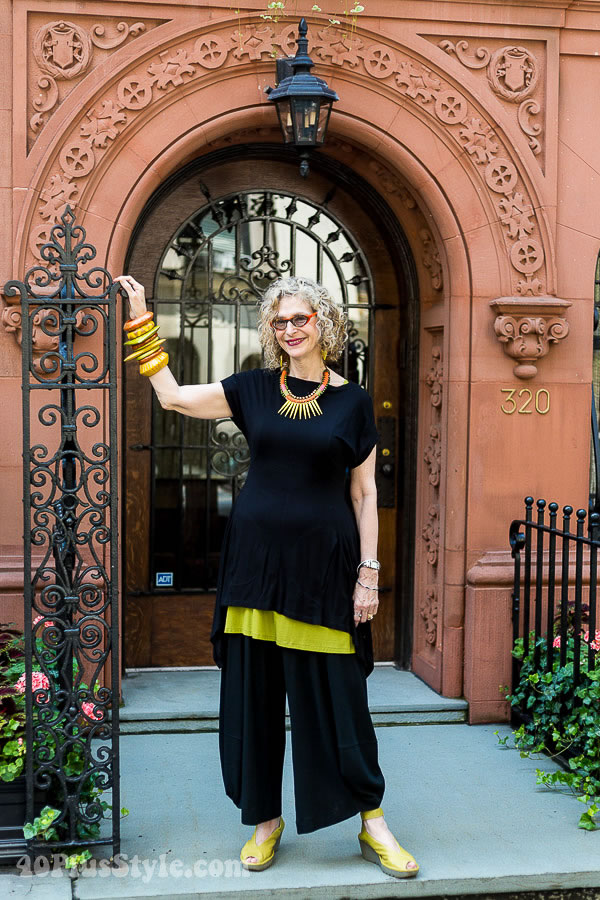 She contacted Denton and they decided to meet up more regularly to photograph her fabulous outfits. This woman has great style so of course I wanted to meet her in New York as well to find out her style secrets. Enjoy!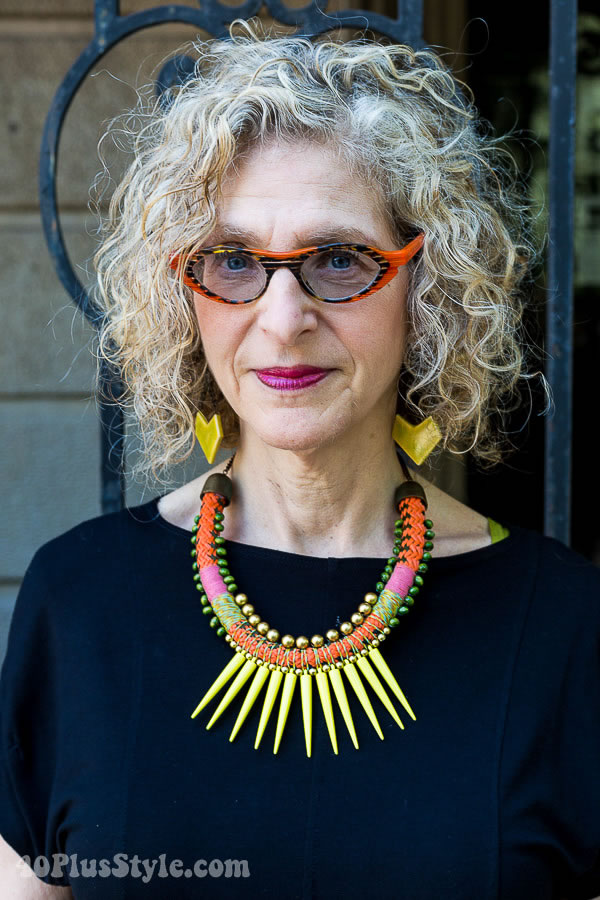 You may like to start by watching this video interview where I asked her about her style and her hair!
Can you tell us a little bit more about yourself?
When I was working, I had a wonderful double life–advocate and public speaker on health care and consumer protection issues by day, and singer/dancer in cabaret acts by night. I am now retired and pursuing my passion for the arts working as a docent at a New York art museum.
As a point of reference which age group do you belong to or perhaps you are willing to share your age?
I'm in my 60's.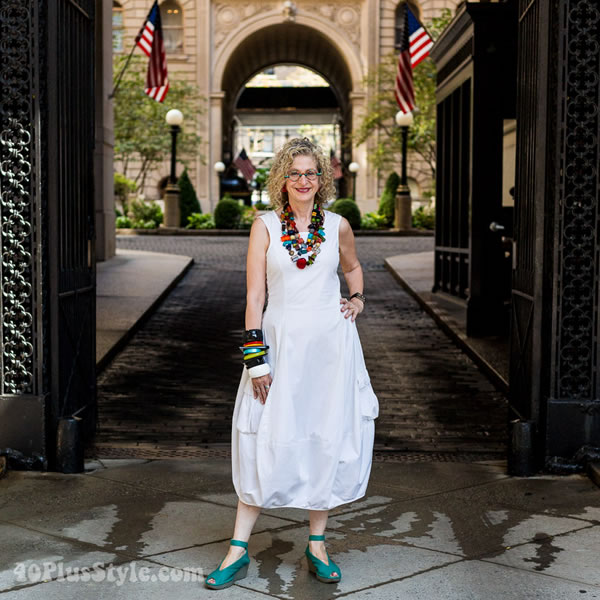 How would you describe your style?
My style is really my art. Although I've dabbled in the visual arts and have a good sense of color, my real art is putting myself together in a unique way. I would say my style is artistic and dramatic.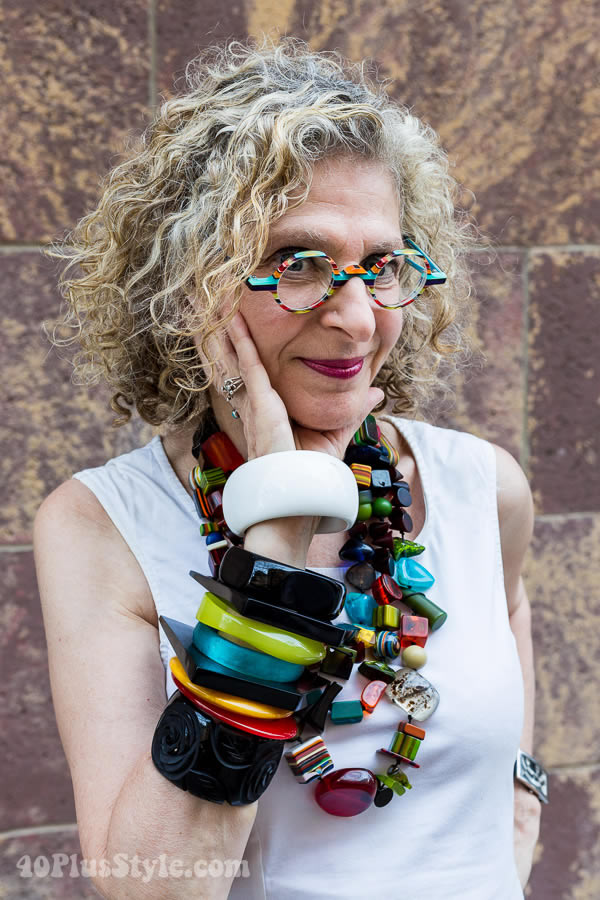 What would you consider the most important components of your style?
I like asymmetrical lines and the use of multiple fabrics in a single garment. I am drawn to the shape of clothing and like dresses, pants and tops that have unusual silhouettes. Accessories are key for me. Often, I will build an outfit around a scarf or piece of jewelry. I have numerous pairs of eyeglasses, which also play into how I create a look.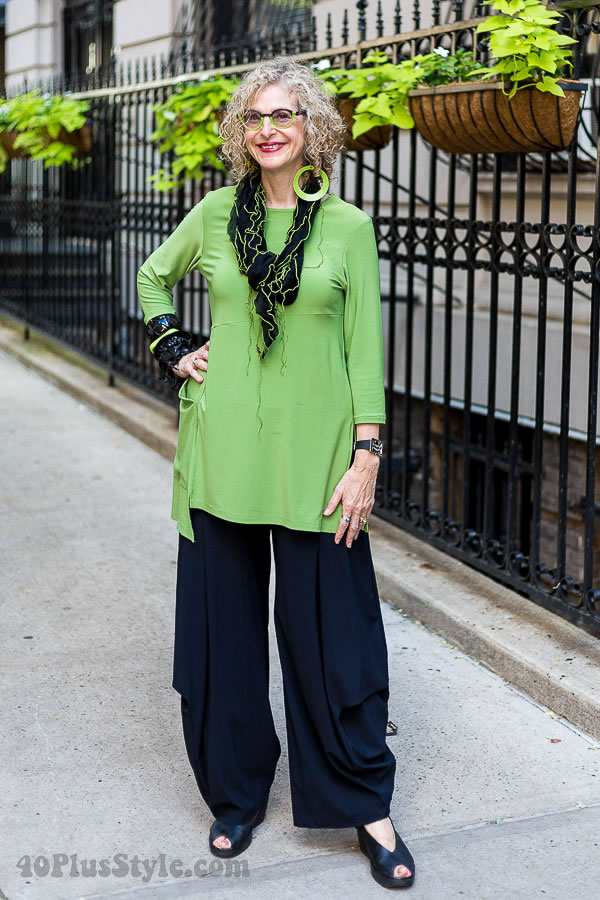 Where do you live and how does that influence your style?
I live in New York City, which allows a lot of liberties in terms of dress. There are also more opportunities to find stores with unusual merchandise. I grew up in the Midwest. One couldn't really find unusual clothing there when I was growing up, and conformity was expected. My husband always says that it was a cosmic mistake that I wasn't born in Manhattan. I thrive on the pace and excitement of the city.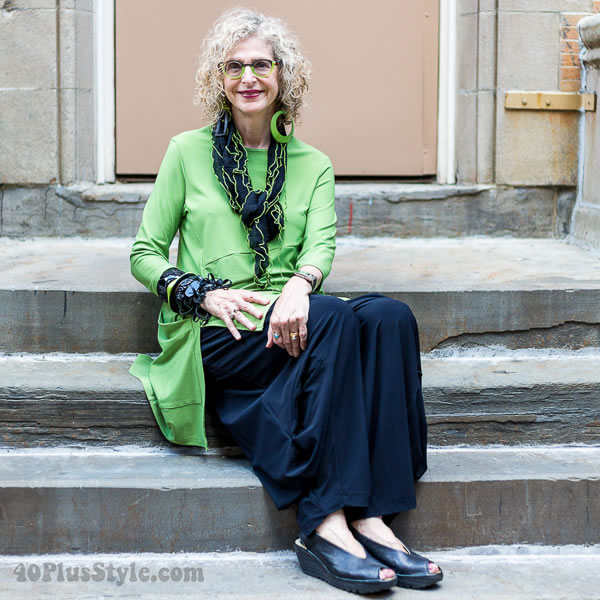 Do you feel you have a signature style?
Accessories are the key to my look. I could wear the same black dress every day and make it look different. I always wear multiple bangles on my right arm and am particularly fond of earrings that go together but don't match. I like to wear unusual eyeglasses. I wear a lot of black–I do live in New York, after all– but I also love bright colors. I get a lot of jewelry and clothing at craft fairs. I love knowing who made my clothes and jewelry and like having pieces that are one of a kind and hand-made.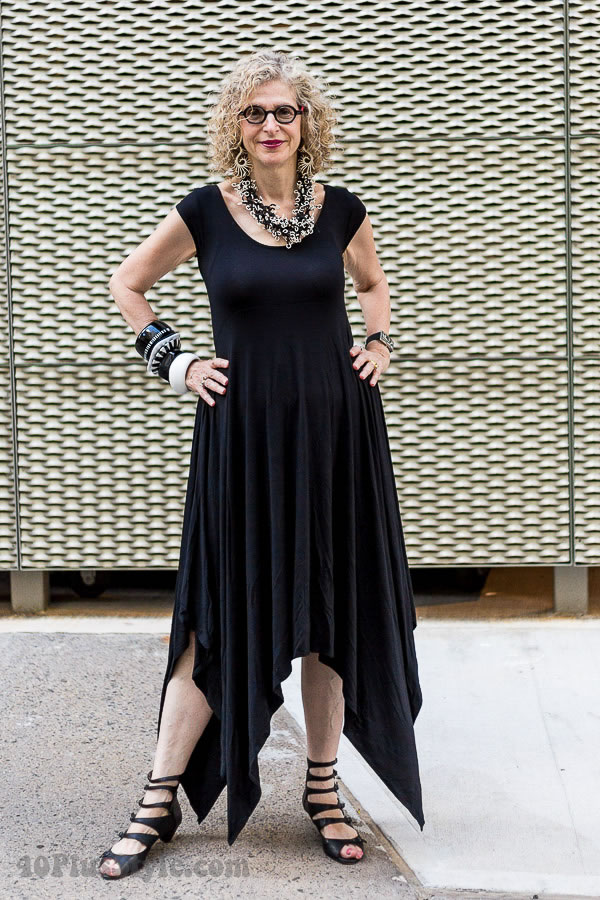 What inspires your outfit choices the most?
Accessories, accessories, accessories. Often, I start with the accessories I want to wear and build the outfit from there.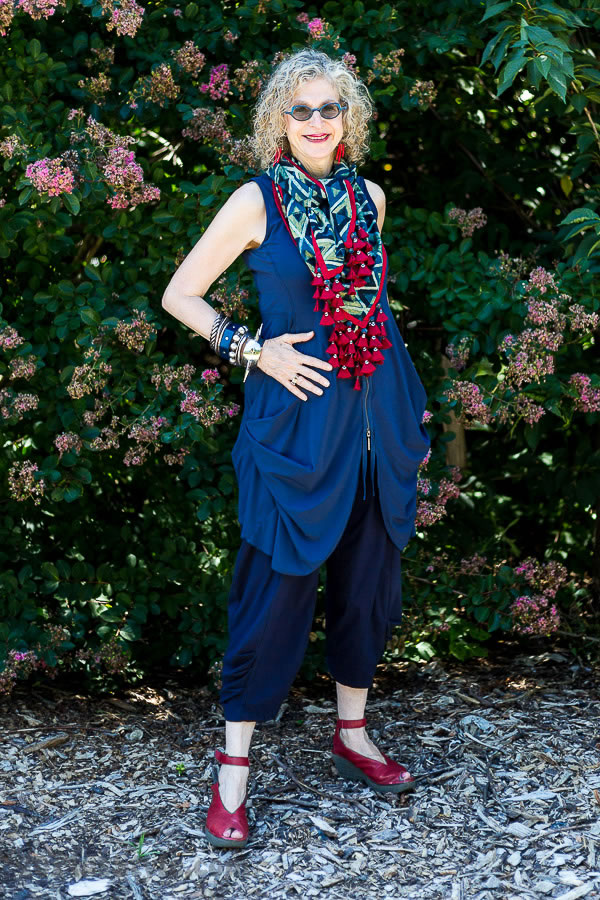 Do you take things like color profiling or body type into account when you dress?
I once had my colors done, when that was in vogue. I was told that I should be wearing pastels because of my skin tone. I left feeling very depressed since pastels don't really suit my personality and I have never been drawn to them. And then it hit me that I didn't have to follow that advice. That was very liberating.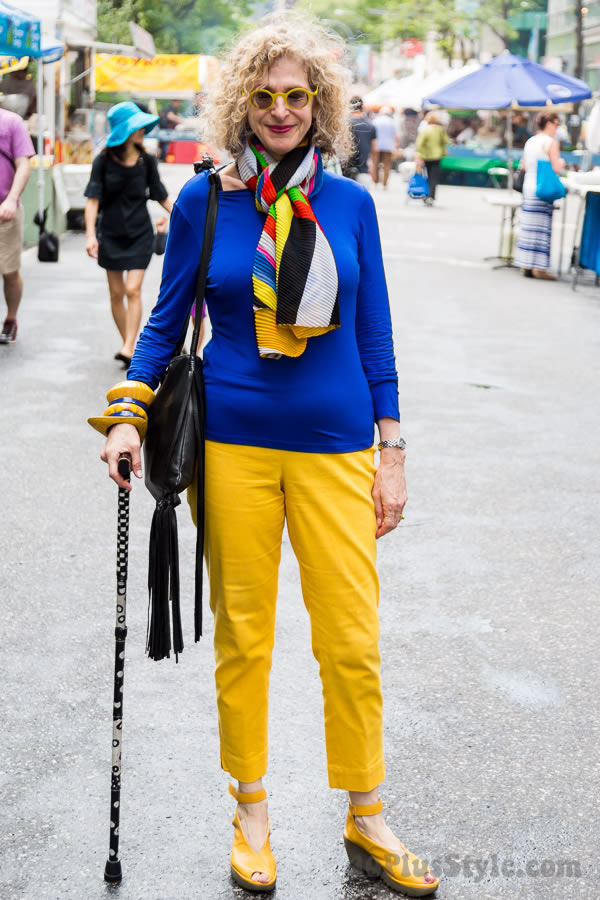 So, I wear the colors that make me happy. Body type is an extremely important consideration in how I dress. Since I have narrow shoulders, I often wear shoulder pads (even though they are not in fashion) to balance out my body. As a tall woman, I also have to pay attention to where pants, skirts and dresses hit me to make sure lines are flattering.
Has your style changed at all after turning 40?
My style really changed the most after I retired. When I was working, I didn't want my clothing to get in the way of my message as an advocate and public speaker. Now that I am retired and work at an art museum, I feel freer to express myself through my clothing. And, as I've gotten older, I have gotten far less concerned about conformity.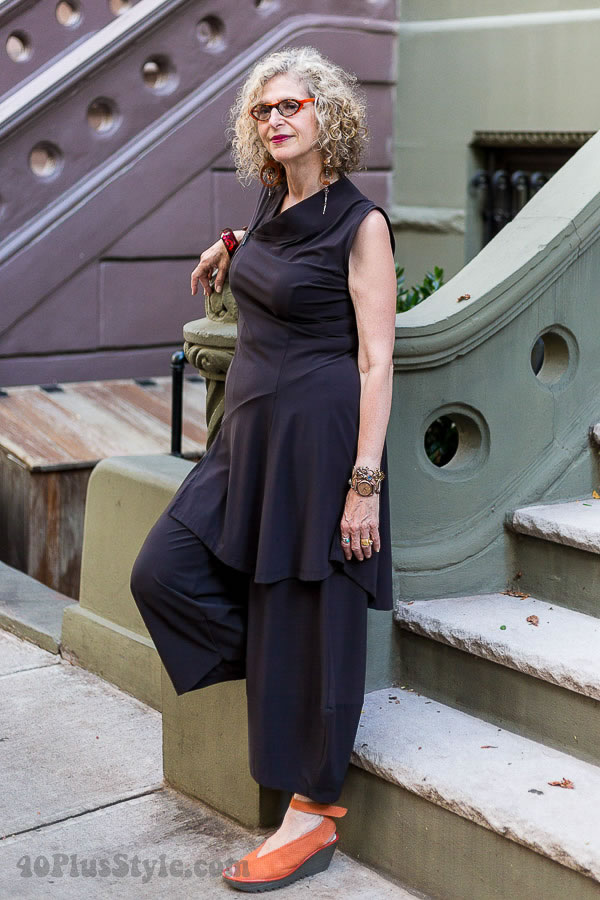 Do you believe in dressing 'age appropriately' and what does it mean to you?
I do believe in dressing age appropriately in that after a certain age, midriff baring and micro-mini skirts seem inappropriate. I will still push the envelope a bit in terms of how I dress, but I don't want to look ridiculous for my age and do think about that when I am putting myself together.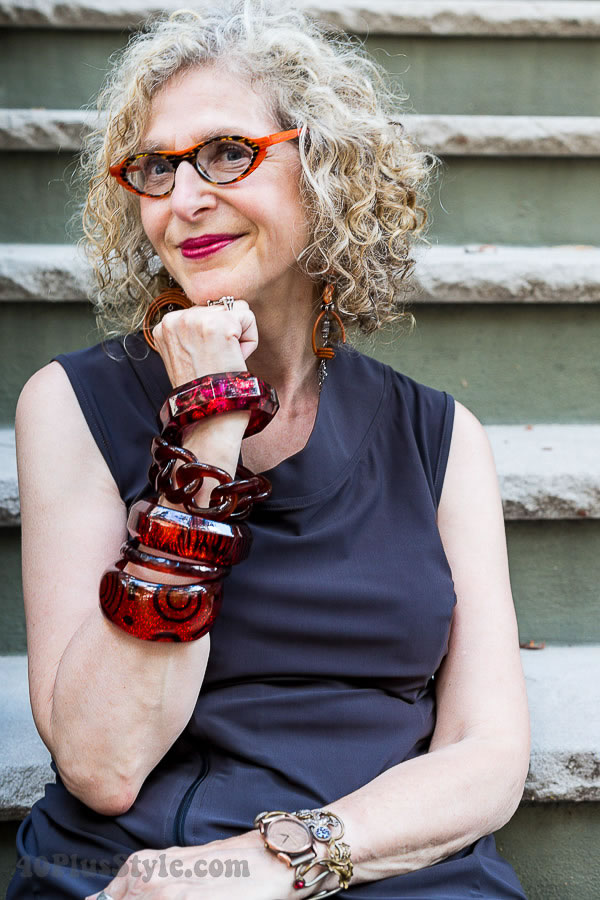 Would you say that at this stage of your life you are now more, or less interested in fashion, style and the way you look?
I am probably more interested in style and the way I look because I have more freedom in terms of being able to dress the way I want to.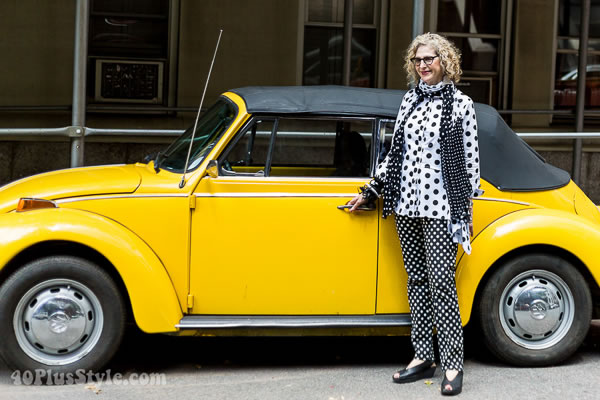 Why is the way you look important to you?
Putting myself together is fun for me. It's a way of expressing myself. It is a form of creativity. The other day, a man in the elevator in my apartment building asked where I was going all dressed up, and I was just going out in the neighborhood. It makes me feel good about myself and more confident when I put myself together. I love being stopped in the street over something I am wearing. I have met some interesting people that way. Conversely, I have stopped women in the street whose style I have admired. I once saw an older woman with a gorgeous hat. I ran after her to ask about the hat. She had retired as a milliner and had made the hat, and offered to make me one as well—which she did!!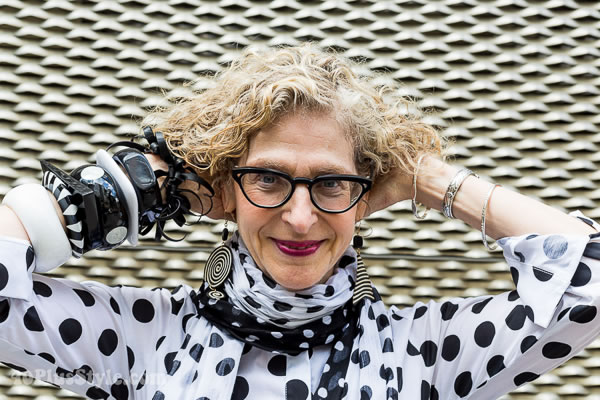 Do you follow trends? And if yes, which trends excite you at the moment?
I don't really follow trends. I never really wanted to look like anyone else. If a clerk in a store tells me that something is their most popular item, I will be sure not to buy it!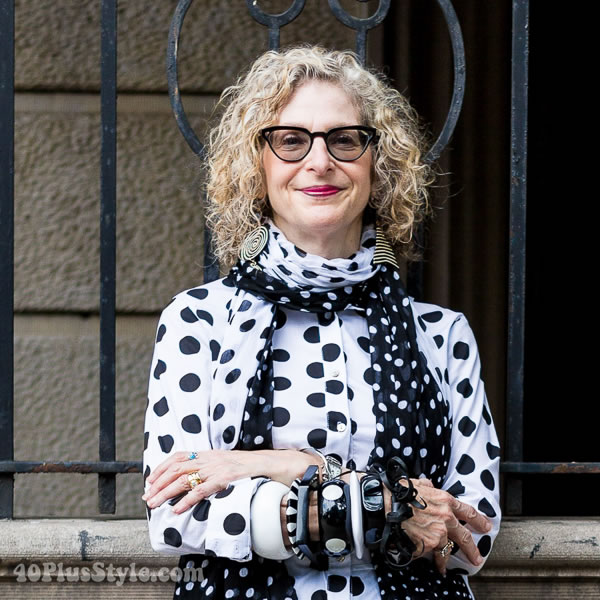 Do you have any fashion and style tips for women over 40?
I really believe that anyone can wear anything if they feel confident about putting it on. I have had friends that have said that they couldn't wear big earrings. I truly believe that they could if they felt confident doing it. I do, though, believe in age appropriate dressing, so some judgment is involved. Women develop their own styles. It is all about discovering what makes you feel comfortable, confident, and happy.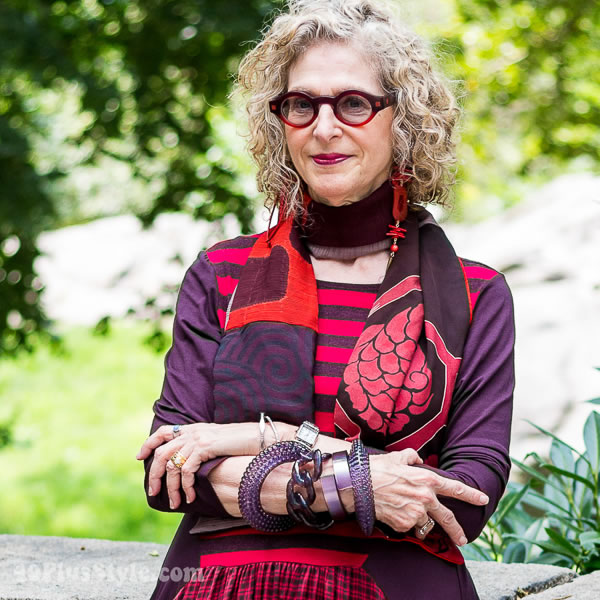 Anything further you would like to add?
It was a real pleasure meeting you. It is nice to know that there is someone out there who appreciates the fact that women over 40 can have great style and that style and fashion are not just the province of the young.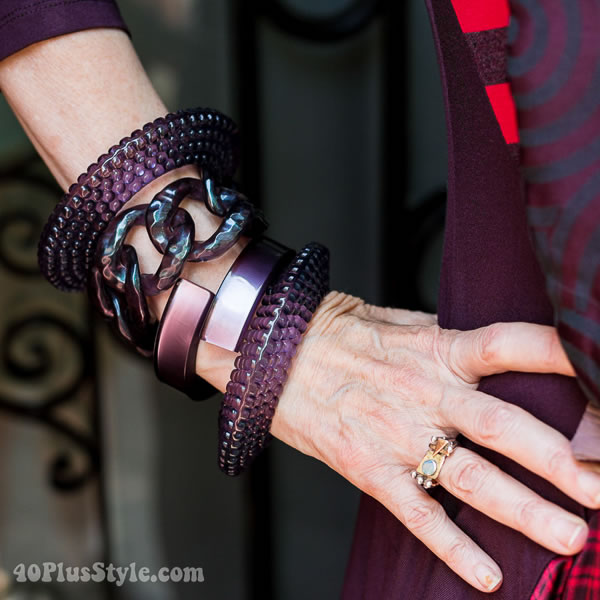 I also want to mention that I am starting an Instagram account. (I have to admit I have been a bit averse to social media until now.) I have been working with Denton Taylor, a talented fashion photographer, who discovered me on the streets of New York City, and I want to have a place to show off the wonderful photos he has taken of me. My account is artfulcitystyle, and I hope to use it not only to feature my own fashion ideas, but also to share the works of artists whom I admire.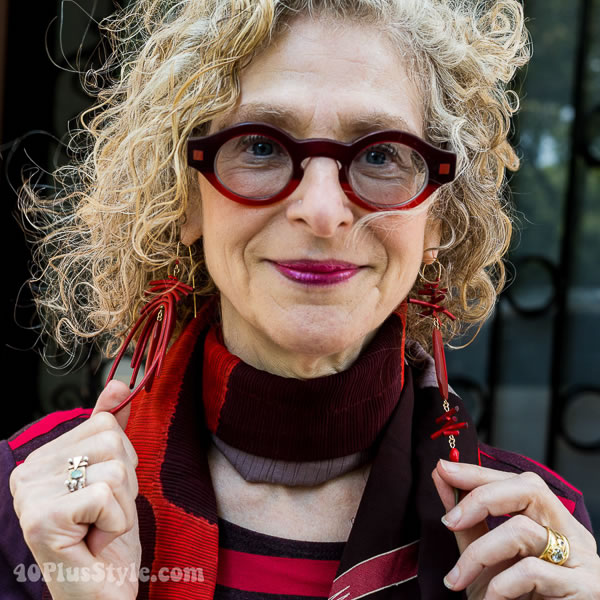 Thank you Dayle for taking part in this style interview series. It was great fun to meet you!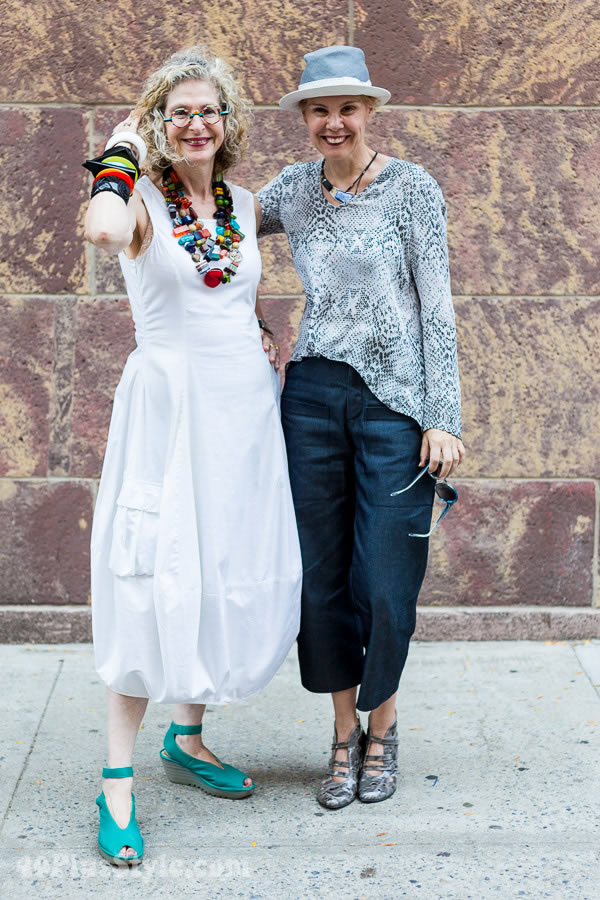 Which of Dayle's outfits is your favorite?

Like this post? Share it on Pinterest!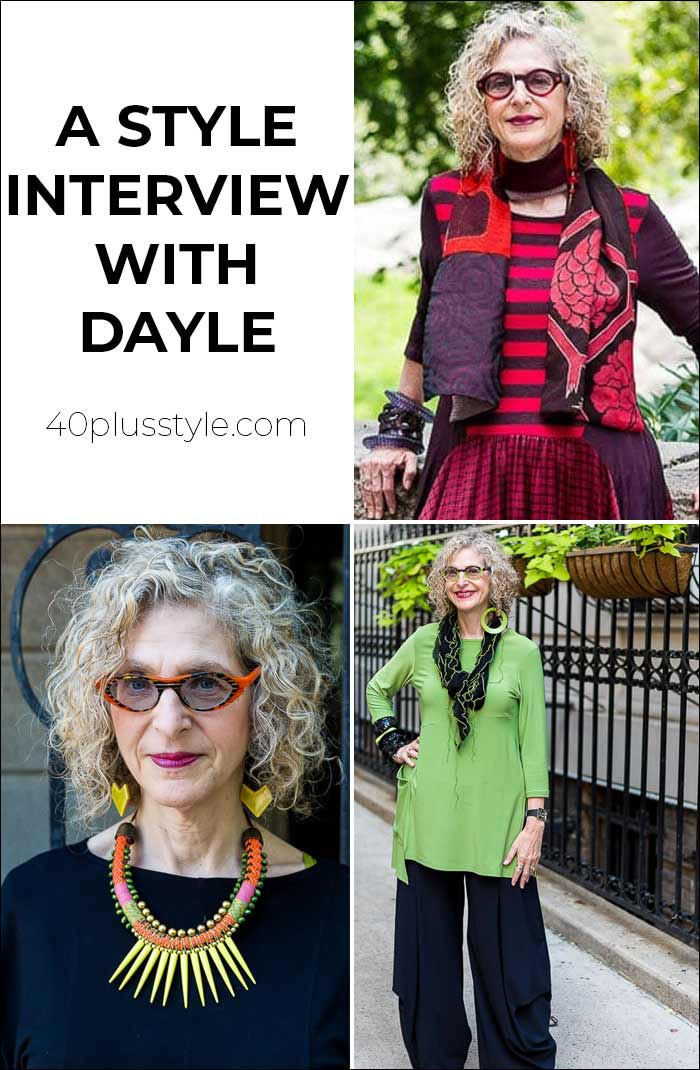 P.S. You may notice that Dayle wears the same shoes in different colors with many of her outfits. She told me that they are the most comfortable shoes that she can walk in all day. I thought they are the funkiest 'comfort' shoes I had seen so I got myself a pair too and got them in black! You can order them in many different colors from Amazon. There is also a great selection for winter from the Fly London brand at Nordstrom.
Photography by Denton Taylor
Want to get more articles from 40+style in your inbox, subscribe here.
You can also connect with 40+style on Facebook, Instagram or Pinterest.
Support 40+style by using the links in our articles to shop. As an associate for Amazon and many other brands, we receive a small commission (at no cost to you) on qualifying purchases which enables us to keep creating amazing free content for you. Thanks!