Many women after 40 experience weight gain on their bellies, especially those going into perimenopause or menopause. Your waist may disappear and you will start to develop more characteristics of the apple body shape. Luckily there are many things you can do to hide that belly, so that it doesn't get in the way of looking fabulously stylish!
In this updated article check out some belly-hiding pieces currently in store and get some fabulous tips from 40+Style stylist Ruth.
While hiding a belly during the summer can be difficult because you still need to stay cool, it can be much easier during fall and winter when you can use layers to create a long, lean style which hides the areas of your body you're not keen on, as well as keeping you warm.
There are some great ideas here in this video from Ruth, along with 11 tips below to hide your belly. Don't forget to leave your own tips in the comments below the article.
1. Don't wear tight or clingy garments over your belly and choose tops with ruching or drape
If you want to look stylish and highlight your strengths, it is best not to wear tight tops. They will accentuate every fat bubble you have and draw attention away from you and your fabulous clothes. Rather choose tops that have some draping or ruching.
Zella ruched tee – Nordstrom long wrap cardigan – Bobeau faux wrap top
Layered tops are often a good option too!
2. Wear leggings or skinnies with longer, draped or asymmetrical tops
Leggings can be your best friend. They will fit comfortably around your belly and tuck it in a bit. Also, with so many wonderful tunics and long tops to choose from, you will look fabulous. No-one will notice your belly! For more tips and examples on how to wear leggings check this article.
Look out for asymmetrical tops and sweaters. Wearing leggings underneath can let your hero pieces, like this draped cardigan (below) stand out.
Leggings can work as part of outfits designed to hide your belly during any season. If you are in the southern hemisphere or heading off on a vacation to warmer climes, you can still use draped tops over leggings to hide your tummy.
A legging length I like in warmer weather is just below the knee. These Second Nature Capri leggings from Stella Carakasi are super fab. Not too thin and very stretchy and comfortable. They are also great for tucking in your tummy. Stella Carakasi also has many good asymmetrical tops that are great to layer over leggings or skinny jeans.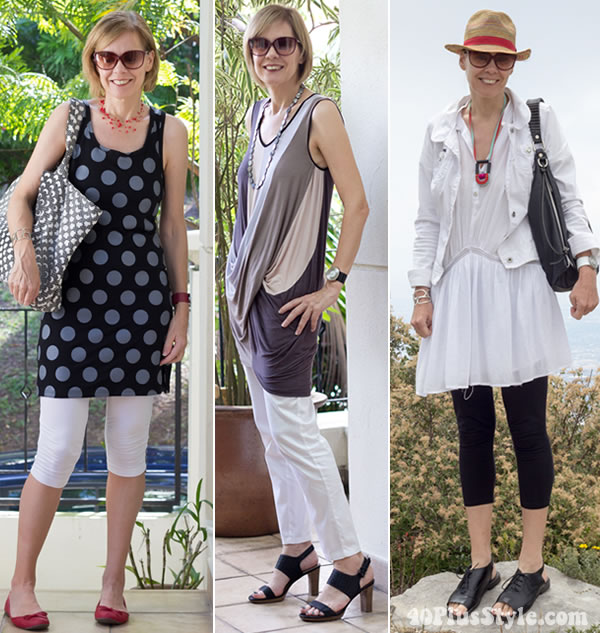 Here are more options for summer. For fall, you could add some long-line knits such as long cardigans, or add warmth with a denim or leather jacket.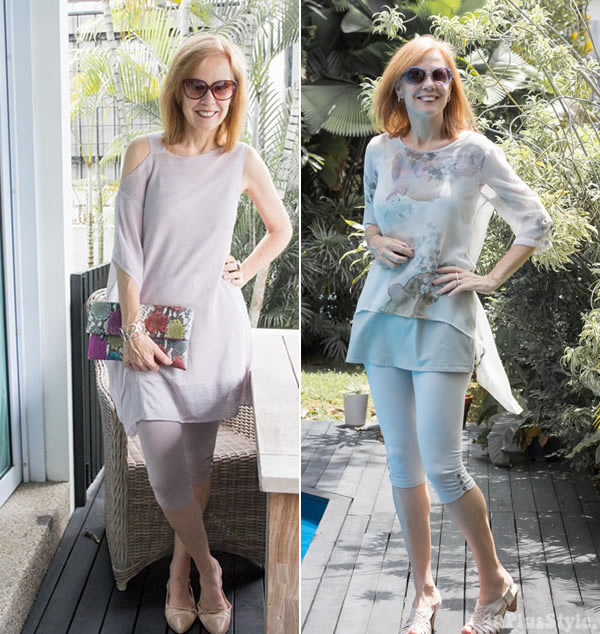 3. Create vertical lines with long cardigans, jackets and ponchos
Layering is very effective to disguise a belly, and is much easier to do during fall and winter, when you will want to use layers to stay warm. You can add a cardigan or a jacket. Waterfall or straight designs can both work and will create a nice vertical line which will create the illusion of length and distract the eye from your belly.
Here, a patterned shirt will take attention away from your belly, while the longline cardigan will create nice long lines.
Halogen cardigan – Halogen top – Wit & Wisdom jeans – Isobel half moon bag – Kendra Scott drop earrings – Steve Madden bootie
Darker colors can be slimming, but black can often be harsh close to your face. Navy can be a softer option, while a layered blouse can also help to disguise a belly.
Nic and Zoe blue cardigan – Nic and Zoe layered top – Paige gray jeans – Nordstrom gray crossbody bag – Sudini burgundy suede bootie – Steve Madden necklace
Deep green is one of major trends for fall 2018. You can layer different neutrals for a pared down, yet striking effect.
Nordstrom cashmere ruffle wrap – Vince Camuto soft texture shirt – Jag stretch denim pants – Madewell blue bag – Comfortiva burgundy sneakers
The longer your cardigan, the longer and leaner you will appear. Short straight cardigans will hide your belly too, but will have an overall more boxy silhouette.
Long vests to hide a belly
A long vest is also perfect for creating long, lean vertical lines. Plus, it is a great option for fall when you might want to add a little extra warmth without wearing a coat. Check out this article for lots of options on how to wear a long vest.
Tonal shades can be great for giving you a longer, slimmer look. Create a column of color with your shirt and pants, and then add a sleeveless cardigan in a hue from the same color pathway. Wearing clothes in similar shades is also a good tip for how to dress if you are petite.
While blues may not traditionally be seen as autumnal shades, they were a big color trend for fall 2018, and are also all over the runways for SS18, so are definitely worth investing in.
La Florentina blue knit vest – Boden navy shirt – Eileen Fisher pants – Sam Edelman calf hair bootie – Kendra Scott tassel necklace – Sole Society black clutch
You can still incorporate trend-led pieces into your look while trying to hide a belly. A print blouse can help to disguise a belly. If you want more inspiration on how to wear leopard print, there are 25 great looks featuring animal print here.
J.Crew leopard print shirt – Essential knit vest – Top shop waist skinny – Urband Originals back tote bag – Blondo booties
Choosing a top with a bit of draping will hide your belly, while the sleeveless cardigan on top will help to create lean lines. A scarf will draw attention up to your face and away from your tummy area.
Halogen cashmere vest – AG jess shirt – Good American waist skinny – BP leopard print scarf – Urband Originals bag – Bella Vita stretch booties
Sleeveless vests work well for all seasons. For winter, you can wear over a sweater while you could look for a lightweight version for summer.
4. Don't emphasize your tummy by adding accessories like belts right on top of them, rather belt higher
When choosing a coat, top or cardigan, you don't have to avoid belts altogether. Simply make sure that the belt sits a bit higher, so you aren't drawing attention to your belly at its widest point. Again, patterns can help to take attention away from a larger tummy.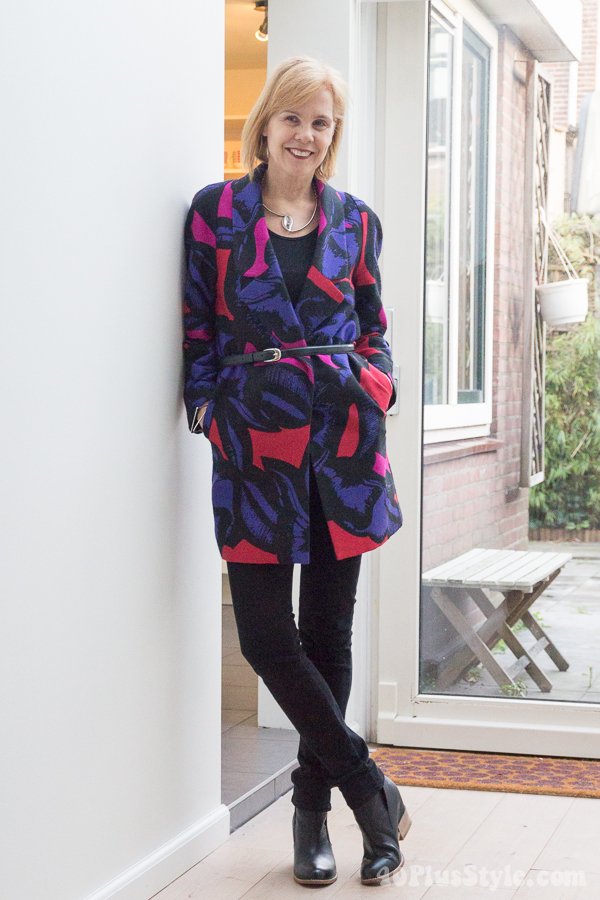 No need to draw attention to your midlife tummy and belts will do just that when you belt too low.
However, higher belts can be effective for some women by drawing attention upwards. This can work especially well if the top has a print or an asymmetrical detail. It will give you more shaping while still hiding that belly. Play around with where and how you fasten your belt to see what looks most flattering for you.
Sejour red cardigan – Gibson wrap blouse – Red Halogen top – J.Crew textured long cardigan
5. Choose dresses that don't cling and/or have a draping element
Make sure that your dresses don't cling around the tummy area. Dresses with a draping element around the tummy area often work.
Asymmetrical dresses work well too as they draw attention away from the belly and create a vertical line.
Dresses that don't cling and which also have patterns are also great to hide the tummy area. There are some great options here if you are planning to attend a festive party. You can draw even more attention away from your belly and up towards your face by wearing a statement necklace.
There's more inspiration here on how to dress for Thanksgiving if you're looking at outfits for the holiday season.
Eileen Fisher berry dress – Adrianna Papell dress – Tommy Bahama tambour dress – Anne Klein drape shift dress
6. Wear tops over your skirts and pants and don't tuck them
Tucking draws attention to your (non-existing waist again) so better to avoid that. This is because if you tuck in your shirt, you will create a line across your tummy at its widest part.
Instead, leave your top outside of your skirt or pants. However, pay attention to overall balance and don't let your top end at the widest point of your hips, as that may also be unflattering.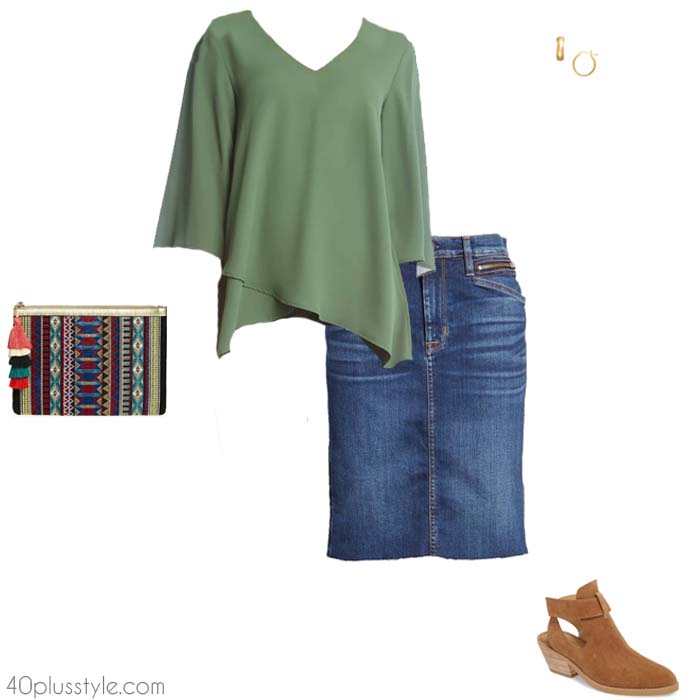 Karen Kane drape top – Hudson denim skirt – Splendid beige bootie – Mali+Lili tassel clutch – Argento hoop earrings
Boden also has a number of good pencil skirt options, which you could wear with your top untucked.
7. Layer like a pro
It's much easier to hide your belly in winter as you can layer your clothes. Creating vertical lines with cardigans (as discussed above) works really well, but you can also wear shorter jackets to hide a tummy.
If you pop a biker jacket over a longer top, you confuse the eye so that the different lengths hide your belly.

Nic + Zoe tank top – Levi's faux leather jacket – Wit and Wisdom stretch jeans – Zeena moss suede ankle boot – Similiar Chan Luu tassel necklace
8. Don't wear garments that are bulky around the tummy area
You don't want to make that area even bigger with pockets or other embellishments. However, a vertical loose drape could work as it elongates and does a good job at hiding.
9. Choose asymmetrical tops
Asymmetrical tops create vertical and diagonal lines and break up your silhouette so they are great for disguising tummies.

Nic and Zoe symmetric tank top – Wit&Wisdom jeans – Karl Lagerfeld black booties with gold heels – J.Crew tassel earrings – Brahmin croc clutch
Layered tops will work too, especially when they have an asymmetrical element.
Stella Carakasi dimension top – Stella Carakasi easy going top – Stella Carakasi asymmetrical sweater
Special offer for 40+ style readers, use the code 40+ at checkout for 20% off!
Great shops for asymmetrical items include:
Here are more options for hiding your belly.
Covered Perfectly tunic top –  Covered Perfectly mandy top – Covered cross over drape top
Above tops available at Covered Perfectly. Receive 20% off your first purchase when using the code 40+ at checkout!
10. Use pants that tuck the tummy in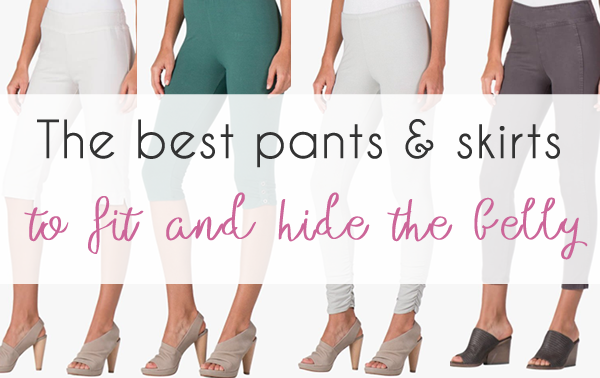 The bottoms you wear can make a huge difference on how flat your tummy is. In fact, this is so important that I devoted a whole article to this topic. Check out the best pants to hide your belly here. I especially love Stella Carakasi leggings and skinny pants that do a great job in tucking the tummy.
11. Use shapewear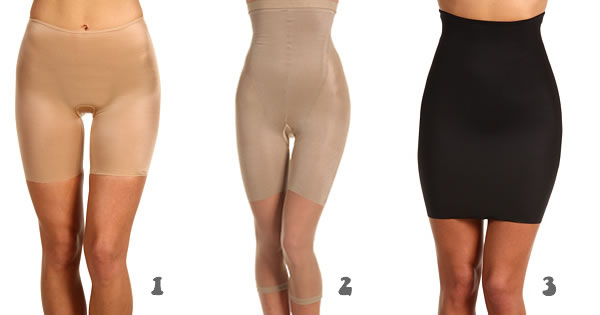 Of course, shapewear is very effective too in hiding the belly but, as I personally find it uncomfortable, I only use it for very special events. For options on shapewear please read my article on the best shapewear for women over 40.
What are your best tips for hiding that belly? 

P.S.: If you carry most of your weight around your belly, you are most likely an apple body shape. Download our extensive guide for many more tips on how to dress for your shape!
p.p.s. Want to get our best tips on hiding the belly and enjoy exclusive training on this topic? We go very much in depth on hiding the belly in the 40+Style Club! You can get instant access here.
This article contains affiliate links
Like this article? Save it on Pinterest!