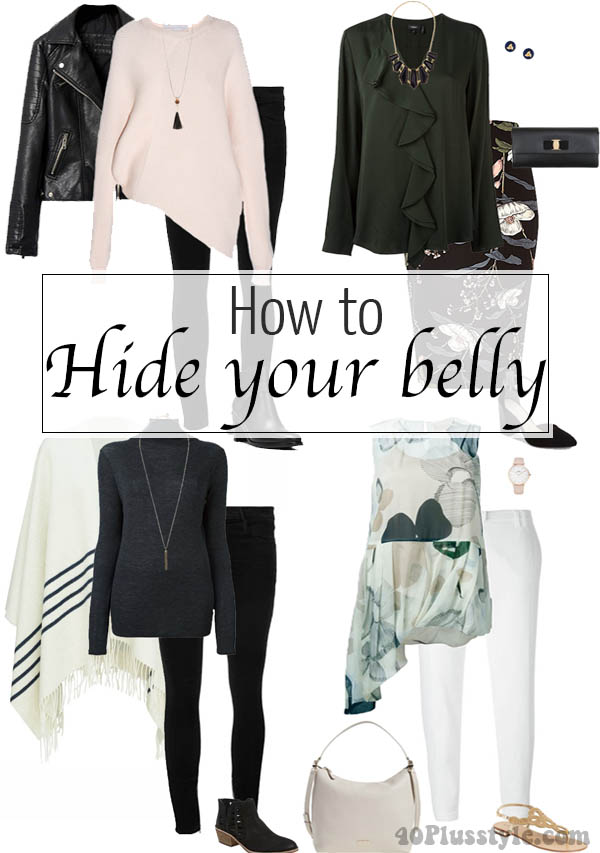 Many women after 40 experience weight gain on their bellies, especially those going into perimenopause or menopause. Your waist may disappear and you will start to develop more characteristics of the apple body shape. Luckily there are many things you can do to hide that belly, so that it doesn't come in your way of looking fabulously stylish!
How to hide your belly – my 10 tips
Stella Carakasi has many asymmettrical tops.
Special offer for 40+ style readers, use 40+ at checkout for 20% off!
1. Don't wear tight or clingy garments over your belly and choose tops with ruching or drape
If you want to look stylish and highlight your strengths, it is best not to wear tight tops. They will accentuate every fat bubble you have and draw attention away from you and your fabulous clothes. Rather choose tops that have some draping or ruching.
Above tops available at Covered Perfectly. Receive 20% off your first purchase when using the code 40+ at checkout!
Layered tops are often a good option too!
2. Wear leggings or skinnies with longer, draped or asymmetrical tops
Leggings can be your best friend. They will fit comfortably around your belly and tuck it in a bit. Also, with so many wonderful tunics and long tops to choose from, you will look fabulous. Noone will notice your belly! For more tips and examples on how to wear leggings check this article.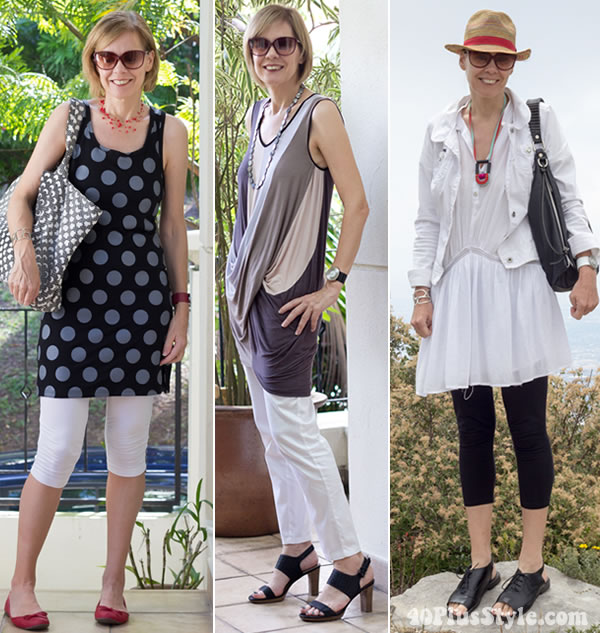 Another length I like in warmer weather is just below the knee. These Second Nature Capri leggings  from Stella Carakasi are super fab. Not too thin and very stretchy and comfortable. They are also great for tucking in your tummy. Worn here with the printed Attitude is Everything tunic and the long camisole in serene.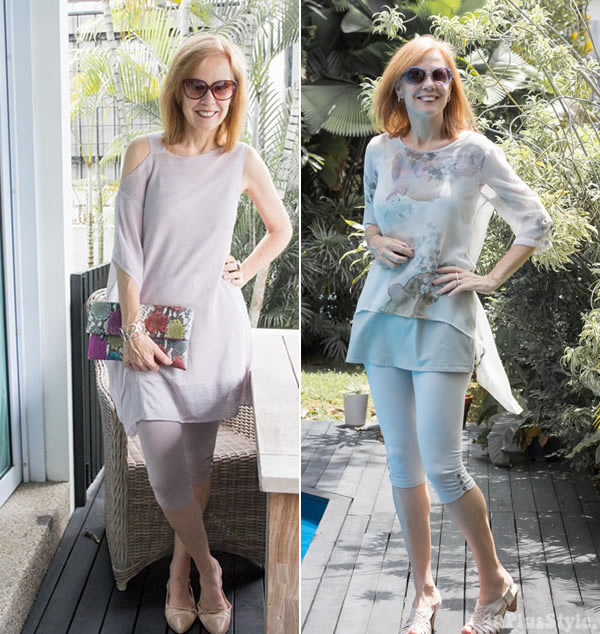 3. Create vertical lines with long cardigans, jackets and ponchos
Layering is very effective to disguise a belly. You can add a cardigan or a jacket. Waterfall or straight designs can both work and will create a nice vertical line which will lengthen you and distract the eye from your belly.
The longer your cardigan, the longer and leaner you will appear as is clearly illustrated by the model with the shorter hair who looks a lot slimmer with the long cardigan. Short straight cardigans will hide your belly too, but will have an overall more boxy silhouette.
Right now long vests are very popular which are perfect for creating long lean vertical lines. Check out this article for lots of options on how to wear a long vest.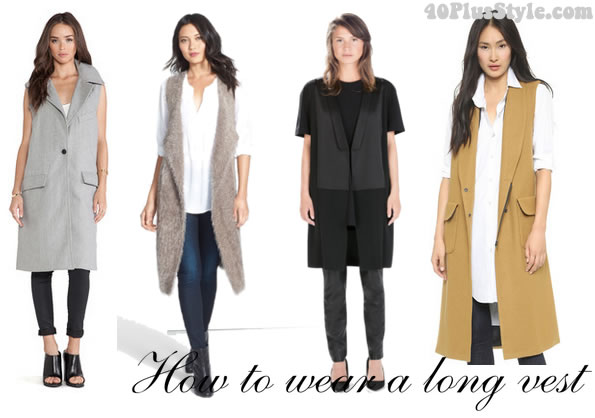 4. Don't emphasise your tummy by adding accessories like belts right on top of them
No need to draw attention to your midlife tummy and belts will do just that when you belt too low.
However, higher belts can be effective for some women by drawing attention upwards. This can work especially well if the top has a print or an asymmetrical detail like the ones in the example below. It will give you more shaping while still hiding that belly.
5. Choose dresses that don't cling or / and have a draping element
Make sure that your dresses don't cling around the tummy area. Dresses with a draping element around the tummy area often work.
Asymmetrical dresses work well too as they draw attention away from the belly and create a vertical line.
Dresses that don't cling with patterns are also great to hide the tummy area.
 You can also try empire waist tops and dresses. These tops highlight the thinnest part of your top body, which gives you a great silhouette. They don't work for everyone though.
6. Wear tops over your skirts and pants and don't tuck them
Tucking draws attention to your (non-existing waist again) so better to avoid that. However, pay attention to overall balance and don't let your top end at your widest point of your hips as that may be unflattering.
7. Layer like a pro
It's easier to hide your belly in winter as you can layer your clothes. Creating vertical lines with cardigans (as discussed above) works really well, but you can also wear sheer or softer fabrics underneath a shorter sweater.
Layered tops:

8. Don't wear garments that are bulky around the tummy area
You don't want to make that area even bigger with pockets or other embellishments. However, a vertical loose drape as shown in the black blouse above could work as it elengates and does a good job at hiding.
9. Choose asymmetrical tops
Asymmetrical tops create vertical lines that are great for disguising tummies.
Great shops for asymmetrical items include:
Layered tops will work too, especially when they have an asymmetrical element.
10. Use pants that tuck the time in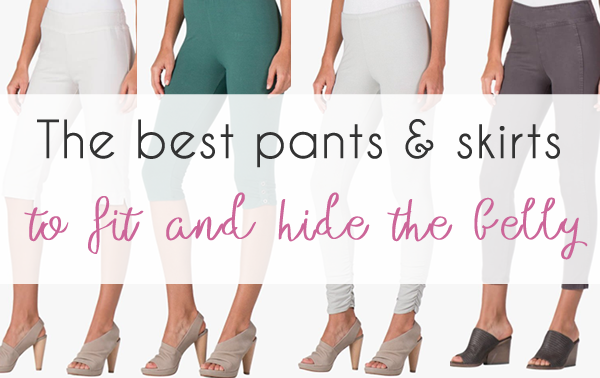 The bottoms you wear can make a huge difference on how flat you tummy is. In fact this is so important that I devoted a whole article to this topic. Check out the best pants to hide your belly here.
11. Use shapewear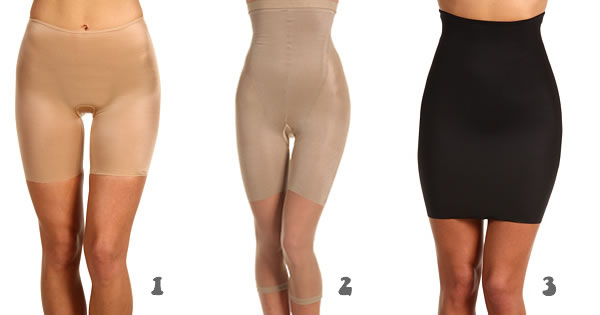 Of course shapewear is very effective too in hiding the belly but as I personally find it uncomfortable I only use it for very special events. For options on shapewear please read my article on the best shapewear for women over 40.
What are your best tips for hiding that belly? 

P.S.: If you carry most of your weight around your belly, you are most likely an apple body shape. Download our extensive guide for many more tips on how to dress for your shape!
This article contains affiliate links