Want to hide your belly and still look fabulous? Below you'll find lots of ideas and tips on how to hide a belly or stylishly cover up or disguise a tummy.
Why would you want to hide your belly?
Many women after 40 experience weight gain on their bellies, especially after going into peri-menopause or menopause.
Your waist may disappear and you will start to develop more characteristics of the apple body shape
If you are trying to cover up a tummy, it can be easy to do the opposite and make yourself look bigger than you really are.
Thankfully there are many things you can do to hide your belly, so that it doesn't get in the way of looking fabulously stylish!
Check out my 15 tips below on how to hide your belly with the right clothes.
Hiding your belly in winter and fall
Many of you will be heading into warmer weather now, which is something to look forward to. It can be easier to hide a belly during the cooler months when it is natural to add plenty of lovely layers too create long, sleek lines.
However, that's not to say you can't use many of the tricks below during warmer weather too. You can still opt for draped, asymmetrical styles, wrap styles where you can alter the belt for the most flattering effect, or long cardigans and lighter weight ruanas for an elongating effect.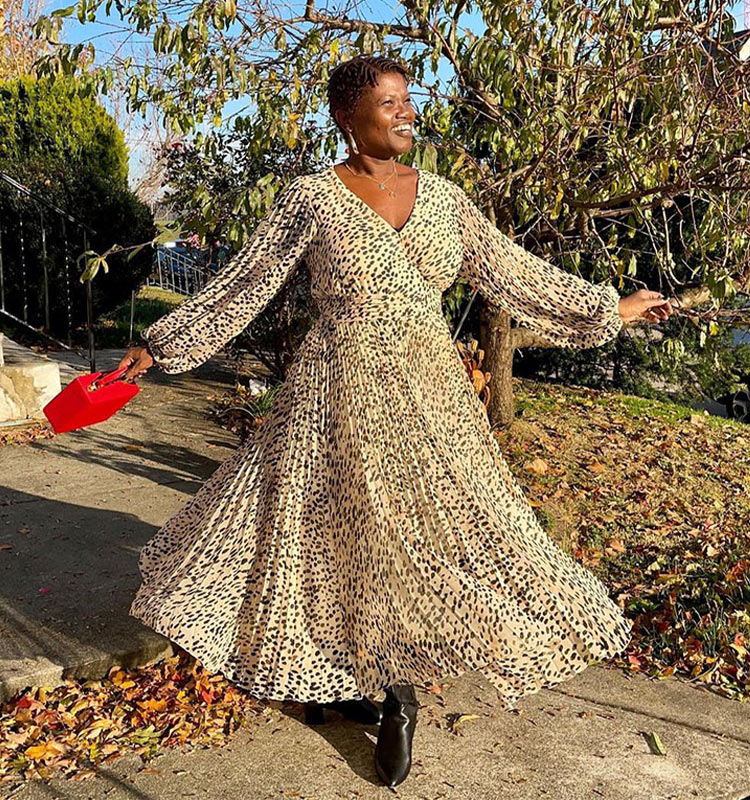 Georgette @grownandcurvywoman above (read her style interview here) opts for a maxi dress that has a flattering v-neck and creates a beautiful hourglass shape. If you need extra warmth, you could always add a moto jacket.
Recreate her outfit with this similar dress, boots, handbag, necklace and earrings.
Now, onto my 14 tips. Read on for more flattering layering tips.
1. Don't wear tight or clingy garments over your belly and choose tops with ruching or drape
If you want to look stylish and highlight your strengths, it is best not to wear tight tops.
They will accentuate every fat bubble you have and draw attention away from you and your fabulous clothes.
Rather choose tops that have some draping or ruching.
Hide your belly with the right tops
A crossover top is very effective and this one creates asymmetrical vertical lines which is an extra bonus.
Plus, you can choose a top which comes in new season colors. There's more inspiration in this article on the color trends for fall and winter 2022.
Karen Kane is a good brand to look out for to find flattering, layered, crossover tops.
Karen Kane Crossover Hem Tie Top
Below is a draped blouse that is also effective at hiding bellies as it doesn't cling to your tummy. It also has a flattering v-neck which can help to lengthen (rather than widen) your silhouette. There's a good choice of colors, and reviewers say it hides love handles.
2. Wear leggings or skinnies with longer, draped or asymmetrical tops
Leggings or stretchy pants that tuck in the tummy will be your best friend.
They will fit comfortably around your belly and tuck it in a bit.
Also, with so many wonderful tunics and long tops to choose from, you will look fabulous. No-one will notice your belly!
For more tips and examples see how to wear leggings.
Choose the right leggings that tuck in your stomach
I personally love the leggings of Stella Carakasi.
The fabric is solid but stretchy and they are high enough so they tuck in your tummy.
Stella Carakasi Ready To Wear Leggings
Another favorite amongst my readers are the Zella leggings.

Zella Live In High Waist Leggings
For a very affordable option that has 1000s of good reviews on Amazon, you can't beat the Satina high waisted leggings. Wearers say they keep their shape all day.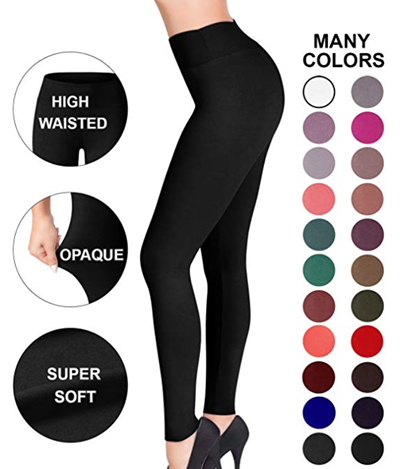 Find out our top picks for the best tummy control leggings
Choose the right tunics that make you look good in your leggings or jeans!
Look out for asymmetrical tops and sweaters.
Wearing leggings underneath can let your hero pieces, like this tunic top (below) stand out.
This piece can easily be layered with a longer cardigan or shorter jacket and the pattern distracts the attention from your belly.
Below are some tunic tops you could try.
Masai Copenhagen Grola Watercolor Print Tunic Top
Anne Klein Geo Print Popover Tunic Top
Barb @barb_styling above shows how you can hide your belly with a bright sweater. Adding a statement necklace draws attention up to the face.
Get her look with this similar top, pants, sandals, necklace and earrings.
Also, check out these recommendations for the best shops for women with the apple body shape.
3. Create vertical lines to hide your belly with long cardigans, jackets and ponchos
Layering is very effective to disguise a belly and is much easier to do during fall and winter, when you will want to use layers to stay warm. You can add a cardigan or a jacket.
However, it is definitely still possible to use this technique during spring and summer depending on where you live. Rather than a coat, you could opt for a lightweight cardigan, a sleeveless vest or a kimono.
Waterfall or straight designs can both work and will create a nice vertical line which will create the illusion of length and distract the eye from your belly.
Or you could wear a block color such as navy, white, black or gray underneath this cardigan style below, thus creating a slimming column effect down the center of your outfit.
Meaneor Sleeveless Draped Cardigan
Barefoot Dreams CozyChic Lite® Long Cardigan
Deborah @deborahgates_ above (read her style interview here) opts for a sleeveless long cardigan with a printed jumpsuit.
Recreate her outfit with this similar cardigan and jumpsuit.
Below are more examples of outfits where you create a long lean line and hide the belly.
Layering for any season – use a long cardigan or a short jacket
Creating vertical lines with cardigans (as discussed above) works really well, but you can also wear shorter jackets to hide a tummy.
If you pop a biker jacket over a longer top, you confuse the eye so that the different hem lengths hide your belly.
Layers are definitely your friend when it comes to hiding a belly.
AllSaints Dalby Suede Biker Jacket (similar) – AllSaints Avril Oversize Pintuck Pleat Cotton Shirt (similar) – PAIGE Constance High Waist Slit Hem Long Skinny Jeans (similar) – Vagabond Shomakers Blanca Chelsea Boot – AllSaints Kita Leather Shoulder/Crossbody Bag – Luv AJ Amalfi Quilted Hoop Earrings
Below, the longline cardigan will create nice long lines and the earrings draw the eye to your face and away from your belly.
JJ Perfection Open Front Long Cardigan – LARACE Flare Tunic Top – PAIGE Constance High Waist Slit Hem Long Skinny Jeans (similar) – Vagabond Shomakers Blanca Chelsea Boot – Steve Madden Aubree Top Handle Crossbody Bag – Ufraky Acrylic Necklace and Hoop Earrings Set
The longer your cardigan, the longer and leaner you will appear, although you usually don't want to go longer than 2/3 from the height of your shoulders to the bottom.
Short straight cardigans will hide your belly too, but will have an overall more boxy silhouette so you need to be more careful when styling these.
You can layer in summer and winter
You can still layer in spring and summer depending on the weather where you are, you just need to choose lighter fabrics.
Instead of a cardigan you can also choose a vest. A long vest is perfect for creating long, lean vertical lines, but you can opt for shorter waterfall vest too.
Layer your (sleeveless) top with a sleeveless vest. This vest cardigan from Amazon can be combined with many tops and will look great over skinny pants and jeans. You can also wear with a tank top and shorts for summer. For winter, you could wear over a long-sleeved sweater.
It has the benefit of being asymmetrical too which makes it even more flattering.
MBJ Sleeveless Draped Cardigan
Julie @stylishparadox (read her style interview here) wears a long cardigan over her sweater dress.
Steal her look with this similar dress, vest, heels, handbag and hoop earrings.
For more options on wearing vests you may like to check out this article for lots of options on how to wear a long vest.
Sleeveless vests work well for all seasons.
Also read our article on the best shops for the apple body shape.
4. Don't emphasize your tummy by adding accessories like belts right on top of them, rather belt higher
When choosing a coat, top or cardigan, you don't have to avoid belts altogether.
Simply make sure that the belt sits a bit higher, so you aren't drawing attention to your belly at its widest point.
Again, patterns can help to take attention away from a larger tummy too and in combination this can do the trick.
Play around with where and how you fasten your belt to see what looks most flattering for you.
Below are more belted styles you can try. If you leave a couple of buttons open, you'll create a v-neck effect which will add to the flattering effect.
Clearlove Button Down Peplum Blouse
The patterns on the Misook shirt (below) will also help to confuse the eye, which can be another effective technique for hiding the belly.
Misook Brushstroke Print Belted Crepe Tunic Blouse (similar)
Eugenia @theeageofgrace (read her style interview here) opts for a stylish, print wrap top over her wide leg pants.
Check out this similar blouse (another option here), wide leg pants, pumps, clutch, earrings and sunglasses.
5. Dresses that hide belly bulge – Choose dresses that don't cling and/or have a draping element
Make sure that your dresses don't cling around the tummy area. Dresses with a draping element around the tummy area often work.
Asymmetrical dresses work well too as they draw attention away from the belly and create a vertical line.
Dresses that don't cling and which also have patterns are also great to hide the tummy area.
The dress below is draped just right to draw attention away from the belly and creating flattering vertical lines.
If you add a statement necklace at the top, you will further distract the eye from the belly area as the eye will be drawn upwards.
Karen Kane Cascade Faux Wrap Dress (plus size)
You may also like our article on how cover up your arms if you prefer to wear a dress with sleeves.
6. Wear tops over your skirts and pants and don't tuck them
Tucking draws attention to your (non-existing waist again) so better to avoid that.
This is because if you tuck in your shirt, you will create a line across your tummy at its widest part.
Instead, leave your top outside of your skirt or pants.
However, pay attention to overall balance and don't let your top end at the widest point of your hips, as that may also be unflattering.
A short blouse that loosely falls on your tummy will also work really well for many women.
Anne Klein Marble Print Satin Tunic Blouse (similar) – PAIGE Constance High Waist Slit Hem Long Skinny Jeans (similar) – Blondo Salome Waterproof Bootie (similar) – Aimee Kestenberg Mini All For Love Convertible Leather Crossbody Bag – Luv AJ Amalfi Quilted Hoop Earrings
Susanne @textelle above (read her style interview here) wears a flattering shirt and adds pearls to accessorize.
Steal her look with this similar shirt, leather pants, sneakers and necklace.
Left: Caslon Floral Print Split Neck Shirt (similar), Right: cropped top, white cigarette pants, Fly London sandals (similar)
You'll notice that my cropped top (above) ends at my waist drawing the attention there and not at my tummy area.
The asymmetrical hem and the fact that I just wear one column of color underneath further enhances that look.
7. Flattering clothes for big stomach – Don't wear garments that are bulky around the tummy area
You don't want to make that area even bigger with pockets or other embellishments.
However, a vertical loose drape like this cardigan below could work as it elongates and does a good job at hiding. Reviewers say it is beautiful, comfortable, and reasonably priced.
Lock and Love Draped Open Front Cardigan
8. What to wear to hide a big stomach – Choose asymmetrical tops to hide your belly
Asymmetrical tops create vertical and diagonal lines and break up your silhouette so they are great for disguising tummies.
Karen Kane Asymmetric Colorblock Turtleneck Sweater (plus size)
You could also add a poncho over the top of your outfit like the one from Amazon (below) which is available in a huge choice of colors. Reviewers say the fabric is soft, and it elevates any outfit.
Great shops for asymmetrical items include:
Alison @wardrobe_oxygen above (read her style interview here) wears a long sweater over her skinny jeans.
Recreate her outfit with this similar poncho, jeans, boots, earrings and fedora.
You can find many more asymmetrical tops and dresses here.
9. Use pants that tuck the tummy in
The pants you wear can make a huge difference to how big your belly will appear.
Be mindful of not buying pants that end at the middle of your belly and create a huge bulge.
Instead you want to wear pants that have a higher rise and hat are capable of tucking your tummy in.
Find out what are the best tummy control jeans in stores now.
I already mentioned some of my favorite leggings that are strong enough to do this under #2 above, but skinny pants can do this job too.
You can also consider tummy tucking jeans. Some of these jeans have an elastic waistband, and some have a regular fastening but are made from stretchier fabric with clever control panels. Reviewers say the secret sculpting pants (below) are classy enough to wear for work but can be dressed down for casual days.
Lee Secretly Shapes Straight Leg Pants
Want more ideas on how to tuck your belly with the right pants, check out the best pants to hide your belly here.
10. Use tops with prints
Prints are very effective in hiding bellies and you should definitely consider adding a few in your wardrobe.
If you combine a printed top with one of our belly hiding tips above, no-one will notice your tummy!
I'm also currently loving this printed top from Anne Klein (below). It's great to wear on its own, doesn't cling and can easily be layered with a jacket or cardigan too.
BAISHENGGT 3/4 Sleeve Tunic Top
Diana @dianagabrielnyc above (read her style interview here) wears a high-low shirt that doesn't cling over her print pants. You can see this is also an effective technique as the top skims over the belly and your eye is drawn to the leg area.
Get her look with this similar shirt (another option here), pants, mules, earrings and sunglasses.
11. Use shapewear
Of course, shapewear like these shorts that tuck the tummy, is very effective too in hiding the belly but, as I personally find it uncomfortable, I only use it for very special events.
Jenbou High Waisted Body Shaper
For options on shapewear please read my article on the best shapewear for women over 40.
12. Highlight something else
When you think about how to hide your belly, it's easy to become so focused on doing that you forget about everything else.
You may not be confident about your tummy, but what about the parts of your body that you do like?
Could you show off some cleavage, highlight your shoulders or showcase your lovely legs?
The top below for example, shows off the decolletage and draws the attention away from the tummy.
Cinq à Sept Jordy Cowl Neck Silk Top
If you like your legs, you could place the focus there instead of your tummy. That doesn't mean wearing a mini skirt, but you could wear some lovely printed jeans to show your legs and a plain top so that the eye is drawn to your legs rather than your belly.
DIARRABLU Leer Hera Print Palazzo Pants
Or, rather than drawing the eye up, you could draw it down (or, of course, you could do both). A pair of bright shoes or on-trend booties will put the attention on your feet and legs rather than your tummy.
It's all about hiding what you don't like and drawing attention to what you do like.
Skechers Cleo-Emerald Ballet Flat
13. Think about where your sleeves end
When you are thinking about hiding a tummy, you are probably focused on whether your top or dress drapes over your belly area or whether it clings.
However, don't forget about your sleeves. If your sleeves end right at the point where your belly is at its widest, you will only draw attention to this area.
Look instead for sleeves which end above your belly or below at your hips. The right sleeve length for you will depend on your arm length and where your belly is biggest.
Vince Camuto Leopard V-Neck Top
14. Choose flattering brands
It goes without saying that some stores and brands are more focused towards women with supermodel-type figures, while others are better at designing for women who want to skim over certain parts of the body.
Some of my favorite brands which create clothes to hide a belly are.
Stella Carakasi Reversible Step Up Cardigan
15. Use accessories to hide your belly
I'm not suggesting you carry a handbag in front of your tummy to hide it! However, accessories can be a great tool to hide or distract from your belly.
You could, for example, wear a colorful scarf to draw the attention upwards to your face. Or, you can leave your scarf loose so it drapes down and creates a column effect to disguise your tummy. Statement necklaces are another good way to draw the attention upwards.
AllSaints Kita Leather Shoulder/Crossbody Bag – Steve Madden Aubree Top Handle Crossbody Bag – AllSaints Bettina Stud Embellished Leather Clutch (similar) – Laura Lombardi Icona Hoop Earrings – Ufraky Acrylic Necklace and Hoop Earrings Set – Luv AJ Amalfi Quilted Hoop Earrings – Alexander McQueen Skull Wool Scarf – PAGE ONE Cable Knit Beanie
You could also draw the eye upwards with your earrings or a stylish hat.
When it comes to your handbags, think about where they sit when you carry them. If, for example, you have a shoulder strap bag which ends at your belly, this will draw the attention there.
Choose a bag which sits further up or further down, or a bag that you carry in your hand as you can draw attention to your lovely legs. Don't opt for a bag which is too small as this will look out of proportion.
A tummy-hiding capsule wardrobe
Below are some of the clothes and accessories used in this article, together in one capsule wardrobe. You'll see, there are plenty of ways you could mix and match to create countless outfits.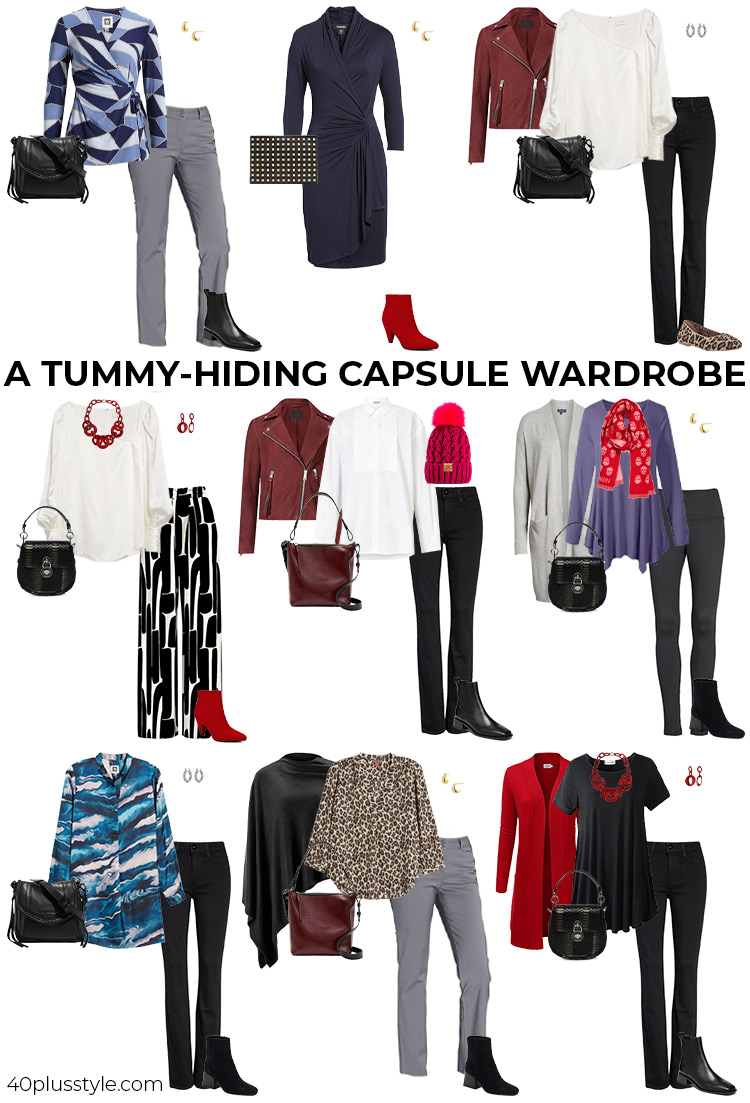 shop some of the items above here:

More tummy-hiding inspiration
The capsules below are previous season, but there are plenty of timeless classics that should still provide you with inspiration.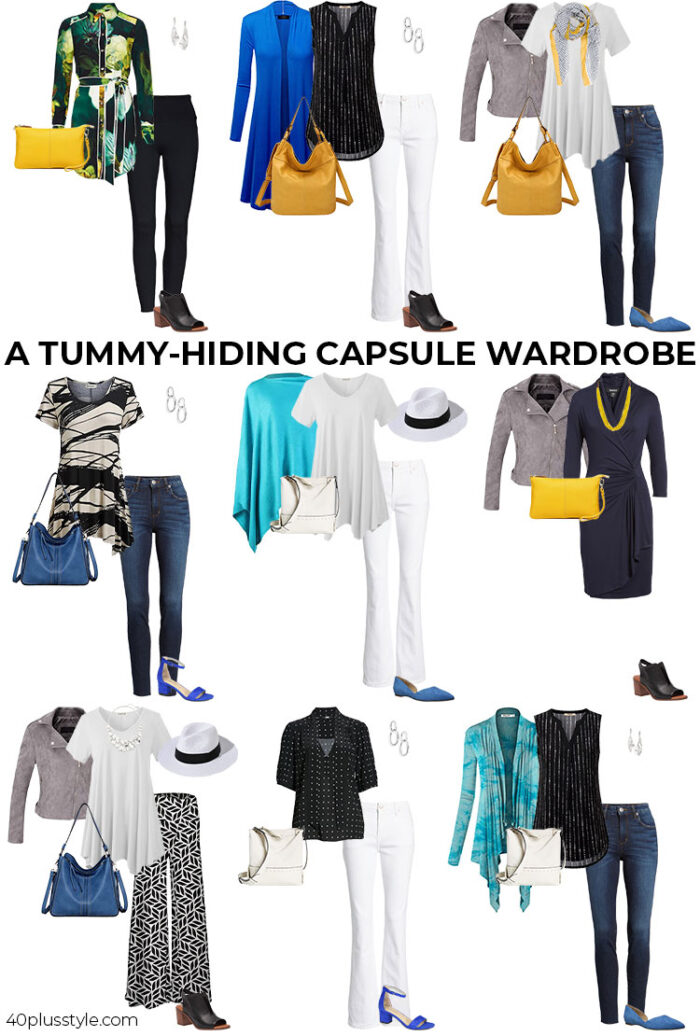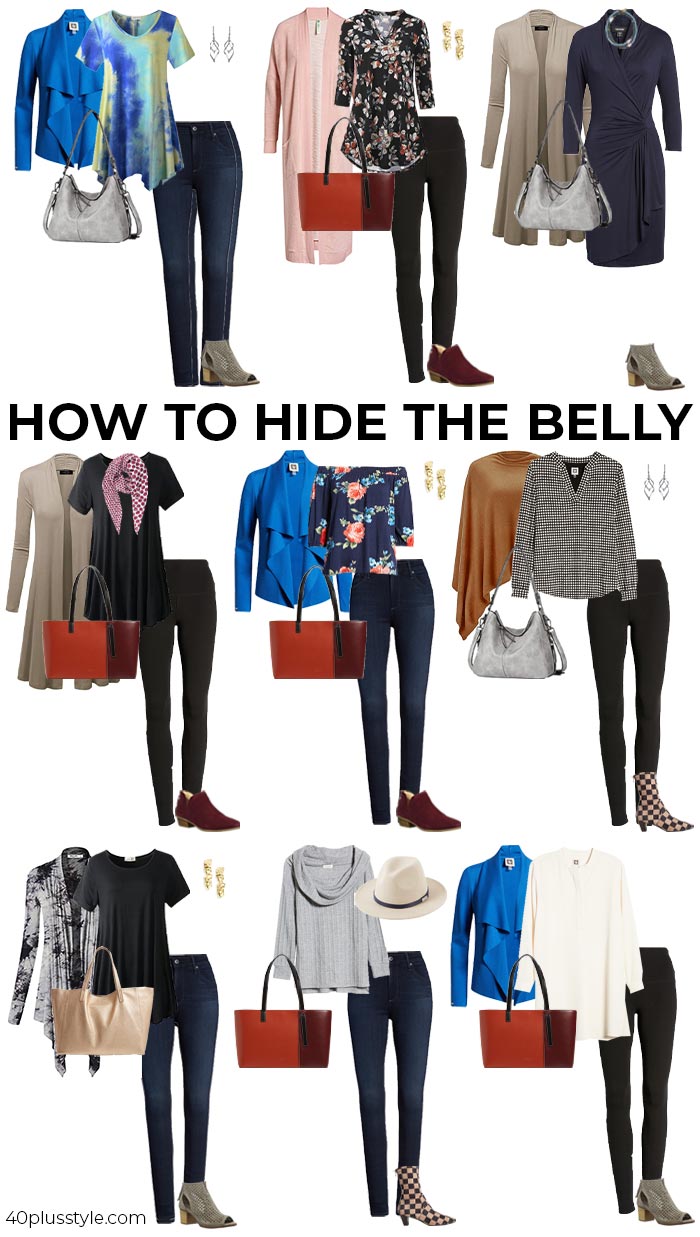 Do you want to hide your belly or are you happy to flaunt it? And if the latter what are your best tips to hide your belly?
Further reading:
P.S.: If you carry most of your weight around your belly, you are most likely an apple body shape. Check our tips for the apple body shape here and download our extensive guide for the apple body shape.
Like this article on how to hide your belly? Save it on Pinterest!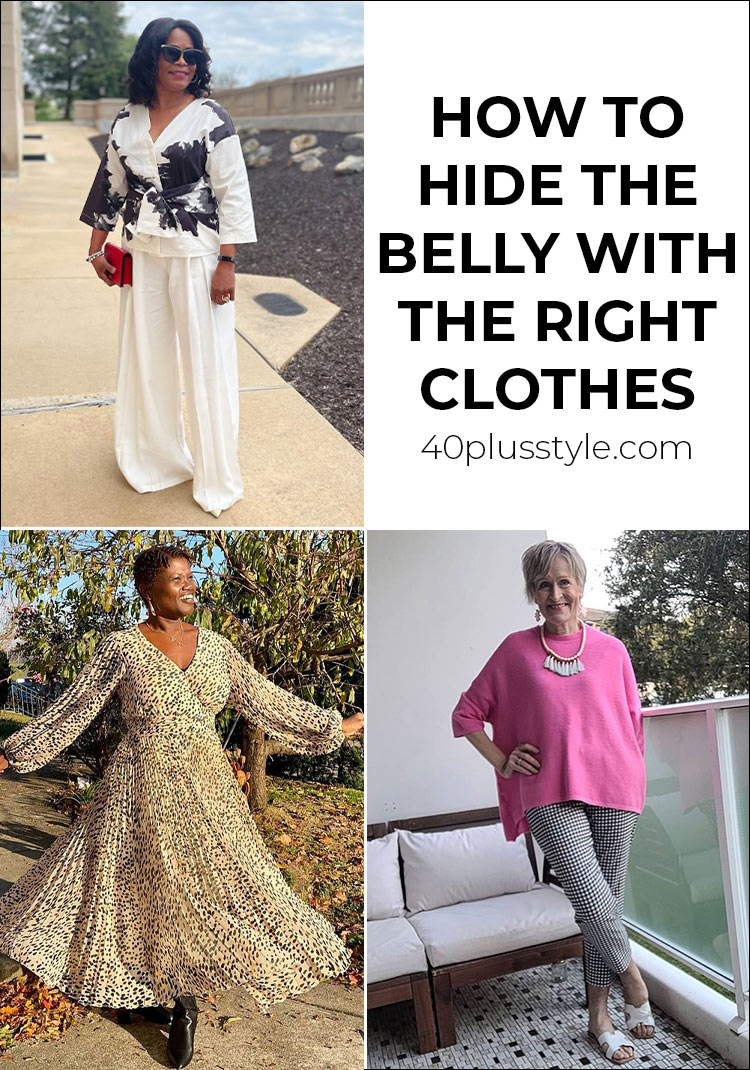 Feature image by Georgette @grownandcurvywoman
Want to get more articles from 40+style in your inbox, subscribe here.
You can also connect with 40+style on Facebook, Instagram or Pinterest.
Support 40+style by using the links in our articles to shop. As an associate for Amazon and many other brands, we receive a small commission (at no cost to you) on qualifying purchases which enables us to keep creating amazing free content for you. Thanks!