The long vest is still very popular this year. I combined some of my old examples of long vest outfits together with some new ones in this article to show you lots of options on how to wear a long vest and look super chic.
Here are just a few reasons why the long vest works so well
Long vests create a long lean line.
Perfect for hiding bellies and distracting attention away from them.
Great to give you some extra warmth and a fabulous transition piece for fall.
Easy to layer. Wear over a variety of tops and wear cardigans or jackets over them when it gets really cold.
You can play with different fabrics.
They come in a variety of fabrics and weights and sometimes allow you to create an architectural look.
You can create various looks depending on your vest. From edgy to bohemian to minimalist to casual chic.
Wide cascading vests give you even more options as I showed you a while ago with the Covered Perfectly cascading vest. The vest now comes in a lot of variations. (Special offer for 40+ style readers, use 40+ at checkout for 20% off!)

How to wear a long vest – outfits & ideas
Here are just some ideas on how you can wear the long vest this season.
Please note that these images are taken directly from merchant's websites, so don't be distracted by the young models. All of these would look great on many 40+ women too!
wear over skinnies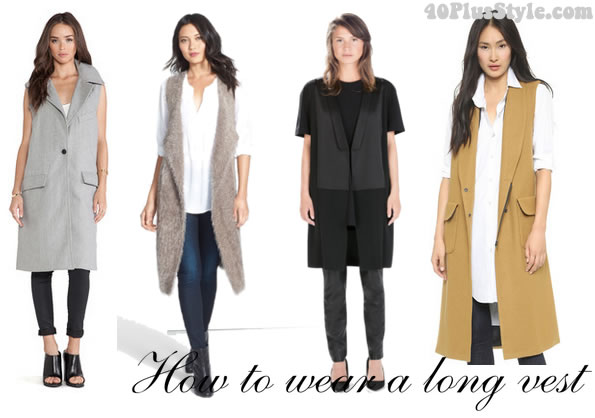 left Joa (others are now sold out)
Skinnies are the most obvious option when you wear a long vest. You can play with colorblocking or wear one solid color underneath for a long & lean line.
Go casual with jeans or casual chic with navy, cream and gray
With the 70s trend going strong, it's super chic to wear a long vest or cardigan over jeans.
Want a more urban chic look, combine a navy vest with cream and comfortable flats.
Bohemian chic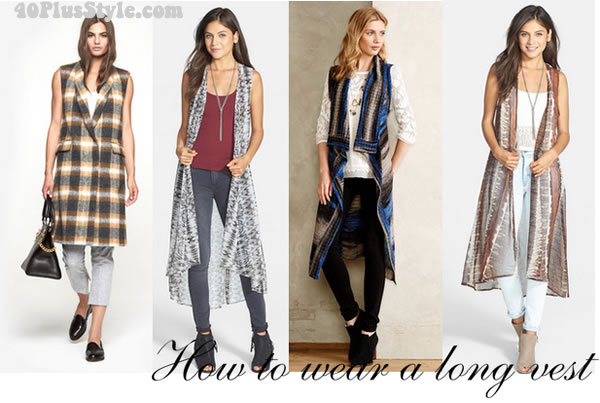 Long vests are equally great in a patterned fabric. When your vest is soft and flowy this leads to a chic bohemian look. Playful and fun!
Wear with skirts and wide pants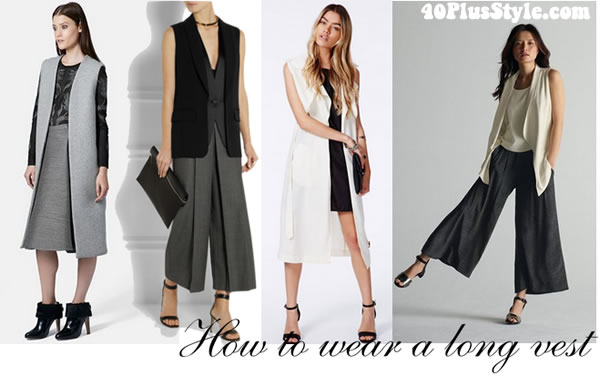 Don't think that long vests can only be worn with skinnies. They are great with a shorter dress or skirt as well. The skirt could be both a-line or straight. Wearing it with wide pants can be more tricky but to me, this look is different, chic and modern.
Party outfits with long vests
A long vest is comfortable and chic for your upcoming christmas parties, especically when you use one of the chic color pattern as seen above.
Minimalist black & white
The long vest looks very chic in a minimalist outfit. This does not necessarily have to be black an white. As you can see, a black bottom layer with a lighter vest creates a very slimming and long silhouette.
Wear with a dress or go all-black
Above left is another 70s-inspired look for a casual day while the all black outfit is chic for a party or the office.
Other options
Although this season's long vest is most often worn lose in a straight line, some of the vests can also be belted as shown in the picture at the top of this article.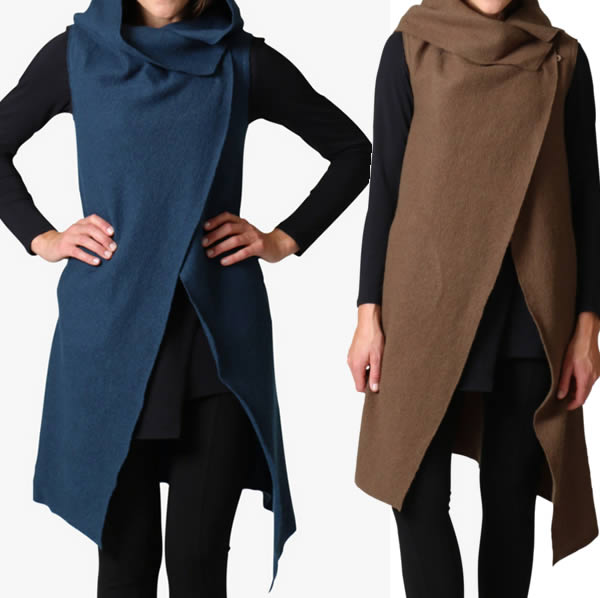 As for myself I could not resist this unusual asymmetrical long vest from Stella Carakasi. You can see how I wore it here in a winter version and here as s summer version. The vest now comes in several winter colors.
For even more inspiration on how to wear a long vest, you can also check my how to wear a long vest Pinterest board.
Do you like the long vest? How will you wear it this season?
Want to get more articles from 40+style in your inbox, subscribe here.
You can also connect with 40+style on Facebook, Instagram or Pinterest.
Support 40+style by using the links in our articles to shop. As an associate for Amazon and many other brands, we receive a small commission (at no cost to you) on qualifying purchases which enables us to keep creating amazing free content for you. Thanks!