Do you love layering unique accessories? Enjoy expressing your free spirit? Then embrace your inner flower child, style fearlessly, and dress for the bohemian style personality.
More than just a fashion trend, bohemian style is part of a way of life. In this article you will find out how to tell if boho style is for you as well as boho outfit inspiration and a capsule wardrobe updated for summer.
What is bohemian style?
The bohemian style is characterized by whimsical, floaty fabrics, funky patterns, and artful layering.
Bohemian style, also referred to as boho style, has always been an alternative style to the fashion trends of any given time. It incorporates ideas from around the world as well as from history.
It is a style which features long, loose, colorful clothing and is most associated with the peace and love hippie era. It is particularly linked with creative people such as artists, musicians and writers.
Signature elements of boho style
Key elements of boho style are long loose layers, tassels, fringing, natural fabrics, patchwork, paisley and plenty of jewelry.
Celebrities with a bohemian style
Bohemian style is truly timeless, but it has definitely enjoyed a revival in recent years.
Kate Hudson, Sienna Miller, Kate Moss, music superstars Janis Joplin and Stevie Nicks, and fashion icon Jane Birken are just a few of the famous poster girls for the bohemian, or boho chic, look.
They combine clothes in inventive and fearless ways and channel a romantic, free-spirited 60's or 70's sensibility.
Designers with a bohemian style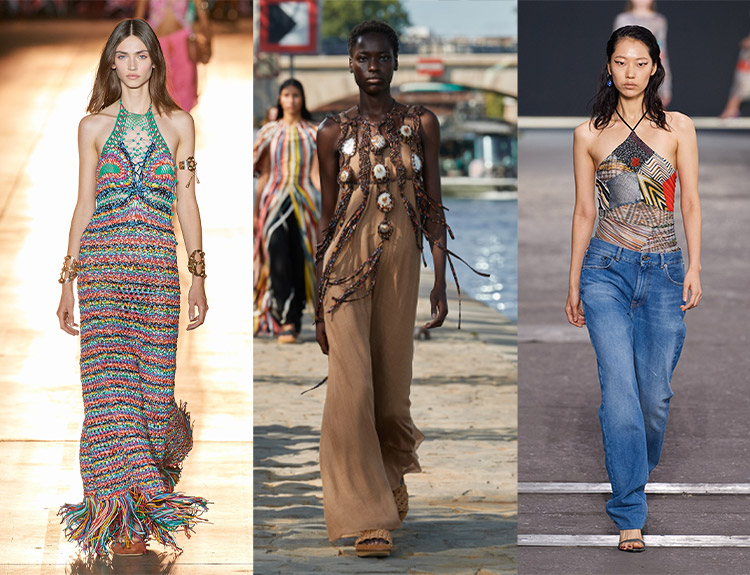 If you are naturally drawn to bohemian styling, some of the designers to take inspiration from include Missoni, Etro, Alanui, Cinq á Sept, Akris, Brunello Cucinelli, Melissa Odabash and Chloé.
How to tell if you have a bohemian style
If you feel you may have a bohemian style, but aren't absolutely sure, you could take our fun style personality quiz to find out. You may find that you have one main style personality, but that you are also drawn to secondary styles.
Other signs that you have a bohemian style are…
1. Women with bohemian style don't like to conform
Just like the rock style personality and the urban style personality, you don't like to be a conformist. You prefer to express yourself in your own way.
2. You are probably creative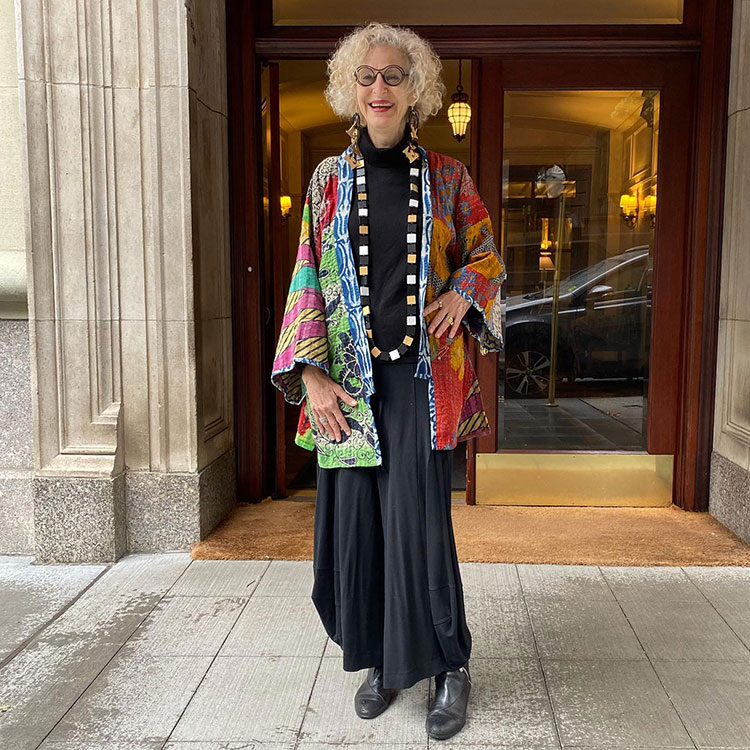 Not everyone who has a bohemian style, or elements of it, works in the creative industries, but there is probably a creative side to you, even if this comes out in your spare time or your hobbies rather than your day job.
Your outfits are a way of expressing that.
Dayle @artfulcitystyle above (read her style interview here) is a great source of inspiration if you have a boho style. You can see how she gives what could otherwise be a plain black outfit a bohemian flair with her colorful jacket.
Steal her look with this similar top, pants, jacket (other options here, here and here), boots, necklace and earrings.
3. You like to be comfortable
Of course you want to be stylish, but you won't be uncomfortable for your style. You like clothes that don't restrict your movement. It's unlikely we will be seeing you in a bodycon dress and heels any time soon.
Tips for dressing in a bohemian style
If you do love a boho way of dressing, below are some of the ways to get a boho chic look.
1. Layer your clothing
The key is to create a relaxed, free-spirited look and layers will help you to achieve the travelling gypsy look which inspired this style.
Lydia @birabiro (read her style interview here) creates a boho look with her floppy hat and lace duster.
Check out this similar tank top, jeans, white sheer topper, sandals, wide brim hat, bangles and belt.
2. Choose long, flowing pieces
The whole idea of boho style is that it is free and easy.
You shouldn't wear anything that constricts you. Choose long, flowing maxi skirts and dresses, and loose tunics and peasant tops.
3. Add plenty of JEWELRy
As well as layering your clothes, you can layer your accessories.
Opt for necklaces with tassels or coins as well as stacking your bracelets and wearing plenty of rings.
Also take a look at how to nail the layered necklace trend.
4. Choose natural fabrics
Bohemian style is at one with nature, so you will want to choose natural fabrics whenever you can, such as cotton, linen, hemp, wool, leather and cheesecloth.
Elizabeth @timeless_styling above (read her style interview here) opts for a linen poncho over her stripe pants.
Get her look with this similar poncho, pants (another option here), mules, earrings, bracelet and headband.
For more inspiration take a look at how to wear printed pants.
5. Think about the prints you use
Possibly more than any other style, the bohemian look can be defined by the prints you opt for. Look for heritage prints which have cultural significance, such as tribal, ikat, trellis, paisley and kilim patterns.
6. Choose natural colors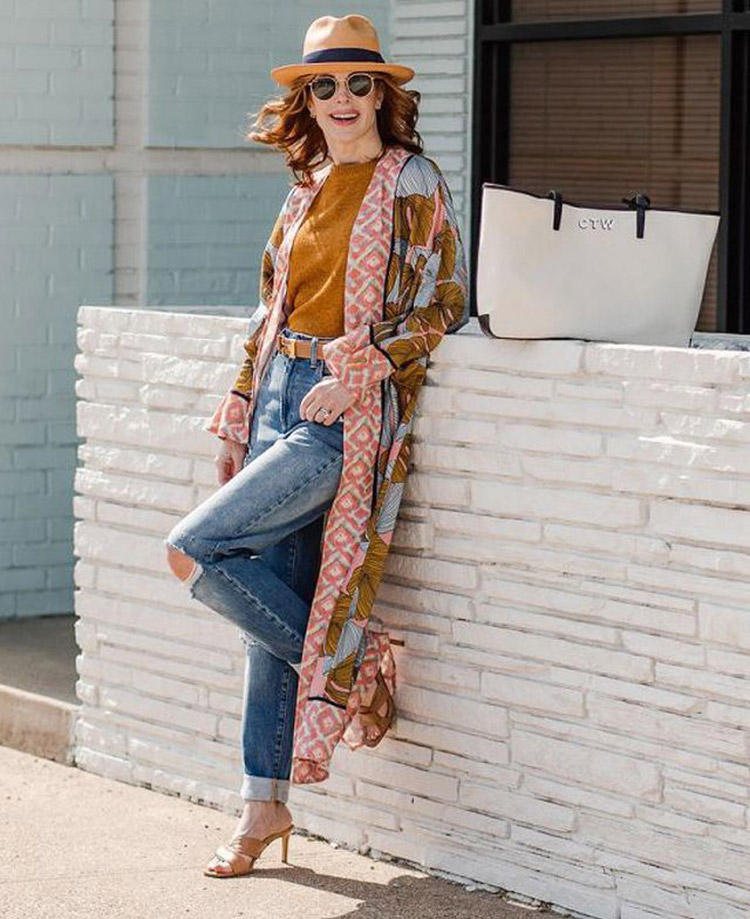 Just as you will want to choose fabrics which are natural, choose colors which are soft and muted or which can be found in nature. You could look at a palette featuring burgundies, mustards and russets, but you may also wish to take your inspiration from the oceans and add blues to your outfit choices.
Cathy @themiddlepageblog above (read her style interview here) opts for a tonal mix of soft shades to give her jeans a boho look.
Check out this similar t-shirt, jeans, kimono (other options here and here), sandals, tote, fedora, belt and sunglasses.
Why the bohemian style suits any body shape
With loose, forgiving layers, the bohemian style suits many body types.
The layers can add curves to a rectangular body shape, and can balance out a pear body shape with detailing, ruffles and dramatic necklines to draw attention to the upper body.
Add maxi dresses with uneven hemlines or dresses with bell sleeves to your capsule wardrobe. Layer vests, jackets, scarves and other elements over this foundation.
Look for vintage inspired patterns, velvets, ikat tribal prints and rich detailing to communicate a romantic, bohemian style.
A complete bohemian style wardrobe for you
Below is how to create your own bohemian capsule wardrobe.
Read our ultimate guide to creating a capsule wardrobe that works best for you to help you get started!
Boho tops
Choose tops with interesting cuts, a relaxed fit, tribal, paisley or batik patterns, ruffles and unique hems.
Bell sleeves, embroidery or shirts made of unique materials like faux suede add instant bohemian style to even a basic outfit.
Georgette @grownandcurvywoman above (read her style interview here) chooses a flattering print, v-neck top and tassel earrings.
Recreate her outfit with this similar blouse, skirt, bag, sandals and earrings.
Treasure & Bond Embroidered Eyelet Long Sleeve Top – Wit & Wisdom Embroidered Tank – Karen Millen Placement Embroidery Woven Blouse – Karen Millen Batik Print Cornelli Embellished Woven Blouse
Cardigans and jackets for your bohemian outfit
When looking for sweaters this season, try to find knitwear with tassel or tie detailing as well as bell sleeves and patterns.
You could opt for a short sweater to layer over longer tops, or create long lines with a long cardigan.
Choose jackets with stand-out details and unique shapes to layer over bohemian dresses, pants, and skirts.
Bohemian style wardrobe staples include kimono jackets, shearling or suede vests for a bohemian rocker style, capes or ponchos, and faux fur vests to layer.
Dorrie @seniorstylebible above (read her style interview here) shows how just adding a belt can add a hint of boho to your outfit.
Recreate her outfit with this similar dress, cardigan, booties, belt, sling bag and sunglasses.
R.Vivimos Embroidered Jacket – Karen Millen Suede Eyelet Tassel Cropped Jacket – Flygo Boho Crochet Vest – Breezy Lane Printed Kimono
Also check out how to style a duster jacket.
Bohemian pants and jeans
Show off your bohemian style by choosing pants that really make a statement.
Add pants to your wardrobe that have offbeat or unusual details and materials.
Bell bottoms, embroidery, patchwork, faux leather or suede, or natural textures like gauze and linen add offbeat adventurous style to your wardrobe.
Carelia @myevolvingstyle above (read her style interview here) adds some boho style to her pants with her belt.
Recreate her look with this similar shirt, flared pants, espadrille sandals and belt.
Closed Real-X Patchwork Nonstretch Denim Jeans – FRAME Le Pixie Palazzo Jeans – Karen Millen Viscose Linen Batik Print Wide Leg Trouser – Karen Millen Paisley Placed Border Print Palazzo Trouser
Bohemian style dresses and skirts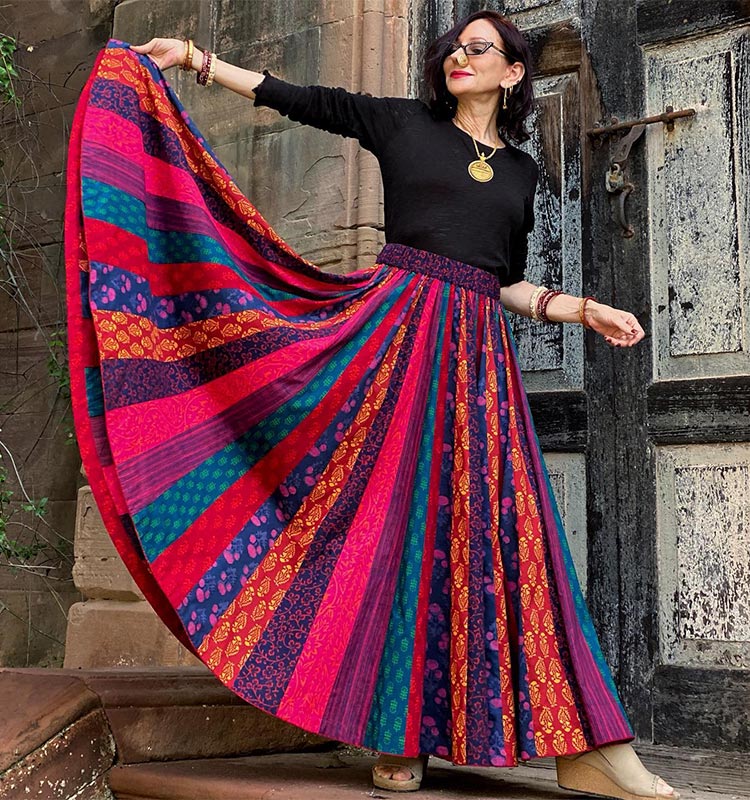 When choosing skirts look for spirited details like waterfall hemlines, fringe, embroidery, crochet, and lace detailing.
A hallmark of the boho style is to combine pieces in interesting and unexpected ways.
Try pairing a leather skirt with a delicate lace top. Wear a rugged shearling vest over a longer length feminine skirt.
Lisa @madamehall above (read her style interview here) wears a black top and lets her colorful skirt be the star of her outfit.
Get her look with this similar tee, maxi skirt, sandals, bracelets and necklace.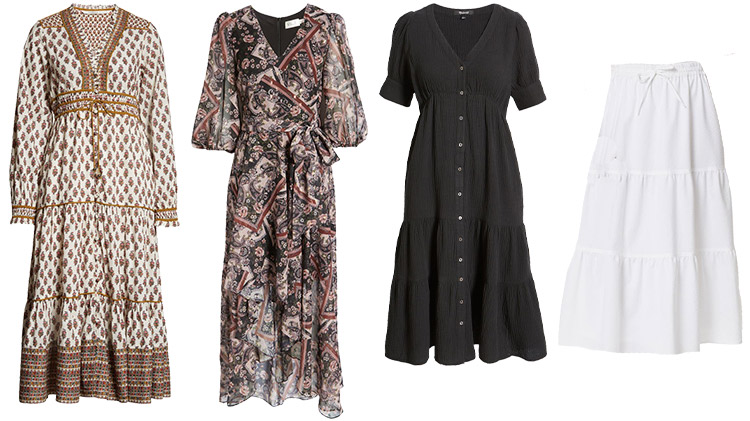 Veronica Beard Alessandra Long Sleeve Floral Cotton Midi Dress – Madewell Lightspun Button Front Tiered Midi Dress – Eliza J Patchwork Print High-Low Faux Wrap Dress – Jones New York Drawstring Waist Tiered Linen Blend Midi Skirt
For more inspiration check out how to wear a maxi dress or skirt.
Bohemian chic boots and shoes
Choose substantial boots and shoes to offset the lighter floaty layers of the bohemian style if you are dressing for cooler weather.
Oiled leather boots work well with uneven hem maxi skirts and dresses.
For summer, choose sandals with substantial straps and contrasting textures.
Look out for booties with details like grommets, and laces, and booties made of surprising materials like sumptuous velvet.
Carmen @carmen_gimeno above chooses a maxi dress that is perfect if you have a bohemian style. She adds a colorful bag and rope shoes.
Recreate her outfit with this similar boho dress, sandals and crossbody bag.
Limelight Vanya Gladiator Sandal – FARM RIO Embroidered Pineapples Ankle Tie Platform Sandal – Kork-Ease Tilly Clog – Chinese Laundry Carlita Ankle Boot
Accessories to wear with your boho outfit
An easy, often affordable way to add bohemian style to your wardrobe is with artful, attention-grabbing accessories.
Wide brimmed and fedora hats and bold jewelry communicate a bohemian sensibility. Layer necklaces to add boho style to any simple outfit.
Choose unstructured bags in a slouch or hobo shape. Mix in details like colorful tassels, fringe and nubuck leather for an earthy vibe.
Try your hand at bohemian dressing by thinking creatively. Mix exotic patterns. Wear layers of long necklaces.
Try wearing long, statement-making earrings, wrap a tie-dyed scarf, or add a stack of ethnic inspired bracelets to your ensemble.
Tamera @tamerabeardsley above (read her style interview here) chooses a wide-brimmed hat and straw bag that are the perfect accessories to go with her maxi tassel dress.
Steal her look with this similar dress (another option here), pants, handbag, earrings, fedora and sunglasses.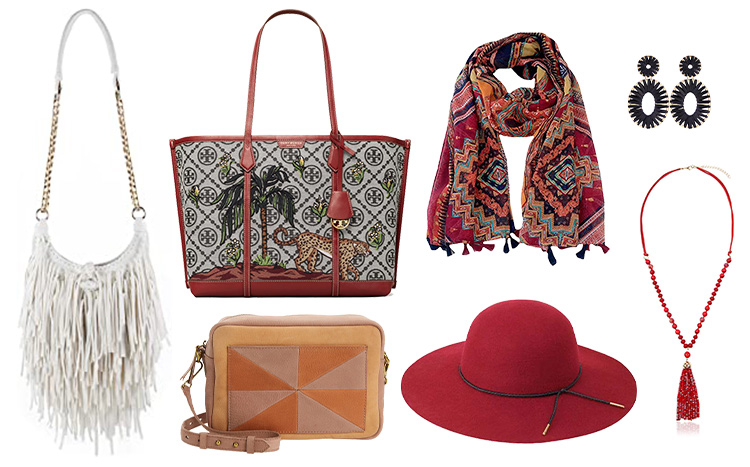 Tory Burch Perry T Monogram Jacquard Embroidered Triple Tote – Madewell The Large Transport Camera Bag: Patchwork Nubuck Edition – LUI SUI Fringed Bag – Van Caro Silk Spring Scarf – Lanzom Wide Brim Floppy Hat – RIAH FASHION Bohemian Pendant Beaded Necklace – BaubleStar Raffia Hoop Drop Earrings
Below are 9 bohemian style looks using our capsule wardrobe elements
There are so many different ways that you could combine the clothes and accessories above.
Part of the beauty of bohemian style is the ability to put together outfits in unusual ways, so you could wear these in dozens of combinations.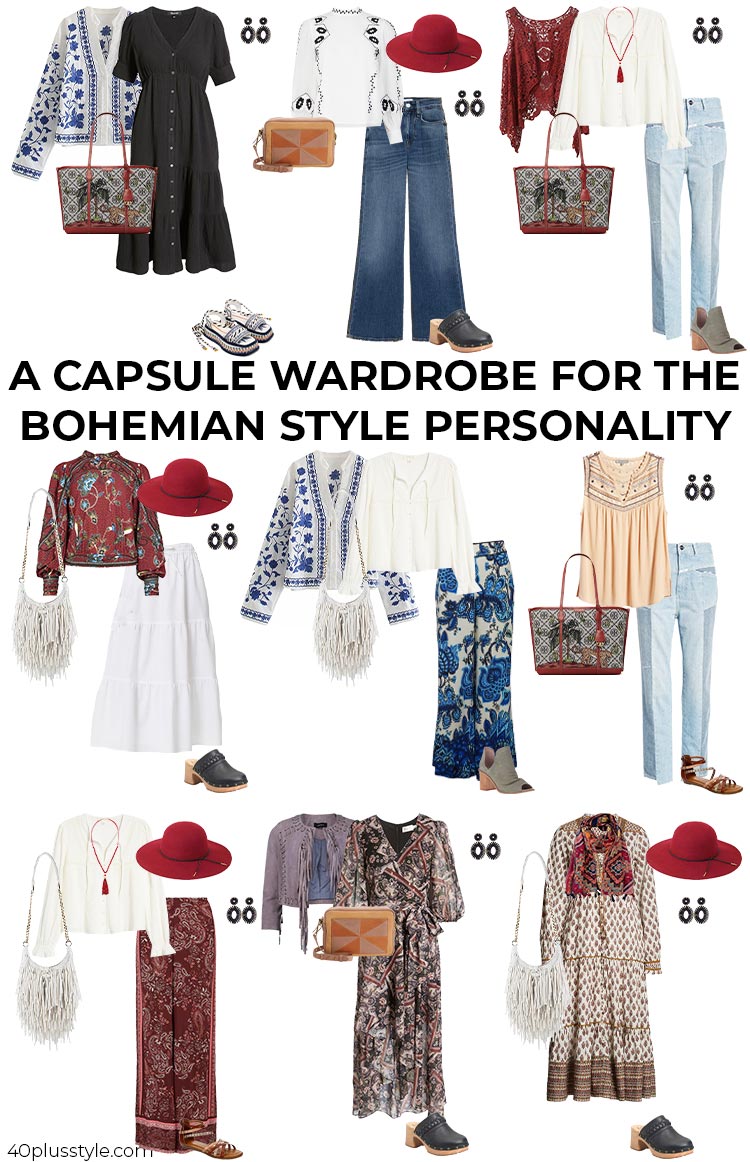 shop some of the items above here:

More boho inspiration
Below is a previous capsule wardrobe, featuring bohemian style clothing for fall. You can see that even though these boho clothing pieces and accessories are from a previous season, the bohemian look is truly timeless: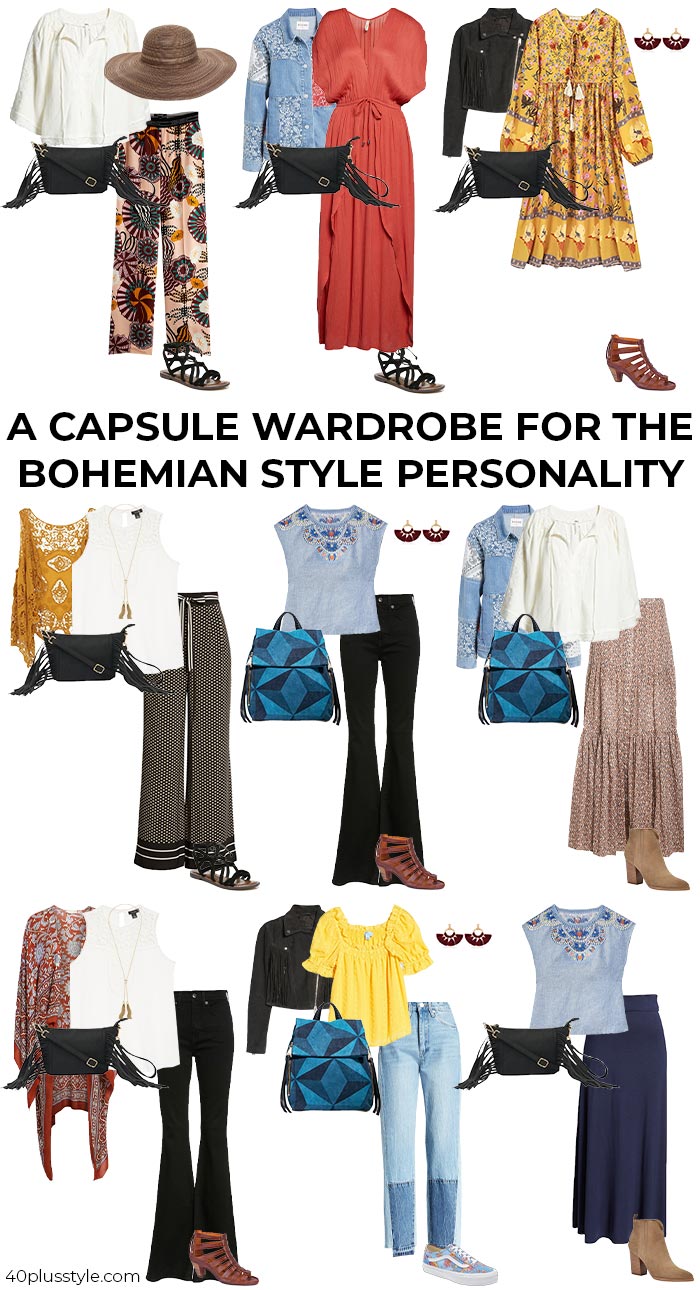 The history of bohemian style
If all of these styles resonate with you, I'm sure you will be fascinated by the origins of bohemian style, which refers to a way of dressing which is different from the mainstream at any point in time.
The first mention of the Bohemian movement was way back at the time of the French Revolution and ever since then, it has been a style associated with artists, creative types and those who wish to express their personality through their clothing. In the 60s, hippies made the boho look their own and this way of dressing will be forever synonymous with this decade and the one which came after.
Boho clothing stores
If you know that you have a bohemian style, where are the best places to shop? You probably pick up clothes and accessories when you travel, and also from vintage stores.
Here are some of the best stores for you to create your capsule bohemian closet.
Have you tried adding bohemian style elements to your own wardrobe?
Continue reading:
Like this post on the bohemian style personality? Share it on Pinterest!
Feature image by Lisa @madamehall
Want to get more articles from 40+style in your inbox, subscribe here.
You can also connect with 40+style on Facebook, Instagram or Pinterest.
Support 40+style by using the links in our articles to shop. As an associate for Amazon and many other brands, we receive a small commission (at no cost to you) on qualifying purchases which enables us to keep creating amazing free content for you. Thanks!