How much of your jewelry do you actually wear? If you're anything like me, you can get stuck in a style rut of wearing the same pieces each day. But, you'll get lots more use out of your jewelry collection if you think about how to layer it, including ways to get the layered necklace trend.
Sure, you can wear each jewelry piece alone. But, just as you can layer your clothing pieces to create different effects, so too can you layer your jewelry.
Here are some easy tips for nailing the current trend for layering necklaces, as well as how to layer other jewelry.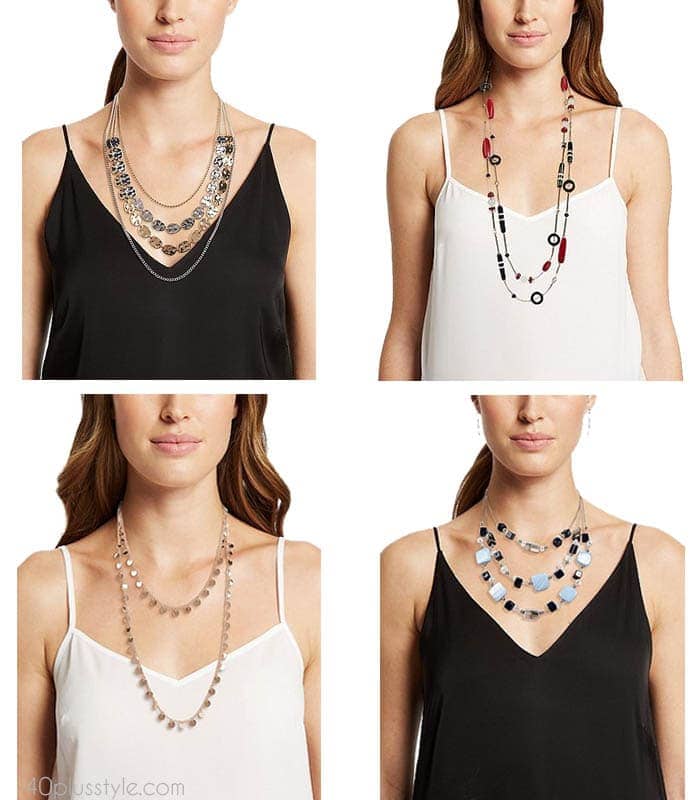 1. Know your chain lengths to get the layered necklace look
Don't just buy a necklace because you love it. Or do, but at least think about the chain length. If there's a pendant you love on a chain-length that doesn't work with the rest of your jewelry, you could always swap it.
These are the main chain lengths and what they are useful for. Of course, they will sit at slightly different levels, depending on your own proportions.
14″ – Will sit on most people like a choker.

16″ – 18″ – These lengths will sit on your collarbone and are good everyday lengths for delicate necklaces, whether you are layering or not.

20″ – 22″ – Likely to sit just above your bust on your decolletage, so this is a good length to draw attention to your chest if it's an area you like.

24″ – 26″  – This length, depending on your proportions, is likely to sit on your bust and draw attention to your chest area.

28″ and below – a bold length for layering. Useful for creating lovely sleek, long lines.

2. Think about your neckline
Now that you're thinking about necklace lengths, also think about your jewelry in context with the top or dress you are wearing.
Generally speaking, the less fussy the neckline, the more impact your jewelry will have. It's usually best to wear layered jewelry with neutral or plain block colors, rather than too much pattern.
Usually, the greater the contrast between your jewelry and the color of your top, the more it will stand out. But, that's not to say, you can't create stunning effects by wearing similar hues of clothing and necklaces. Here, Rosemond has lifted a simple jeans and tee look with strands of layered pearls. Read more about Rosemond's style here.
Petite Grand – Lorena Antoniazzi– Silvia Gnecchi
3. Use different weights of chains
I don't know about you, but whenever I try to layer necklaces with similar size chains, they end up getting so tangled during the day that it's like I'm trying to perform some sort of Houdini-style escapology trick when I attempt to take them off.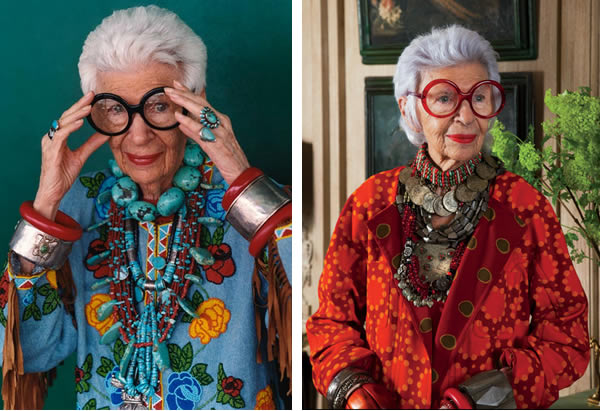 Plus, if you wear too many heavy pieces, you are likely to look weighed down. However, that's not to say that so-called rules aren't meant to be broken, as proven by Iris Apfel, who looks incredible in myriad heavy layers of beads and bangles.
4. Create a cascade effect
The key here is spacing. It's an easy way to start styling more of the jewelry you already have.
Layer your necklaces by length. Start with your shortest chain first, and then layer by working down to your longest. It's up to you how many you put on, but I think three, four or five look great.
Layering by length means that your pendants get the chance to shine individually as well as being part of your set, as they don't all end up in one jumbled mess.
Go down a few inches for every layer. It will still create a dynamic look, but without any tangling.
5. Mix up your metals
If you can't decide on gold or silver, you don't have to. Mixing metals is quite a modern way to wear your jewelry. I like to have one piece which incorporates both gold and silver to tie the other necklaces in.
6. Wear rings on every finger
Wearing statement rings is one of 40+ stylist Ruth Essex's tips in her piece on 5 steps to a more stylish you. Wear rings on every finger if you want to and stack your rings.
I like to keep rings on my left hand to a minimum as my wedding and engagement rings are both quite delicate, and I don't want to take away their impact.
For some extra tips on picking out your jewelry pieces you may read Diana's style interview here.
7. Go for the easy option
There are lots of necklaces in stores that actually create the layered look for you. Look out for layered necklace options.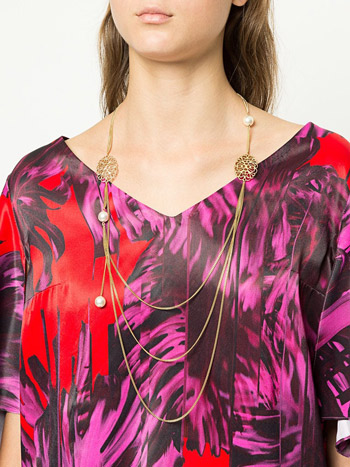 8. Stack your bangles
Alexander McQueen – Giorgio Armani – Gucci
Stacking your bracelets is a great way to create extra impact. You can either go with one larger statement piece and combine it with complementary pieces of jewelry. Or you can wear a number of bangles of similar widths.
Either way a great look for all seasons. You may also read more about accessories for Fall here.
9. Don't overwhelm
Again, rules are meant to be broken. And, if you're a more-is-more person, then I definitely say you should go for it. But I prefer not to layer too many things all in one go. So, if I'm layering a number of necklaces, I'll keep my earrings simple.
Lele Sadoughi – Iosselliani – Night Market
10. Think about your body shape
Now you may think that jewelry comes in one size so you can wear whatever you like. And, of course, this is true. But, when you are layering jewelry, don't forget to think about what is flattering for your body type.
For instance, if you are pear-shaped or apple-shaped, you may wish to draw attention away from your hips and tummy area by having your necklaces sit closer to your face. But, if you are a rectangle shape, you can give yourself more options about where you wear your jewelry.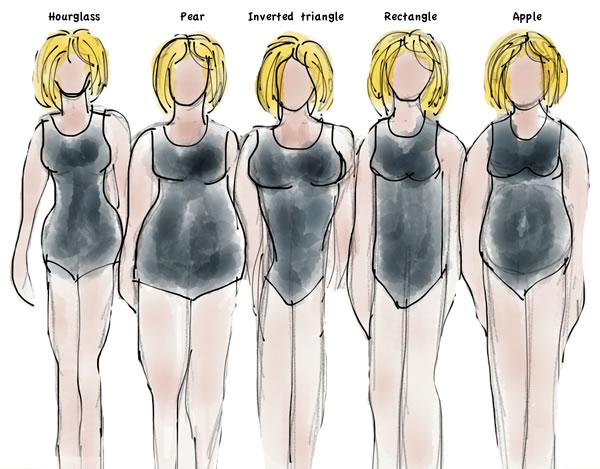 Layering necklaces to create a statement can draw attention to your face. However, layering lots of bangles could actually draw attention to your problem areas as, when you have your hands by your waist or down by your side, you'll be drawing attention to your hips and tummy.
Also, it goes without saying that layering large pendants so they rest on your tummy will draw attention to your belly.
11. Set your jewelry out the night before
Do you already set out your outfit the night before? I have to admit I'm often guilty of grabbing the first thing I find in the morning, which never looks as well put together as it could.
Instead, I'm trying to make a habit of setting out my outfit the night before, including my jewelry. I just hook my necklaces over the hanger with my top on so it's all ready for me to put on in the morning.
12. Take inspiration from Pinterest and social media on how to layer jewelry
Fashion bloggers are often a great inspiration as they tend to stack jewelry creatively. Follow those whose style you admire, and don't forget to check out the 40+ Style Pinterest boards.
If you're still unsure about your style and want to find out more about your individual style, be sure to check out the Find Your Style challenge.
13. Take notice of the latest jewelry trends
Think of the season. If you're layering in the summer, you could add some stones in turquoise with a palette of silver, or coral with a palette of gold, for example.
Meanwhile, if you're layering necklaces in the fall, then you could think about autumnal hues and richer metals. For Fall 2018, layered bangles were a big trend.
Look at the latest accessories trends for fall 2018, decide what you like best and what works with the rest of your closet, and get layering!
Do you already how to layer jewelry? How do you wear yours together? What do you think of the layered necklace trend?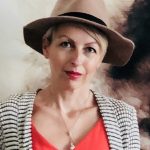 Author bio: Liz Hands is a fashion journalist and stylist from the UK who has styled fashion shoots for newspapers, magazines and high-end clients including 5* hotels and BMW. She's now happiest either blogging about style, or donning her favorite Barbour jacket and Brogini boots.
Like this article? Save it on Pinterest!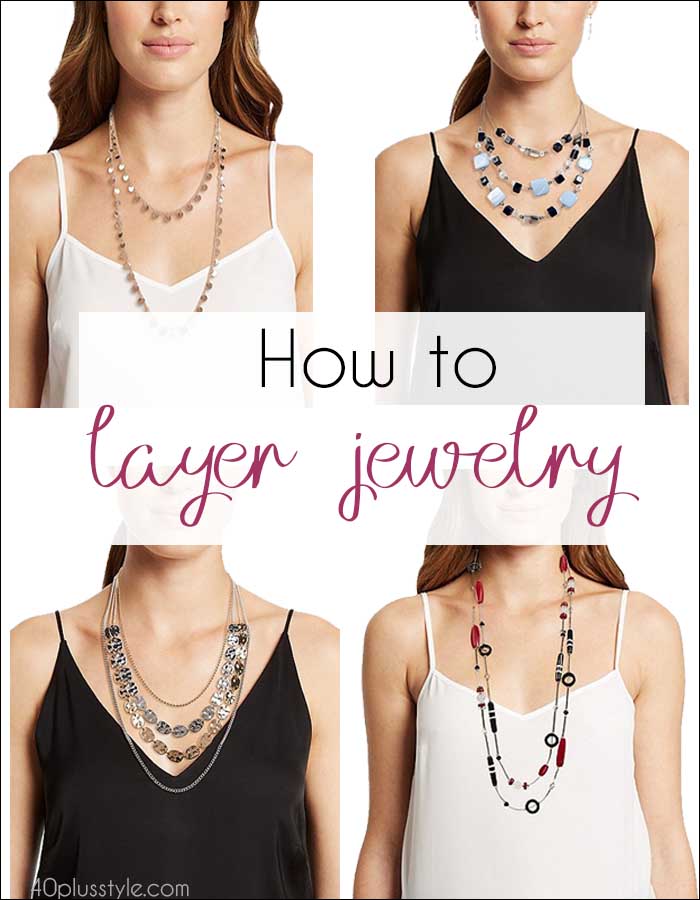 Image of Adeea, Iris Apfel by Bruce Webber & Architectural Digest
Want to get more articles from 40+style in your inbox, subscribe here.
You can also connect with 40+style on Facebook, Instagram or Pinterest.
Support 40+style by using the links in our articles to shop. As an associate for Amazon and many other brands, we receive a small commission (at no cost to you) on qualifying purchases which enables us to keep creating amazing free content for you. Thanks!