Diana Gabriel was featured in the Advanced Style book and is a jewelry designer from New York. I sat down with her at her New York apartment and we talked about her fabulous style and how it changed as she got older. You may like to watch this short video first. Enjoy!
Can you tell us a little bit more about yourself?
I was born in Brooklyn and studied Psychology and Studio Art at Hunter College.
I have been involved in painting and sculpture all my life. Recently I transitioned from sculpture to jewelry…essentially making sculpture to wear.
As a point of reference which age group do you belong to or perhaps you are willing to share your age?
I'm 70.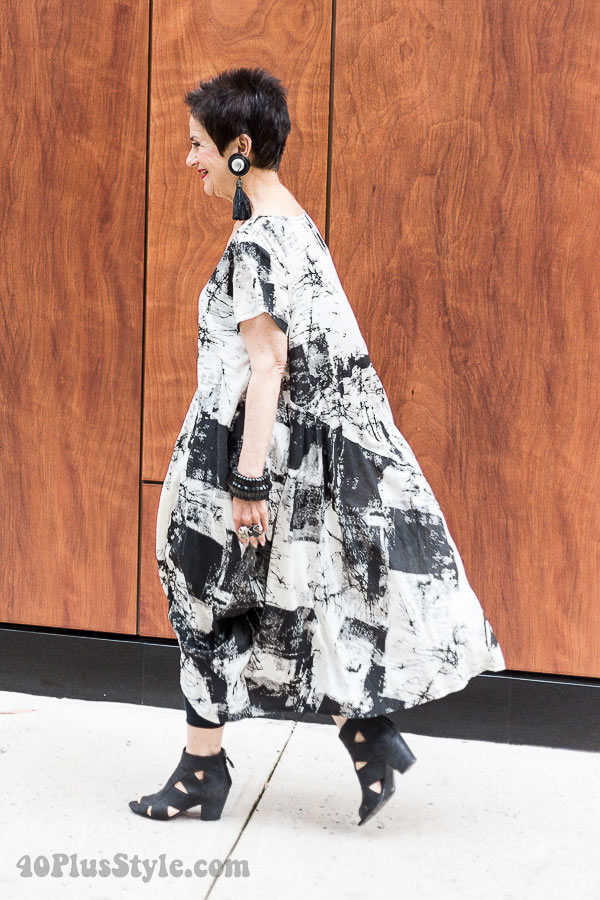 Can you tell us a little bit more about your business of jewelry design?
My jewelry is sculpture for the body…bold and large in scale. See my website for more complete description.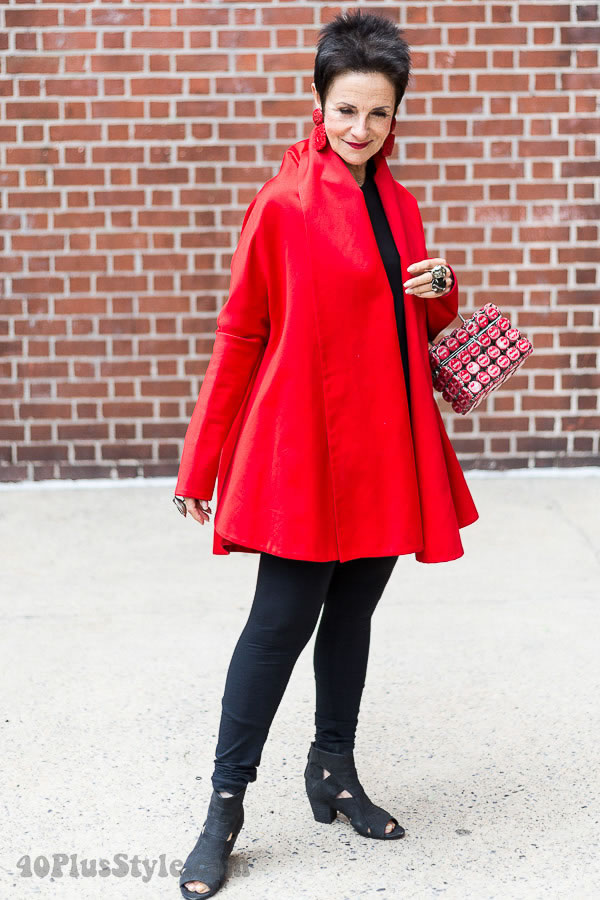 How would you describe your style?
I'm having fun playing dress up every day! Love clothes, love style, love dressing up.
What would you consider the most important components of your style?
Line, silhouette, silk, linen, wool and leather combined with fabulous jewelry (mine)!
Where do you live and how does that influence your style?
I live in New York City….the most fabulous city in the world 🙂 where you can wear absolutely anything.
I think the most fearlessly stylish people in the world live here.
Do you feel you have a signature style?
Yep……my jewelry is my signature.
What inspires your outfit choices the most?
I always start with one fabulous piece and put together an outfit around it.
Do you take things like color profiling or body type into account when you dress?
I wear a lot of black, grey, and black & white all year round. In the summer I add lots of turquoise, orange and all white outfits.
I only wear what flatters my body.
How has your style changed over the years?
I was a minimalist for years but recently have ratcheted up my style. I have been influenced by Iris Apfel and African art.
Do you believe in dressing 'age appropriately' and what does it mean to you?
I have absolutely NO interest in dressing 'age appropriately'. I'm fabulous 😉 and dress to please myself.
Would you say that at this stage of your life you are now more, or less interested in fashion, style and the way you look?
More interested than ever…..it's a form of expression that I love and now have the freedom to be whatever I want to be.
Why is the way you look important to you?
Because I love style and it's how I present myself to the world.
Do you follow trends? And if yes, which trends excite you at the moment?
I never follow trends, but I subscribe to Vogue and Elle to see what's going on. If something looks fabulous to me that is exciting. If it looks good on me I'll wear it.
Do you have any fashion, style and beauty tips for women over 40?
Looking good is part of feeling good. People react more positively to the well presented, polished, well groomed, and well dressed. Don't fade into the wallpaper. Being 'old' doesn't mean you have to act, dress or behave in any 'old' way.
Be fabulous and Have Fun!!
Thanks Diana. It was so nice to meet you and get to know you better. If you like to find out more about Diana and see her work be sure to visit her website.
Which of Diana's outfits is your favorite?
Like this post? Share it on Pinterest!
Photography by Denton Taylor
Want to get more articles from 40+style in your inbox, subscribe here.
You can also connect with 40+style on Facebook, Instagram or Pinterest.
Support 40+style by using the links in our articles to shop. As an associate for Amazon and many other brands, we receive a small commission (at no cost to you) on qualifying purchases which enables us to keep creating amazing free content for you. Thanks!