Today, I'd like to introduce you to Rosemond Perdue. She describes her style as classic with an edge and will share many of her style tips with you.
Hi Rosemond. Thanks for taking the time out to answer a few questions for 40PlusStyle.com. Can you tell us a little bit more about yourself?
First of all, I'm so excited to be chatting with you about style! I live in Los Angeles, California and am a busy mom to a teenaged girl. I'm originally from a small town in Arkansas. I love fashion, style, and staying healthy and young at heart.
I've been a lover of fashion since I was a child. I used to read all of my mom's Vogue magazines cover to cover when I was in grade school. I'd try to create outfits that looked like the ones the models were wearing. I was probably the only 4th grader in Little Rock Arkansas who went to school wearing a tunic, platform heels and pearls!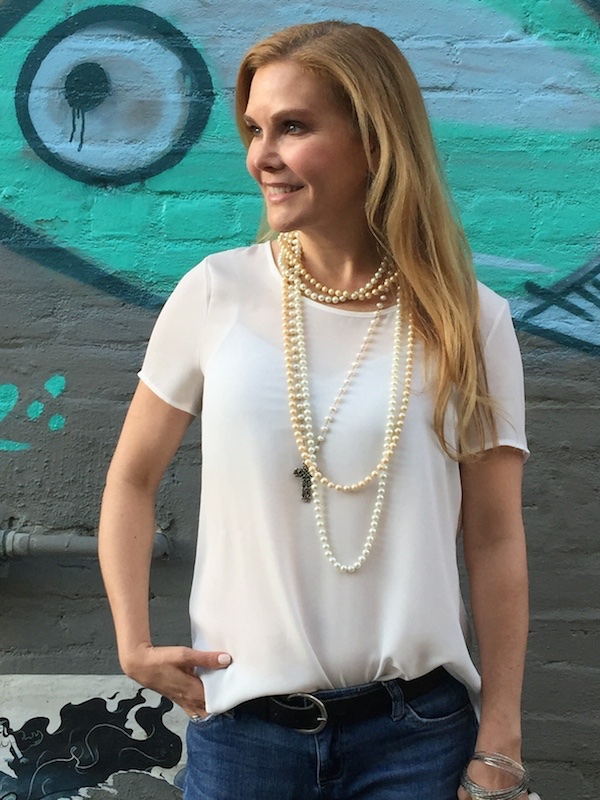 As a point of reference which age group do you belong to or perhaps you are willing to share your age?
I'm very proud to say I'm 50!
How would you describe your style?
I like to call my style classic with an edge. I love clean lines and flattering cuts. I wear a lot of basics but make them my own by adding bold jewelry, colorful accessories or unique shoes. Can I just say, I love shoes!
What would you consider the most important components of your style?
A well made blazer or jacket is my go-to way to add style to any outfit, from jeans to a dress or skirt. It's a basic that works in so many ways.
Where do you live and how does that influence your style?
I live in Los Angeles and the warm climate and casual atmosphere here definitely influences my style. Jeans are appropriate just about anywhere here either dressed up with heels or worn casually with cute sneakers or flats. And since it doesn't get that cold, I don't wear a lot of heavy overcoats or bulky sweaters. It also means that I can wear open toed shoes and booties just about all year.
What inspires your outfit choices the most?
I love to see what other stylish women are wearing and draw my inspiration from that. I don't read fashion magazines anymore, because I don't find many images in their pages that feature women my age, I get all of my style inspiration online, and from the many stylish women I see all around LA.
Do you take things like color profiling or body type into account when you dress?
I do, I've learned the colors and styles that flatter my complexion, hair color and body shape. I stick with those styles that I've learned flatter me best.
Would you say you have a signature style? And if yes, what are the main elements?
I'd say a great pair of jeans, a wonderful jacket and interesting shoe or boots are my go to look, all tied together with a scarf and wonderful jewelry. I own too many scarves to count!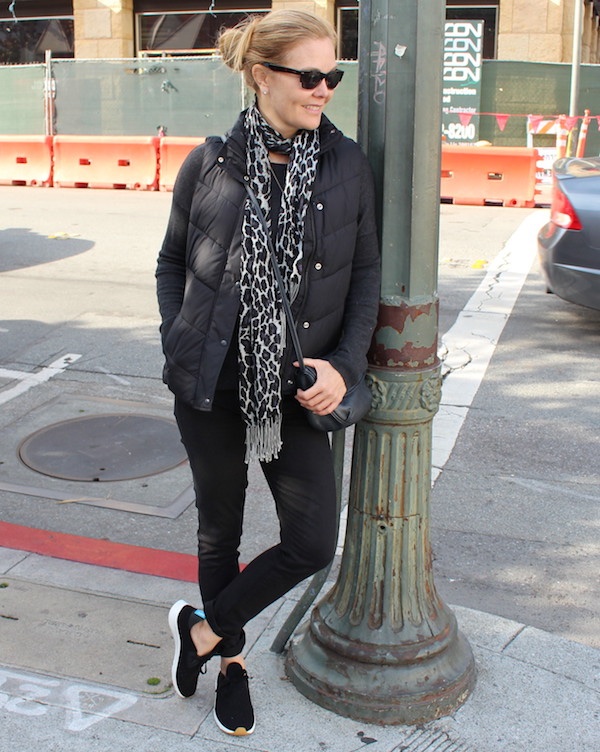 Has your style changed at all after turning 40?
Yes, I'm more aware of what suits me. I'm not so quick to buy into what everyone else is wearing. And I think my style has become bolder! After turning 40, I'm not afraid to wear what works for me.
Do you believe in dressing 'age appropriately' and what does it mean to you?
To me, age appropriate is wearing clothes that flatter who you are now. I don't believe we should be so hemmed in by rules but rather go by what suits our bodies and our lives.
Would you say that at this stage of your life you are now more, or less interested in fashion, style and the way you look?
I'm not as interested in fashion but more interested in style and honing my own personal style.
When you are 20, you don't have to worry about your appearance, you are just naturally perfect, but after 40 looking and feeling good takes more careful attention. I'm out to prove that you can look and feel amazing at any age, I'm just getting started!
Why is the way you look important to you?
Looking good makes me feel good about myself. To me, dressing well, doing my hair, putting on makeup is self care. It's valuing myself.
Do you follow trends? And if yes, which trends excite you at the moment?
I like to be knowledgeable of the trends, but am certainly not a slave to them. You have to wear what suits your life, style and body more than what someone else says you "should" wear. Often I'll add an on trend color or pattern by incorporating bits of it with jewelry, a purse or shoes.
This season, I'm looking forward to adding in some shearling jackets once it gets a bit cooler here, and would like to add in some faux fur collars and capes.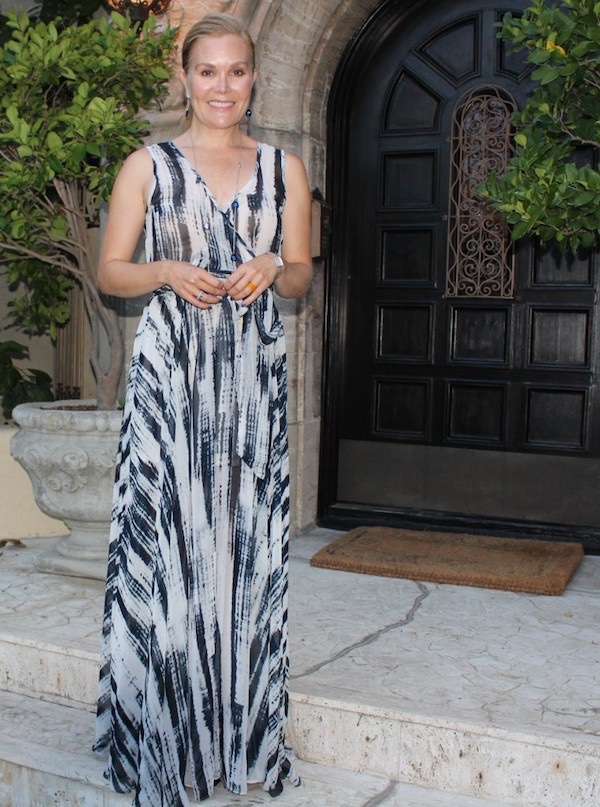 Do you have any fashion and style tips for women over 40?
Yes, above all, learn the colors and styles that flatter you and invest in them. What style of dresses flatter your figure? What colors make you look amazing? Learn how to dress for your body.
Style is a reflection of how you feel about yourself, have fun with it.
Which of Rosemond's outfits is your favorite?

Like this post? Share it on Pinterest!
Want to get more articles from 40+style in your inbox, subscribe here.
You can also connect with 40+style on Facebook, Instagram or Pinterest.
Support 40+style by using the links in our articles to shop. As an associate for Amazon and many other brands, we receive a small commission (at no cost to you) on qualifying purchases which enables us to keep creating amazing free content for you. Thanks!