Women love shoes. However, it gets more important as you get older that your shoes don't just look good, but that they also feel great on your feet. That's why you may need to think about choosing arch support shoes.
Unfortunately, for many of us over 40 it gets harder to wear uncomfortable shoes as we age and we do need shoes with arch support. so, if you are looking for the best shoes with arch support, you've definitely come to the right place. This article features my own favorite recommendations and those of 40+ Style readers.
SHOES WITH ARCH SUPPORT
In this updated extensive article based on my experience and your own comments and experiences, I will highlight the best arch support shoes and brands.
I also share a comprehensive list of brands that offer shoes with arch support and share some of my favorites with you.
BEST ARCH SUPPORT SHOES
We are always updating this article so if you have a great experience with shoes that offer great support, be sure to add your comments to this article so it becomes the definitive resource on arch support shoes! (more than 100 comments and recommendations already).
Let's help everyone to be comfortable AND stylish. There's definitely no reason that the two have to be mutually exclusive!
I know that many women over 40 suffer from foot problems like plantar fasciitis that require shoes with more arch support.
It's one of the unfortunate annoyances that often come with aging.
Wearing shoes with arch support may actually be a good preemptive step, as it is estimated that over 80% of the population will end up with foot problems, which are largely due to poor footwear.
Beth (above) shows how stylish a pair of comfortable shoes can be by teaming her Rollie flats with a classic jeans and shirt outfit.
Complete her look with this similar oversized shirt and jeans.
WHY IS ARCH SUPPORT IMPORTANT?
A shoe with good arch support reduces muscle strain and helps you to maintain balance. In effect, arch support equals shock absorption.
It can also reduce the risk of plantar fasciitis, which is a painful inflammatory process of the plantar fascia, the connective tissue on the sole (bottom surface) of the foot.
This is often caused by overuse of the plantar fascia or arch tendon of the foot. It is a very common condition and can be difficult to treat if not looked after properly. Another common term for the affliction is "policeman's heel".
A good support shoe is rigid enough to support the arch, yet offers just enough flexibility to allow the foot to naturally flex.
COMFORTABLE SHOES WITH ARCH SUPPORT FOR spring and summer
As we are now approaching spring (at least for most of you) this page will now contain many of the best arch support shoes for the spring/summer 2021 season.
Read on for lots of stylish shoes, sneakers and sandals for spring and summer with good arch support, like the snake print low top sneakers (below).
Mel (above) wears a pair of Superga metallic sneakers. Here is a similar pair from the brand.
Check out this dress from Adelyn Rae to complete her look.
Aetrex Blake Leather Low Top Sneaker
Plus, you may like to take a look at the Spring and Summer 2021 shoe trends for even more inspiration.
Don't worry though, I haven't forgotten comfy shoes for cooler weather. There are still plenty of boots to choose from if you read on.
WILL ARCH SUPPORT INSOLES OR ARCH SUPPORT INSERTS WORK TO PROVIDE THE NEEDED SUPPORT?
Another way to provide more arch support is to work with shoe insoles like these ones from Amazon (below).
These are very affordable and you may be able to use them with your existing shoes, even though high-quality orthopedic shoes are recommended.
Experiment with insoles to see if they fit in your current shoes and if they provide enough support before changing all your shoes!
Arch Supports Orthotics Inserts
CAN YOU WEAR ARCH SUPPORT SHOES AND STILL LOOK GREAT?
'Sensible' shoes do tend to be thought of as more boring and are slightly more aging.
However, more and more manufacturers are paying attention to this problem now and the shoes on this list all look good.
Shoe brands like ECCO, Fly London, Vionic and Söfft have started to create really nice shoes!
The key is to find shoes that are just slightly different, have a hip vibe to them and are just a bit funkier than the regular 'sensible' shoe.
Below you will find a list of recommended brands that offer comfortable shoes and shoes with arch support. My personal favorites are ECCO and Fly London.
They all combine comfort with style because I'm sure you don't want one without the other!
Kimba (above) looks great in her wide-legged pants and gold sandals.
Check out this similar pair of sandals, printed shirt, pants and earrings.
FLATS WITH ARCH SUPPORT
Now, let's take a look at some flat shoes with arch support, before moving on to heels.
Mo (above) looks stylish in her flat mules and double denim.
Steal her look with this similar par of mules, shirt, jeans, hoop earrings and sunglasses.
1. vionic pointed toe flat
Pointed toe flats are one of the shoe trends for spring and summer 2021, so you can be sure to be on-trend and comfy at the same time.
Vionic is often a good choice for arch support. The pointed toe loafers (below) feature a cushioned footbed with arch support.
2. birdies flats
Leopard print is one of those perennial patterns that never date. Birdies usually brings out its Starling Flat in different colors each season.
3. ballet flats
If you prefer a rounded toe, a pair of ballet flats could be the way to go. They look great worn with skinny jeans, a blazer and t-shirt.
Born's ballet flat below features arch support and comes in a choice of pastels or neutrals.
4. silver loafers
I love wearing silver shoes to elevate any outfit. Because metallics act as a neutral, they go with any outfit.
5. BLACK WEdges
Wedge sneakers are particularly on trend right now, and are a great way to add a little extra height without wearing high heels.
27 Edit Delphie Wedge Slip-On Sneaker
6. gold flats
Rather than silver, you could always choose gold. The Naturalizer Maxwell Flat is designed with a cushioned footbed and flexible soles, and would look great worn with white during the summer months.
Naturalizer True Colors Maxwell Flat
7. ANIMAL PRINT SHOES
If you already have a pair of leopard print shoes in your closet, how about snakeprint? The L'Amour des Pieds mules (below) have a memory foam footbed, and the strap fastening means you can adjust the fit to suit your feet.
8. chain flats
Chains on shoes were another big trend on the spring and summer catwalks. The chain detailing on the Kurt Geiger mules (below) will add a modern element to existing outfits.
Kurt Geiger London Polly Pointed Toe Mule
best arch support sandals
Of course, with the weather starting to warm up, you may be looking for sandals rather than closed toe shoes. Let's take a look at some of the most supportive.
1. birkenstock
Birkenstock, with its instantly-recognizable contoured footbed is renowned for offering good arch support as the footbed is designed to mirror the shape of the foot.
Deborah (above) wears a pair of Birkenstocks and plays around with tonal pattern mixing with her outfit.
Complete her outfit with this similar top, pants, earrings and necklace.
2. Papilio
Papilo, which is a subsidiary of Birkenstock, is another option to look out for with a shaped footbed. The Papilo sandals (below) feature a heel cup for extra stability and come in a classic style that would go with most things in your spring and summer wardrobe.
Papillio by Birkenstock Soley Wedge Sandal
3. ecco slide sandals
Easy to put on, easy to wear and with styling that will appeal to the minimalists among you, the Ecco slides (below) feature a small block heel, for a little height without any discomfort.
4. gentle souls sandals
Another wedge option for you – this time from Gentle Souls. The wedge sandals (below) have multi-layered cushioning and come in a good choice of neutrals, metallics, patterns and brights.
Gentle Souls Signture Colleen Wedge Sandal
5. naot sandals
Naot is another go-to comfort brand option. You could add a little extra height with a wedge sandal like the Hero style (below).
Naot Hero Strappy Wedge Sandal
6. fly london sandal
I wear my Fly London wedges with pretty much everything. They look a little 'chunky' in style before you put them on, but when you wear them, they are comfortable, stylish and edgy. They remain on trend each year!
They come in all kinds of colors too and I know several women who have these shoes in multiple colors.
They manage to be timeless, but on-trend year after year. The Yala wedge is my style of choice. You will always find this style is available season after season.
I find these are a great shoe to transition from summer through to fall as you can wear with summer clothes or pieces for cooler weather.
Fly London 'Yala' perforated leather sandal
Below are a few examples of how I have worn my own Yala wedges. .
Below is another pair I love from Fly London, this time in bright red.
7. reef sandals
If you want a pair of totally flat shoes for wearing on vacation, it can be tricky to find some with arch support.
The Reef sandals below feature bouncy cushioned soles as well as an on-trend asymmetrical strap.
Reef Cushion Bounce Sole Sandal
8. Bettye Muller
For a pair of sandals that are dressy enough to take you from day-to-night, how about the Bettye Muller sandals (below), which are set on a cushioned, arch-supporting footbed.
9. OTBT sandal
Platform styles are particularly on trend right now, and are great for adding some extra height without extra discomfort. The OTBT sandals (below) have spring back technology to prevent stresses and strains as you walk.
10. Camper sandal
A dressier option for you, with a quirky heel that I'm sure will appeal if you have a trendy or an architectural style personality.
Camper Alright Round Heel Sandal
WOMEN'S DRESS SHOES WITH ARCH SUPPORT
If you are heading out to dinner, you have a formal occasion to attend (when you're able to), or you just love wearing heels, then you may like to take a look below for dress shoes that will add height without discomfort.
Anita (above) shows how just a small heel can look very elegant.
Get her look with this similar pair of slingback pumps, long sleeve top and wide leg pants.
1. trotters black pump
Trotters' Kiera pump (below) is available season-after-season, so you can be sure its classic styling won't date.
As you can see from the image (below), it features Trotters' signature arch support soles.
2. vionic wedge
If you want to mix dressy and casual, then the Vionic wedges (below) combine a bit of both. You could easily wear with a dress or with your jeans.
3. padded mules
Padded styles are particularly on trend now in both shoes and handbags for spring and summer 2021. The heels, at 3-inches, (below) are as high as I would want to go, but they do feature arch support for extra comfort.
Jeffrey Campbell Mr Big Slide Sandal
4. silver heels
Silver should go with everything in your closet. The Naturalizer slides (below) have a small kitten heel, that is below 2 inches, and feature contour technology to hug your feet.
Naturalizer Tibby Slide Sandal
5. red mules
A splash of red always adds drama to any outfit. The Bettye Muller sandals (below) feature a chunky heel and on-trend twisted detailing on the uppers – as well as arch support, of course.
6. two tone shoes
Two-tone shoes are often associated with the styling of Chanel. If you want a Chanel-esque look without a Chanel price-tag, you could take a look at the Rockport slingbacks (below).
Rockport Total Motion Salima Slingback Pump
7. slingbacks in animal print
You can be sure that classic leopard print won't date. The slingback pumps (below) would look great worn with dresses or pants, and feature a flexible, shock-absorbing sole.
8. royal blue suede
Well priced and well reviewed, the Dream Pairs pumps from Amazon (below) come in a huge range of colors and patterns and have a latex padded insole for comfort.
One reviewer said she walked over 8 miles around Disneyland in them with no blisters while another said she wore them for 10 hours for a wedding, and they were comfy even without breaking them in first.
9. burgundy
If you're looking for a high-high heel that offers comfort and arch support, the Alanna pumps (below) could be a good choice.
They have plenty of good reviews from women who say they offer good arch support and offer decent height without being too high to walk in.
27 Edit Alanna Pointed Toe Pump
10. Suki pumps
With a flexible, cushioned sole and a crossover strap for extra stability, the Suki pumps from Amazon (below) come in a range of blacks, beiges or red. One reviewer said these are the ost cofortable heels she has ever walked in!
SNEAKERS WITH ARCH SUPPORT
If you really want to make sure you're comfy, then a pair of sneakers could be a good option for you.
Jenny (above) wears a pair of white sneakers from FitFlop with her jeans and long cardigan.
Check out this similar top, jeans, cardigan and belt to complete her look.
1. Dr. Scholls sip ons
Dr. Scholls sneakers feature an anatomically-designed footbed with cushioned support. Plus, the slip-ons (below) are environmentally friendly, as they're made from recycled plastic bottles.
Dr. Scholls Nova Platform Slip-On Sneaker
2. ECCO sneaker
Ecco's sneakers (below) also feature an anatomical design with cushioning, and they come in three different color pathways.
3. Mephisto sneakers
Launched in 1965 with a mission to make stylish, comfortable shoes, Mephisto is still going strong, and has an army of loyal fans. The sneakers (below) are classic enough to go with everything in your closet, from your dresses to your jeans.
4. Aetrex slip on
For a sportier look, or if you want a pair of sneakers for running errands in, the Aetrex slip-ons (below) could be a good option. They have a cushioned footbed and a central strap to keep your feet secure.
5. New Balance Sneaker
New Balance is often recommended for women with plantar fasciitis, or who need arch support. The FuelCore sneakers (below) have memory foam soles and come in a huge choice of different colors.
New Balance FuelCore Nergize V1 Sneaker
6. Eileen Fisher
Eileen Fisher is best known for her clothing brand, but she is fast gaining followers for her shoe collection too.
The Renew Knit sneakers (below) combine timeless styling with on-trend elements. They have a breathable knit upper and cushioned sole.
Eileen Fisher Renew Knit Sneaker
7. Skechers
Skechers are another brand that come well-recommended for anyone with foot problems. The Go Walk sneakers (below) are great for slipping on day-to-day to run any errands, walk the dog, do the school run or pop to the shops.
Skechers Go Walk 5-15901 Sneaker
8. Red sneakers
A pair of red sneakers is a great way to add a pop of color to everyday outfits. The Carvela comfort sneakers (below) would look fabulous worn with a simple jeans-and-tshirt outfit.
Carvela Comfort Cosmic Slip-On Sneaker
9. Gold and silver sneakers
If you can't decide whether you prefer gold or silver, you could choose both. The metallic ara sneakers (below) have arch support and a comfortable insole.
10. Lace up sneakers
If you find sneakers a little too warm in the summer, you could choose a pair that combine some of the styling of sandals, like the Jambu sneakers (below).
TENNIS SHOES WITH ARCH SUPPORT
A pair of classic tennis shoes will go with the jeans in your closet, or you could wear with your skirts and dresses to add a more casual feel to your outfits.
The K-Swiss tennis shoes (below) are lightweight and flexible.
K-Swiss Hypercourt Express 2 Tennis Shoe
WOMEN'S WALKING shoes
If you're looking for shoes to do some serious walking in, you may want to choose a specialist pair like one of the hiking shoes options below.
Kirsten (above) looks comfortable, stylish and ready for an exercise session.
Get her look with this similar pair of sneakers, tee, leggings and sunglasses.
1. merrel hiking sneakers
If you're going hiking, you may find that a pair of "normal" sneakers don't give you the grip you need. The Merrell hiking sneakers (below) should keep you secure while also keeping you comfortable with their contoured cushioning.
2. hiking SHOE
The Adidas sneakers (below) are especially designed for hiking. They have springy cushioning inside and water repellent fabric on the outside.
adidas Terrex Free Hiker Primeblue Hiking Shoe
3. slip on walking sneakers
For a pair of walking sneakers for warmer weather, the sandal-style Jambu sneakers (below) may fit the bill. They have a moisture-wicking footbed and foam cushioning.
Jambu Hillside Slip-On Sneaker
For more inspiration, check out our article on the most stylish hiking outfits for women.
SLIPPERS WITH ARCH SUPPORT
All of you, I'm sure, have been at home more than usual so you may want a pair of comfy slippers for relaxing in. And, of course, to keep your feet cozy.
1. sollbeam
The Sollbeam sneakers from Amazon (below) have a heel cup and arch support. Reviewers who find it painful to walk in bare feet say these are the answer.
2. rockdove
Another very well-reviewed choice are these RockDove two-tone slippers (below) which come in a choice of 6 color pathways.
SHOES WITH GOOD ARCH SUPPORT FOR TRAVEL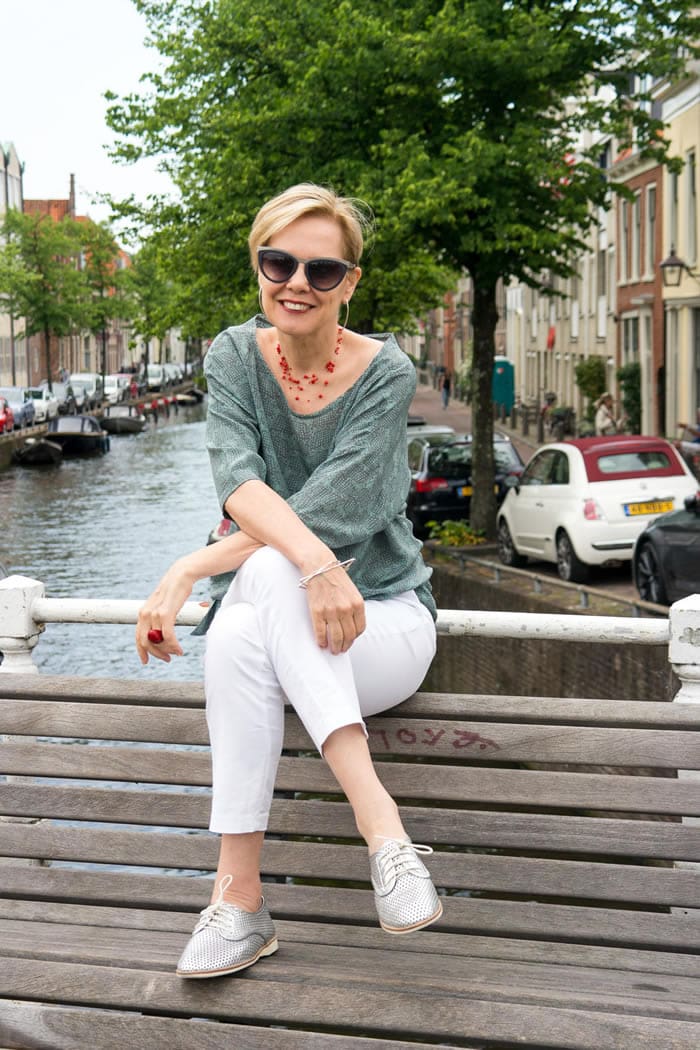 If you are looking for comfortable shoes for travel, here are a few more options.
Many of the arch support shoes mentioned above will be great choices but if arch support is not your top priority here are a few more.
1. ROLLIE BROGUES
I really enjoy wearing these brogues from the brand Rollie. Although there is not a huge amount of arch support the soles are very soft and I have found these shoes very comfortable. They are ideal for travel as they are super lightweight.
Great for walking around the city. More shoes from Rollie here.
For more inspiration, read our article on what shoes to wear with different styles of pants.
2. SUPERGA SNEAKER
A good white sneaker never goes out of style and they are still very current.
The Superga '2750 Cotu' sneaker has long been a favorite as very popular walking shoe that looks good with many outfits.
They don't have built in arch support as such, but many travellers choose to add an arch support insole.
There are more ideas here in this article on the most comfortable walking shoes for women over 40.
boots with arch support
While you may be heading into warmer weather (depending on where you live), a pair of ankle boots is still a great choice for those cooler days.
Karen (above) looks fabulous by teaming a pair of sneakers with her summer dress.
Check out this similar pair of suede booties, dress and sunglasses.
1. naturalizer
If you feel black is to "heavy" for the warmer months, a pair of taupe or beige boots, like the Naturalizer booties (below) could be a great alternative. They feature contour technology and cushioning for added comfort.
Naturalizer Belinda Pointed Toe Bootie
2. ecco
Combining the look of a sneaker, with the warmth of a bootie, the Ecco soft classic booties (below) have a small heel and a supportive insole.
3. propét
The Propet booties (below) have a Western feel to them that would lend itself to going well with Bohemian style dresses and skirts. There's a cushioned footbed with arch support, and a flexible sole.
4. naot
Moving onto a bootie with more of a rock chick vibe, Naot's studded booties are water repellent for any spring showers. They have arch support and a small heel.
Naot Poet Water Repellent Boot
5. børn
A bootie that will go with your casual outfits, or be perfect for heading out on a walk, the Born lace-up boots (below) come in a choice of pale taupe or brown.
OTHER RECOMMENDED BRANDS OF ARCH SUPPORT SHOES
Of course, the options above aren't the only arch support shoes available, although they tend to be the most popular.
Here is a full list of recommended brands of shoes that offer you great arch support and are comfortable walking shoes.
I have listed the best arch support shoes brands in alphabetical order:
WANT TO MAKE THIS RESOURCE EVEN BETTER? ADD YOUR ARCH SUPPORT RECOMMENDATIONS AS WELL!
Just add a comment to this article with your favorite arch support shoes and why they work so well for you.
Please note that many of the shoes featured below come in several color options, so if you like a model, please make sure to click through and see if they have your desired color.
Do you have any favorite comfortable shoe brands?
What would be your picks for the best arch support shoes? Let me know in the comments below.
More articles on comfortable shoes:
LIKE THIS ARTICLE ON THE BEST SHOES WITH ARCH SUPPORT? SHARE IT ON PINTEREST!
Want to get more articles from 40+style in your inbox, subscribe here.
You can also connect with 40+style on Facebook, Instagram or Pinterest.
Support 40+style by using the links in our articles to shop. As an associate for Amazon and many other brands, we receive a small commission (at no cost to you) on qualifying purchases which enables us to keep creating amazing free content for you. Thanks!