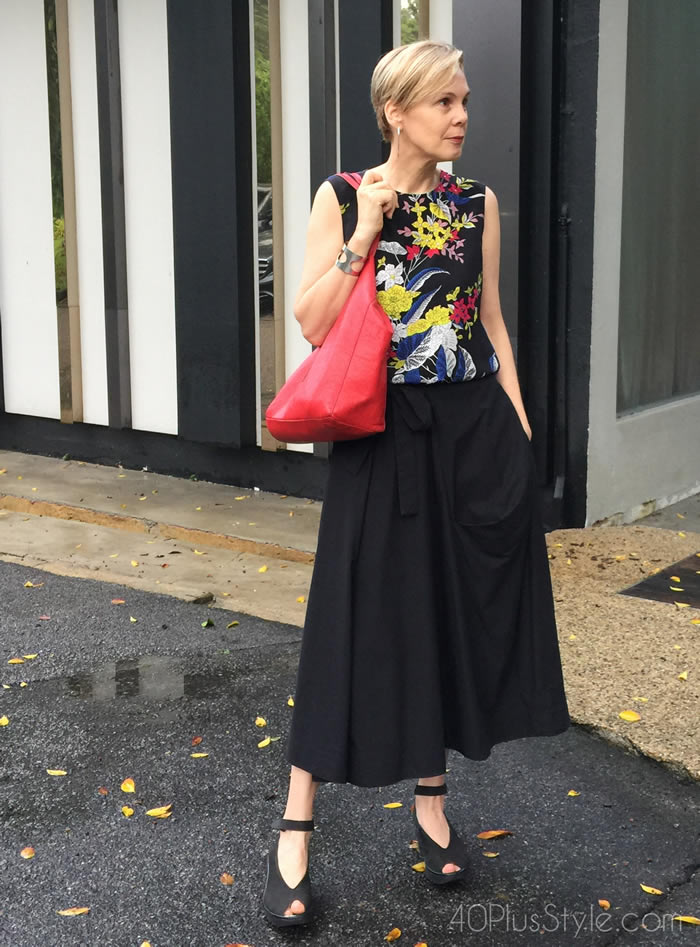 Women love shoes.
Unfortunately, for many of us over 40 it gets harder to wear uncomfortable shoes as we age and we need shoes that offer more arch support.
Shoes with arch support
In this updated extensive article based on my experience and your own comments and experiences, I will highlight the best arch support shoes and brands.
I also share a comprehensive list of brands that offer shoes with arch support and share some of my favorites with you.
We are always updating this article so if you have a great experience with shoes that offer great support, be sure to add your comments to this article so it becomes the definitive resource on arch support shoes! (more than 100 comments and recommendations already).
Let's help everyone to be comfortable AND stylish.
Comfortable shoes with arch support for summer
As we are now approaching summer weather (at least for most of you) this page will now contain many of the best arch support shoes for the spring / summer 2019 season. I have left some of the great winter shoes as well for those of you in the Southern hemisphere.
The best shoes with arch support
I know that many women over 40 suffer from foot problems like plantar fasciitis that require shoes with more arch support.
It's one of the unfortunate annoyances that often comes with aging.
Wearing shoes with arch support may actually be a good preemptive step, as it is estimated that over 80% of the population will end up with foot problems, which are largely due to poor footwear.
Why is Arch Support Important?
A shoe with good arch support reduces muscle strain and helps you to maintain balance.
It can also reduce the risk of plantar fasciitis, which is a painful inflammatory process of the plantar fascia, the connective tissue on the sole (bottom surface) of the foot. It is often caused by overuse of the plantar fascia or arch tendon of the foot. It is a very common condition and can be difficult to treat if not looked after properly. Another common term for the affliction is "policeman's heel".
A good support shoe is rigid enough to support the arch, yet offers just enough flexibility to allow the foot to naturally flex.
Will shoe insoles work to provide the needed support?
Another way to provide more arch support is to work with shoe insoles like these ones from Birkenstock.
These are very affordable and you may be able to use them with your existing shoes, even though high-quality orthopedic shoes are recommended.
Experiment with insoles to see if they fit in your current shoes and if they provide enough support before changing all your shoes! I have included some options in the list below.
Can you wear shoes with arch support and still look great?
'Sensible' shoes do tend to be thought of as more boring and are slightly more aging.
However, more and more manufacturers are paying attention to this problem now and the shoes on this list all look good.
Shoe brands like Ecco, Fly London and Sofft have started to create really nice shoes!
The key is to find shoes that are just slightly different, have a hip vibe to them and are just a bit funkier than the regular 'sensible' shoe.
You may like to get inspired by the latest shoe trends from the catwalks for spring and summer 2019 even though these are quite outrageous (and definitely no arch support shoes here!).
The 10 best shoe brands with arch support and our favorite picks
Below you will find a list of recommended brands that offer comfortable shoes and shoes with arch support. My personal favorites are Ecco and Fly London.
Here are the top 10 that I like to wear and that you have recommended. The top 10 all combine comfort with style because I'm sure you don't want one without the other!
I wear my Fly London wedges with pretty much everything. They look a little 'chunky' in style before you put them on, but when you wear them, they are comfortable, stylish and edgy. They remain on trend each year!
They come in all kinds of colors too and I know several women who have this shoes in multiple colors.
Fly London yala wedge
They manage to be timeless, but on-trend year after year. The Yala wedge is my style of choice. You will always find this style is available season after season. At the moment, it's available in seven colors, including, red, neutrals and on-trend metallics.
Here are a few examples of how I have worn them.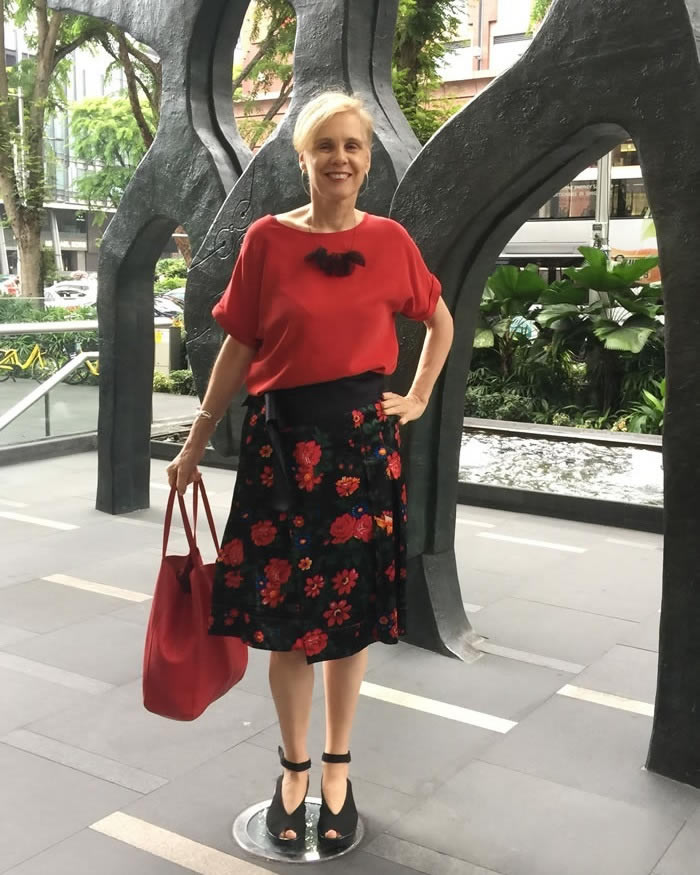 Your reviews: Deanna and Krista both say Fly London are comfortable and cute, while Pam has three pairs of Fly London which she wears with an additional insert.
Durable and lightweight, Sofft offers multiple styles of shoes from sandals, heels, ankle boots, lace-ups and slip-ons.
Born was founded on the idea that a shoe was needed that was not only comfortable but also lightweight. Shoes feature arch support cushions as well as an air diffusion layer to prevent that weird puff of air noise that you can sometimes get from cushioned soles.
My pick for this season is the new Park cross-strap sandal style, which picks up on the thicker strap sandals trend seen on the runways for spring this year. I like the classic black, but this style also comes in blue and tan.
Your reviews: Deanna, Carol, Tara and Geeta all love Born, saying that they find the arch support works well. Ricki says Born makes some great flats with fabric lining and added arch support.
They made their first shoes back in 1825, so they've had plenty of time to get it right. I love the fact they've taken inspiration from a quote from Leonardo Di Vinci, who described the human foot as "a masterpiece of engineering and a work of art".
Clarks has looked at the way a foot develops from childhood to old age to try to keep your feet healthy.
Jess recommends the Concert Choir Flats. These will good with both pants, skirts and dresses and the metallic adds a hip vibe to your look.
Your reviews: Jess recommends the Clarks concert choir flats which she says have just the right combo of stability and cushion as well as the Clarks Artisan line that has amazingly soft, cushioned and supportive footbeds. She has four pair of sandals with this line.
Shaped to fit the foot, Ecco is resilient with its shock-absorbent material directly molded into the shoe. Both stylish and durable!
If you're looking for something a little funkier to add to your shoe closet this season, how about a pair of fashionable sneakers?
I'm loving these Ecco soft perforated sneakers. They come in a variety of colors but the metallic option is just a bit hipper!
Your reviews: Lucila describes Ecco as both comfortable and smart.
The supportive footbed of the Birkenstock shoe possesses four different layers, the first layer of the shoe is the shock absorbent sole, followed by two layers of jute fibers, and a firm corked footbed. The last layer is the footbed line which is made of soft suede.
Birkenstock is, of course, known for its iconic double strap sandal. But, it is now offering much more than that.
I love the exclusive copper-gold color Nordstrom has in the classic Birkenstock style. But my favorite pair of Birkenstock this season is the Papillio by Birkenstock sandal.
Depending on your skin tone, you may find that you would prefer the nude leather version, which would create more of a lengthening effect for your legs.
Choosing the color closest in tone to your own skin color will mean that you don't have the effect of a line running across your ankle, which can make the legs look shorter, if that is something you are concerned about.
Papillio by Birkenstock sandal
Your reviews: Constance likes the new stylish footwear they now have. Lori likes the fact that Birkenstocks now come in fun colors. She also loves their inserts for flats. Great support!!!
Vionic is a popluar brand amongst my readers for it's comfortable yet stylish shoes.
A ballet flat is often a great option for an outfit, but they can be rather uncomfortable and flat. The Vionic Spark Minna Ballet flat is biomechancially designed to hug your arches. The footbed is removable.
The ballet flat comes in many different colors and textures so you'll be sure to find one that you like!
The Vionic Spark Minna Ballet flat
Naturalizer has a stylish array of versatile styles season after season which combines comfort and style.
Whether you choose a sneaker, a pump, a bootie or a flat, all Naturalizer shoes have the same fit technology. There's cushioning to relieve pressure as well as breathable linings to keep your feet cool.
I think you'll like lots of their styles this season. I definitely do. There are plenty of stylish sandals and sneakers, as well as some heels if you want to stay comfortable at summer events.
I love the classic style of the Banks pumps below. It's available in many different colors.
But, it's all well worth having a look at Naturalizer if you need shoes for a formal occasion like a summer wedding or if you want comfortable but stylish sandals for your summer vacation.
Your reviews: Kay Elizabeth says she has a super comfy and cute pair of Naturalizer sandals.
Naot is an Israeli shoe company where the idea emerged in the late nineteen-eighties that, "It's fashionable to walk in comfort".
Naot manufactures a large variety of footwear with a unique anatomical footbed. The footbed is a "negative" print of the foot, just like the footprint we leave when walking in the sand. It is flexible, soft, shock absorbent, supports the heel and alleviates fatigue and pain.
The footbeds are made of natural cork and latex and are covered in a pampering layer of suede. The uppers are made of high quality Italian leathers.
My pick is this Sabrina sandal as it's simple, stylish and will look good with many outfits. A great sandal to take on your travels.
Your reviews: Beth says that both Dansko and Cobb Hill make good shoes for those with bunions, while Jennifer and Diana are also fans of Dansko, saying they can comfortably wear this brand all day.
Gigi says she only wears Naots, Dansko and Born because of her plantar fasciitis.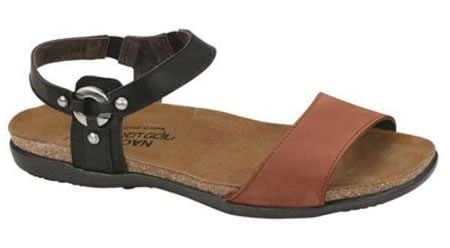 Naot Sabrina sandal
Softt has some very stylish sandals and booties for spring and summer. If you like the vintage feel of a round-toed Mary Jane, then this is also a good place to look.
My favorites are these wedge sandals which are currently on sale.
Your reviews: Diana who suffers from plantar fasciitis says she always buys Softt brand for heels and Naturalizers for heels and boots.
Known for their comfortable walking shoes, Rockport goes high style with chic ankle boots and glamorous pumps.
Comfortable and practical shoes with styles that are inspired by elegant European design.
You'll find classic pumps, ankle booties and sneakers. There are lots of styles this season that I would more than happily add to my closet.
If you're looking for a flat which isn't a sandal, how about these Adelyn loafers. The gold detailing on the heel adds extra style and interest.
Adelyn loafers
In addition to my choices above I just wanted to highlight a few more comfortable sandals with arch support that are ideal for summer.
Sandals with arch support
If you're looking for the best sandals with arch support for spring and summer, we've got you covered.
Women love Ecco's Women's Damara Sp Gladiator Sandal. Striking the right balance between a comfort shoe and a hip sandal sandals are extremely popular.
They are available in several colors but I couldn't resist choosing the textured silver ones!
Ecco's Women's Damara Sp Gladiator Sandal
Vionic (formerly Orthaheel) is a popular choice which was launched because of the work of a renowned podiatrist who realized that treatments alone weren't enough to alleviate sore feet and conditions such as plantar fasciitis.
Its shoes are designed to hug your feet as if they were your own footprint.
This season, there are plenty of stylish options to choose from, including sandals, sneakers, wedges and ankle booties.
The black toe post sandals (below) are a stylish classic that will be on trend for many summer vacations to come. They are designed to help stabilize, support and realign the foot while relieving heel pressure.
black toe post sandals
Your reviews: Jeanette recommends looking at some of the Vionic sandals that have adjustable straps at the toe area. She also has a couple of sets of Vionic inserts to wear with some shoes that do not have arch support but work great with bunions.
Aerosoles is another popular brand that makes a similar shoe to the Kirra Back strap sandal, which is even more popular than the Vionic version.
It has a memory foam foodbed, good arch support and adjustable straps. It comes in all kinds of colors too.
Kirra Back strap sandal
Known for their comfort line, Dansko shoes are ideal if you're on your feet the whole day.
I'm not keen on some of the styles in the Dansko range, which include some "clumpy" looking clogs, but, there are also some new sandals styles which you would never guess were comfort wear. I bet you would get plenty of compliments for these Cecily wedge sandals as they make quite the statement.
My pick is for the Dansko women's vera flat sandal This sandal gives you a bit more height and dressiness, yet will ensure your feet are comfortable all day.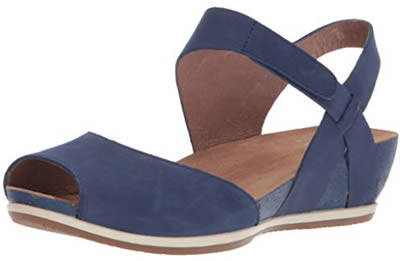 Dansko women's vera flat sandal
Comfortable walking shoes for travel
If you are looking for comfortable shoes for travel, here are a few more options.
Many of the arch support shoes mentioned above will be great choices but if arch support is not your top priority here are a few more.
I really enjoy wearing these brogues from the brand Rollie. Although there is not a huge amount of arch support the soles are very soft and I have found these shoes very comfortable. They are ideal for travel as they are super lightweight.
Great for walking around the city. More shoes from Rollie here.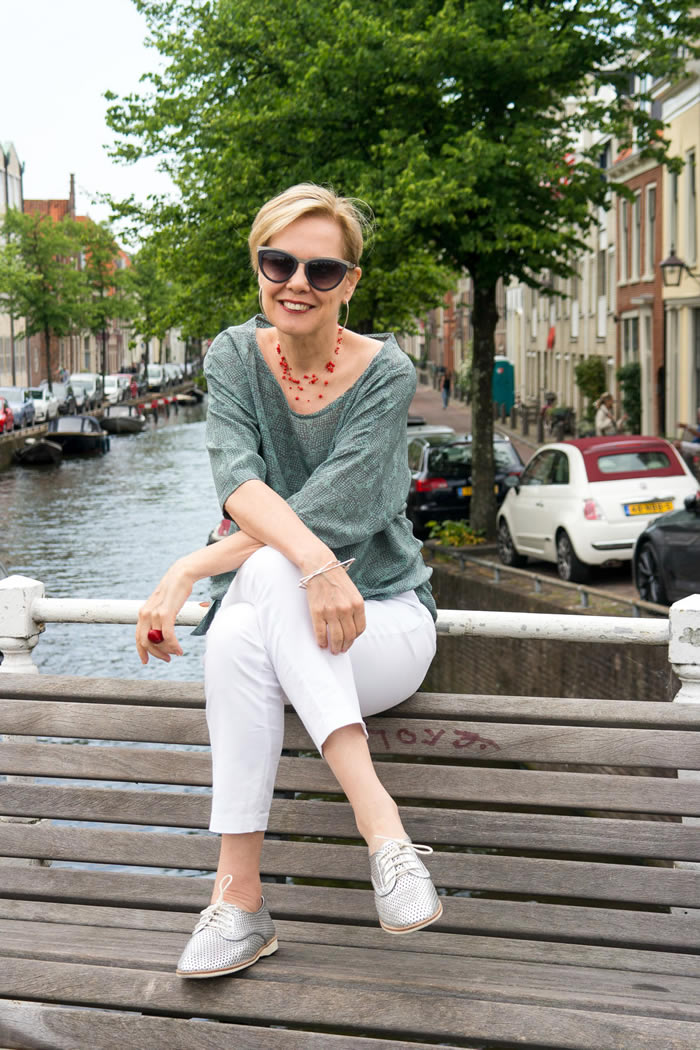 A good white sneaker never goes out of style and they are still very current.
The Superga Cotu sneaker has long been a favorite as very popular walking shoe that looks good with many outfits.
It doesn't offer great arch support though so if that's a main issue for you, you may want to try one of the other options.
Other recommended brands of arch support shoes
Of course, the options above aren't the only arch support shoes available, although they tend to be the most popular.
Here is a full list of recommended brands of shoes that offer you great arch support and are comfortable walking shoes.
I have listed the best arch support shoes brands in alphabetical order:
Want to make this resource even better? Add your arch support recommendations as well!
Just add a comment to this article with your favorite arch support shoes and why they work so well for you.
Please note that many of the shoes featured below come in several color options, so if you like a model, please make sure to click through and see if they have your desired color.


Do you have any favorite comfortable shoe brands?
What would be your picks for the best arch support shoes?

Like this article? Share it on Pinterest!