Women love shoes. Unfortunately, for many of us it gets harder to wear uncomfortable shoes as we age and we need shoes that offer more arch support.
In this updated extensive article based on my experience and your comments, I will highlight some of the best arch support shoes and brands. I also share a comprehensive list of brands that offer shoes with arch support and share some of my favorites with you. 
We are always updating this article so if you have a great experience with shoes that offer great support, be sure to add your comments to this article so it becomes the definitive resource on arch support shoes! (more than 100 comments and recommendations already).
As we are now approaching cooler weather this page will now contain many of the best arch support shoes for the fall / winter 2018 season. I have left some of the great spring shoes as well for those of you in the Southern hemisphere.
In addition, this article also has many valuable comments from readers who offer great tips on how to deal with problematic feet.
The best shoes with arch support
I know that many women over 40 suffer from foot problems like plantar fasciitis that require shoes with more arch support. You can view a list with the best shoes for plantar fasciitis here).
It's one of the unfortunate annoyances that often comes with aging. Wearing shoes with arch support may actually be a good preemptive step, as it is estimated that over 80% of the population will end up with foot problems, which are largely due to poor footwear.
Why is Arch Support Important?
A shoe with good arch support reduces muscle strain and helps you to maintain balance.
It can also reduce the risk of plantar fasciitis, which is a painful inflammatory process of the plantar fascia, the connective tissue on the sole (bottom surface) of the foot. It is often caused by overuse of the plantar fascia or arch tendon of the foot. It is a very common condition and can be difficult to treat if not looked after properly. Another common term for the affliction is "policeman's heel".
A good support shoe is rigid enough to support the arch, yet offers just enough flexibility to allow the foot to naturally flex.
Will insoles work to provide the needed support?
Another way to provide more arch support is to work with insoles like these ones from Birkenstock.
These are very affordable and you may be able to use use them with your existing shoes, even though high quality orthopaedic shoes are recommended.
Experiment with insoles to see if they fit in your current shoes and if they provide enough support before changing all your shoes! I have included some options in the list below.
Can you wear shoes with arch support and still look great?
'Sensible' shoes do tend to be a bit more boring and are slightly more aging. However, more and more manufacturers are paying attention to this problem now and the shoes on this list all look good. Shoe brands like Ecco, Fly London, Naot Footwear, Earthies and Keen have started to create really nice shoes!
The key is to find shoes that are just slightly different, have a hip vibe to them and are just a bit more funkier than the regular 'sensible' shoe. You may like to get inspired by the latest shoe trends.
One of my favorite comfortable shoe brands is Fly London.
The Yala wedge from Fly London is one of their evergreen shoes as it's a timeless, yet hip shoe that is super comfortable. Below you can see how I wear them.

I also like these brogues from the brand Rollie. Although there is not a huge amount of arch support the soles are very soft and I have found these shoes very comfortable as they are super light weight. Great for traveling and walking around the city. More shoes from Rollie here.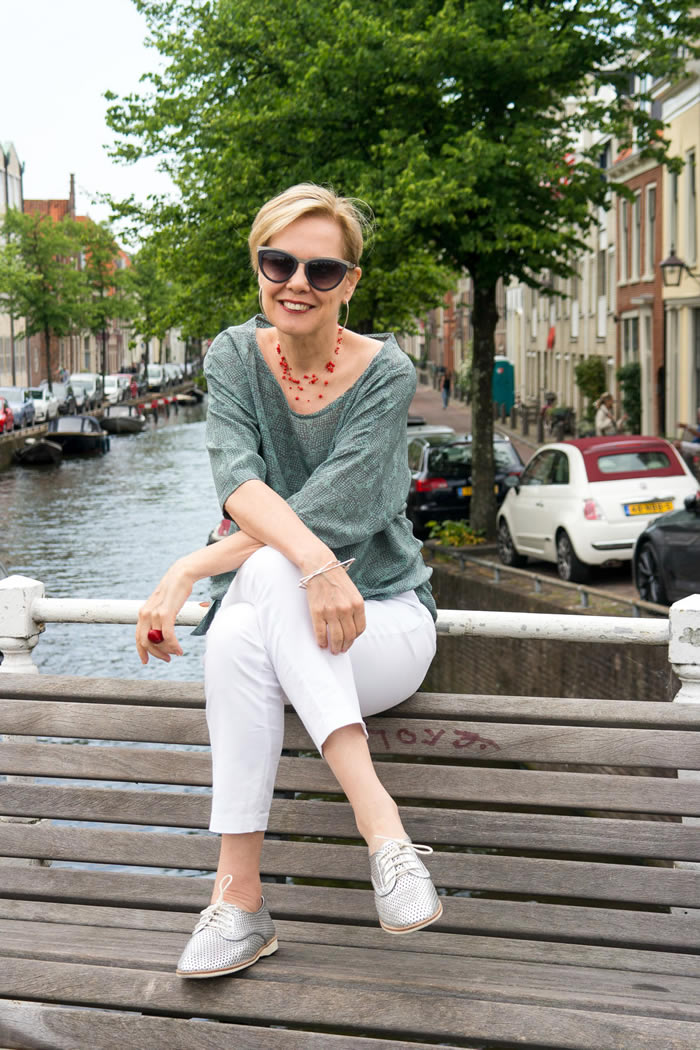 For my New York trip I acquired shoes from Wolky which have been very comfortable for walking around the city.
The best hip shoes with arch support
Below you will find a list of recommended brands that offer comfortable shoes and shoes with arch support. My personal favorites are Ecco and Fly London.
Recommended brands
Aetrex essence boots – Aetrex kailey ankle boot – Aetrex shauna bootie
An orthopedic shoe brand designed to help align the body with proper arch support.
Alegria indi ankle boot – Alegria demi wedge – Alegria hayden bootie 
Each pair of Alegria shoes are hand-stitched and made from genuine leather and suede with patented, interlocking footbed system features for arch support.
Jan names Alegria and Keens as her go-to brands, which provide comfort for bunions, while Nancy loves Alegria and Cobb Hill for their arch support.
Antelope hidden zipper bootie – Antelope leather slant – Antelope block heel
Designed for comfort, the brand ensures to curate its shoes with only the finest and softest pieces of leather for women.
Aravon boot – Aravon ashley slip-on – Aravon erica boot
This orthopedic extension of New Balance provide a number of stylish shoes that don't skimp on comfort!
Arche jolia – Arche Mussem – Arche maonie
Arche shoes are made exclusively in France by a team of craft artisans devoted to bringing you women a quality pair of footwear.
Arcopedico classic – Arcopedico n42 – Arcopedico lytech loafer
Arcopedico sets its design according to three basic shoe traits: the Techno-Elastic upper, an anatomic footbed, and the twin arch support system. All aimed to comfortably exercise the foot to build stronger muscle while walking.
Bernardo izzy boot – Bernardo ozzy loafer – Bernardo paige boot
Designs patterned on comfort and the idea that simplicity is sophistication, Bernardo has been a favorite among celebrities.
The supportive footbed of Birkenstock shoe possesses four different layers, the first layer of the shoe is the shock absorbent sole, followed by two layers of jute fibers, and a firm corked footbed. The last layer is the footbed line which is made of soft suede.
Birkenstock bennington boot – Birkenstock slip-on sneaker – Birkenstock cellia ballet flat
Constance like the new stylish footwear they now have. Lori likes the fact that Birkenstocks now come in fun colors. She also loves their inserts for flats. Great support!!!
Born Michie – Born Leeds  – Born Katharina
Durable and lightweight, born offers multiple styles of shoes from sandals, heels, ankle boots, lace-ups and slip-ons.
Deanna, Carol, Tara and Geeta all love Born, saying that they find the arch support work well.
Chaco cataluna mid – Chaco skye boot – Chaco cataluna
A versatile walking sandal, Chaco incorporates function with use of footbed contour for pure alignment to the body.
Clarks arlo – Clarks cosmo zip – Clarks emslie bootie
Cob Hill gratasha boot – Cob Hill abelle slip-on – Cob Hill vanna strappy
Rockport goes on to create their Cobb Hill Collection which carries flats, sandals, heels, loafers, and boots that are fashion forward yet comfortable.
Jana likes her Rockport total motion pumps as she says they feel just like wearing tennis shoes, even though they have heels.
Dansko henley – Dansko preston – Dansko fallon oxford
Known for their comfort line, Dansko shoes are ideal if you're on your feet the whole day.
Beth says that both Dansko and Cobb Hill make good shoes for those with bunions, while Jfer and Diana are also fans of Dansko, saying they can comfortably wear this brand all day.
Ecco plateai shootie – Ecco ballerina – Ecco pointy boot
Shaped to fit the foot, Ecco is resilient with its shock-absorbent material directly moulded into the shoe. Both stylish and durable!
Lucila describes Ecco as both comfortable and smart.
Earthies bragga – Earthies classic hanover –  Earthies rialto
Earthies shoes are designed with a "negative heel" that emulates yoga's tree pose for better strength and support in the thighs, ankle, and calves area.
Gretchen and Lynn both like Earthies and they have cool styles while still providing plenty of support.
Finn Comfort linz bootie – Finn Comfort oxfords – Finn comfort chuka boot
Fly London yoxi bootie – Fly London leal bootie – Fly london wedge boot
Modern, eclectic, and stylish meets function and comfort! Deanna and Krista both say Fly London are both comfortable and cute, while Pam has three pairs of Fly London which she wears with an additional insert.
Geox viyanne bootie – Geox love ankle boot – Geox faviola bootie
Geox addresses the issue of unhealthy foot perspiration with their "patented Geox breathes" system.
Jack Rogers scalloped flat – Jack Rogers sadie boot – Jack Rogers split bootie
Said to be one of Jacky Kennedy's favorite shoe brand, Jack Rogers' designs offer comfort and style.
Jambu ankle boot – Jambu serafina – Jambu chai
Jambu footwear is a great choice for day-to-day activities or globe-trotting travel. Built for durability and comfort, Jambu shoes are also made from 100% recycled and re-usable materials.
Josef Seibel classic 91 slip on – Josef Seibel pippa boot – Josef Seibel daphne bootie
Premium quality in materials, the best workmanship, and comfort. These main principals have helped Josef Seibel become renowned as european comfort shoes.  Cheryl wears Josef Seibel sandals as she says they are the most comfortable shoes she owns.
Klogs naples – Klogs tucker – Klogs mission
Klogs offers multiple styles in narrow, regular, and wide widths for men and women. Klogs Footwear supports those who depend on footwear comfort. Laine likes Klogs for their wonderful arch support.
Mephisto floreta bootie – Mephisto flavie bootie – Mephisto penny loafer
Long lasting comfort oriented footwear with a wide selection of styles and shoe types.
Merrell inde lave – Merrell waterproof boot – Merrell leather
Merrell is a company that understands the importance of melding form and function into a product that is just at home on the streets as it would be in the mountains. Ellen describes Merrel as both stylish and comfortable.
Naturalizer blissful – Naturalizer zarie – Naturalizer betty
Naturalizer has a stylish array of versatile styles season after season which combines comfort and style.
Paul Green sofia loafer – Paul Greem malibu zipper boot – Paul Green sheridan bootie
Paul Green was founded on the notion that a shoe is not a shoe unless it meets the highest standards of both visual appeal and a perfect fit.
Pikolinos rotterdam – Pikolinos gandia – Pikolinos santorini
Pikolinos offerst quality shoes with unique and original design. They have many stylish sandals as well!
Rieker mariah – Rieker cuff ankle bootie – Rieker baroque toe burgundy bootie
Rieker's special construction methods and components allow for minimal weight, maximum flexibility, ample foot room and ultimate shock absorption.
Sandy mentions: Rieker shoes are fabulous, comfortable and attractive. The leather is soft and stretches around my bunion.
Rockport oliana – Rockport vanna strap bootie – Rockport asymmetrical pump
Known for their comfortable walking shoes, Rockport goes high style with chic ankle boots and glamorous pumps. (see how I wear them here)
Romika mule – Romika footbed pump – Romika city boot
Romika likes to combine houghtful design and traditional craftsmanship. Best know for their signature lateral support wings and orthotic-friendly footbeds.
Sam Edelman angle zip boot – Sam Edelman tinsley – Sam Edelman pointed high cut boot
With trend-forward yet comfortable footwear, Sam Edelman shoes cater to those who love to travel.
Sofft sadova – Sofft bellis – Sofft brenley
Comfortable and practical shoes with styles that are inspired by elegant European design.
Think aida – Think lace-up shoe – Think slip on 
Think!'s anatomically designed cork footbeds consist primarily of natural cork which over time molds to the natural shape of your feet to create a custom fit.
Taos mary jane pump – Taos convoy boot – Taos faux fur lined boot
Very much focussed on comfort without compromise.
Trina, Cherry, Caroline and Elaine say Taos are comfortable and feminine.
Vaneli toe flat – Vaneli frappe bootie – Vaneli bow flat
Vaneli offers arch supports shoes for day-to-day wear as well as lightweight footwear for sports activities.
Vionic ronnie – Vionic jolene – Vionic gramercy
Vionic (formerly Orthaheel) is a popular choice which provides support and natural alignment soles along with sandals effectively alleviate heel pain.
Lisa  and Veronica both love Vionic.
Jeanette recommends looking at some of the Vionic sandals that have adjustable straps at the toe area. She also has a couple of sets of Vionic inserts to wear with some shoes that do not have arch support but work great with bunions.

Wolky tampa – Wolky bighorn – Wolky colville
Jannike says Wolky make great boots and flat shoes.
Want to make this resource even better? Add your recommendations as well!
Just add a comment to this article with your favorite arch support shoes and why they work so well for you.
Please note that many of the shoes featured below come in several color options, so if you like a model, please make sure to click through and see if they have your desired color.


I would love to hear from you! Do you need shoes with arch support? Which are your favorite brands? 

Like this article? Save it on Pinterest!