Women love shoes. However, it gets more important as you get older that your shoes don't just look good, but that they also feel great on your feet. That's why you may need to think about choosing arch support shoes.
Unfortunately, for many of us over 40 it gets harder to wear uncomfortable shoes as we age and we do need shoes with arch support. so, if you are looking for the best shoes with arch support, you've definitely come to the right place. This article features my own favorite recommendations and those of 40+ Style readers.
Shoes with arch support
In this updated extensive article based on my experience and your own comments and experiences, I will highlight the best arch support shoes and brands.
I also share a comprehensive list of brands that offer shoes with arch support and share some of my favorites with you.
Best arch support shoes
We are always updating this article so if you have a great experience with shoes that offer great support, be sure to add your comments to this article so it becomes the definitive resource on arch support shoes! (more than 100 comments and recommendations already).
Let's help everyone to be comfortable AND stylish. There's definitely no reason that the two have to be mutually exclusive!
Comfortable shoes with arch support for winter and fall.
As we are now approaching fall (at least for most of you) this page will now contain many of the best arch support shoes for the winter/fall 2020 season. Read on for plenty more shoes and boots for winter and fall with arch support, like the Born tassel booties below?
Plus, you may like to take a look at the winter and fall 2020 shoe trends for even more inspiration.
The best shoes with arch support
I know that many women over 40 suffer from foot problems like plantar fasciitis that require shoes with more arch support.
It's one of the unfortunate annoyances that often come with aging.
Wearing shoes with arch support may actually be a good preemptive step, as it is estimated that over 80% of the population will end up with foot problems, which are largely due to poor footwear.
Why is Arch Support Important?
A shoe with good arch support reduces muscle strain and helps you to maintain balance.
It can also reduce the risk of plantar fasciitis, which is a painful inflammatory process of the plantar fascia, the connective tissue on the sole (bottom surface) of the foot.
This is often caused by overuse of the plantar fascia or arch tendon of the foot. It is a very common condition and can be difficult to treat if not looked after properly. Another common term for the affliction is "policeman's heel".
A good support shoe is rigid enough to support the arch, yet offers just enough flexibility to allow the foot to naturally flex.
Rachel (above) wears a pair of tall boots with jeans and a denim jacket.
If you want to get a similar look, but you need support, you can get a similar pair of boots with good arch support from Ariat.
Will arch support insoles or arch support inserts work to provide the needed support?
Another way to provide more arch support is to work with shoe insoles like these ones from Amazon.
These are very affordable and you may be able to use them with your existing shoes, even though high-quality orthopedic shoes are recommended.
Experiment with insoles to see if they fit in your current shoes and if they provide enough support before changing all your shoes!
Can you wear arch support shoes and still look great?
'Sensible' shoes do tend to be thought of as more boring and are slightly more aging.
However, more and more manufacturers are paying attention to this problem now and the shoes on this list all look good.
Shoe brands like ECCO, Fly London, Vionic and Söfft have started to create really nice shoes!
The key is to find shoes that are just slightly different, have a hip vibe to them and are just a bit funkier than the regular 'sensible' shoe.
You may like to get inspired by latest shoe trends for winter and fall 2020. While some of these are quite outrageous (I can't imaging the fluffy ones would stay clean for very long in the rain!), there are some trends which could work for you.
Anita (above) wears a fabulous pair of leopard flats. If you love this look and want a pair which have arch support, try these similar leopard printed pumps from Vionic that both are comfortable and very stylish that you can wear it from day to night.
Below you will find a list of recommended brands that offer comfortable shoes and shoes with arch support. My personal favorites are ECCO and Fly London.
They all combine comfort with style because I'm sure you don't want one without the other!
Boots with arch support
First, let's start with booties with arch support as many of you may be heading into winter and fall. You can wear your booties with your jeans or with skirts and dresses for transitional weather.
Jas (above) opts for classic black booties worn with a moto jacket and a belted denim skirt.
Get a similar pair of classic boots with arch support from Bettye Muller Concepts.
1. Børn boots
Born was founded on the idea that a shoe was needed that was not only comfortable but also lightweight.
Shoes feature arch support cushions as well as an air diffusion layer to prevent that weird puff of air noise that you can sometimes get from cushioned soles.
2. Kork-Ease gray boot
A softer color, such as gray or tan can be a good option for fall if you feel black may look a little harsh with the other colors in your closet.
Kork-Ease shoes and boots feature cushioned footbeds with arch support. The crisscross strap of the Kenai booties (below) will add extra interest to your outfits.
3. UGG boots
UGG is renowned for its cozy shearling-lined styles. As well as additional warmth for the cooler weather, you'll also find arch support soles and there's a treadlite sole in case you need extra grip in the winter.
4. Knee high boots
A pair of knee-high boots are one of my wardrobe essentials for winter. They look great worn over skinny jeans. There's a cushioned insole to keep you comfortable during the day.
Gentle Souls by Kenneth Cole 'Emma' stretch knee high boot
5. Tall boots
Another option for you if you're looking for a pair of tall, knee-high boots. The Ariat boots (below) are equestrian-inspired, which is one of the key shoe trends for fall 2020. Plus, as well as being on-trend, they also have a cushioned footbed to help provide stability and support.
Ariat 'Sutton' waterproof tall boot
6. Block heel boots
You don't have to opt for flats when looking for arch support. If you would prefer a heel, you may find that a block heel is comfortable to walk in. The Born style below features a cushioned footbed with arch support.
7. Suede boots
Suede boots can be harder to take care of. But, as long as you use a good suede protector before you wear them, you should be fine. Vionic is a good brand to look out for as its shoes and boots feature Orthaheel technology to keep the foot aligned.
8. Waterproof boots
If you're looking for a combination of waterproof and comfy with a little heel, the classic styling of the Cole Haan boots (below) may appeal to you. There's a removable foam insole with arch support.
Cole Haan 'Taylor' waterproof bootie
9. Black boots
How about a totally classic style? You really don't get much more timeless than a pair of black ankle booties. The wooden sole of the Kork-Ease Ryder ankle booties (below) makes these a good choice for transitional dressing as summer turns to fall.
10. Brown lace-up bootie
Another good transitional choice for you, Sofft's boots and shoes have a multi-layer footbed with supportive cushioning. You could tuck your skinny jeans into these lace-up booties (below) or wear with your summer dresses with tights or leggings.
Flats with arch support
Now, let's move onto some supportive flats.
Fonda (above) opts for a pair of comfy ballet flats with her drawstring pants.
Check out this similar yellow flats with arch support from Børn for a similar look.
1. FitFlop flats
FitFlops are designed to get your muscles working as well as providing comfort. The FitFlop Allegro ballet flat (below) would add a pop of color to your everyday outfits.
2. Black flats
A pair of classic black flats will never date. Birdies' The Sterling loafer features a seven-layer comfort footbed with memory foam and elevating arch support.
3. Silver shoes
I love wearing silver shoes to elevate any outfit. Because metallics act as a neutral, they go with any outfit. The ara ballet flats (below) feature a classic styling and a cushioned footbed.
4. Leopard print flats
Leopard print is one of those perennial patterns that never date. But if you'd prefer a block color, you could always choose the black or bronze option.
5. Taupe flats
Do you prefer a rounded toe or pointed toe? You'll find that a pointed toe could create an elongating effect, if you would like to look taller and slimmer.
The metallic detailing on the heel adds an extra element of interest on the Rockport ballet flats (below).
Rockport 'Total Motion – Adelyn' ballet flat
Women's dress shoes with arch support
If you are heading out to dinner, you have a formal occasion to attend, or you just love wearing heels, then you may like to take a look below for dress shoes that will add height without discomfort.
Oxana (above) opts for a monochrome outfit with white block-heeled pumps.
Get a similar pair of slingback pumps with arch support from 27 Edit.
1. Red pumps
A pop of red looks fantastic against so many colors. The Tammy pumps (below) from Paul Green have a foam-cushioned footbed and an easy-to-walk in two-inch heel.
2. Black heeled sandals
A pair of black sandals will never date. The asymmetrical straps on the Naturalizer Vanessa style (below) are particularly on trend this season and will look great with your party wear or worn more casually during the summer months.
3. Nude pumps
If you're looking at ways to make your legs look longer, choosing a pair of nude pumps can be a good way to do so. These suede slingback (below) from 27 Edit are a classic that won't date. They're set on a shock-absorbing sole with a cushioned footbed.
27 Edit 'Meera' slingback pump
4. Black kitten heel pumps
What could be more timeless than a pair of black, kitten heeled pumps? Wear with dresses or jeans.
The Vionic Josie kitten heels (below) have a podiatrist-designed orthotic footbed with arch support
Vionic 'Josie' kitten heel pump
5. Snake print heels
Along with leopard print, snake print is one of those patterns that won't date. You can wear snakeprint as a neutral so it's a print that will go with most outfits in your closet. The sculptural silhouette of the Munro sandals (below) will add modernity to your looks.
Sneakers with arch support
If you really want to make sure you're comfy, then a pair of sneakers could be a good option for you.
Kimba (above) looks fabulous in her rust-colored trench and white sneakers.
Check out these similar sneakers from ECCO.
1. Colored sneaker
To bring your sneakers up to date for fall, you could opt for an autumnal burgundy shade like this pair from ECCO (below). They have a shock absorbing footbed for extra support.
2. Low top sneaker
For a pair of sneakers that will add extra oomph to your outfits, yet will still work with everything in your closet, you could opt for a pair in a metallic shade. There's a removable cushioned insert.
Trask 'Layla' water resistant sneakers
3. High top sneaker
For extra ankle support, you could choose a pair of high tops.The Miz Mooz high tops (below) come in a good choice of neutrals.
Miz Mooz 'Laurent' high top sneaker
Running shoes with arch support
Of course, you may need a more specialist pair of shoes if you're buying sneakers to exercise in. Cole Haan's sneakers (below) are lightweight and supportive so should keep you comfy whether you're running errands or running a few miles.
Cole Haan 'ZeroGrand Outspace' running shoe
Women's walking shoes
If you prefer hiking to running, you could opt for Vionic's Walker sneaker (below), which should make sure your feet are supported no matter what the terrain.
Tennis shoes with arch support
A pair of classic tennis shoes will go with the jeans in your closet, or you could wear with your skirts and dresses to add a more casual feel to your outfits.
1. ECCO
A pair of white sneakers will go with everything in your closet. Sporty and chic, ECCO's soft sneakers have a cushioned sole and breathable lining.
2. Naturalizer
A color block style adds interest to Naturalizer's Morrison sneakers (below). Choose from either white or black.
Naturalizer 'Morrison' sneaker
3. Trask
A darker shade can be a good choice for winter and fall if you want to make sure your sneakers don't get too dirty in inclement weather. The Trask Lindsey sneaker comes in a good choice of neutrals.
Best arch support sandals
If you're heading into spring and summer rather than winter, or you're lucky enough to be going on vacation, you'll need a pair of arch support sandals.
Take a look at some of my favorites below.
1. Fly London
I wear my Fly London wedges with pretty much everything. They look a little 'chunky' in style before you put them on, but when you wear them, they are comfortable, stylish and edgy. They remain on trend each year!
They come in all kinds of colors too and I know several women who have these shoes in multiple colors.
They manage to be timeless, but on-trend year after year. The Yala wedge is my style of choice. You will always find this style is available season after season.
I find these are a great shoe to transition from summer through to fall as you can wear with summer clothes or pieces for cooler weather.
Dayle (above) wears a pair of red Yala wedge sandals which she matches to her pants, jewelry and the pattern on her tunic and face mask.
Fly London 'Yala' perforated leather sandal
Below are a few examples of how I have worn my own Yala wedges. .
2. Earth sandal
Earth is popular among women who need arch support because of its contour technology with, and flexibility that means its shoes move with the foot.
It also offers some very stylish options if you're looking for a new pair of shoes for summer or fall.
These easygoing, perforated Earth sandals (below) have a cushioned footbed that will give you comfort all day.
3. Naot
Naot is another go-to comfort brand option. You could add a little extra height with a wedge sandal like the Wand style (below).
Also take a look at the most comfortable and hip heels to wear.
4. Söfft
A pair of shoes which are a kind of bootie-sandal hybrid are a good way to add a little edge to your outfits. The block heeled sandals (below) come in a stylish bronze shade which you'll be able to wear with most items in your closet.
Söfft 'Milan II' block heel sandal
4. Bueno
If you love a minimalist style, then the Bueno Tanner sandal (below) could be for you. With an asymmetrical strap and small heel, they'll go with any of the pants or dresses in your closet.
6. Birkenstock
Birkenstock, with its instantly-recognizable contoured footbed is renowned for offering good arch support as the footbed is designed to mirror the shape of the foot. The Mayari style (below) comes in a huge range of colors, whether you're a neutrals fan or you like a pop of bright color.
Birkenstock 'Mayari Birko-Flor' sandal
Slippers with arch support
All of you, I'm sure, have been at home more than usual so you may want a pair of comfy slippers for relaxing in. And, of course, to keep your feet cozy.
1. Jessica Simpson
Jessica Simpson is known for her glamorous shoes. However, she hasn't forgotten about what you might want to wear at home! These memory foam slippers (below) have great reviews on Amazon.
Jessica Simpson faux fur slipper
2. isotoner
Reviewers also rave about these isotoner clogs (below) with one describing them as a "hug for the feet". They have arch support and memory foam, making them a good option if you suffer from plantar fasciitis and want to make sure your feet continue to be supported even when at home.
3. RockDove
Another very well-reviewed choice are these RockDove two-tone slippers (below) which come in a choice of 6 color pathways.
Shoes with good arch support for travel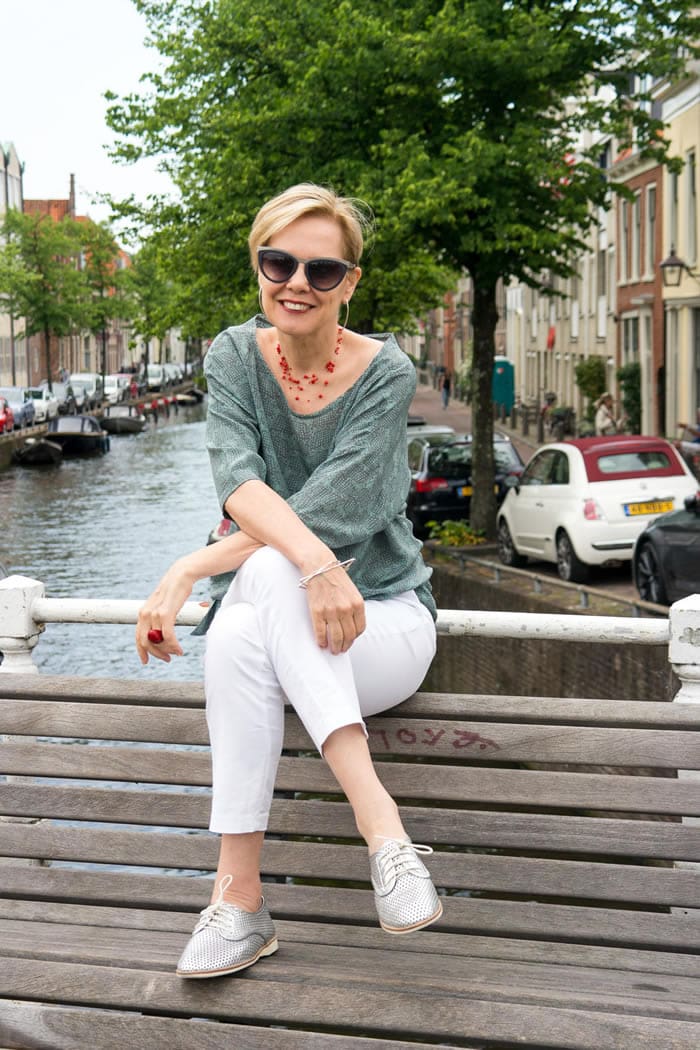 If you are looking for comfortable shoes for travel, here are a few more options.
Many of the arch support shoes mentioned above will be great choices but if arch support is not your top priority here are a few more.
1. Rollie brogues
I really enjoy wearing these brogues from the brand Rollie. Although there is not a huge amount of arch support the soles are very soft and I have found these shoes very comfortable. They are ideal for travel as they are super lightweight.
Rollie lightweight lace-up brogues
Great for walking around the city. More shoes from Rollie here.
For more inspiration, read our article on what shoes to wear with different styles of pants.
2. Superga sneaker
A good white sneaker never goes out of style and they are still very current.
The Superga '2750 Cotu' sneaker has long been a favorite as very popular walking shoe that looks good with many outfits.
They don't have built in arch support as such, but many travellers choose to add an arch support insole.
There are more ideas here in this article on the most comfortable walking shoes for women over 40.
Other recommended brands of arch support shoes
Of course, the options above aren't the only arch support shoes available, although they tend to be the most popular.
Here is a full list of recommended brands of shoes that offer you great arch support and are comfortable walking shoes.
I have listed the best arch support shoes brands in alphabetical order:
Want to make this resource even better? Add your arch support recommendations as well!
Just add a comment to this article with your favorite arch support shoes and why they work so well for you.
Please note that many of the shoes featured below come in several color options, so if you like a model, please make sure to click through and see if they have your desired color.
Do you have any favorite comfortable shoe brands?
What would be your picks for the best arch support shoes? Let me know in the comments below.
More articles on comfortable shoes:
Like this article on the best shoes with arch support? Share it on Pinterest!
Want to get more articles from 40+style in your inbox, subscribe here.
You can also connect with 40+style on Facebook, Instagram or Pinterest.
Support 40+style by using the links in our articles to shop. As an associate for Amazon and many other brands, we receive a small commission (at no cost to you) on qualifying purchases which enables us to keep creating amazing free content for you. Thanks!