Wearing high heels can be a pain – quite literally. And, I'm definitely not a believer in the old "beauty is pain" adage. But, you don't have to give up your heels completely to be comfortable.
You really don't have to forgo comfort for style. And, here in this article to prove it are the most comfortable heels you can wear, which both look and feel amazing.
Comfortable high heels
You might want to wear high heels because you would like to add extra height.
Or, you may want to add heels for a formal occasion, for work, or because you simply think a certain outfit looks better with heels.
Whatever the reason, you will want to make sure that the heels you choose are comfortable for your feet as well as looking stylish.
 Check out our tips on how to look taller.
The best types of comfy heels to choose
I definitely won't wear anything that hurts. If you too have turned your back on heels which aren't kind to your feet, what types of heels should you look for?
The best types of heels for comfort are likely to be kitten heels, block heels and platform heels because either they don't have skyscraper heels, or they have wider heels, making them easier to walk in. I'd stick with heels around 3-inches or lower.
So, you can certainly combine being trendy and stylish with being comfortable. Plus, lower heels are on trend right now, so you can be comfy and trendy.
I like shopping for heels on Nordstrom because you can define your search by heel height and by height type.
Bev (above) opts for a pair of block heel sandals to match the yellow of her dress.
Recreate her look with this similar maxi dress and ankle strap sandals.
Best of all, these styles are definitely on trend right now. Check out this article on the best shoe trends for spring and summer 2020.
What to look out for when choosing a pair of comfortable heels
Have you ever bought a pair of heels which look fabulous, only to find you wear them once or twice and then push them to the back of your closet because they are so uncomfortable.
I know it's a mistake that I've made. Here are some things to look out for if you want to ensure that the heels you opt for are comfortable:
Choose the right heel height for you
A comfortable height for one woman is not necessarily a comfortable height for someone else. Don't opt for 4-inch stilettos just because they look good. Generally, a height between 2-inches and 3-inches will be best.
Fonda (above) chooses a mid-height heel which looks great with her jeans.
Check out this similar top, moto jacket, pants and pumps.
Look for soles with cushioning
Wearing high heels puts more pressure on your feet, particularly on the balls of your feet. Look out for shoes which have cushioned soles (or you can always add a cushioned insert).
Want more support from your shoes? Check out the best shoes with arch support.
Make sure you get the right fit
It's always important to get the right fit in any shoe. But, with high heels, you definitely don't want them pinching or slipping on and off your feet. Just like clothes, you will find that some brands fit you better. As well as shoe size, ensure you opt for the right width for your feet.
Opt for natural materials
Leather and suede are often more forgiving for your feet as they stretch and "give" a little with wear, molding to your feet, while manmade materials can be less flexible.
Pointed or round?
Heels can be tricky to wear. Pointed toes can also be hard to wear if you don't get the fit just right as they could squeeze your toes. So, when you put the two together, you could find pointed heels are uncomfortable to wear. If you want to make sure that your toes aren't squished, then you could look for a round toe (or an open toe in warmer weather).
Try on your shoes in the afternoon
Whether you are buying in person or trying on your online purchase, it's best to try on your shoes in the afternoon. That's because your feet swell a little and change shape during the day. So, the shoes that fit you in the morning may feel too tight in the afternoon. The ones that fit in the afternoon are the ones you should buy.
Types of comfortable heels to look out for
Now that you are considering what heel height and shoe shape might be best for you, below are some of the most comfortable heel styles to choose from, whether you are looking for heels for an evening out, for a special occasion, for work, or just for everyday.
Kitten heels
Short and slender, kitten heels are generally around 1.5-inches in height, so are definitely more comfortable to walk in than many other types of heels.
Not only that, but they're very much on trend for spring and summer 2020, with designers including Balmain, Dior and Giorgio Armani showcasing small-is-beautiful heels on their runways.
Elsie (above) looks fabulous in her kitten heels, picking out the dark red shade in her dress.
Get her look with this similar dress, kitten heels and clutch.
This pair of Sam Edelman 'Dori' kitten heelp pump heels are recommended on Amazon for their classic style and comfort.
Sam Edelman 'Dori' kitten heelp pump
Low heels
Another great option, either for work or for everyday, are these Seychelles ankle strap sandals.
You'll always find this style in stock, although new colors are added each season. You can also opt for leather or suede.
They are made from Italian leather and feature a cushioned insole and elastic back to stop slipping.
Block heels
Because you are giving yourself more surface area to walk on, you will find a block heel much more comfortable to wear than thinner heels.
You may even find that even if you choose a higher pair, they are still easier to walk in because of the width of the heel.
Plus, you're not going to get your heel caught in anything as you walk, or run the risk of your foot turning over onto its side if you wobble.
If you're heading into summer, you will be thinking about sandals and shoes which let your feet breathe.
Sandra (above) wears a lovely pair of block heeled sandals with her summer outfit.
Recreate her outfit with this similar dress, block heel sandals and handbag.
These Naturalizer 'Vera' ankle strap sandal style sandals are a classic. They have a fresh take on a block heel, making a heel which is wide yet still manages to be delicate. You could opt for black leather or suede, or a nude style if you are looking for a leg-lengthening effect.
Naturalizer 'Vera' ankle strap sandal
For more inspiration, read our article on what shoes to wear with different styles of pants.
Angled heels
A similar take on the block heel which is particularly on trend this year, the angled heel still offers a wide heel to walk on but with a stylish twist.
Botkier 'Sena' hald d'Orsay pump
Comfortable heels for work
As you head into your 40s and beyond, where you work, the way you work, and even if you work may change.
But, if you do need, or want, a pair of high heels for work, the last thing you want is to suffer through your working day with aching feet.
Monika (above) chooses a classic pair of black pumps with her work outfit.
Check out this similar tee, blazer, pants, pumps and bag.
Naturalizer is always a good go-to for comfortable heels and you will find a number of classic pumps which will add some timeless style to your closet.
The Paul Green 'Tammy' pump comes in a classic style with a wide block heel.
For more inspiration check out our article on what shoes to wear with different styles of pants
Comfortable black heels
Most women will have a pair, or several pairs, of black heels in their closet. But, how comfortable are yours?
You could of course, choose any number of styles of black heels, and they will be on trend for many years to come.
The Botkier 'Ulla' block heel sandal is a mule style which is ideal for summer.
Botkier 'Ulla' block heel sandal
Comfortable pumps
A pair of pumps is a true wardrobe staple that you can wear with everything from a pencil skirt to a pair of jeans.
You can choose any heel height from an inch to four inches – whatever you feel comfortable with.
They're such a versatile pair of shoes too. You can go with any number of classic options or patterns like leopard print to bring something new to your outfits.
This CC Corso Como 'Ryanna' pump feature a stylish leopard print.
Platforms
A platform heel is another idea if you want to add height without walking on a traditional heel. Platforms elevate the ball of your foot as well as your heel, so they tend to be more comfortable to walk in than high heels.
Comfortable wedges
If you've been following me for a while now, you will know how much I love my Fly London sandals.
I have the Yala wedge which is 2.25 inches in height, but it feels lower because there's a 1-inch platform.
They're comfortable and a little bit quirky, so you can add some individual style to your outfits.
Dayle (above) is a fellow fan of Fly London wedges and often wears them with a variety of outfits.
Complete her look with this similar dress and cardigan.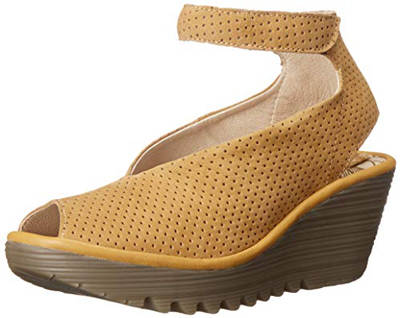 Fly London 'Yala' perforated wedge sandal
Comfortable sandals with heels
Sandals with heels are another incredibly versatile shoe.
You can pack for evenings out on vacation or wear to more formal occasions such as summer weddings or events.
Or, if you find a comfy pair, you can wear for day-to-day wear with a pair of jeans and a blazer.
These slingback pumps from Geox add some height and have a funky round heel.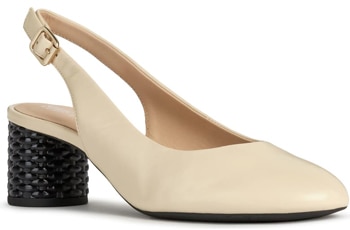 Geox 'Ortensia' slingback pump
Most comfortable stilettos
If you do want to add a few inches, then stilettos are usually the highest heels you can choose. Most come in 4-inch heel heights. But, they can be much more difficult to walk in because they feature a tapering heel which narrows at the bottom.
While you are unlikely to want to wear them everyday – after all, even Victoria Beckham has given up her stiletto habit in favor of more comfortable shoes – you might want to don a pair of stilettos occasionally.
Maybe you save your stilettos for times when you know you will be on your feet for a limited amount of time, such as a dinner event.
Petra (above) wears her stilettos with a jumpsuit for an evening out.
Steal her look with this similar jumpsuit, pumps and bag.
These Naturalizer 'Anna' pointed toe pumps (below) feature comfy cushioning and come in a wide variety of colors.
You can opt for a classic shade, go for something bright like red or pink, or choose a pattern like florals which are bang on trend this year.
Naturalizer 'Anna' pointed toe pump
Comfortable sandals
Everyone needs at least one comfortable pair of sandals for summer. These sandals from Rockport Cob Hill feature an interesting caged style, making them perfect for summer and transitional weather as we move from summer to fall.
Rockport Cobb Hill 'Audrina Ghillie' sandal
Flared heel
A different take on the kitten heel, the flared heel is a nod to the 90s and was featured on many of the designer runways for summer 2020.
The Jeffrey Campbell croc embossed pumps combine two trends in one, featuring both a flared heel and an animal print texture.
Jeffrey Campbell croc embossed pump
Stacked heel
Usually featuring a wooden sole and heel, the stacked heel stars off wide and narrows towards the base, but it still provides a wide heel to walk on.
The Sòfft 'Menaka' sandals come in a beautiful shade of gray as well as classic black and tan.
Most comfortable designer heels
If you're thinking about investing in a pair of designer heels, then you'll want to ensure they are comfortable, you can walk in them, and they are a classic style so you can wear them for many years to come.
These sandals from Manolo Blahnik tick all of those boxes.
Manolo Blahnik 'Kalita' metallic slide sandal
How to make heels more comfortable
If you do already have heels in your closet that you would love to wear, but which are uncomfortable, you may still be able to find a solution.
Before you gift or donate them, you could try wearing shoe inserts.
You can find high heel comfort inserts on Amazon. Depending on where you suffer any discomfort, or just to prevent any soreness before it happens, you can find pads for the balls of your feet, or heel grips to stop any slipping on the back of your feet.
FOCONEE high heel cushion silicone shoe pads
Yhslmh heel cushion inserts toe fillers pads
It may be worth trying one of these options before you give up on your heels completely.
What are the most comfortable brands of high heel?
What are the most comfortable heels you have ever worn? Let me know in the comments below so you can help to turn this into a fantastic resource for other women searching for comfortable high heels.
Continue reading:
Do you like this article on the most comfortable heels? Share it on Pinterest!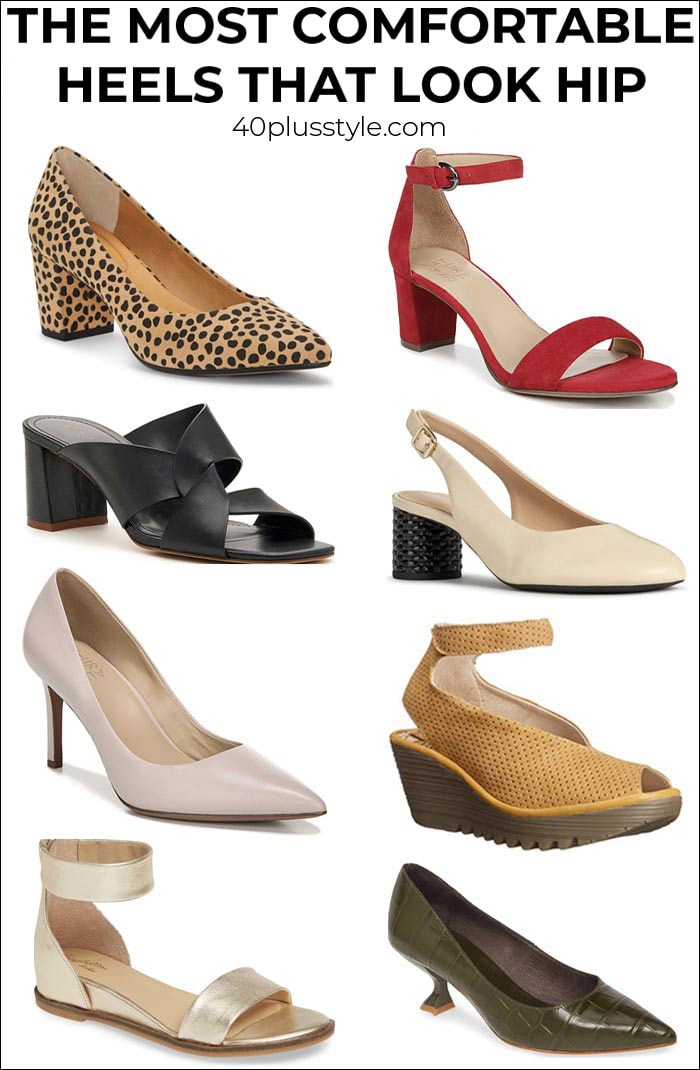 Feature image by Elsie
Want to get more articles from 40+style in your inbox, subscribe here.
You can also connect with 40+style on Facebook, Instagram or Pinterest.
Support 40+style by using the links in our articles to shop. As an associate for Amazon and many other brands, we receive a small commission (at no cost to you) on qualifying purchases which enables us to keep creating amazing free content for you. Thanks!