A style that's as hard to pin down as you are! Street or urban style develops on the streets of the world's major cities.
It is constantly evolving, but there are elements of urban or street style which remain pretty constant.
Just like the Eurochic style personality, it is hard to define, but you will recognize urban style when you see it.
So what is urban style?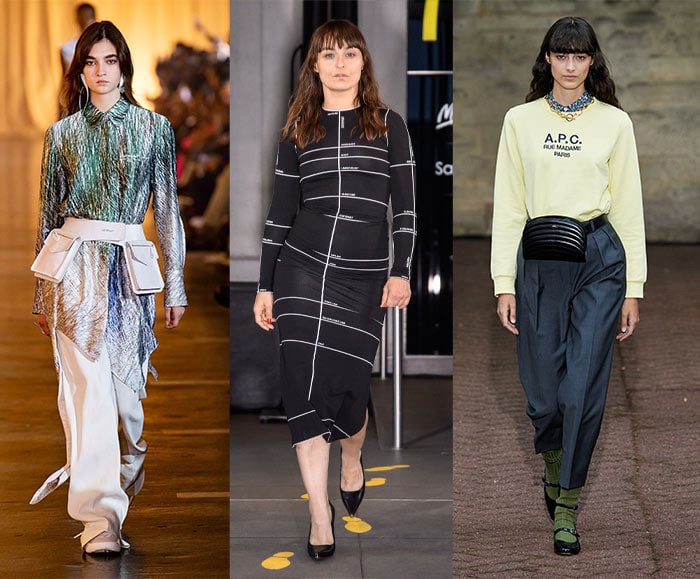 Off-White – Vetements – A.P.C.
Urban or street style tends to be a mix of casual and hip, and it picks up on what is happening in the world at any given time.
It is about sub-culture rather than major trends and also has its roots in sports and music movements such as skateboarding, hip hop and rap. Many big-name designer brands are consistently inspired by an urban look.
This is a style which is often more prevalent among younger generations, but there are always exceptions, and a 40+ women can rock urban style just as well (or better) than her younger counterparts. Just ask Gwen Stefani!
If you aren't sure what street style is, some examples (both current and from years gone by) include punk, goth, grunge, mod and hip hop.
How to tell if you have an urban style personality
If you are a non-conformist then there are probably at least some elements of urban style in your closet.
However, most women don't just have one style they are drawn to. They also pick and choose from other styles. That's what makes everyone's style unique.
Nadya (above) adds a printed tee and belt bag to a pair of classic chinos.
Get this similar oversized tee, crop pants, belt bag and sneakers to steal her look.
If you aren't sure what your style is, you can take our fun style personality quiz to find out.
Here are just some of the ways to tell if you have an urban style personality…
You don't like to conform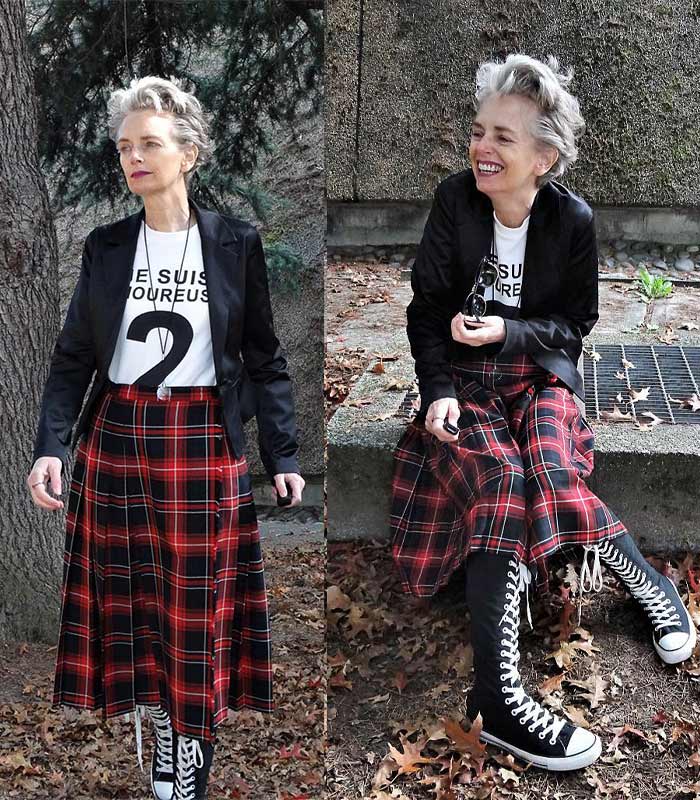 While you definitely have your finger on the pulse when it comes to trends, your style tends to be about being subversive rather than conforming to all of the trends seen on the fashion show runways.
Mel (above) always looks fabulous. Here, she evokes a punk era while bringing her look bang up-to-date.
Check out this similar shirt, satin blazer, plaid skirt and lace-up high sneakers.
You won't compromise on comfort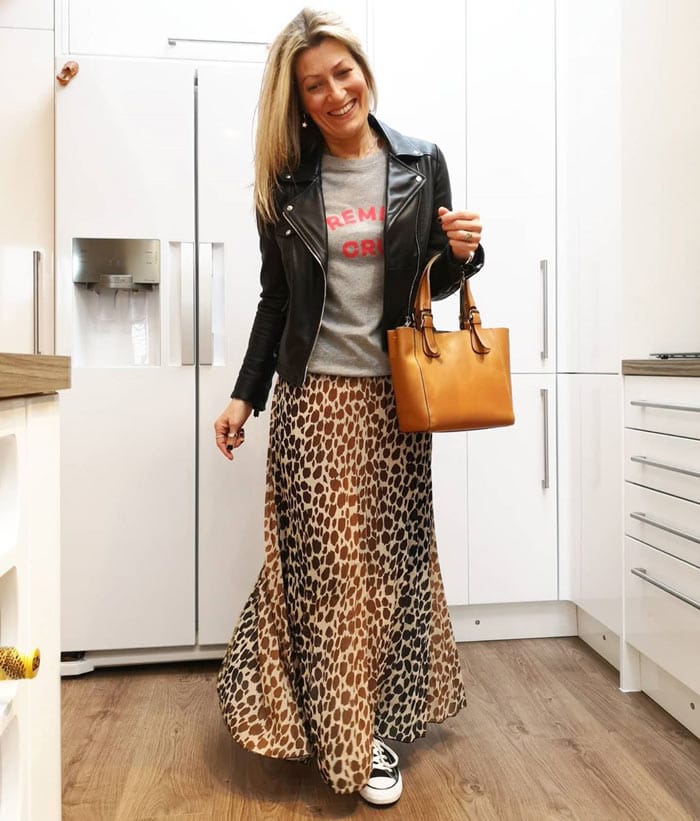 Feeling comfortable in your clothes is important to you. You won't wear anything that digs, pinches or otherwise constricts you.
Abi (above) combines comfort with style by teaming her skirt with sneakers and a moto jacket.
Get this similar shirt, moto jacket, maxi skirt, sneakers and handbag.
I probably won't see you in pastels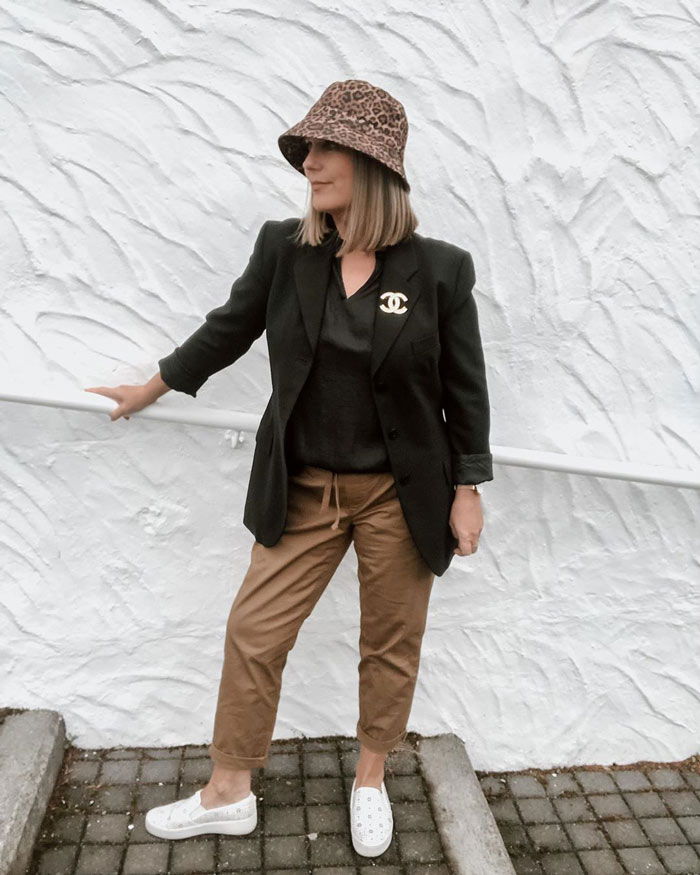 If I were to open your closet, I probably won't see a lot of color, particularly rich jewel shades or pastel hues.
You gravitate towards black, khaki and dark neutrals.
Jona (above) mixes elements of urban style with classic pieces for a look which is uniquely, stylishly hers.
Get her look with this similar top, blazer, pants, sneakers and bucket hat.
You like to mix it up
Even if you are attending a formal event, you like to mix formal with casual.
You might wear a khaki jacket over your ballgown or choose pants instead of a dress.
Psyche (above) adds a touch of urban style to her outfit with her cut-off shorts and oversized neon blazer.
Check out this similar shirt, blazer, bermuda shorts and sneakers.
You wear your heart on your sleeve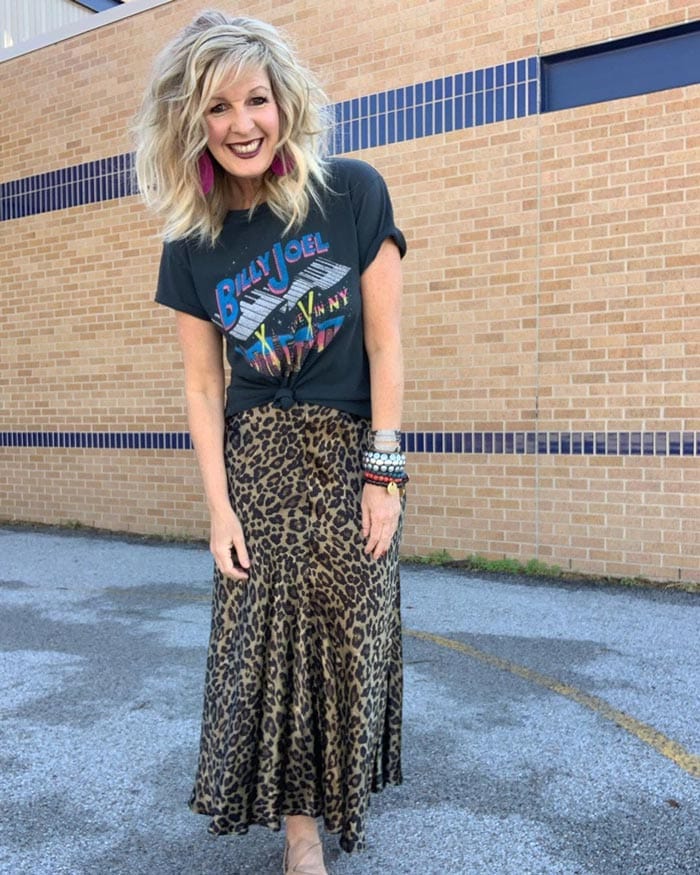 Or, on your t-shirt at least.
While you may not necessarily love a lot of color, you do like a good logo, slogan, moto or print. Just so long as it's either meaningful or it's from your favorite band or brand.
Melanie (above) adds a music tee to her leopard print.
You can get her shirt from Evereve and wear it with this similar maxi skirt.
Celebrities with an urban fashion personality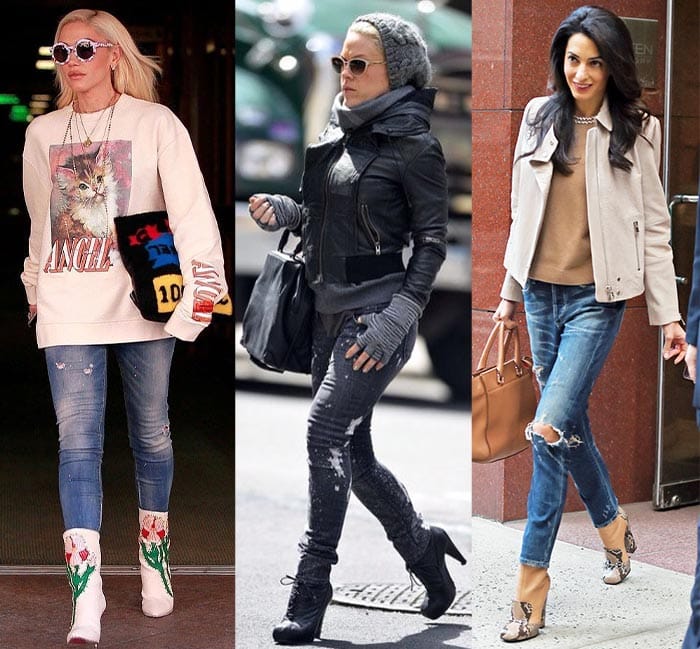 Gwen Stefani is, arguably, the most famous 40+ woman with a very recognizable urban style.
Fellow singer Pink, who recently turned 40, also loves urban fashion (although she adds more than a touch of rock chick).
Do you think you have a rock style personality? Read our article to know if you do.
There are also plenty of times when I've seen Amal Clooney (whose style tends to be Eurochic) don an urban look such as ripped jeans, leather jackets or khaki jumpsuits.
So, you can add elements of this style to your own outfits for a current look.
It might only be wearing your sneakers with your dress, or adding a beanie hat to your jeans and blazer outfit, but it could give you a more youthful vibe.
Urban t-shirts and tops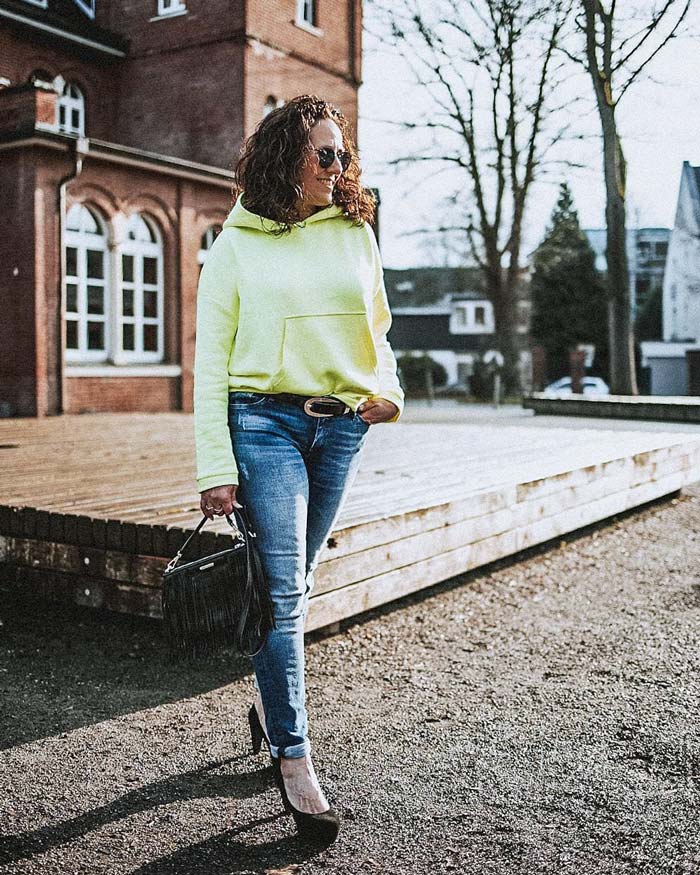 When it comes to your tops, you like slouchy styles that aren't too fitted. You find printed tees and asymmetry attractive, but you might also add some subtle glamour by opting for a one-shoulder style.
Your closet will usually also feature a white shirt because this is such a versatile piece you can wear with jeans, under dungarees or a jumpsuit, or over a dress.
Natalie (above) opts to mix casual and formal with her hoodie and pumps.
Check out this similar hoodie, jeans, handbag and pumps.
Caslon ruched t-shirt – Zadig & Voltaire graphic t-shirt – COTTON CITIZEN crop hoodie – Grayson button-up shirt
Jackets and coats for the urban style personality
Your coats tend to be shorter jackets rather than long ones, but that's not to say you can't rock a full-length coat with your Dr. Martens or sneakers.
You will be drawn to moto, bomber and denim styles, as well as prints which have a nod to the punk era rather than being too classic.
You're a big fan of a slouchy sweater. You prefer an oversized knit or hoodie rather than anything too tight.
Beth (above) wears a hoodie underneath her denim jacket.
Get her look with this similar denim jacket, jeans and sneakers.

STS Blue crop denim jacket – Club Monaco moto jacket – BB Dakota plaid blazer – BLANKNYC drape front jacket
Urban jeans and pants
Jeans are a very important wardrobe staple and you are likely to have several pairs in your closet.
You are drawn to distressed jeans as well as gray denim, but also like comfy cargo pants. A pair of black skinny jeans or leggings will also go with most items in your wardrobe.
Abi (above) opts for a lounge set and wears her moto jacket over the top.
Check out this similar moto jacket, hoodie, jogger pants, sneakers and crossbody bag.
MOTHER ripped crop straight jeans – FRAME ripped crop boyfriend jeans – Prosperity Denim cargo skinny jeans – Frank & Eileen pleated jogger pants
Dresses and skirts for the urban style personality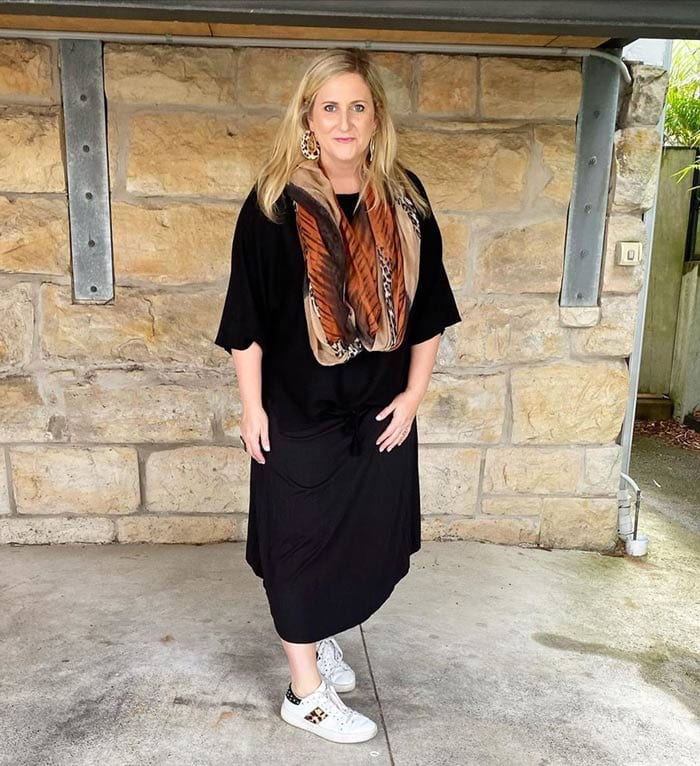 While jeans tend to be your go-to closet staple, you also like to mix up your outfits by wearing jumpsuits, dresses or skirts.
You are unlikely to opt for anything too "girly". Or, if you do, you will offset that with more casual shoes or accessories such as chunky boots or sneakers.
Andrea (above) wears her oversized t-shirt dress with sneakers.
Steal her look with this similar top, skirt, sneakers, scarf and earrings.
Eileen Fisher t-shirt dress – Band of Gypsies jumpsuit – Topshop satin tiered midi skirt – Cupcakes and Cashmere midi skirt
Shoes to wear with your urban wear
Two classic shoes which will never go out of style for an urban style personalty are a pair of Dr. Martens and a pair of converse high tops.
But, you could also try booties or over-the-knee boots with your dresses and jeans.
Elena (above) opts for a slogan tee and sneakers.
Check out this similar jacket, jeans and wear it with this pair of Gucci sneakers.
Dr. Martens sandals – Børn studded sandals – Vince Camuto block heel sandal – Converse low top sneaker
Accessories to go with your urban clothes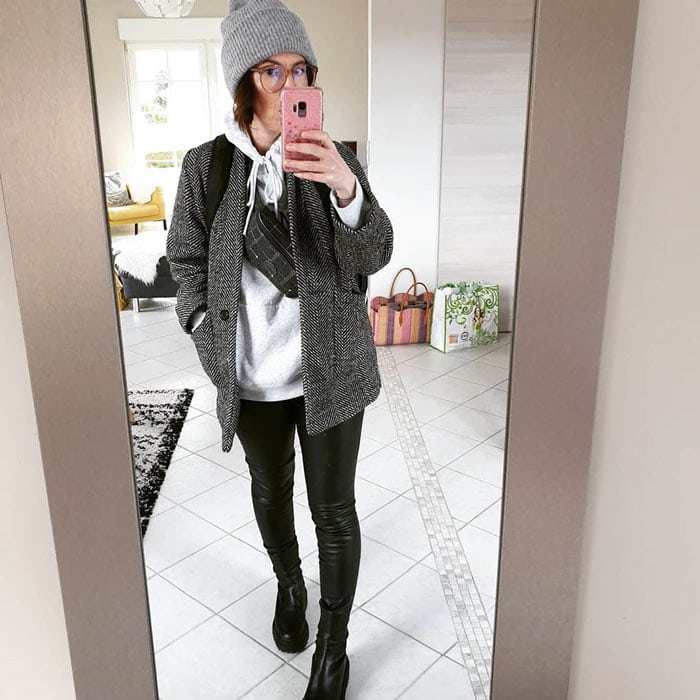 The most iconic street style accessory has to be the beanie hat.
This gives everything from jeans to dresses an air of haven't-tried-too-hard nonchalance.
But, you could always add a pair of sunglasses and some bright red lipstick, like Gwen Stefani, to add a little touch of glamour. Gwen likes to wear Revlon's Love that Red.
For bags, you prefer a hands-free approach rather than a tote or a satchel, so you could choose a backpack or a crossbody bag.
@poppysuns (above) wears a beanie hat with her leather pants.
Check out this similar hoodie, coat, leather pants, boots, belt bag and beanie.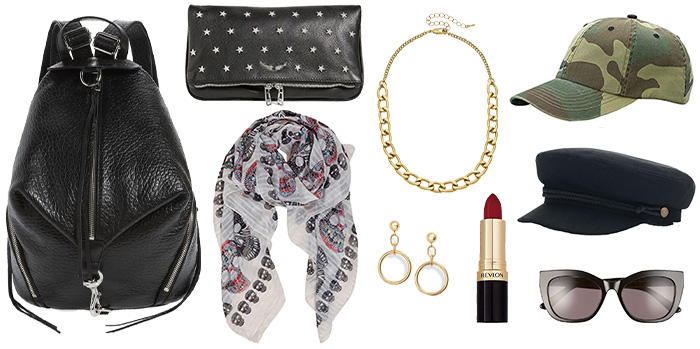 Rebecca Minkoff backpack – Zadig & Voltaire studded leather clutch – Humble Chic scarf – Canvas Jewelry chain necklace – Knotty hoop drop earrings – Brixton fisherman cap – Mega Cap baseball cap – DIFF cat eye sunglasses – Revlon 'Super Lustrous Lipstick'
A capsule wardrobe of 9 streetwear outfits for the urban style personality
There are so many different ways you could put the pieces from above together to create countless outfits.
But, here are a few ideas to get you started…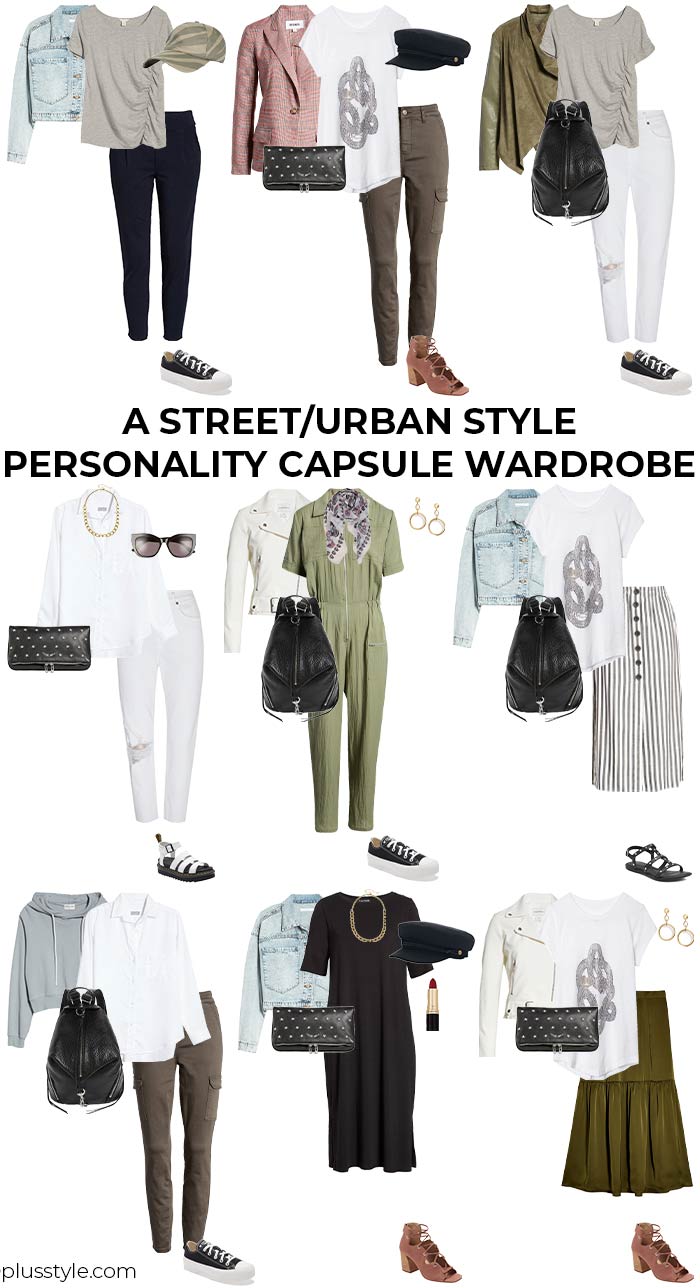 More urban style inspiration
The capsule below is past season, but still looks current, showing that an urban style can be modern and timeless at the same time.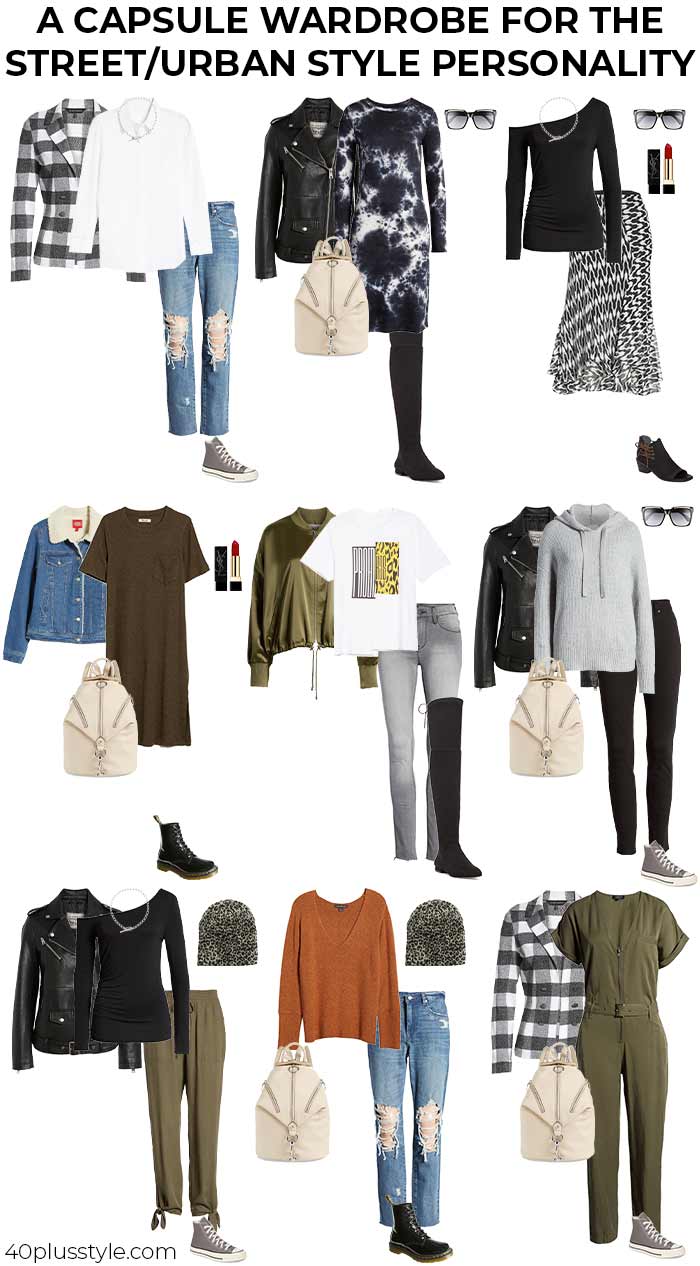 Read our ultimate guide to creating a capsule wardrobe that works best for you.
Streetwear brands for the urban style personality
Where do you like to shop if you have an urban style personality?
As well as shopping in regular stores, you also love independent shops as well as looking in vintage stores for unique pieces.
When it comes to the high street, and designer pieces, these are my favorites for the urban style personality. Let me know where you like to shop.
Continue reading:
What do you think? Can you relate to this streetwear-inspired style?
Like this post on the urban style personality? Share it on Pinterest!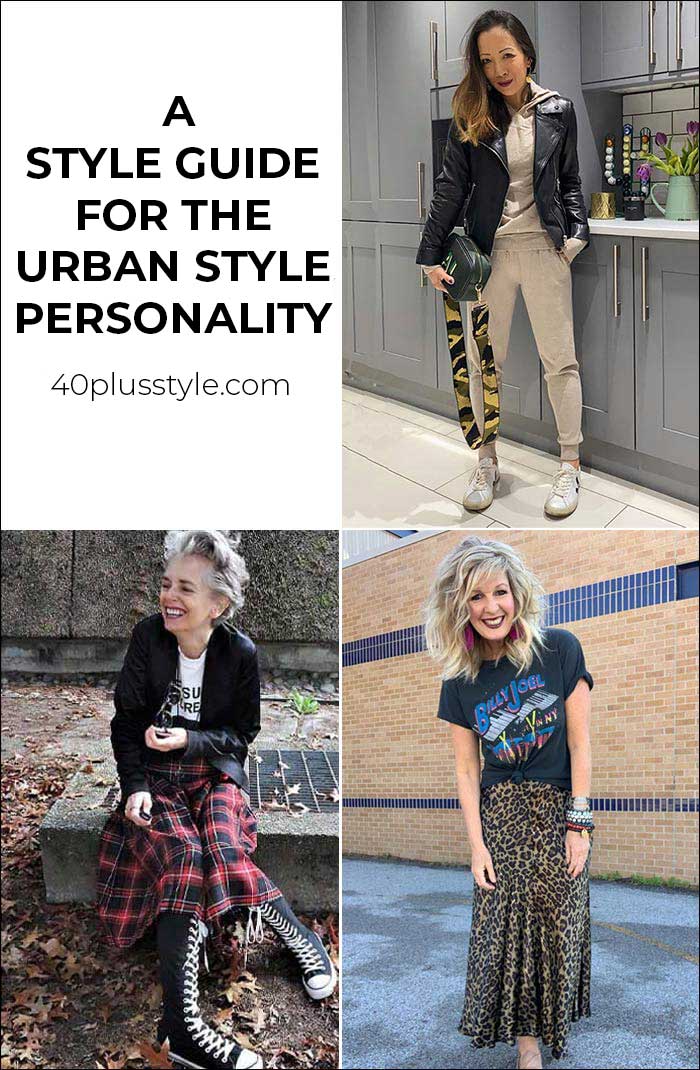 Feature image by Abi
Want to get more articles from 40+style in your inbox, subscribe here.
You can also connect with 40+style on Facebook, Instagram or Pinterest.
Support 40+style by using the links in our articles to shop. As an associate for Amazon and many other brands, we receive a small commission (at no cost to you) on qualifying purchases which enables us to keep creating amazing free content for you. Thanks!