Party season is fast approaching and you may have several holiday parties or Christmas parties to attend. So … what are you going to wear for your christmas party?
Fortunately, there are many festive options out there, with many outfit possibilities. Any of these would work well for a christmas party.
1. Red
Red is a great color for women over 40, It is an especially popular option at holiday time, for obvious reasons. When red is also a trend, as it is this season, it is even easier to find the right piece for the occasion. And whatever type of colouring you have, there is a red that is right for you.
You can choose to go bold with your red, wearing one statement piece in that color, or you can use it to accent a neutral outfit. Whichever you choose, you will be on trend and in the holiday spirit.
2. Jumpsuits
Jumpsuits have been big for a few seasons, and the trend shows no sign of letting up. Wear a dressy one and accessorize it with holiday-ready red and sparkly accessories. If you choose a versatile jumpsuit, you can also style it more casually to get more wear out of it.
3. Pearl embellishment
A fun trend lately is pearls, embellishing everything from hats to gloves to shoes. They're also big on jeans. If you're looking for a way to dress casually for a holiday event but still keep it festive, pearl-embellished denim is the way to go.
Get even more holiday glam with a small additional dose of pearl embellishment (just make sure not to go overboard with this trend—a little goes a long way) and you're set for a more casual holiday get-together.
4. Metallics
Besides red, almost nothing says "festive" so much as a piece of clothing in a metallic. A skirt like this is an especially great option. Pair yours with colors that harmonize with the metallic, as burgundy with this skirt.
Go for full-on dressy with faux fur and sparkly earrings, then after the holidays, pair your metallic skirt with a denim jacket and tall boots for a more casual spin on this look.
5. Velvet
Velvet is a sure bet for almost any holiday event, and it is particularly big right now, so it's fairly easy to find something in velvet that is right for you. Velvet can be extremely versatile, and something like these pants can be styled many ways.
Here I chose pieces in neutral black and white and brought in color with the accessories.
6. Pastels, especially blush
Wearing a single column of a light pastel is an unusual and eye-catching approach to holiday dressing. This season, blush is particularly in style. Accessorize yours with neutrals like black, white, and metallic. This skirt could also be paired with a blush-colored top to create a single, slimming line.
Want more ideas? Here are some more collages to inspire you
Simple & effortlessly chic
Classy with lace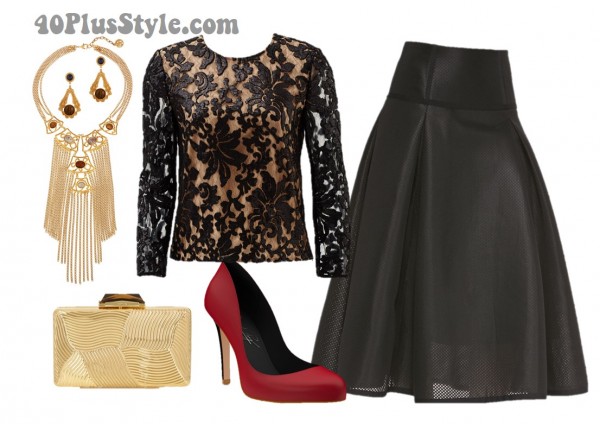 Have you planned your holiday party and Christmas outfits? What will you wear for your christmas party?