New Zealand born Yvonne lives in Switzerland and describes her style as contemporary with a bit of an edge. Find out out more about this dynamic, funky woman and discover her style secrets in today's style interview.
Can you tell us a little bit more about yourself?
I was born and grew up in New Zealand to Swiss / German parents. Inside my heart I still really feel like a New Zealander more than anything else but I left home for my big overseas experience at the age of 24 and have only ever been back for vacation since.
I'm married to a swiss man and have on adorable teenage daughter.
I'm a certified Chartered Accountant with many years experience within the Finance area. A passion for fashion has always been by my side and when my last project finished in the corporate world I decided to be brave and do a huge leap to follow my passion and start blogging.
I love travel and have always travelled a lot – even when on maternity leave.
I love running – it clears the head so I will go about 4 times a week. Last but definitely not least I am a strong believer that chocolate will cure almost anything.
As a point of reference which age group do you belong to or perhaps you are willing to share your age?
Here we go with my public confession…FunkyForty was started as I was 49 years old. I joke with all my friends telling them it is my insurance to staying 40 forever. Now however I am 51, sometimes feeling 15.
Can you tell us a bit more about your blog Funky Forty and why you created it?
As mentioned above I have always had a passion for fashion and had been thinking about starting a blog for the over 40 for some time. Then I went along to an opening of a new clothing store in Zurich where I met an American blogger (Dale from Savvy Spice) and she gave me the encouraging words which were all I needed to really go ahead and start.
FunkyForty was started to show women over 40 that fashion really has no age. You can remain up to date and trendy no matter how old you are. In reality age is just a number.
The Funky part of the name relates to remaining Funky at any age and it is my personal belief that in order to do so you need to keep your mind open by travelling and being active (including sporty). This is why I have also included travel as a big feature on the blog.
I also see FunkyForty as an outlet to encourage women to try out different things and work with what you already have in your wardrobes – to be brave in trying out new combinations and new trends as they arise.
Visiting Fashion weeks is a way of ensuring I am in line with up to the minute fashion and can pass on real trend tips to my readers.
My Father was a renowned Swiss baker in Auckland, NZ with his own bakery Sugar n Spice – I have sweet recipes on my blog in memory of him. He was super talented and a very kind man who gave cakes to children home at the end of each day!
How would you describe your own personal style?
I think I would describe my own personal style as somewhat contemporary with a bit of an edge. I like trying out new trends.
What would you consider the most important components of your style?
This is difficult – perhaps the fact that I always mix expensive with cheap and cheerful. The expensive pieces last for years but are worn differently each season whilst the cheap and cheerful quite simply doesn't last so long.
Where do you live and how does that influence your style?
Living in Switzerland but coming from NZ I sometimes feel like I have this total split personality. In Europe I tend to have a polished look to my outfits whilst in NZ the beach carefree nature comes out and you'll find me in baggy t-shirts, Havaianas and soft floaty skirts, shorts or anything else that's not so polished.
Do you feel you have a signature style?
This depends on the occasion – so I would say my signature style depends on what I am doing. Whilst in the corporate world my signature style was wearing Boss suits in a number of ways. Now it's not so easy to define.
What inspires your outfit choices the most?
My outfit choices always depend on the occasion and who I will be with…men have different tastes so I try (mostly) to wear what my hubby likes when I'm with him and save the fun stuff for when I'm with friends (haha). If I have any important business meeting at all, I will always dress very corporate – I am a strong believer in "dressing for success".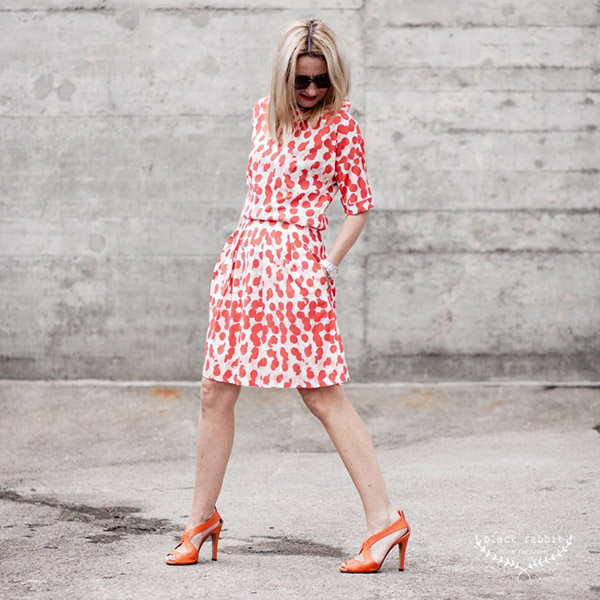 If I don't know what to wear I will go into Instagram and search specific terms for inspiration – I LOVE Instagram!
I always watch what others are wearing on the streets and if there's an outfit I particularly like I will go home and replicate.
Do you take things like color profiling or body type into account when you dress?
Hmmm…I think I wear things differently when I'm tanned to when not. Also I mostly stay away from low cut tops /dresses as I have a bony chest and believe low cut items should be left to those with nice boobs (smile).
As for colour profiling – yes I definitely take this into account. I once made the mistake for my daughters christening where I had the most beautiful tan suit but I was so pale (exhausted as one is with a baby) that on the photos I look totally insipid – have vowed not to let that happen again, it was my lesson for life!
Has your style changed at all after turning 40?
Yes but not because of my age. I would say my style changes perpetually as new trends come in.
Do you believe in dressing 'age appropriately' and what does it mean to you?
I believe more in dressing "body shape appropriate" than "age appropriate". I f you have a good figure and look good in whatever you're wearing go for it – I am a strong believer that Fashion really has no age.
Would you say that at this stage of your life you are now more, or less interested in fashion, style and the way you look?
I have always been interested in Fashion and don't see this changing. Having a blog is wonderful though as you have an excuse to appear more interested – I have an excuse to drag my hubby or daughter into any clothing shop.
Why is the way you look important to you?
It's a confidence thing. I like to feel good about myself and when I feel I look well dressed it ups my confidence.
Do you follow trends? And if yes, which trends excite you at the moment?
The off the shoulder look is exciting me right now – it's something I last did when I was 12 but the new off the shoulder tops are so much nicer.

The gothic style that's hot for fall is also interesting – this will be a fun add on to existing items.
Do you have any fashion and style tips for women over 40?
Keep your eyes open, read blogs and magazines – watch people on the streets and keep up with the trends you like. If you genuinely don't like a trend don't follow it but keep your wardrobe moving as it's the easiest way to stay young on the outside.
Invest in your wardrobe wisely – one expensive item per season will enhance your whole wardrobe a lot faster and more effectively than you think.
What are your plans for your blog and how do you see it develop over the coming years?
Of course I'm constantly striving to improve my blog. Better pictures, better text, better advice, the list goes on.
My number one aim is to really get FunkyForty out there and become a leading influencer for the 40 + age group and make a positive difference to peoples lives.
I have realised that a blogger career is actually a lot more diverse than simply the blog itself so there are plenty of spin off activities planned – my personal photography to name one. Travel also features large on the horizon and am planning to add interior design to my blog as I feel this fits in nicely with the overall theme.
It has always been a dream of mine to create my own clothing label – who knows perhaps one day this dream will become a reality!
Visit Yvonne's blog for more of her fabulous style at Funky Forty and @FunkyForty on Instagram!
Which of Yvonne's featured outfits is your favorite?

Like this post? Share it on Pinterest!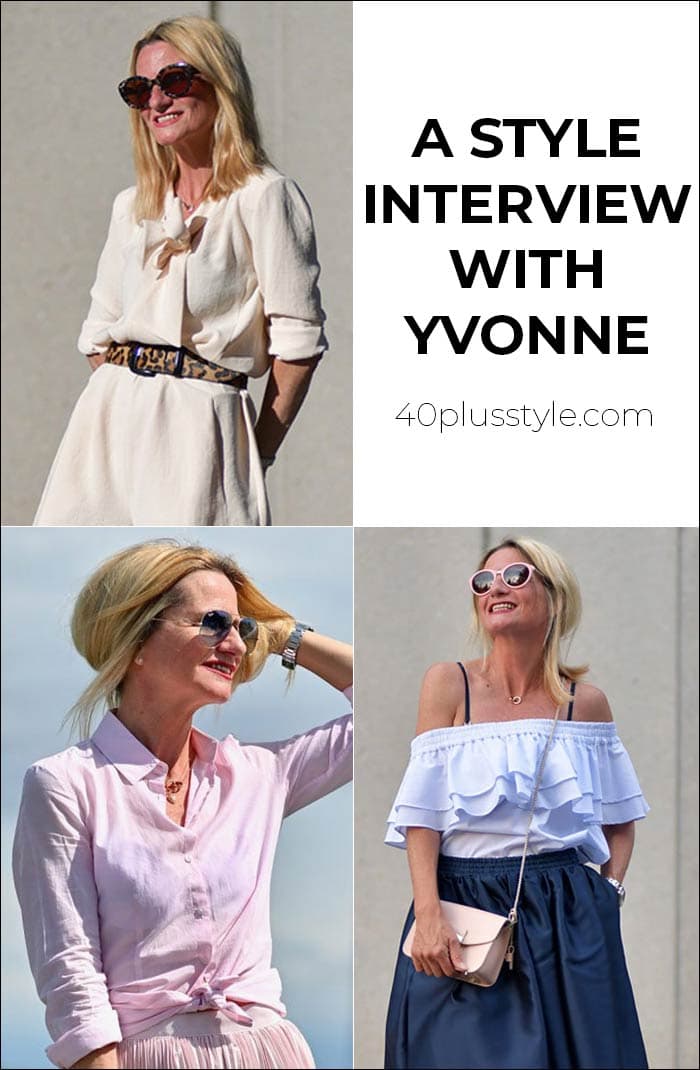 Want to get more articles from 40+style in your inbox, subscribe here.
You can also connect with 40+style on Facebook, Instagram or Pinterest.
Support 40+style by using the links in our articles to shop. As an associate for Amazon and many other brands, we receive a small commission (at no cost to you) on qualifying purchases which enables us to keep creating amazing free content for you. Thanks!